JBL is your one-stop destination for authentic and first-rate audio equipments including headphones, earphones and speakers. The company specialises in manufacturing sound systems that immerse you completely and enhance your experience.
The two independent divisions, JBL Consumer and JBL Professional manufacture audio equipments for use by the consumer home market, and for studio, portable sound, installed sound, tour sound and cinema markets, respectively. Positive customer reviews about JBL are testimony to the quality products and services provided by the company.
Visit JBL store online to shop for superior quality audio products and enjoy amazing discounts during JBL promos.
Although the company was founded in the year 1946, its idea dates way back to 1927 when James Bullough Lansing started a company in Los Angeles. Lansing, an Amercian loudspeaker designer and audio engineer started the company with his business partner Ken Decker and called it the 'Lansing Manufacturing Company . They designed and manufactured 6-inch and 8-inch speaker drivers for radio sets and radio consoles.
In 1933, Lansing helped manufacture bass drivers and compression drivers for Douglas Shearer s company. Together they created the 'Shearer Horn and in 1936, the Academy of Motion Picture Arts and Sciences awarded them with the 'Academy Scientific and Technical Award for the Shearer Horn. Using the experience he gained from the development of the Shearer Horn, Lansing went on to manufacture the Iconic System loudspeaker for use in cinemas. After his partner Ken Decker s death in 1939, Lansing sold the company to Altec Service Corporation, who named it as 'Altec Lansing . Finally in 1946, after the expiry of Lansing s contract in Altec Lansing, he left the company and founded Lansing Sound. The name was first changed to 'James B. Lansing Sound and later shortened further to 'JBL Sound .
JBL s operations were taken over by the Marquardt Corporation 1948, after which the General Tire Company purchased Marquardt in 1949. The General Tire Company was disinterested in loudspeakers and hence, Lansing reincorporated the firm as JBL and transferred its first private location to Los Angeles. Unfortunately, owing to financial issues in business, he committed suicide in 1949 and the company was passed on to its vice-president, Bill Thomas. In 1969, JBL was sold to Sidney Harman, the company head of Harman International Industries, Inc. Under him, JBL gained immense recognition and expanded further.
JBL was used in the vehicle audio systems of some of Ford s top machines. It also won the Technical Grammy Award in 2006 for its excellent work in the audio manufacturing field.
At JBL, you can find the perfect electronic products that you have been looking for, from headphones and earphones to speakers and home audio systems. Shop at JBL online, while enjoying exciting deals during JBL offers. Listed below are some of the products and product categories available on JBL.
Headphones –
Choose from a wide variety of headphones and earphones based on your requirement. They have wired as well as wireless options; headphones built for sports, over the ear, on ear and in ear headphones as well.
Speakers –
Buy the best looking and most suitable speakers for your home or workplace, right here at JBL. They have home audio as well as Bluetooth speakers designed to perfectly meet your needs.
JBL X Google –
Shop for their latest Link series, JBL Flip, Junior series and Pulse 3 speakers for a truly enhanced sound experience.
Make sure to check for the JBL coupons and vouchers offered during the JBL sale period before you proceed with shopping.
| JBL Product Category | Products |
| --- | --- |
| Headphones | Truly Wireless, Under Armour X JBL, Build For Sports, Over-Ear & On-Ear Headphones, In-Ear Headphones, JBL Junior Series |
| Speakers | Bluetooth Speakers, Home Audio |
| JBL X Google | JBL Live 65BTNC, JBL Live 200BT, Link 500, JBL Live 400BT, JBL Everest 710GA, JBL Everest 110GA, JBL Live 500BT, Link 300, JBL Live 25BT, JBL Everest 310GA, Link 20, Link 10 |
| JBL Pulse 3 | JBL 4367, JBL 5.1 Surround, JBL Bar 2.0 All in One, JBL Bar 2.1, JBL Bar 3.1, JBL Bar 5.1, JBL Bar Studio, JBL Boombox, JBL C100SI (Wired), JBL C150SI, JBL Charge 3, JBL Charge 4, JBL Cinema 510, JBL Cinema 610, JBL Cinema SB 150, JBL Cinema SB 250, JBL Cinema SB 350, JBL Cinema SB 450, JBL Clip 2, JBL Clip 3, JBL Control X, JBL E25BT, JBL E45BT, JBL E55BT, JBL E65BT, JBL Endurance Dive, JBL Endurance Jump, JBL Endurance Peak, JBL Endurance Run, JBL Endurance Run BT, JBL Endurance Sprint, JBL Everest Elite 750NC, JBL Flip 3 Stealth Edition, JBL Flip 4, JBL Flip 5, JBL FREE X Truly Wireless, JBL Go, JBL Go 2, JBL Horizon, JBL L100, JBL Party Box, JBL Playlist, JBL Reflect Fit, JBL Studio, JBL Tuner FM, JBL Wind, JBL Xtreme, JR Pop, Stage A 100P, Stage A 190, Under Armour Sports Wireless Flex, Under Armour Sports Wireless Heart Rate, Under Armour Train |
JBL offers an easy approach to shopping and brings to you a number of offers from time to time. The homepage displays all the product categories and includes a search icon to search for a specific product. You can also find JBL promo codes, JBL voucher codes and other discounts on the homepage.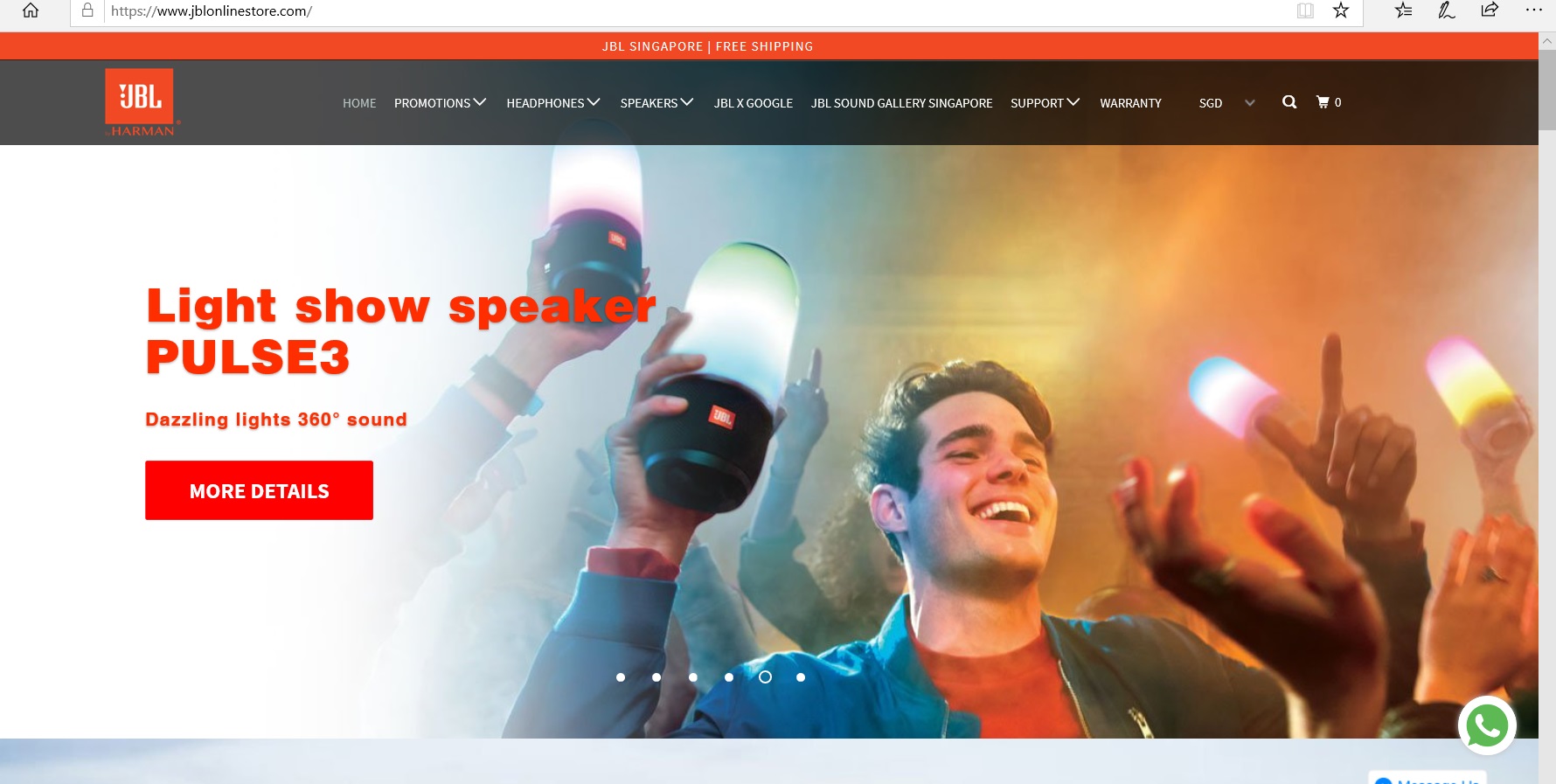 1. Select your preferred product category and sub-category. Then choose what you wish to buy from the list of products.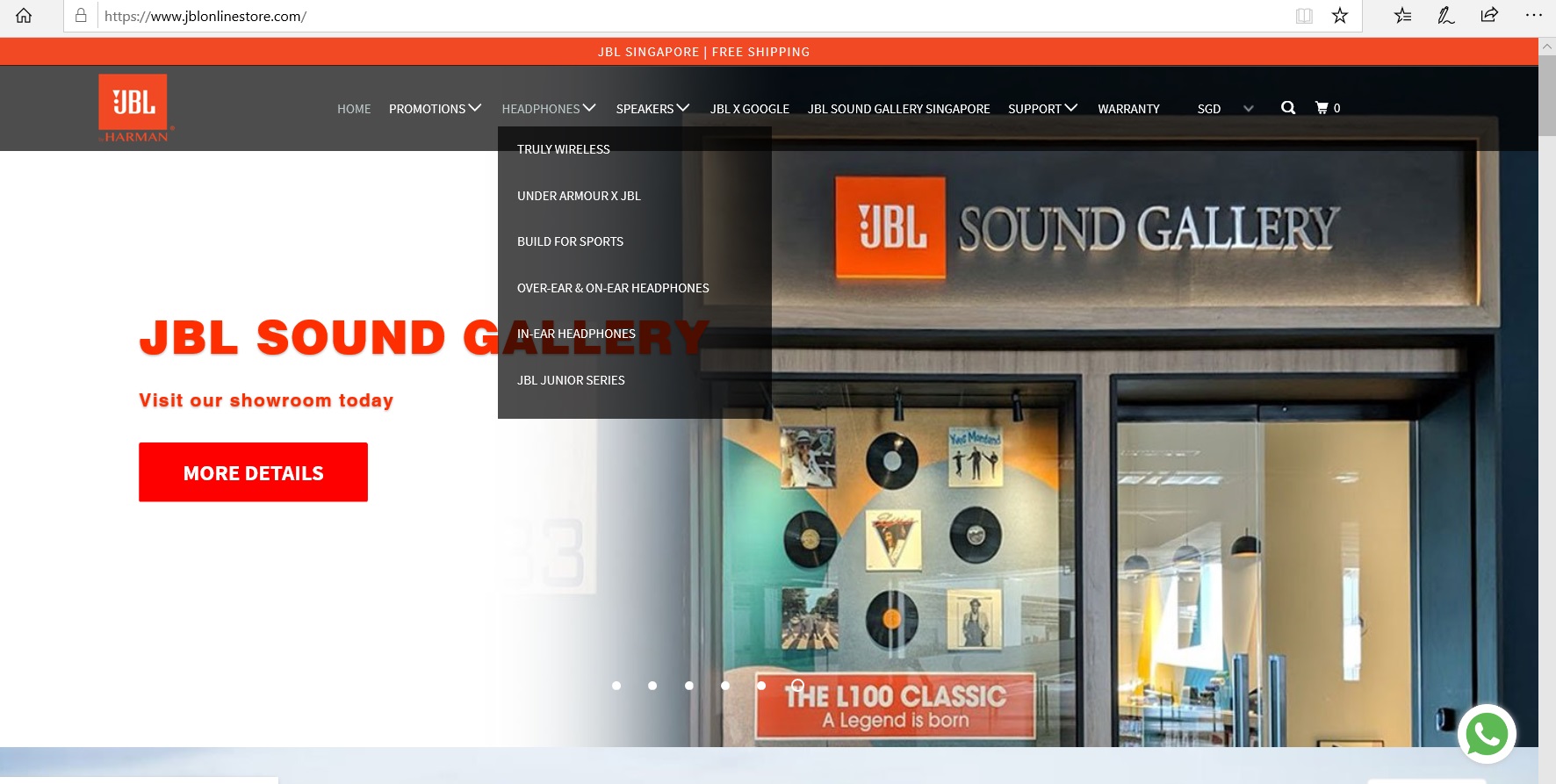 2. The product s general features, along with its price, an 'Add to Cart button and a 'Buy It Now button will be displayed. You may go back to browse a different product or select the colour and click 'Add to Cart or 'Buy It Now , after which the selected product is added to your cart. You may either continue shopping or proceed with the purchase process by clicking 'Checkout .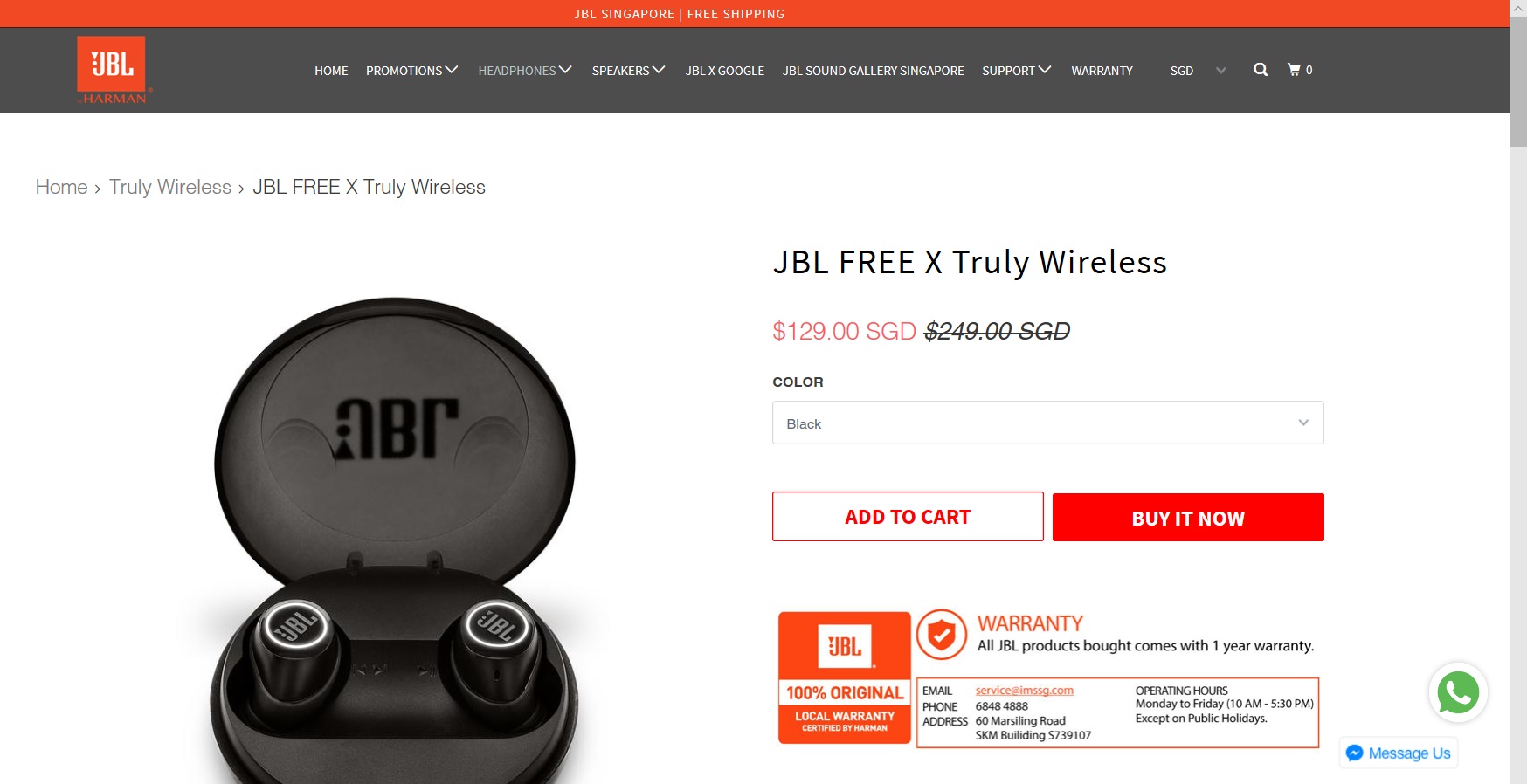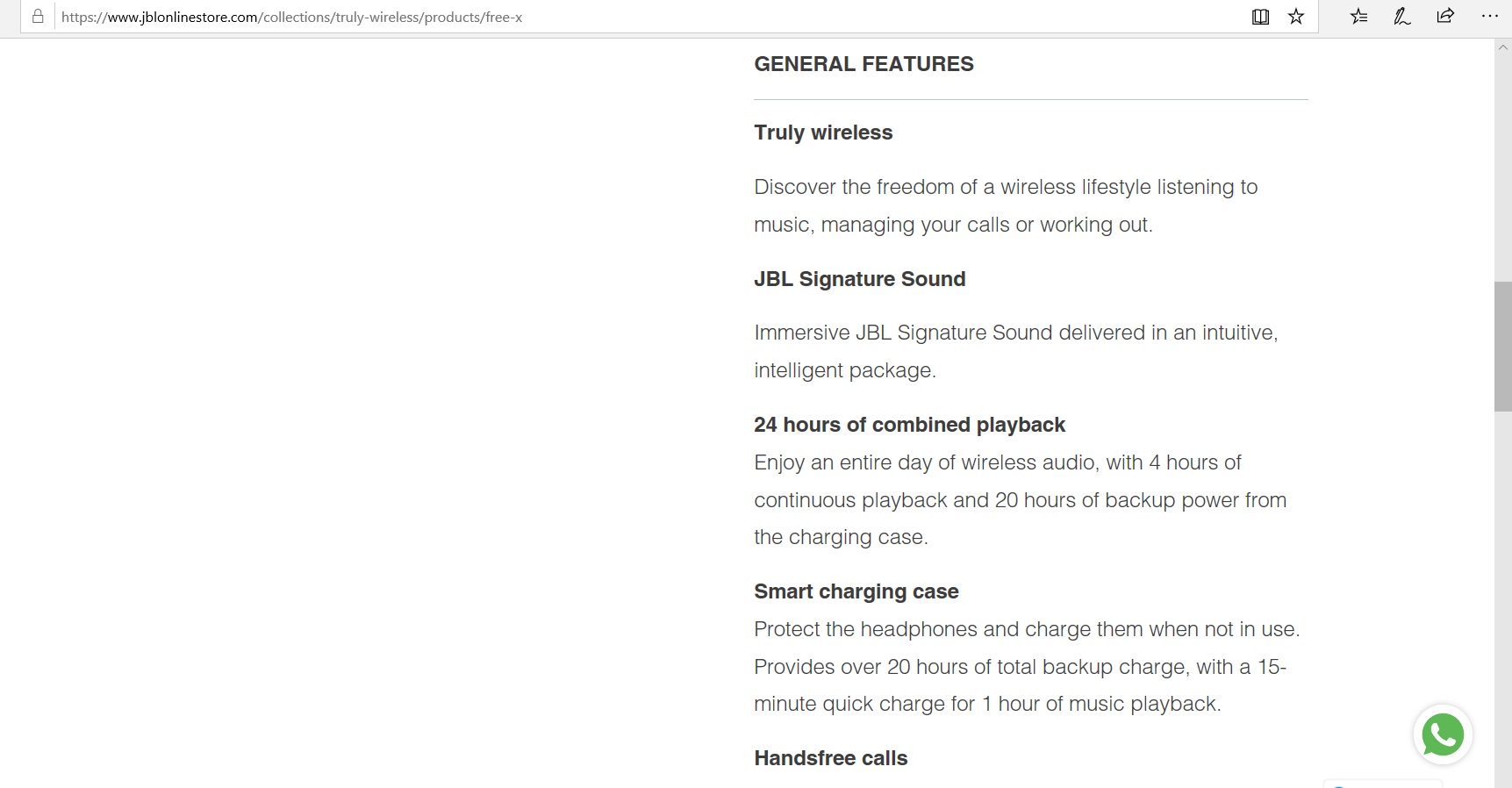 3. On the next page, you may opt for express checkout with PayPal or Google Pay or fill in your shipping information. Then enter the JBL promo code in the field provided. You may then click 'Return to cart if you wish to go back or select 'Continue to shipping to proceed with your purchase.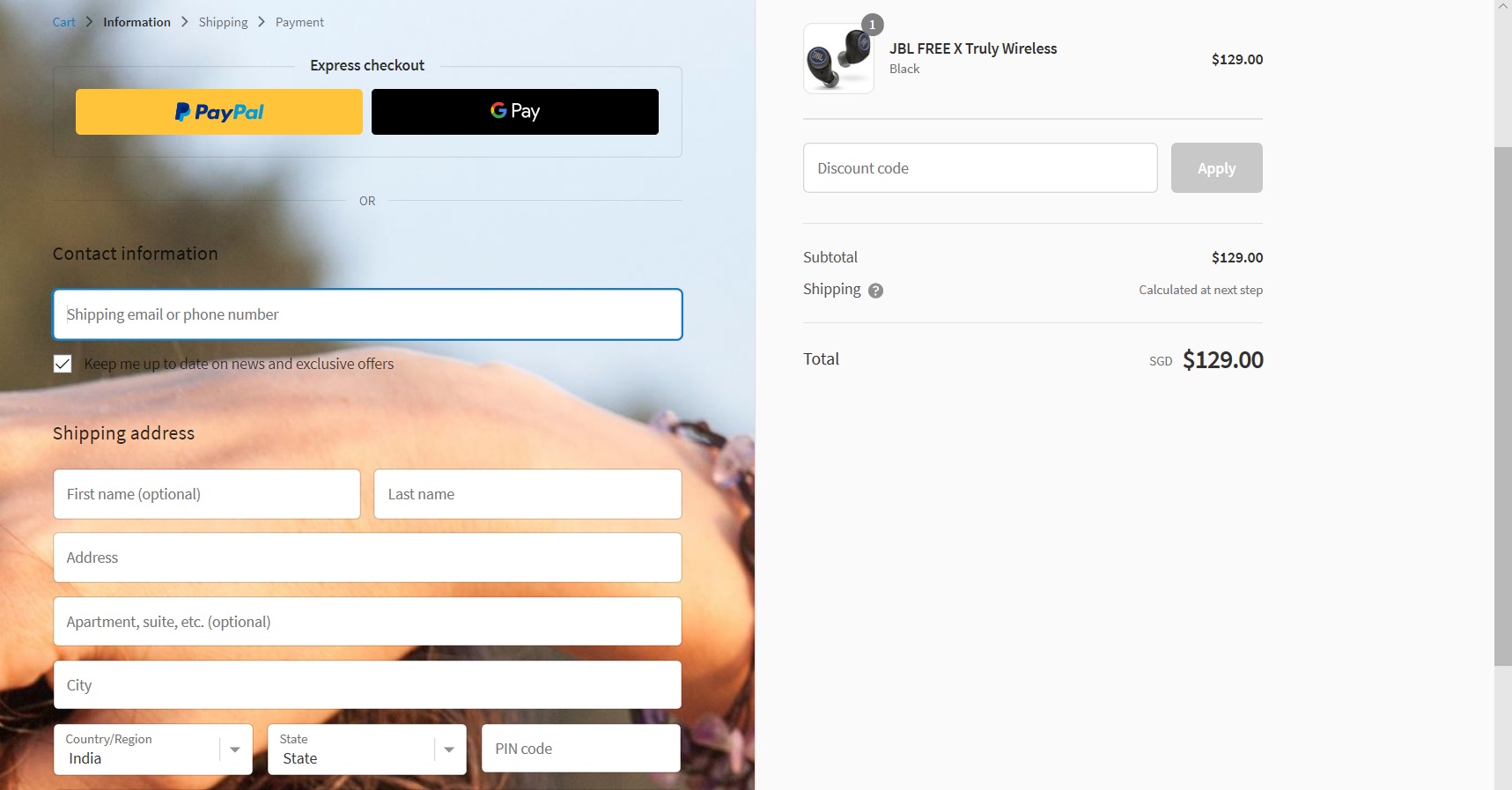 4. On clicking 'Continue to shipping , choose your shipping method on the next page and click 'Continue to payment (enter your discount code here if you have not done it yet). It will redirect you to the payment page, where you can opt to 'Return to shipping or fill in your payment details and click 'Pay now to complete your purchase.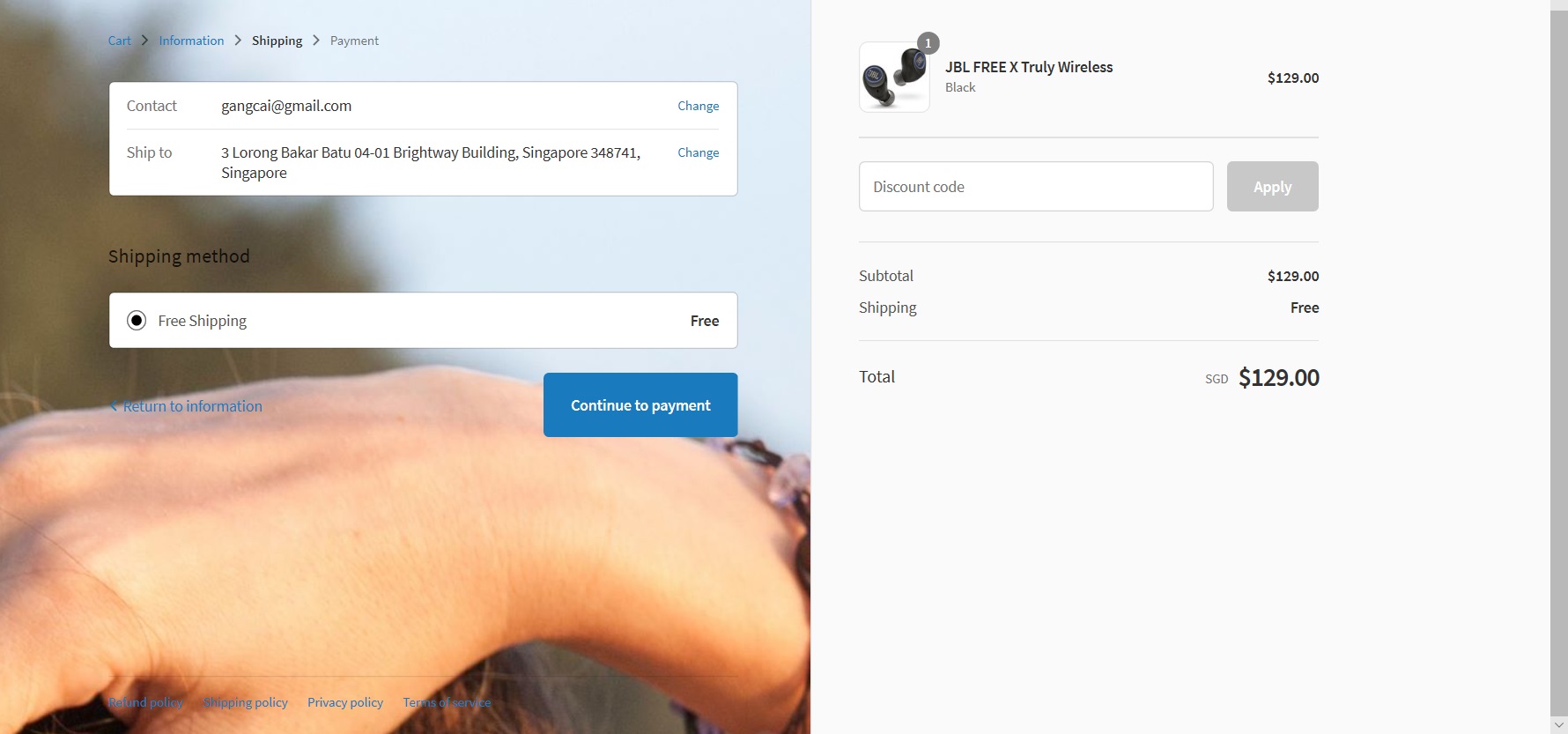 5. You will see your purchase details after placing the order, along with the expected delivery date of your product. An e-mail will be sent to you to confirm your order details.
6. Enjoy amazing deals on your purchases during sale and special offers. You can avail discounts by using the JBL discount codes on checkout. Ensure that you have checked for discounts and deals before placing an order.
JBL offers the following payment methods for your convenience.
Credit Card:
JBL accepts credit cards for online payments. It accepts VISA, American Express, MasterCard, Samsung Pay, Apple Pay and Google Pay.
PayPal:
Customers can pay using PayPal. It is a popular online payment method that serves as a simple e-transfer alternative to the traditional payment process. JBL accepts PayPal method for all your payments.
Different Coupon Codes and Discounts on JBL
The website brings to you a number of JBL discounts and special deals from time to time. The validity of online deals vary from time to time, with some of them lasting throughout the season and some available only for a limited period. Customers can save a lot of money by applying the JBL codes.
Currently, customers can earn cashback if they shop with the merchant via a registered account at ShopBack.
How to Redeem Coupons and Vouchers on JBL?
Online shopping sites bring to you a number of vouchers and coupon codes that can be redeemed to earn discounts as well as cashbacks when shopping online. This makes online shopping a happy and convenient experience, with plenty of opportunities to save on your purchases.
Here is a step-by-step tutorial on how to redeem coupons and vouchers at JBL:
Step 1:
Browse through the set of displayed products, choose what you wish to buy and click Add to Cart .
Step 2:
Then fill in your email address and shipping information before proceeding to checkout.
Step 3:
Proceed to the payment page. Here, you will find a box under the payment summary section to enter your JBL promo code/JBL coupon code or any other applicable discount codes for availing discounts.
Step 4:
Opt for your preferred payment method and enter all the payment details to complete your purchase.
How to Shop on JBL Using ShopBack
ShopBack offers cashback on products if you shop from JBL. These steps will help you earn cashback from ShopBack:
Step 1:
Select JBL from the list of brands on the ShopBack homepage, or use the search box to find a link to the JBL website.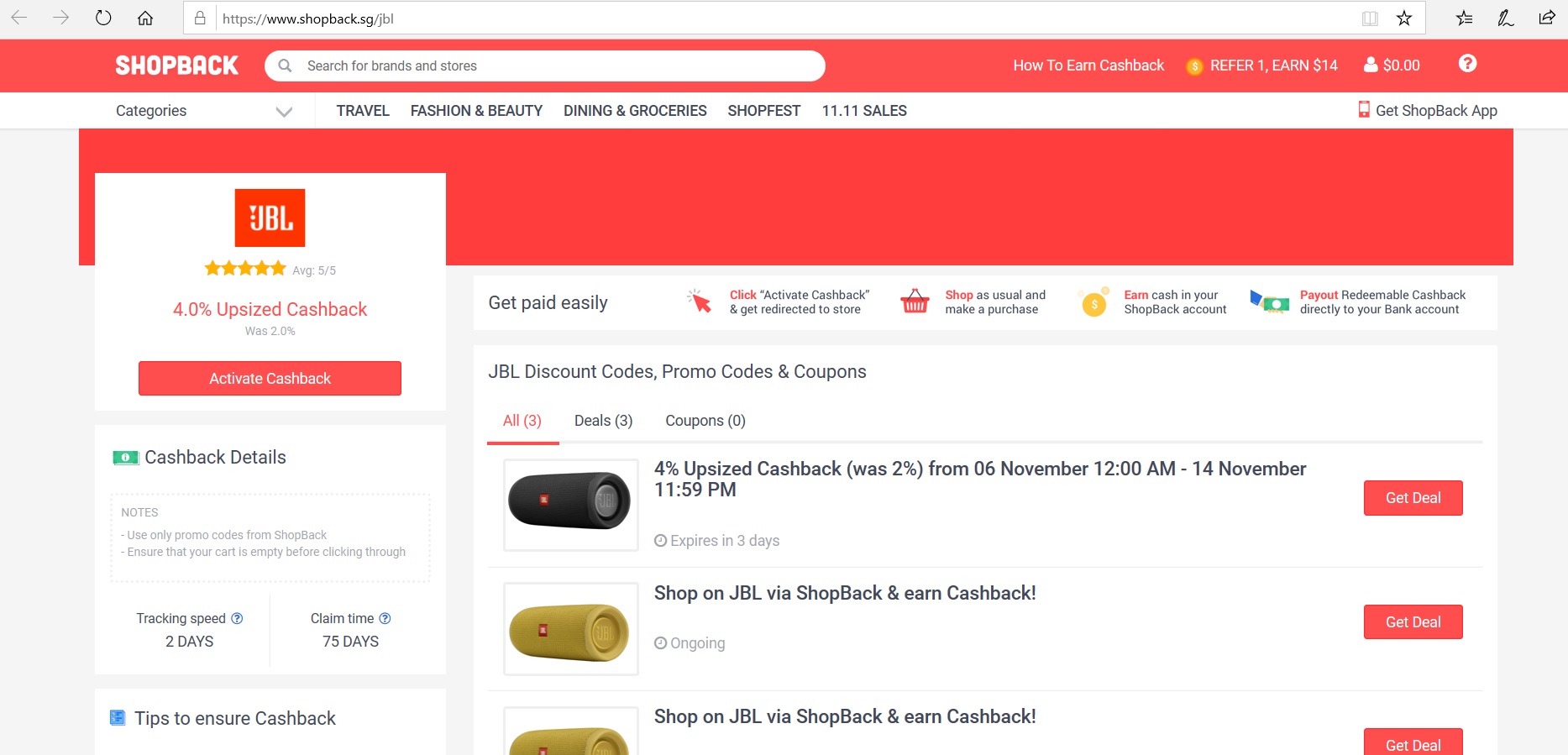 Step 2:
Read the terms and conditions and other relevant information such as cashback details and tips to ensure cashback.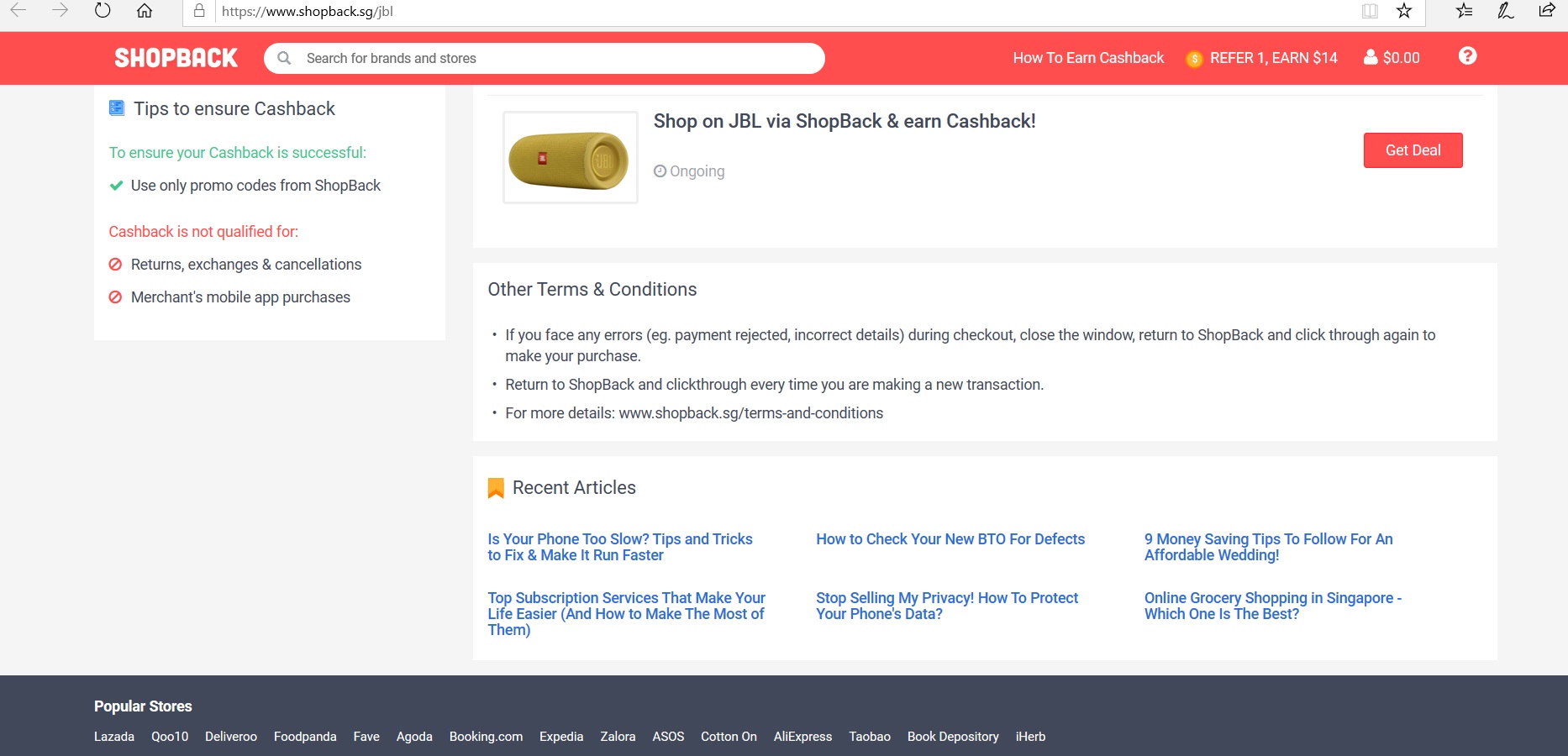 Step 3:
Click Activate Cashback on the left.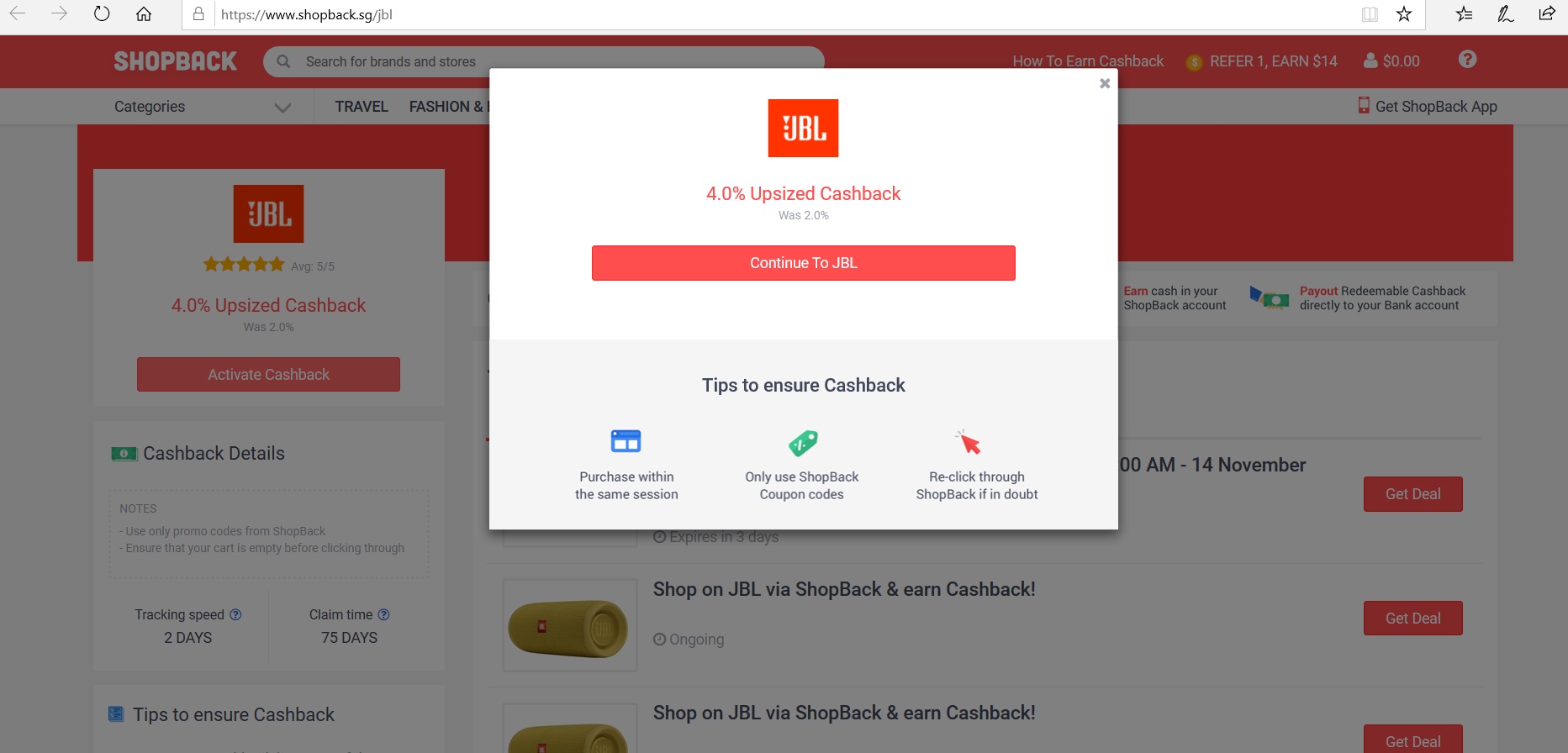 Step 4:
You can find more attractive deals by checking out the 'Discounts + Cashback section.
Step 5:
On placing the order, you will be eligible to earn cashback from ShopBack. There may be a variation in cashback rates based on your history with ShopBack. Cashback offer is not applicable on purchases made via the JBL app.
JBL Shipping and Return Policy
The shipping and returns policy for JBL is listed below:
Shipping:

All the local deliveries will be shipped within 48 to 72 hours and international orders will take 7 to 28 days, depending on the shipping location and rules. Orders placed on weekends will be processed only on the following Tuesday.

If you entered a wrong delivery address and need to change it, you will have to call them on +65 6848 4888 or send them an email at [email protected] with your order confirmation number. The address will be changed if the order is not shipped yet.

If you wish to cancel your order, call them on +65 6848 4888 or send them an email at [email protected] for assistance on cancellation.

Returns and Exchanges:

For returning/exchanging products ordered online, send the product back to the company to the address mentioned on your return form/packing slip and make sure to circle the item(s) being sent (shipping costs must be borne by the customer). Specify whether the item is for exchange or return. Once the item(s) are inspected, it will take 3 to 10 days to process the return/exchange request.

On receipt of a defective item, call them on +65 6848 4888 or send them an email at [email protected] for further assistance. They offer 1 year warranty (limited warranty) for any manufacturing defect.

Visit their FAQs page for information on shipping and returns, and for their service centre address.
Customers can click on their 'Support option or visit their contact us page/FAQs section for queries related to JBL vouchers, JBL deals or anything in general. You may also connect with their customer care representatives on +65 6848 4888 or send them a Whatsapp message by tapping the Whatsapp icon at the bottom right side of the homepage. You can also send them an email at [email protected] or message them via Facebook messenger. Their office hours are Monday to Friday, from 10 AM to 5.30 PM; closed on weekends and public holidays.