Photo books, gifts and more with Photobook Worldwide!
Photobook Worldwide is an online store where you can get beautiful customized photo books of your cherished memories. Photobook specialises in creating customised premium printed photo albums to preserve your memorable moments forever. The company prints a variety of photobooks featuring different occasions such as wedding photobooks, holiday photobooks, travel photobooks, family fun photobooks and the like.
The online store started its business with printing softcover and hardcover digital books and gradually expanded its product category to a wide range of personalised photo merchandise including customisable greeting cards, calendars, coffee table books, canvas prints, clocks and phone cases. If you want to surprise your loved ones with unique gifts evoking precious memories, log on to Photobook Singapore website or download the Photobook app to design your own personalised merchandise.
Products Sold on Photobook
Photobook offers a wide array of products that you can customise and share with your near and dear ones. From personalised photo albums to home décor products, this online store offers a lot of articles with a unique touch. Here is a short preview of the product categories available on the Photobook Singapore website.
Photobooks: This category features different types of photobooks based on the occasion, make and size. Customers can choose a sub-category of photobooks mentioned on the website and create their own personalised photo album that they can cherish all their lives.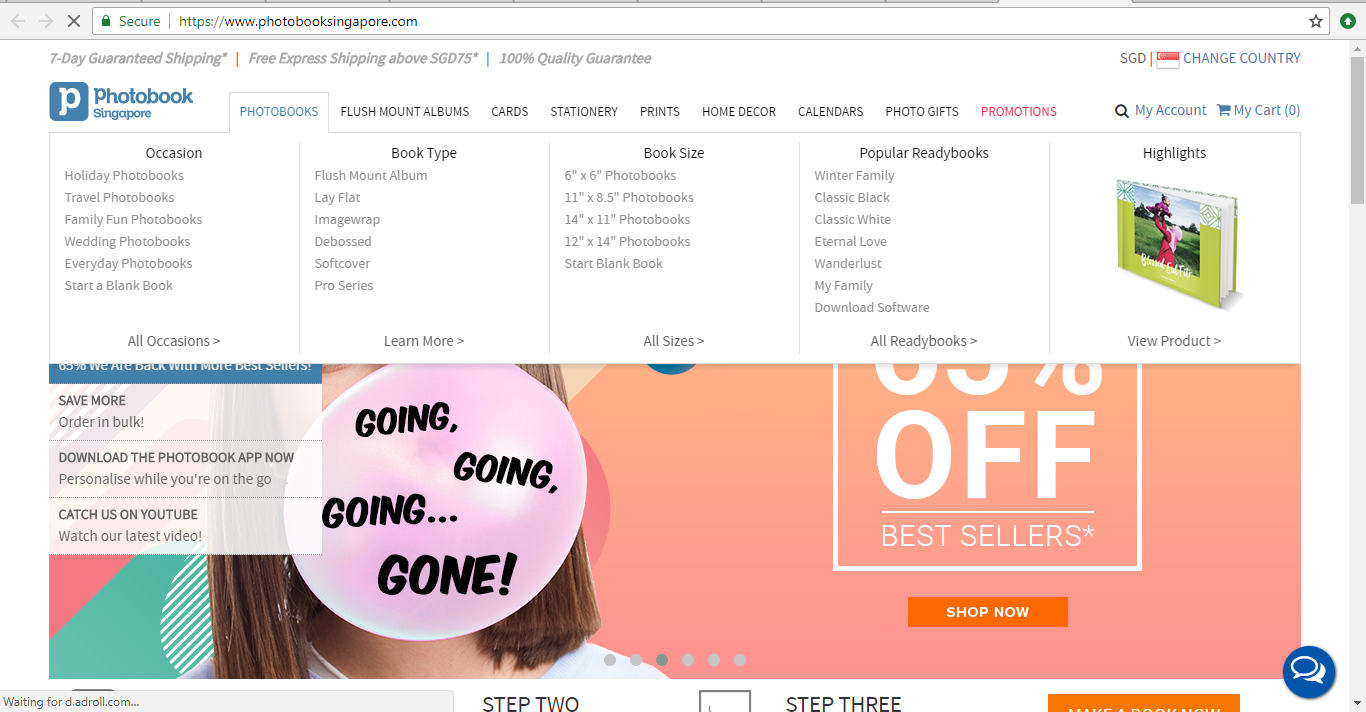 Flush Mount Albums: The products in this category are crafted using premium quality materials. These albums have leather covers with unique designs, thicker pages of superior quality and high definition photo realistic printing that makes the picture even more vibrant and stunning.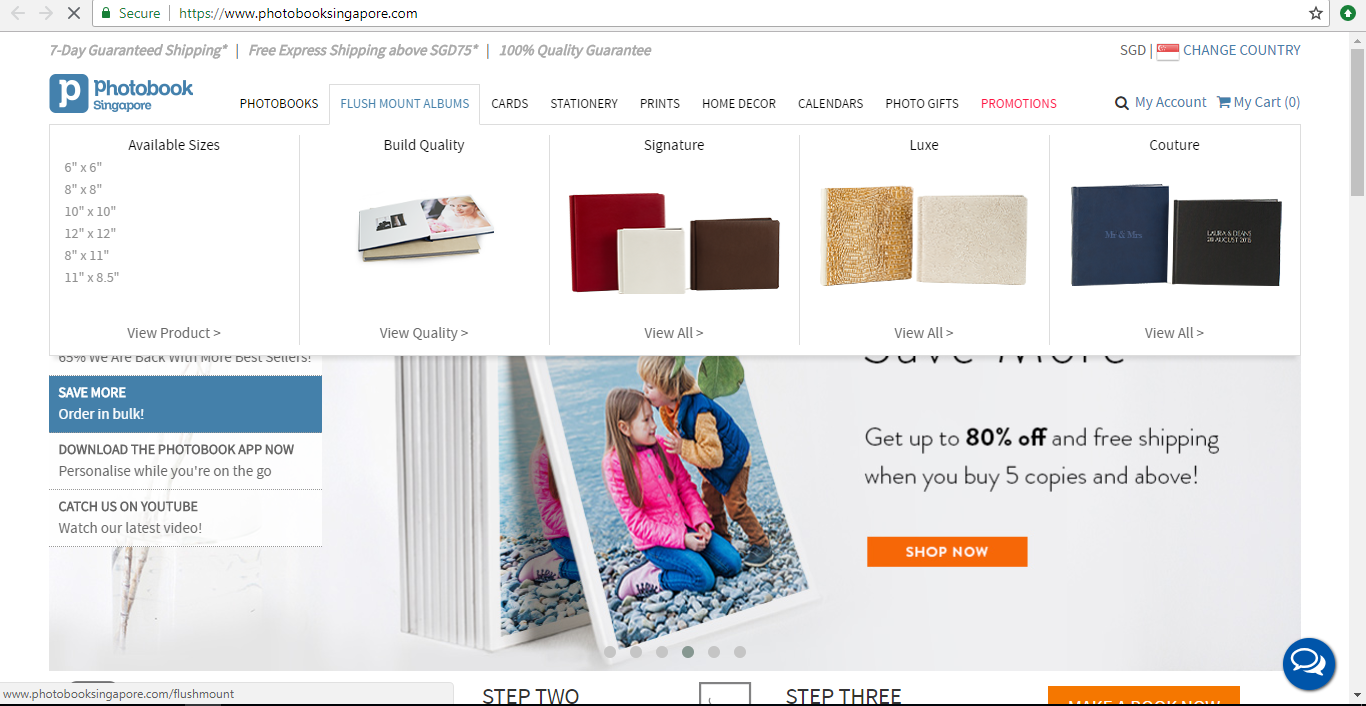 Cards: Photobook Singapore provides a great range of cards for all your special occasions. Make the special occasions of your life even more special and memorable by gifting a customised card to your loved ones.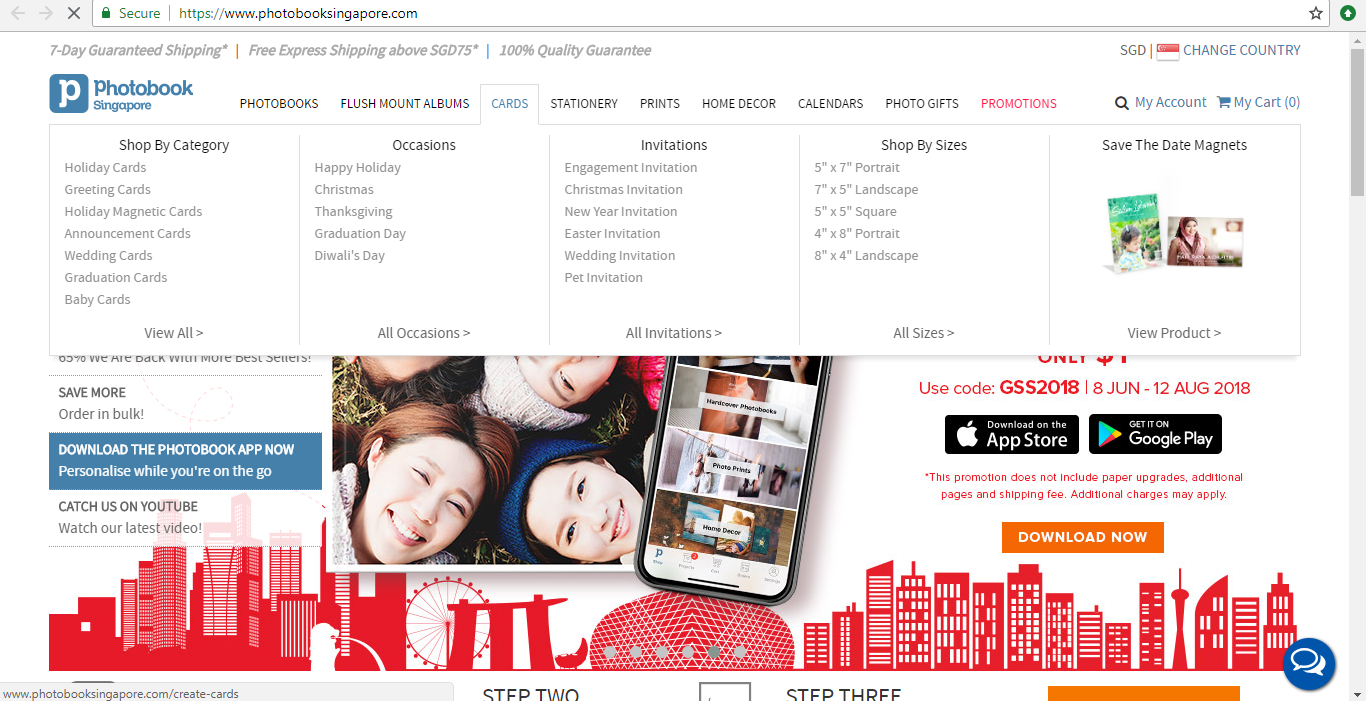 Stationery: Under this section, customers can find a variety of stationery products such as notebooks, envelopes, business cards, sticker labels, bookmarks and the like. Add your personal touch to these stationery items and carry them around with pride!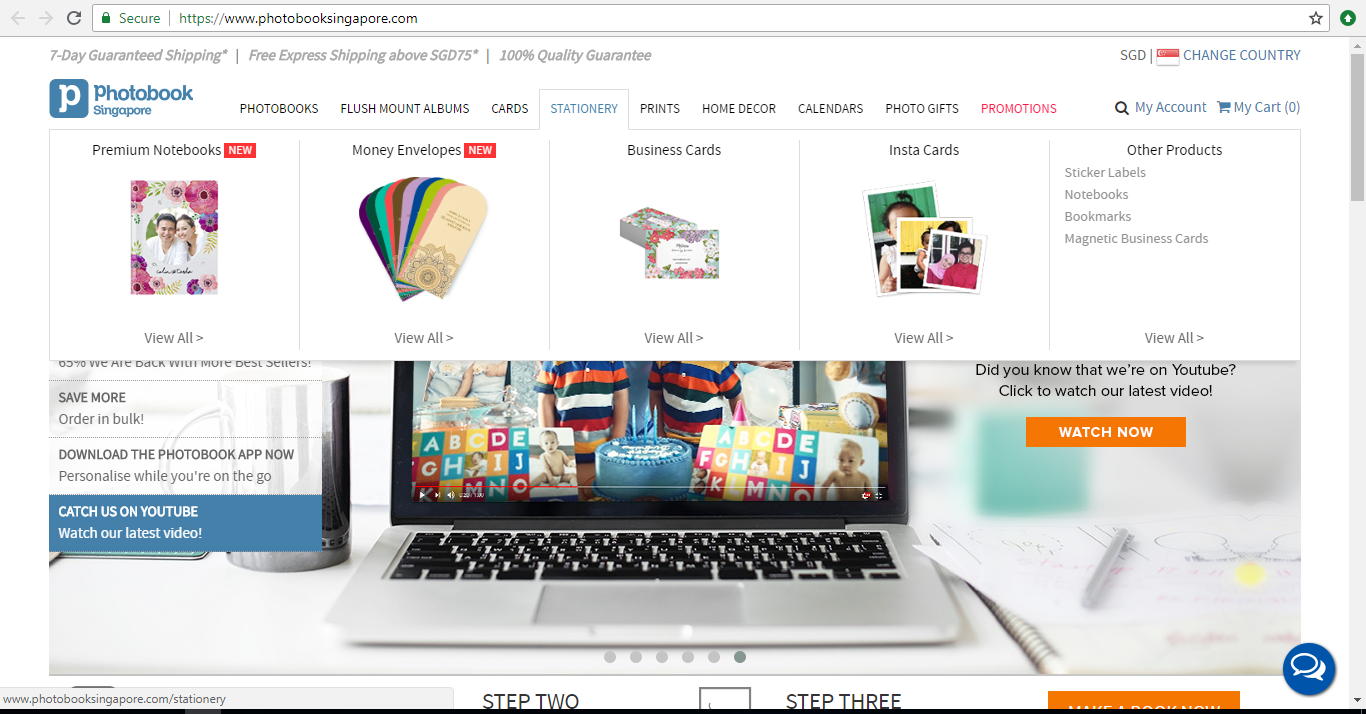 Prints: If you love pasting gorgeous posters in your room and want to print a poster of your own, then look no further! Photobook prints high quality posters, collage and photos that you can easily customise and use for adding a personal touch to your living space.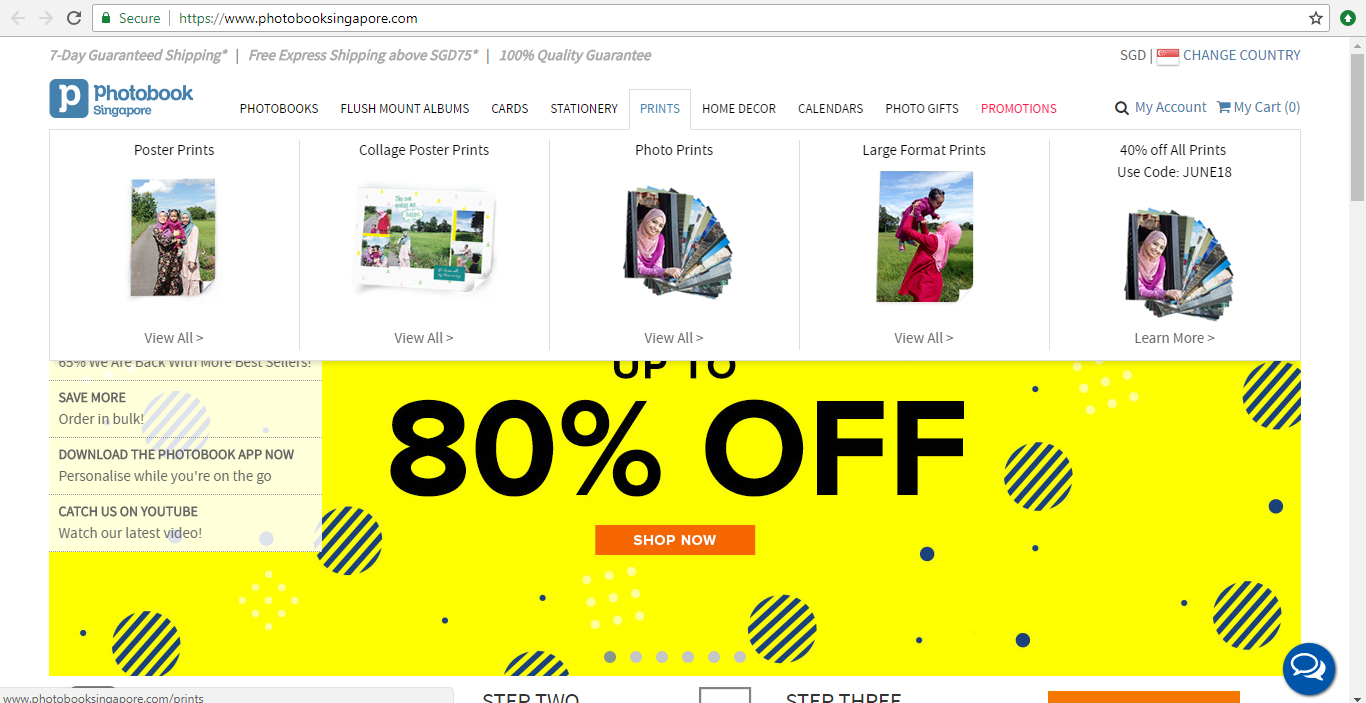 Home Décor: A house becomes a home when the objects in the house become an intrinsic part of your life. This category offers an excellent opportunity to the customers to shop for personalised household items such as canvas prints, photo pillows, photo frames, metal frames, clocks, serving trays, kids growth chart etc.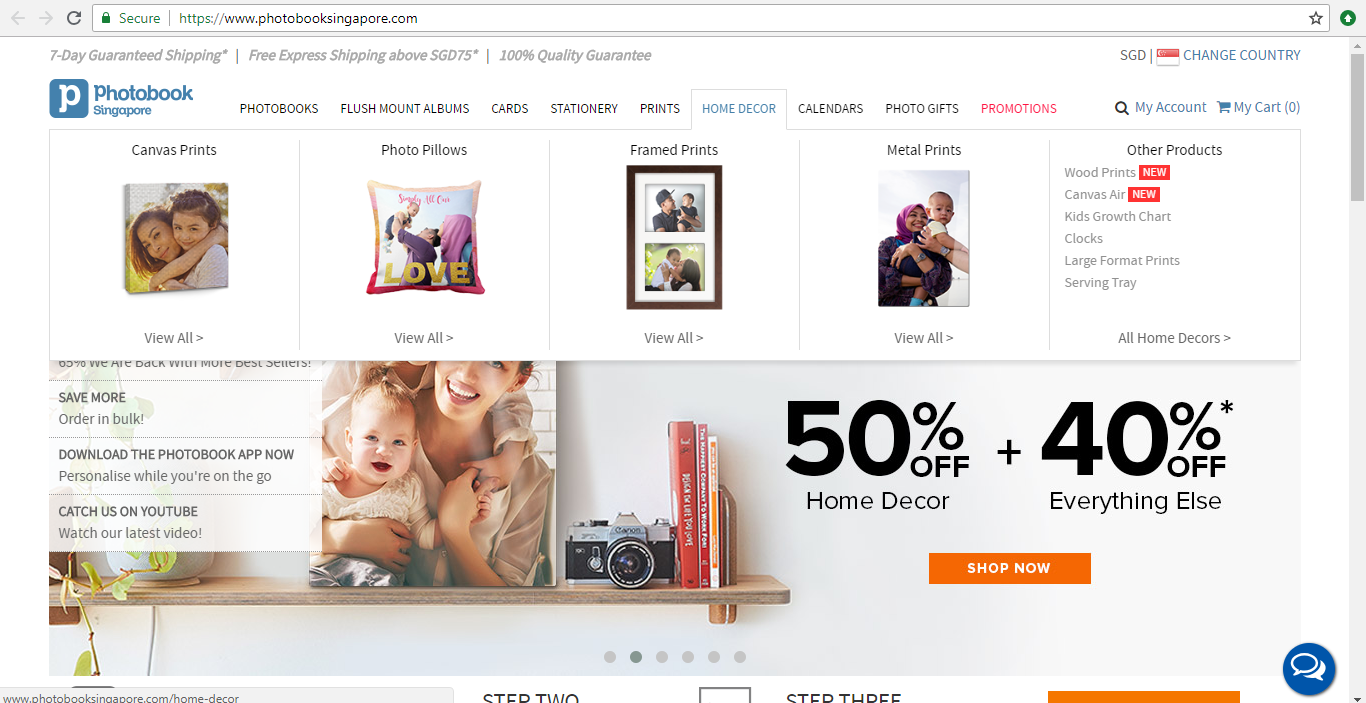 Calendars: Customers can purchase different types of calendars from this category like calendar cards, wall calendars square, wall calendars landscape, desk calendar landscape and desk calendar portrait. Customise these calendars by adding the pictures of your loved ones or the photos holding special significance for you.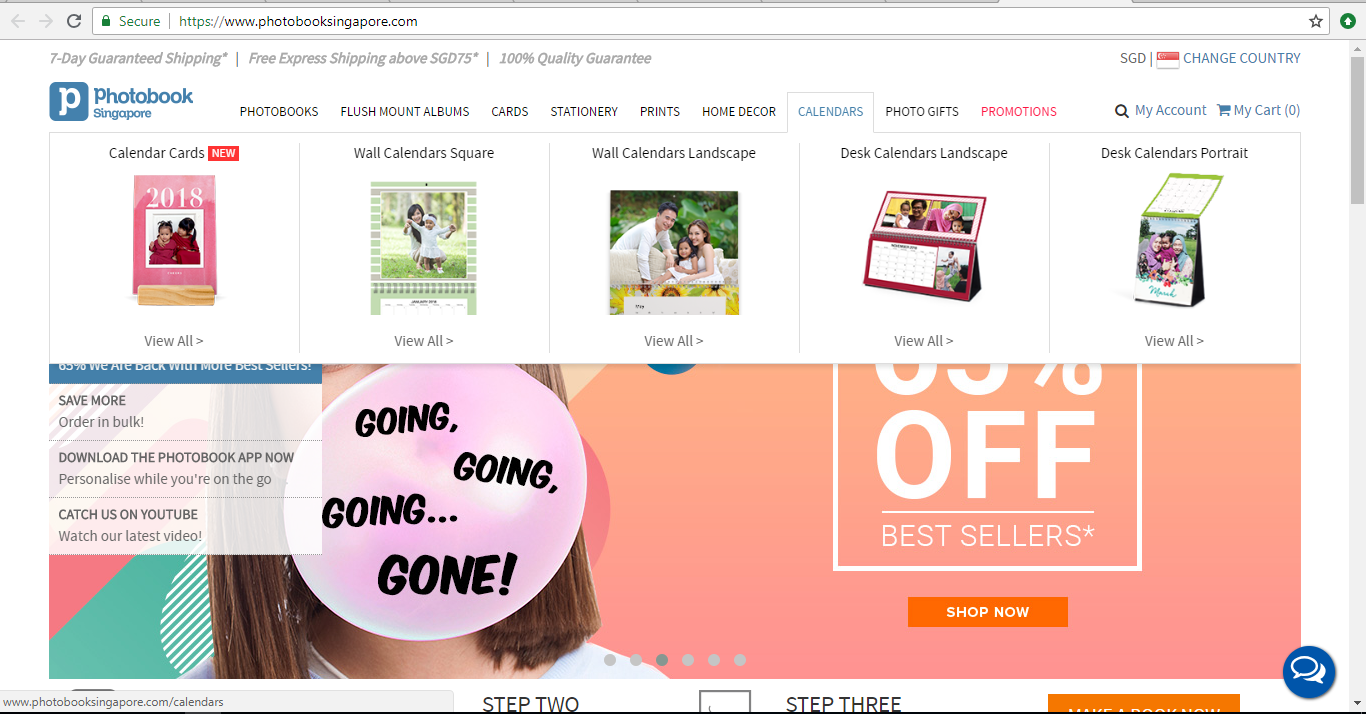 Photo Gifts: Gifts can become even more memorable and valuable when there is something individualistic about them. Shop for personalised gift items like tumblers, photo mugs, teddy bears, desktop plaque, ornaments, coasters, pet tags, t-shirts, phone cases and more from Photobook and leave a lasting impression on your near and dear ones.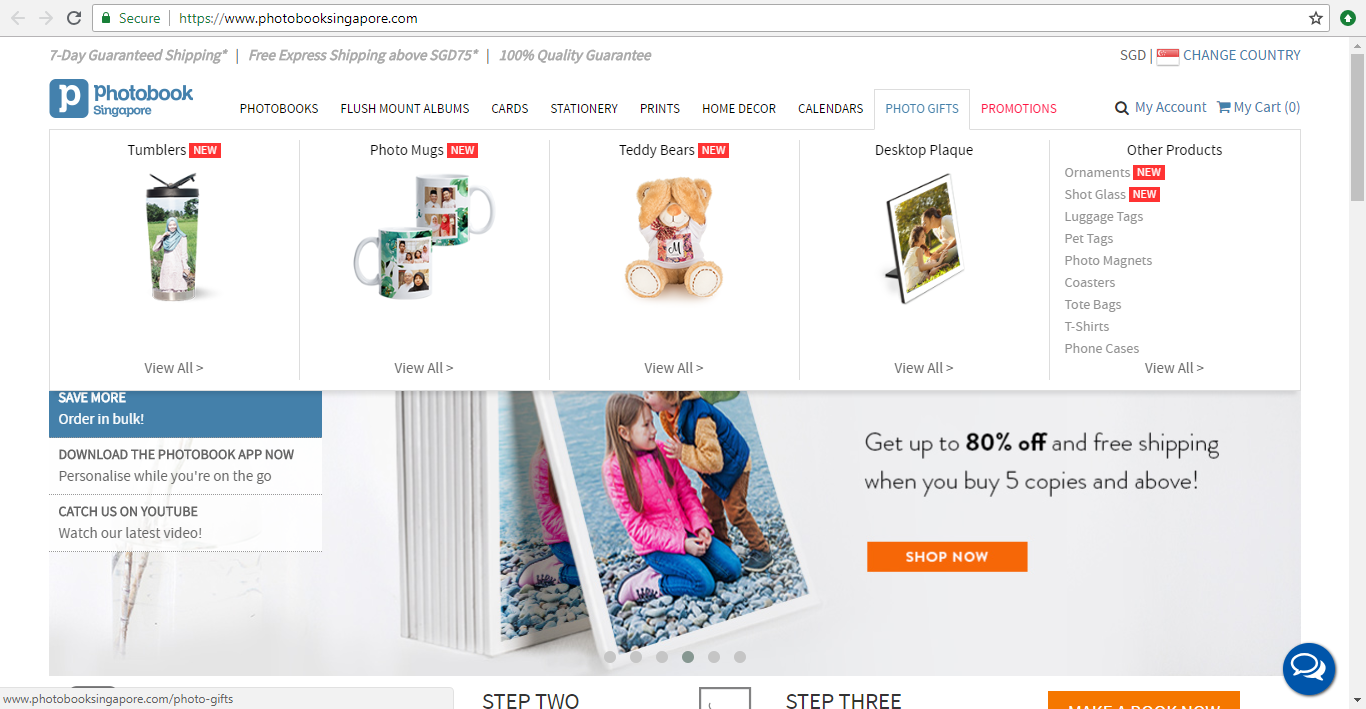 | Photobook Worldwide Product Categories | Photobook Worldwide Product Sub-categories |
| --- | --- |
| Photobooks | Holiday Photobooks, Travel Photobooks, Family Fun Photobooks, Wedding Photobooks, Everyday Photobooks, Start a Blank Book, Flush Mount Album, Lay Flat, Imagewrap, Debossed, Softcover, Pro Series, 6x6 Photobooks, 11x8.5 Photobooks, 14x11 Photobooks |
| Flush Munt Albums | Available sizes: 6x6, 8x8, 10x10, 12x12, 8x11, 11x8.5 |
| Cards | Holiday Cards, Greeting Cards, Holiday Magnetic Cards, Announcement Cards, Wedding Cards, Graduation Cards, Baby Cards, Happy Holiday Cards, Christmas Cards, Thanksgiving Cards, Graduation Day Cards, Diwali s Day Cards, Engagement Invitation, Christmas Invitation, New Year Invitation, Easter Invitation, Wedding Invitation, Pet Invitation |
| Stationery | Premium Notebooks, Money Envelopes, Business Cards, Insta Cards, Sticker Labels, Notebooks, Bookmarks, Magnetic Business Cards |
| Prints | Poster Prints, Collage Poster Prints, Photo Prints, Large Format Prints |
| Home Decor | Canvas Prints, Photo Pillows, Framed Prints, Metal Prints, Wood Prints, Canvas Air, Kids Growth Chart, Clocks, Large Format Prints, Serving Tray |
| Calendars | Calendar Cards, Wall Calendars Square, Wall Calendars Landscape, Desk Calendars Landscape, Desk Calendars Potrait |
| Photo Gifts | Tumblers, Photo Mugs, Teddy Bears, Desktop Plaque, Ornaments, Shot Glass, Luggage Tags, Pet Tags, Photo Magnets, Coasters, Tote Bags, T-Shirts, Phone Cases |
| | |
How to Shop at Photobook Singapore
The Photobook website has a user-friendly interface which provides an effortless and intuitive experience to all the customers. The top bar of the home page displays all the categories of photobooks and photo merchandise available on the website. From here, customers can choose specific sub-categories and product type to customise.

The homepage is divided into different sections featuring the photobook sale, Photobook special offers or photobook deals and photobook best sellers.

Browse the categories on the top of the page and choose a sub-category to shop from.

You will be directed to the page displaying all the products under that subcategory. Select the product of your choice from the catalogue.

You will land on the product listing page where you can find all the details of the product you wish to purchase. Once you are satisfied with your choice, click on "Personalise".

You will be asked to sign in if you haven t already. After signing in, you will be directed to the page where you can create your own personalised photo merchandise by uploading and editing your personal photos along with text on the photobook layout page.
Once you have finished designing your product, click on "Order" icon to submit your design. You will land on the online order page where you will have to enter your personal details and shipping address. Make payment on the next page by clicking on "Confirm Order". You will soon receive an order confirmation email containing your order number.
Payment Options on Photobook Singapore
Photobook accepts PayPal as a valid mode of payment for all your orders. PayPal is a trusted online payment system that can be used by customers for their online transactions. This secure online money transfer channel is one of the most popular means of transactions and can be used anywhere in the world.
Different Coupon Codes and Discounts on Photobook Singapore
Photobook offers many discounts and deals to its customers from time to time. Some Photobook discounts are offered for a long time while some Photobook discount vouchers are available for a limited period only. The consumers can save a lot of money on individual products by applying the Photobook promo codes or Photobook voucher codes that the online store offers during Photobook promotions.
At present, customers can earn up to 13% cashback on Photobook products if they shop with the merchant via a registered account at ShopBack. Customers can save more money by redeeming photobook vouchers or photobook coupons offered by ShopBack under "Photobook Worldwide
How to Redeem Coupons and Vouchers at Photobook Singapore
Ordering your personalised photobooks and merchandise online can be a fun and economical experience where customers get plenty of opportunities to save money on their orders. Several websites offer photobook discount codes and vouchers that can be redeemed to earn cashbacks and discounts on products.
Here is a step-by-step tutorial on how to redeem coupons and vouchers at Photobook:
Step 1:
Select the item that you wish to buy and click on Personalise .
Step 2:
Proceed to the next page where you can design your own product. Design the photobook or photo merchandise as per your wish and click on 'order .
Step 3:
On the checkout page, fill in the details of your email as well as shipping address. Here, you will find a box under the payment summary section where you can enter your photobook promo code or any other applicable photobook code for availing discounts.
Step 4:
Enter the payment details to complete the transaction.
How to Shop on Photobook Singapore using ShopBack
ShopBack offers up to 13% cashback on various items if you shop from photobook. Here are the steps to be followed to earn cashback from ShopBack:
Step 1:
Visit the ShopBack website and select photobook store from the list of merchants and brands on the homepage. You can also use the search box to find the link to Photobook store.
Step 2:
Read the terms and conditions as well as any other relevant information provided such as the cashback details and tips to ensure cashback.
Step 3:
Click on Activate Cashback button on the top left corner of the page.
Step 4:
If you are willing to find more attractive photobook coupon codes, check out the Photobook Worldwide Printing, Photo Albums + Coupons section.
Step 5:
You will be directed to Photobook website to browse and select the products you intend to buy.
Step 6:
You will be eligible to earn cashback from ShopBack on placing your order. The cashback rates might differ based on your history with ShopBack, i.e. whether you are a new or an existing customer.
The cashback offer is not applicable on purchases made on Photobook app.
Photobook s Shipping and Return Policy
The shipping charges are based on the products you order from the website. Photobook offers three shipping options i.e. DHL Express Shipping, SF Express Shipping and Priority Shipping. Each shipping service has different shipping charges and time spans for delivery. For orders above S$75 (not applicable for all Canvas Prints, Clocks, Framed Prints and Metal Prints orders), Photobook offers free shipping. For products under that amount, different shipping charges are applicable. For more details on the shipping charges applicable on the product you are purchasing visit the merchant s webpage.
The products sold on Photobook are covered under 30 days return policy. In an event where a customer finds any defect due to error in printing/production or due to damages caused during shipping, the customer can initiate a return request by sending an email to [email protected] The email must contain the following details-
Photos of the defect, taken from different angles for a clear perspective.

The full name of the customer, order number and a description of the defect in the product.

Mention the page number(s) of the defective areas in the photo album.
There are a few points that customers must keep in mind regarding the return policy of Photobook-
To initiate the return process, you must contact the Customer Support Team of Photobook with all the necessary details within 30 days of receiving your order.

Photobook Worldwide is not responsible for any consumer-generated errors or defects such as grammatical errors, poor image quality, dark images, spellings, typographical errors or ordering mistakes.

Photobook does not provide refunds. For genuine cases, Photobook Worldwide will have the photobook fixed or replaced, but not reimbursed.
Photobook Customer Service
For any enquiry or assistance, customers can call on their helpline i.e. 68718981 or send an email on [email protected]