Adidas Singapore Promotions and Sales July 2018
Enjoy cashback when you shop at Adidas through Lazada today!
Refer to merchant page for more information.
ShopBack must be the last link you clicked in order to get Cashback. If other website links are clicked after clicking through ShopBack, Cashback will not be tracked (E.g. coupon and deal websites)

If for some reason your payment made on merchant page has failed, do click through ShopBack again and re-do your purchases to ensure tracking is still active

Return to ShopBack and click through to the merchant every time you are making a new transaction.

If you are making 3 separate transactions on the merchant, you should click through ShopBack 3 times, each time before making a new purchase.

For more details: www.shopback.sg/terms-and-conditions
Recent Articles
More about Adidas
Unleash yourself with Adidas
A distinguished history and a strong connection with sport is what has defined adidas since its inception. It is their mission to be the best sports brand in the world with everything they do rooted deeply in sport. As a brand mark, this is what "The Badge of Sport" stands for. It is the sharp end of the spear, seen on innovative products, as well as with the world's best athletes, teams and events.
The adidas Online Store offers the latest and greatest gear that adidas has to offer at every moment. When you shop with adidas, you can be rest assured that for more than seven decades, adidas has been synonymous with excellence. Their hallmarks are the very best in quality standards, technology and innovation.
adidas started in a wash room and conquered the world by doing their best for the best. The company started in a small town in Bavaria, Germany. After first steps in his mother's wash kitchen, Adi Dassler registered the "Gebrüder Dassler Schuhfabrik" in 1924 and embarked on his mission to provide athletes with the best possible equipment. Gold medals in Amsterdam (1928, Lina Radke) and Berlin (1936, Jesse Owens) were first rewards and milestones – and only the start of the adidas story.
Employing more than 60,000 people in over 160 countries, adidas produces more than 850 million product units every year and generate sales of € 19 billion. Their dedication to creating the best gear for every sport has brought them worldwide acceptance, including Singapore.
Products sold on Adidas Singapore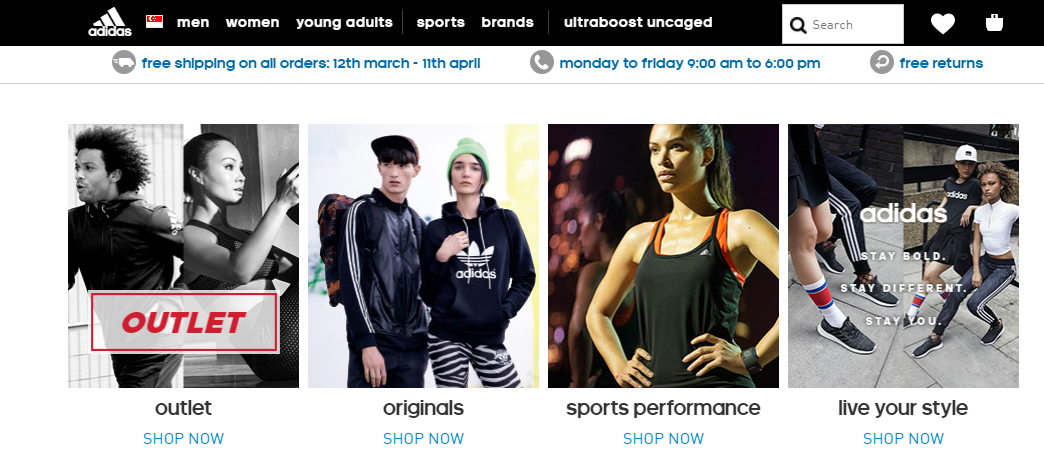 adidas offers athletes and sportspersons around the globe exceptional gear for added comfort and durability. In addition, adidas promo coupons and other offers made available during the adidas sale help people in Singapore purchase these products at a discounted price. Here we bring you a preview of the products available on adidas Singapore.
| Adidas Men Product Category | Adidas Men Products |
| --- | --- |
| Shoes | Originals, Training, Running, Football, Basketball, Tennis, Outdoor, Swim, Golf |
| Clothing | Shirts/Tops, Jerseys, Shorts/Bottoms, Pants/Tights, Jackets/Track Tops, Hoodies/Sweatshirts, Swimwear |
| Accessories | Bags, Headwear, Socks, Balls, Protection Gear, Other Accessories |
| Sports | Football, Training, Running, Basketball, Outdoor, Tennis, Golf, Other Sports, Athletics |
| | |
| Adidas Women Product Category | Adidas Women Product |
| --- | --- |
| Shoes | Originals, Training, Running, Tennis, Outdoor, Swim, NEO, Golf |
| Clothing | Skirts/Dresses, Pants/Tights, Sports Bras, Shorts/Tops, Jackets/TrackTops, Hoodies/Sweatshirts |
| Accessories | Bags, Headwear, Protection Gear, Socks, Other Accessories |
| Sports | Training, Running, Outdoor, Golf, Tennis, Football, Other Sports, Basketball, Athletics |
| | |
| Adidas Young Adults Product Categories | Adidas Young Adults Products |
| --- | --- |
| Youth (8-14) | Shoes, Clothing, Accessories |
| Kids (4-8) | Shoes, Clothing, Accessories |
| Baby (0-4) | Shoes, Clothing |
| | |
| Adidas Sports Products Categories | Adidas Sports Products |
| --- | --- |
| Sports | Running, Training, Football, Basketball, Outdoor, Golf, Tennis, Swim, Other Sports, Athletics |
| | |
| Adidas Collections Product Categories | Adidas Collections Products |
| --- | --- |
| Adidas Collections | Adidas Stan Smith, Adidas Superstar, Adidas ZX Flux, Adidas Tubular, Adidas Tubular, Adidas Eqt, Adidas NMD, Adidas Gazelle, Adidas Originals by Pharrell Williams, Adidas Climacool, Adidas NEO |
Whether you are looking for the latest adidas shoes from the adidas boost collection or a sporty adidas jacket, this online store covers everything. You can also find popular products from each category on the home page from adidas sneakers to apparel. Further with adidas promos and deals available across product ranges, you can enjoy quality merchandise at an affordable rate.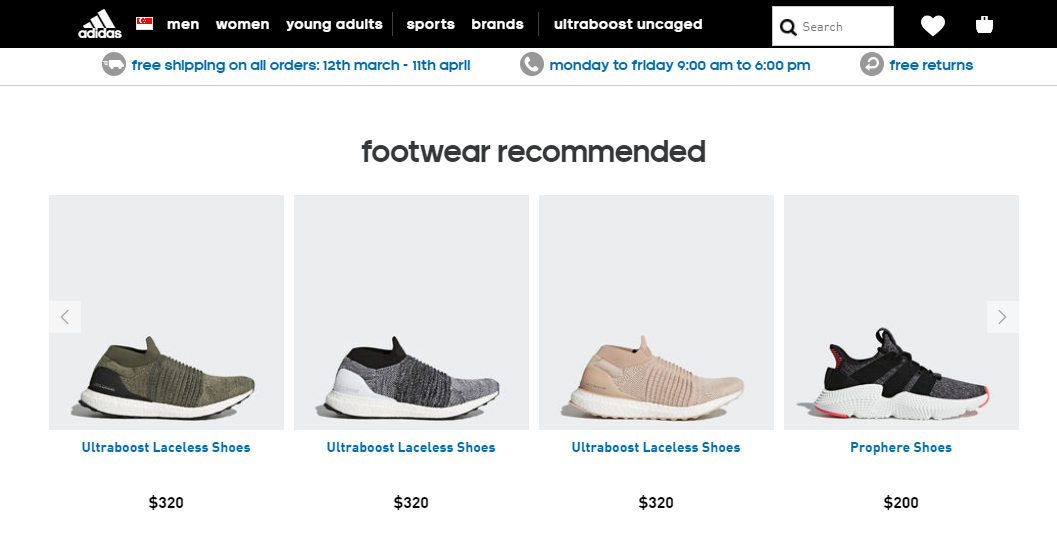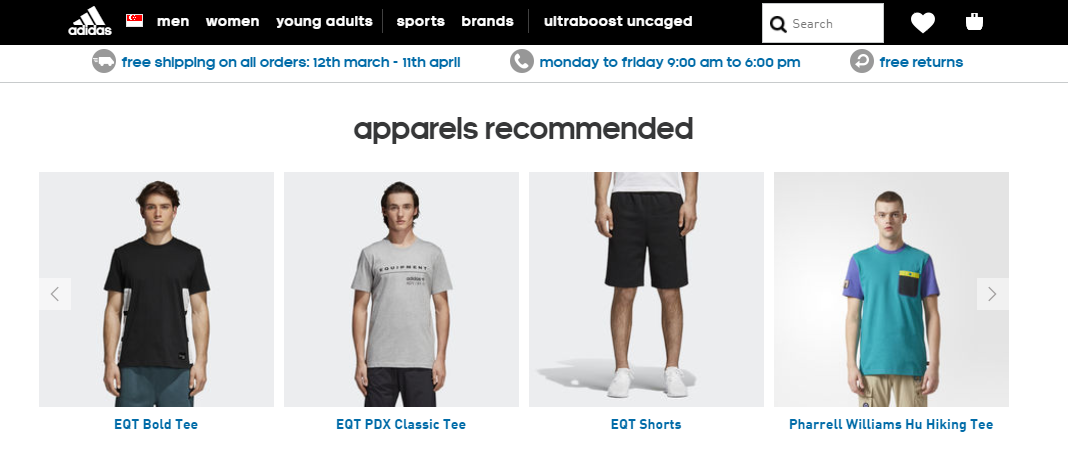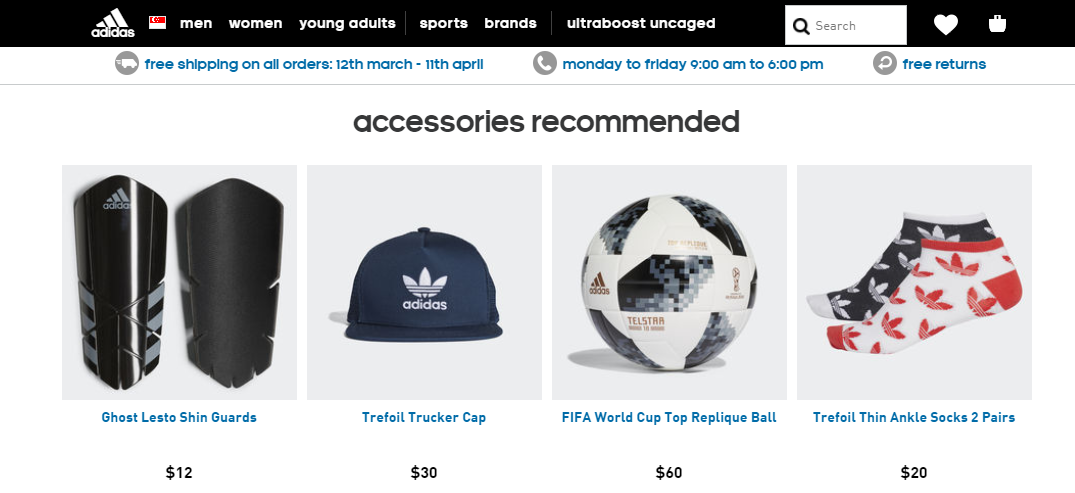 How do I order on the Adidas Singapore online store?
Step 1: You can find all the products on the site through a simple search. Either enter the product name or number in the search bar at the top right of the page, or search by gender, sport or brand on the navigation menu.
Step 2: After searching, you can refine, customise, and organise your results in the 'Your Selection' menu on the left side of the screen.
Step 3: Before adding a product to your shopping cart from the product page, it may be necessary to choose a "size" and/or "colour" for the product you want to purchase. Click on the drop-down menu under the product description to select a size and/or colour. Choose a "quantity" in the field provided and click the "add to cart" button to add the product to your shopping cart.
Step 4: If you have already registered your e-mail address with adidas, or created an account at the online shop before, you can use your e-mail address to login. Otherwise, you can check out as a guest or create an account. Having an account will give you access to handy features such as the address book and your personal order history as well as adidas deals.
Step 5: The first two steps of the checkout ask for your delivery and billing address. If your billing address is the same as your delivery address, simply check the checkbox and the billing address will be filled out automatically. If you have stored an address during previous checkouts, you can also use the address book to select this address.
Step 6: Next up is the payment information. Once you have entered all your data on this page and clicked continue, money will only be transferred from your card once you confirm your order on the next page. In case you have an adidas promo code, under the order summary click "Enter promo code" then type your voucher code into the box and click 'Apply'.
adidas will send you 2 emails when you order; the order confirmation and the shipment confirmation. These tell you when you've successfully placed your order and when the order has been shipped (with a track & trace code).
The following payment options are available when shopping online at adidas Singapore:
Debit/Credit Cards: Master Card, Visa, AMEX
Paypal
Adidas promotion offers, coupons and discounts
Athletes and fitness enthusiasts in Singapore can enjoy huge savings with adidas coupons and adidas special offers. Along with an adidas voucher code, you can also find offers on clothing, shoes, accessories and a lot more. adidas discount coupons made available during the adidas sale 2018 may still be applicable for an adidas discount.
Adidas discount voucher code offers and cashback with ShopBack
Along with an extensive product range, customers in Singapore can also enjoy amazing adidas voucher codes and deals such as free shipping and additional cashback when they shop via ShopBack. Some of the best deals for adidas Singapore on ShopBack have been detailed below.
| Offer | Deal | Terms and Conditions |
| --- | --- | --- |
| Adidas Online | Up to 11% Cashback | Enjoy cashback when you shop at Adidas through Lazada |
| | | |
ShopBack offers up to 11% cashback on various items if you shop from adidas Singapore. Here are the steps you need to follow to earn adidas cashback from ShopBack:
Step 1: Visit the ShopBack website and click on the adidas store at the bottom of the homepage. You can also use the search box to find the link to the merchant store.
Step 2: Click on "Activate Cashback" button on the top left corner of the page.
Step 3: If you are interested in finding the latest adidas discount code, check out the adidas voucher codes, coupon codes, discount codes section.
Step 4: You will be redirected to the adidas website to browse and select the items.
Step 5: When you place the order, you will be eligible to earn adidas cashback from ShopBack. The cashback rates differ based on product categories and based on whether you are a new or an existing customer.
Shipping and delivery at Adidas Singapore
At checkout, you will be prompted to choose a shipping method for your products. Your total shipping charges will automatically compute during checkout prior to the completion of your order. Free Shipping is available for standard delivery by a minimum spend of SGD100.
Your order will be processed within 2 business days to be ready for delivery. The delivery time will be 1-3 business days. For orders done before 3pm, processing day will be counted on that day. For orders placed after 3pm, processing day will start on the next business day. To track your order, please input the tracking number in the 'order track' section on the main page.
Delivery Rules & Restrictions
Orders are shipped on business days only. Business days are Monday to Friday, 9am - 6pm, excluding national holidays in Singapore. All deliveries must be signed upon receipt.
Order cancellation and exchange options
In case the online order was cancelled automatically.
This can be due to a number of reasons, including:
Stock availability: It is most likely that your size ran out of stock before adidas could process your order.
Payment issues: Your payment did not go through or adidas was not able to verify your payment details.
Delivery address issues: You may have accidentally entered an incorrect or incomplete delivery address which adidas couldn't process.
You will not be charged for cancelled products. If your order, or part of it, is cancelled, you will be refunded for the cancelled products.
Product exchanges
Online orders: adidas is unable to exchange the products you ordered online and had delivered to your preferred delivery address. However, you can return unwanted products for a refund, and then place a new order.
If you choose to pick it up at a store, you may return the product upon collection and purchase something else that they have in stock in store. You may also place a new Click and Collect reservation for your desired products.
Store purchases: If you bought the product at one of the stores, simply visit any of the official stores within the country where the product was purchased to exchange it. You may exchange within 30 days of purchase with your receipt as proof of purchase. Please make sure the product is in sellable condition with their original tags and packaging.
Returns and refunds at Adidas Singapore
Return options for adidas products
Postal Returns
You can return your online order free of charge within 30 days of receiving your order.
Please kindly follow the following steps:
Contact the Customer Service team at +65 6845 6845 or email at [email protected]
Provide the Customer Service team your order details and reason for returns.
Print out your return forms and return label that will be provided by the Customer Service team via email.
Insert your return forms into the return parcel, then seal the parcel.
Attach the return label onto the parcel. Please do not attach the return label onto the product packaging such as shoebox.
Take note of the tracking number stated on the return label as reference.
Drop off your parcel at any post office or Popstation.
In-Store Returns
If upon collecting your reservation, you are not completely happy with your products, simply leave the products in store with the team and adidas will process the return for you. If you have taken your Click and Order order home, please return your order to the store within 30 days and the in-store team will be able to process a refund for you.
Please be sure to bring your proof of order, such as the Click and Collect Collection Confirmation email or Order Shipment Confirmation email and invoice detailing amount paid. adidas will only process your refund through the payment service that you had used. Therefore, they will not be able to provide cash refunds. The store staff will provide you a manual receipt as your proof of returns. Please kindly keep that copy for future reference.
PostCo
Steps to follow using PostCo Return:
Choose preferred PostCo location.
Select the retailer from a dropdown of retailers that has integration with PostCo Return Service and fill in the fields. You will need your original order ID to book in your return. It starts with aSG followed by 9 digits. Make sure you use the complete order ID, e.g aSG123456789. You can find this number on your order or shipping confirmation email and also your invoice.
Fill up the Customer Information or log-in to complete booking.
Download and print your shipping label (in PDF format).
Attach to your parcel once you have securely packed your items.
Drop off your parcel to your selected PostCo location.
Once the parcel has been dropped-off, PostCo will notify you that your parcel has been accepted.
General Return Conditions
In order for a return to be accepted, it must meet the following conditions:
The product must be unused and unworn
The product must be in its original state and packaging.
Apparel must have the original tags attached.
Accessories must have all parts of the original packaging.
Footwear must be in the original shoe box
Refunds
Your refund will be processed as soon as the product you have returned is inspected by the quality assurance team and it is confirmed that it fits within the returns policy. This quality check can take up to 2 weeks, though generally less. Once the return has been approved, it takes 1-2 days for the refund to be made by adidas online store to your payment services provider (for example your credit card supplier). Please note that the time taken for a payment services provider to provide you with your refund can vary depending upon the provider.
Contact Adidas Singapore customer care team
For answers to common questions and queries you can look at the FAQ section on the website. For any additional details regarding orders or an adidas coupon code you can call the online shop customer service team on +65 6845 6845 and let the advisor know the details of your order and / or about your open question. You can also send adidas an email with all the details at [email protected]
In addition you can also follow the brand on social media for access to the latest adidas code and discount offers.