Impossible Is Nothing with Adidas
Adidas is one of the most loved and top brands in the world, specialising in the manufacture of sports merchandise. It boasts of being Europe s largest sportswear manufacturer and also the world s second largest, immediately after Nike. They always believed in keeping things lean, fast and simple. This multifaceted organisation started off small and turned out to be one of the most renowned brands in the world.
Adidas believes in providing excellent quality products to its customers and never fails to deliver what is promised. From the time of its birth to this day, the company has been aiming at innovating unique and high-quality merchandise. It continues to follow its age-old strategy of 'Creating the New and continues to satisfy customers with the best collection of sportswear. Visit their site to shop for sports clothing, shoes and accessories and enjoy amazing Adidas discounts during Adidas promotions.
Founded by Adolf Dassler in 1924, Adidas is a worldwide enterprise headquartered in Herzogenaurach, Germany. It was after returning from World War I that he began making sports shoes in his mother s laundry room. He was later joined by his brother Rudolf and the business came to be known as 'Dassler Brothers Shoe Factory . They faced a lot of struggle initially. At times, they had to even draw power from a bicycle in order to run their equipment, owing to the electricity supply problems in their region. Dassler helped in developing spiked running shoes for various athletic events and also enhanced the quality of spikes with the use of rubber and canvas. Their business became highly successful with four gold medals in its name and 200,000 pairs of shoes sold annually until World War II.
However, differences between the brothers led to the split of the company in 1947, after which Dassler formed his own company 'Adidas and Rudolf established 'Puma in the year 1949. The rivalry between Puma and Adidas continued, and it became the talk of the town.
After the Summer Olympics in the year 1952, Adidas got its 3-stripe logo from Karhu Sports – a Finnish athletic footwear brand. Adidas AG acquired the Salomon Group, Maxfli and Taylormade Golf Company in 1997; had Stella McCartney create a joint venture with them known as 'Adidas by Stella McCartney , and came up with the first shoe to use a microprocessor - Adidas 1 (The World s First Intelligent Shoe). In 2006, it announced its 11-year deal with NBA as its official clothing provider and in 2015, launched its first ever reservation mobile app.
Adidas offers an amazing collection of sportswear and accessories. Shop at Adidas online, while enjoying Adidas deals during Adidas offers. Listed below are some of the product categories available on Adidas.
Women and Men –
Adidas offers amazing quality products for men and women. From jackets, sports bras, backpacks and gloves for women, to jerseys, pants, training bags and socks for men, it has everything that you have been looking for.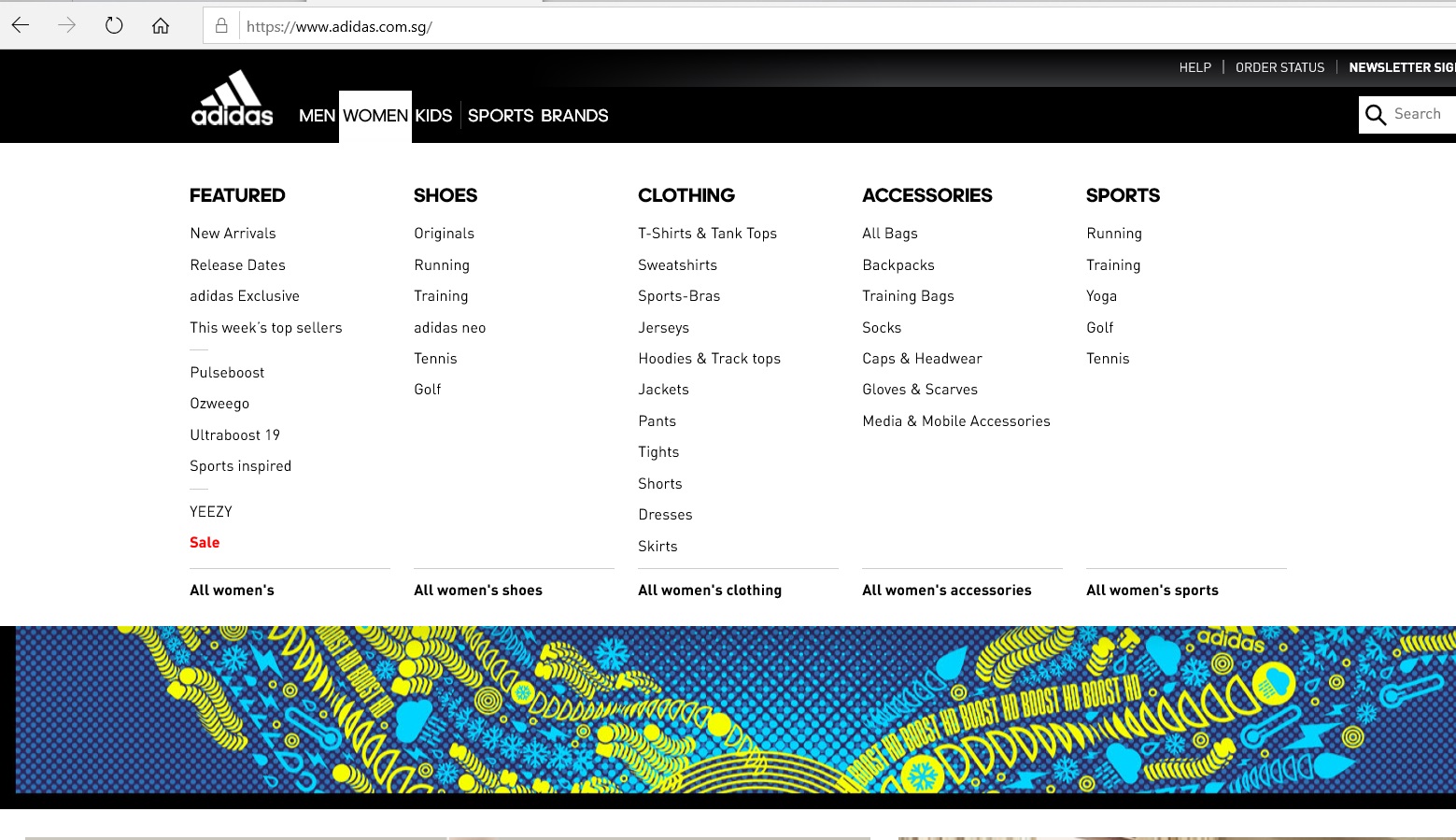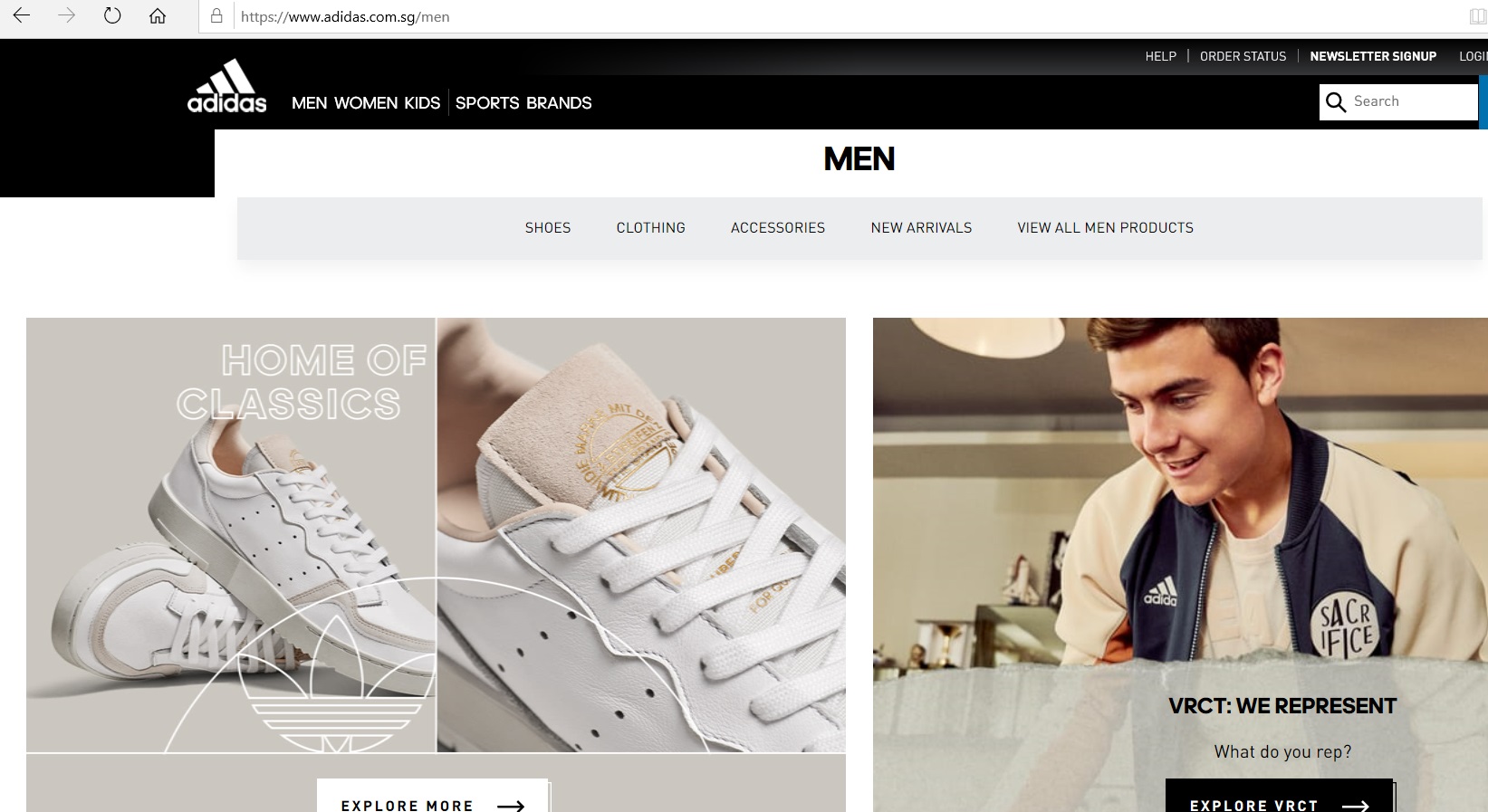 Kids –
Let your kids choose from a wide range of products on Adidas and have their own collection of sports shoes, clothing and accessories. They have different categories of products for babies and toddlers, kids between the age group of 4 and 8, as well as for the youth.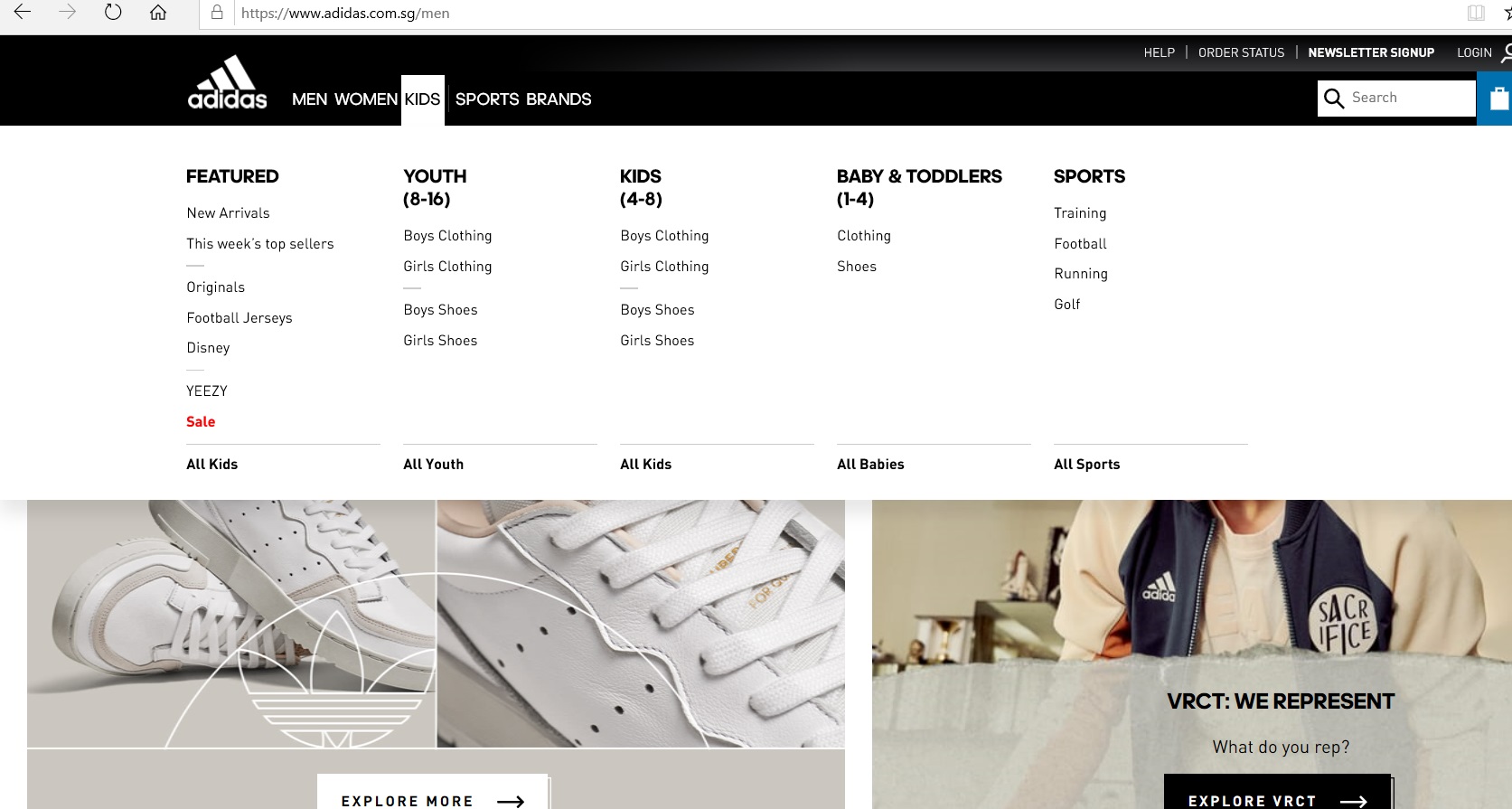 Make sure to check for the Adidas coupons and Adidas vouchers offered during Adidas sale before you proceed with shopping.
| Adidas Product Category | Products |
| --- | --- |
| Men | Shoes, clothing, accessories, sports |
| Women | Shoes, clothing, accessories, sports |
| Kids | Youth (8 – 16), kids (4 – 8), baby & toddlers (1 – 4), sports |
| Sports | Football, running, basketball, training, other sports |
Adidas offers an easy approach to shopping and brings to you a number of Adidas sales from time to time. The homepage displays all the product categories and also provides a search icon to search for a specific product. You can also find Adidas promo codes, Adidas voucher codes and other discounts on the homepage.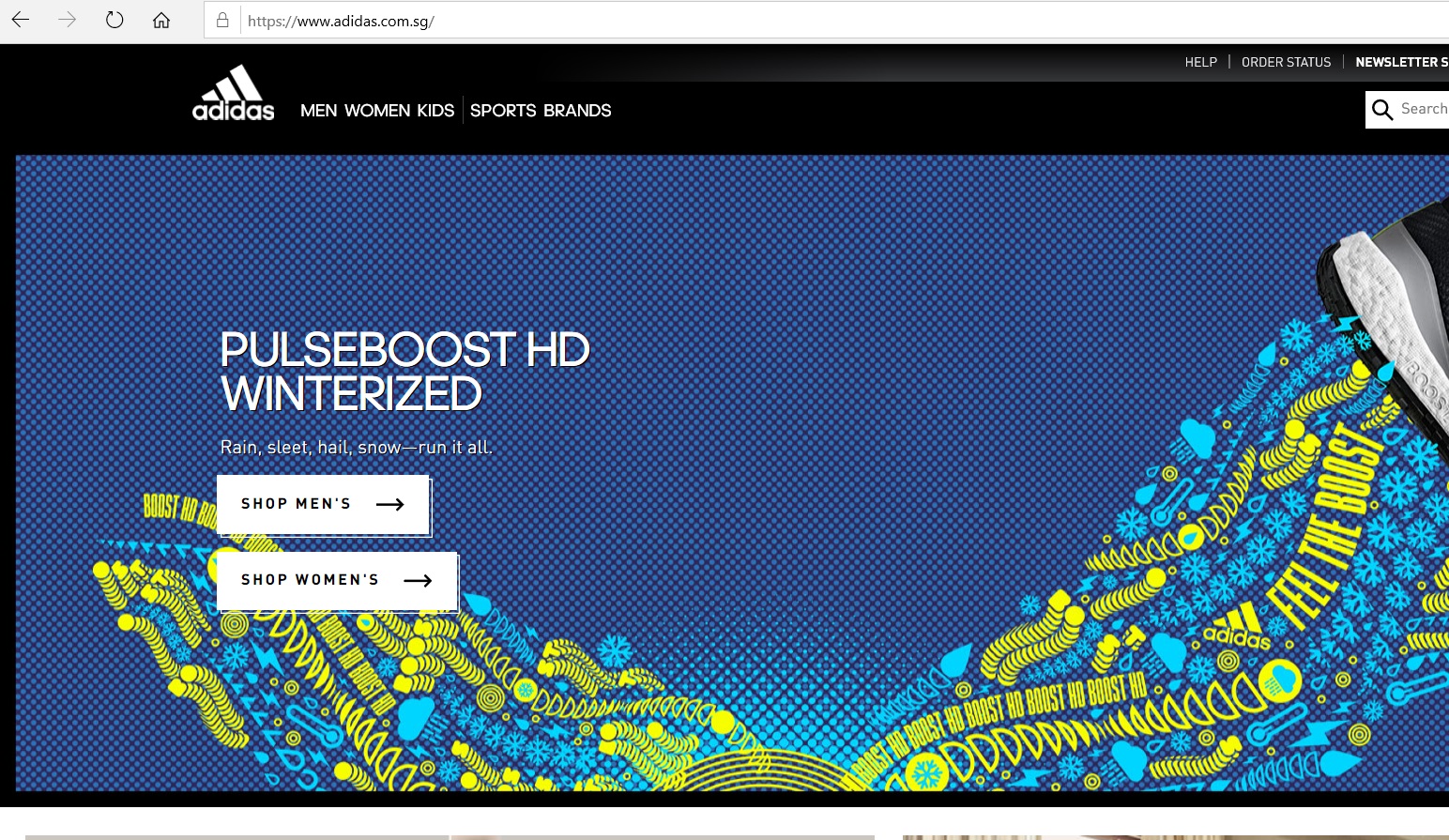 1. Select your preferred category and sub-category. Select a product of your choice from the list of products.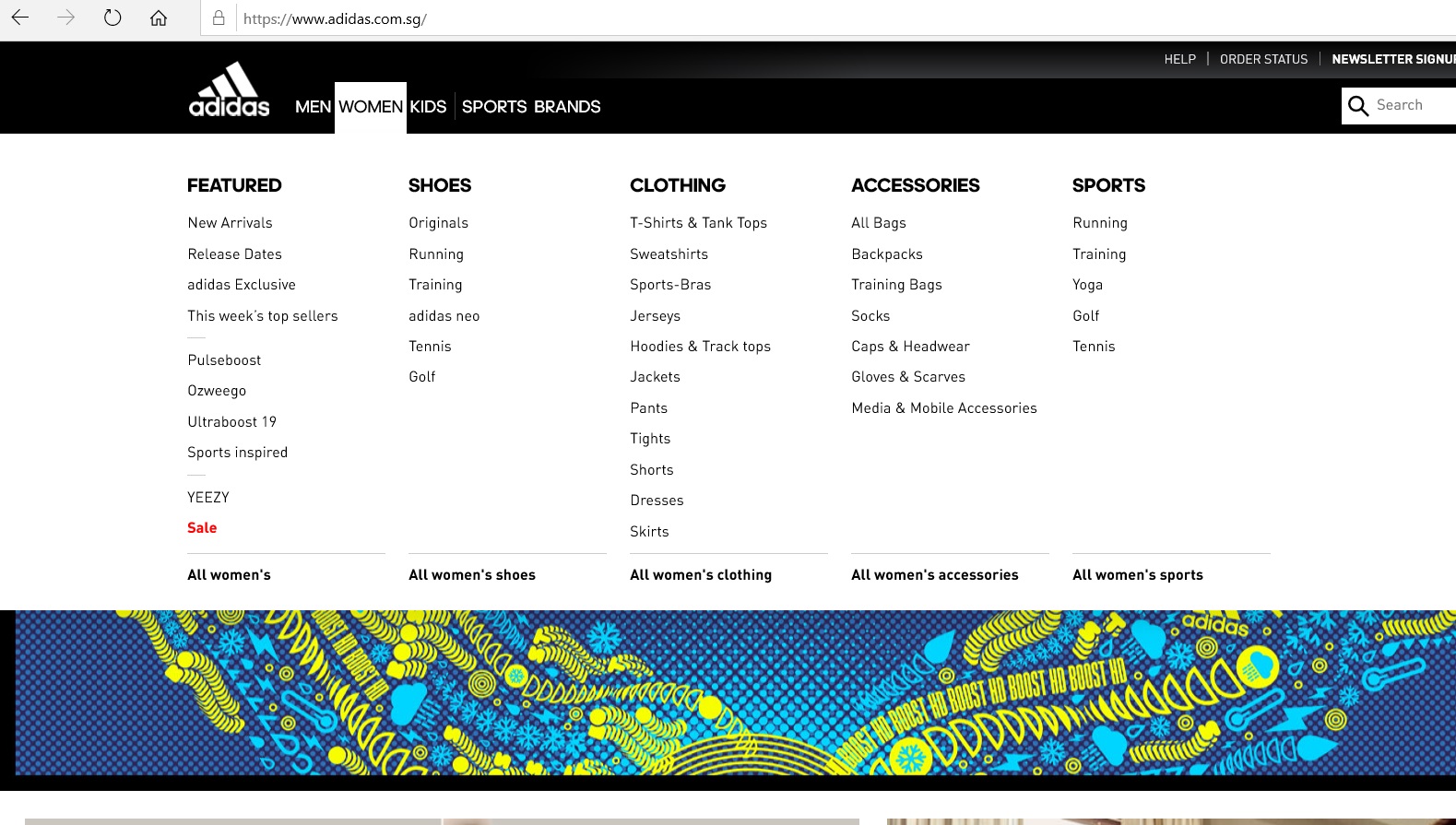 2. The product description, along with its price, an 'Add to Bag button, a wishlist button and product reviews will be displayed. You may go back to browse a different product or select the size and click 'Add to Bag. The product will be added to your bag, after which you may continue shopping or proceed further by clicking on the shopping bag. It will display your bag details, along with a field to enter the Adidas promo code. Then click 'Checkout or 'PayPal Checkout as per your choice.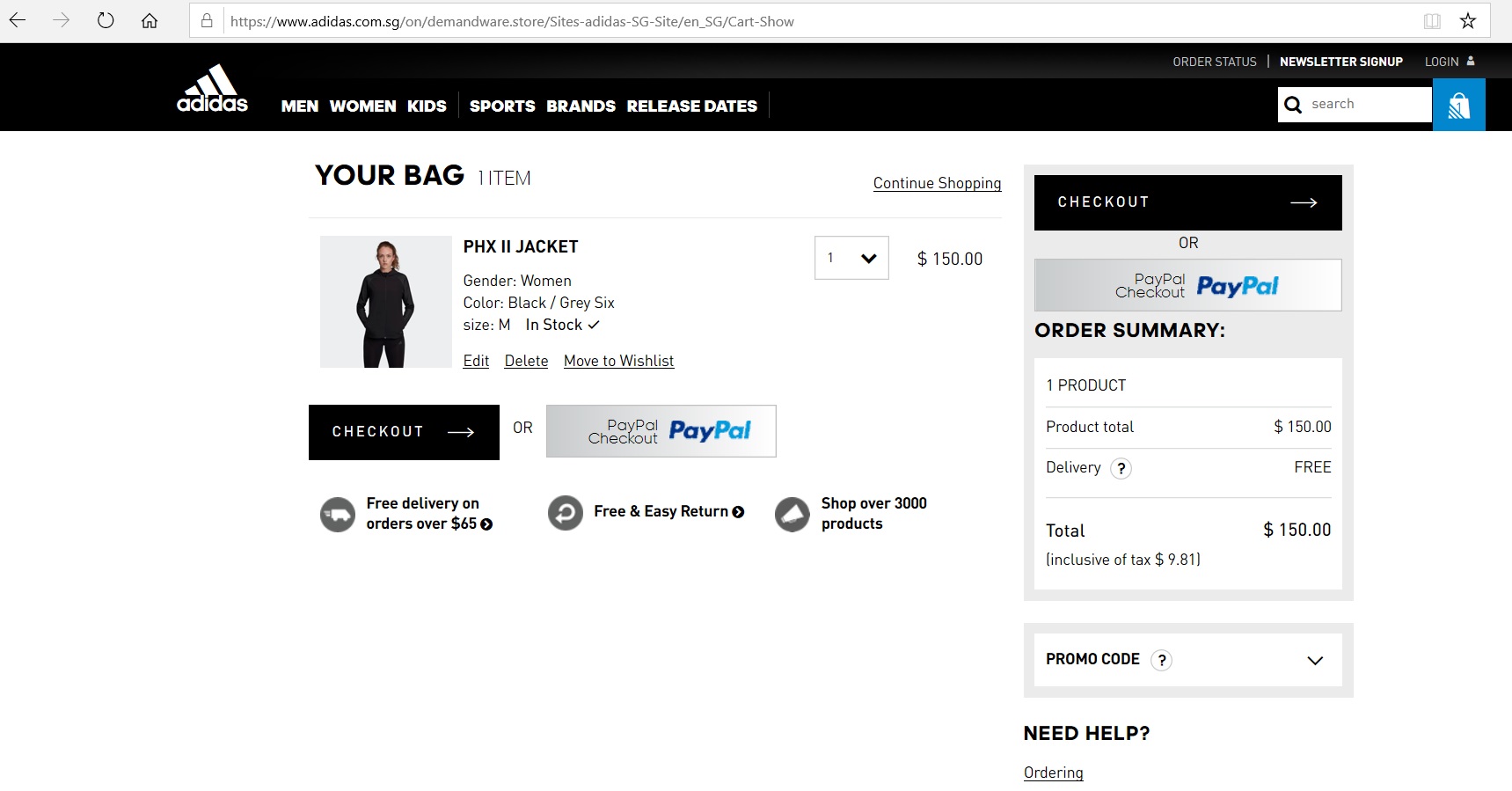 3. On the next page, log in (if you are already a member) and enter your delivery address and delivery option. Then click 'Review & Pay to proceed to payment. Enter your payment details on the next page and click 'Order Now to complete your transaction.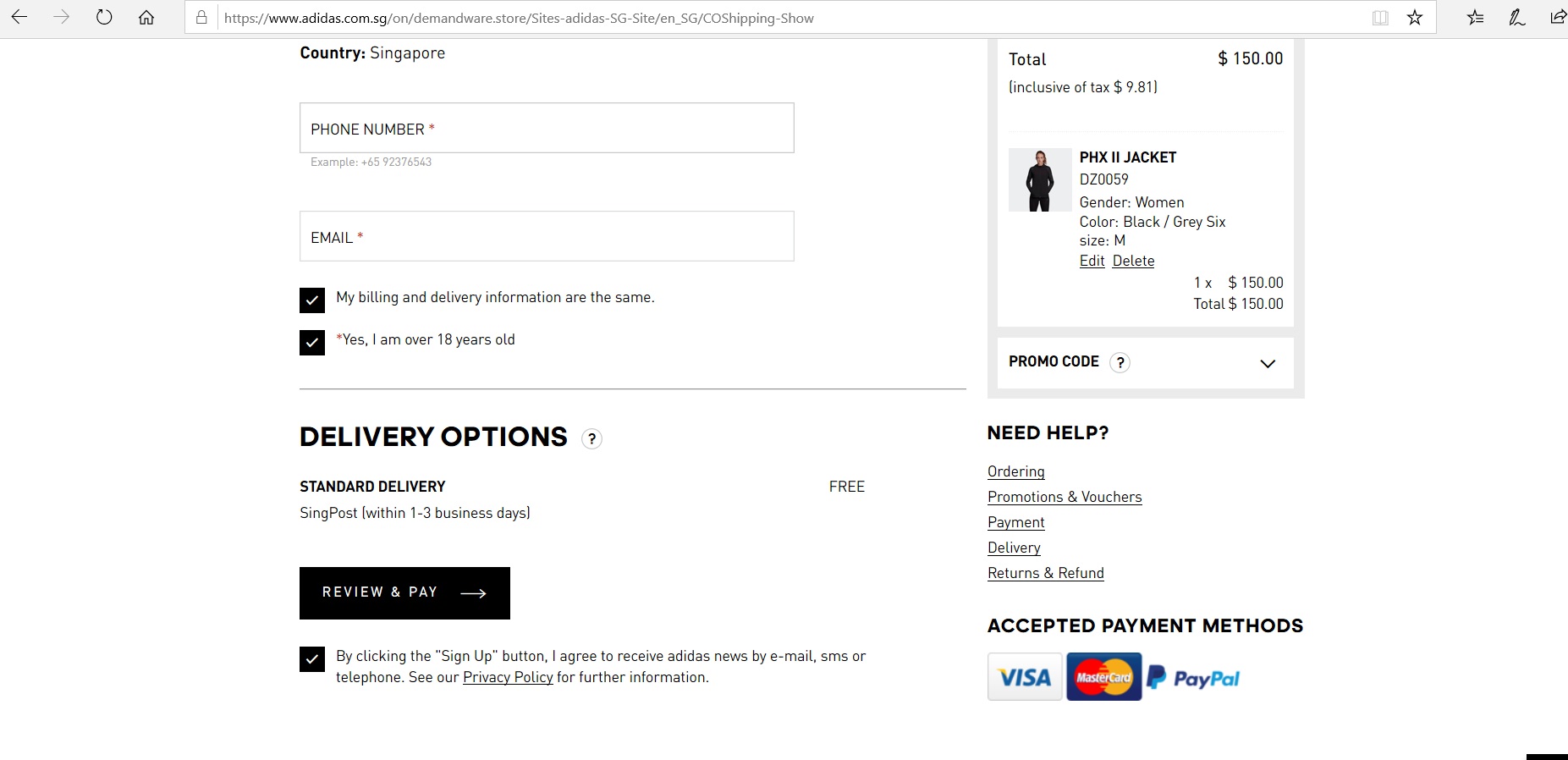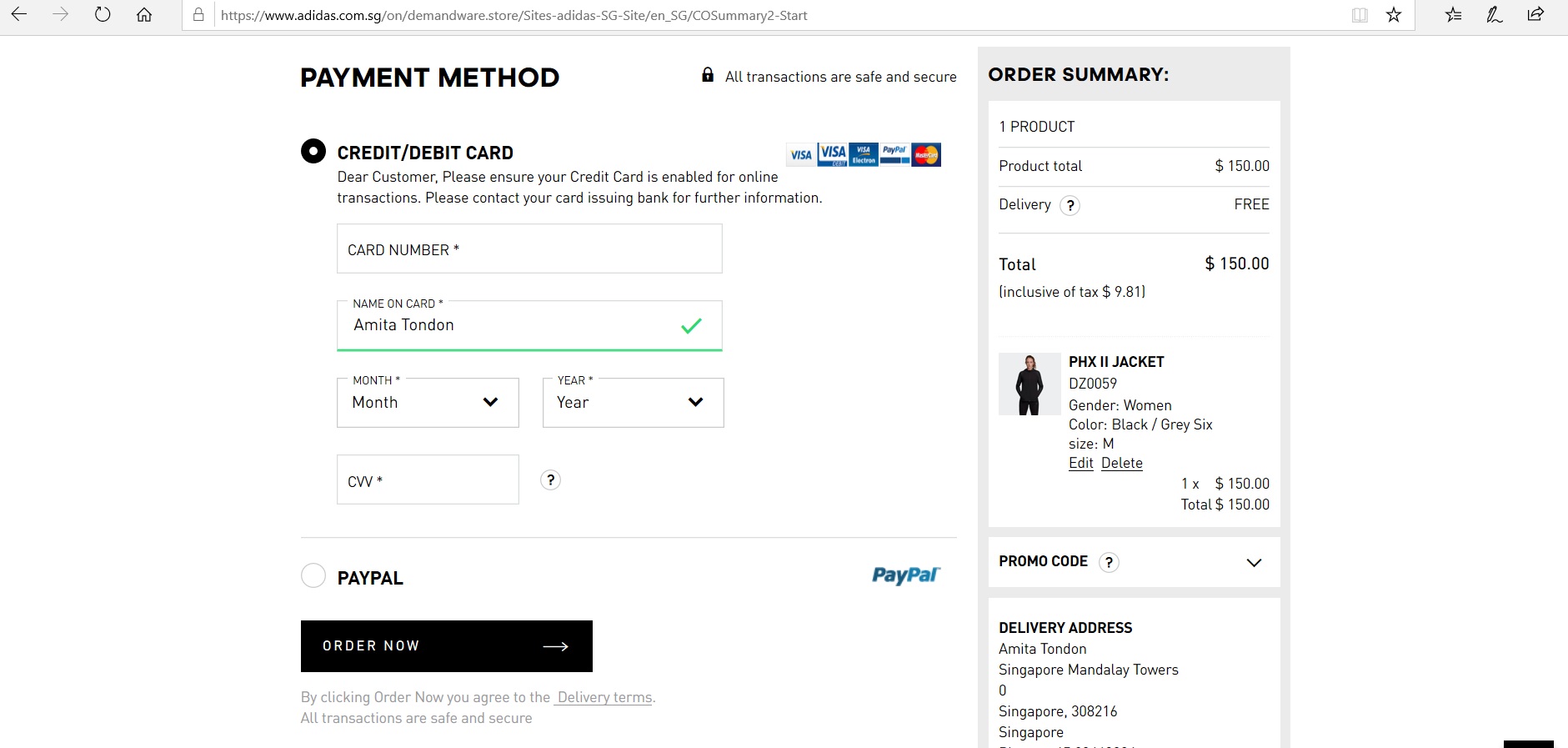 4. You will see your purchase details after placing the order, along with the expected delivery date of your product. An e-mail will be sent to you to confirm your order details.
5. Customers can find great deals on products during Adidas promos and sales. You can avail discounts by using the Adidas discount codes/Adidas promo codes on checkout. Make sure to check for special deals before placing an order.
Payment Options on Adidas
Adidas offers the following payment methods for your convenience.
Credit Card:
Adidas accepts credit and debit cards for online payments. It accepts VISA and Master Card.
PayPal:
PayPal is a popular online payment method that serves as a simple e-transfer alternative to the traditional payment process. Adidas accepts PayPal method for all your payments.
Visit their payment inquiries page for more information regarding payments.
Different Coupon Codes and Discounts on Adidas
The website brings to you a number of Adidas discount coupons and Adidas discount vouchers from time to time. Some deals are offered for a long time while others are available for a limited period only. Customers can save a lot of money by applying the Adidas codes and earn cashback if they shop with the merchant via a registered account at ShopBack.
How to Redeem Coupons and Vouchers on Adidas?
Online shopping can be a wonderful, convenient experience, with a vast collection to choose from and ample opportunities to save money on every purchase. Most online shopping websites offer coupon codes and vouchers that can be redeemed to earn cashbacks and discounts on products.
Here is a step-by-step tutorial on how to redeem coupons and vouchers at Adidas:
Step 1:
Choose from the list of displayed products, select your preferred item and click Add to Cart .
Step 2:
Enter your email and shipping address and proceed to checkout.
Step 3:
Proceed to the payment page. Here, you will find a box under the payment summary section to enter your Adidas promo code or any other applicable discount codes for availing discounts.
Step 4:
Choose your payment method and fill in the payment details to complete your purchase.
How to Shop on Adidas Using Shopback
ShopBack offers cashback on products if you shop from Adidas. These steps will help you earn cashback from ShopBack:
Step 1:
Select Adidas from the list of brands on the ShopBack homepage, or use the search box to find a link to the Adidas website.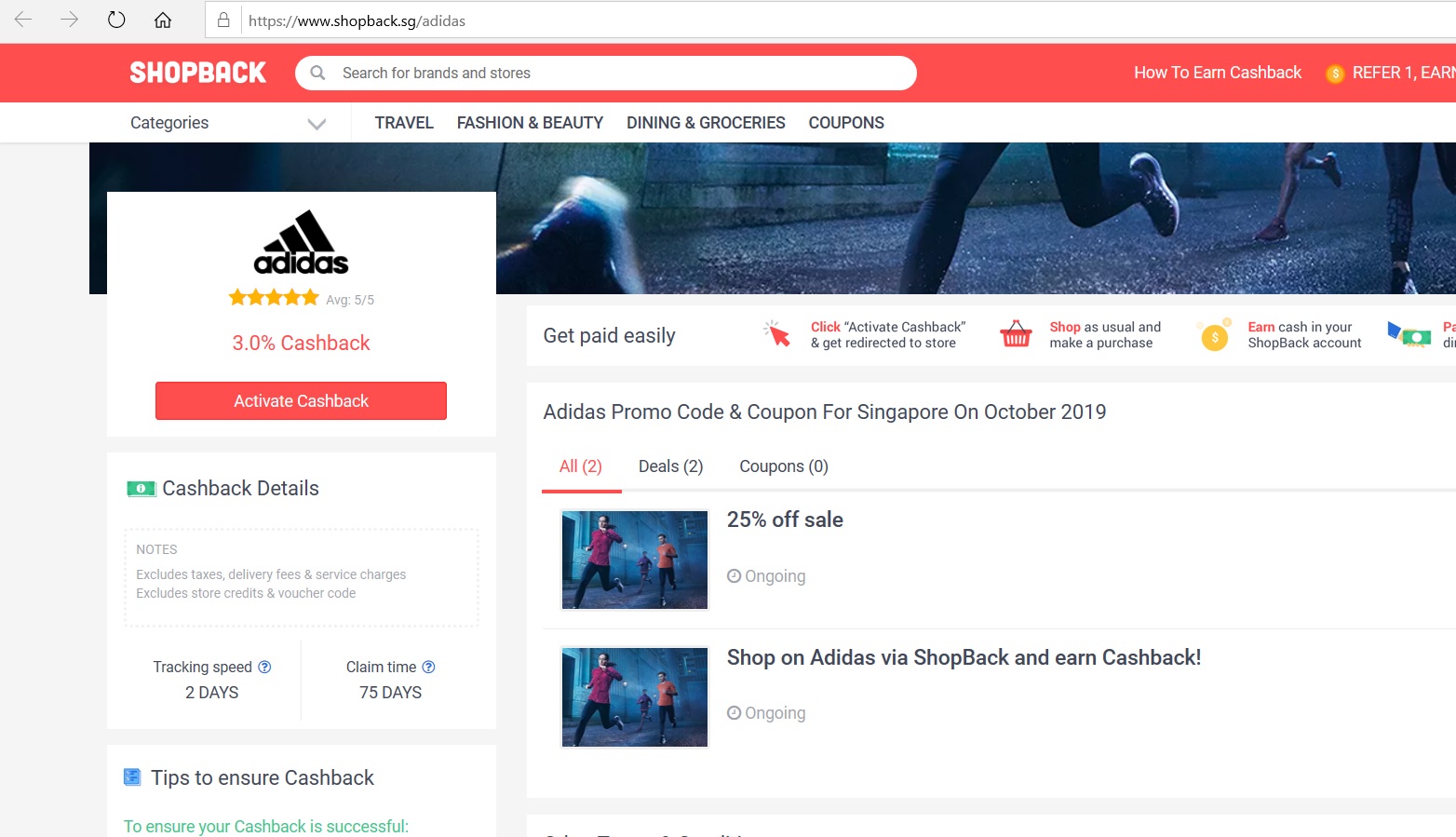 Step 2:
Read the terms and conditions and other relevant information such as cashback details and tips to ensure cashback.
Step 3:
Click Activate Cashback on the left.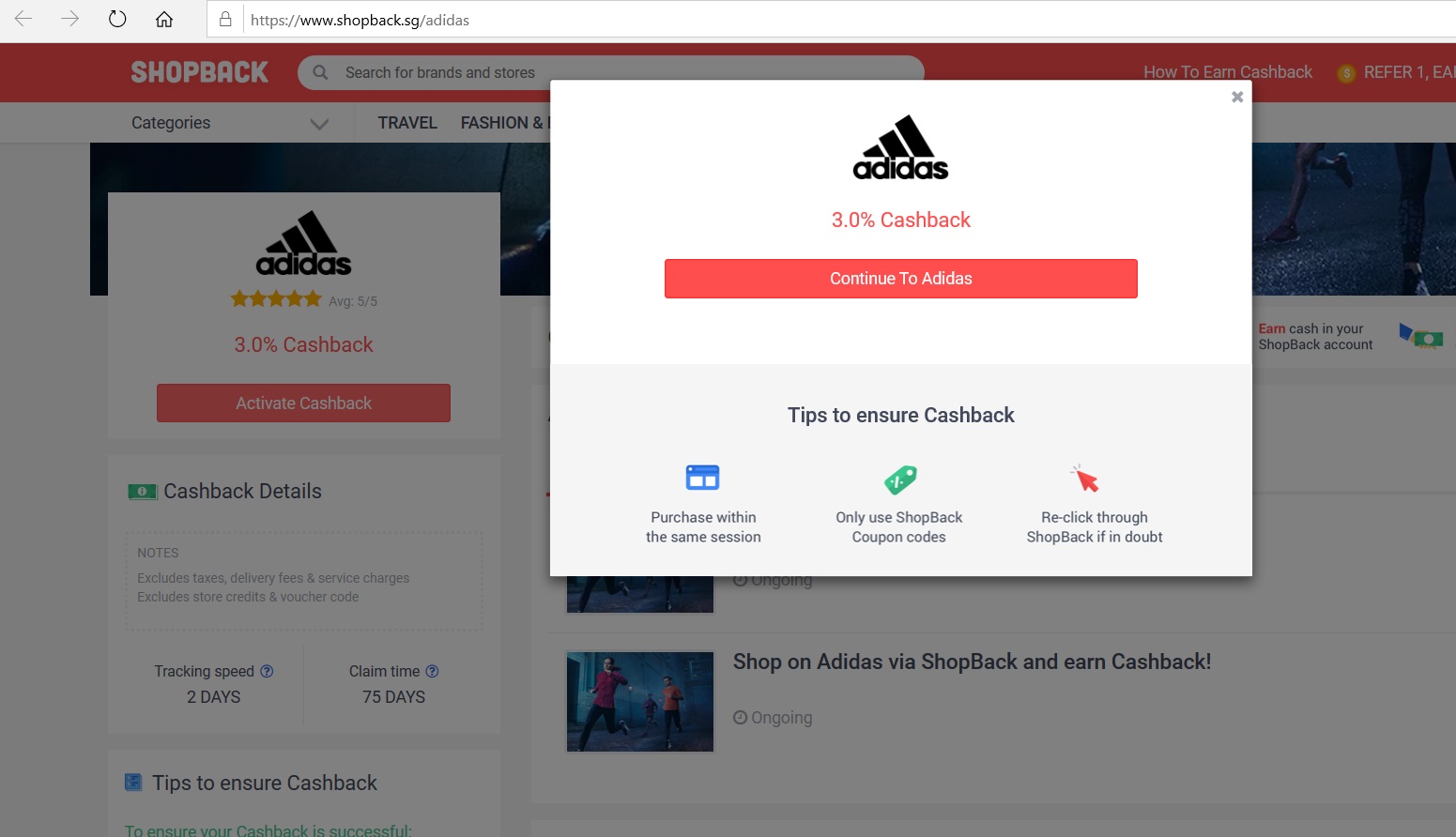 Step 4:
You can find more attractive deals by checking out the 'All section.
Step 5:
On placing the order, you will be eligible to earn Adidas cashback from ShopBack. There may be a variation in cashback rates based on your history with ShopBack. Cashback offer is not applicable on purchases made via the Adidas app.
Adidas Shipping and Return Policy
The shipping and returns policy for Adidas is listed below:
Shipping:

Shipping charges will be computed at the time of checkout. The site offers free delivery for orders costing more than $65 and with standard delivery. A delivery charge of $5 is applicable for Cash N Carry orders that are below $65. Adidas online shop Singapore ships only within Singapore.

Order shipping will be done only on business days (Monday to Friday 9 AM to 6 PM, excluding Singapore s national holidays). The delivery time is 1 to 3 business days after order processing. Order processing starts on the same day for orders placed before 3 PM and on the next business day for orders placed after 3 PM.

In case of delivery failure, you will be notified about the same and you can collect it from the designated location. Refer their delivery page for more information on shipping and delivery.

Return and Refund:

On receipt of damaged products, you will have to contact the customer service team and provide visual evidence, while retaining the original tags. Returns can be made by post or at the retail store.

Products can be returned within 30 days of order delivery, provided they are in the original condition, unused and in their original packaging, with all the tags intact. Once the return items are received, quality check will take a maximum of 2 weeks, after which your refund will be processed. Refund will not be done for products damaged from your end and for orders placed via a source other than the Adidas Singapore site. Refer their return and refund page for detailed information.

You cannot cancel the order once placed. The site can cancel your order owing to stock availability, delivery address issues or payment issues. Visit their ordering inquiries page for further queries.
For any inquiry or help, customers can visit their customer service page or click on help. You can connect with their customer care representatives on 800-852-6554 (Monday to Friday 9 AM to 6 PM) excluding public holidays. You may also chat with them online by clicking on the chat icon at the bottom of the page (Monday to Friday from 9 AM to 9 PM and on Saturdays from 9 AM to 6 PM), excluding public holidays. You can use their private message option on Facebook (Monday to Friday from 9 AM to 9 PM and on Saturdays from 9 AM to 6 PM), excluding public holidays.