Be Sparkled And Dazzled With Swarovski!
Step into the world of dazzling brilliance and explore the marvels of crystals that are finely crafted into glass sculptures, jewellery, home decor, chandeliers and many more interesting articles like animal figurines at the world-renowned Swarovski, a leader of crystal cut creations. Swarovski crystals are man-made gems manufactured using sand, quartz, minerals and high-precision equipments.
Swarovski is known all over the world and exhibits its crystal products through its various boutiques, retail partners, website and other Swarovski online shops. The company designs, creates and sells high-quality crystal products that include ornaments, jewellery, accessories, home decor and figurines. Swarovski launches its new collection almost every quarter. Finely crafted Swarovski jewellery makes for an extraordinary gift. So, log in to the Swarovski website and explore the world of crystals as you purchase brilliant pieces of Swarovski crystals.
Apart from its dazzling crystals, Swarovski is known for its fascinating past. This one-of-its-kind story boasts of remarkable achievements from its jubilant past to a dazzling present. In 1883, Daniel Swarovski, the founder of Swarovski, established a jewellery company that supplied jewellery to Queen Victoria. After some years, Daniel created a crystal-cutting machine and registered a patent for the same. In 1895, Daniel moved to Austria and embarked on his crystal-production journey.
In 1911, Daniel and his family established their own glass manufacturing factory to produce high grade glass. After some years, by around 1920s, fashionable Swarovski designs and accessories were in great demand. After World War II, Swarovski Optik, a top firm in precision optics that manufactured telescopes, binoculars and lenses was established. In 1956, Swarovski teamed with Christian Dior to create the famous Aurora Borealis effect. Over the years, Swarovski continues to partner with top fashion designers to create new crystal designs and take fashion to new levels.
Today, Swarovski Crystal Business boasts of 27,000 employees, 2,800 stores in about 170 countries and an income of about 2.6 billion Euros in 2016.
Products Sold on Swarovski
Visit the Swarovski website and check out the marvellous collection of crystal designs. An array of jewellery, watches, accessories, home decor, and gifts await you here. During Swarovski special offers, customers can avail discounts and save money by using Swarovski promo codes, Swarovski coupon codes and Swarovski vouchers available online.
Jewellery
: From Swarovski bracelets to necklaces, Swarovski rings to brooches, pendants and sets, you can purchase these all from the Swarovski website. You can also check out the products in the various Swarovski stores. Men too can look for an interesting Swarovski collection that includes cuff links and gifts. Customers can shop by material such as rhodium-plated, rose gold-plated and stainless steel.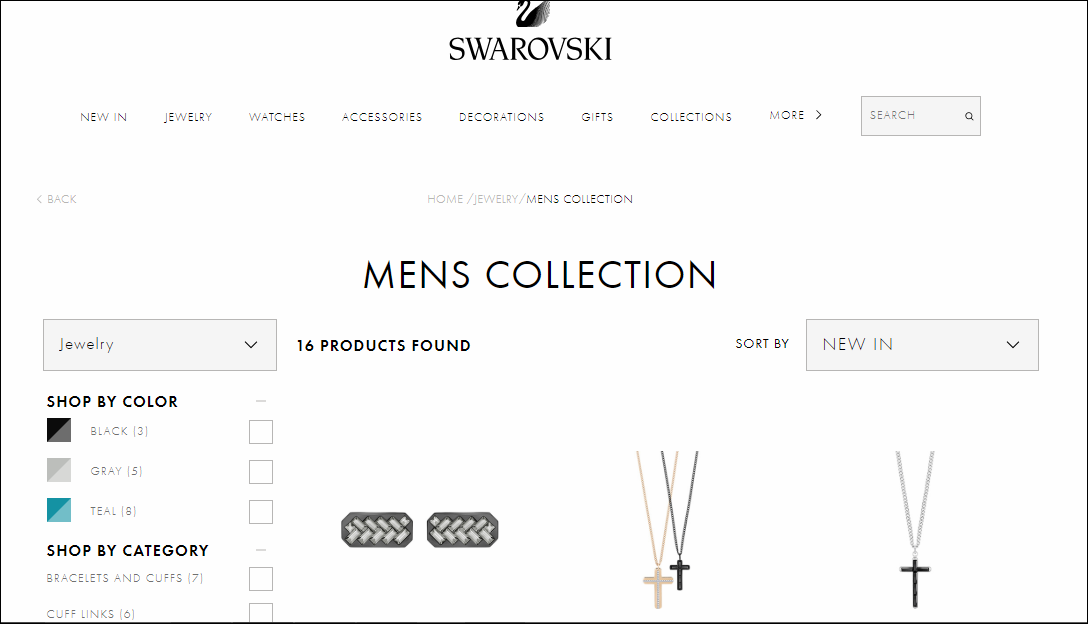 Watch
: Check out beautiful crystal-studded Swarovski watches on the Swarovski website. You can pick your favourite based on colour, material, mechanism and an impressive category. Some of the categories on offer are rose gold tone, gold tone, metal bracelet, fabric and crystal strap, and many more.
Accessories:
Swarovski offers an interesting range of accessories such as Swarovski pens, USB accessories, sunglasses, handbags, smartphone cases, key rings, hair accessories etc. You will find all information related to the products on the website.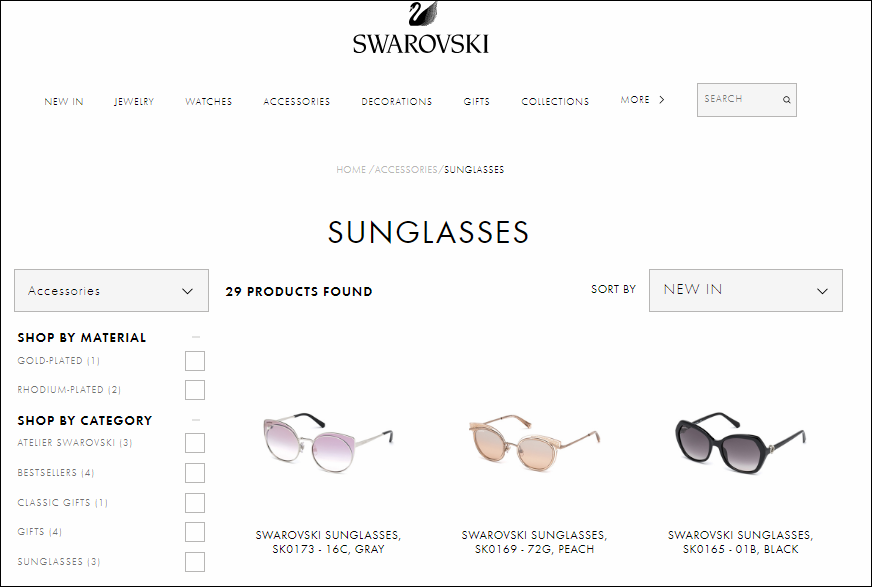 Gifts
: The Swarovski website is an ultimate destination for those who are looking to buy gifts for their near and dear ones. You can find an array of gift items for home, wedding gifts, graduation gifts, birthday gifts, gifts for men and women etc. Shopping for gifts from Swarovski can be delightful, especially when purchased during the Swarovski sale period.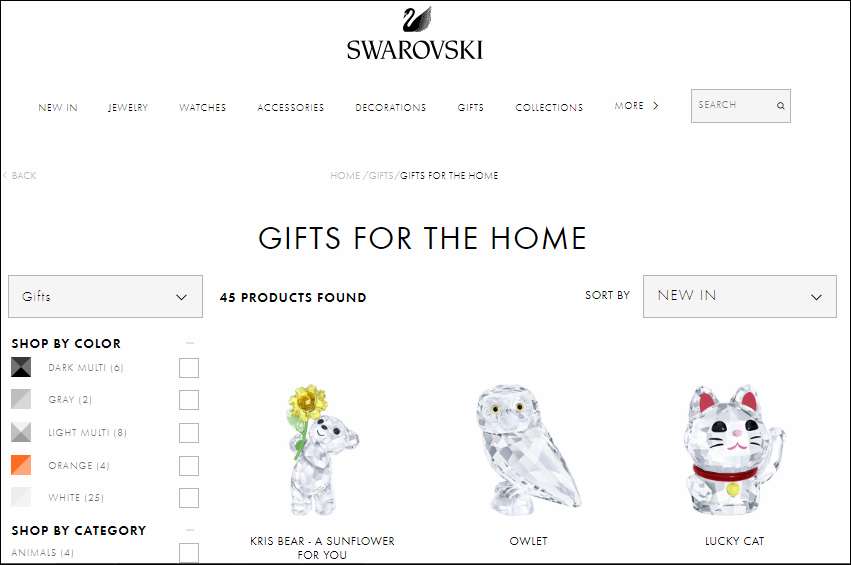 The table below lists the product categories and sub-categories available on the Swarovski website
| Product Categories | Product Type |
| --- | --- |
| Jewellery | Swarovski Necklaces, Swarovski Earrings, Sets, Brooches, Men s Collection, Pendants, Bracelets, Rings, The Swarovski Remix Collection, Atelier Swarovski |
| Watches | All Watches, Rose Gold tone, Gold Tone, Metal Bracelet, Fabric and Crystal Strap, Sliver Tone, Black Tone, Leather Strap, Automatic Men s Watches |
| Accessories | Pens, USB Accessories, Sunglasses, Handbags, Fashion Books, Smartphone Cases, Key Rings, Hair Accessories, Cardholders |
| Decorations | Disney Characters, Home Decor, Celebrations, Happy Holidays, Kris Bears, Nature Inspired, Asian Symbols, SCS Exclusive Products, Art and Statement |
| Gifts | Bestsellers, Gifts For The Home, Wedding Gifts, Gift Sets, Exclusive Crystal Gifts, Versatile Gifts, Glamorous Gifts, Nicely Priced Gifts, Birthday Gifts, Graduation Gifts, Gifts For Him, Gifts For Her, Classic Gifts, Ornaments |
| | |
Swarovski offers and Swarovski promos can be quite tempting and will help you to save a lot of money as you purchase these crystal-studded delicate items. You can shop on Swarovski Singapore online by logging on to ecommerce websites like Lazada and iShopChangi websites.
Payment Options on Swarovski
The payment options available on Swarovski are secure, popular and quick. These methods are mentioned below.
Payment via cards
: Swarovski accepts payments via Visa, Mastercard, Eurocard and American Express. Your credit card will be debited after your order is confirmed.
Wirecard
: Customers without a credit card can pay for their orders via Wirecard, a prepaid card that is used like a credit card. Customers can check the balance of their wirecard online, which is updated regularly.
PayPal
: You can even choose to pay for your purchases on the Swarovski website via PayPal, a secure online payment system that lets you make digital transactions.
Different Swarovski Discount Codes and Swarovski Coupons
Customers can find huge Swarovski discounts and deals on popular jewellery, accessories and decor during the Swarovski sale period. Keep yourself updated about the latest Swarovski cashback schemes, Swarovski voucher codes, Swarovski promo codes and other Swarovski codes by signing up for their email notifications. You can shop for items in Swarovski Singapore by logging on to websites like Lazada or the iShopChangi website.
How to Shop on Swarovski using ShopBack
Customers with registered accounts on Shopback can earn up to 6% cashback on Swarovski products. The steps to earn cashback are given below.
Step 1
: Visit the ShopBack website and click on the Swarovski store displayed in the homepage. You can also use the search box to find the link to the Swarovski store.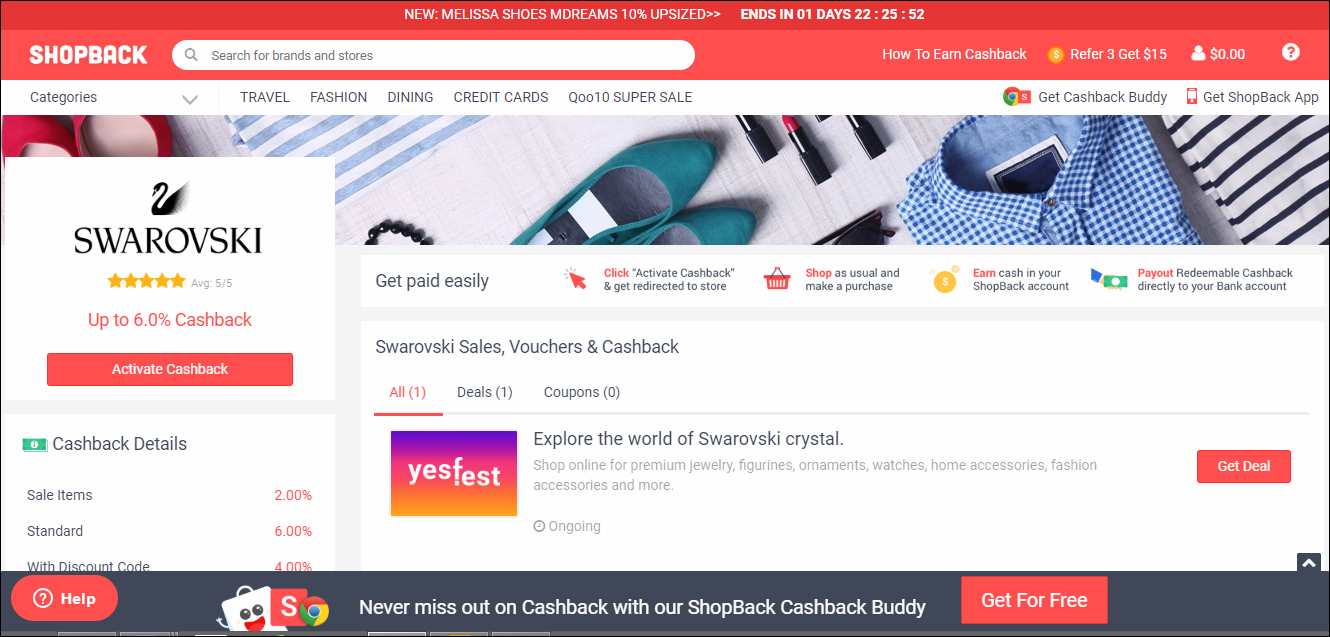 Step 2
: Read important information such as cashback details, tips to ensure cashback and other terms and conditions given in the Shopback website.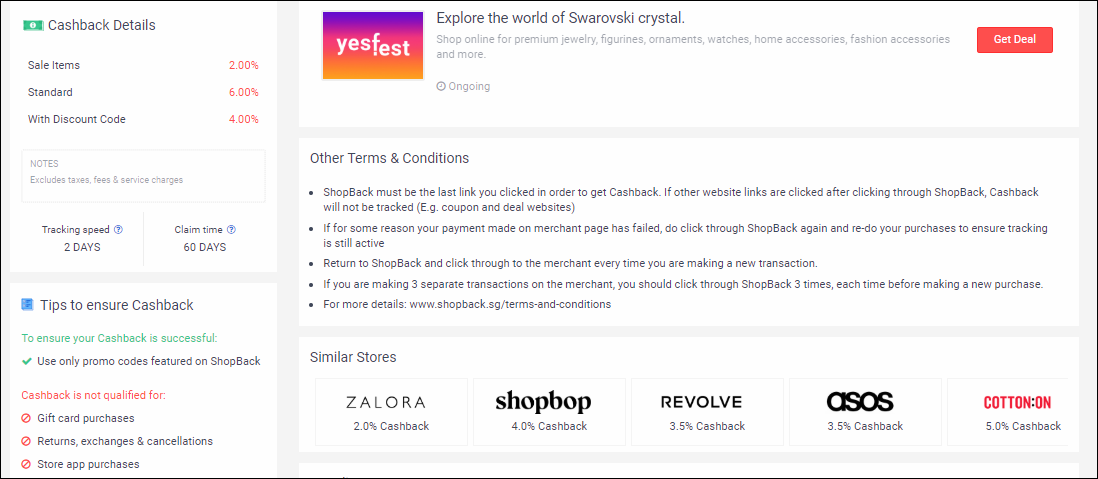 Step 3
: You can look out for more Swarovski deals, coupons, Swarovski promo codes in the 'Swarovski Sales, Vouchers and Cashback section

Step 4
: Click on the "Activate Cashback" button.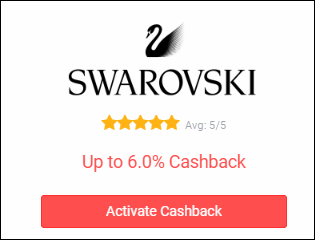 You will be redirected to the Swarovski website to browse and purchase the products. You will be eligible to earn cashback from ShopBack after purchasing the products. Please note that the cashback offer is not applicable on gift card and store app purchases.
Swarovski s goods return policy is mentioned below.
Swarovski accepts returned goods provided they are unused, unworn and undamaged. The customer must return the goods with the Return Form and original Swarovski packaging.

Swarovski does not replace or exchange returned products. Customers have to place a new order for the same.

Online returns are accepted in all Swarovski click and collect stores. You can use the Store Finder option to check out the nearest Swarovski sg (Singapore) click and find store.

After you return a product, you will receive a return confirmation email and your refund will then be processed.

Customers can return their online order within 14 days after receipt of the product.
You can connect with Swarovski on Facebook, Twitter or Instagram by clicking on the links provided below.