Related Coupons & Promo Codes
Save on other electronics services and products with
or
available at ShopBack. You can also find information on
and
too!
Surf the Internet Privately with NordVPN
NordVPN is one of the best Virtual Private Network (VPN) providers that offers complete Internet security and safeguards customer privacy. It is a fast, valuable VPN service, which gives every customer the freedom to have private Internet access, free from surveillance and censorship. Every employee at NordVPN works towards one goal and leaves no stone unturned in providing complete safety on the Internet.
The team at NordVPN believes that every individual s privacy is of prime importance and it should not be compromised at any cost. In order to maintain customer privacy, the company follows a strict 'zero-logs policy with the help of an automated process. Furthermore, any kind of user data is not disclosed to third party companies. The company also maintains full transparency of services and works hard to build everlasting trust with its customers.
Visit NordVPN store online to purchase complete security for your Internet and enjoy amazing discounts during NordVPN promos.
Based in Panama, NordVPN was founded in the year 2012 by four childhood friends, following their idea of freeing the Internet from censorship. The idea was born when they travelled to different parts of the world and saw the Internet being intruded by censorship, government surveillance and content control. They felt that people s privacy was being invaded and the sole purpose of the Internet was fading away. They thought about all the possible solutions to move past the restrictions and finally came up their first VPN server. The prototype was well received by people, with wonderful positive feedback, which pushed them to work hard and bring something more to the table.
The year 2016 saw the launch of their Android and iOS app; while 2017 was the year of the launch of a Google Chrome browser extension, 2018 saw the launch of an application for Android TV. By June 2018, NordVPN had over 4000 servers operating in 62 countries. In the year 2019, the company launched the 'NordVPN Teams , which is a VPN solution dedicated for businesses. 'NordVPN Teams allows freelancers, small/medium firm and remote teams to access their work resources in a secure manner.
The main aim of NordVPN is to create a truly open Internet as was dreamed by Tim Berners-Lee in 1989. At the company, they follow a strict "no-logs" policy, which means that no customer data or logs are saved. Customer privacy is given utmost importance and none of the information is disclosed to anybody. It routes the Internet traffic via its own remote server, thereby keeping the IP address hidden and encrypting all the data. For encryption, they use the Internet Key Exchange v2/IPsec and OpenVPN technologies in all the applications. In addition to the general-use VPN servers, NordVPN also offers servers to meet specific requirements such as servers for double encryption, P2P sharing and connecting to anonymity network.
The company has more than 12 million users from across the globe. It received the 'Best customer service award in 2018 and in PC Magazine s review 2019, its excellent security features were immensely praised. As of January 2020, the company proudly states that it has not received any National Security letters, suppression orders or warrants from the government.
VPN Plans Offered on NordVPN
At NordVPN, you can find the perfect online security plan that you have been looking for. The robust VPN offered on their site comes with excellent features and keeps your online activities safe and secure. Shop at NordVPN online and enjoy exciting deals during NordVPN offers. Listed below are some of the VPN plans available on NordVPN.
3-Year Plan –
This plan is a 3-year subscription to VPN, costing only $3.49 per month. It also offers 3 months free service and gives an additional NordPass password manager free of cost.
2-Year Plan –
Buy the 2-year NordVPN subscription at $4.99 per month and enjoy complete online security free of hassles.
1-Year Plan –
Go for the 1-year VPN plan at $6.99 per month and get excellent quality cyber security for all your online activities.
1-Month Plan –
This plan is for those who wish to avail the service for a short term. The 1-month plan costs $11.95 per month, promising you total data security for the entire month.
Make sure to check for the NordVPN coupons and vouchers offered during the NordVPN sale period before you proceed with shopping.
How to Purchase on NordVPN?
NordVPN offers an easy approach to shopping and brings to you a number of offers from time to time. You can find NordVPN promo codes, NordVPN voucher codes and other information related to the products and services on the homepage.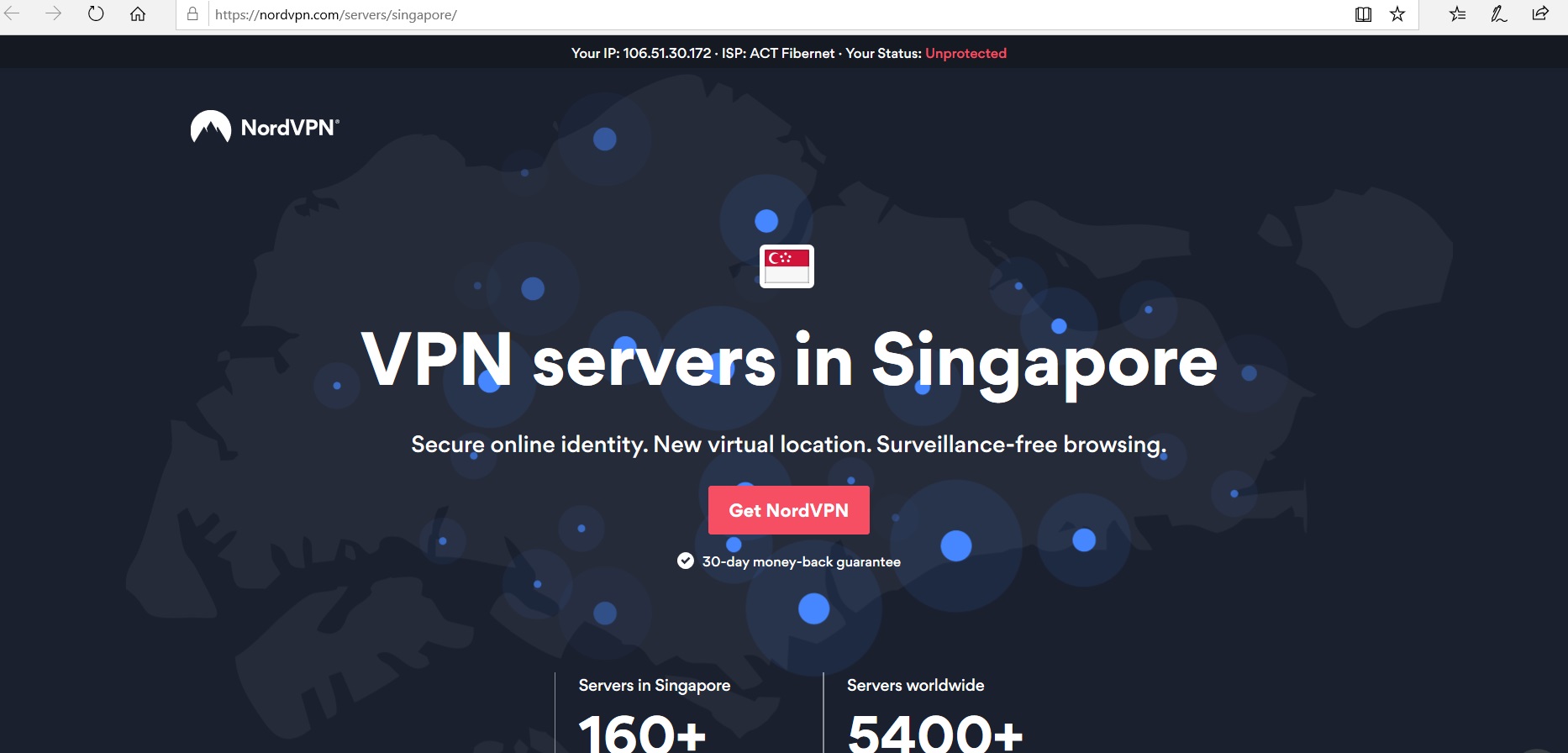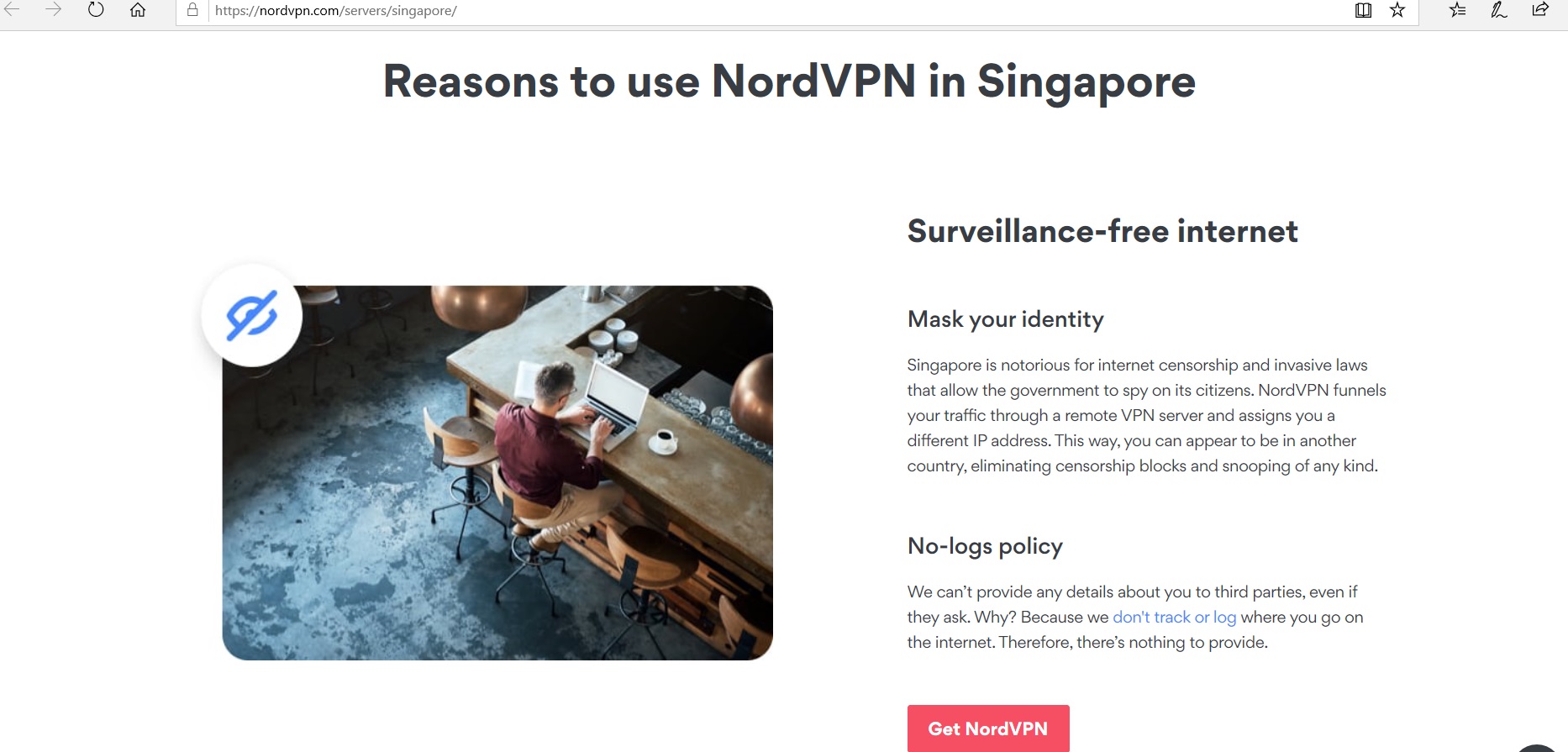 1. Click the button 'Get NordVPN on the homepage. It displays all the available plans suitable for your location.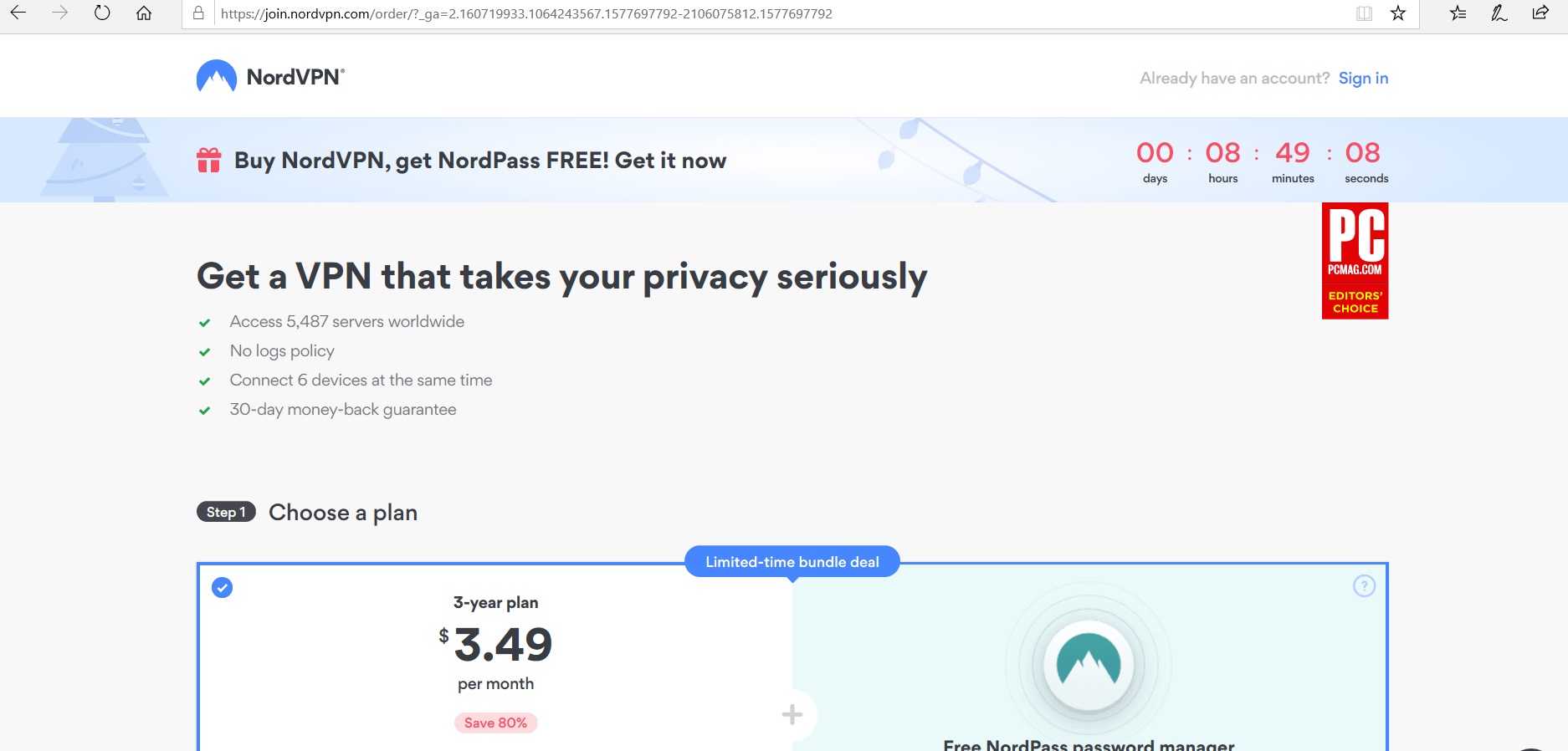 2. Then choose the best-suitable plan for you from the list. The plan s general features, along with its price and offerings will be displayed. Once you choose the plan, scroll down the page and enter your email address to create an account with NordVPN.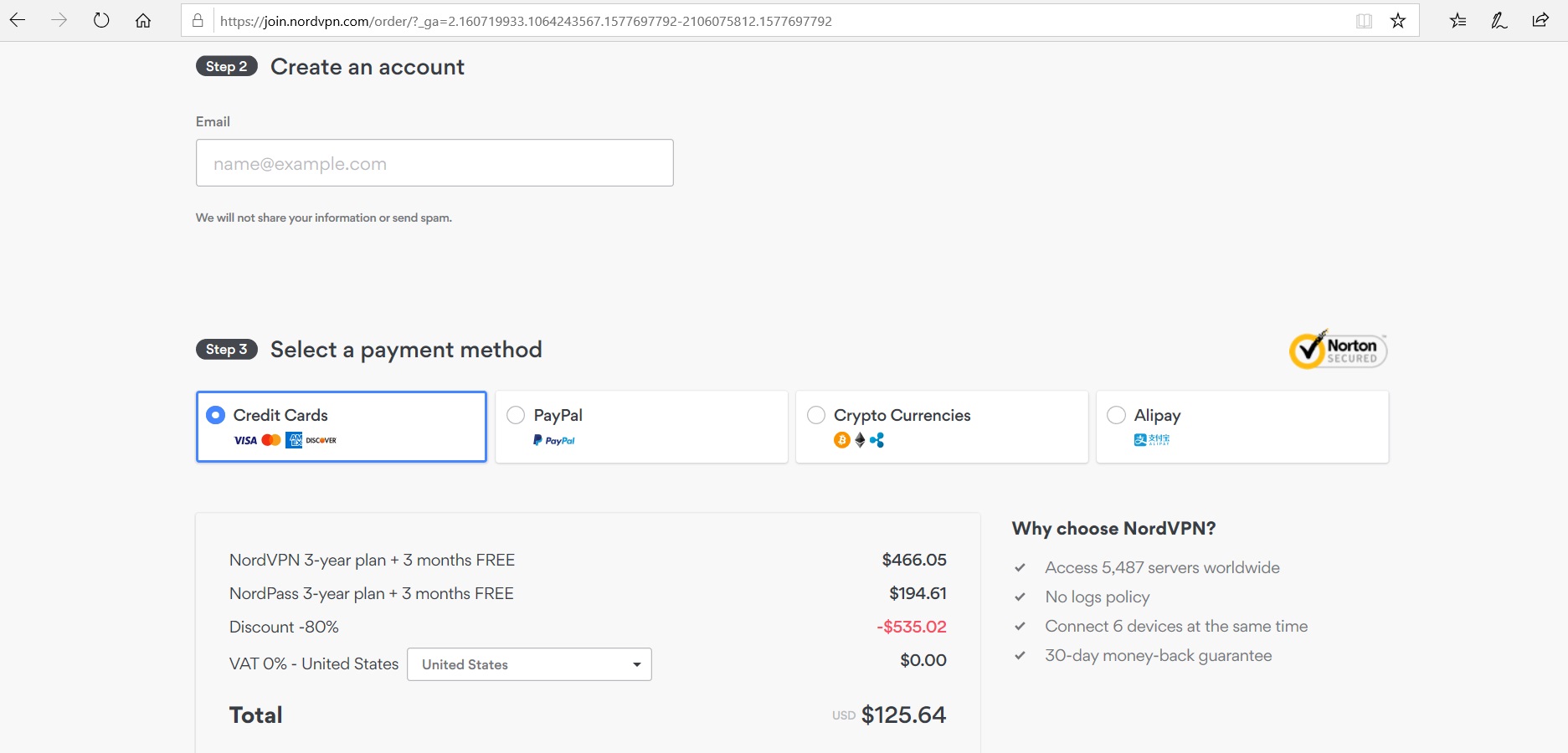 3. Then choose your preferred payment method, review all the purchase details and enter the NordVPN promo code by clicking on 'Got coupon? . Next, fill in your name and payment details in the fields provided and click 'Continue to proceed with your purchase.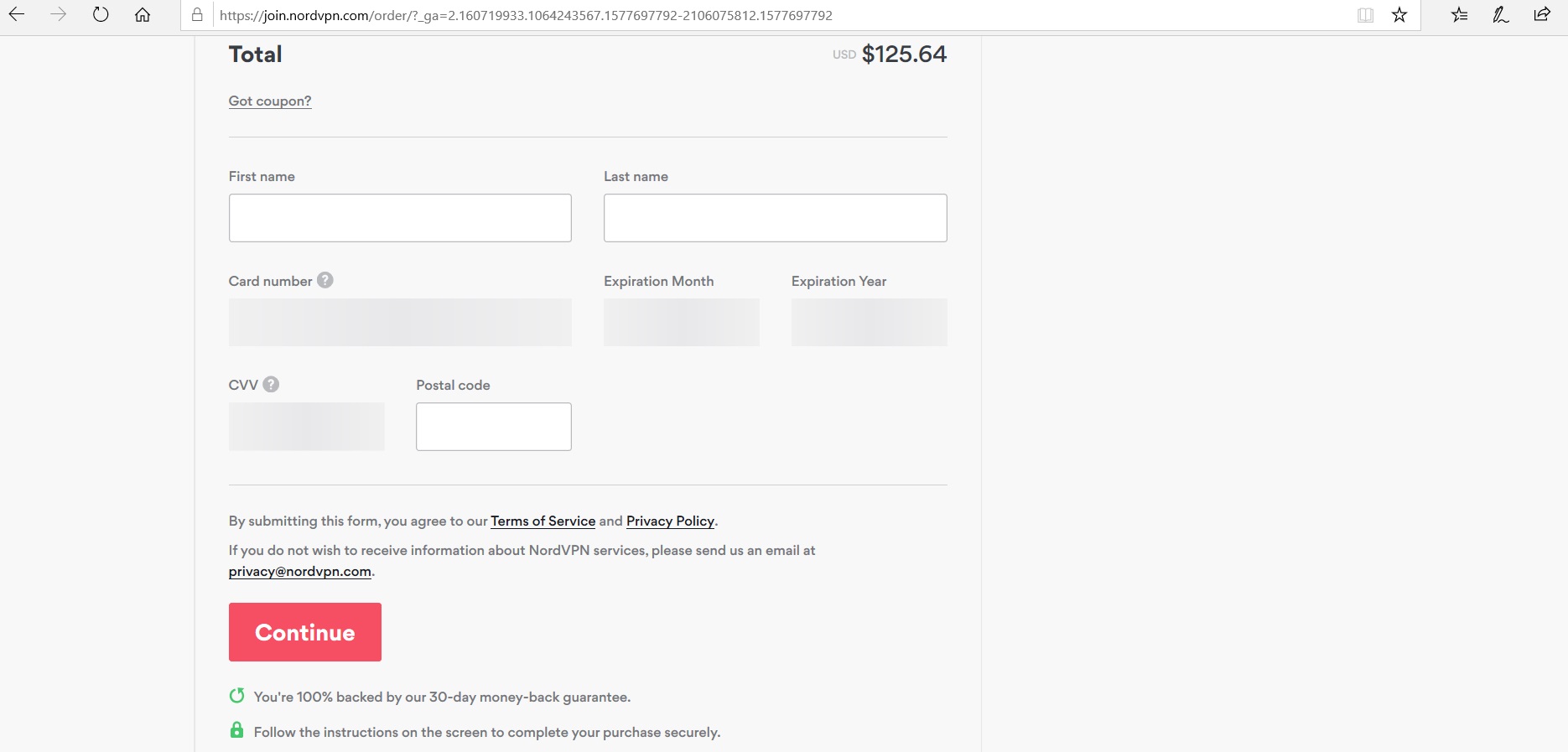 4. Your purchase details and the expected delivery date will be visible once you have placed the order. An e-mail will be sent to you to confirm your order details.
5. Save a lot of money on your purchases during sale and special offers. You can avail discounts by using the NordVPN discount codes on checkout. Ensure that you have checked for discounts and deals before placing an order.
Payment Options on NordVPN
NordVPN offers the following payment methods for your convenience.
Credit Card:
NordVPN accepts credit/debit cards for online payments. It accepts VISA, American Express, Discover and MasterCard. The company also accepts AliPay, crypto-currencies, WeChat payments, GooglePay and payment via iTunes.
Please note that PayPal method of payment is currently discontinued on NordVPN.
Different Coupon Codes and Discounts on NordVPN
The website brings to you a number of NordVPN discounts and NordVPN promotions from time to time. The online deals are available up to a specific validity date. While some offers are available throughout the season, some are valid only for a limited period. Customers can save a lot of money by applying the NordVPN codes.
If customers shop with the brand via a registered ShopBack account, a cashback of 28% can be availed.
How to Redeem Coupons and Vouchers on NordVPN?
Many customers prefer online shopping to buying from physical stores owing to the ample discounts and offers that are given online. Huge savings can be made by applying the coupons and vouchers during online shopping and that is why it is highly advantageous for shoppers.
Here is a step-by-step tutorial on how to redeem coupons and vouchers at NordVPN:
Step 1:
Opt what you wish to buy from the displayed set of products and then click Add to Cart .
Step 2:
On the next page, enter the shipping information and other details before proceeding to checkout.
Step 3:
Proceed to the payment page. Here, you will find a box under the payment summary section to enter your NordVPN promo code/ NordVPN coupon code or any other applicable discount codes for availing discounts.
Step 4:
Select the payment method and fill in your payment details to complete your transaction.
How to Shop on NordVPN Using ShopBack
ShopBack offers cashback on products if you shop from NordVPN. Follow the below mentioned steps to earn cashback from ShopBack:
Step 1:
Select NordVPN from the list of brands on the ShopBack homepage, or use the search box to find a link to the NordVPN website.
Step 2:
Read all the terms and conditions, the cashback details and various tips to ensure cashback.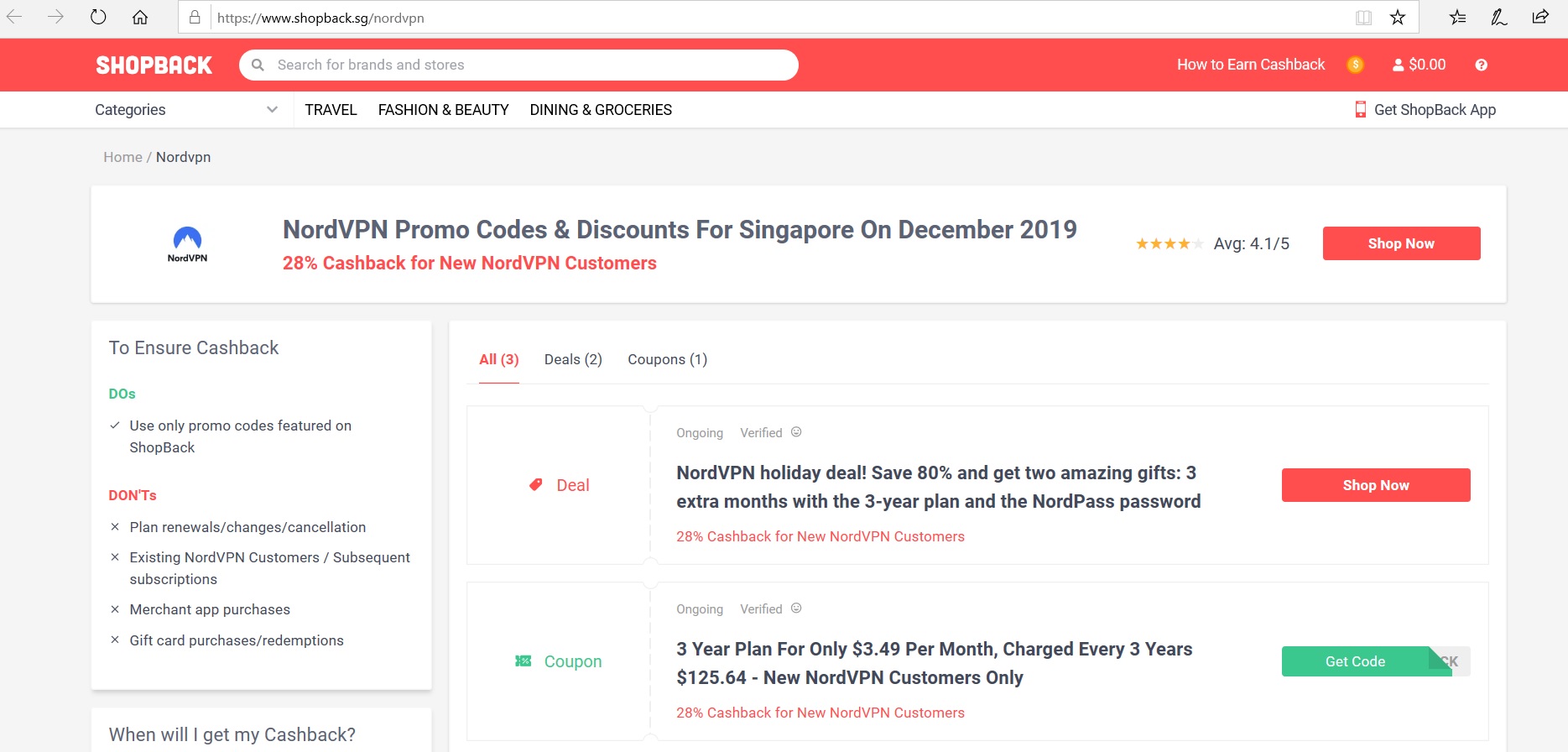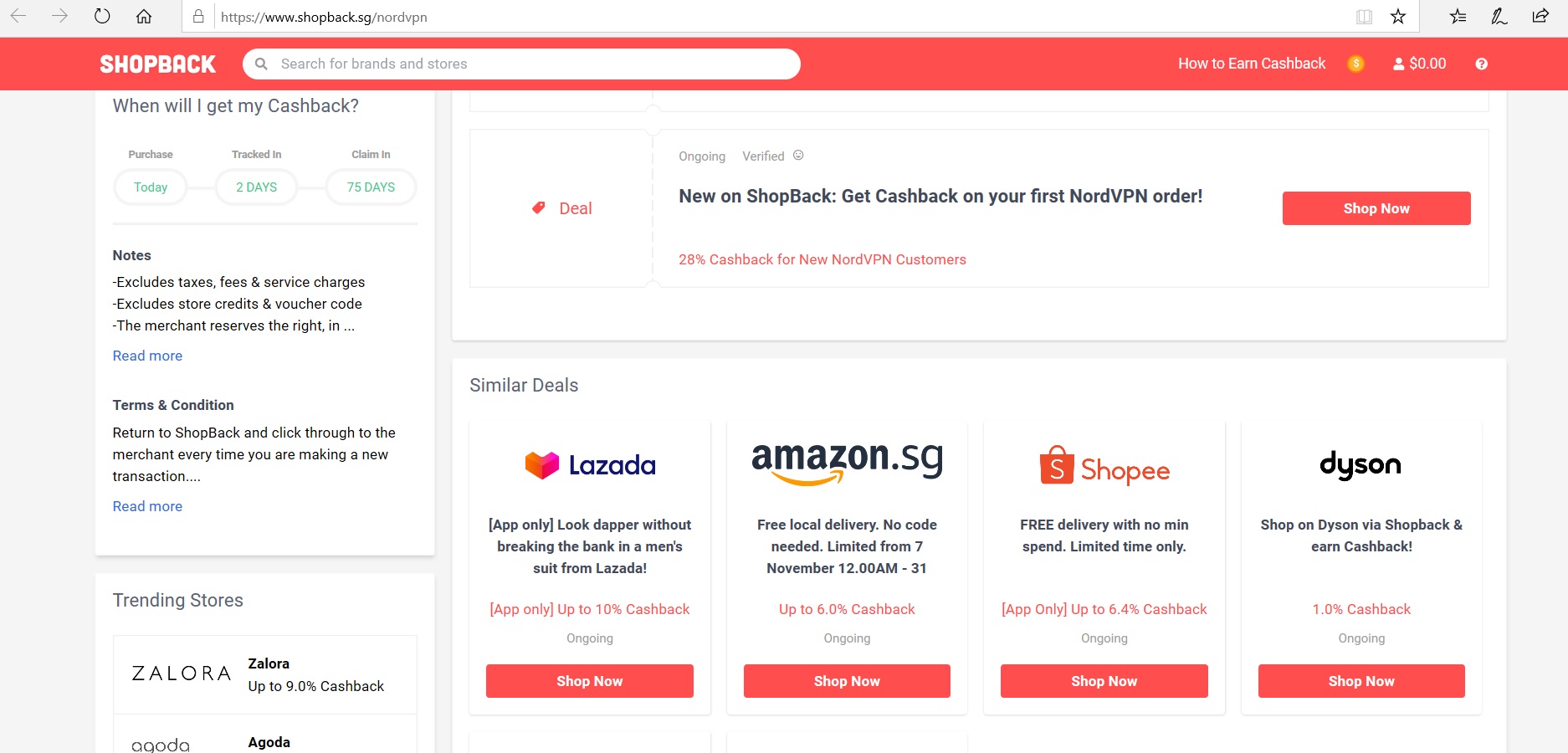 Step 3:
Click 'Shop Now on the right.
Step 4:
Customers can find more deals and offers by clicking the 'Discounts + Cashback section.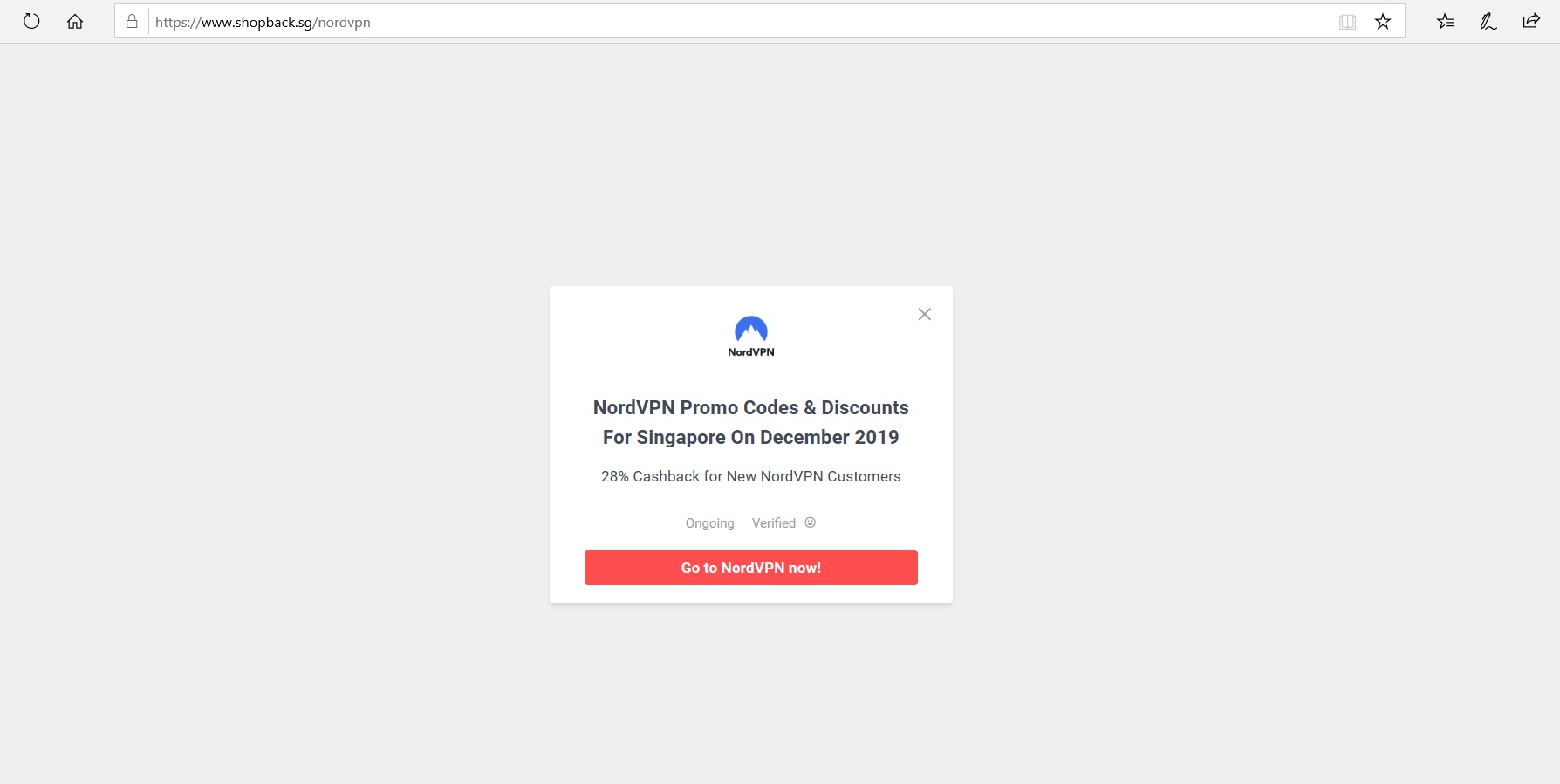 Step 5:
On placing the order, you will be eligible to earn NordVPN cashback from ShopBack. Note that there may be variation in cashback rates depending on your history with ShopBack. Cashback offer is not applicable on purchases made via the NordVPN app.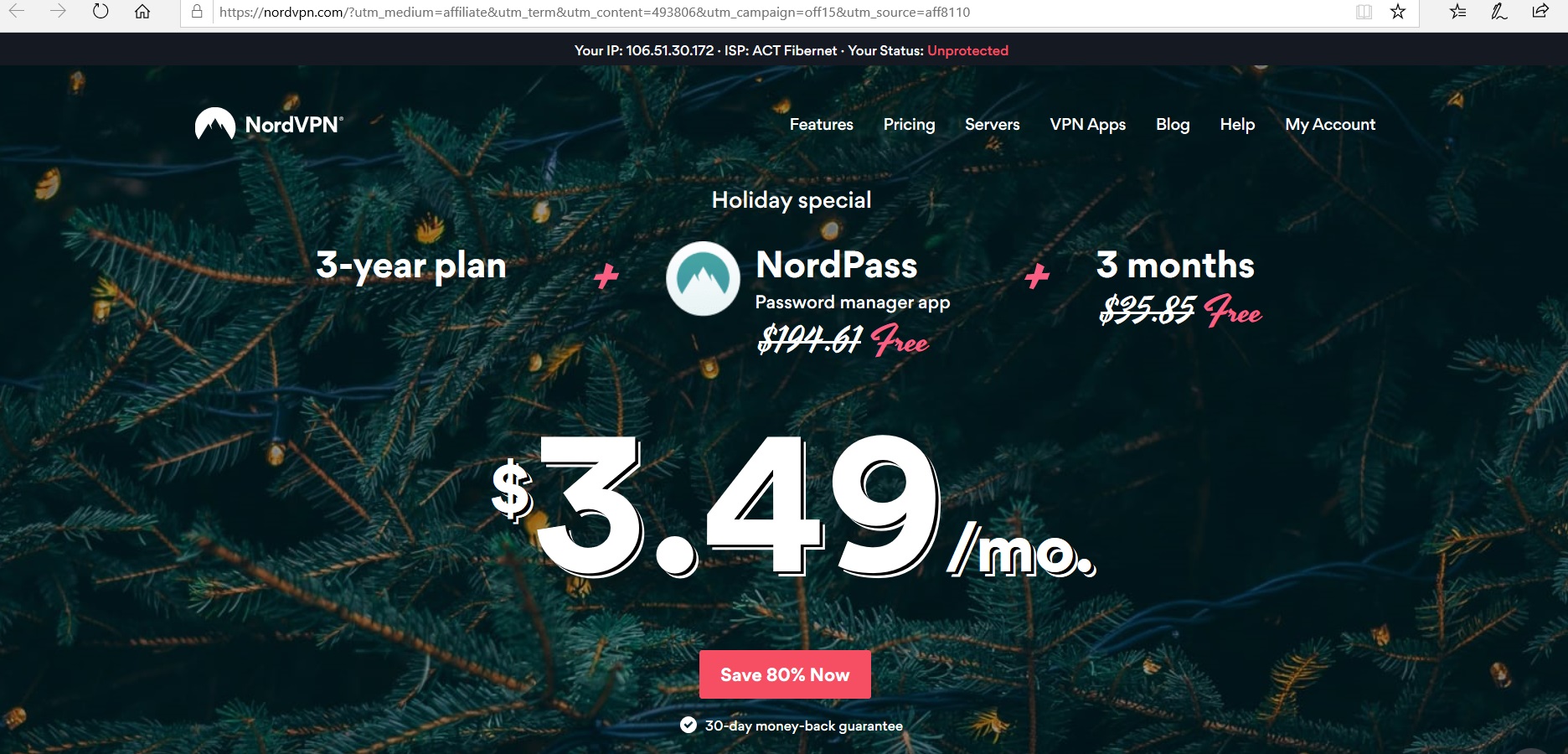 NordVPN Terms and Conditions
The terms and conditions for NordVPN are listed below:
NordVPN offers the best services for the money you paid – unlimited speed, high-end data encryption, no activity logging, thousands of servers across the globe, complete data privacy and so on. Read the complete list of features offered by NordVPN on this link.

The site offers a 30-day money-back policy and also provides a 30-day trial with zero risks and restrictions.

NordVPN also offers refunds on your purchases (within 30 days of purchase) if you are not satisfied with the offerings. Contact the customer support team for refund-related queries or information. However, if you purchase via Apple s App Store, refunds will not be provided, and you will have to contact the customer care in this regard.

NordVPN allows 6 connections per account simultaneously and not more than that. It also follows the no-logs policy very strictly, with the help of an automated process. So, any activities done by you will not be monitored, logged, stored, recorded or passed to any third-party systems.

Any minor of the age below 18 years is not eligible to use NordVPN. For payments made in instalments, refund is allowed within 30 days from the date of initial payment. Read their complete set of terms and conditions on their terms of service page.
Customers can click on the 'Help option or visit their contact us page/FAQs section for queries related to NordVPN vouchers, NordVPN deals or anything in general. You can send them an email or choose the 'Live Chat option by visiting their 'Contact Us page. Customers can also chat with them via Facebook messenger. They offer customer support 24/7.