Learn New Skills With Udemy Now!
Udemy is a global, online platform for learning. It offers over 80,000 video courses under several different categories like business, music, photography and marketing. Each category of the Udemy courses covers multiple topics and provides video tutorials of varied time duration. Some courses offer supplemental resources for better learning and access on mobile and TV. Udemy offers a certificate of completion to the students. Also, the Udemy app can be downloaded from the Play Store or App Store and the courses can be downloaded from the app to watch offline.
Udemy enables you to learn from anywhere and gives you a lifetime access to the purchased course. During Udemy sales and Udemy offers, the courses are available at a discounted price. At Udemy, the students are trained by professional instructors who help them master new skills− personal and professional− and achieve their goals through quality education. 'Udemy for Business provides learning solutions to many organizations for the development and improvement of their employees skills.
The idea of Udemy was driven by Eren Bali s life-changing online learning experience. Eren Bali grew up in a small Turkish village that had finite opportunities in education. He used the internet to get resources that he needed for learning. Bali, along with Oktay Caglar and Gagan Biyani as partners, started Udemy in 2010 with the aim of making education easily accessible to people in every corner of the world.
Udemy covers a number of learning topics across genres. From languages to personal development and from photography to IT & software, you can opt for any course and get quality content on the various topics included in the course. There are also a few Udemy free courses available on the website. During certain Udemy special offers and Udemy promotions, you can avail a course at a much lower price than usual. Here is a brief about the different categories of courses offered on Udemy: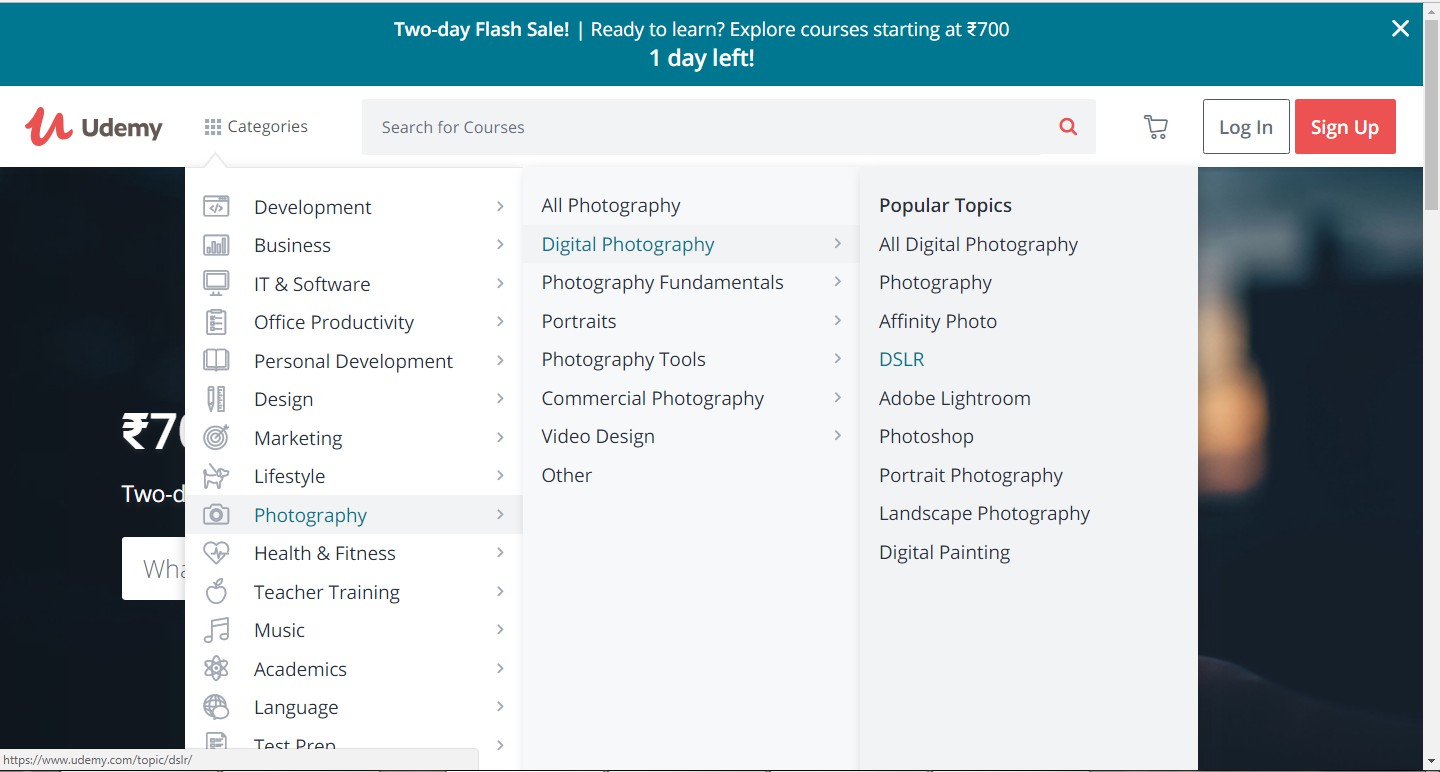 Development
: The experts at Udemy help students improve their skills in various types of software development. From programming languages to databases and web development, the courses and topics of development are aplenty.
Business
: Udemy online courses include lessons on finance, sales, marketing, human resources and many other categories under different aspects of a business. The business courses cover topics such as Blockchain, Stock Trading, Bitcoin and Cryptocurrencies, among others.
IT & Software
: The best Udemy courses on IT & software will enlighten you about topics such as Network Security, Amazon AWS, Microsoft Azure, Embedded Systems and different operating systems.
Office Productivity
: From Microsoft s PowerPoint to iOS development to Oracle SQL, the courses on Office Productivity include diverse topics. You can check out the different categories by typing "office productivity" in the search bar on the homepage.
Personal Development
: You can not only improve your academic performance but also make development in your personal lives by opting for a personal development course on Udemy. Be it parenting, relationships, creativity or memory skills, you can master them all by buying courses at modest prices with a Udemy discount or Udemy voucher.
Design
: The Design category covers Web Design, Graphic Design, Interior Design and Architectural Design among several other topics.
Marketing
: Learn the art of marketing with Udemy by buying the marketing course perfect for you. If you an entrepreneur or own a small business and need guidance about business and marketing strategies, then Udemy is the go-to place.
Lifestyle
: From beauty & makeup to art & craft, to pet & training, all lifestyle skills can be majored at with the help of the online experts at Udemy.
Photography
: Apply your Udemy coupon to get a discount on the various photography courses offered here. If photography your passion but you re wondering where to begin, the courses at Udemy will help you.
Health & Fitness
: At Udemy, videos about self-defence, safety & first-aid, meditation, yoga, sports and many other topics are available. To avail one of these courses at a lower price than usual, use your Udemy free coupon while making payment.
Teacher Training
: Not only can students benefit from the courses at Udemy but also the teachers. Udemy offers courses that train the teachers on their presentation skills and teach them how to overcome stage fright and capture attention.
Music
: One can learn the fundamentals of music, music techniques and how to play instruments of different kinds from Udemy.
Academics
: Academic subjects like accounting, economics, statistics, calculus, psychology, philosophy, counselling and others are available at Udemy under the categories− Social Science, Math & Science and Humanities.
Language
: Udemy is a great platform for learning global languages. Some of the languages taught here are German, Chinese, Russian, Hebrew, French and Italian. Avail the language courses at a discounted price during sales or by applying a Udemy code.
Test Prep
: Udemy s expert tutors will help you prepare for your tests and exams. You can improve your test-taking skills, prepare for your grad and college entry exams with the help of Udemy.
| Product Categories | Sub-categories |
| --- | --- |
| Development | Web Development, Mobile Apps, Programming Languages, Game Development, Databases, Software Testing, Software Engineering, Development Tools, E-Commerce |
| Business | Finance, Entrepreneurship, Communications, Management, Sales, Strategy, Operations, Project Management, Business Law, Data Analytics, Home Business, Human Resources, Industry, Media, Real Estate |
| IT & Software | IT Certification, Network & Security, Hardware, Operating Systems |
| Office Productivity | Microsoft, Apple, Google, SAP, Oracle |
| Personal Development | Personal Transformation, Productivity, Leadership, Personal Finance, Career Development, Parenting & Relationships, Happiness, Religion & Spirituality, Personal Brand Building, Creativity, Influence, Self-Esteem, Stress Management, Memory & Study Skills, Motivation |
| Design | Web Design, Graphic Design, Design Tools, User Experience, Game Design Design Thinking, 3D & Animation, Fashion, Architectural Design, Interior Design |
| Marketing | Digital Marketing, Search Engine Optimization, Social Media Marketing, Branding, Marketing Fundamentals, Analytics & Automation, Public Relations, Advertising, Video & Mobile Marketing, Content Marketing, Growth Hacking, Affiliate Marketing, Product Marketing |
| Lifestyle | Arts & Crafts, Food & Beverage, Beauty & Makeup, Travel, Gaming, Home Improvement Pet Care & Training |
| Photography | Digital Photography, Photography Fundamentals, Portraits, Photography Tools, Commercial Photography, Video Design |
| Health & Fitness | Fitness, General Health, Sports, Nutrition, Yoga, Mental Health, Dieting, Self Defence, Safety & First Aid, Dance, Meditation |
| Teacher Training | Instructional Design, Educational Development, Teaching Tools, Production, Music Fundamentals, Vocal, Music Techniques, Music Software |
| Academics | Social Science, Math & Science, Humanities |
| Language | English, Spanish, German, French, Japanese, Portuguese, Chinese, Russian, Latin, Arabic, Hebrew, Italian |
| Test Prep | Grad Entry Exam, College Entry Exam, Test Taking Skills |
How to Book a Course at Udemy?
Courses can be booked at Udemy through the website and the mobile app. Here is the simple procedure to follow to book/buy a course:
Step 1
: Browse through the categories and click on the one that you want to book. A list of different courses under the category/topic will appear.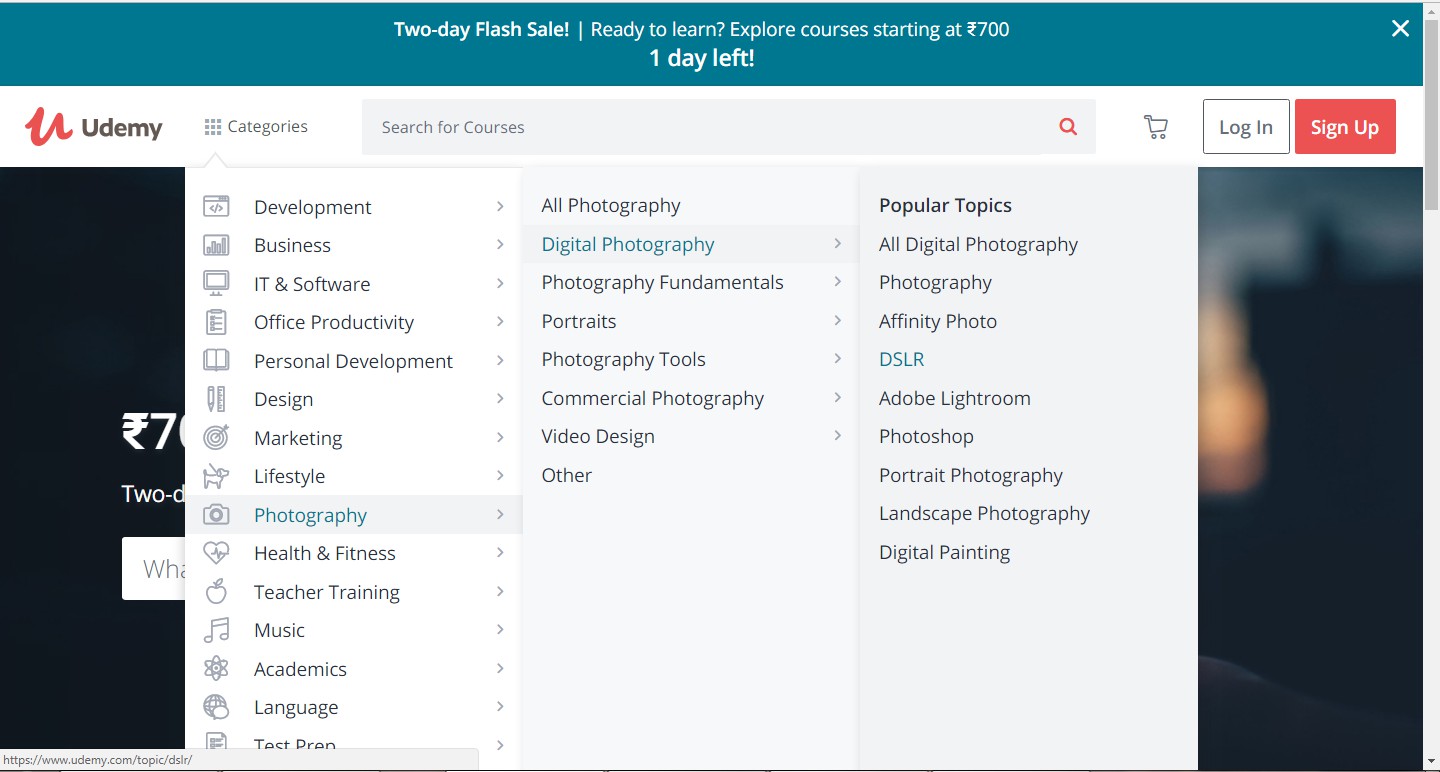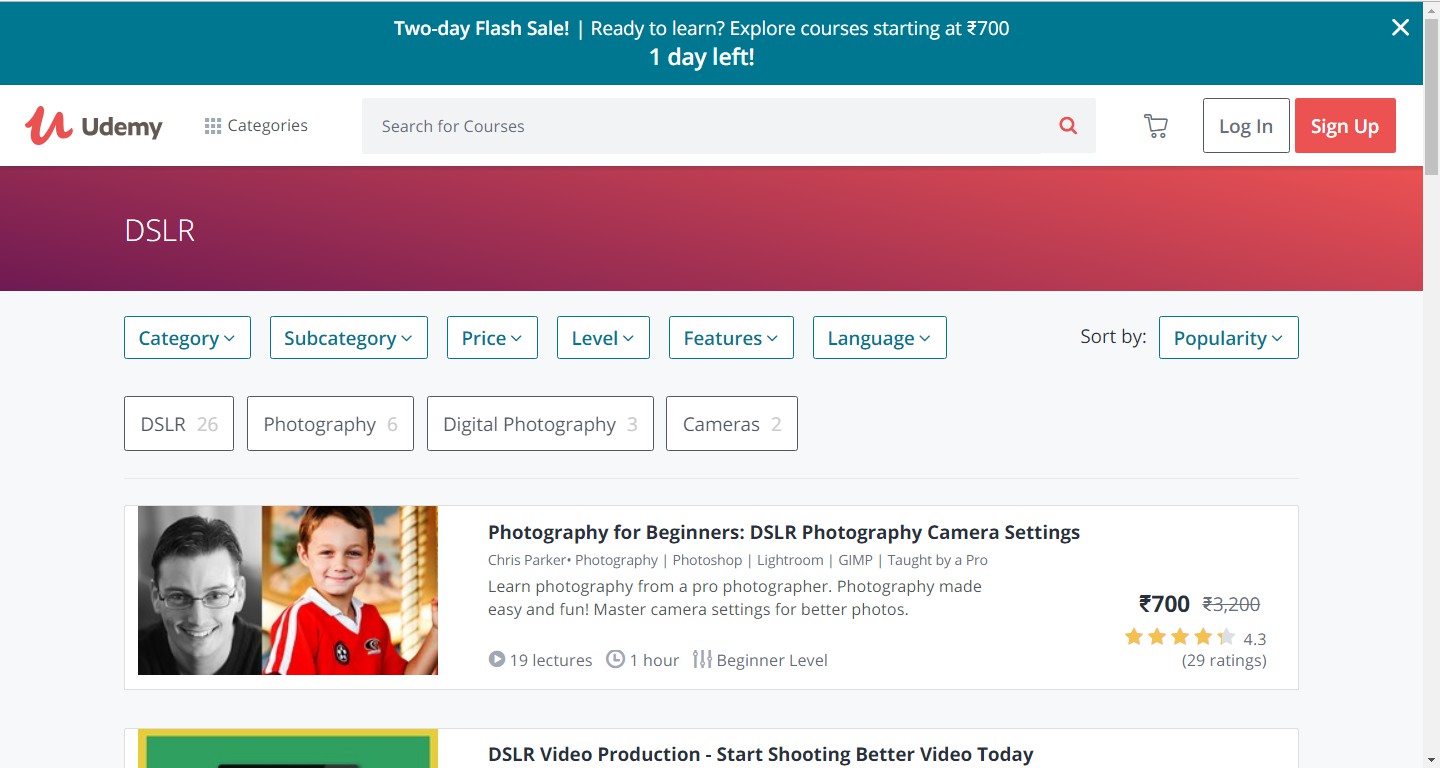 Step 2
: Click on the course that you want to purchase. You will be redirected to a webpage displaying the description of the course. Click "Add to Cart".
Note: If you have an account with Udemy and have added all the required courses to the cart, click "Buy Now".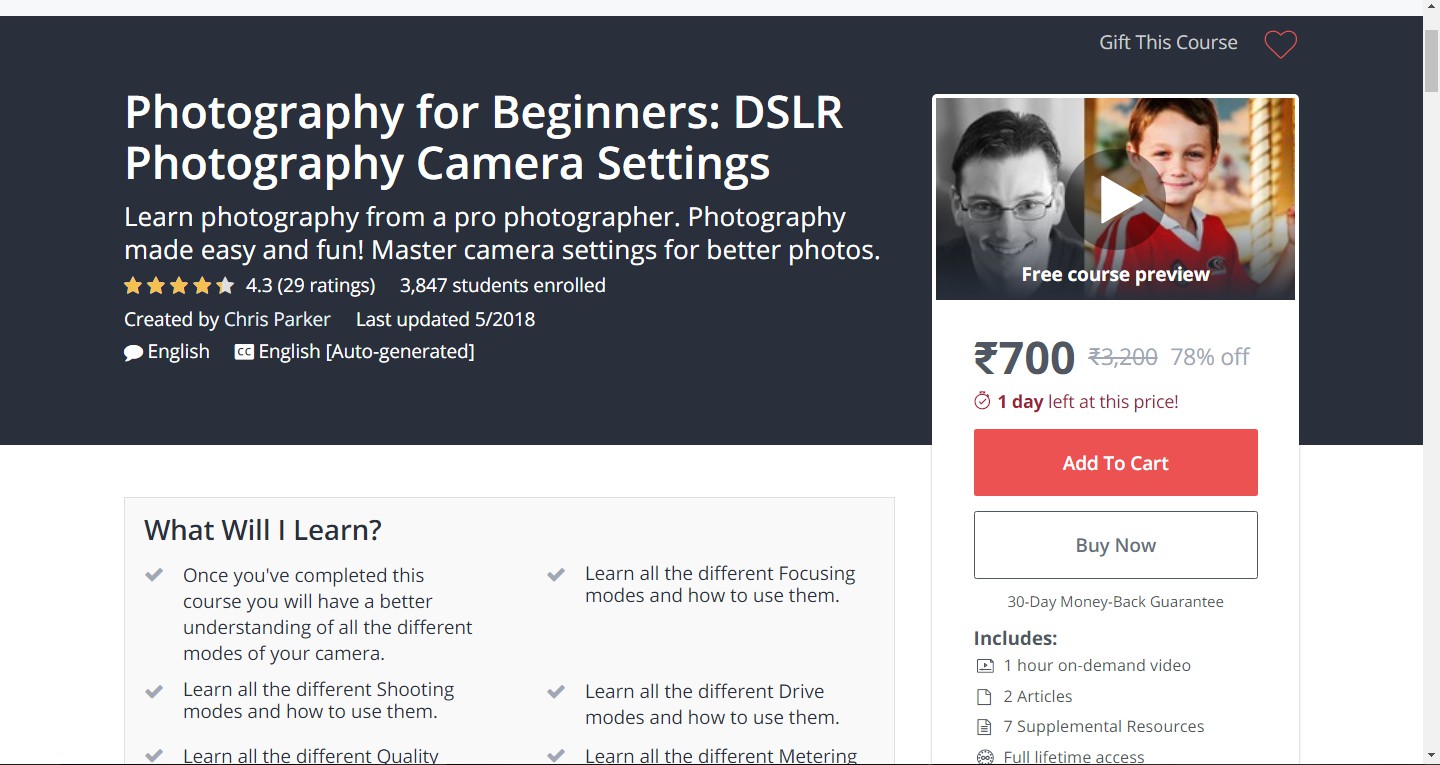 Step 3
: Click "Go to Cart" and you will be redirected to your Shopping Cart.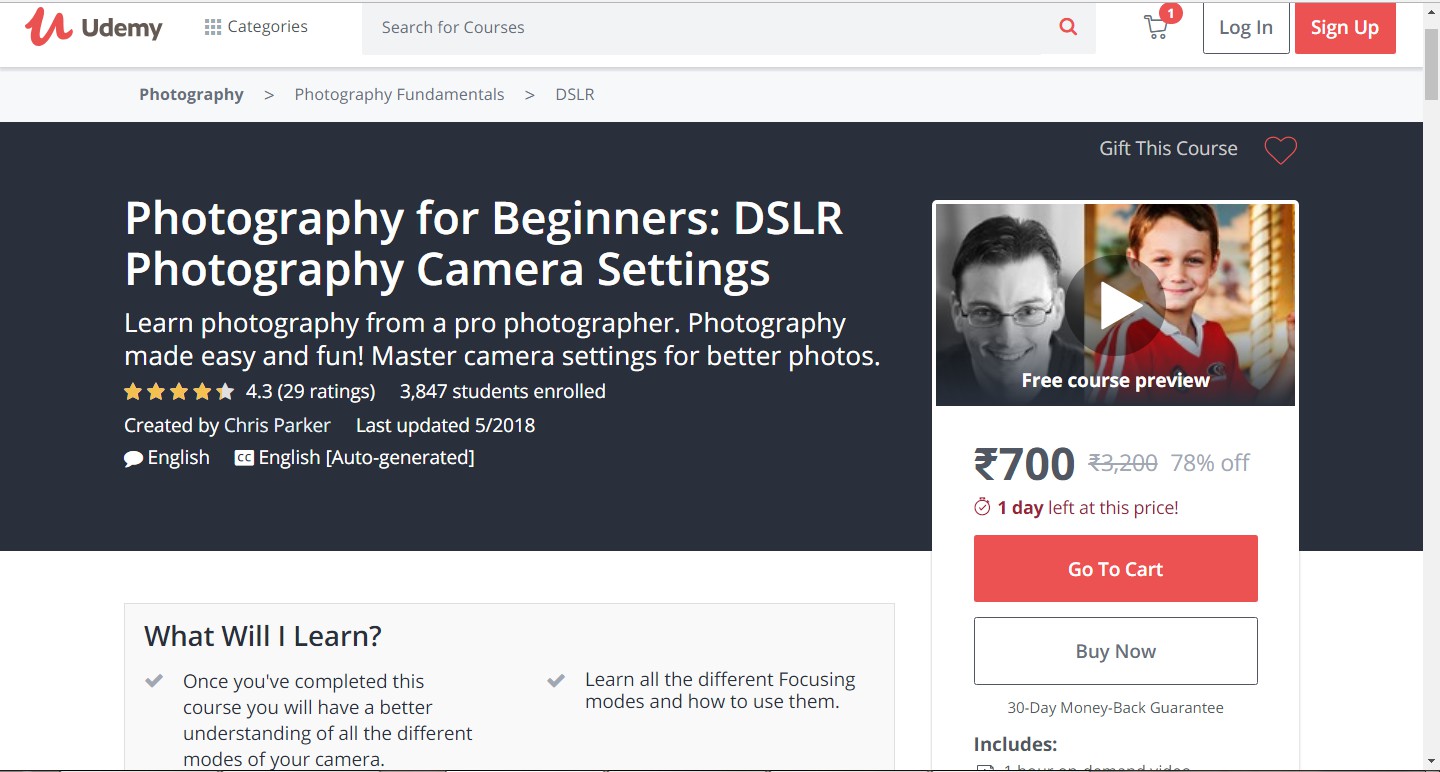 Step 4
: Click "Checkout".
Note: If you have a Udemy coupon code or Udemy promo code to apply, enter in the space below the Checkout button.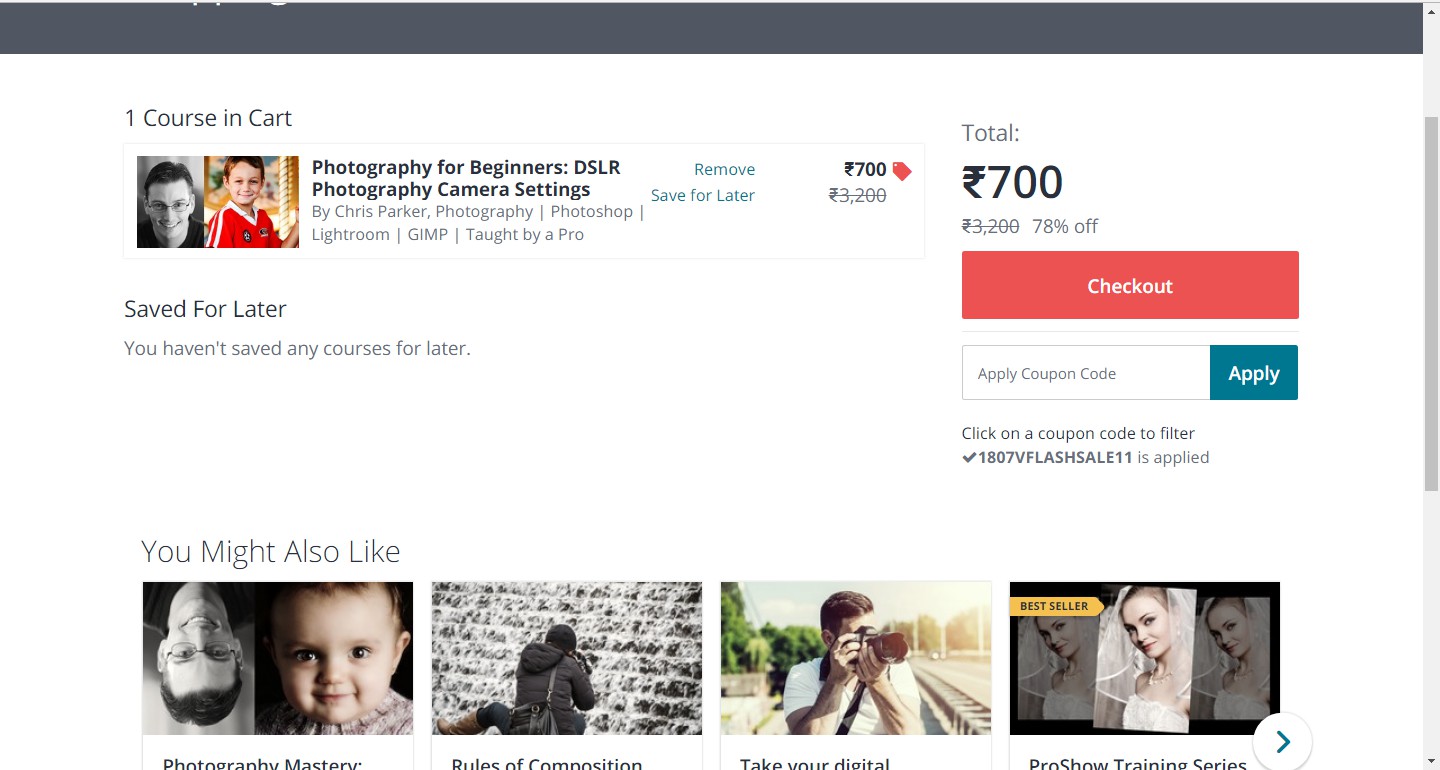 Step 5
: Enter the details and sign-up with Udemy if you haven t already.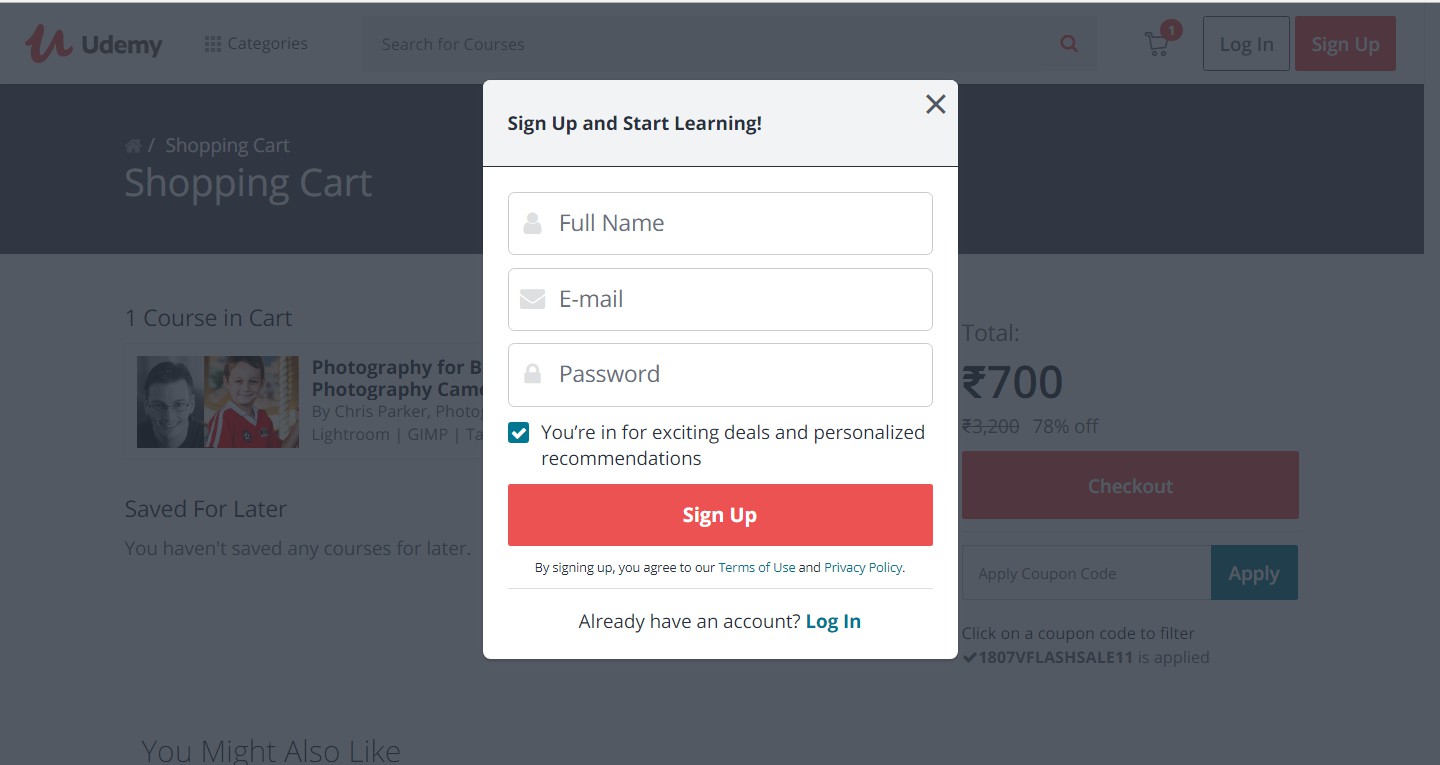 Step 6
: Choose the payment option and click "Complete Payment".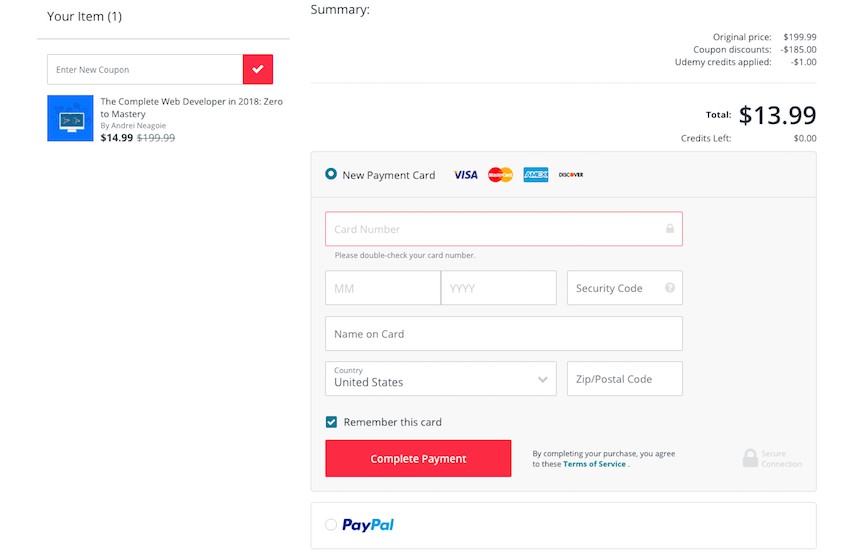 Here are all the payment options offered by Udemy:
Debit/Credit Cards
: Udemy accepts payment through local (Latin American) and international (Visa, MasterCard, American Express, Discover) debit and credit cards.
PayPal
: The easy and secure mode of payment− PayPal, is among the payment methods available on Udemy.
Cash Payments and Bank Transfers
: This mode of payment is available in Europe and several Latin American countries.
App Store/Play Store
: When you enrol in a course through the mobile app, then Apple or Google Play s payment system can be used.
Different Coupon Codes and Discounts on Udemy
Udemy coupons get you amazing Udemy deals on various courses. Get a discount by applying your Udemy promo code while purchasing a course. Current offers and sales can be viewed on the top of the homepage. A Udemy discount coupon can be won during sales. Also, the best seller courses under different categories are displayed on the homepage of the website.
How to Redeem Coupons and Vouchers at Udemy
Follow the simple procedure given below to redeem your Udemy coupon or Udemy discount voucher.
Step 1
: After selecting the course you want to enrol in, click "Add to Cart".
Step 2
: Visit the cart to checkout by clicking "Go to Cart".
Step 3
: On the right side of the checkout page, under the Checkout button, enter the Udemy discount code and click "Apply".
Step 4
: Click "Checkout" to proceed with the enrolling process.
How to Book on Udemy using ShopBack?
On booking a course at Udemy through ShopBack, one can win 30% cashback. However, Udemy cashback can be availed only after signing up with ShopBack. Here s how you can avail the cashback:
Step 1
: In the search bar located at the top of the homepage of ShopBack, type "Udemy" and press Enter. You will be redirected to ShopBack s Udemy page.
Step 2
: Click "Activate Cashback" present on the left side of the webpage.
Step 3
: Click "Continue to Udemy" appearing on the pop-up window. You will be redirected to Udemy s official website.
Browse through the courses and book the one you desire. You are now eligible to a cashback of 30% from ShopBack.
Udemy Terms- Pricing, Payments and Refunds
The price for a specific course on Udemy s mobile app may differ from the price quoted on the website. The prices on the app depend on the pricing systems and policies of the mobile platform provider.
Certain courses at Udemy are available at a lower price only during a sale or promotion. Also, some promotions are only available to new users.
Udemy collects goods and service tax, value added tax, etc. in countries where the taxes are applicable to consumer sales. In some countries, the tax is included in the price of the course.
Udemy holds the authority to charge the debit/credit card or other payments means for the fees of the purchased course.
If payment fails and you still get access to a course, then the payment must be made within 30 days of receiving the notification from Udemy.
The credits issued by Udemy can be used for the purchase of a course in the future. The credit expires if not used within the specified period.
If you wish to enrol out of the course, a 30-day refund is offered by Udemy on some courses. No refund will be provided if the 30-day money-back guarantee limit is exceeded.
Udemy Helpline Information
Any queries regarding the courses, payments, refunds or any other subject are answered by Udemy s support team. Click on the "Support" link present at the bottom of the page. You will be redirected to the support page where you can search for solutions and post queries.
You can get in touch with Udemy via social media: