Crocs Sales, Deals, Vouchers & Special Offers
$25 off orders above $80 from 3-30 Dec
Excludes Classic, LiteRide, Timeline Clash Pearls, Sloane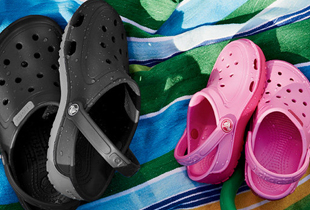 5% upsized Cashback from 20 Aug to 31 Dec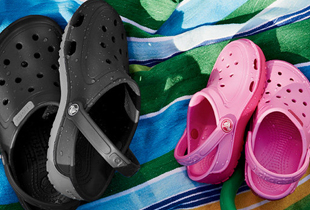 10% orders above $60 from 9 Oct - 31 Dec
T&C: Exclude Classic, LiteRide, Timeless Clash Pearls, Sloane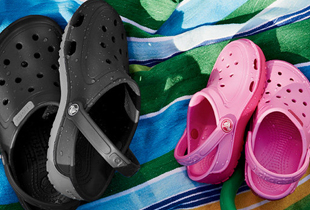 30% off Flips and Sandals till 6 Jan 2019
T&C: Exclude Classic, LiteRide, Timeless Clash Pearls, Sloane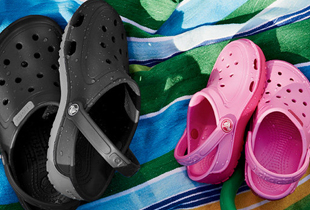 5% off selected items till 6 Jan 2019
T&C: Exclude Classic, LiteRide, Timeless Clash Pearls, Sloane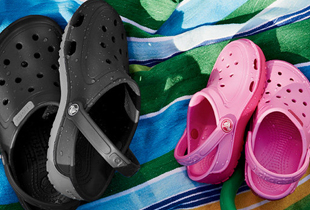 Free delivery till 6 Jan 2019
T&C: Exclude Classic, LiteRide, Timeless Clash Pearls, Sloane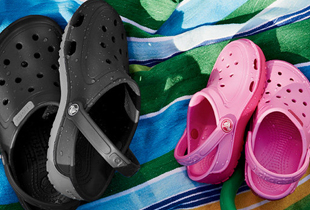 Free Shipping on orders $60 and above
ShopBack must be the last link you clicked in order to get Cashback. If other website links are clicked after clicking through ShopBack, Cashback will not be tracked (E.g. coupon and deal websites)

If for some reason your payment made on merchant page has failed, do click through ShopBack again and re-do your purchases to ensure tracking is still active

Return to ShopBack and click through to the merchant every time you are making a new transaction.

If you are making 3 separate transactions on the merchant, you should click through ShopBack 3 times, each time before making a new purchase.

For more details: www.shopback.sg/terms-and-conditions
Recent Articles
More about Crocs
Think twice before saying no to Crocs! Use ShopBack promo codes to get your share today!
Everyone used to say how ugly Crocs were but we think they'll change their mind as soon as they see the new collection from Crocs. With a fashion centric focus, Crocs delivers its signature promise for comfort while appeasing every fashionista out there. Gone are the days where the big and wide rubber shoes with holes in them were popular. Crocs has completely redefined their aesthetic with fashionable new additions to their product line-up. Ever since diversifying what they sell, Crocs has been more popular than ever and for good reason! Fashionable and comfortable – who would say no to that? ShopBack wants to encourage everyone to check out the new collection of shoes at the Crocs website and see for yourself how much effort Crocs has put into changing their image. With ShopBack, you can now get your very own air of Crocs Shoes for a much lower price than in the flagship store. ShopBack is offering shoppers 5% cashback off every pair of Crocs shoes that you buy! This means amazing savings especially if you're buying for the whole family. Get discount Crocs shoes with ShopBack discount coupons today!
Crocs and fashion – it's possible! Buy your new pair with ShopBack promo codes!
Ladies, if you've always thought Crocs was a fashion faux pas, think again! Crocs Women now has wedges in snazzy colours and even open heeled sandals which are perfect for those weekends out with your family? Full day of shopping ahead with your girlfriends, put on those cute melon coloured wedges, perfect for chanelling your summer fashion vibe! Need to run after children during family outings but don't want to look to bad while doing it? Try some basic black Crocs wedges! They will go with everything in your wardrobe and make matching a breeze. Crocs wants to change the way people view Crocs. No longer do comfortable shoes need to be ugly and at odds with the rest of your carefully planned outfit. Crocs wants everyone out there to know that fashion and comfort can be combined harmoniously into Crocs shoes! If you're hesitant about splashing out money on something you might potentially dislike, use the ShopBack coupon codes for a greater discount on Crocs' entire product line. ShopBack make Crocs shoe sales even better.
Protect your feet with Crocs and look amazing while saving money with ShopBack!
Get your Crocs shoes on sale for a much cheaper price when you use ShopBack coupon codes. The discount will have you save a huge chunk of money especially if you are buying more than one pair, and trust us, that might happen because Crocs's new product lineup is more than you can handle. You'll definitely have problems choosing just one pair to bring home with you! Comfort is definitely something that Crocs wants all of their customers to experience. A lot of research has shown that most shoes, especially heels, do not support or care for the feet properly. This means that you are hurting your feet and neglecting them every day. Feet abuse can lead to other health problems, most often connected to the neck or back. Since feet support our entire mas and are so important, more thought should be put into how they should be treated. With ShopBack and Crocs, you won't have to worry about not taking care of your feet ever again! Save money on curing illness! Prevention is the best cure and you can definitely do that with Crocs. Crocs shoes will ensure that your feet are always happy and well-taken care of
Life is better with Crocs and ShopBack! Get your money's worth for everything you buy online!
The ShopBack coupon codes will definitely help you save on all your Crocs shoes puchases. You might even want to start collecting them! Crocs is a one-stop shoe shop for the family. If you want to begin protecting your children's feet and your spouse's spinal health, seriously consider Crocs shoes together with ShopBack discount codes. Coupled with Crocs shoes sales, you will be able to buy Crocs shoes at the best price ever online! No worries about authenticity because Crocs is definitely a genuine, licensed retailer of Crocs shoes! For men, Crocs has issued different styles of loafers and sandals that won't clash with your nice Bermuda shorts! These come in neutral, easy-to-match colours like black and navy blue so you won't have to worry about spending too much time getting ready. And guess what – ShopBack Singapore can help you to get the best discounts so if you're thinking of getting more than one pair – ShopBack is your best bet! Buy several different pairs to use for all occasions or leave one in the office! There are so many ways to wear Crocs and Crocs really wants to make comfortable and fashionable shoes available for everyone so try them out today with ShopBack discount coupons for the best price you can get!
For more on Crocs, check out their Facebook
.