Food Catering Made Easy with FoodLine
FoodLine is one of the best catering portals in Singapore, offering scrumptious meals and designer cakes from different caterers, for all your special occasions. It is a one stop shop for quality catering services, with a personalised touch sealed with every order. The company is highly passionate about its work and work hard to give the best service to every customer. Every month, they create a complete list of the best catering menus, thereby bringing the freshest food varieties on to the table. They have serviced more than thousands of clients, who have expressed their immense gratitude for the impeccable service and taste delivered by FoodLine.
FoodLine ensures that top quality food is delivered to you on time, free of hassles. All the orders are made to perfection, guaranteeing 100% customer satisfaction at all times. FoodLine also offers free vouchers, cash rewards and FL points for the benefit of its customers.
Visit their site to browse for a vast list of catering services and cake designs, and place your order, while enjoy amazing discounts during Foodline promotions.
Founded in the year 2009 by Joseph and Shawn, FoodLine is a leading catering company in Singapore, boasting of a wide assortment of food items and cakes for all kinds of events. The idea of FoodLine came up when Shawn and Joseph were once trying to find caterers for one of their events, and faced a huge challenge in finding the best caterers because of lack of customer reviews. They launched FoodLine as an online catering review portal with the aim to help other people who were in search of catering services. Owing to the portal s increased demand in 2013, they turned FoodLine into a one stop catering service portal for people to browse customer reviews and order the best-suited catering service as per their requirements.
Today, FoodLine is one of Singapore s largest catering portals, with more than 368 cake shops and caterers. They have serviced more than 231,900 organisations and households for their events, with 7,024,500 meals served till date. The company boasts of 60,927 authentic reviews and continues to provide seamless catering services to its customers. OCBC Bank, MOF, DBS, CapitaLand, StarHub, DHL, Citibank and NUS are FoodLine customers, to name a few.
Cakes and Catering Services Offered By FoodLine
FoodLine offers a vast variety of cakes and catering services to suit all your needs. Browse through the site for different cakes and catering options on FoodLine online and order their tasty delights, while enjoying amazing deals during their sale period. Listed below are some of the products and services available on FoodLine.
Cakes –
Choose from an array of delicious, creatively designed cake options on FoodLine and celebrate your special day in style. They create the best designer cakes and desserts for birthdays, parties and events, and for gifting to your loved ones.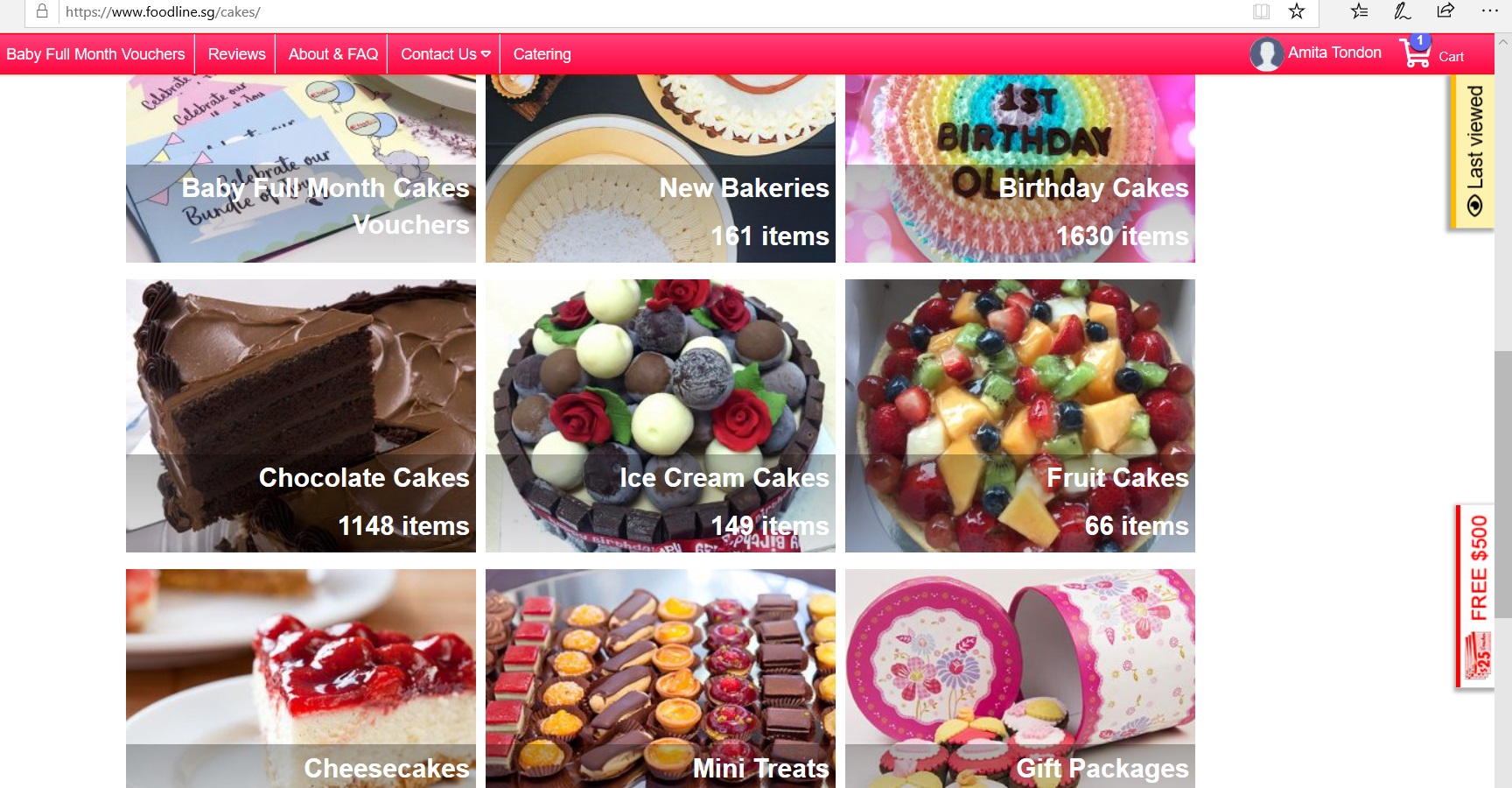 Catering –
Whether you need buffet catering, wedding catering, birtherday catering, mini catering, high tea catering, halal catering or even last minute catering, FoodLine offers unmatched catering services to suit all your requirements. Each of their catering categories offers excellent menu varieties, ranging from a minimum of 8 menus to a maximum of 2992 menus.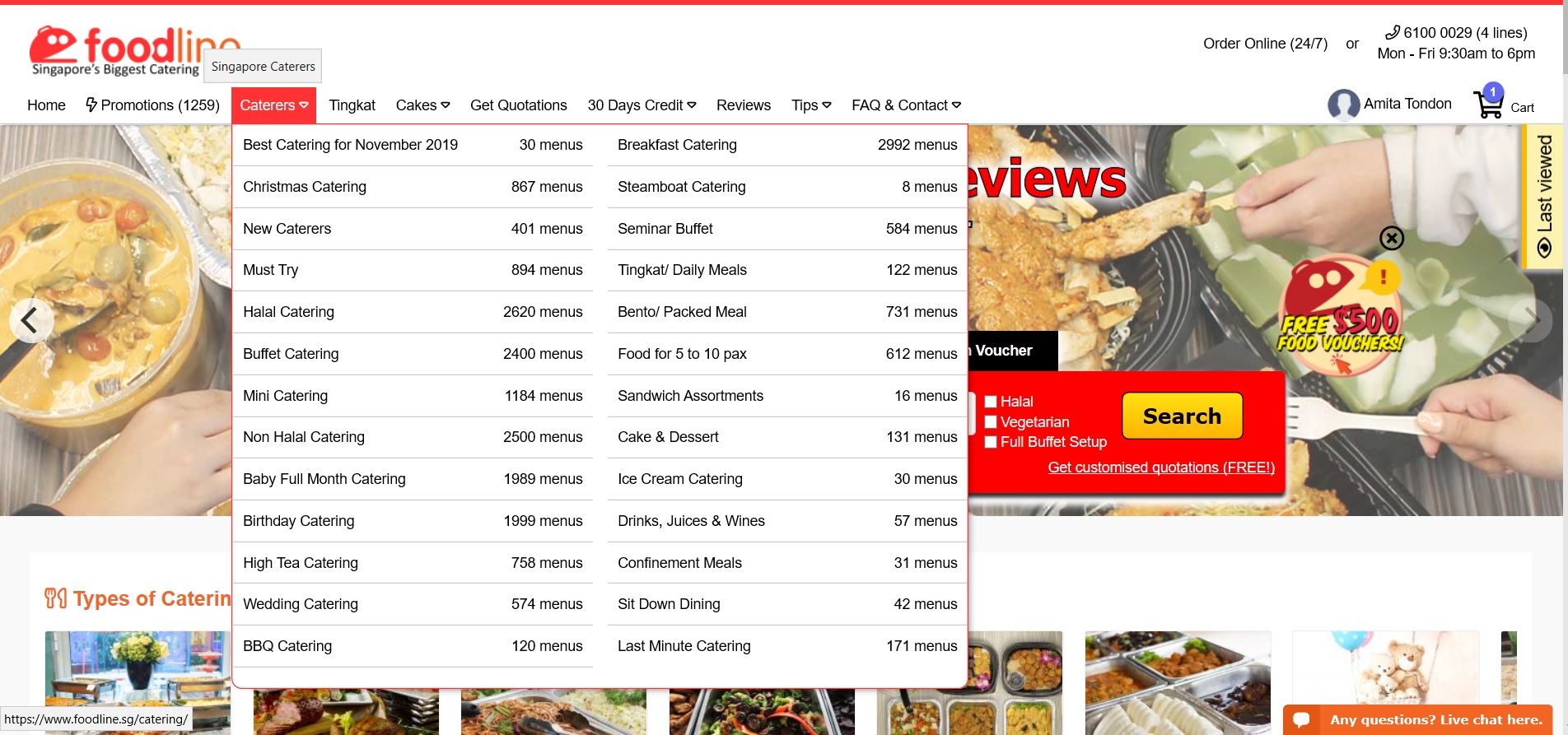 Make sure to check for the Foodline coupons and vouchers offered during special offers before you proceed with shopping.
| FoodLine Product Category | Products |
| --- | --- |
| Caterers | Best Catering for the Month, Christmas Catering, New Caterers, Must Try, Halal Catering, Buffet Catering, Mini Catering, Non Halal Catering, Baby Full Month Catering, Birthday Catering, High Tea Catering, Wedding Catering, BBQ Catering, Breakfast Catering |
| Tingkat | Steamboat Catering, Seminar Buffet, Tingkat/Daily Meals, Bento/Packed Meal, Food for 5 to 10 Pax, Sandwich Assortments, Cake & Dessert, Ice Cream Catering, Drinks, Juices & Wines, Confinement Meals, Sit Down Dining, Last Minute Catering |
| Cakes | Baby Full Month Cakes Vouchers, New Bakeries, All Cakes & Desserts, Birthday Cakes, Chocolate Cakes, Ice Cream Cakes, Fruit Cakes, Cheesecakes, Mini Treats, Gift Packages, Cupcakes, Unique Flavours |
How to Order From FoodLine?
FoodLine offers an easy approach to placing your orders online and brings to you a number of deals from time to time. The homepage displays all the product categories and also provides a search icon to search for a specific product based on your budget, number of people and event date. You can also find Foodline promo codes, Foodline voucher codes and other discounts on the homepage. You may book for catering services, cakes or tingkat delivery services from the homepage. By clicking on 'Get Quotation , you can get quotations from different caterers based on your requirements. FoodLine also provides free concierge service if your budget exceeds $2000.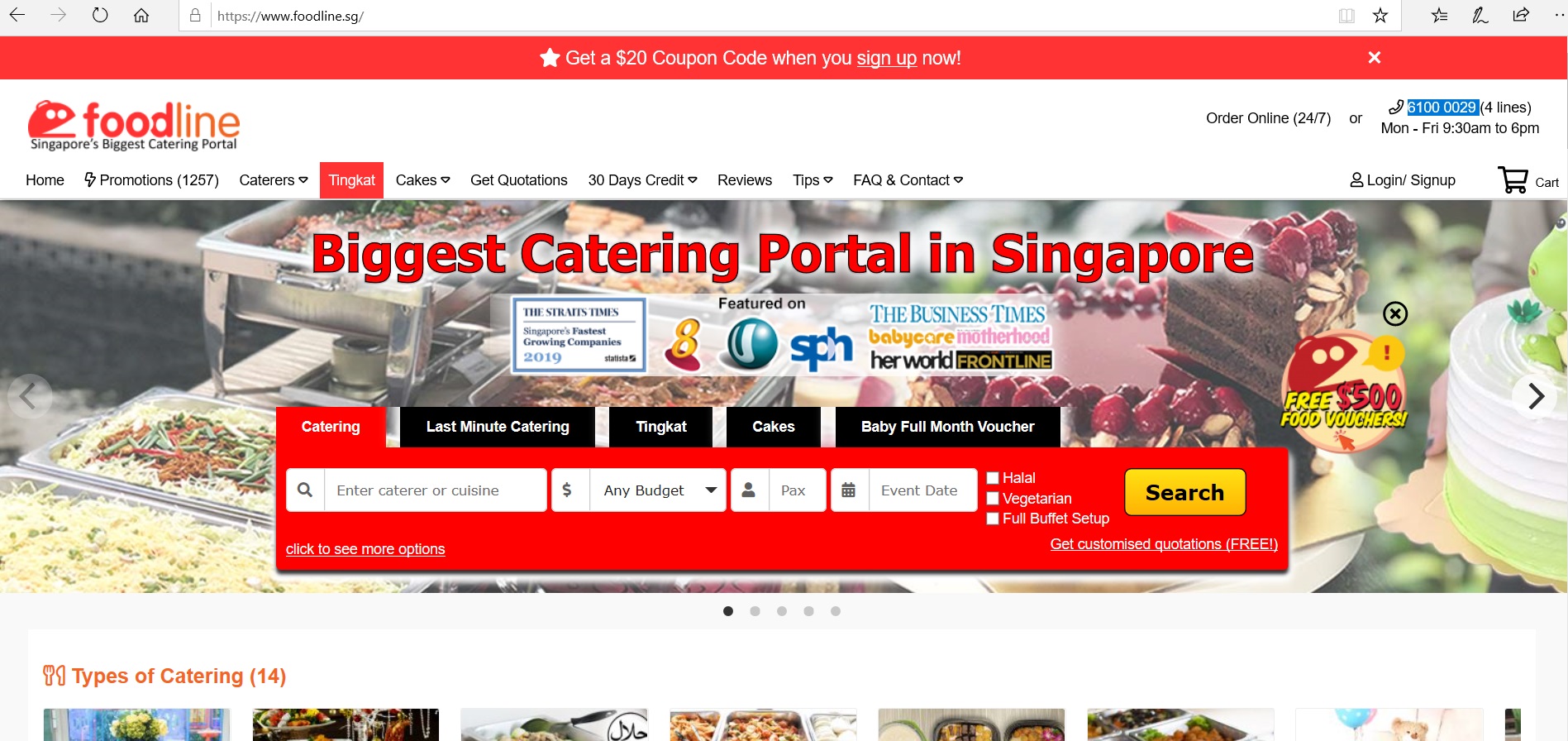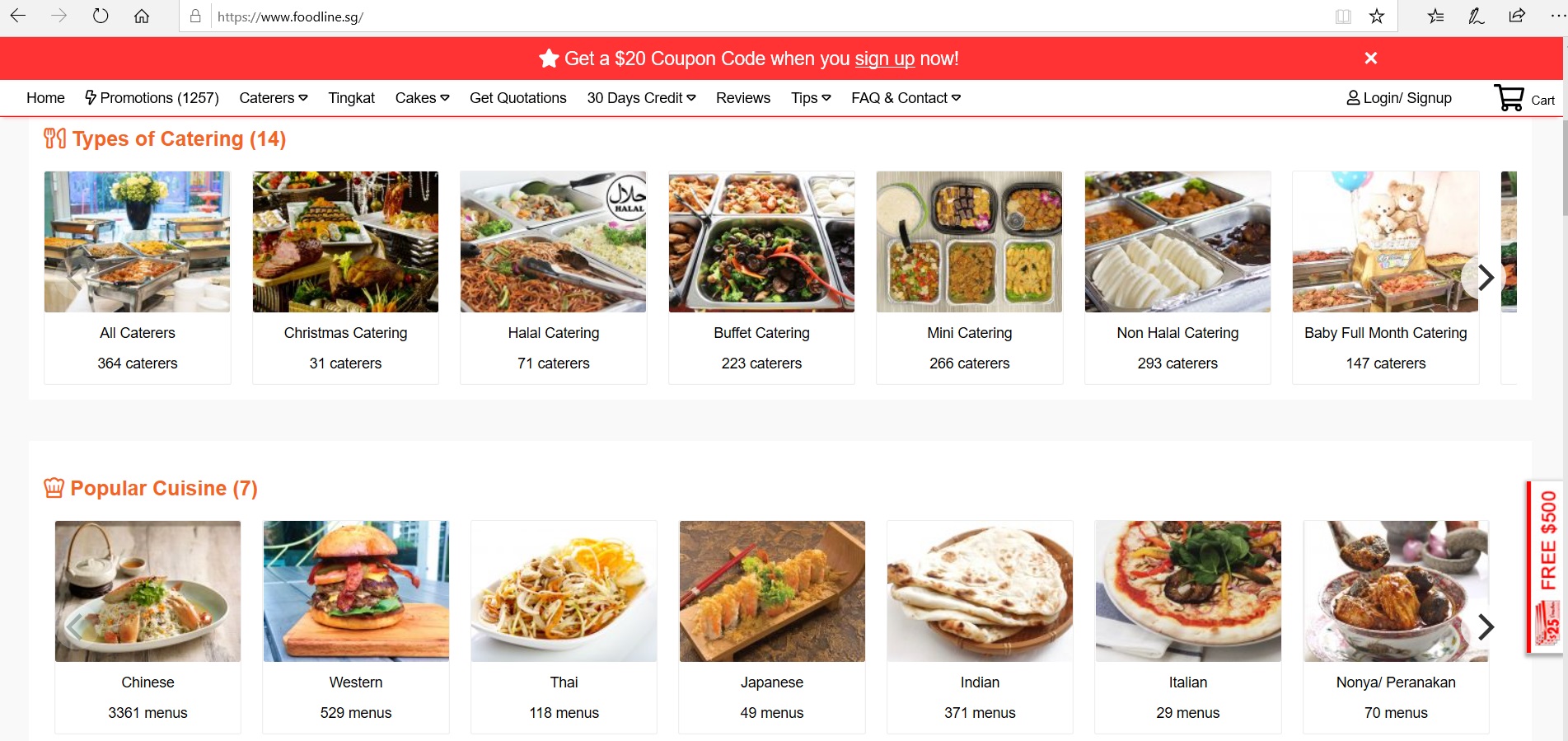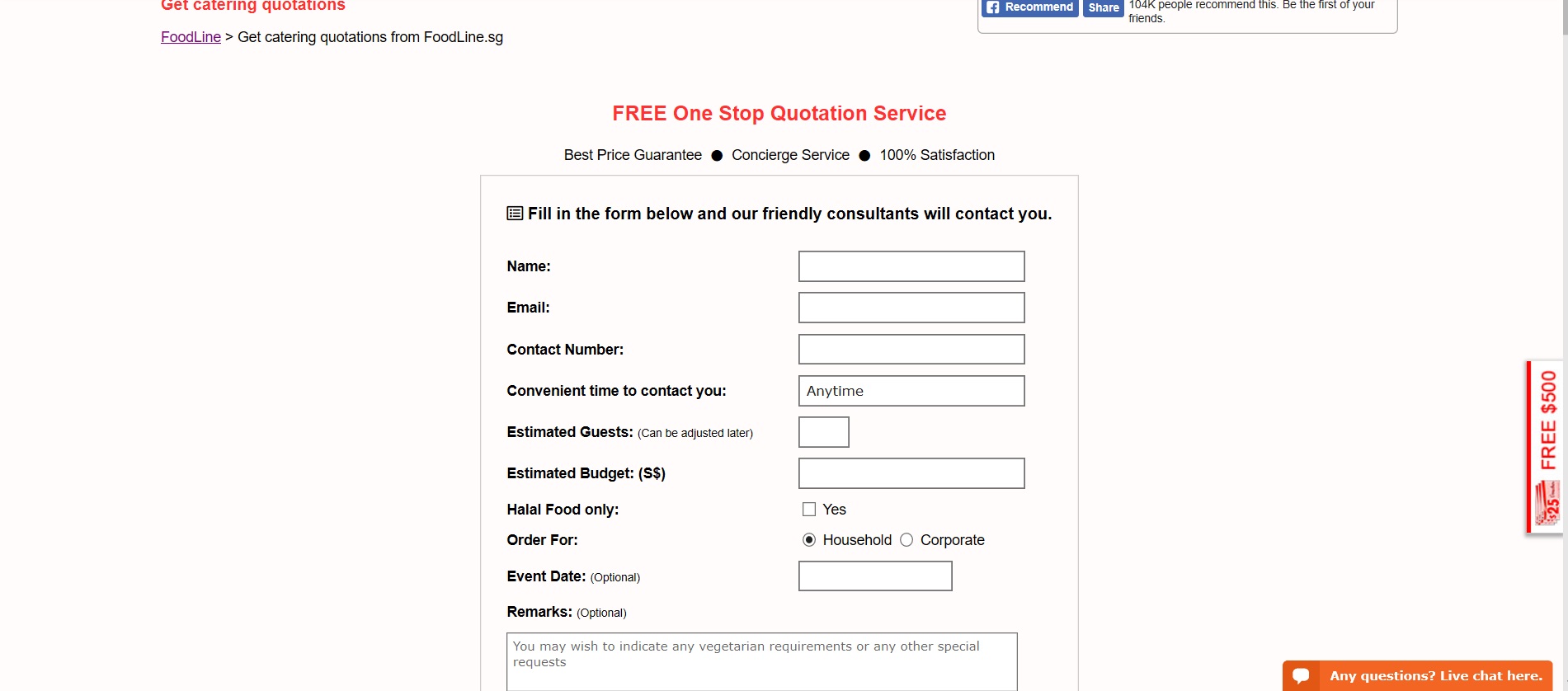 1. Select your preferred category and sub-category. Then choose what you wish to order from the list of displayed items.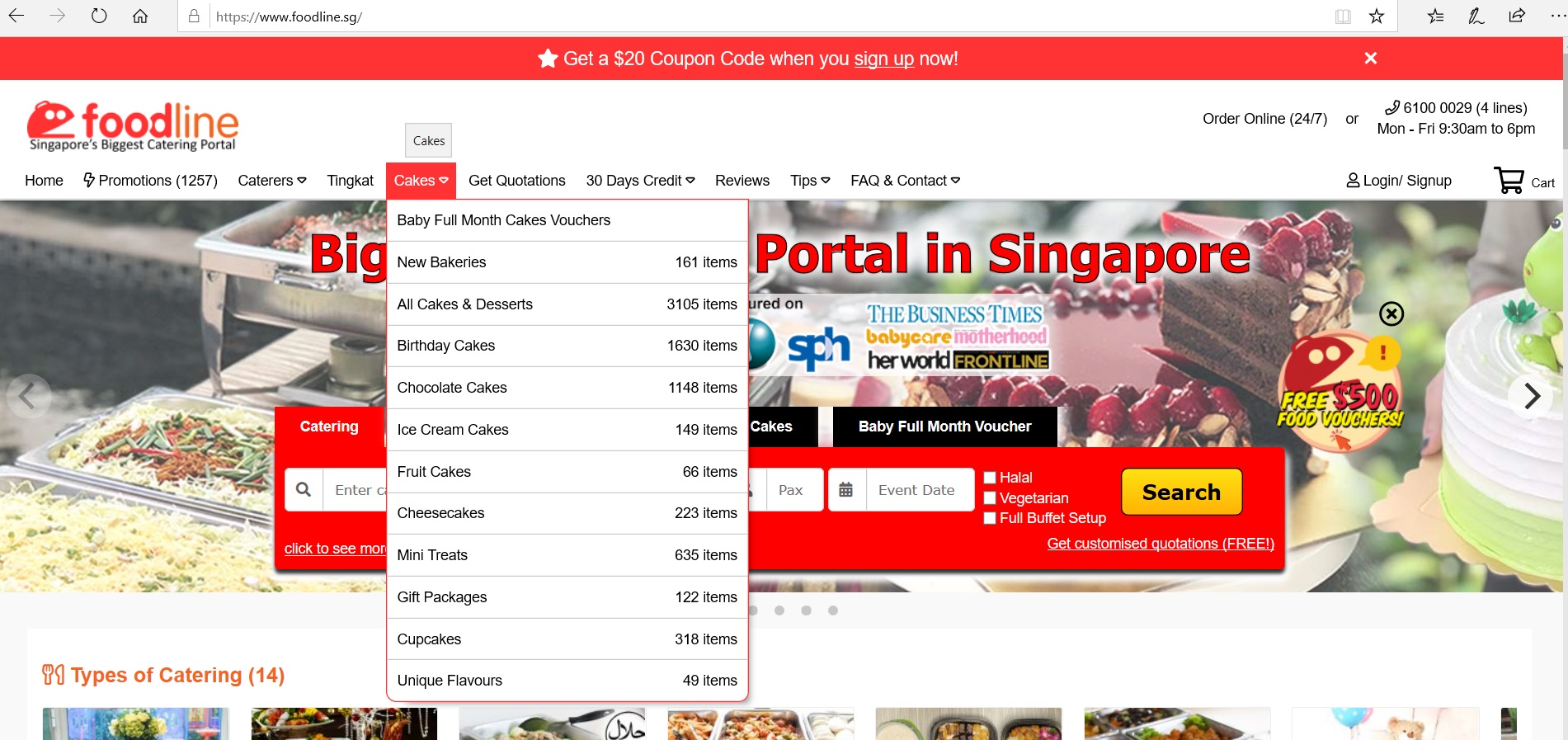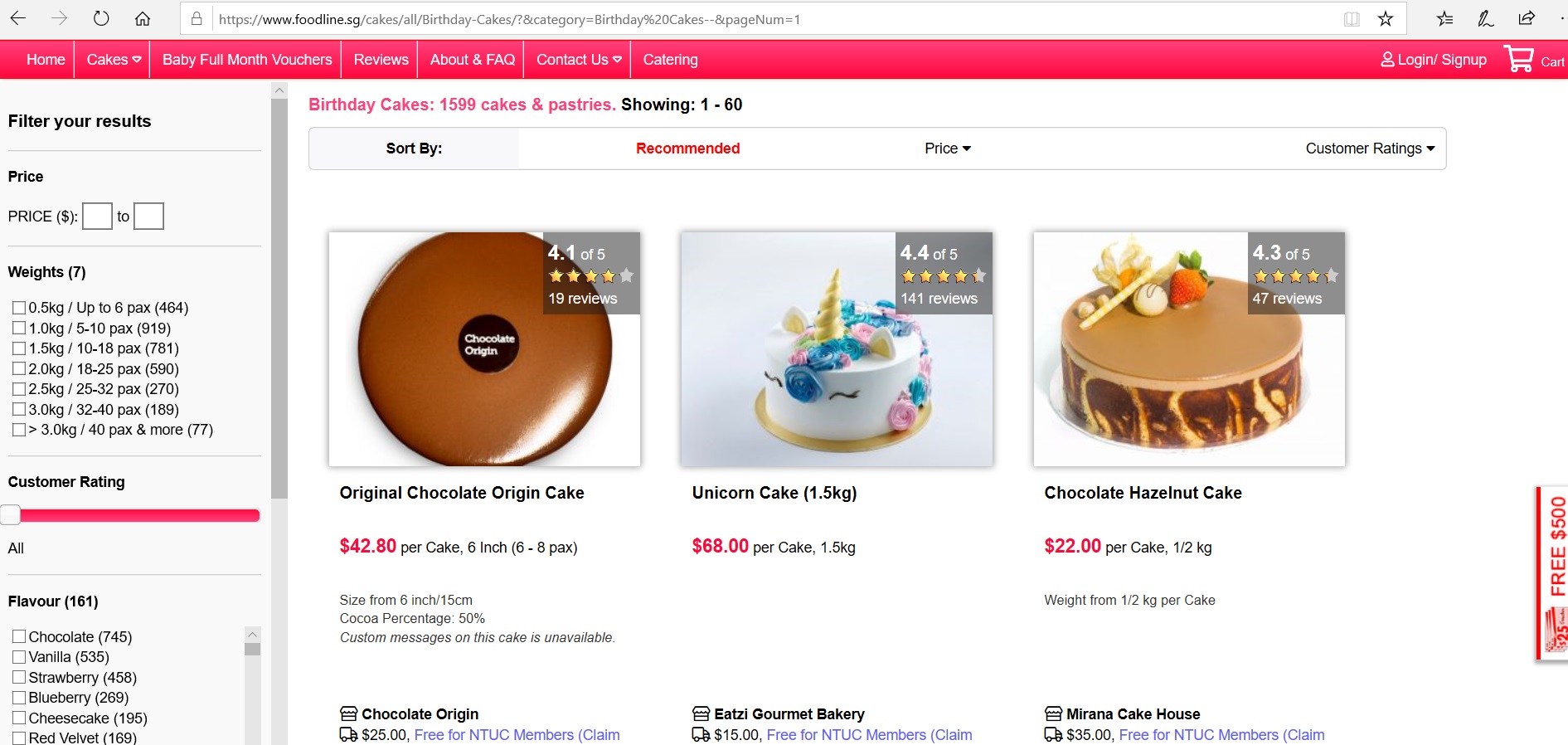 2. The product description, along with its price, a 'Details button to choose the size/flavor/add-ons, delivery details and a 'Checkout button will be displayed. You may go back to browse a different item or select the size/flavor/add-ons and click 'Add . The product will be added to your cart, after which you may continue shopping or proceed further by clicking 'Checkout .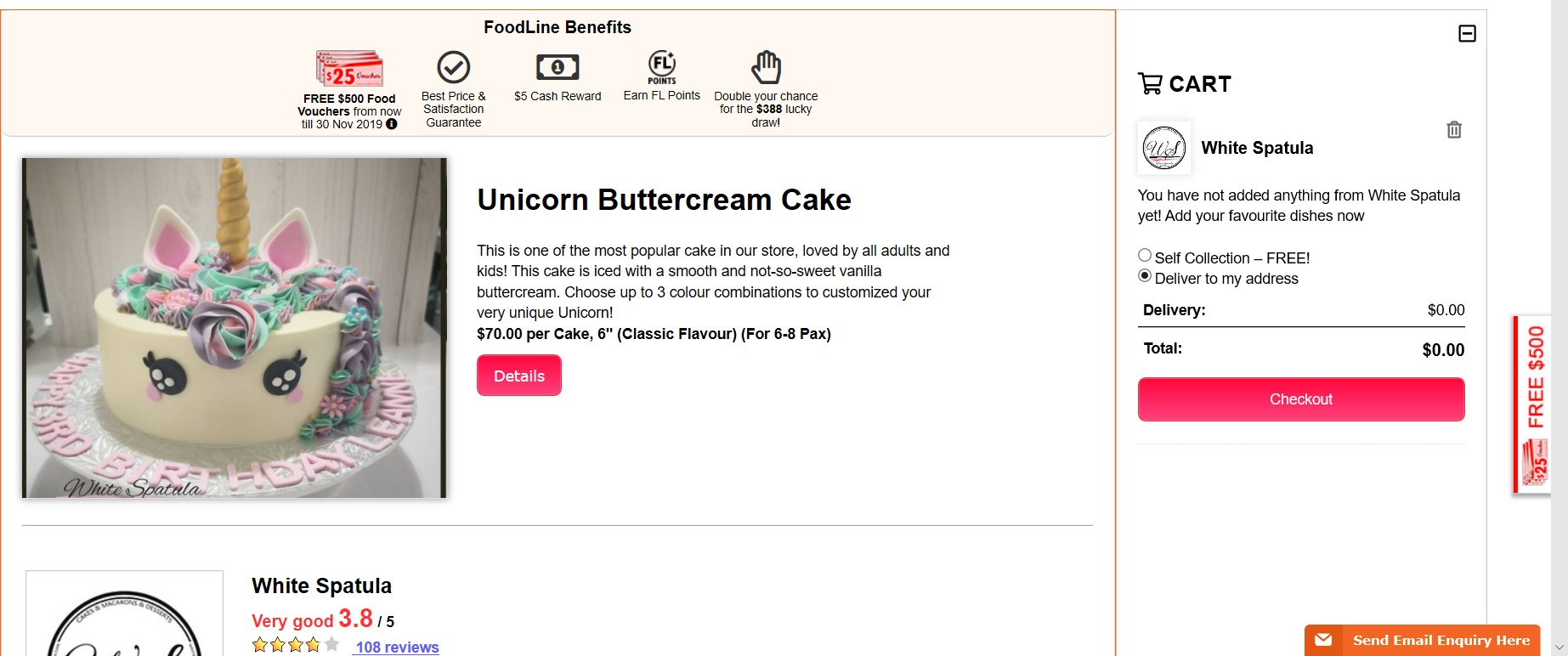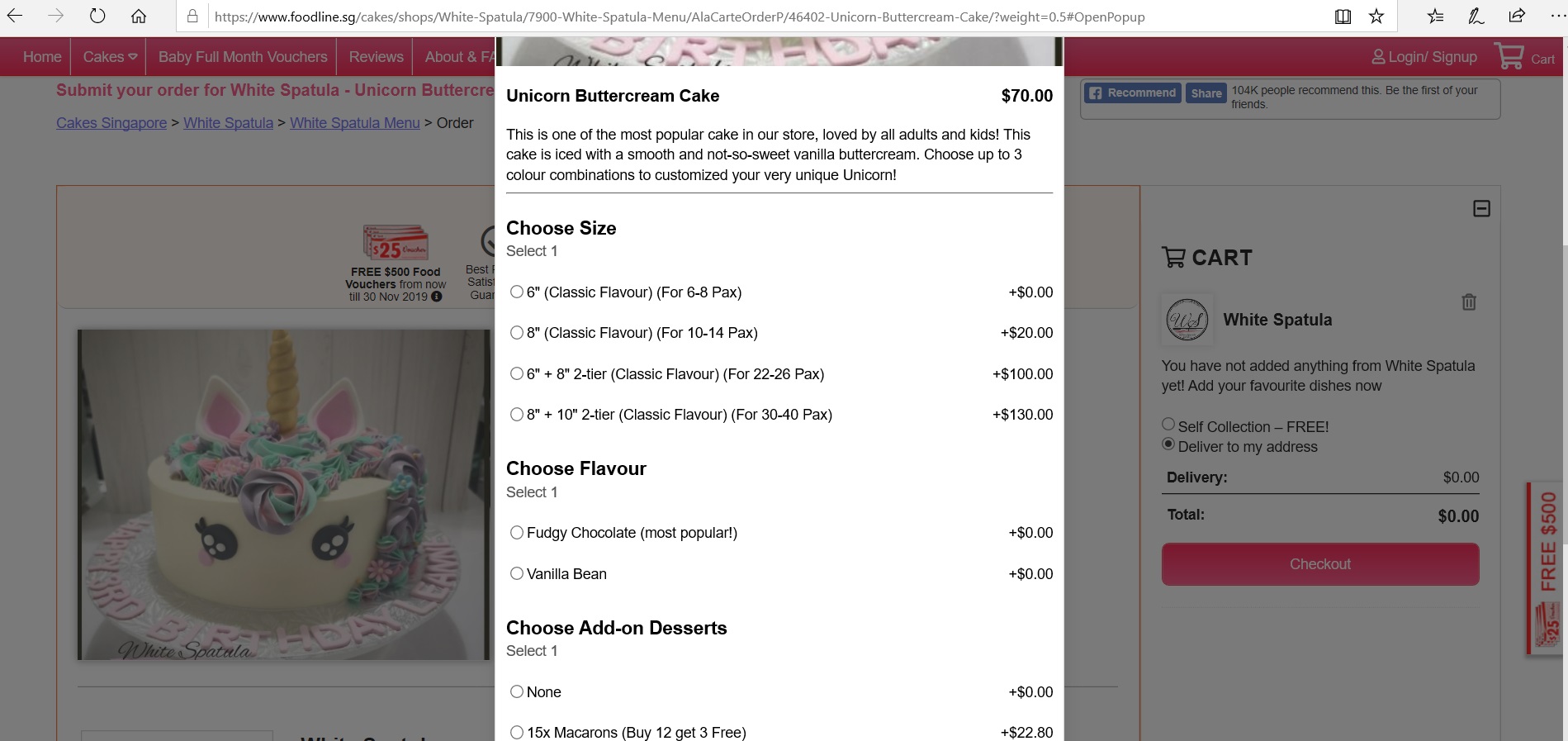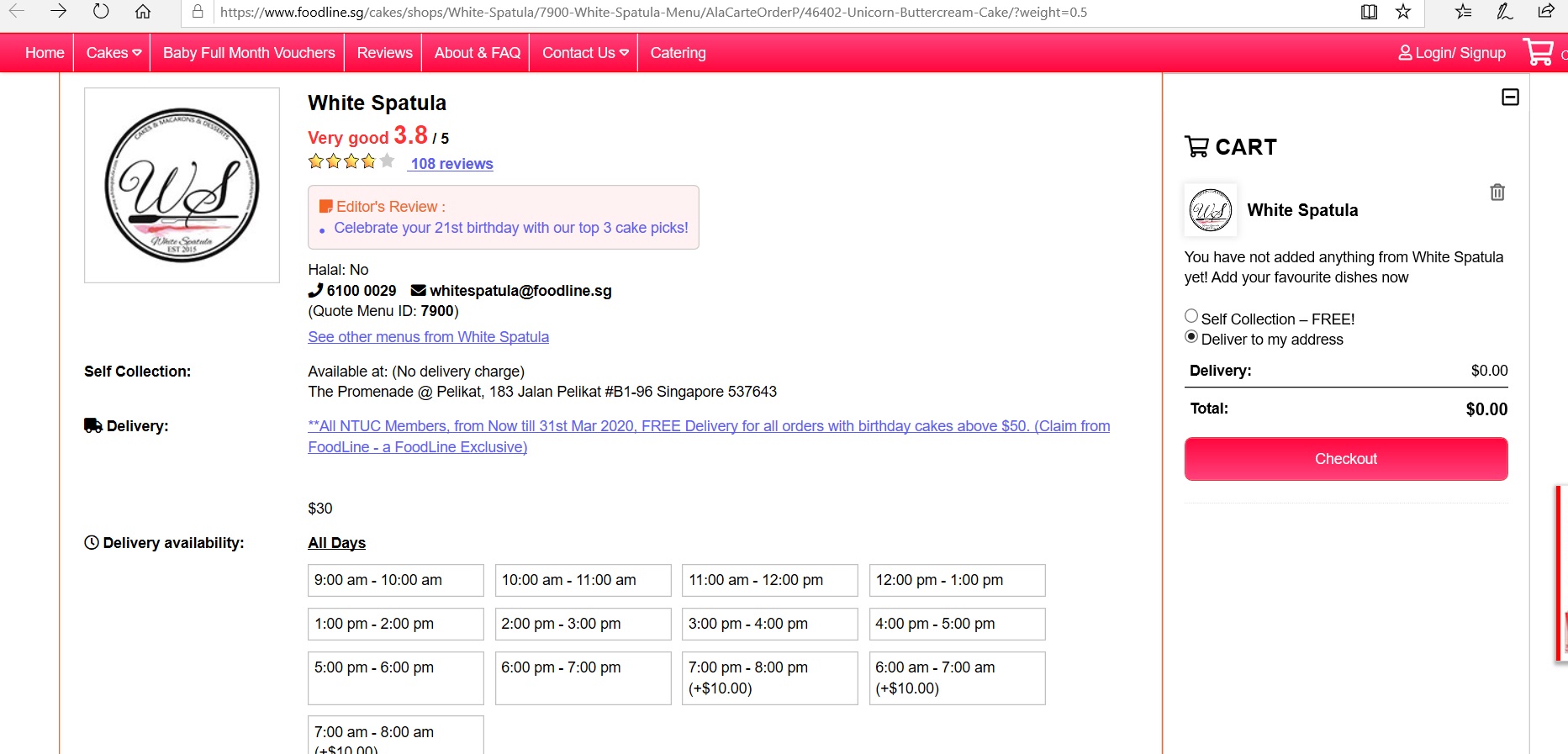 3. It will display your cart details, along with a field to enter the Foodline promo code. On the same page, enter your delivery choices, billing information, message on cake and event details. Once you enter all the details, click 'Next . Review your complete order information on the next page and enter your payment details. Then click 'Confirm to proceed with payment and complete your order.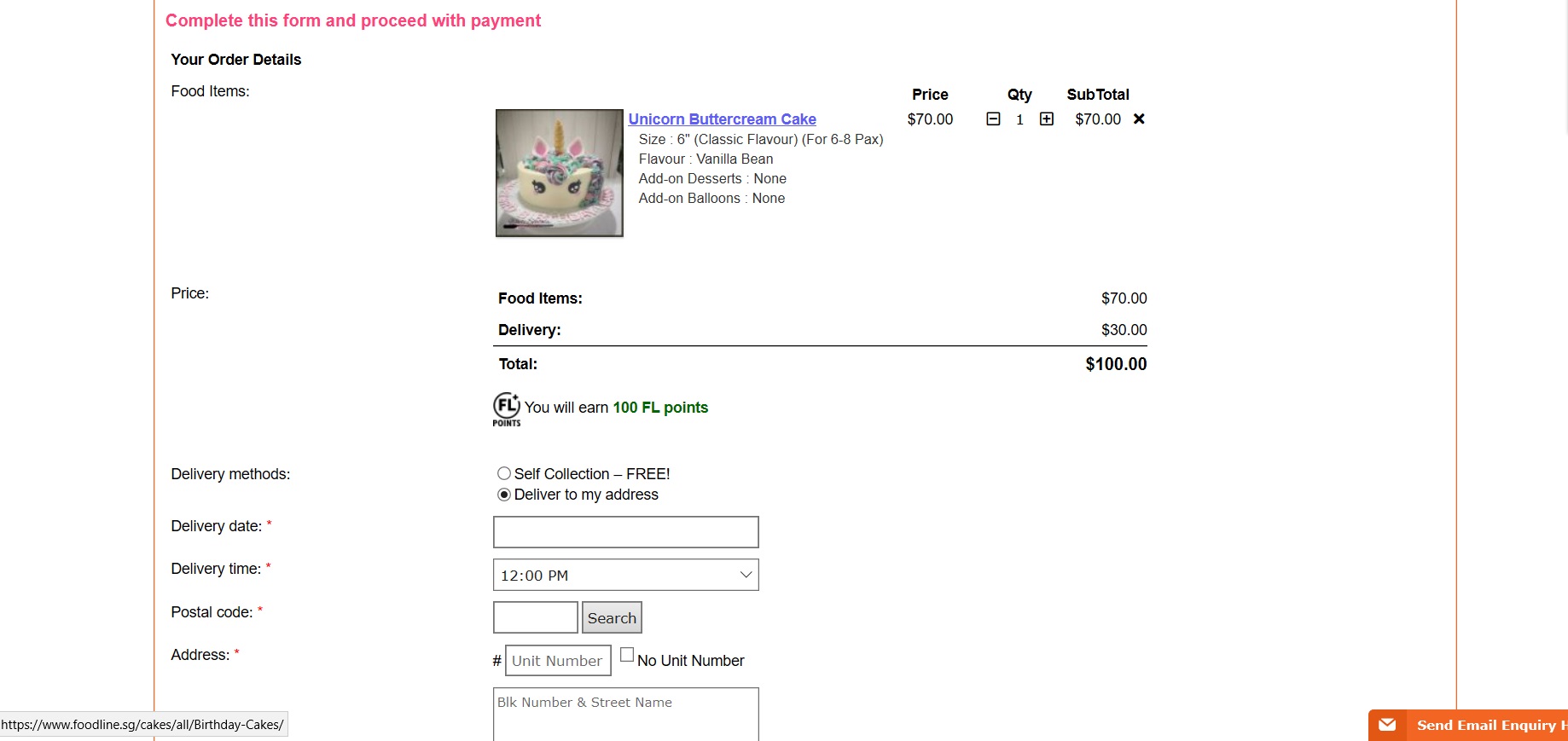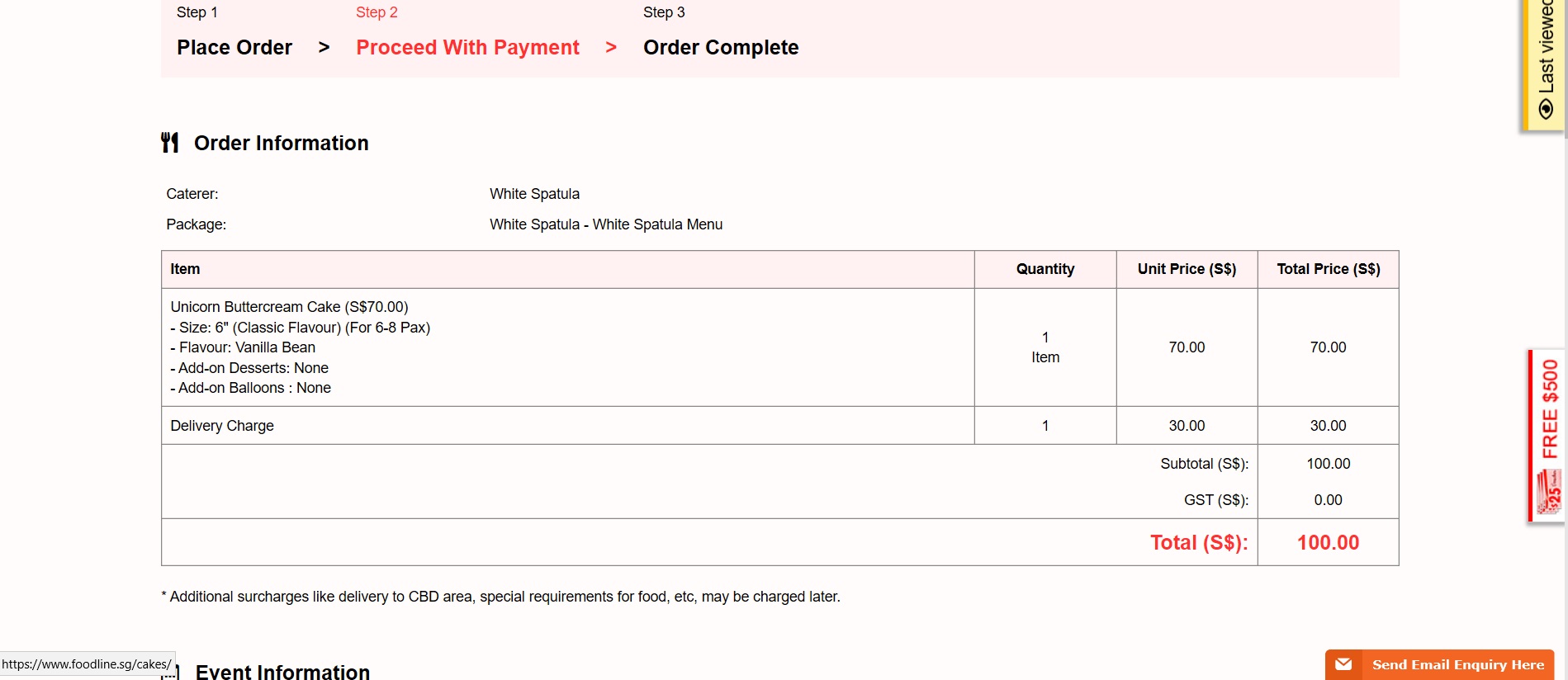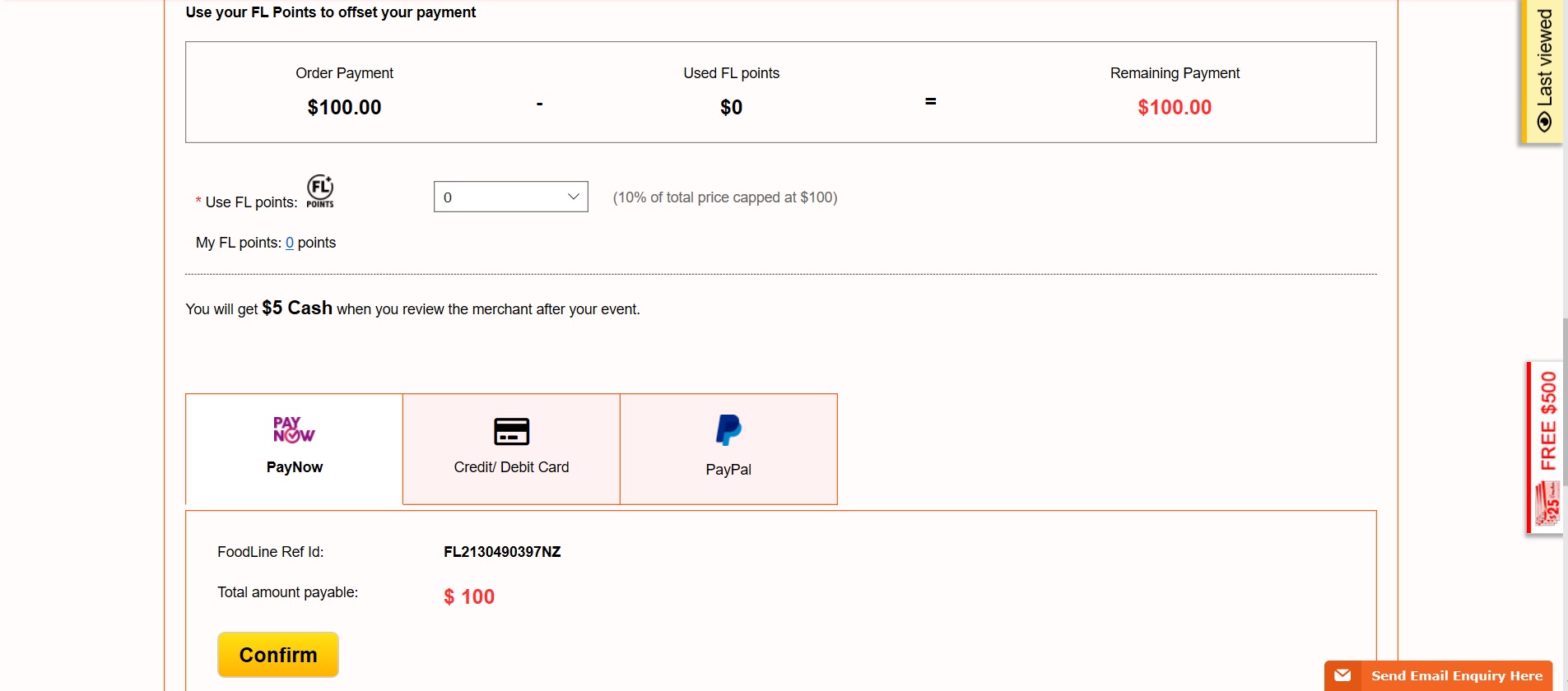 4. Once payment is received, the order will be sent to the respective merchant and you will see your purchase details, along with the expected delivery date of your product. An e-mail will be sent to you to confirm your order details.
5. Customers can find great deals on products during promos and sales. You can avail discounts by using the Foodline discount codes on checkout. Make sure to check for special deals before placing an order.
Payment Options on FoodLine
FoodLine offers the following payment methods for your convenience.
Credit Card:
FoodLine accepts credit/debit cards for online payments. It also accepts cheques, bank transfers, EPS, Gebiz, VISA, MasterCard and more.
PayNow:
PayNow is a peer-to-peer service for electronic fund transfers in SGD by using the payee s mobile number, UEN or FIN/NRIC number. This service is available only to the customers holding bank account numbers in any of Singapore s PayNow participating banks. FoodLine accepts PayNow method for all your payments.
PayPal:
PayPal is a popular online payment method that serves as a simple e-transfer alternative to the traditional payment process. FoodLine accepts PayPal method for all your payments.
Different Coupon Codes and Discounts on FoodLine
The website brings to you a number of coupons and Foodline vouchers from time to time. Some deals are offered for a long time while others are available for a limited period only. Customers can save a lot of money by applying the Foodline coupon codes and earn cashback if they shop with the merchant via a registered account at ShopBack.
How to Redeem Coupons and Vouchers on FoodLine?
Online shopping can be a wonderful, convenient experience, with a vast collection to choose from and ample opportunities to save money on every purchase. Most online shopping websites offer coupon codes and vouchers that can be redeemed to earn cashbacks and discounts on products.
Here is a step-by-step tutorial on how to redeem coupons and vouchers at FoodLine:
Step 1:
Choose from the list of displayed products, select your preferred item and click Add to Cart .
Step 2:
Enter your email and shipping address and proceed to checkout.
Step 3:
Proceed to the payment page. Here, you will find a box under the payment summary section to enter your Foodline promo code or any other applicable discount codes for availing discounts.
Step 4:
Choose your payment method and fill in the payment details to complete your purchase.
How to Shop on FoodLine Using ShopBack
ShopBack offers cashback on products if you shop from FoodLine. These steps will help you earn cashback from ShopBack:
Step 1:
Select FoodLine from the list of brands on the ShopBack homepage, or use the search box to find a link to the FoodLine website.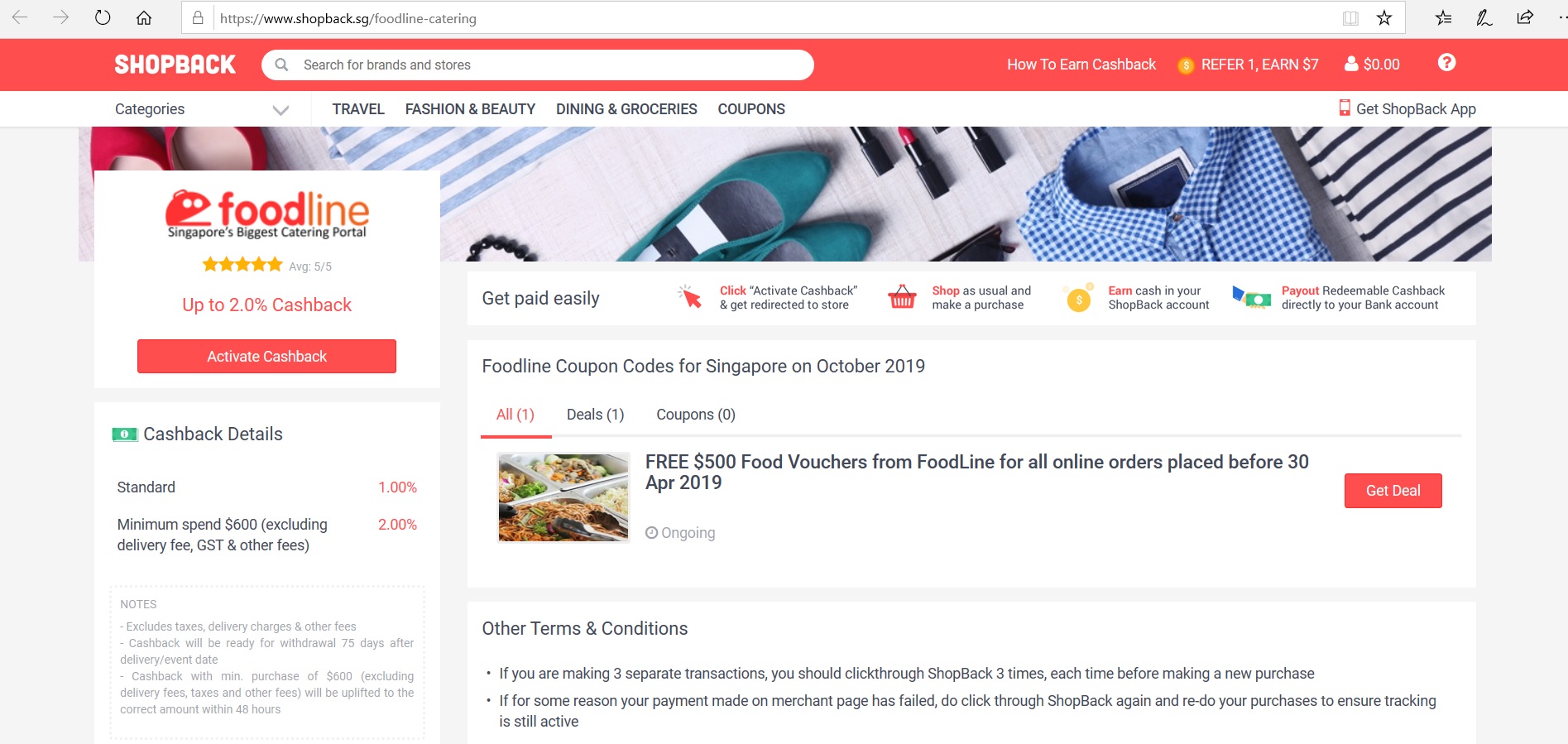 Step 2:
Read the terms and conditions and other relevant information such as cashback details and tips to ensure cashback.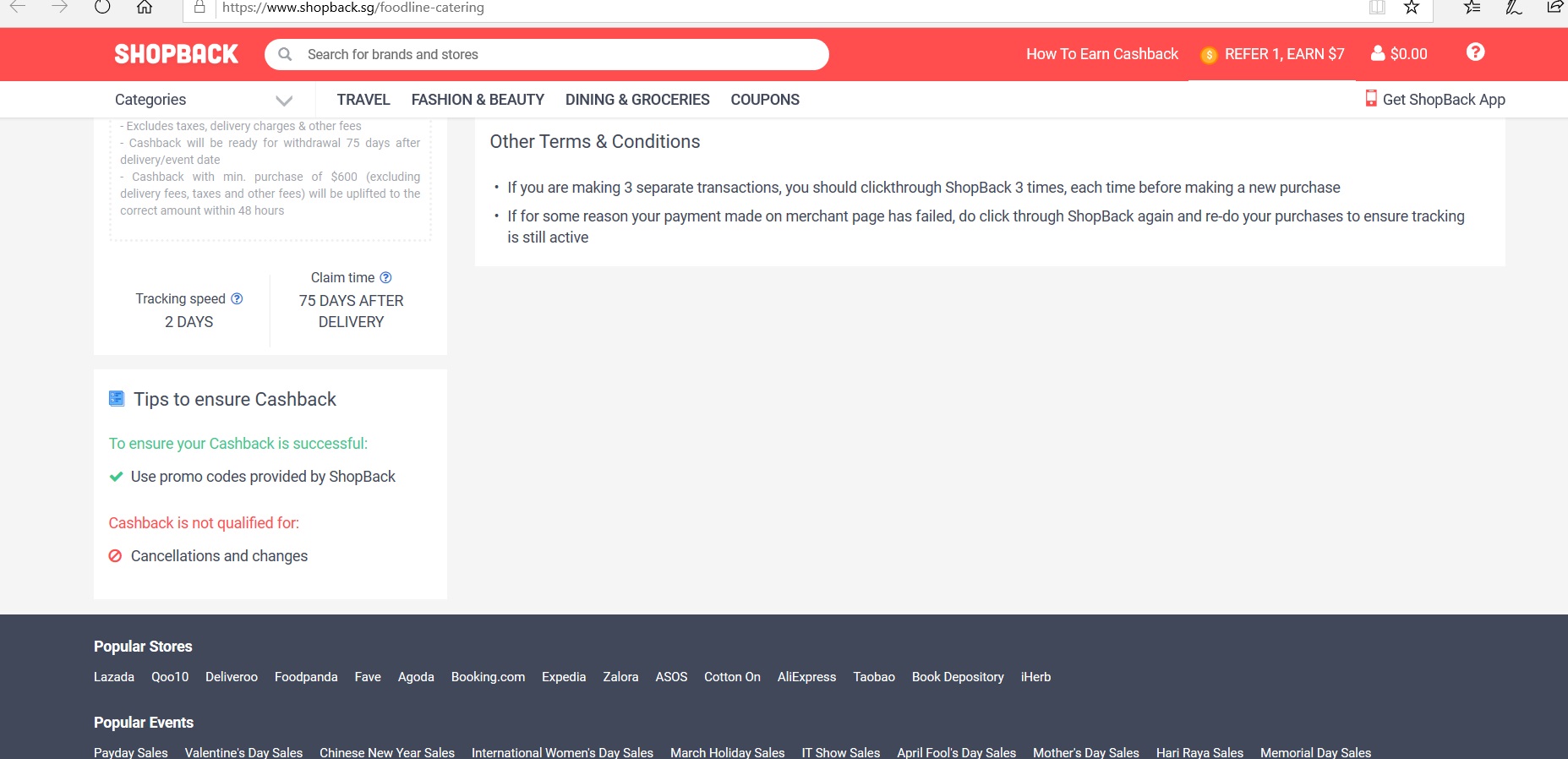 Step 3:
Click Activate Cashback on the left.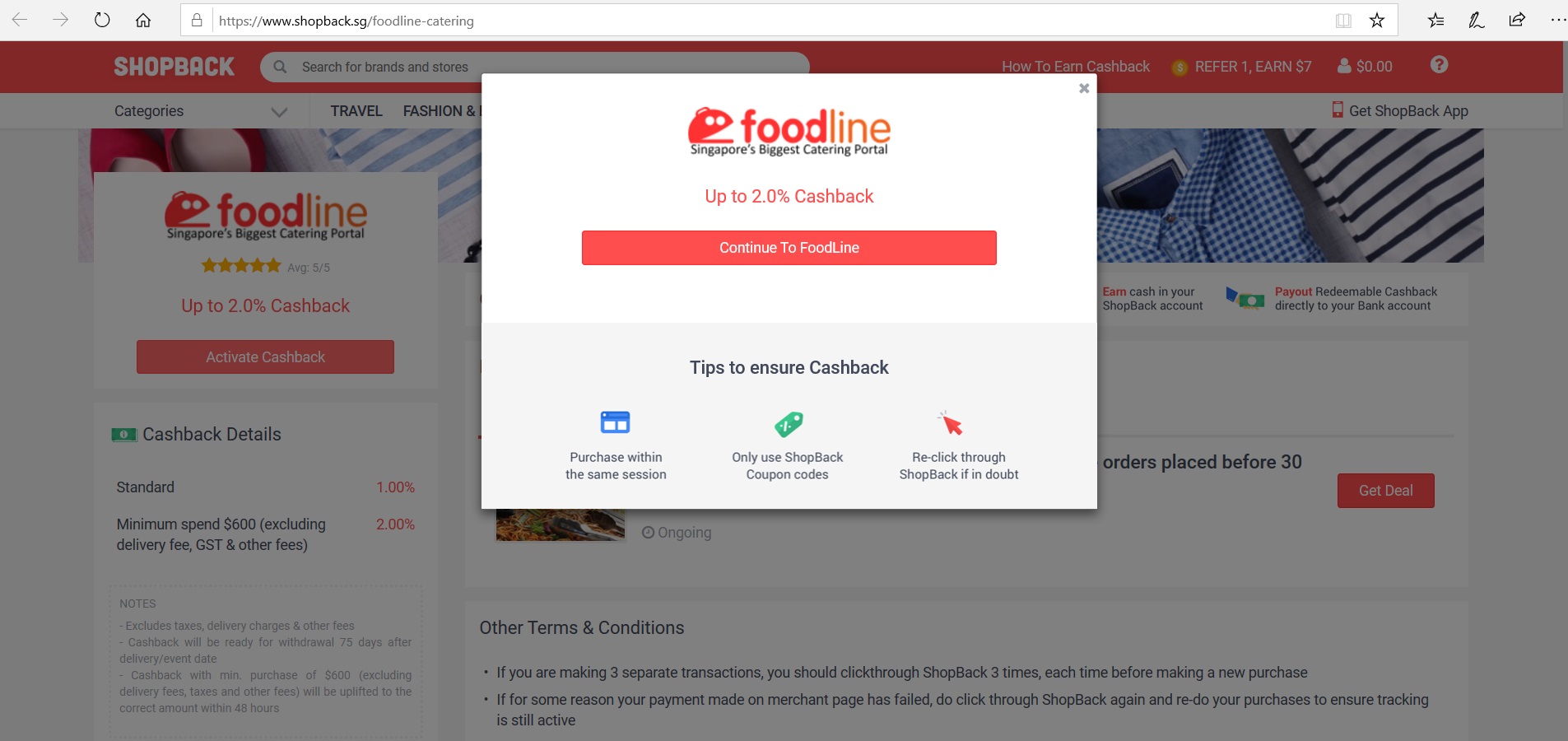 Step 4:
You can find more attractive deals by checking out the 'All section.
Step 5:
On placing the order, you will be eligible to earn cashback from ShopBack. There may be a variation in cashback rates based on your history with ShopBack. Cashback offer is not applicable on purchases made via the FoodLine app.
FoodLine Ordering and Cancellation Policy
The ordering and cancellation policy for FoodLine is listed below:
Placing Orders:

It is best to place your orders 3 days in advance or at least a week prior to the event date if it is a large order (for more than 80 people). It is also best to order much in advance during the festive season. Once the order is placed, an email will be sent across to inform that the order has been placed successfully. The caterer will then contact you on the same day or within 2 business days for confirming your order.

Cancellation:

If you wish to cancel or modify your order, you can do so by contacting the caterer once they have confirmed the order. There are no cancellation charges from Foodline, however, the cancellation policies from different caterers will be applicable. In the event of non-availability of the cake you ordered, the entire amount paid by you will be refunded to your credit card within 5 to 7 working days.

FoodLine also offers cash rewards and FL points that can be used during your online purchases. Visit their FAQs page for more information on placing orders, cancellation and FoodLine cash rewards and points.

If you are not satisfied with their services, you can send them an email with the invoice, reasons for your dissatisfaction and 3 pictures of the catering service. Compensation for the same will be done within 30 days, subject to certain terms and conditions. Refer to guarantees page for more information on this.
FoodLine Customer Service
Online orders can be placed 24/7 on FoodLine and for any inquiry or help or order customisations, customers can visit their contact us page or FAQs. You can connect with their customer care representatives on 6100 0029 (Monday to Friday 9.30 AM to 6 PM). You may also email them at [email protected] or chat online by clicking on the live chat icon at the bottom right side of the page.