Be Insured on Your Travels with Allianz Travel
Allianz Travel Singapore is a leading global firm providing travel insurance and assistance services to people travelling abroad for various purposes. Their excellent services and value for money make them stand out among the competitors. Owned by the Allianz Group, Allianz Travel Singapore possesses over 13,224 associates across the globe. It boasts of a vast network of clinics, lawyers, doctors and other professionals in over 150 countries, with over 85 million customers across the globe.
All their insurance plans are designed carefully and made cost-effective, so that you can have a worry-free travel, whether you are on a business trip or family holiday. Unlike with other insurance providers, where you need to find external medical teams during an emergency, there are in-house healthcare specialists worldwide at Allianz Travel, who can assist you when you are travelling abroad.
Visit their site and choose the best travel insurance for you and your family, and avail discounts during Allianz Travel sale.
History of Allianz Travel
Allianz Travel was founded by Carl von Thieme and Wilhelm von Finck in Berlin, in the year 1890. This joint venture was named as 'Allianz Versicherungs-Aktiengesellschaft and registered in Berlin s trade register. The very first products of the company were accident and marine policies, but they were sold in Germany only. However, the year 1893 saw the opening of Allianz s first international branch in London and the distribution of marine insurance abroad. It moved to the US and various other markets in the later years. Allianz started offering fire insurance in 1905, began the selling of machinery breakdown policies in 1911 and started providing automobile insurance in 1918. The company merged with Stuttgarter Verein Versicherung AG in 1927 and later acquired Favag s insurance businesses.
After the destruction of its Berlin headquarters during World War II, Allianz moved its headquarters to Munich in the year 1949. It expanded over time and acquired many other insurance companies in the UK, U.S., Europe, Asia, South Korea, China and Australia. In 2005, it became the first insurance firm to convert into a European company, following which it became the largest insurer in Europe by 2008. According to Forbes, as of 2019, Allianz Travel stands as the largest insurance company in the world with assets summing up to $1,060.2 billion.
Services Offered by Allianz Travel
Allianz Travel offers the best insurance plans to rightly suit your travel requirements. Choose from their list of plans and enjoy great deals during their promotions. Check for Allianz Travel coupons before making your bookings.
These are some of the amazing services offered at the Allianz Travel worldwide:
Annual Multi-Trip Travel Insurance –
The company offers the annual trip insurance policy for those who travel frequently. All your business trips or holidays throughout the year are covered for you at 90 days per trip.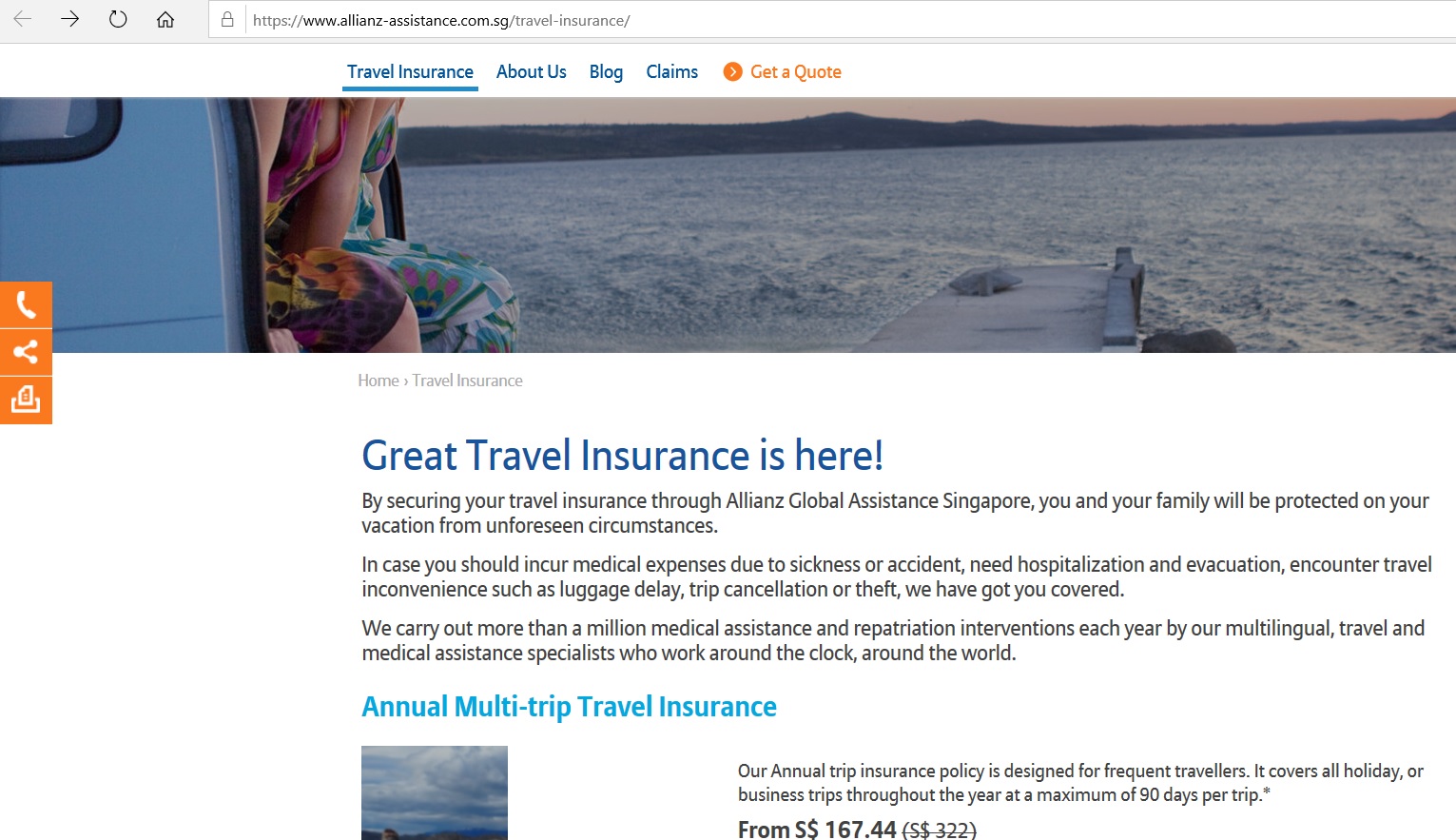 Single Trip Travel Insurance –
Travelling alone can have its own pros and cons. If you are planning to travel for work or on vacation, you can opt for the single trip travel insurance that will have you covered at all times.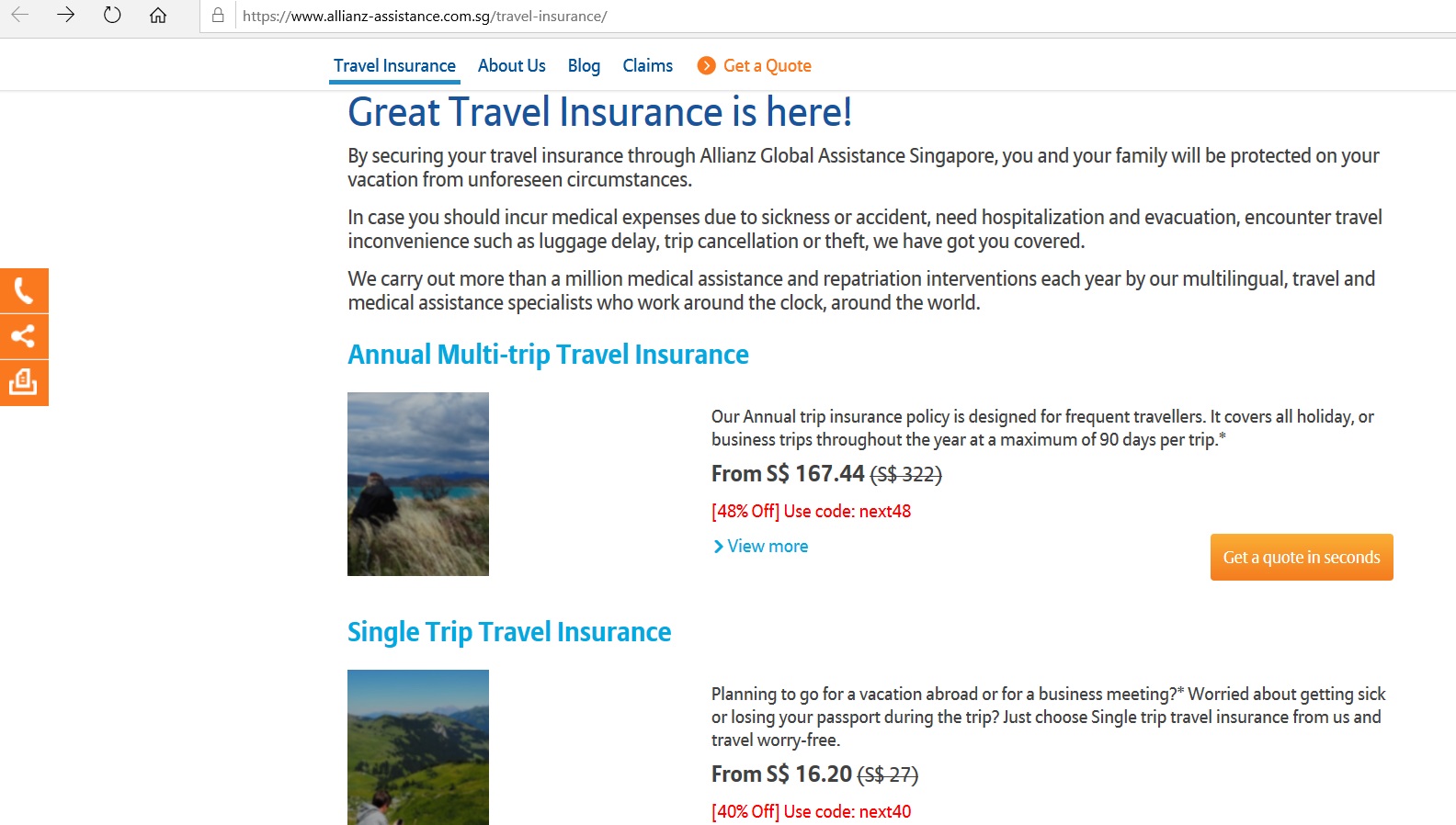 Family Travel Insurance –
Enjoy a worry-free travel with your loved ones, whether you are taking the whole family on vacation or going on a business trip. The family travel insurance is designed to best suit your needs and have you covered in case of any unforeseen situations.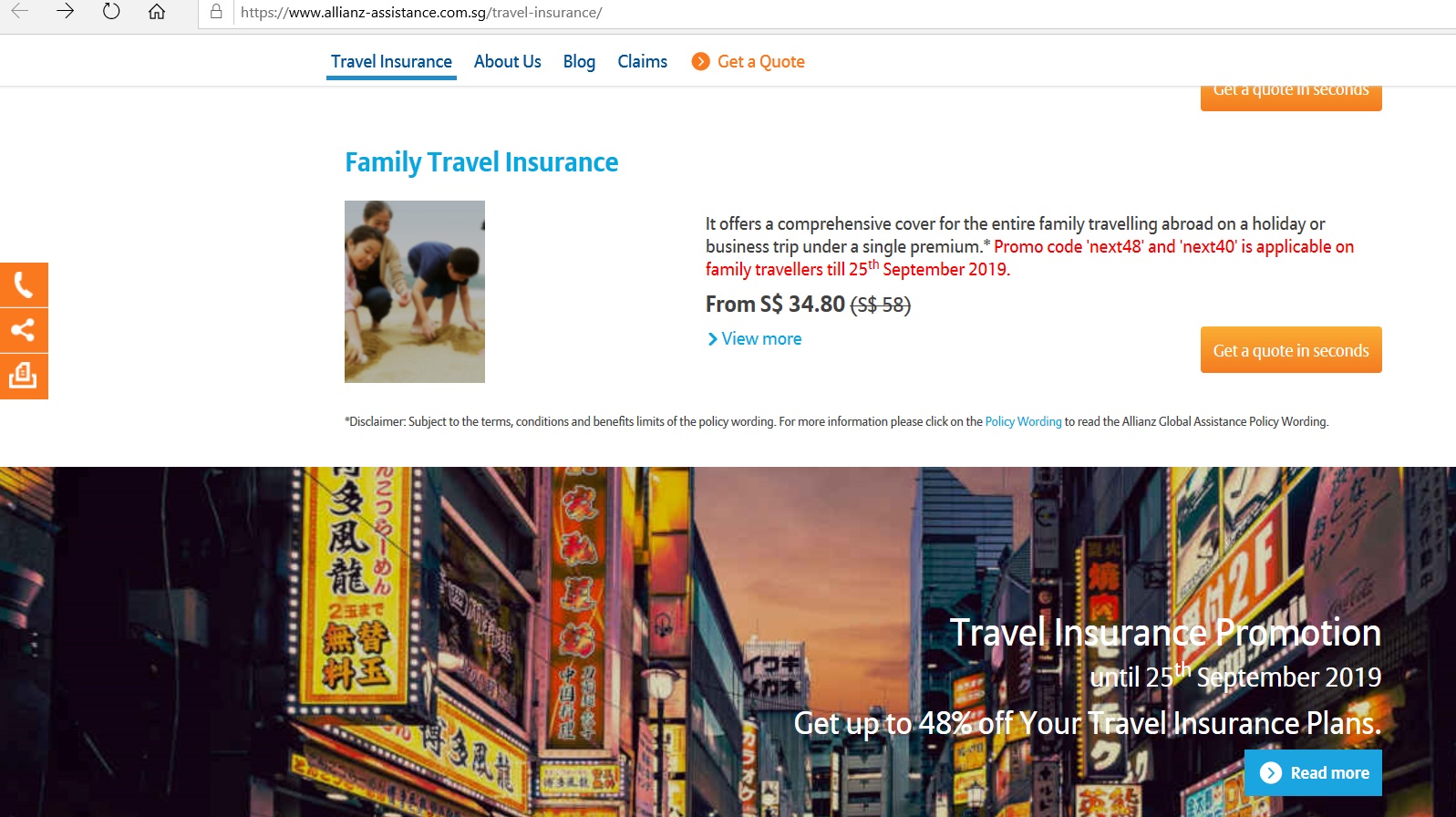 How to Purchase Insurance at Allianz Travel
Allianz Travel has very simple steps for buying insurance. All the service categories are displayed at the top of the page, along with a search option to find what you are looking for. The homepage also displays Allianz Travel promo codes and other offers.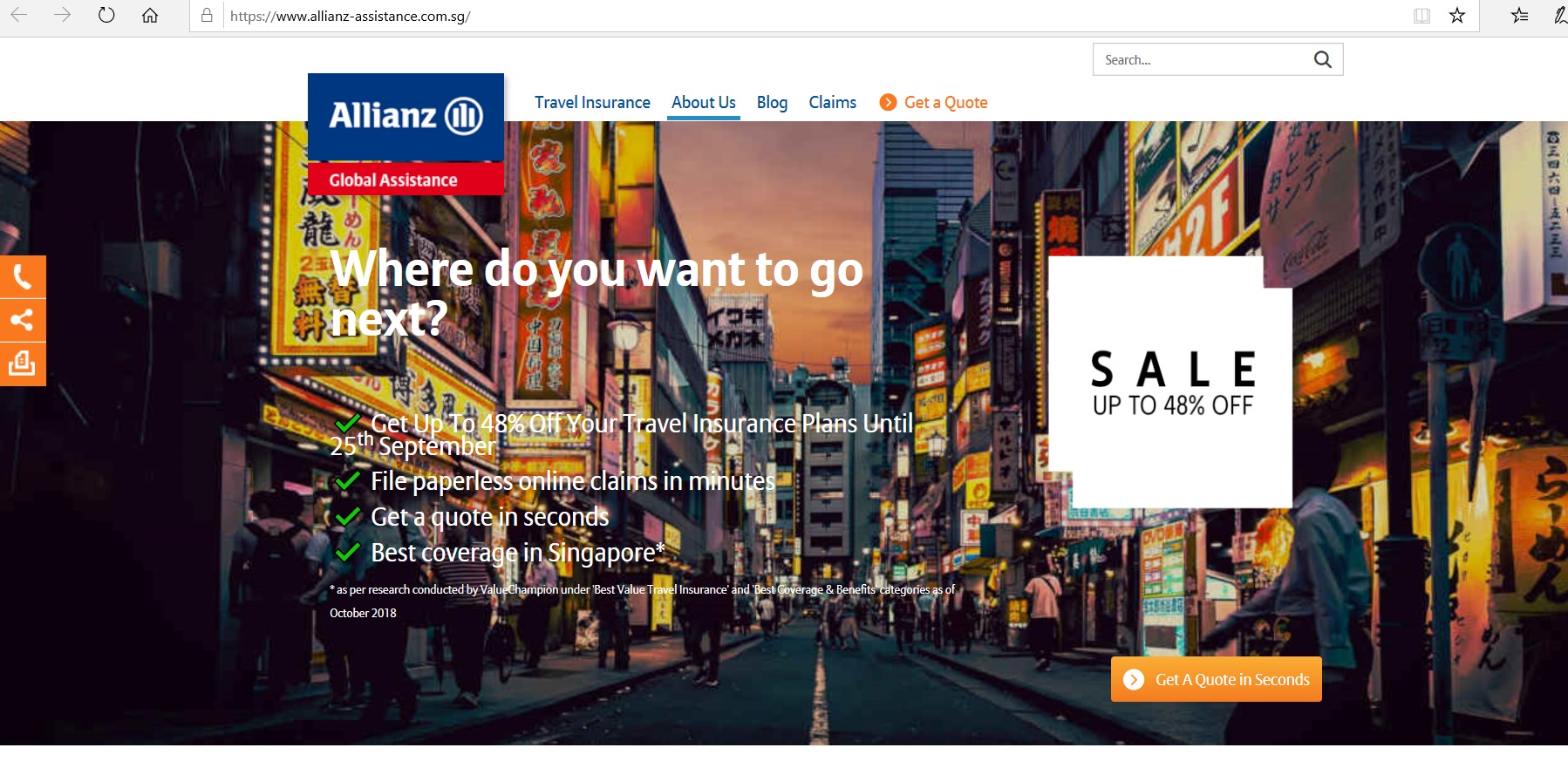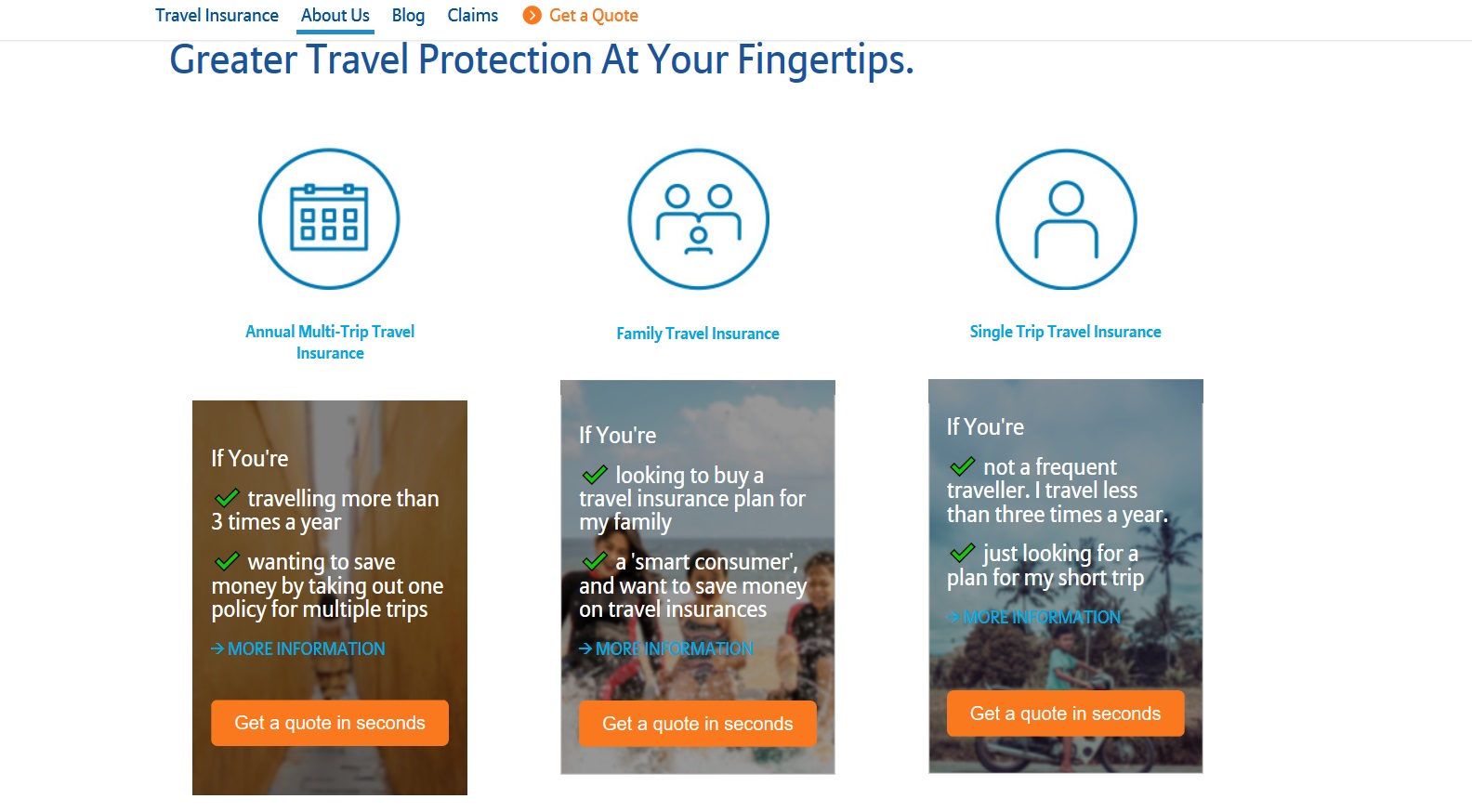 1. Select 'Travel Insurance to check for the type of insurance you wish to buy. Click on your preferred insurance category. It will display all the details related to that specific category, after which you may go back and choose a different one or click 'Get a quote in seconds .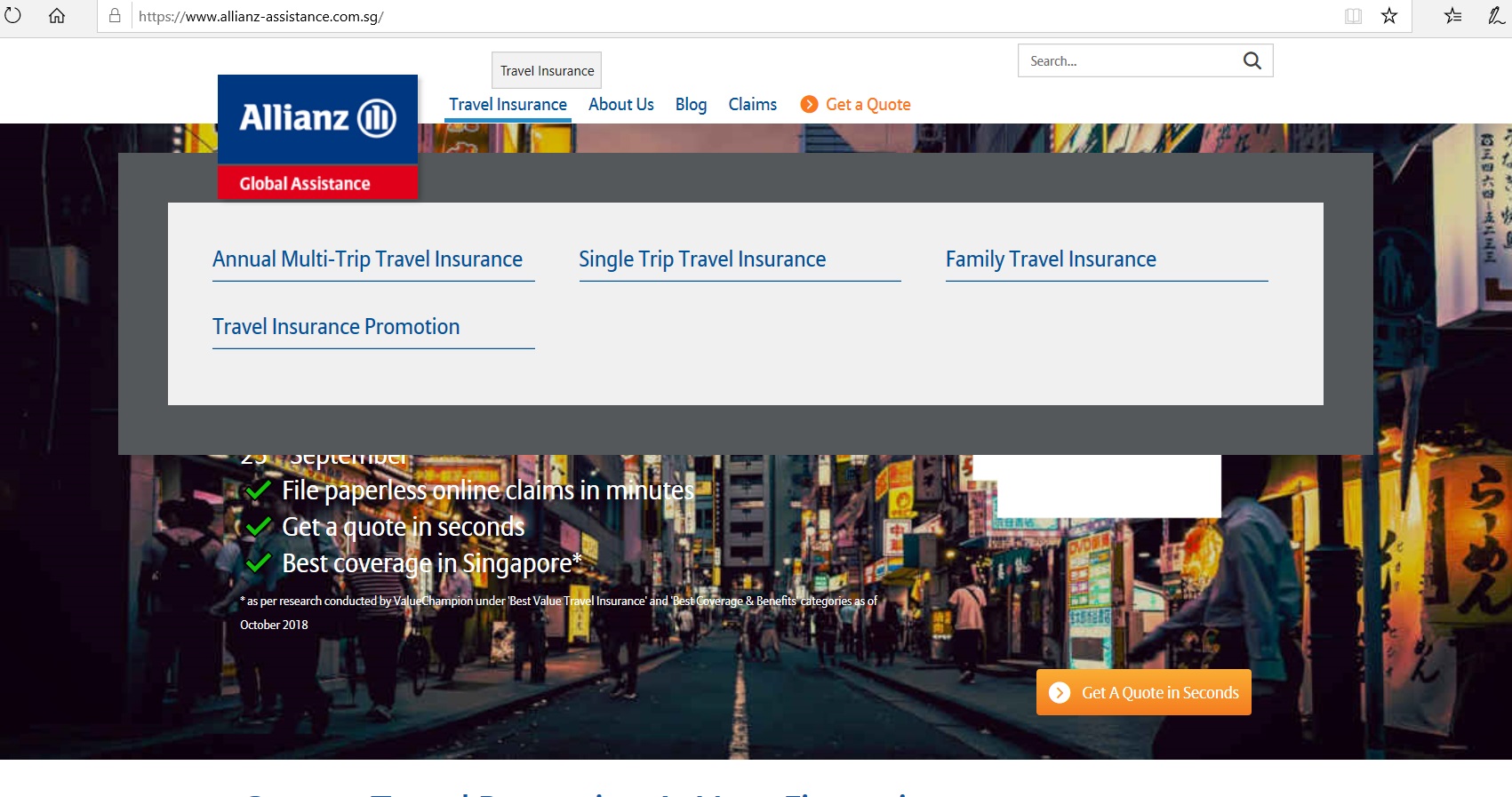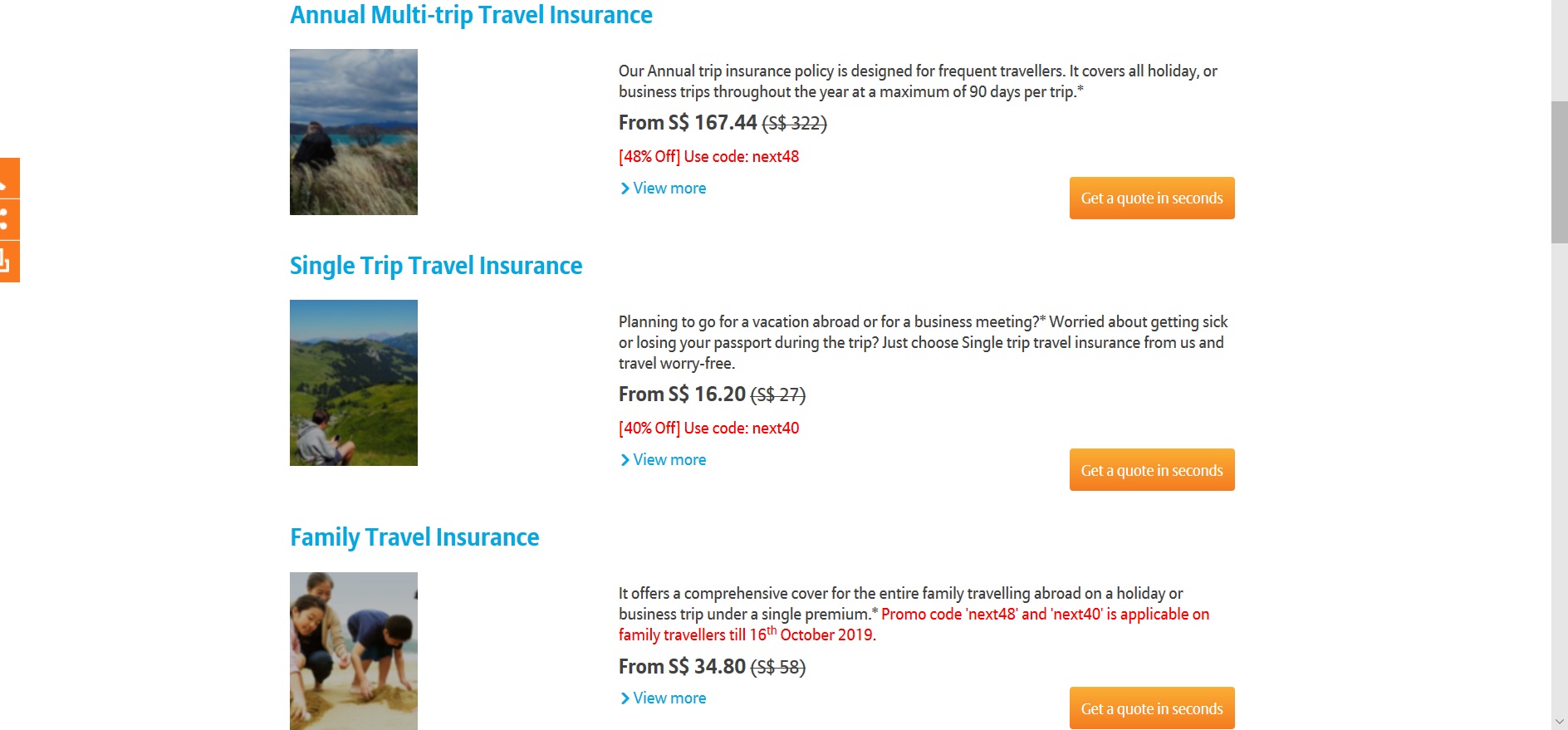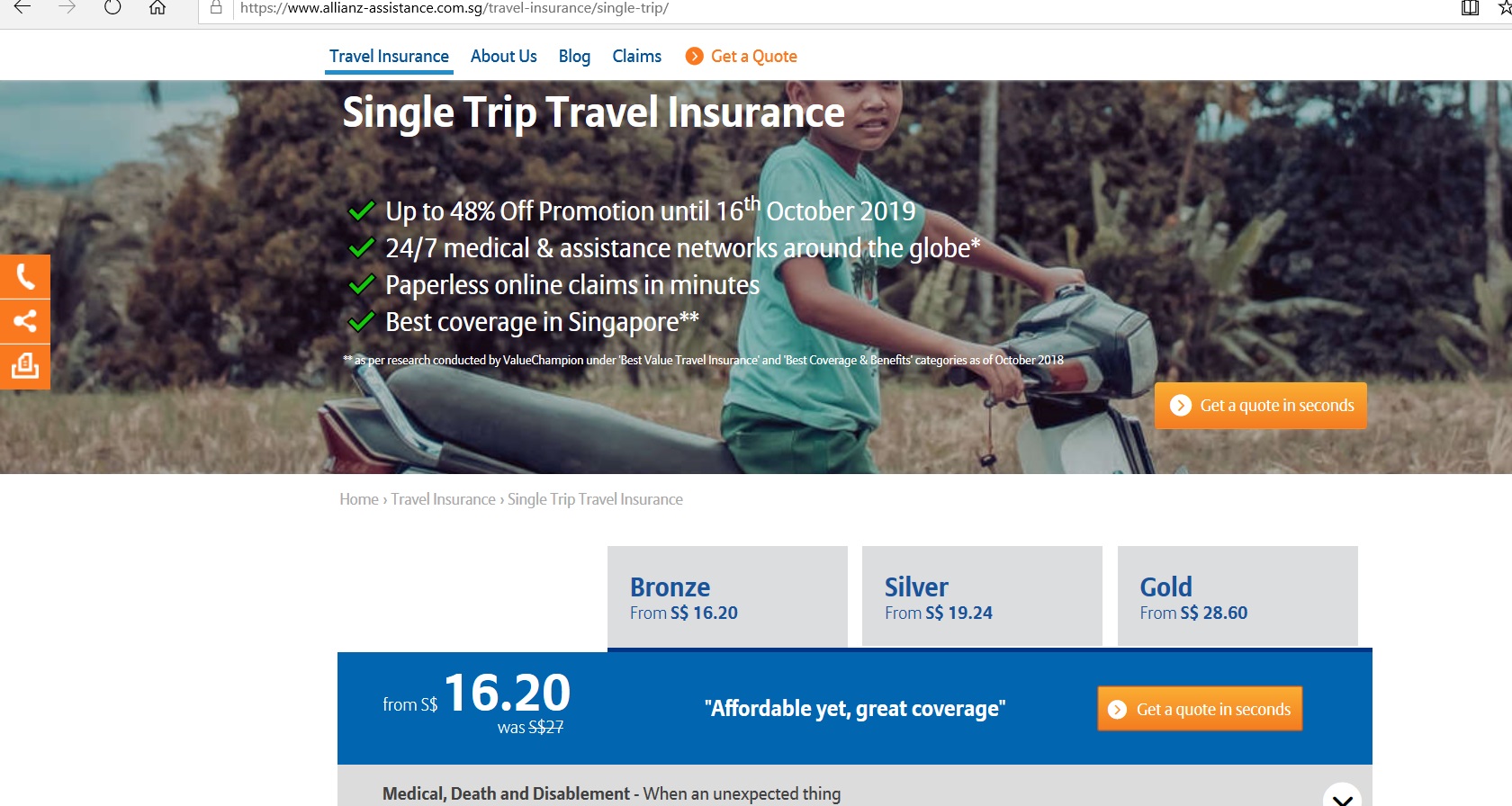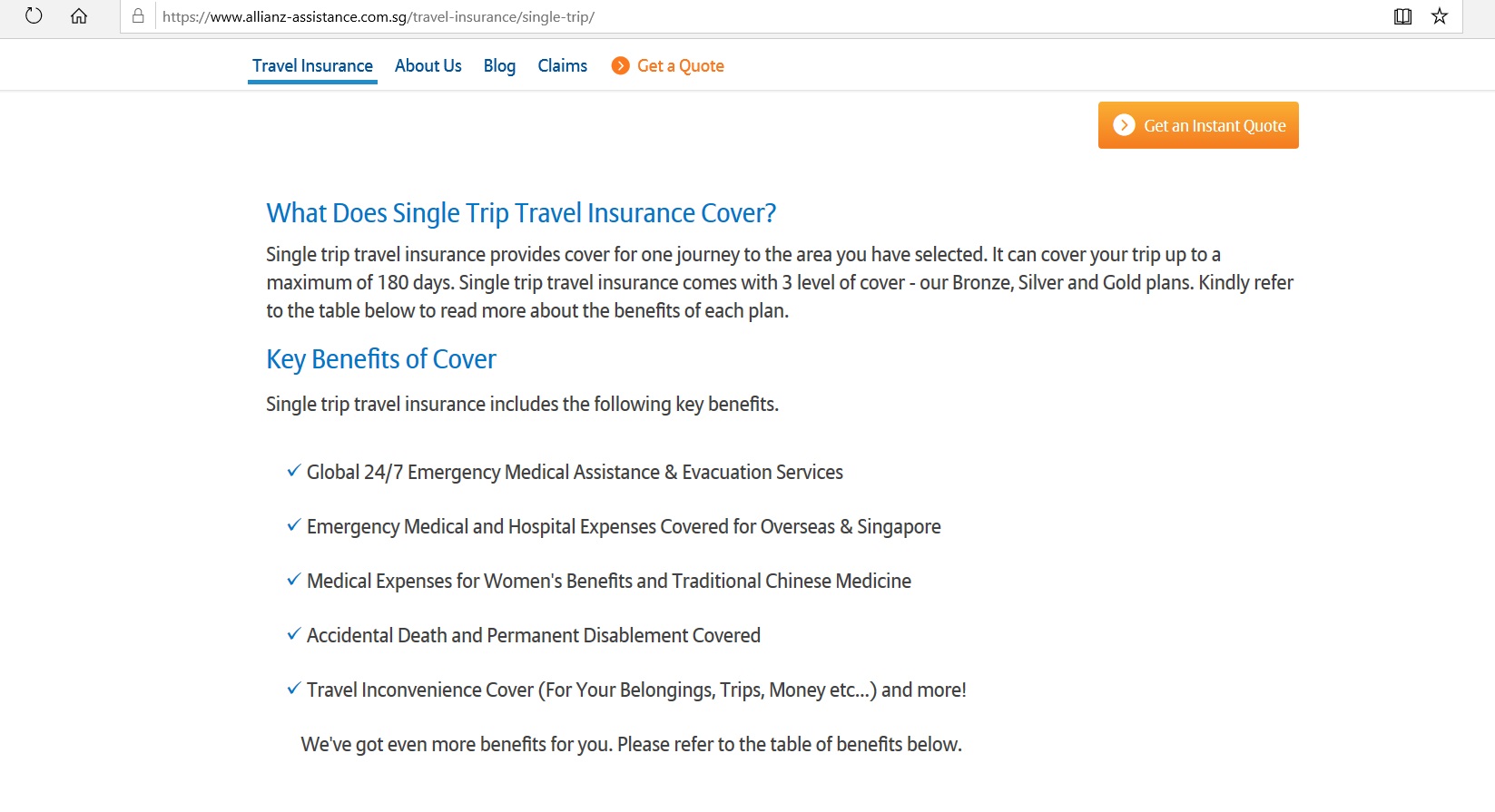 2. On clicking 'Get a quote in seconds , the next page requires you to enter the necessary information. Enter all the details and click 'Next to proceed further. Choose your preferred plan, enter the traveler information and address on the next page and click 'Next .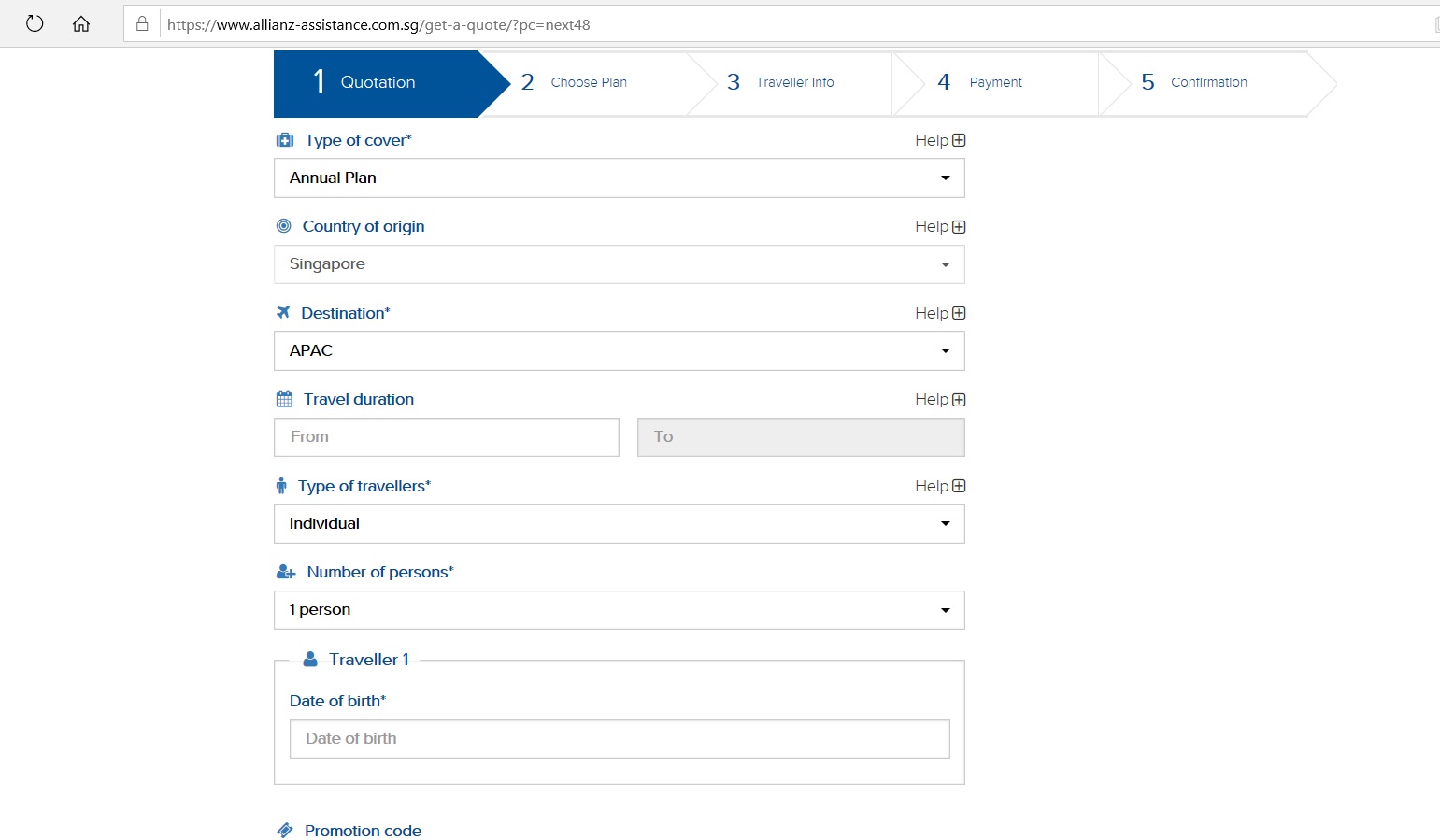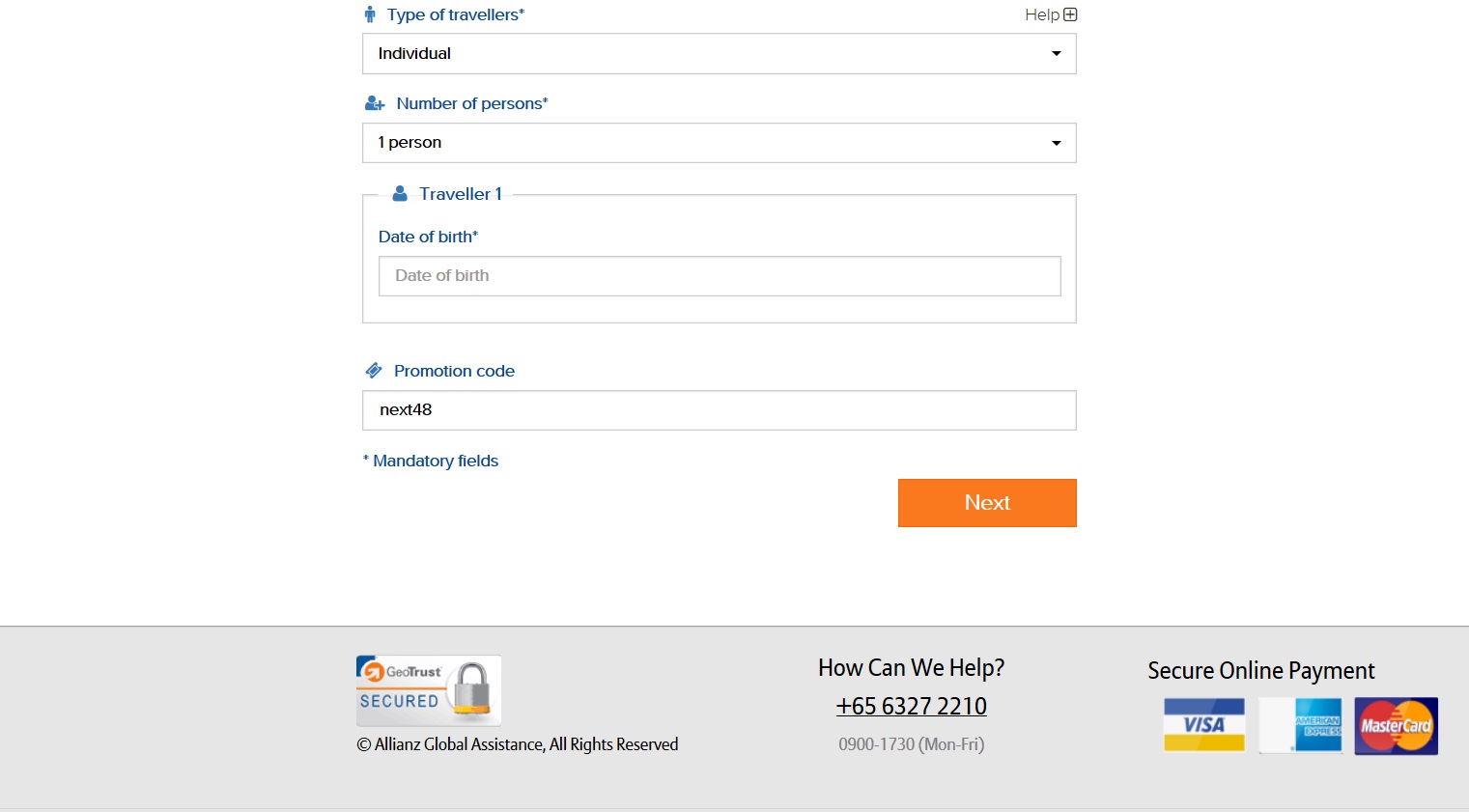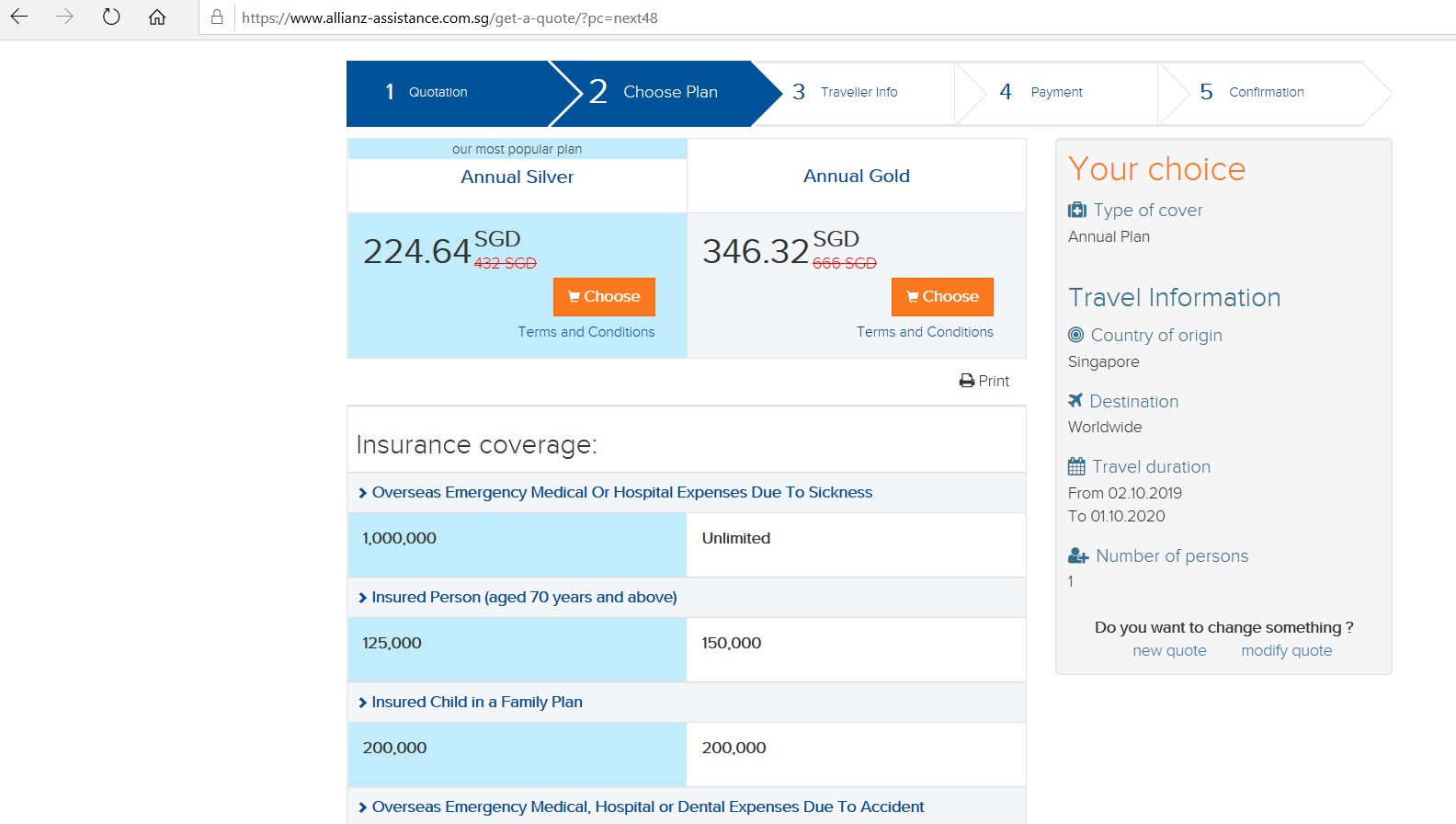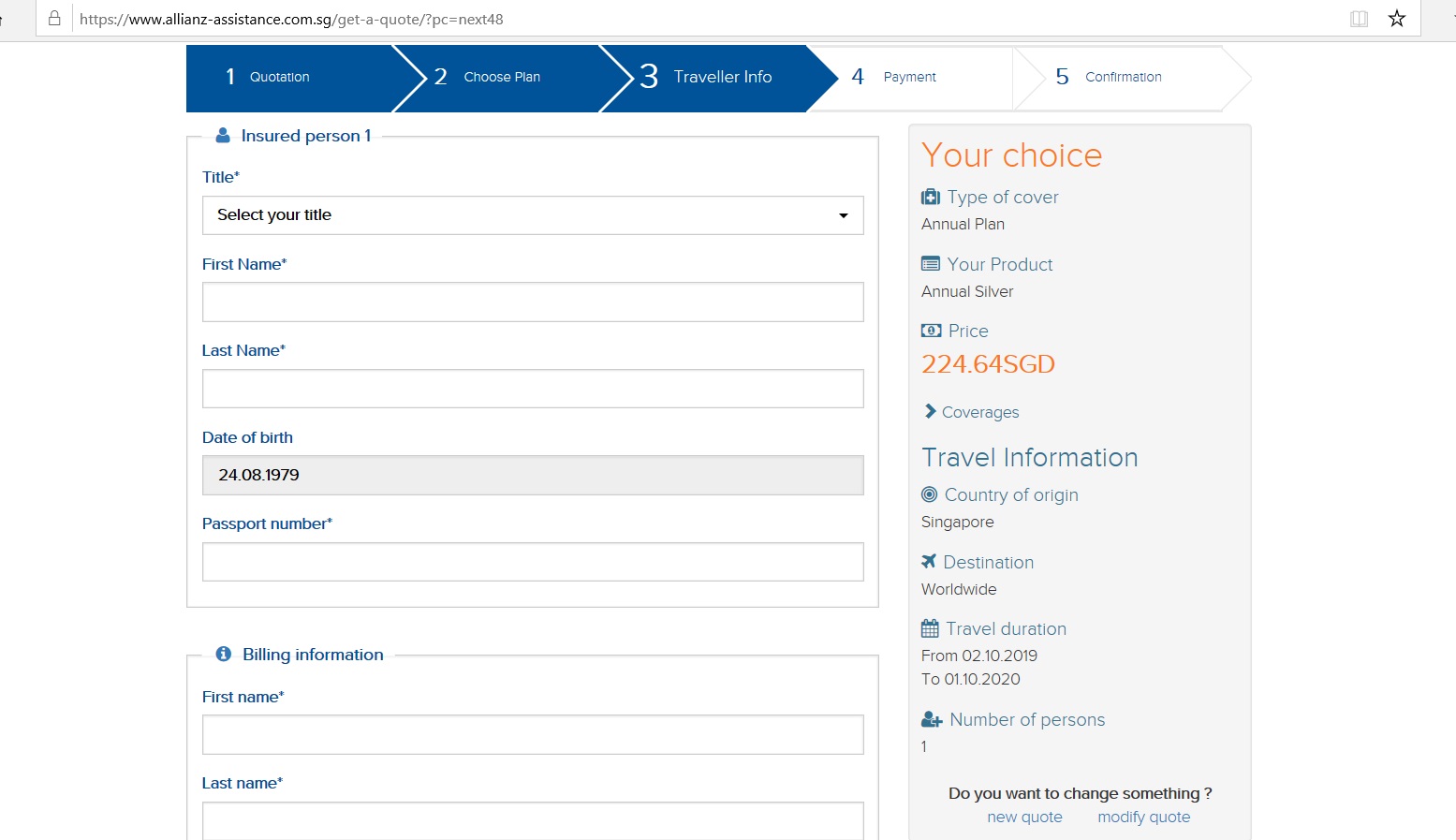 3. Enter your payment details on the next page and click 'Submit , after which you can confirm your purchase and complete the transaction.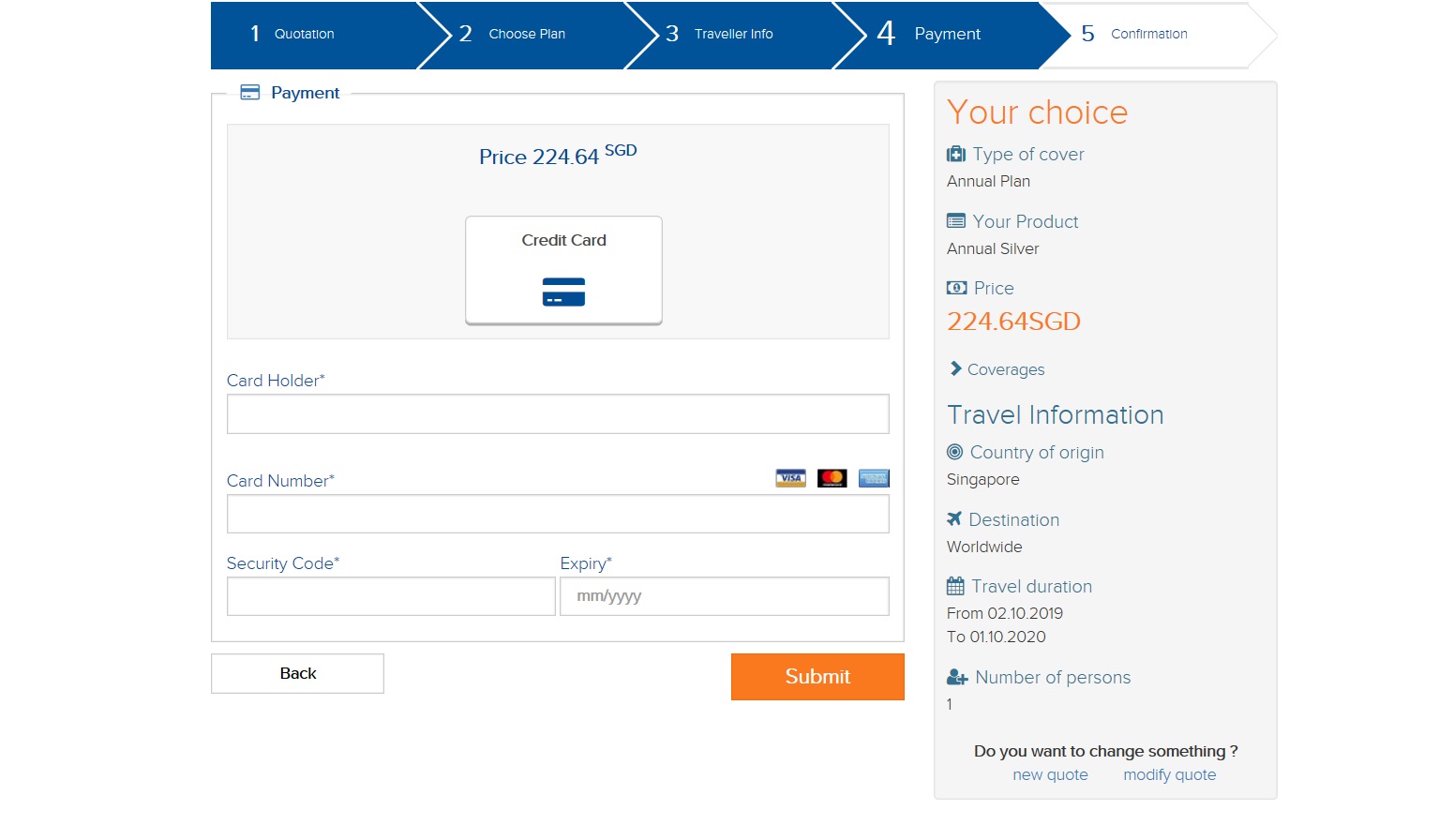 4. It will display your purchase details and a text message/confirmation e-mail will be sent to you.
5. Customers can find great deals on products during special offers. You can avail discounts by making use of the Allianz Travel discount codes/Allianz Travel promo codes. Make sure to check for special deals before placing an order.
Payment Options on Allianz Global Assistance
Allianz Travel offers the following payment methods for your convenience.
Card Payment:
Customers can shop with their credit cards by entering the card details during checkout. Allianz Travel accepts VISA, Master Card and American Express.
Different Coupon Codes and Discounts on Allianz Travel
The website brings to you a number of deals from time to time. Some deals are offered for a long time while others are available for a limited period only. Customers can save a lot of money by applying the Allianz Travel promo code.
Currently, customers can earn 5% cashback if they shop with the merchant via a registered account at ShopBack.
How to Shop on Allianz Travel using ShopBack
ShopBack offers 5% cashback on products if you shop from Allianz Travel. These steps will help you earn cashback from ShopBack:
Step 1:
Select Allianz Travel from the list of brands on the ShopBack homepage or use the search box to find a link to Allianz Travel.
Step 2:
Read the terms and conditions and other relevant information such as cashback details and tips to ensure cashback.
Step 3:
Click Activate Cashback on the left.
Step 4:
You can find more attractive deals by checking out the 'Discounts + Cashback section.
Step 5:
You will be directed to Allianz Travel website to browse and select the products you intend to buy.
Step 6:
On placing the order, you will be eligible to earn cashback from ShopBack. There may be a variation in cashback rates based on your history with ShopBack. Cashback offer is not applicable on purchases made via the Allianz Travel app.
Allianz Travel Terms and Conditions
Privacy:

General information as well as sensitive personal data (say, your biometric data, claims history, medical reports, etc.) may be collected for the processing of your insurance. Your data will be used for various relevant purposes, provided you give your consent. Your personal data will also be required if you wish to buy the company products and services. All the provided information will be secure and used only for legitimate purposes. In situations where you feel that your data is being used inappropriately, you may withdraw your consent, restrict data processing, update your personal data, delete it from the records or even file a complaint. Your personal data will be retained with the company only for 7 years from the date of contract. Refer their privacy policy page for more information.

Refer their terms and conditions page for detailed information on the general T&C of the insurance plans.
Allianz Travel Customer Service
For any inquiry or help, customers can visit their Contact Us page or FAQs section. You can also contact them on +65 6327 2210 (Monday to Friday, 9 AM to 5.30 PM) or send an email to [email protected] For any emergency assistance, you can call them on +65 6327 2215.