ShopBop is Your One Stop Shopping Destination
Shopbop is a US-based e-commerce giant for fashion apparels and accessories. It is a subsidiary of Amazon.com. Headquartered in Madison (US), Shopbop s list of globally eligible countries include Singapore, Australia, Belgium, Brazil, Canada, Greece, Hong Kong, Malaysia, New Zealand, South Africa and India. And, the company ships products to more than 200 countries.
With an extensive range of hand-picked products, Shopbop has become quite a hit among ladies. The company offers a treasure trove of fashionable apparels, shoes, bags and accessories, all designed by some of world s top designers such as Karla Colletto, R13, Rag & Bone, Tory Burch, Marc Jacobs etc.
Shopbop was established by Bob Lamey, Martha Graettinger and Ray Zemon in 1999. The online giant retailer Amazon acquired Shopbop in February 2006. During this period, Shopbop was selling about 103 different lines of high-end clothing. Although the company was acquired by Amazon, it operated independently and even competed with Amazon. In September 2013, Shopbop started East Dane, a website for menswear.
Recently, with an aim to further exploit the business of fashion, Shopbop has re-launched its website with extensive brand refinement that includes innovative product recommendations, improved navigation and search options, and refreshing front and product pages. Shopbop has also worked on its editorial content and made it equally appealing to desktop and mobile phone users.
Shopbop presents to its consumers a plethora of chic apparels, shoes, bags and accessories from fashion s top designers. The online platform categorizes its products under 4 broad categories – Clothing, Shoes, Bags and Accessories. Customers also have an option to make their choices based on what s new on the list, Shopbop s must haves, and designers. Some of their popular brands include Kate Spade, Cult Gaia, Tory Burch, Grey Ant, Hudson London, Kalza, FRAME, KENDO, Alexander Wang, Tumi, Mystique etc. Here s a short preview of the products available on Shopbop. The site s 'Editors Picks section keeps you informed about what s in style right now!
Clothing
– Shopbop puts forth a fun collection of a wide variety of apparels. It presents a perfect amalgamation of trendy and classic clothing. Consumers can purchase dresses, jackets, coats, jumpsuits, rompers, lingerie, maternity, shorts, skirts, swimwear and a lot more. These products are available in multiple brands and at affordable rates. This section also contains a list of some popular designers for apparels. The 'Discover section takes you through an interesting category of products such as designer boutique, editors picks, fashion finds: under $200, shopbop exclusives, spring checklist and top sellers. The 'Shop By Occasion section contains categories such as everyday essentials, off-duty staples, vacation style, wedding boutique etc.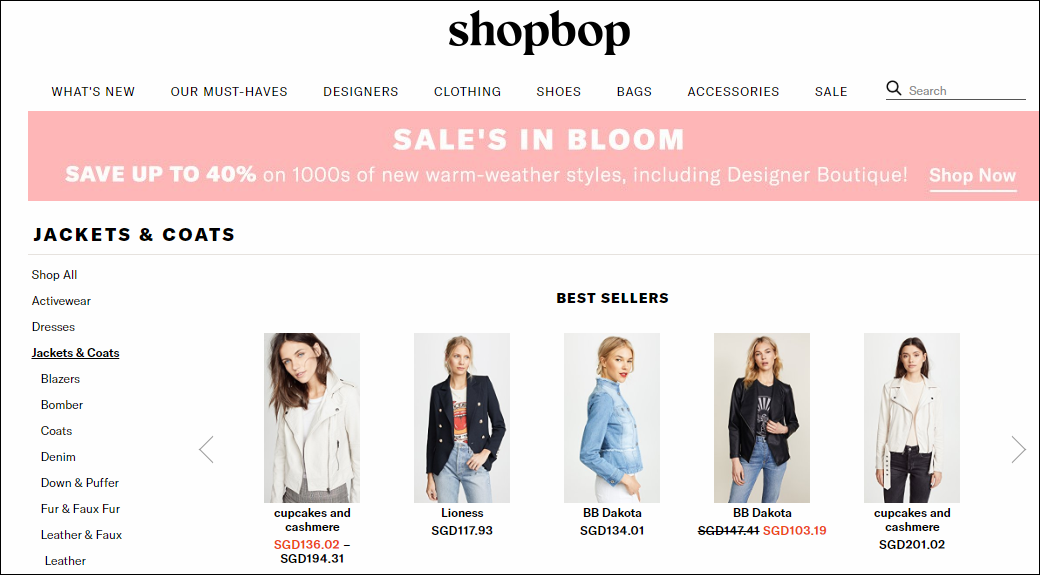 Shoes
– Shopbop offers its customers a wide array of shoes to pick from. These include booties, boots, espadrilles, flats, mules, slides, pumps, rain boots, sandals, snickers and many more. Customers can also purchase shoe accessories such as insoles, boot bag, boot cushions, toe cushions etc.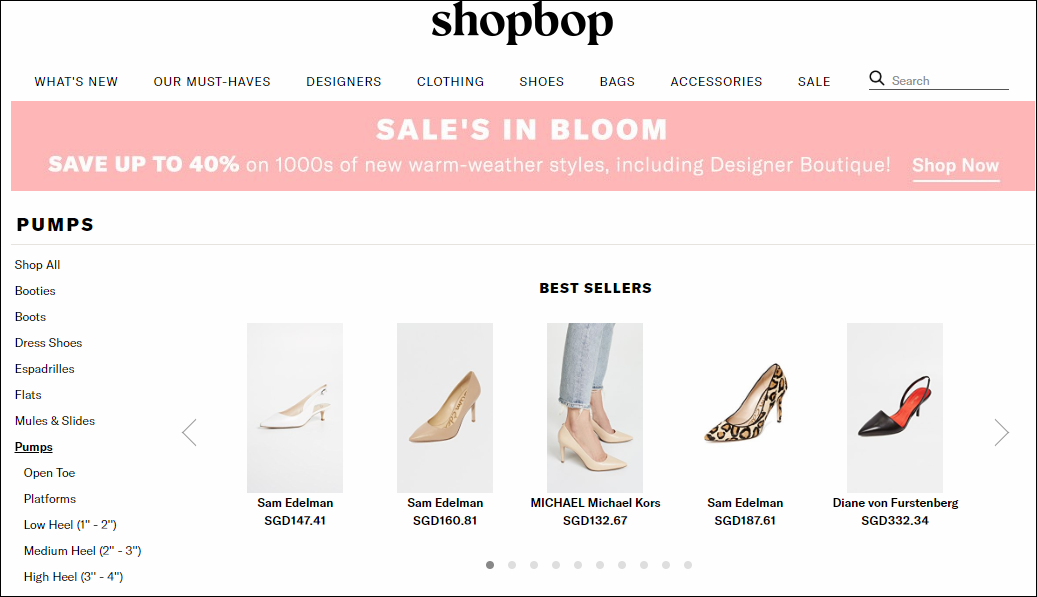 Bags
– This is a category of products that forms an essential part of every woman s closet. With their interesting range, Shopbop ensures that they have bags to suit every woman s need and occasion. The type of bags listed under this category include shoulder bags, vintage bags, cross body bags, belt bags, satchels, top handles, totes, wallets and the like.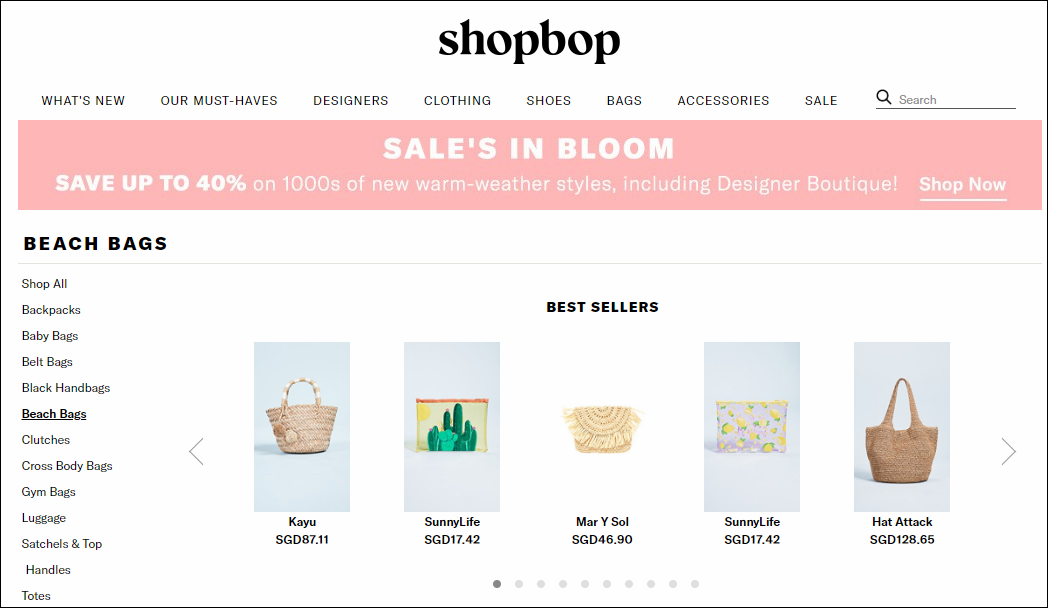 Accessories
– Shopbop s accessories category offers a wide variety to pick from like belts, gloves, hair accessories, hats, keychains, scarves, wraps and sunglasses.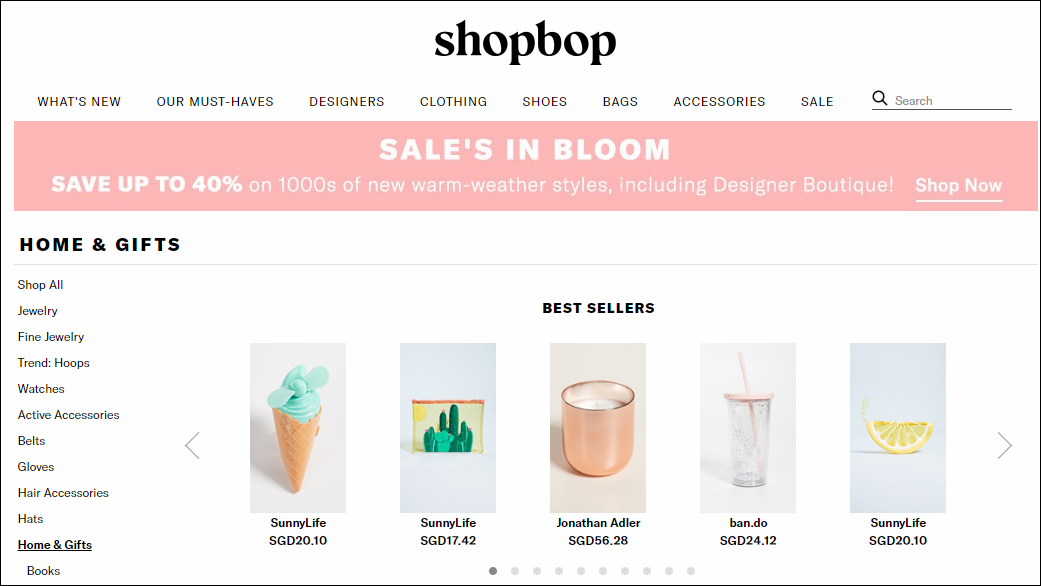 | Shopbop Product Categories | Shopbop Product Sub-categories |
| --- | --- |
| Clothing | Activewear, Dresses, Jackets & Coats, Jeans, Jumpsuits & Rompers, Lingerie & Sleepwear, Maternity, Pants & Leggings, Shorts, Skirts, Sweaters & Knits, Swimwear |
| Shoes | Booties, Boots, Espadrilles, Flats, Mules & Slides, Pumps, Rain Boots, Sandals, Slingbacks, Sneakers, Shoe Accessories |
| Bags | Baby Bags, Backpacks, Beach Bags, Belt Bags, Clutches, Cross Body Bags, Gym Bags, Luggage, Satchels, & Top Handles, Shoulder Bags, Totes, Wallets, Bag Accessories & Pouches |
| Accessories | Active Accessories, Belts, Gloves, Hair Accessories, Hats, Home &Gifts, Keychains & Bag Charm, Scarves & Warms, Socks & Tights, Sunglasses & Eyewear, Tech Accessories, Travel Accessories |
The Shopbop website was recently re-launched with some interesting changes such as improved navigation, better search options, refreshing home and product pages etc. This online e-commerce website is very easy to use. The search box at the top of the website page enables users to perform a product-specific or brand-specific search. There are several categories on the header for shopping products, such as What s New, Our Must-Haves, Designers, Clothing, Shoes, Bags, Accessories and Sale. From here, customers can pick a category of their choice as they explore and shop on the website.
The first thing that new customers see on the homepage is a link to join Shopbop s VIP list and enjoy the various perks such as Shopbop rewards, birthday offers, early sale access, mystery money etc. The homepage also contains options that make your search easier. For example, 'What Are You Looking For? option helps you to choose the type of apparel that you are looking for. Apart from this, there are sections for 'Designer Spotlight , 'This Week s Must-Have and latest items.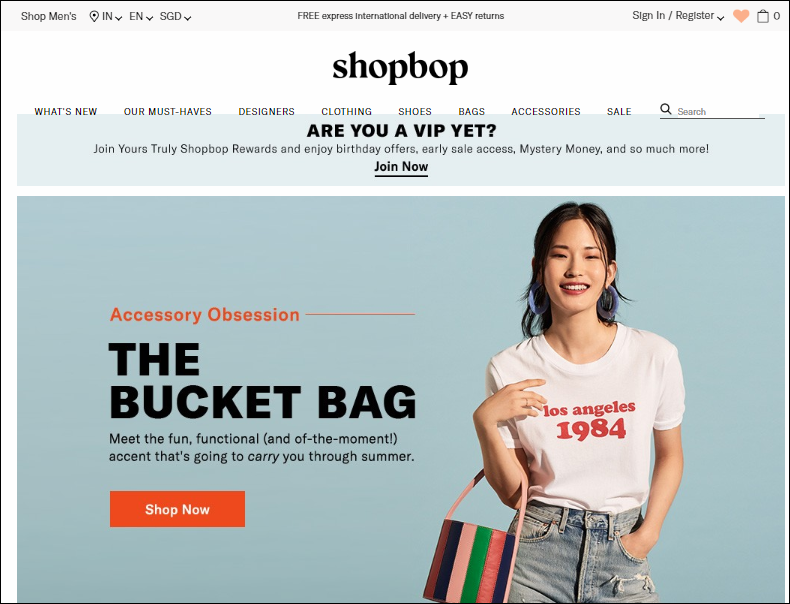 Browse the categories and sub-categories on the page. You can select the type of product you wish to buy from the sub-categories.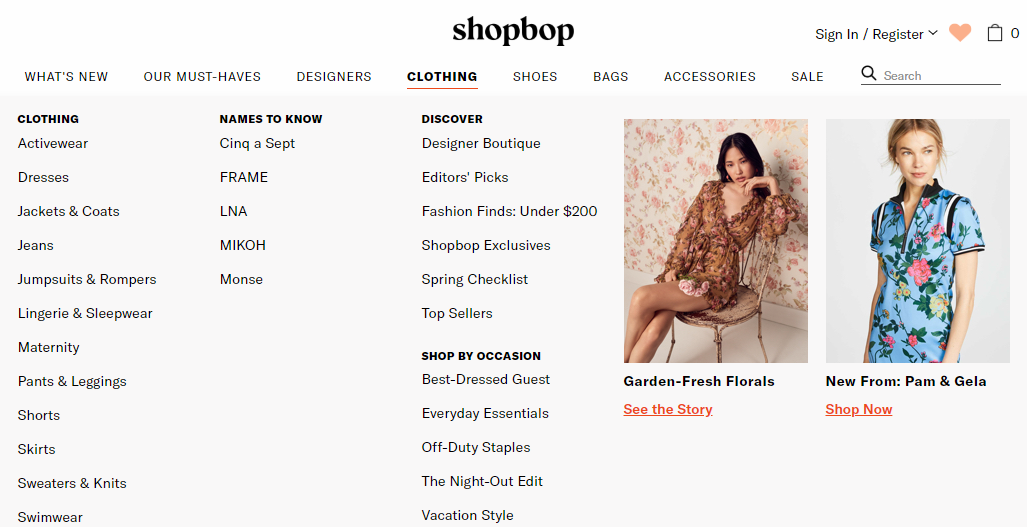 Select the required type of product from the options. You will land on the product listing page. Check the details of the products and proceed to buy by clicking on the "Add to Cart" button.

If you want to purchase more items, you can continue shopping and add more products to your cart. Once you are satisfied with the list of products in your cart, click on the "Checkout" button. You can view the items in your cart. You can also see options to enter Shopbop promo code, Shopbop coupon code, or any other Shopbop code (if applicable), along with shipping and handling fees, and subtotal.

The customer sign in box is displayed where you can enter your email ID and password to sign in, or you can login via your Amazon account. You are redirected to the page to enter your shipping details. After entering the shipping details, click the "Save Address" button.

Select the shipping method and payment details on their respective screens and click "Continue".

Verify your order in the review order screen and click "Place Order" button to confirm the order. Shortly after, you will receive an order confirmation mail or a text confirming your order on your phone number, along with the expected date of delivery of your order.
Customers can find great deals on products during the Shopbop sale or Shopbop deals displayed on the homepage.
Payment Options on Shopbop
Customers can pay for their order on Shopbop via Mastercard, VISA, American Express, JCB, UnionPay and Alipay.
Different Coupon Codes and Discounts of Shopbop Singapore
Shopbop ensures that their customers experience a delightful shopping time by offering many discounts and deals. Shopbop discounts and Shopbop promos vary from time to time. Their most popular one is the Friends & Family sale that is usually held in April and October, where customers get a 25% off on their order, both sale and full-priced products. The Shopbop discount code during this sale is valid for 2 to 3 days. However, certain brands are excluded from the discount code. Shopbop also offers tiered codes, usually during early March and November end. A lot of Shopbop fans look forward to the sales of famous designers products like the Shopbop Tory Burch sale and the Shopbop Kate Spade New York sale.
Customers can make use of Shopbop discount vouchers and Shopbop discount coupons to make their purchases and save some money.
How to Redeem Coupons and Vouchers at Shopbop?
A lot of people prefer to shop online because of the interesting sales and deals that run throughout the year. Shopbop cashback, Shopbop vouchers, sales and deals have won them quite a huge list of clientele. Apart from Shopbop s website and app, several websites offer Shopbop voucher codes that can be redeemed to earn cashbacks and discounts on products.
Here is a step-by-step tutorial to redeem coupons and vouchers at Shopbop:
Step 1:
Select the item that you wish to buy and click on Add to Cart .
Step 2:
Click on the cart icon located on the top right corner. Along with the items added to your cart, you can view a field to enter your Shopbop promo code or any other applicable code. Click on "Apply Code".
Step 3:
Proceed to the Checkout page and enter your shipping address and payment details to complete the transaction.
How to Shop on Shopbop using ShopBack
ShopBack offers 4% cashback on Shopbop products if they shop with the merchant through a registered account at Shopback. The steps to earn cashback from ShopBack are given below:
Step 1:
Visit the ShopBack website and select Shopbop from the list of merchants and brands on the homepage. You can also use the search box to find the link to Shopbop store.
Step 2:
Read the necessary information such as terms and conditions, cashback details and tips to ensure cashback.
Step 3:
Click on Activate Cashback button on the top left corner of the page.
Step 4:
For more attractive deals and coupons, check out the Shopbop Discount Codes, Promo Codes & Coupons section.
Step 5:
You will be redirected to Shopbop website to browse and select the products you want to buy.
Step 6:
You will be eligible to earn cashback from ShopBack on placing your order. The cashback rates might differ based on your history with ShopBack, i.e. whether you are a new or an existing customer.
The cashback offer is not applicable on purchases made on Shopbop mobile app.
Shopbop s Shipping and Return Policy
Shopbop ensures express international delivery and easy returns. The shipping rates of products are based on the customer s delivery location. Shopbop offers free shipping on all orders above $100. You can view the shipping fee in your order summary before you make the payment.
Given below are some salient points regarding Shopbop s shipping policy.
International orders, on reaching, may be subject to customs clearance procedures, which can cause delays beyond the estimated delivery schedule.

Delivery time does not include Sundays and holidays.

Shopbop complies with shipping restrictions set by international trading regulation and those set by their vendors. For more information, see Shipping Restrictions.

In case of refusal to accept the shipment, customers must pay for the original shipping charges, package import fees and the returning cost. The company will deduct this amount from the product refund.

Cross border shipment are subject to inspection and can be opened and checked by the customs officials.

The cost of gift items is included on the customs form.
Given below are some salient points regarding Shopbop s return policy.
Products must be returned within 30 days.

Products must be not worn, washed or altered.

Products must have their tags and should be returned in original packaging.

Products returned with damaged tag or without the original tag might cause a delay in refund or might not qualify for a refund.

Footwear must be returned in the original shoe box, without postal labels. The company charges shoe box fees in case the footwear is returned in a damaged shoe box or not the original one.

Final sale item cannot be returned.

Handling and shipping charges will not be refunded.
For any inquiry or help, the customers can call Shopbop Customer Service 24 x 7 on the following numbers:
1-877-746-7267 for US and Canada
1-608-270-3930 for other countries