Eatzi Gourmet Bakery: Cakes That Taste as Good as They Look
Eatzi Gourmet Bakery is a cake-lover s destination, offering ample varieties of cakes to choose from. They specialise in creating beautiful cake designs that are a divine treat to the eyes as well as your taste buds. All the cakes are made to perfection using the finest quality ingredients, and handmade with a lot of love.
Eatzi Gourmet Bakery focuses on creating designs according to every customer s needs, with the aim to create something so delicious that it makes every occasion truly memorable. Whether you wish to order cakes for wedding celebrations, birthday parties, baby shower or any other event, Eatzi Gourmet Bakery has your back. From customised cakes, cupcakes and cookies to classic gourmet cakes, themed dessert tables and pies, get the perfect cake for your loved ones and celebrate in style.
Visit Eatzi Gourmet Bakery to order your special cake and enjoy amazing Eatzi Gourmet Bakery discounts during Eatzi Gourmet Bakery promos. The cakes can be ordered via hotline, online or at Eatzi Gourmet Steak House and Bistro, Jack s Place or at Yeh Ting restaurants.
History of Eatzi Gourmet Bakery
Eatzi Gourmet Bakery was launched in the year 1986 with the name Jack s Cake House. They created unique cakes with excellent quality ingredients and became quite popular among their customers. The company first gained recognition for its signature mango mousse cake after which it quickly rose to fame. In the year 2006, the company received its Halal certification, after which Jack s Cake House got the name Eatzi Gourmet Bakery.
The Eatzi Gourmet Bakery venture is owned by the JP Pepperdine Group, which is the same company that holds the chain of Jack s Place Restaurant and Steakhouse. Today, the bakery is one of the most popular cake destinations in Singapore and loved by all cake-lovers.
Products Sold by Eatzi Gourmet Bakery
Eatzi Gourmet Bakery offers a vast variety of cakes for all your special occasions. They also let you customise your cakes with unique designs and help make your party even more memorable. Order the best cakes from Eatzi Gourmet Bakery online, while enjoying Eatzi Gourmet Bakery deals during special offers. Listed below are some of the product categories available on Eatzi Gourmet Bakery.
Classics –
Classics are timeless and you can go with any of the classic cakes for your special occasion, whether it is a birthday celebration, anniversary, family get together or a farewell party. Get your favourite cake right away from Eatzi Gourmet Bakery.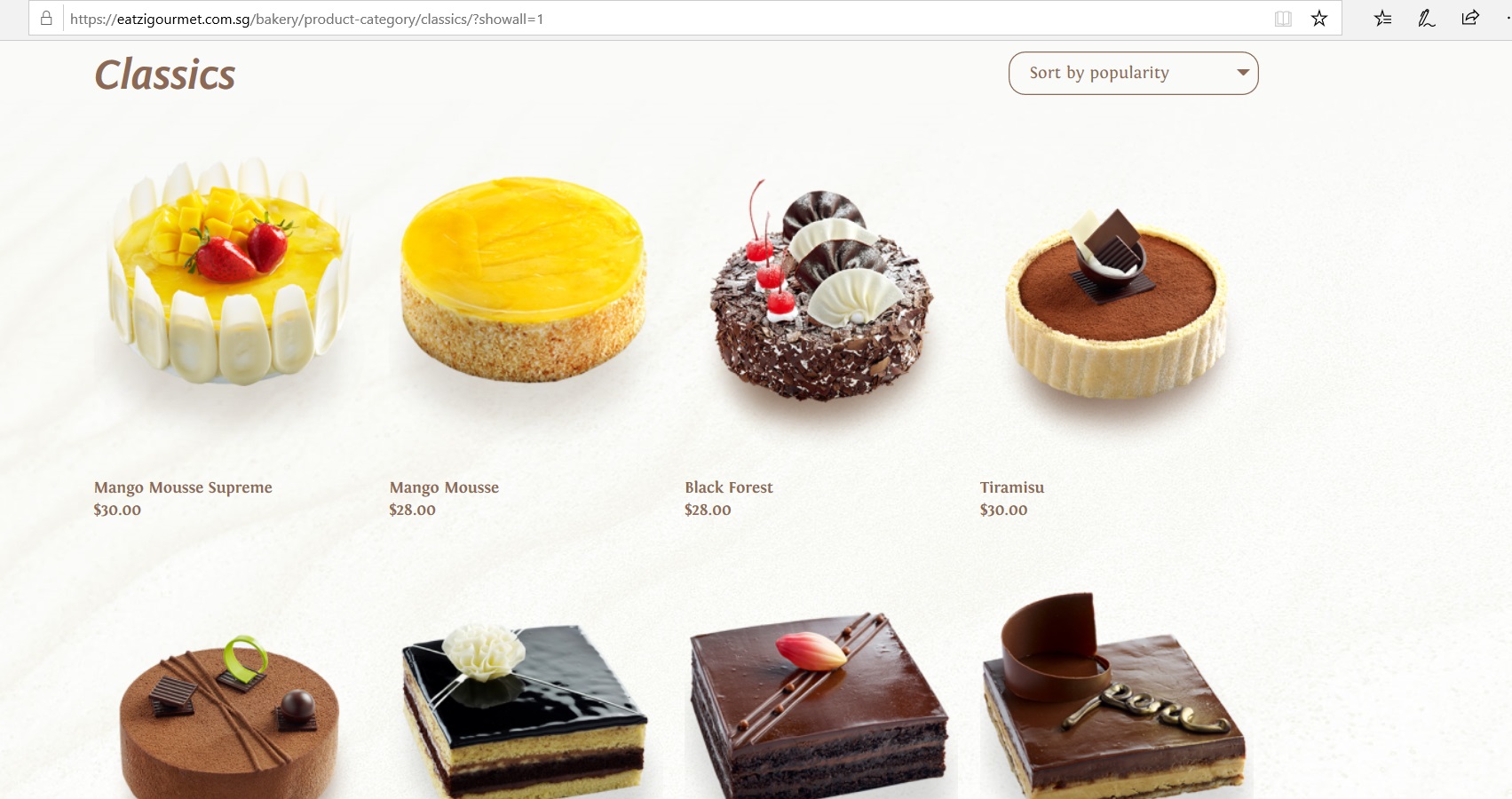 Customised Cakes –
Let your imaginations come to life with unique designs on your customised cakes, and have a touch of elegance added to your party. Get amazing customised cakes for any special occasion by logging on to Eatzi Gourmet Bakery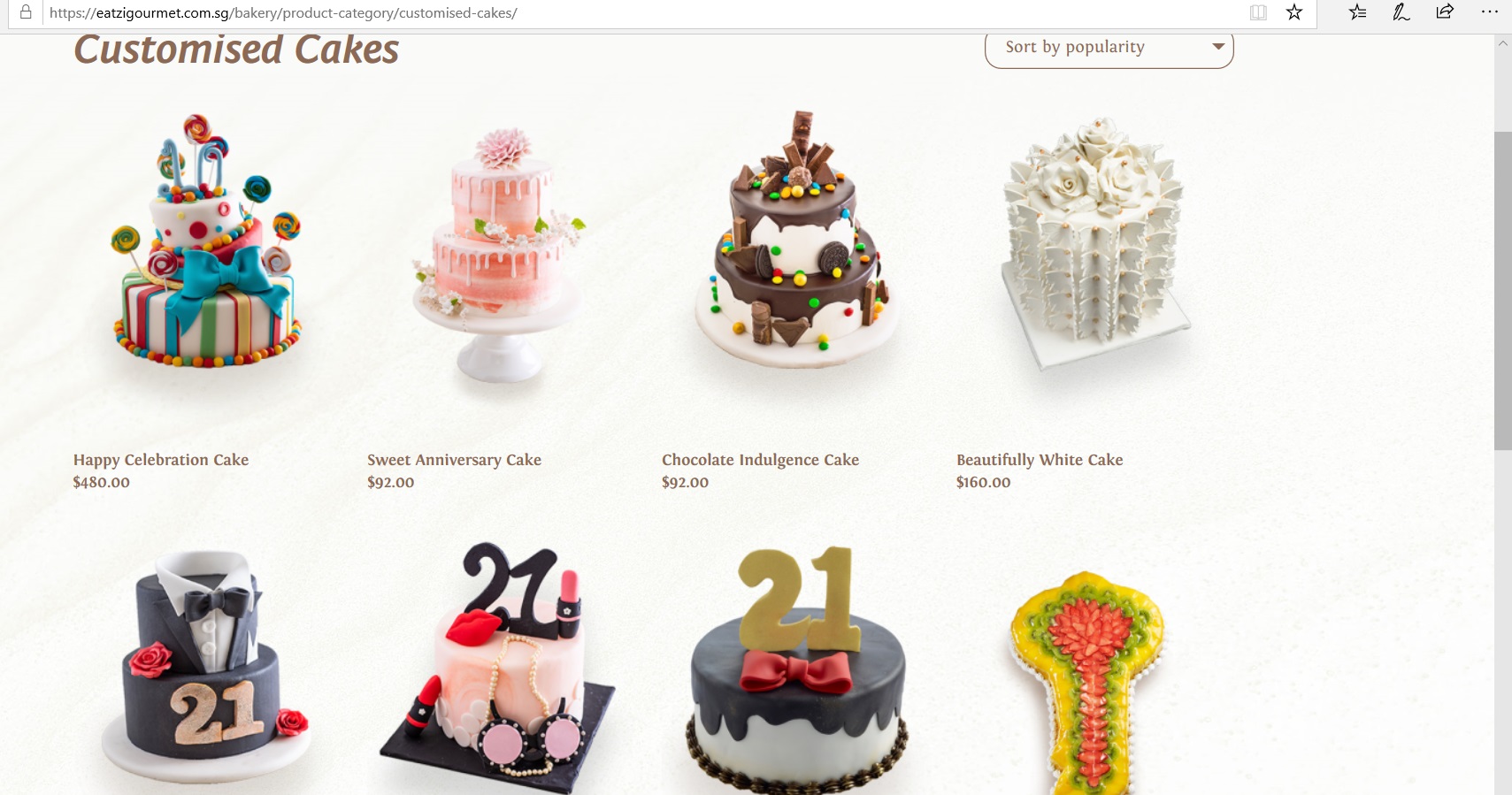 Dessert Tables –
Dessert tables are petite sinful desires packed together for a small group of people, a small celebration or simply for a lazy day. Get your box of happiness today and surprise your loved ones with an intimate party.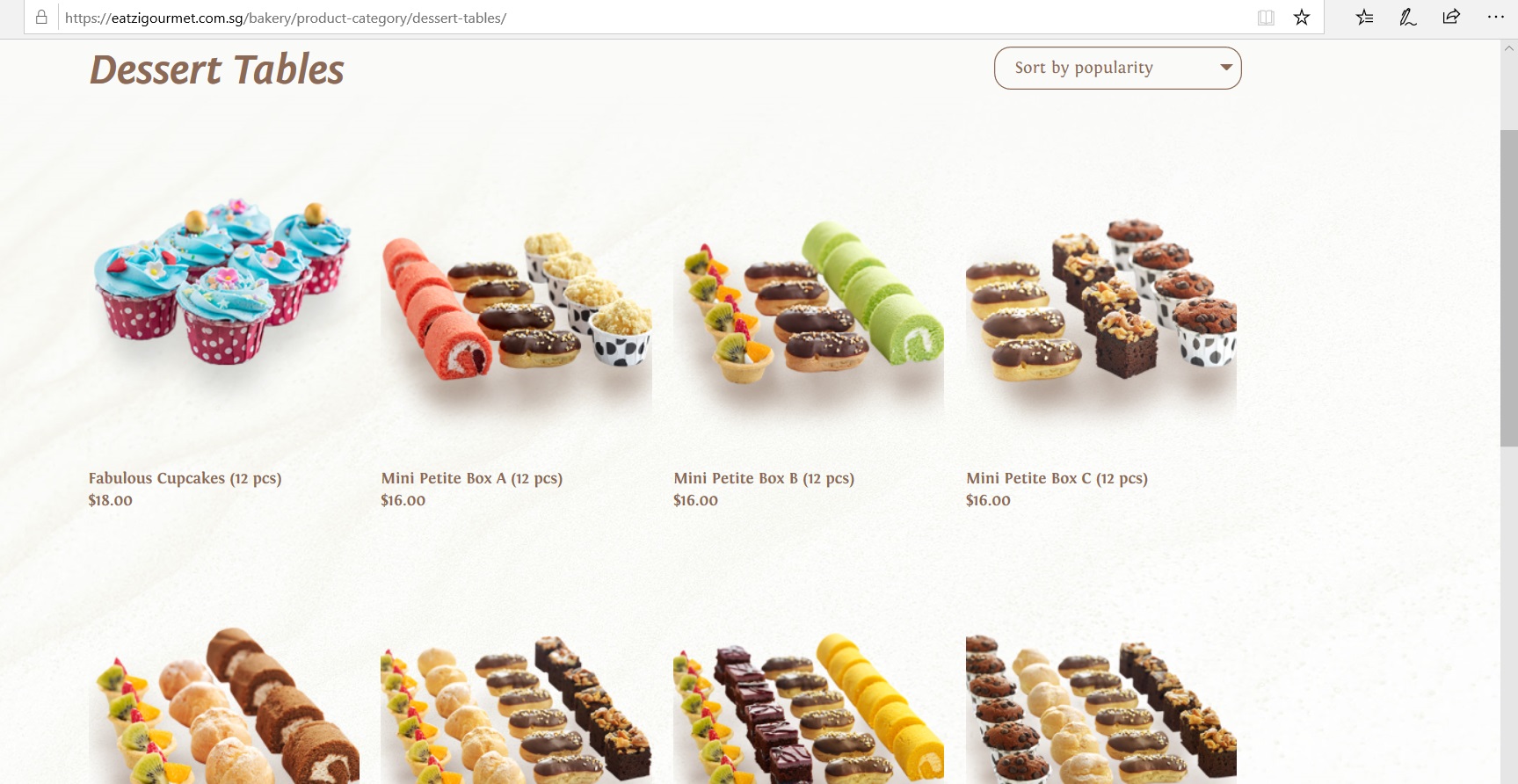 Make sure to check for the Eatzi Gourmet Bakery coupons and discounts offered during Eatzi Gourmet Bakery sale before you proceed with shopping.
| Eatzi Gourmet Bakery Product Category | Products |
| --- | --- |
| Classics | All Time Favourite, Signature Cakes, Pies |
| Customised Cakes | Baby Celebrations, Children s Cakes, Longevity, Custom Designs, Customise Your Cake |
| Dessert Tables | Themed Dessert Tables, Party Favours, Mini Petites |
| Wholesale | - |
| Promotions | Cake of The Month, Snacks |
How to Shop on Eatzi Gourmet Bakery?
Eatzi Gourmet Bakery offers a very simple shopping process and brings to you a number of deals from time to time. The homepage displays all the product categories and provides a search icon to search for a specific product. You can also find Eatzi Gourmet Bakery promo codes and other discounts on the homepage.
1. Select your preferred product category and sub-category. Pick any product of your choice from the list of products and click on it.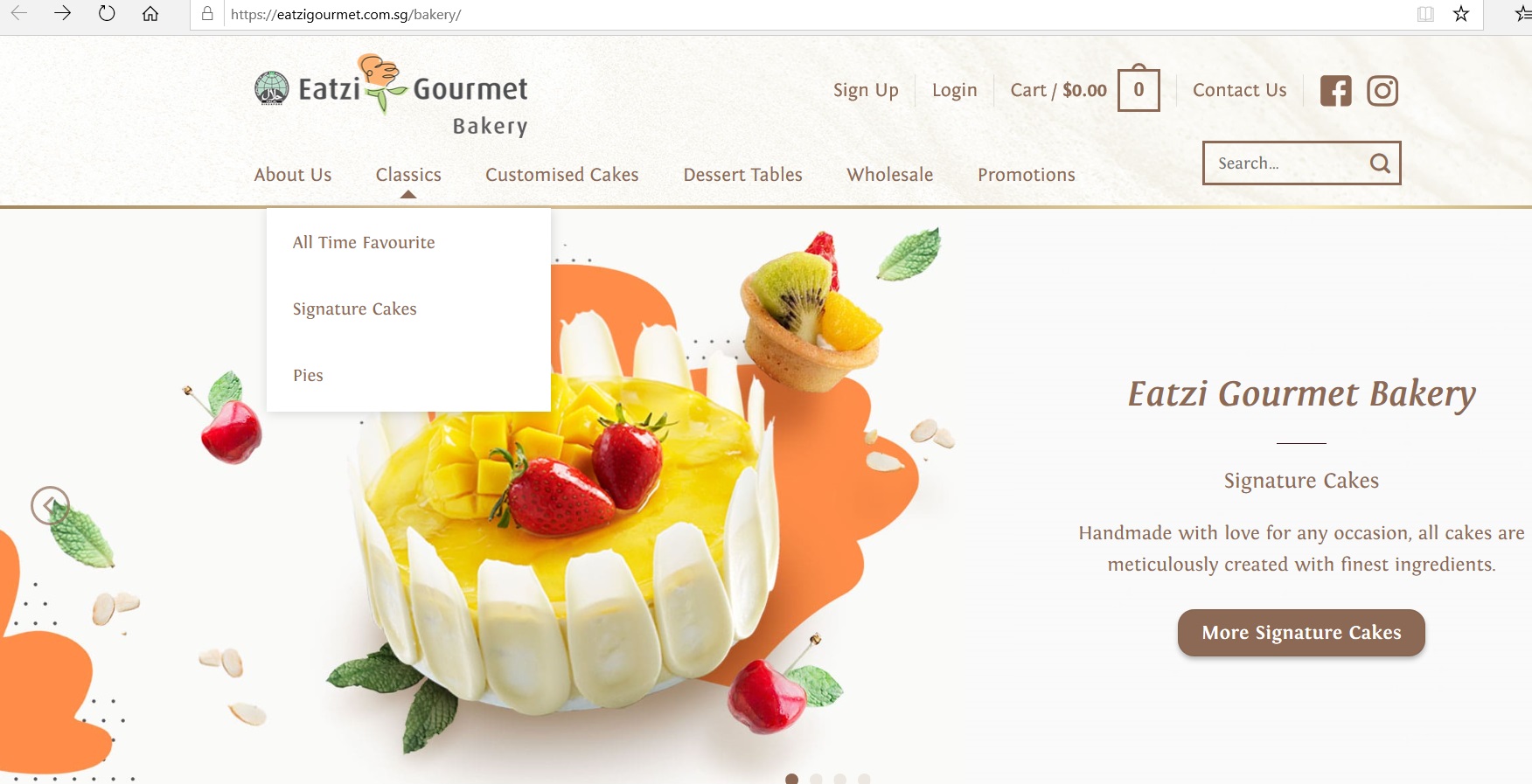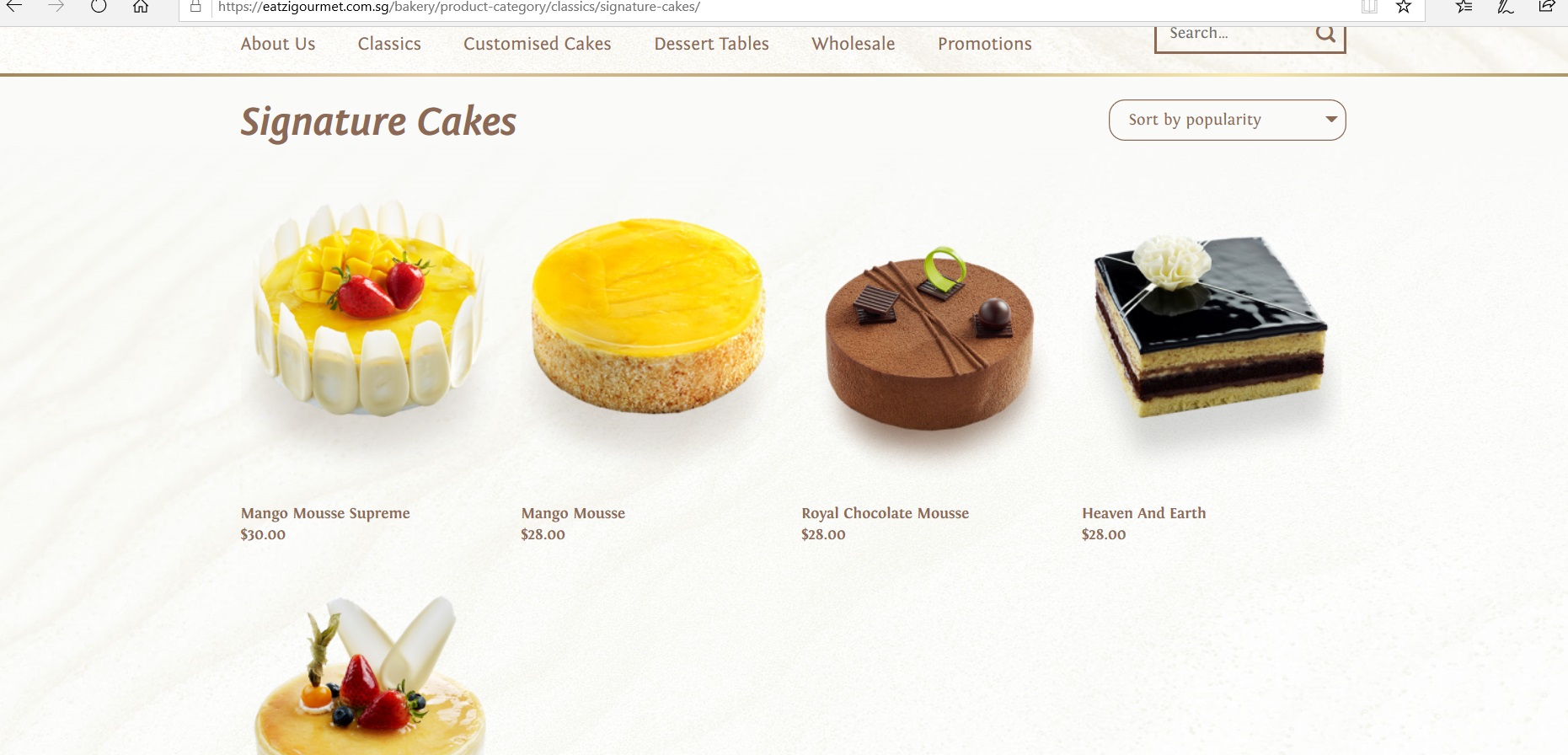 2. The product description, along with its price, specific fields to enter your details and an 'Add to Cart button will be displayed. You may go back to browse a different item or enter all the details and click 'Add to Cart . The product will be added to your shopping cart, after which you may continue shopping or proceed further by clicking on the cart.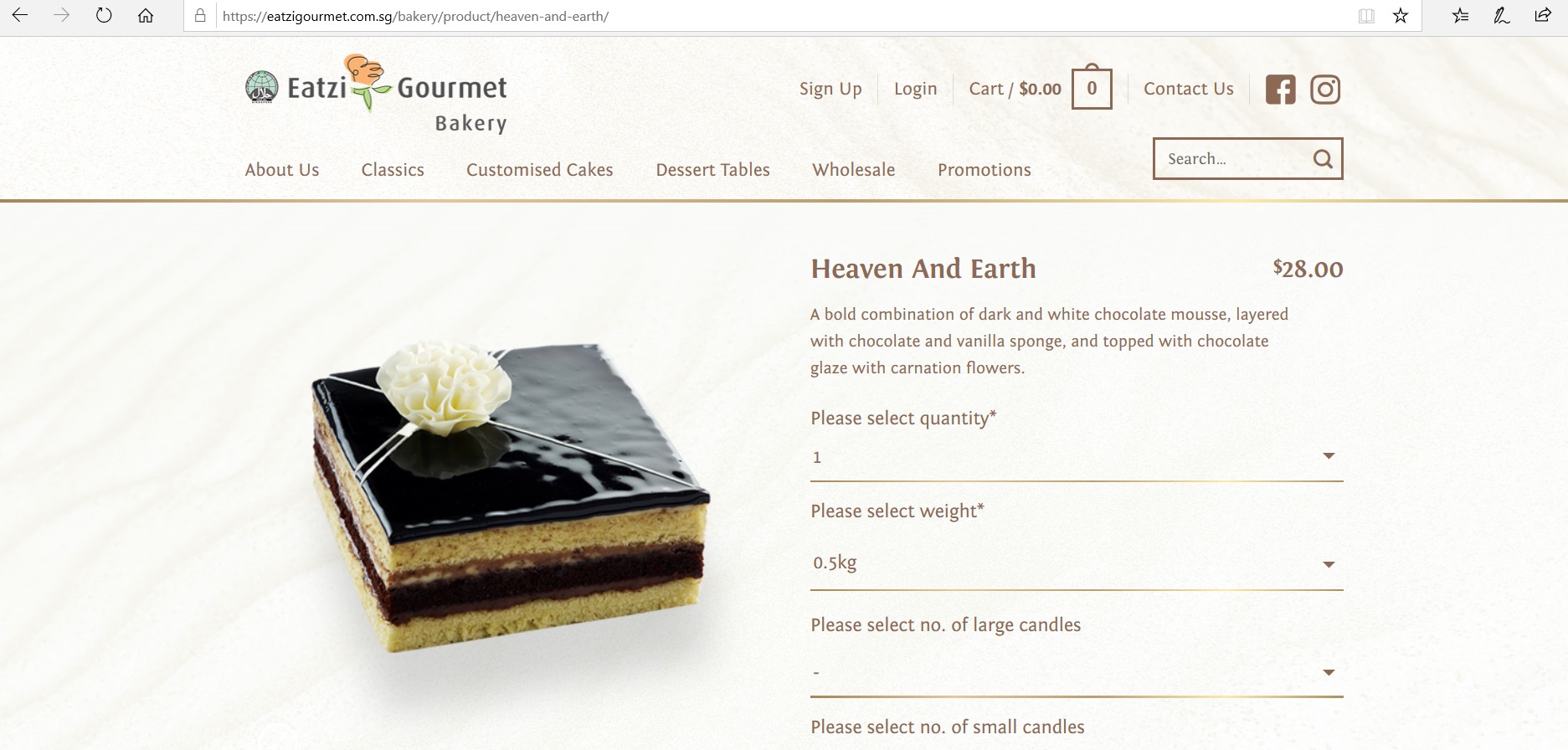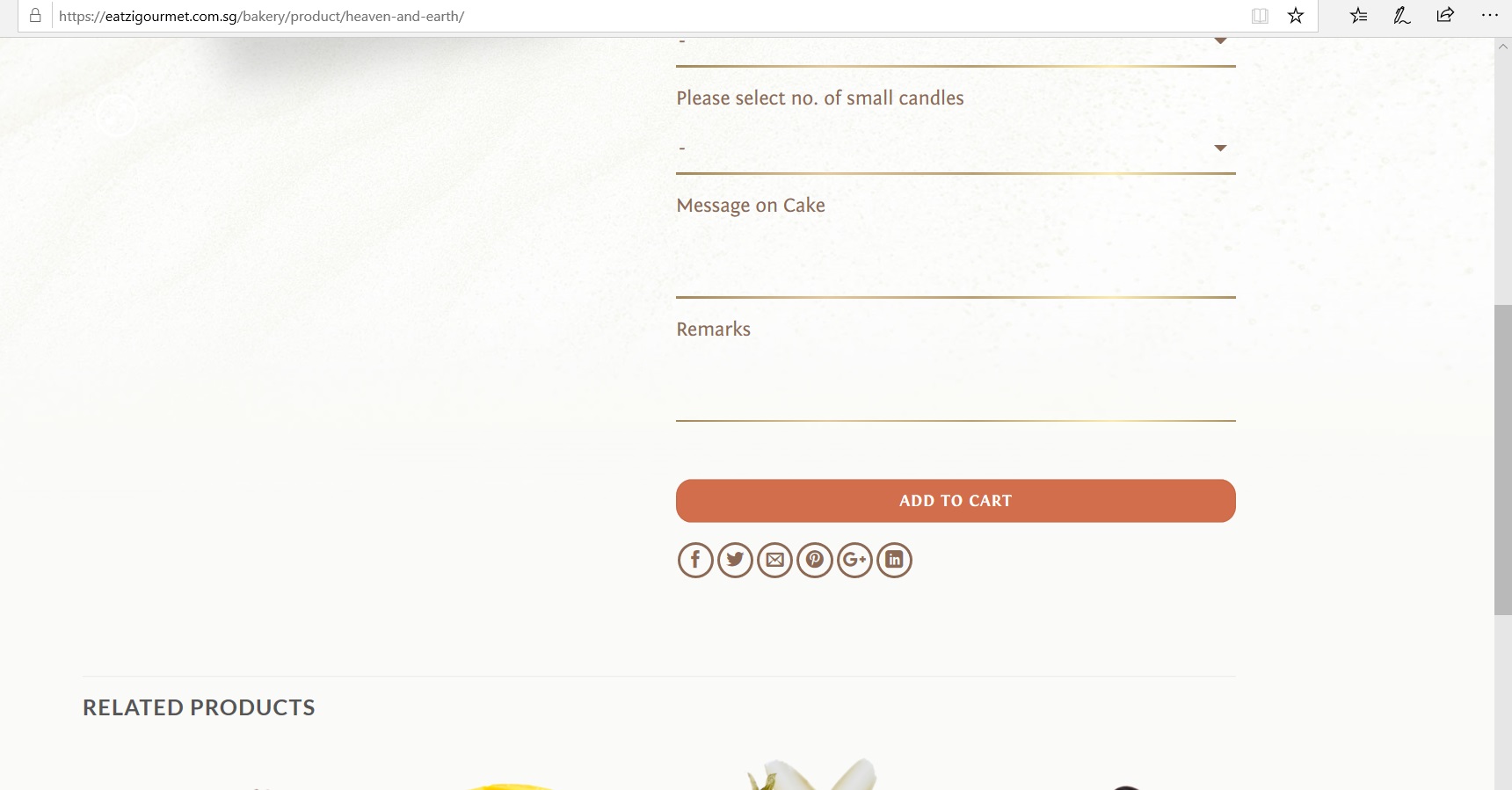 3. It will display your cart details, along with a field to enter the Eatzi Gourmet Bakery promo code and an option to continue shopping or update cart. Check your cart details, enter the code and click 'Apply Promo Code . Once the code is applied, click 'Proceed to Checkout .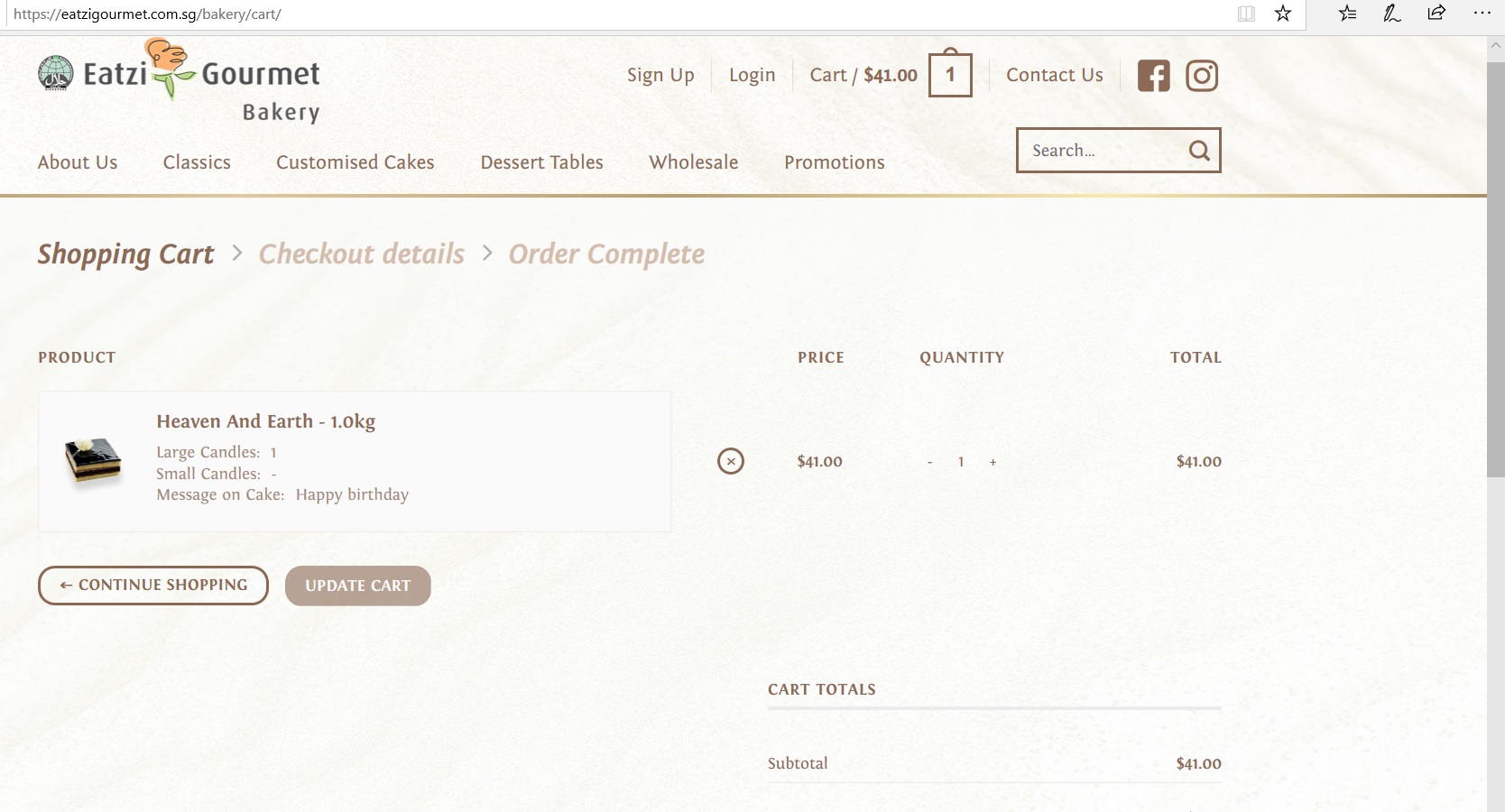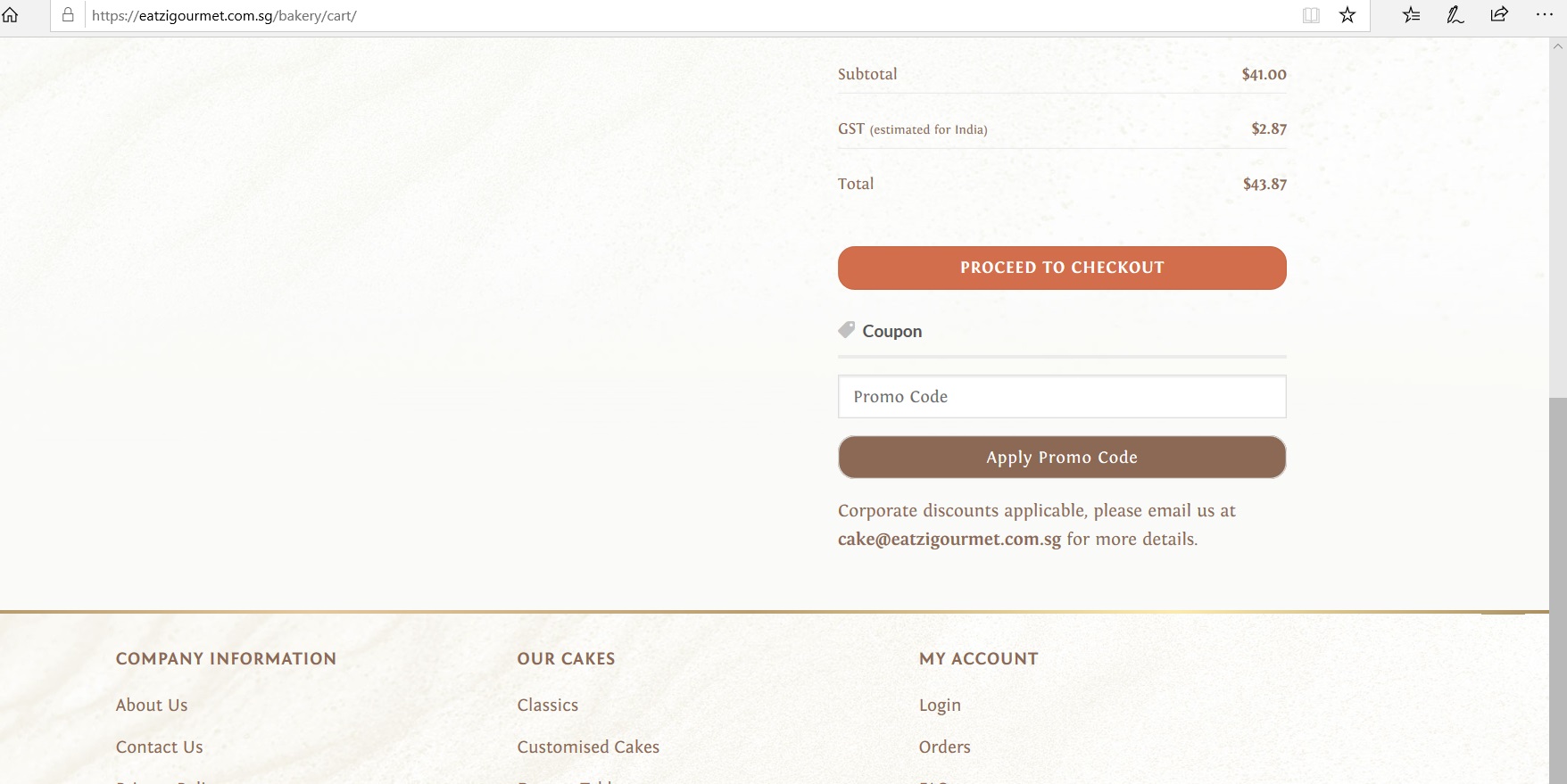 4. On the next page, enter your billing information as well as shipping details, and choose a delivery date and time slot. Finally, click 'Proceed to PayPal to proceed with your payment and complete your purchase.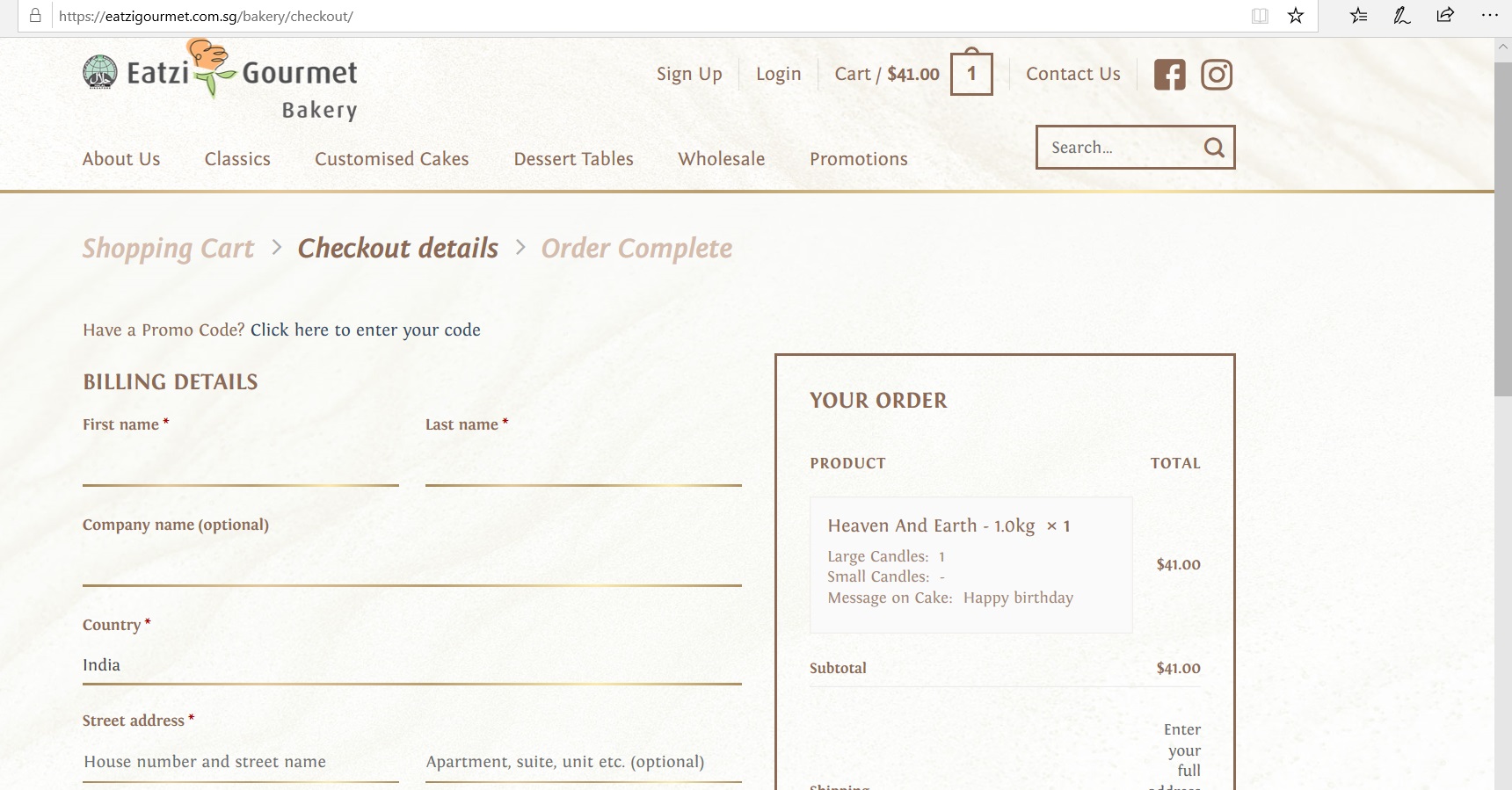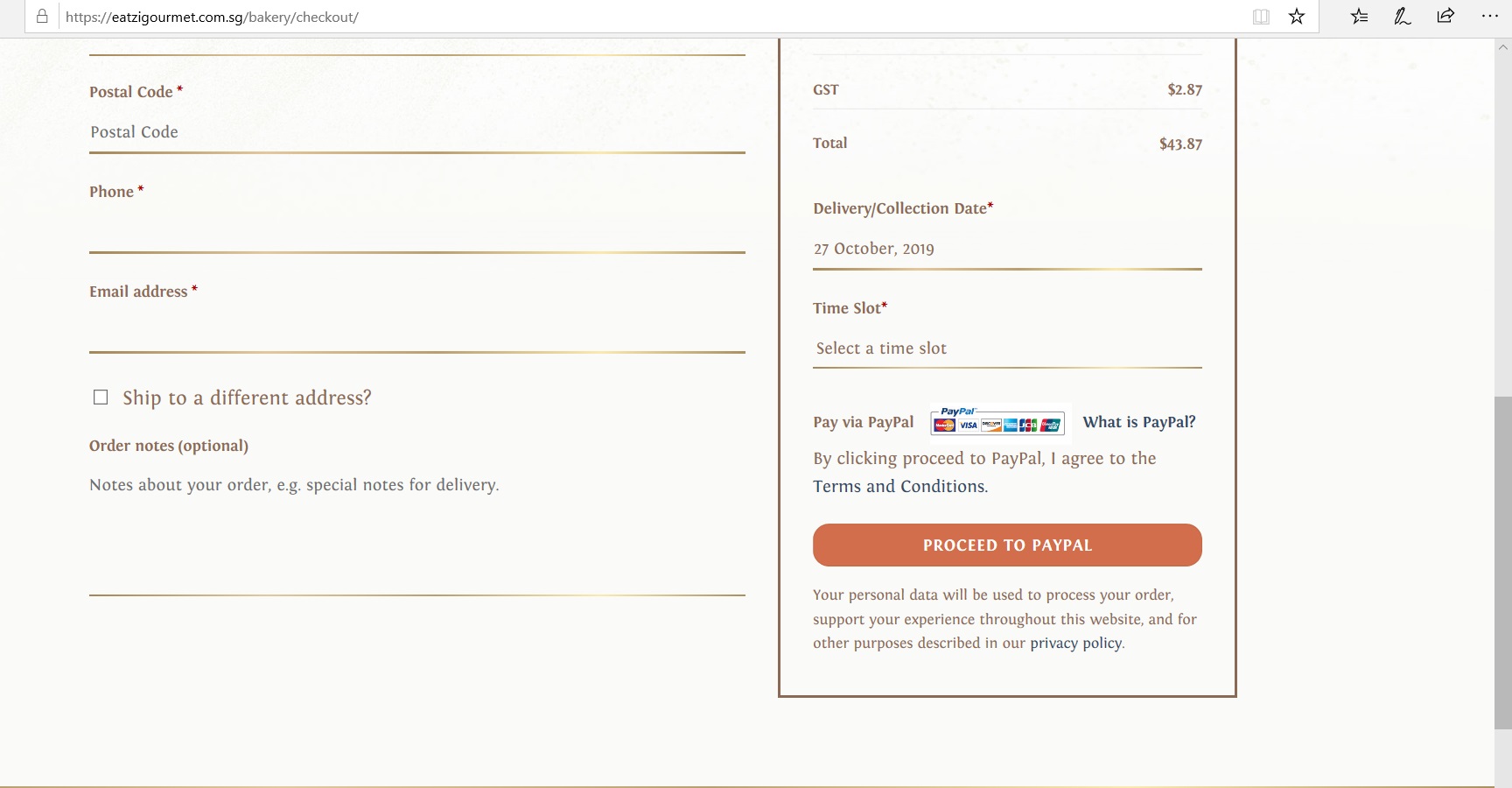 5. You will see your purchase details after placing the order, along with the expected delivery date of your product. An e-mail will be sent to you to confirm your order details.
6. Customers can find great deals on products during Eatzi Gourmet Bakery offers and sales. You can avail discounts by using the Eatzi Gourmet Bakery discount codes on checkout. Make sure to check for special deals before placing an order.
Payment Options on Eatzi Gourmet Bakery
Eatzi Gourmet Bakery offers the following payment method for your convenience.
PayPal:
PayPal is a popular online payment method that serves as a simple e-transfer alternative to the traditional payment process. Eatzi Gourmet Bakery accepts PayPal method for all your payments. It accepts VISA, MasterCard, American Express, JCB, Discover and UnionPay International.
Different Coupon Codes and Discounts on Eatzi Gourmet Bakery
The website brings to you a number of discount coupons and vouchers from time to time. Some deals are offered for a long time while others are available for a limited period only. Customers can save a lot of money by applying the Eatzi Gourmet Bakery voucher codes and earn cashback if they shop with the merchant via a registered account at ShopBack.
How to Redeem Coupons and Vouchers on Eatzi Gourmet Bakery?
Online shopping can be a wonderful, convenient experience, with a vast collection to choose from and ample opportunities to save money on every purchase. Most online shopping websites offer coupon codes and vouchers that can be redeemed to earn cashbacks and discounts on products.
Here is a step-by-step tutorial on how to redeem coupons and vouchers at Eatzi Gourmet Bakery:
Step 1:
Choose from the list of displayed products, select your preferred item and click Add to Cart .
Step 2:
Enter your email and shipping address and proceed to checkout.
Step 3:
Proceed to the payment page. Here, you will find a box under the payment summary section to enter your Eatzi Gourmet Bakery promo code or any other applicable discount codes for availing discounts.
Step 4:
Choose your payment method and fill in the payment details to complete your purchase.
How to Shop on Eatzi Gourmet Bakery Using ShopBack
ShopBack offers cashback on products if you shop from Eatzi Gourmet Bakery. These steps will help you earn cashback from ShopBack:
Step 1:
Select Eatzi Gourmet Bakery from the list of brands on the ShopBack homepage, or use the search box to find a link to the Eatzi Gourmet Bakery website.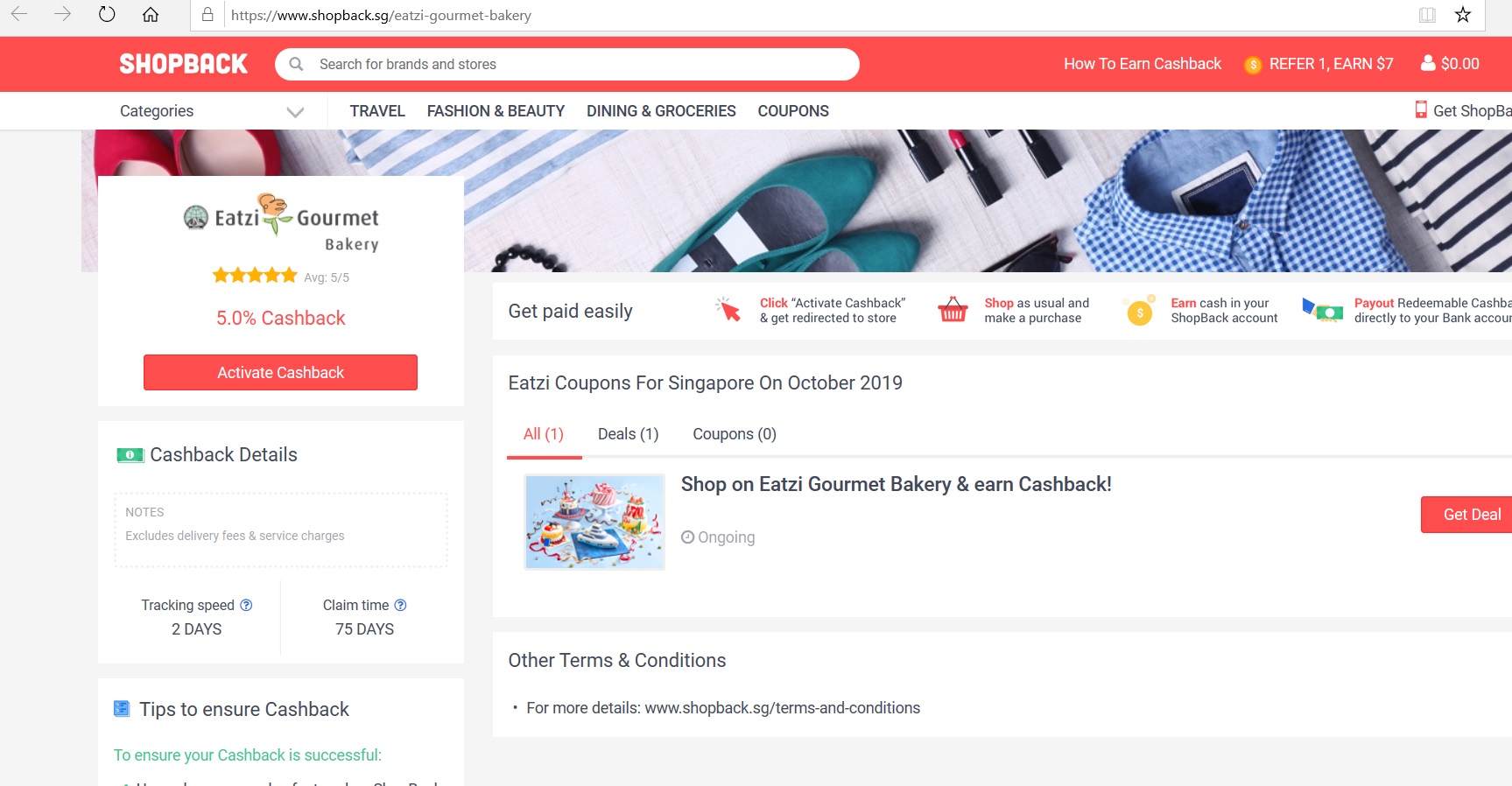 Step 2:
Read the terms and conditions and other relevant information such as cashback details and tips to ensure cashback.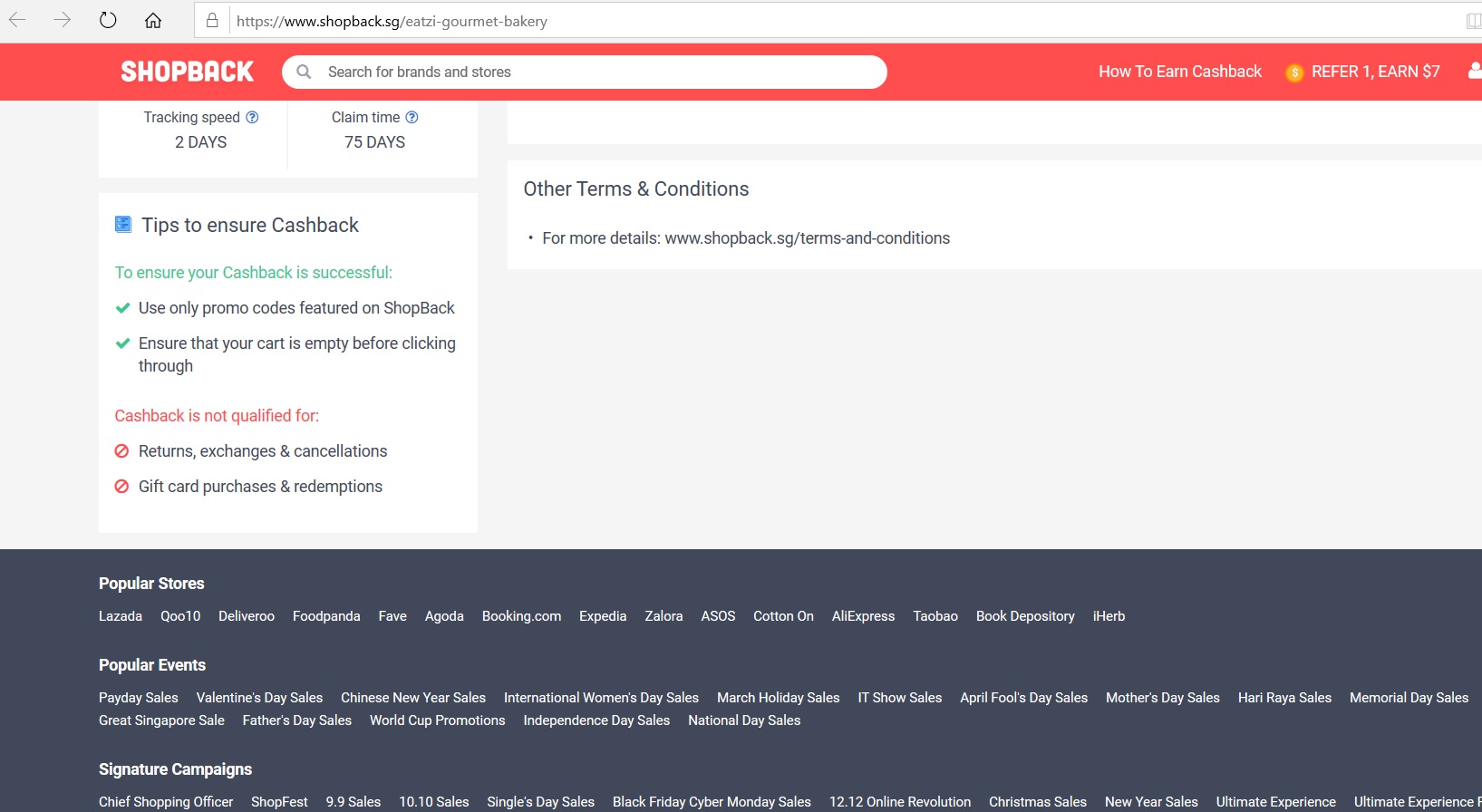 Step 3:
Click Activate Cashback on the left.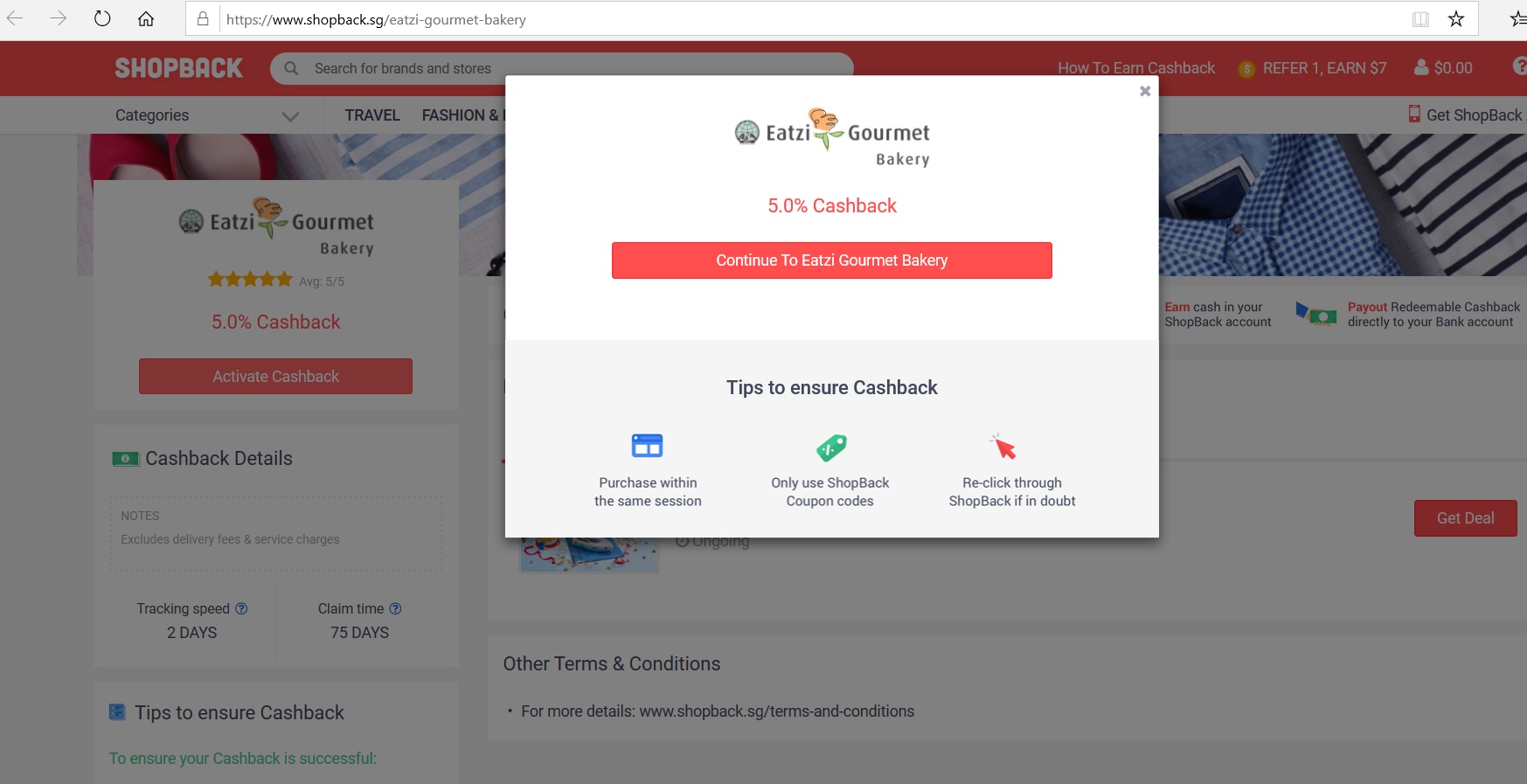 Step 4:
You can find more attractive deals by checking out the 'All section.
Step 5:
On placing the order, you will be eligible to earn Eatzi Gourmet Bakery cashback from ShopBack. There may be a variation in cashback rates based on your history with ShopBack. Cashback offer is not applicable on purchases made via the Eatzi Gourmet Bakery app.
Eatzi Gourmet Bakery Terms and Conditions
The terms and conditions for Eatzi Gourmet Bakery are listed below:
Eatzi Bakery delivers orders on all days and offers free delivery for orders costing more than $80 and $120 (applicable to certain terms and conditions).

The company does not take responsibility for the accuracy of information given on the website and is not committed to keeping the information updated. The information may be updated or changed without any notice.

Eatzi Bakery is not liable for any damage (direct or indirect) caused from the use of the website.

You may be requested for some personal information like your name, phone number, mailing address and email address. Note that your personal information may be used for the purpose of billing, planning, provisioning, rendering any assistance, preventing fraud, etc. with your consent. It may also be utilised for other lawful reasons that could aid in improving customer relationship with the company. Customer information will be fully protected and privacy will be maintained.

Any third party websites or links contained in the website are not under the control of Eatzi Bakery. It is not responsible for the consequences of accessing those third party links or websites. It is the sole responsibility of the customer who is accessing the third party links.
Eatzi Gourmet Bakery Customer Service
For any inquiry or help, customers can visit their contact us page and provide the necessary details. You may also call them on +65 6287 6298 and talk to one of their company representatives. They will get back to you with the most suitable resolution. You may also refer to the FAQ section for some of the most asked queries. You can email them at [email protected] for details on corporate discounts.