Flower Advisor Discount Codes, Promo Codes & Coupons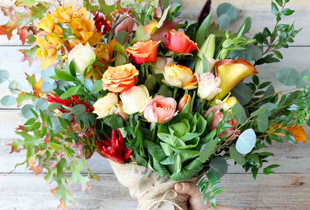 Get Cashback when you purchase from Flower Advisor!
ShopBack must be the last link you clicked in order to get Cashback. If other website links are clicked after clicking through ShopBack, Cashback will not be tracked (E.g. coupon and deal websites)

If for some reason your payment made on merchant page has failed, do click through ShopBack again and re-do your purchases to ensure tracking is still active

Return to ShopBack and click through to the merchant every time you are making a new transaction.

If you are making 3 separate transactions on the merchant, you should click through ShopBack 3 times, each time before making a new purchase.

For more details: www.shopback.sg/terms-and-conditions
More about Flower Advisor
FlowerAdvisor's your one stop place for surprising the people you love!
Sometimes words just ain't enough to express your undying and affectionate love for someone! Instead of constructing them a piece of poetry, there's always a better option - flowers! Let the earth speak what you've been trying so hard to convey. Of course, you can turn to the most trusted flower delivery service - FlowerAdvisor. There are definitely FlowerAdvisor discount codes and promos to be had!
FlowerAdvisor came about as a result of a prominent absence of a strong, singular brand in Asia for flower delivery internationally. They found that people found it rather difficult to send flowers anywhere in the world through a 100% trusted flower delivery brand… and so here comes Flower Advisor to bridge the gap - WITH FlowerAdvisor discount codes!
A flower for every occasion, a smile for days on end!
What are you looking for? A hand bouquet with a mixed variety of roses, or perhaps even a bouquet of flowers that say 'I'm sorry' without you actually saying it? You should be so lucky, because Flower Advisor has got all that and more! Flower Advisor also has pre-designed bouquets and flower decorations for specific occasions - even Hari Raya. Don't forget to use FlowerAdvisor discount codes for greater deals and to surprise the person you love the most!
ShopBack Singapore offers you 6% cashback on top of FlowerAdvisor discount codes!
If the FlowerAdvisor discount codes doesn't sound good enough, then you'll be happy to hear that courtesy of ShopBack Singapore, you'll get an incredible 6% cashback offer on top of your FlowerAdvisor discount codes! Yep, we're essentially paying you to get fresh flowers and make someone's day - so take advantage of that.
Here's how you get successful cashback:
Sign up for an account or sign-in with ShopBack Singapore.
Select the FlowerAdvisor discount code or voucher code of your choice.
Click on the deal, and get redirected to the Flower Advisor website.
Sign up for a Flower Advisor account, then proceed to select the product that you'd like to purchase with the Flower Advisor coupon code.
Remember to use the FlowerAdvisor discount code before making payment at the checkout page.
Sit back, relax and watch as you receive cashback for your purchase! Do note that cashback may take 1-2 days to appear in your ShopBack Singapore account.
Need to amp up the romance? Flower Advisor has wines and spirits too!
More than just a mere flower advisor, you'll be glad to know that Flower Advisor also offers many different varieties of alcohol - in case you want to take a romantic night in! From gin, cognac, vodka, scotch to the more elusive Californian and African variety - you can have your wine delivered with your flowers as well. Best of all, you can use FlowerAdvisor discount codes or Flower Advisor coupon codes PLUS 6% cashback offer courtesy of ShopBack Singapore! Yep, a romantic date with flowers and wine - contrary to popular belief - doesn't necessarily have to be over the top crazy expensive. Remember - FlowerAdvisor discount codes, Flower Advisor coupon codes, cashback offers! Have a great night.
Flower Advisor Live Help and testimonials!
If you've got an issue with your delivery order or anything else under the sun(flower), don't hesitate to approach the Flower Advisor Live Help! That's right, real humans sitting behind a computer to help you with your purchase. How much greater can Flower Advisor's service get, even with FlowerAdvisor discount codes, right?
They definitely have impressed many people - judging from their copious great testimonials from the world over. That's a great sigh of relief knowing that our flowers will get delivered safely, on time, and in the shape we want!
Stay connected with Flower Advisor and always make someone's day better!
If you adore flowers as much as we do, why not stay updated with the latest FlowerAdvisor discount codes and promos? Simply follow them on Facebook, Twitter and Google+ to be the first to know about their awesome offers!
Looking for other novelty gifts to complement your flowers? Not to fret, because ShopBack Singapore has definitely got what you're looking for. For those who like to tread on the wild side, do check out HipVan for more quirky gifts. Another site worth a visit is Lazada - they really do have everything you'll ever need to find - and more! Check out ShopBack Singapore's Lifestyle section for more awesome gifts your friend or partner will absolutely delight in!