The perfect shot everytime with Canon!
Canon, a Japanese multinational corporation is a marvellous destination to purchase imaging and optical products like cameras, EF lenses, camcorders, photocopiers, binoculars, scanners, computer printers, medical equipments and so on. The company continuously strives to create innovative products and technologies to make life easy for consumers all over the world. Canon s dedicated effort, research and advanced manufacturing processes ensure that high quality products are delivered to customers.
Canon boasts of more than 200 companies all over the world, with a strength of over 160,000 employees in R&D, sales, production and marketing sections. With 19,902 US patents, Canon has been one of the top 4 companies with the most number of patents. While producing high quality products Canon is commended for their efforts to deploy environment-friendly technology. In 1990, Canon was the first company to commence a wide-range cartridge recycling programme, which involved using old or used cartridges as material for new cartridges.
Customers will be thrilled to know that Canon offers Canon sales and Canon deals from time-to-time. Information about Canon promotions is available on the website. So, log on to the website and experience a delightful shopping time as you browse and purchase your favourite products.
Founded by Takeshi Mitarai, Goro Yoshida, Saburo Uchida and Takeo Maeda, Canon was originally established as Precision Optical Industry Co. Ltd. in Roppongi, Minato-ku, Tokyo in the year 1933. Within a year s time, Japan s first 35mm focal plane shutter camera, The Kwanon, was produced in prototype form. In 1947, the company was renamed to Canon Camera Co., Inc. In 1949, Canon II B won its first prize at a national camera exhibition in San Francisco. Over the years, after the introduction of several more devices like the X-ray mirror camera, Canola 130, copying machine, Canofax 1000, a top-end SLR camera, Canon F-1, EOS M50 mirrorless camera and many more, Canon journeys to become a leading multinational corporation in consumer imaging equipments and information systems.
Products sold by Canon Singapore
Feel delighted as you browse the Canon Singapore website. A fascinating range of imaging and optical products await you here. The online store lists its products under the following categories – cameras, EF Lenses, Printers & Scanners, Presentation and Accessories. Brief information of some product categories available on the Canon Singapore website is provided below.
Printers
– Canon has been the prime manufacturer of print-engines located inside industry standard laser printers for several years. Canon continues to offer a variety of printers that provide brilliant printouts at different print speeds in colour or monochrome. Types of printers offered by the Canon Singapore website are inkjet printers, laser printers and mobile printers. Along with the printer, you can also purchase consumables like inkjet cartridges, toner cartridges, print media and plain paper.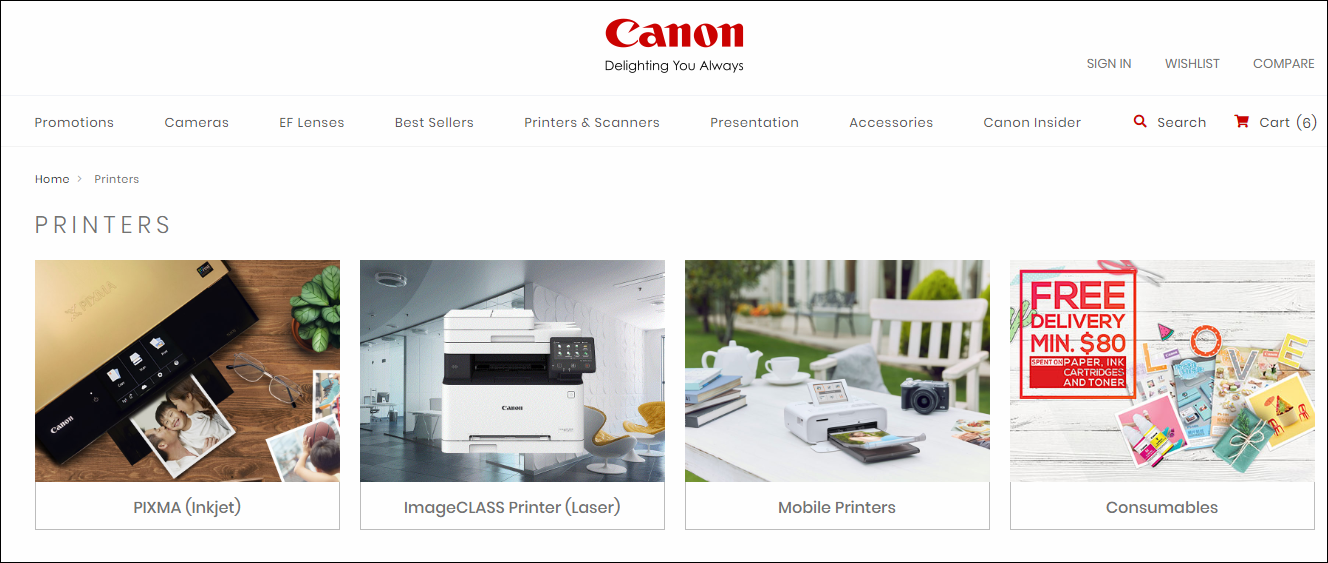 Scanners and Fax
– Canon manufacturers a wide range of document scanners, flatbed scanners, flatbed with film scanners and cheque scanners for home and office use. These are available in different scanning speed, feeder capacity and scanning resolution.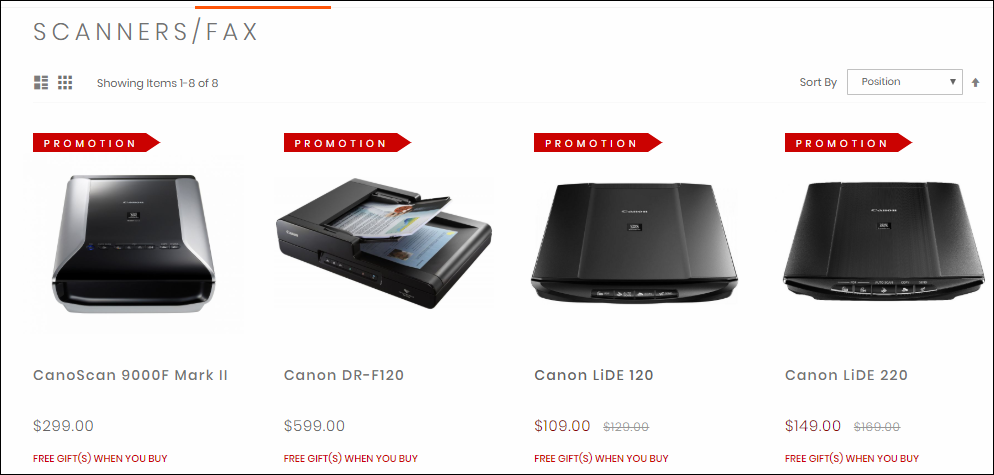 Cameras
– Amateur or veteran, if you love photography, then here s your chance to purchase the equipment that suits your choice. Canon offers a plethora of cameras that include DSLR, mirrorless, compact cameras and professional video. The Cameras category also contains a section that assists you in choosing a camera that best suits your needs.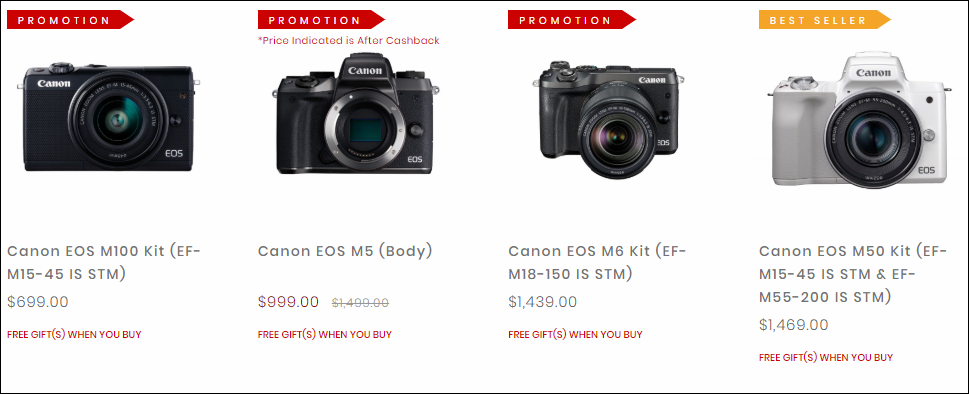 EF Lenses
– Canon offers an interesting range of EF Lenses. EF or Electro Focus lenses contain a built-in motor that enables automatic focusing. Be prepared to view an exciting range of EF lenses that include EF prime lens, EF zoom lens, EF-S lens, EF-M lens, macro and tilt shift lens and RF lens.

Apart from the above mentioned product ranges, you can also purchase projectors, presenters and accessories on the website. You will be thrilled to know that the website offers plenty of Canon deals, Canon cashbacks and Canon vouchers. Use these money-saving schemes as you purchase these amazing equipments. Customers will also receive free gifts on purchase of several products.
| Product Category | Sub-Category |
| --- | --- |
| Cameras | DSLR, Mirrorless, Compact Cameras, Professional Video |
| EF Lenses | EF Prime Lens, EF Zoom Lens, EF-S Lens, EF-S Lens, EF-M Lens, Macro & Tilt Shift Lens, RF Lens |
| Printers & Scanners | Inkjet Printers, Laser Printers, Mobile Printers, Consumables, Scanners/Fax |
| Presentation | Projectors, Presenters |
| Accessories | Camera Accessories, IT Accessories, EF Lens Accessories, Photographic Accessories, EOS Accessories |
| | |
The Canon Singapore website is a treasure trove of stylish and classy Canon products. The website offers a user-friendly interface that is easy to navigate and browse for products. The different categories of products are available on the header of the website. The Search option on the header of the website enables you to perform a product-specific search. Click on the Search option and enter the full model number to find the required product. Alternatively, you can also click on the quick links provided in the Search option.
The header of the website contains different product categories such as cameras, EF lenses, best sellers, printers and scanners, presentation, accessories and Canon insider. It also contains promotions option that gives you information about various Canon coupons, Canon discount vouchers, Canon promo coupons and many other Canon promotions.
The homepage displays information about current Canon offers, featured products, recently viewed and Canon insider.
Click on a category given in the homepage and select a sub-category. A list of products from the selected sub-category is displayed on the screen.
Click on the required item. You are directed to a page with the product price, product information and specifications.
Go through the product information and click the "Add to Cart" button if you wish to purchase the product. Similarly, you can browse for more products and add them to your shopping cart. Once you are satisfied with the list of products in your cart, click on the 'Cart option in the header and then click on the "Checkout" button. You can also edit your purchase list by clicking on the 'View and Edit Cart option located below the "Checkout" button.
On clicking the "Checkout" button, you are re-directed to the Checkout page. In case you have not yet logged in to your Canon member account, you can do so in this screen. If you do not have an account or do not wish to register, click the "Checkout as Guest" button.
In the Shipping Details page, check your order summary, enter your shipping address, select the delivery time slot and click the "Next" button.
In the 'Payment page, enter your Canon discount code, Canon promo code, Canon coupon code or Canon voucher code in the "Apply Discount Code" box and click the "Pay" button.
In the next screen, make the payment by entering your card number and other details in the fields provided and click the "Pay Now" button.
Customers can find great deals on products during the Canon sale 2018 displayed on the homepage. Save money as you use Canon promo code 2018 and Canon coupon code 2018 during the checkout process.
Payment Options on Canon Singapore
Canon Singapore offers an easy, quick and secure payment system. All prices are calculated in Singapore dollars and customers can make payments using their VISA or Mastercard credit cards. For security purpose, enter the 3-digit security code available on the back of your VISA or Mastercard in the "Security Code" field provided on the screen during the checkout process.
Canon promo 2018 and Different Coupon Codes
Get set for a delightful shopping time as you shop on the Canon online store and save money, especially during Canon offers 2018. The website offers various money-saving deals such as Canon promo codes 2018, Canon cashback 2018, Canon promo coupons and so on. Use these during checkout and save money as you purchase Canon s sleek and stylish products. All details regarding Canon promotion 2018 are listed in the 'Promotion tab in the header of the Canon Singapore website. Click here to view the ongoing Canon promotions. The company holds the right to cancel or withdraw promotions and Canon discounts without prior notice. Also, free gifts offered by the company are not exchangeable.
Most of Canon promos and deals are available for a limited period. So, hurry and make your purchases from the Canon online store for a delightful shopping experience. Apart from the Canon website, there are several other websites that offer cashback schemes on Canon products along with Canon promo codes 2018. Currently customers can earn 2% cashback on Canon products if shopped on the Canon website via a registered account on Shopback.
How to Shop on Canon using ShopBack
Here s an opportunity to earn 2% cashback on various Canon products if you shop via a registered account on Shopback. The steps to earn the cashback are given below.
Step 1:
In the ShopBack website, select Canon store from the list of merchants and brands. You can also use the search box to find the link to the Canon store.
Step 2:
Go through the terms and conditions and other relevant information such as cashback details and tips to ensure cashback given in the Shopback website.
Step 3:
Check out the "Canon Powershot Cameras and Lens Deals" section for more interesting deals and coupons.
Step 4:
Click the "Activate Cashback" button located at the top end of the Shopback website. You will be directed to the Canon Singapore website to browse and select the products that you intend to buy.
You will be eligible to earn cashback after you place the order.
Canon s Delivery, Exchange and Return Policy
Canon online store s delivery policy is given below.
Canon provides free delivery services for purchases above $200. However, a $15 standard charge will be levied per address for orders up to 30 kg.

In case of deliveries to the following locations, customers have to pay a surcharge of $20 (payable in cash): Airport Logistics Park of Singapore, Jurong Port, Changi Transit Lounges, PSA compound, Changi Airfreight Centre, Mindef premises, Neo Tiew area, Jurong Island and Sentosa Island.

Canon-only orders are delivered within 2 working days and non-Canon products are delivered within 5 working days. An agent from Yamato Tidiki will contact you to deliver products as per your convenience. If you do not receive your full order within 5 working days, email Canon at [email protected] or call at 1800 799 2828.

In case the company is unable to supply you with the ordered item, you will receive an email containing information about the shortage. In such a case, the company provides a refund of the undelivered items.

After the product is dispatched from the warehouse, you can track the order with your account and order number on [email protected]

In case you want to postpone delivery, call the company s customer service hotline at 1800 799 2828. Your request will be accommodated if the product is still available in the warehouse.

If you receive a wrong product, call the company s customer service hotline at 1800 799 2828 with your order details.
Canon online store s return and exchange policy is given below.
In case you receive a defective product, contact the company s hotline number at 1800 799 2828 to help you with the troubleshooting process. If the problem still persists, please take the product along with the warranty card and valid purchase receipt to the Canon customer care centre.

Canon customer care will need around 5 to 10 working days to examine the product. If the defect is confirmed and the return was made within 7 working days from the date of dispatch, the company will provide a replacement within 3 working days.

If repair or replacement is not possible within a practical time period, you can keep the defective product and request for a partial refund or return the defective product and ask from a full refund.

If the returned product is not defective, Canon may decide not to repair, replace or refund and might require you to pay the delivery and servicing costs.
For any inquiry or help, customers can contact Canon customer service by emailing at [email protected] or dialling 1800 799 2828.