NET-A-PORTER: A Leading Online Luxury Fashion Retailer
NET-A-PORTER is a world-renowned fashion retailer that offers an incredible collection of products to more than 6 million people from across the globe. It boasts of selling high-quality fashion goods from more than 800 global designer brands, over 200 specialist brands and fresh new arrivals thrice a week. It offers service to over 170 countries around the world, multi-lingual customer care, signature-style packaging, personal shopping teams and easy returns.
The company aims at providing unmatched online shopping experience to its customers and offers NET-A-PORTER sales from time to time.
Launched in the year 2000, NET-A-PORTER is one of the top luxury fashion destinations in the world. Its top brands include Gucci, Prada, Stella McCartney, Isabel Marant, Saint Laurent and Balenciaga, to name a few. NET-A-PORTER became a part of the YOOX NET-A-PORTER Group in October 2015 with the merging of the NET-A-PORTER GROUP and YOOX GROUP.
Founded by Federico Marchetti, YOOX first focused on buying unsold goods from popular fashion houses from the previous seasons, and selling them at discounted rates online. 2006 saw the launch of YOOX Group s first online flagship store for Marni.com and in 2007, it started building its own warehouses. It further launched its menswear online retail store 'The Corner in 2008 and women s wear in 2009.
Natalie Massenet founded NET-A-PORTER with the concept of a magazine in the format of a website. After the initial struggles, the company won the 'Best fashion shop award in 2004, at the British Fashion Awards and became profitable. The following years saw good profits and launch of newer product categories. In 2013, it attracted over two million visitors monthly and involved over 30 designers in its sales. Later in 2014, it launched its first print magazine, 'Porter , which came with an app as well as a digital version.
Before the companies joined hands, they made total revenue of about $1.4 billion and gained 24 million visitors every year. After the merger of these two companies in 2015, their combined reach went up to 180 countries and made more profit.
Buy the best quality products at NET-A-PORTER online, while enjoying amazing NET-A-PORTER discounts during NET-A-PORTER sales.
Clothing and Lingerie -
Find everything that you are looking for, right from active wear, beach wear, denims and leather to bridal wear, shorts, dresses and work wear, only on NET-A-PORTER. Shop from an exclusive collection of lingerie to suit all your needs and feel comfortable in any outfit.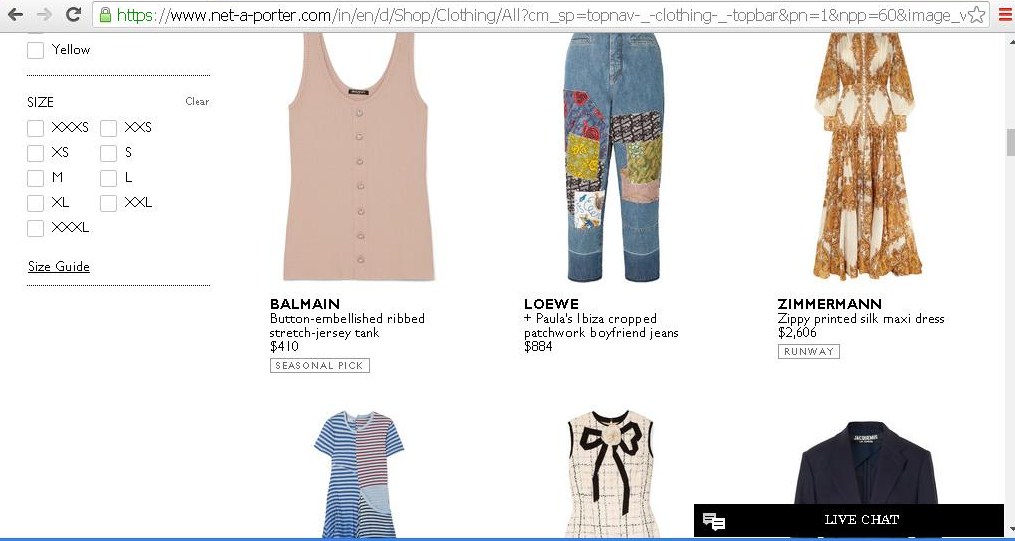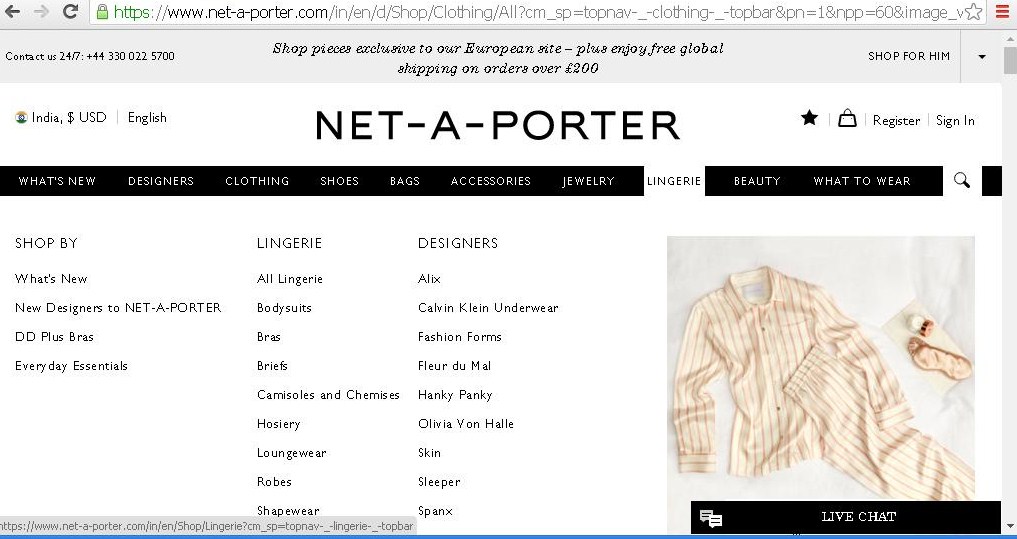 Bags and Shoes -
Shop from a wide range of bags and shoes to keep you up and going. Avail amazing discounts during NET-A-PORTER offers and flaunt your look in these designs.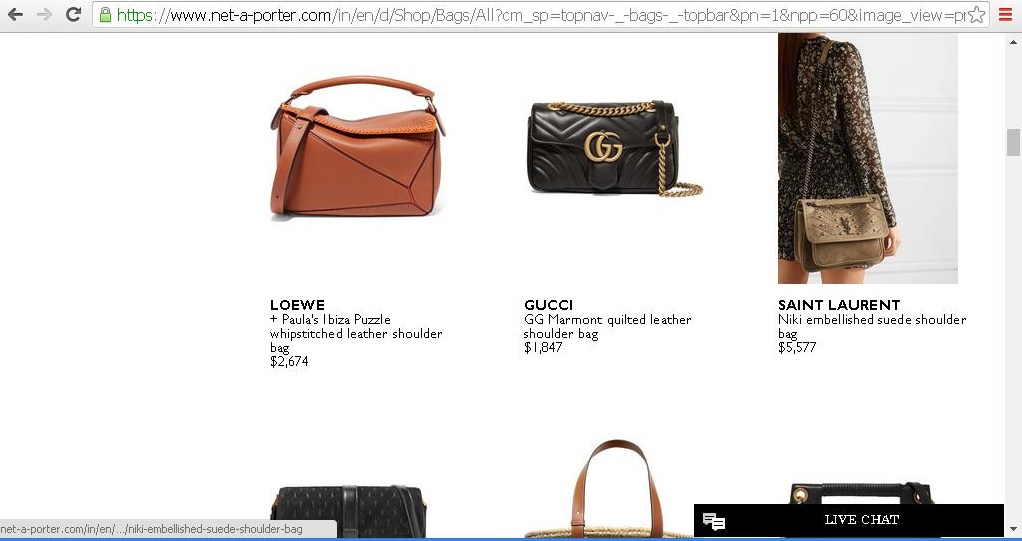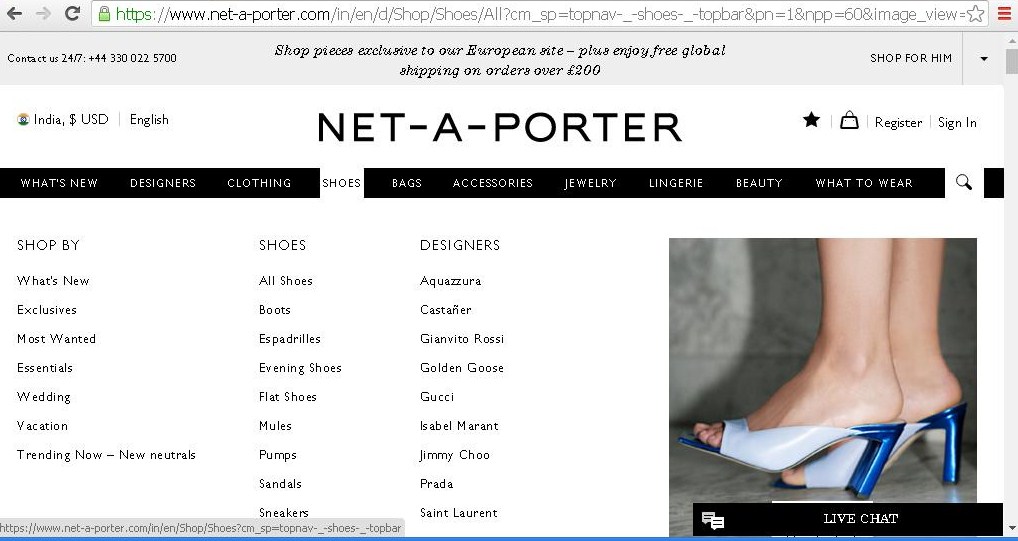 Beauty, Jewellery and Accessories -
Browse through a vast collection of beauty products, jewellery and accessories. Choose the designer of your choice from the amazing options and pick the ones that best suit your needs.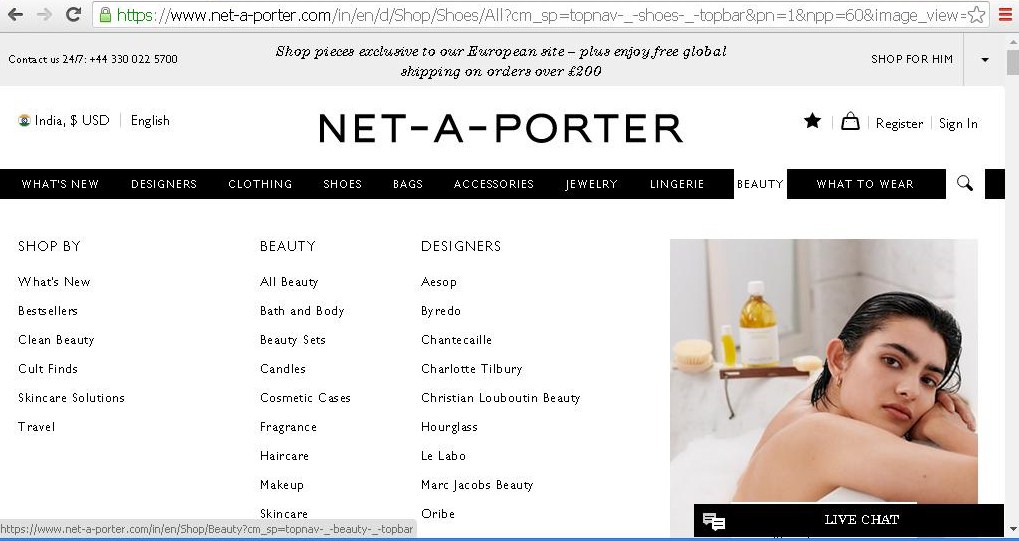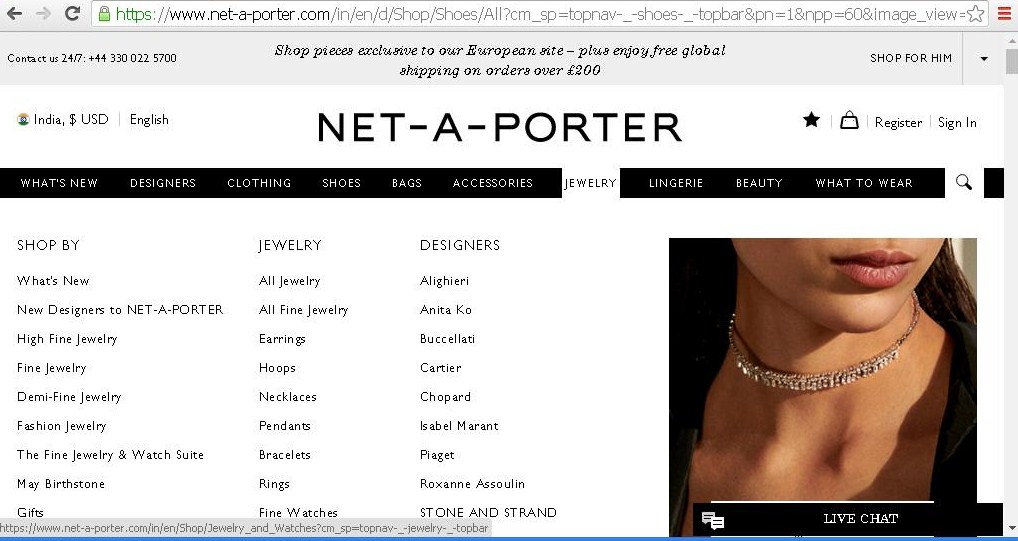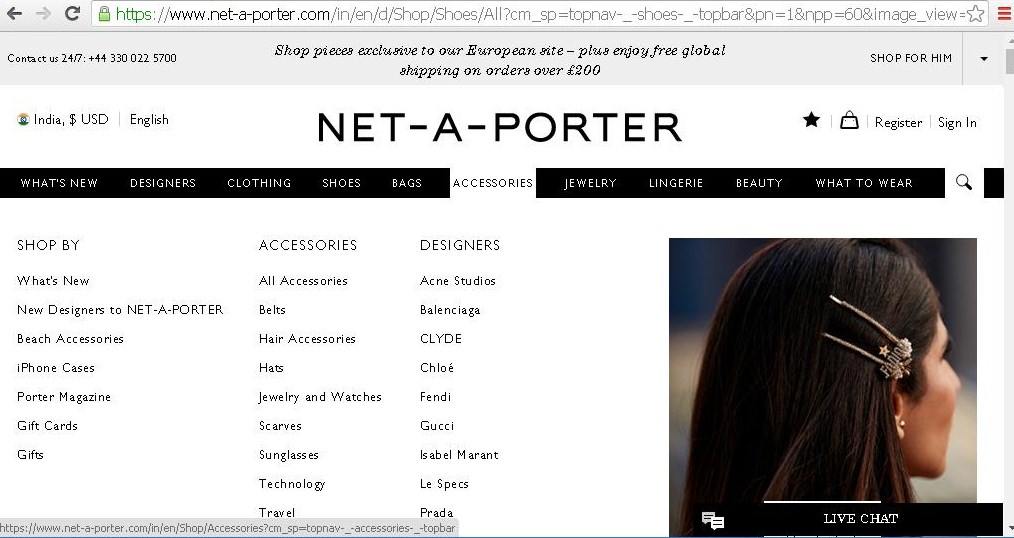 NET-A-PORTER vouchers are offered from time to time for the benefits of its customers, so make sure to check for NET-A-PORTER sales before you go ahead and shop.
| NET-A-PORTER Product Category | Products |
| --- | --- |
| Clothing | All clothing, activewear, beachwear, blouses, bridalwear, coats, denim, dresses, evening, jackets, jeans, jumpsuits, kidswear, knitwear, leather, modest, pants, shorts, skirts, suits, swimwear, tops, all clothing designers |
| Shoes | All shoes, boots, espadrilles, evening shoes, flat shoes, mules, pumps, sandals, sneakers, wedges, all shoe designers |
| Bags | All bags, backpacks, belt bags, clutch bags, cross body bags, evening bags, luggage and travel, mini bags, shoulder bags, tote bags, all bag designers |
| Accessories | All accessories, belts, hair accessories, hats, jewellery and watches, scarves, sunglasses, technology, travel, wallets, all accessory designers |
| Jewellery | All jewellery, all fine jewellery, earrings, hoops, necklaces, pendants, bracelets, rings, fine watches, watches, all jewellery and watch designers |
| Lingerie | All lingerie, body suits, bras, briefs, camisoles and chemises, hosiery, loungewear, robes, shapewear, sleepwear, all lingerie designers |
| Beauty | All beauty, bath and body, beauty sets, candles, cosmetic cases, fragrance, haircare, makeup, skincare, sun, tools and devices, all beauty brands |
| What to Wear | Vacation, event, everyday, work, wedding day, modest dress codes |
| | |
How to Shop at NET-A-PORTER?
NET-A-PORTER offers an easy approach to shopping. All the product categories are displayed at the top of the page, along with a search icon to search for a specific product and a 'Shop for Him option. The homepage also displays NET-A-PORTER promo codes and NET-A-PORTER voucher codes available during NET-A-PORTER promos. A Live Chat option is also available for you to have an instant chat with the sellers.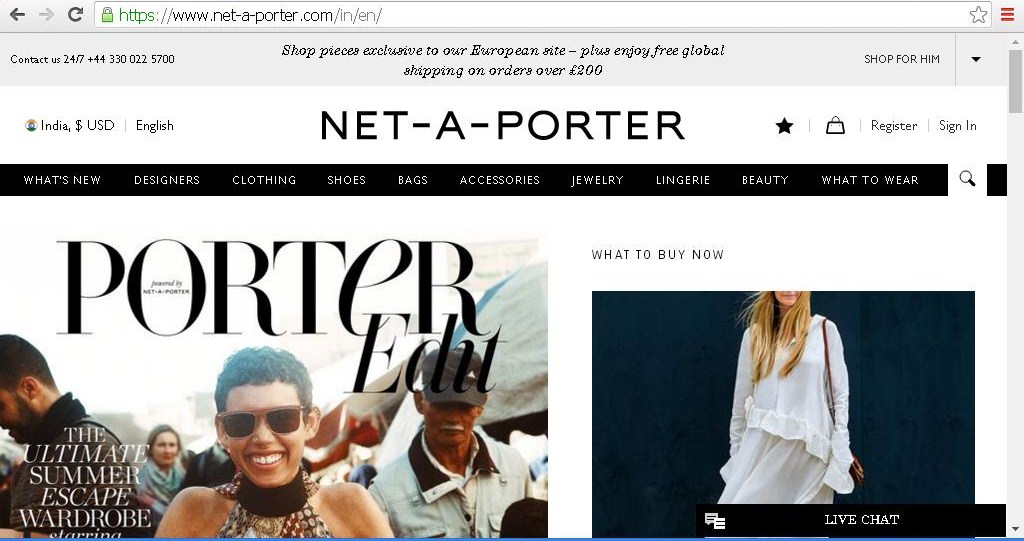 1. Select your preferred category and sub-category. Click on your preferred product from the displayed list.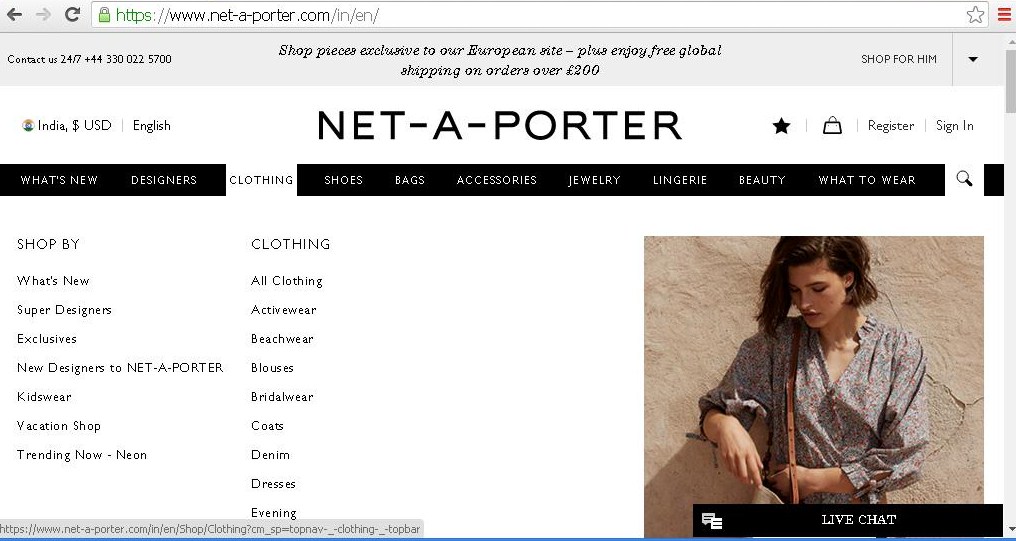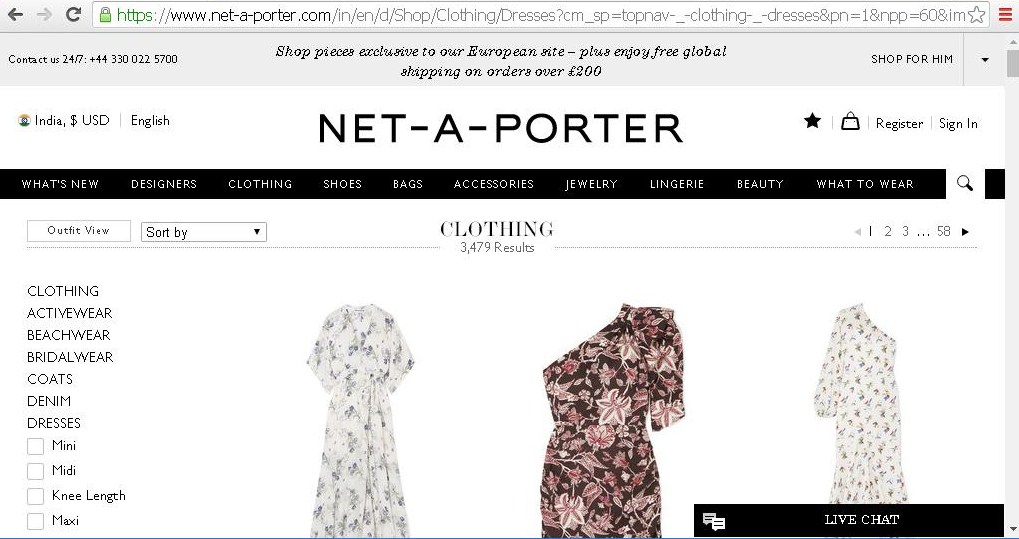 2. The product description along with its price and an 'Add to Shopping Bag button will be displayed. You can also find an 'Add to Wishlist option there. You may go back to browse a different product or choose the size and click 'Add to Wishlist or 'Add to Shopping Bag. The product will be added to your shopping bag. Click on the shopping bag icon at the top of the page, after which you may opt to 'Continue Shopping or click 'Proceed to Purchase .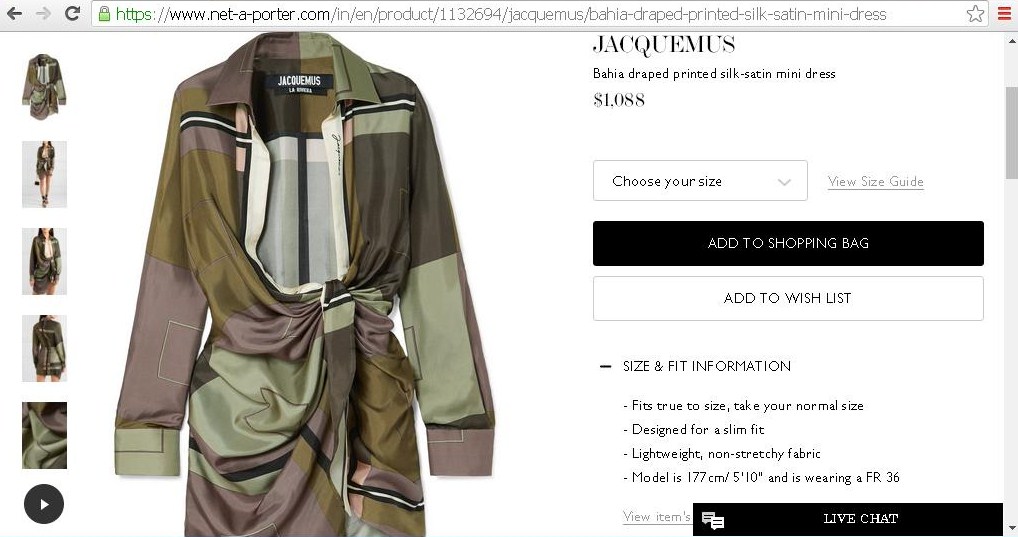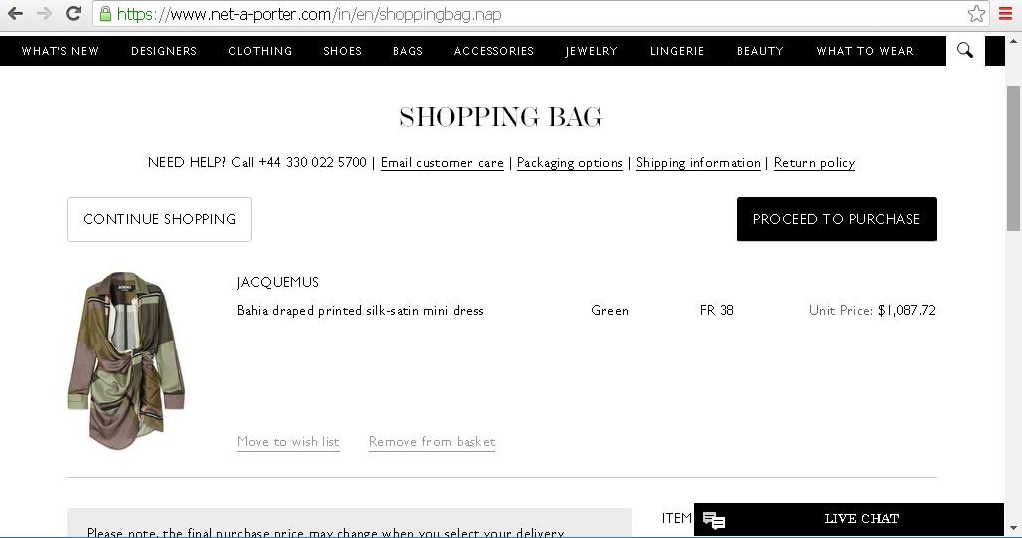 3. On clicking 'Proceed to Purchase , you will be asked to either login or go with 'Guest Checkout . Click 'Checkout as a guest . Then enter your shipping details and click 'Proceed to Purchase .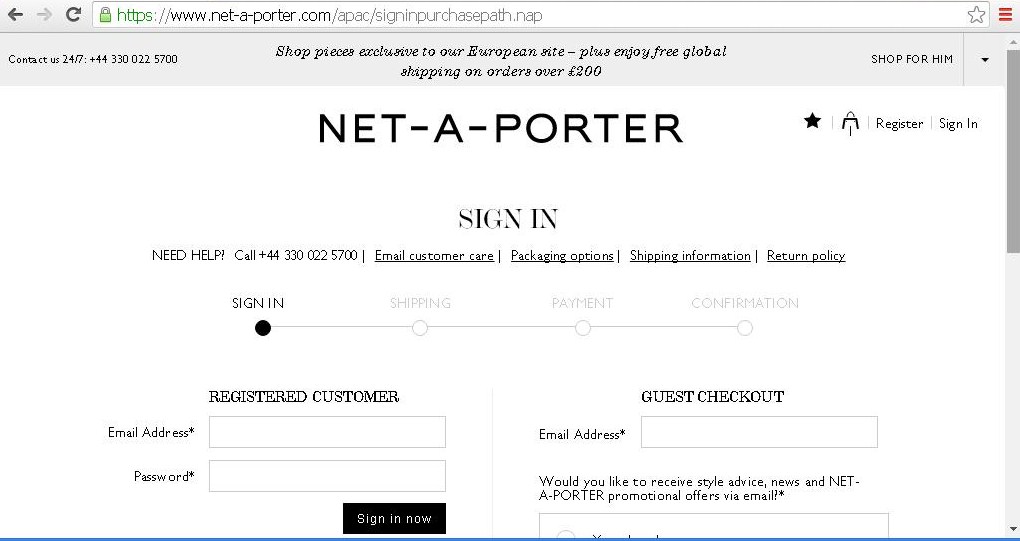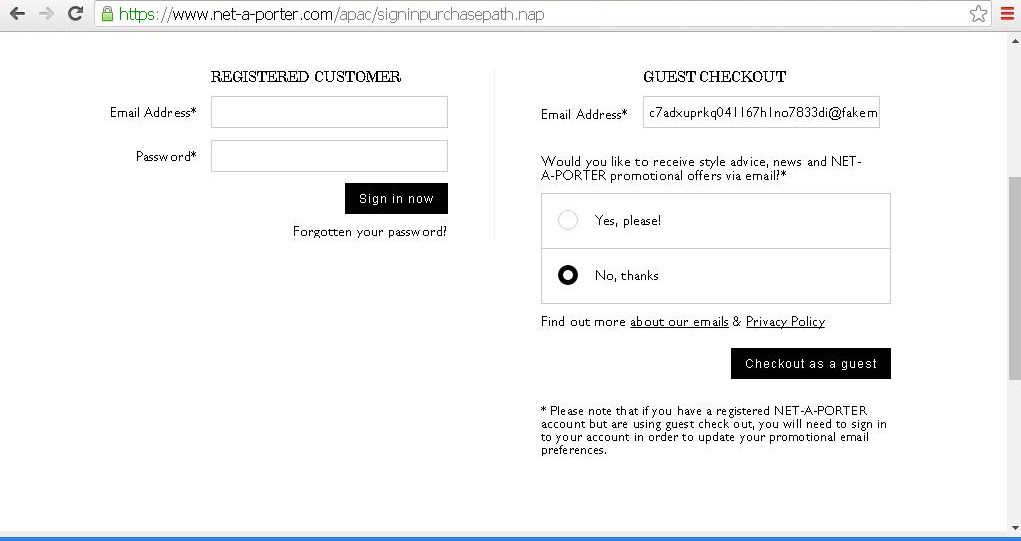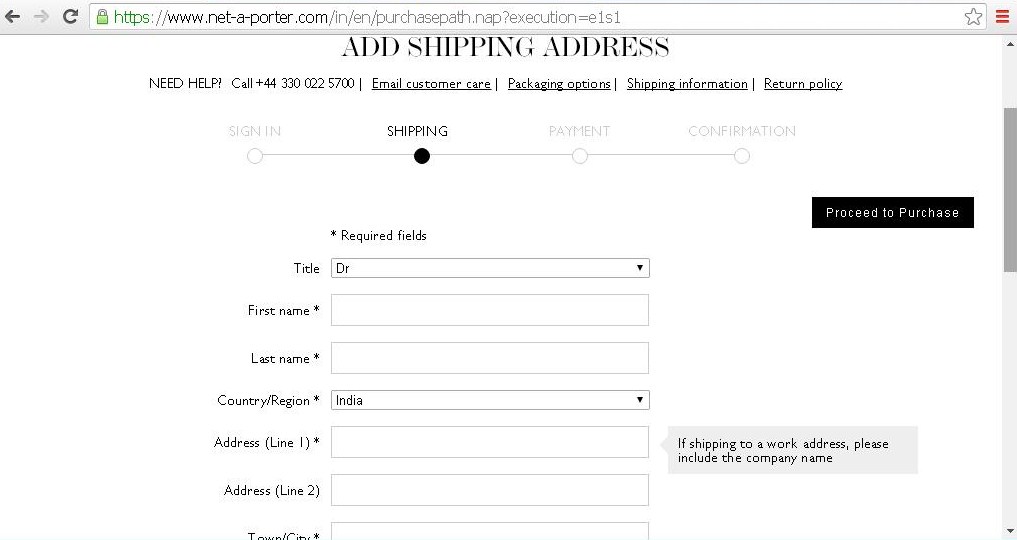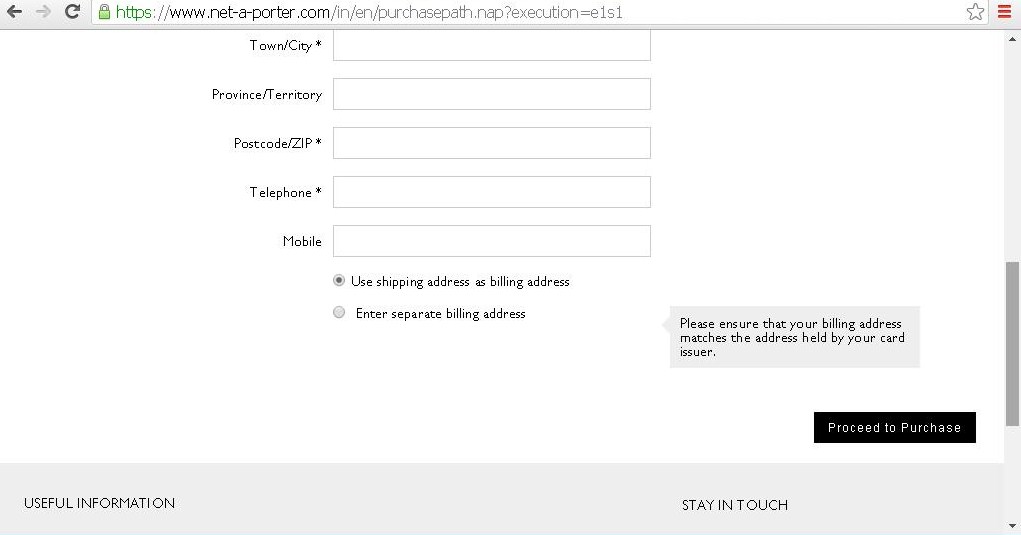 4. It will display the shipping method and other details, after which, you can click 'Proceed to Purchase . You will be directed to the 'Secure Payment page, with your order summary and an option to enter the NET-A-PORTER promo code 2019 or NET-A-PORTER discount code or NET-A-PORTER discount voucher. Then review your shipping details and enter your payment information. Once you have given your details, click 'Purchase Now to proceed with your purchase.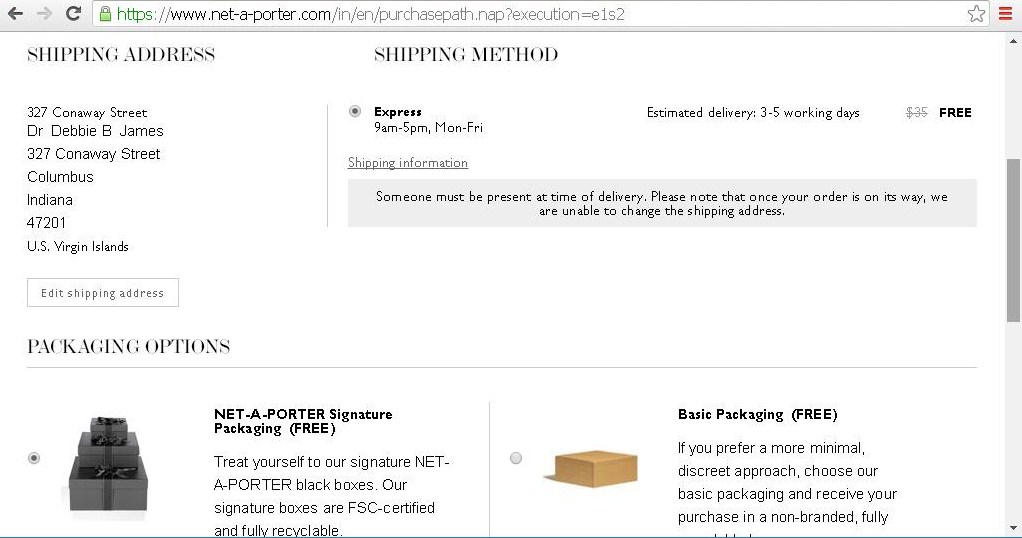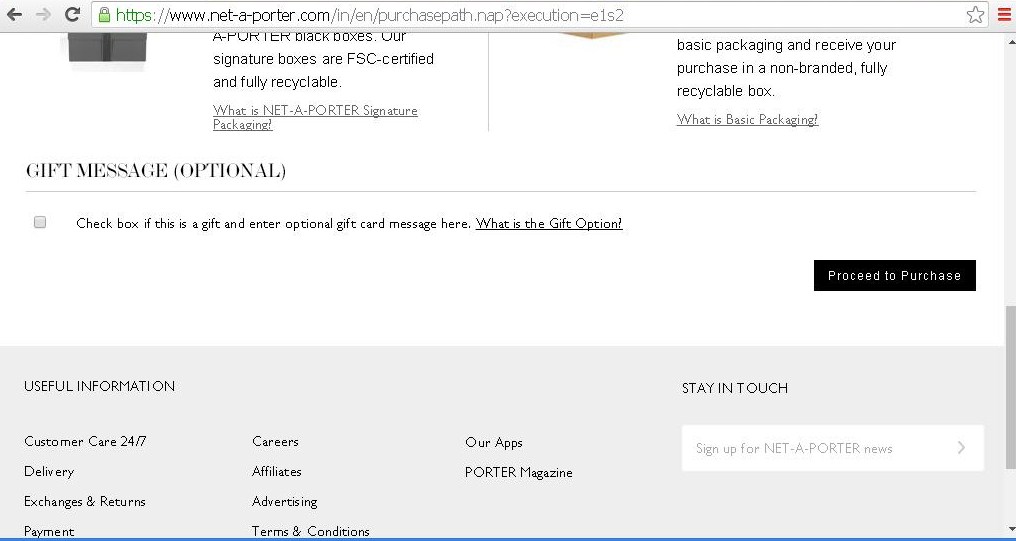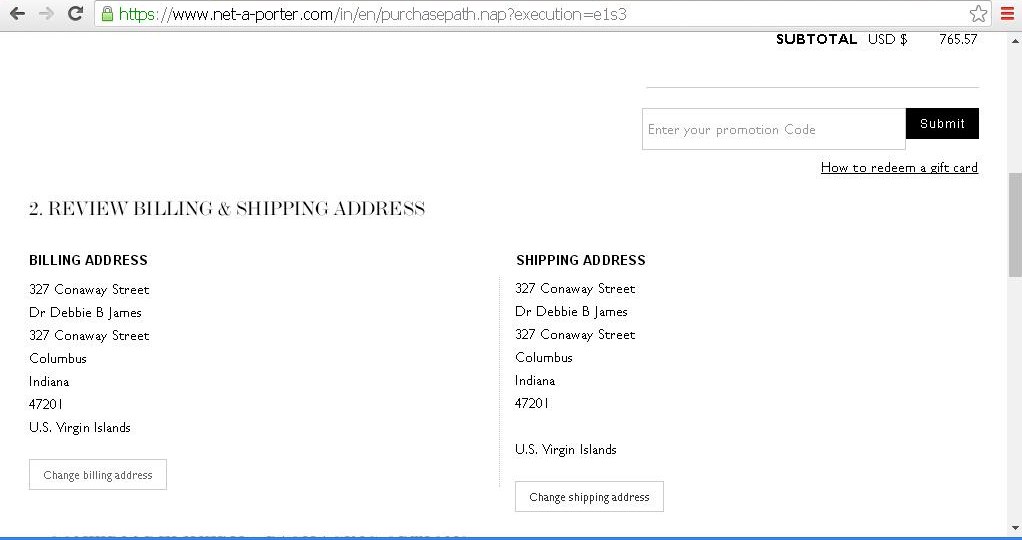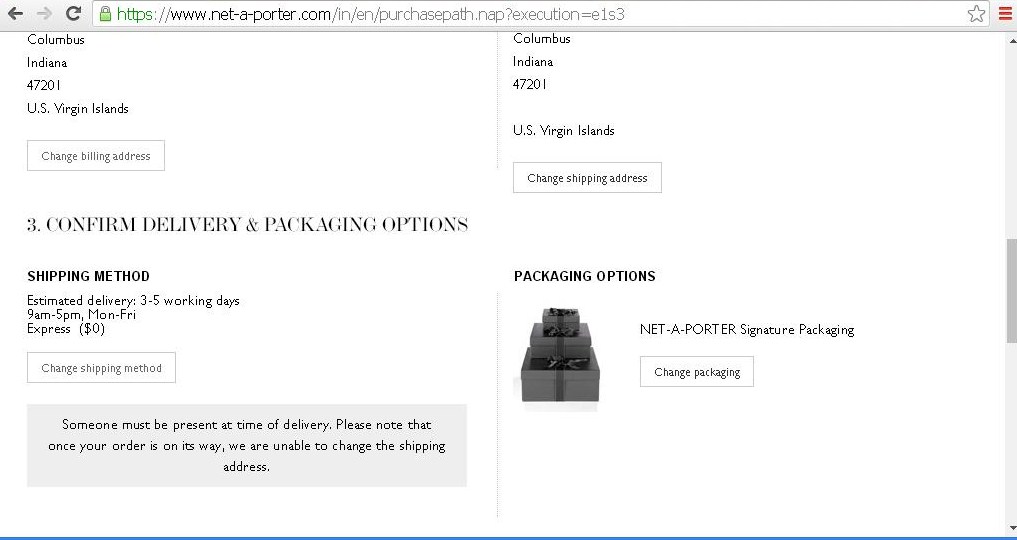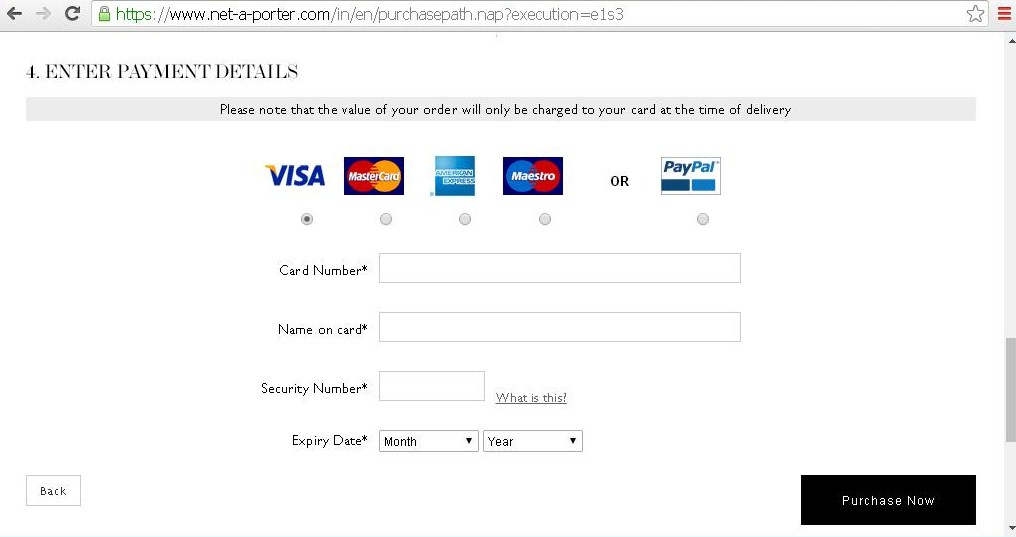 5. You can then make payment and complete your purchase. Your purchase details, along with the expected delivery date of your product will be displayed. An e-mail with your order tracking number will be sent to you.
6. Customers can find great deals on products during special offers. You can avail discounts by using the NET-A-PORTER coupon code 2019 on checkout. Make sure to check for NET-A-PORTER deals before placing an order.
Payment Options on NET-A-PORTER
NET-A-PORTER offers the following payment methods for your convenience. Make use of the NET-A-PORTER coupon codes/NET-A-PORTER discount coupons before you proceed with the payment.
Card Payment:
Customers can shop with their credit/debit cards by entering the card details during checkout. NET-A-PORTER accepts VISA, Maestro, Master Card and American Express cards. Payment will be debited from your card only at the time of dispatch.
PayPal:
is a popular online payment method that serves as a simple e-transfer alternative to the traditional payment process.
Different Coupon Codes and Discounts on NET-A-PORTER
The website brings to you a number of deals from time to time. Some deals are offered for a long time while others are available for a limited period only. Customers can save big on their purchases by applying the NET-A-PORTER codes.
Currently, customers can earn 5% cashback if they shop with the merchant via a registered account at ShopBack.
How to Redeem Coupons and Vouchers at NET-A-PORTER?
You can use the NET-A-PORTER discount code 2019 available in order to earn cashbacks and discounts. NET-A-PORTER coupons can be redeemed easily when shopping online.
Here is a step-by-step tutorial on how to redeem coupons and vouchers at NET-A-PORTER:
Step 1: Choose your preferred product and click "Add to Cart".
Step 2: Proceed further to the Checkout page. Then enter your email and delivery information.
Step 3: On the payment screen, enter the discount code in the box under the Order Summary section.
Step 4: Choose your payment method and enter the details to complete your purchase.
How to Shop on NET-A-PORTER using ShopBack?
ShopBack offers 5% cashback on products if you shop from NET-A-PORTER. These steps will help you avail NET-A-PORTER cashback from ShopBack:
Step 1:
Select NET-A-PORTER from the list of brands on the ShopBack homepage, or use the search box to find a link to NET-A-PORTER website.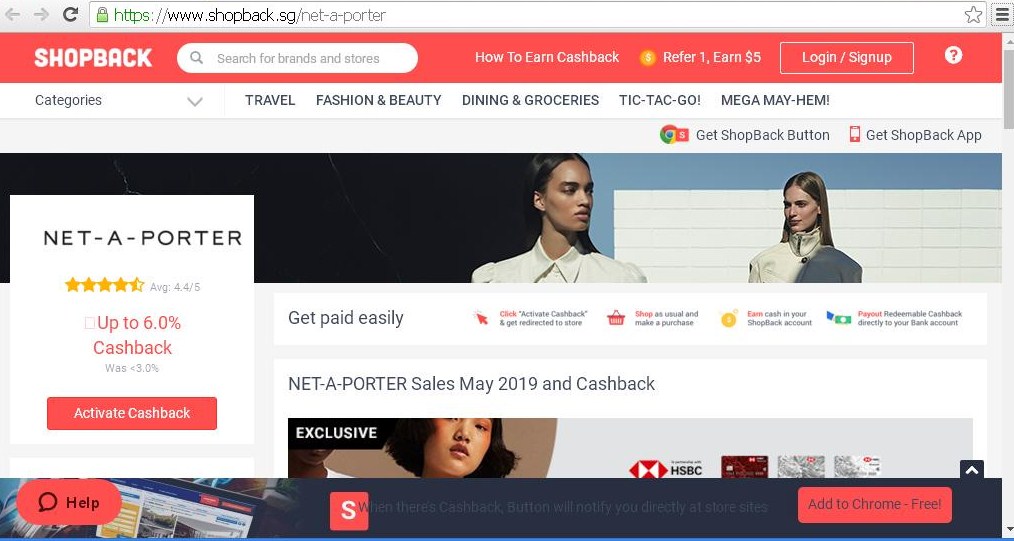 Step 2:
Read the terms and conditions and other relevant information such as cashback details and tips to ensure cashback.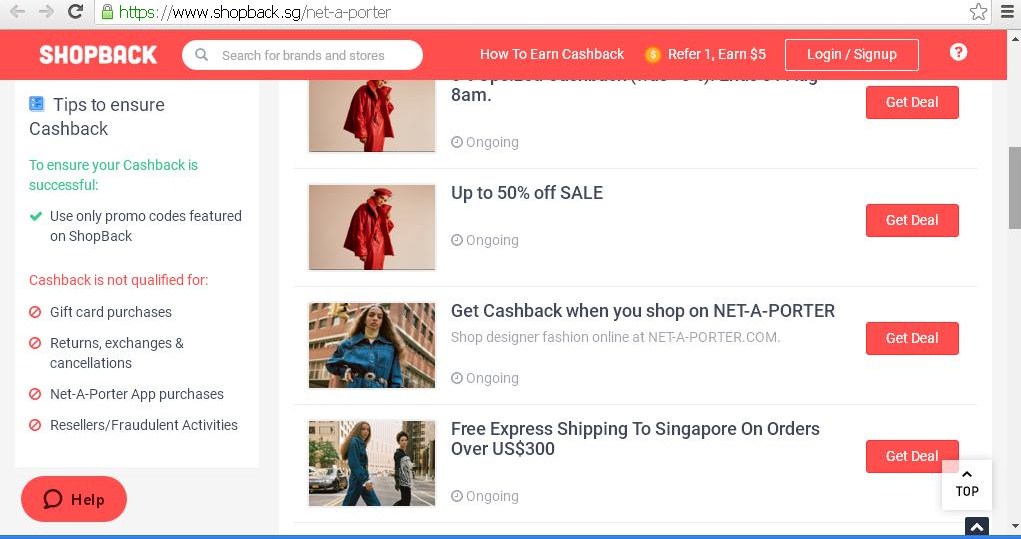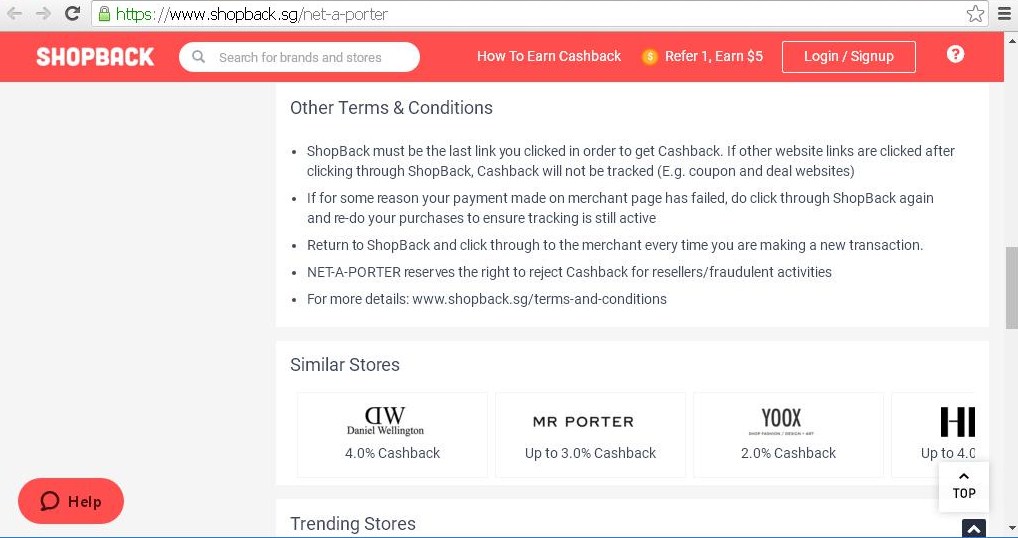 Step 3:
Click Activate Cashback on the left.
Step 4:
You can find more attractive deals by checking out the 'Discounts + Cashback section.
Step 5:
You will be directed to the NET-A-PORTER website to browse and select the products you intend to buy.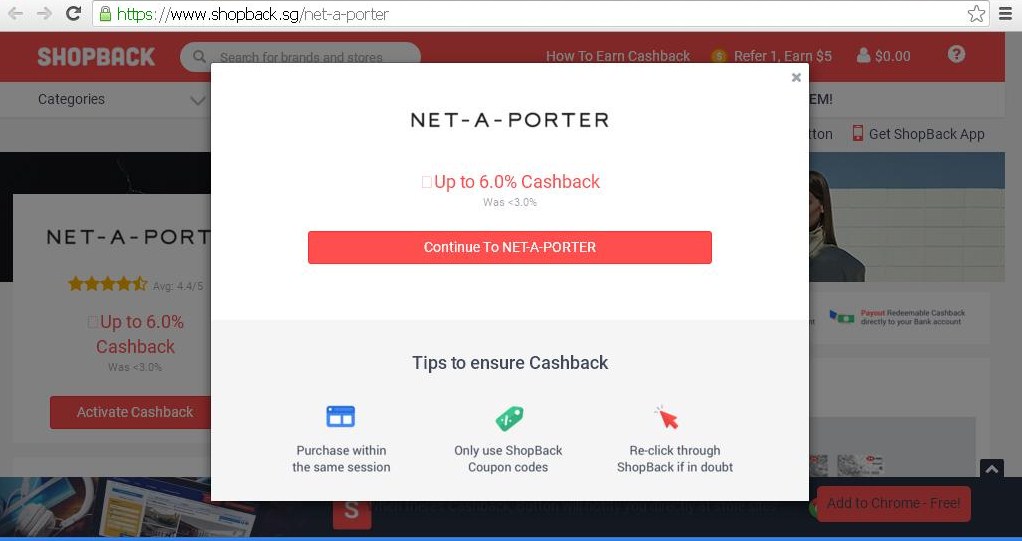 Step 6:
On placing the order, you will be eligible to earn cashback from ShopBack. There may be a variation in cashback rates based on your history with ShopBack. Cashback offer is not applicable on purchases made via the NET-A-PORTER app.
NET-A-PORTER Shipping and Return Policy
NET-A-PORTER shipping costs vary with the shipping destination. It offers free shipping during the 'free shipping NET-A-PORTER promotions . Duties and taxes as well will be applicable as per the policies in different locations. Once your order is dispatched, an e-mail with your order tracking number will be sent to you. Registered customers can also re-schedule the delivery date, keep it on hold or collect it from any of the DHL service points.

Shipments will be dispatched within 24 to 48 hours after the order is placed. The company also offers an option to insure your order items.

Exchanges, Returns and Refunds:

You can exchange/return your order within 28 days from the date of delivery. The products must be unused (with all the tags intact) and sent back to the warehouse. However, specific items like beauty products and gift cards cannot be returned. Refer Returns and Exchanges for more information. Note that refunds will be made in the form of either store credit or as refund amount back to your bank account. Refunds may take up to 10 working days to reflect in your account.
NET-A-PORTER Customer Service
For any inquiry or help, customers can visit their support page by clicking on the 'Customer Care 24/7 option at the bottom of the homepage. You can also email them to [email protected] or contact them on +44 330 022 5700 (24/7) or browse through the FAQ s for some of the frequently asked questions.