Hone Your Green Thumbs With Click and Grow!
Click and Grow works towards making fresh, vitamin-packed food available for everyone on this planet. It uses science and technology to naturally optimize plant growth. Believing that everyone deserves to enjoy clean fresh food, these high-quality indoor gardens can be grown almost everywhere. From Hong Kong to Alaska, these have proven to provide people with the perfect starting point to grow their own fresh food and take back control over what they feed their body; as it is said, you are what you eat!
This system works on its own where you just have to water it once in a few days and the Smart Soil keeps water distributed evenly inside the nanostructure. It helps the plant roots have access to water at all times. It makes sure plants get the optimal configuration of oxygen, water and nutrients and have the perfect pH level. The growth medium is made with natural and renewable materials. It is completely organic with no use of fungicides, hormones, pesticides or other harmful substances.
History of Click and Grow
Click and Grow just celebrated its 5th birthday on October 20th. It was founded on October 20, 2009 by Mattias Lepp. The idea sprouted in 2005 when Mattias Lepp, a choir director read about NASA s aeroponics solution and was inspired to change the way people grow plants. After years of research, Mattias created the idea of Smart Soil in 2009, a technology which is now the backbone of Click and Grow. In 2010, Mattias won "Ajujaht", the biggest Estonian entrepreneurship competition. In 2013, the company introduced the Smart Herb Garden, raising over USD 625,000 through Kickstarter. It was another happy moment when Barack Obama became a proud owner of the Click and Grow Smart Pot.
With over 3,50,000 indoor gardens and farms sold so far, it has reached a point where customers are growing their own garden in the kitchen to enjoy a more balanced and cleaner diet. This growing community now has thousands of happy customers enjoying fresh food at home through sustainable methods.
Products Sold by Click and Grow
Check out the amazing products sold by Click and Grow Singapore:
Plant Pods
- You can choose from a variety of plant pods such as Oregano plant pods, Mini Tomato plant pods, French Marigold plant pods, Cilantro plant pods, Basil plant pods, Rosemary plant pods and much more! With these ready-to-grow plants, you can set up your own mini garden at home, free of hassles.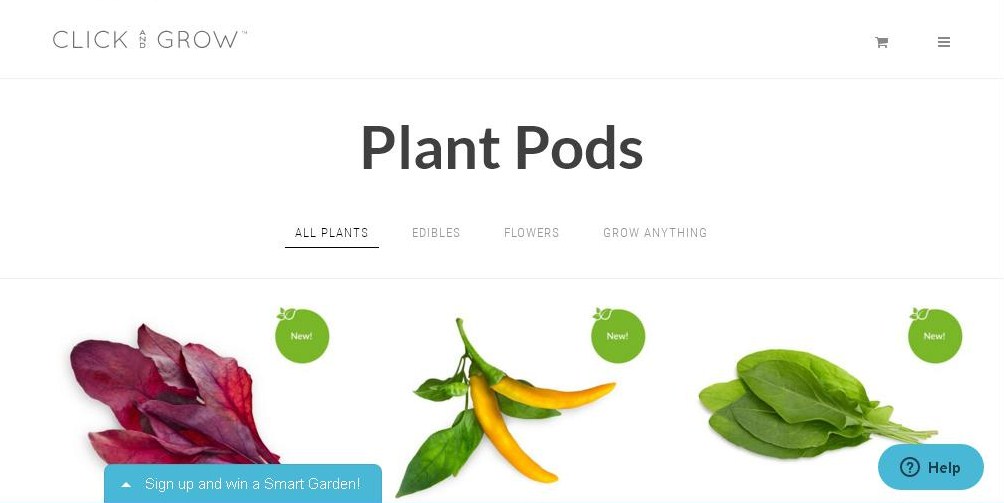 Indoor Gardens
- Fabricating your own indoor garden has never been so easy! Browse through the different categories of indoor farms/smart gardens available at Click and Grow and get your very first gorgeous home garden today.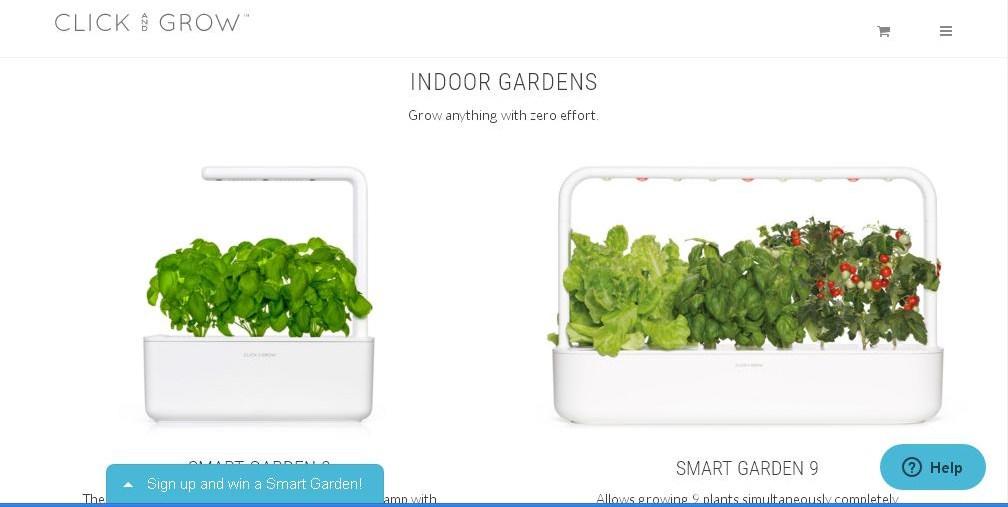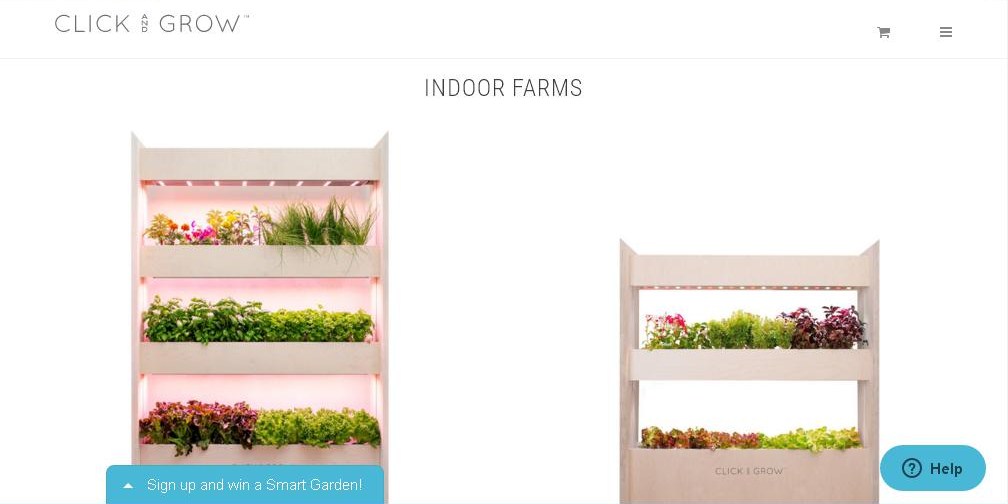 Accessories
- At Click and Grow, you can also shop for essential accessories like the Plant Stand, Smart Garden Plastic Cup, Smart Garden 3 Extension Arm, Water Transmitting Wicks etc. that make your indoor gardening experience simple and easy!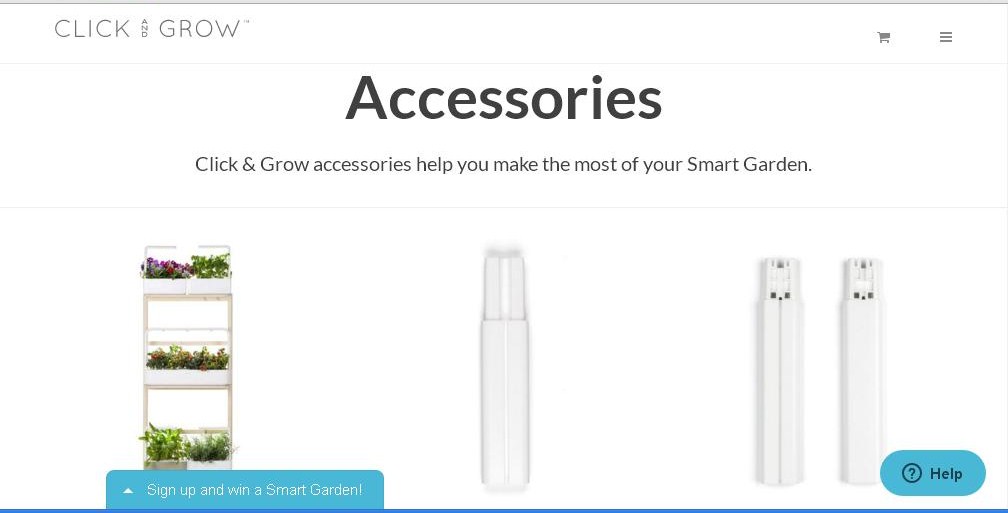 How to Shop at Click and Grow?
Click and Grow offers an easy approach to shopping online. When you click on the top right hand icon, it will display a list of product categories that you can browse. It also provides online help for any kind of information that you need. Get your queries clarified by clicking on the bottom right hand 'Help option and listing out your questions.
The homepage includes general information about its products and a video describing the process for growing nutritious plants at home.
Payment Options on Click and Grow
Shopping is easy and enjoyable at Click and Grow. It accepts credit or debit cards and PayPal mode of payment.
Card Payment: Customers can shop with their credit and debit cards including VISA, Discover, MasterCard or American Express. Simply enter the card number, date of expiry and CVV/CVC to proceed with payment.

PayPal: A popular payment method, PayPal links your bank account while creating PayPal account. This speedy payment method requires you to just login and pay, while also offering cashbacks and discount codes on a regular basis.
Different Coupon Codes and Discounts on Click and Grow
The website offers a number of click and grow discounts, click and grow deals and click and grow coupon codes/click and grow voucher codes to its customers from time to time. Some such click and grow special deals are offered for a long time while other click and grow special offers are available for a limited period only. Consumers can save a lot of money on their selected products by applying the click and grow coupon, click and grow voucher, click and grow code/click and grow promo code, click and grow discount code or click and grow voucher code that the online store offers during click and grow sale, click and grow deals and click and grow promotions.
At present, customers can earn 5% cashback if they shop with the merchant via a registered account at ShopBack.
How to Redeem Coupons and Vouchers at Click and Grow?
Online shopping is a boon when you get plenty of opportunities to save on your purchase. Click and Grow offers click and grow codes/click and grow discount coupons/click and grow discount vouchers that can be redeemed to earn cashbacks and discounts on products. You can redeem click and grow coupons, click and grow vouchers or click and grow special discount easily when shopping on Click and Grow. Apply the click and grow code or click and grow voucher code on the checkout page. Once the click and grow discount code/click and grow discount voucher/click and grow discount coupon/click and grow promo coupon/click and grow promo voucher are applied, select your preferred payment method and enter the payment details to complete the transaction.
How to Shop on Click and Grow using ShopBack
ShopBack offers 5% cashback on items if you shop from Click and Grow. Take a look at the steps to be followed to earn cashback from ShopBack:
Step 1:

Select Click and Grow store from the list of brands on the ShopBack homepage or use the search box to find a link to Click and Grow store.

Step 2:

Read the terms and conditions and other relevant information provided, such as the cashback details and tips to ensure cashback.

Step 3:

Hit the Activate Cashback button that can be found on the top left corner.

Step 4: You can also find more attractive deals and click and grow discount codes by checking out the click and grow coupon codes, Discounts + Cashback section.

Step 5:

You will be directed to the Click and Grow website to browse and select the products you intend to buy and receive click and grow cash back.

Step 6:

On placing the order, you will be eligible to earn Click and Grow cashback from ShopBack. There can be a variation in cashback rates based on your history with ShopBack, i.e. whether you are an existing or new customer. Cashback offer is not applicable on purchases made via the Click and Grow app.
Click and Grow s Shipping and Return Policy
They offer free shipping on orders costing more than 50$.

You are eligible for a full refund up to 30 days after product delivery, provided the pods/garden are unused, items are placed in the original package, in the original condition and the proof of product purchase is provided (confirmation email or order number). Once the package is ready, contact their support team at https://support.clickandgrow.com/hc/en-us/requests/new for further assistance.

The return shipping fees must be covered by you.

Plant pods can be replaced if: the plant looks pest-affected, has a disease or shows no germination after a period of three weeks.

If pods or gardens are purchased via other websites/resellers/retail partners, they will not be eligible for refund through us.

All the Indoor Gardens are covered with a 2-year warranty. Warranty replacement will be available, provided the product was bought within the last two years and a proof of purchase is provided. If purchased via resellers/other websites/retail partners, the original receipt must be provided.

The company will cover shipping charges for warranty replacement or warranty return requests. In case your return does not come under warranty, the shipping charges will have to be borne by you.

In case of damaged packages, you are required to report it to the company within 5 business days from the date of delivery.
Click and Grow Customer Service
For any inquiry or help, customers can contact the Click and Grow customer service by visiting their support page or by sending an email to the following id: [email protected]
Follow Click and Grow on: