Click & Grow Deals, Offers & Cashback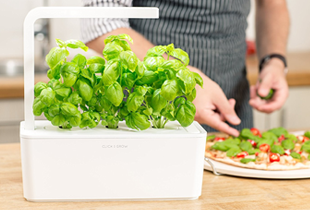 Click & Grow: Free Shipping On Orders Over $50
ShopBack must be the last link you clicked in order to get Cashback. If other website links are clicked after clicking through ShopBack, Cashback will not be tracked (E.g. coupon and deal websites)

If for some reason your payment made on merchant page has failed, do click through ShopBack again and re-do your purchases to ensure tracking is still active

Return to ShopBack and click through to the merchant every time you are making a new transaction.

If you are making 3 separate transactions on the merchant, you should click through ShopBack 3 times, each time before making a new purchase.

For more details: www.shopback.sg/terms-and-conditions
Recent Articles
More about Click & Grow
Grow yourself a beautiful garden with Click & Grow!
Are you looking for ways to beautify your humble abode? There is no better way to do so than by adding a few plants here and there about the house. With Click and Grow, you can now easily grow plants with zero effort – all it takes is literally a click and you're ready to grow your own potted greens! After making your Click & Grow purchase, you will receive a box with detailed instructions on how to assemble your pot. Using the latest high technology including the Smartport refill, unique growth sensors and smart Nano soil, Click and Grow makes sure that growing plants or herb gardens at home is easy and completely fuss-free. Albeit the high technology and innovation involved in plant-growing, rest assured that all plants are grown naturally. All Click & Grow deliveries will take place within a span of 4-7 work days – it'll be no time at all before you can start cultivating your green thumb at home.
Find out more on the latest technology from Click & Grow? Here's how Clickandgrow plants work.
Interested to know more about what is so great about the technology used by Click & Grow? These are the technologies that ClickandGrow have adopted for their plant growing:
Using the Capillary Precision Irrigation (CPI) system, and Electronic Precision Irrigation (EPI) respectiely, the Smart Herb Garden and Smartpots make sure that just the right amount of water is given to your plant, so you don't have to worry about forgetting to water your plants anymore!
Rest assured that Click & Grow uses the most professional plight retreated and coated seeds, assuring a close to 100% rate of germination. The antioxidant and flavor levels have also been found to be 3 times higher than that of your local supermarket basil!
The Click & Grow Herb Garden includes a 6-watt built-in light source, making sure that your plant is exposed to eye-friendly LED technology. Your plants will be exposed to over 10 000 lux of light while only adding a mere $3 to your electricity bill. That's right, Click and Grow continues to help you save even after you've made use of the Click and Grow special deals and sales.
With high tech Dual Coated Fertilizers used, Click and Grow ensures that the plants are continually provided the perfect amount of nutrients that it needs to sprout big leafy greens. This revolutionary technology monitors the temperature of the surrounding environment as well as the stage of growth of the plant to determine the exact amount of fertilizer to provide for the plant.
Software controlled plant growth
Smartpot refill has a microchip that automatically adjusts the growing conditions, unique to the qualities and characteristics of your plant. Never have to worry about your plants dying ever again!
NASA inspired Nano Smart Soil
The difference between Click & Grow Smart Soil and regular soil is more than just its texture and look. The Click & Grow Smart Soil has a specially formulated structure, such that the roots receive extra aeration as compared to when regular soil is used. Click & Grow Smart Soil is also clean and manageable – it is neither dirty or muddy.
Be sure to catch all of the Click and Grow sale offerings and other great discounts
Now, you can enjoy free shipping for all Click & Grow orders with a min. spending of $40! You can also keep your eyes and ears peeled for exclusive Click and Grow special offers as well as Click and Grow discount code deals released from time to time. That's right, you don't have to burn a hole in your pockets just to have your own beautiful little garden at home.
ShopBack Singapore gives you Click and Grow cash back offers that you don't want to miss
Just by shopping at Click and Grow through ShopBack Singapore, you will earn 15% cashback with no questions asked or no min. spending! All you have to do is follow these simple steps, and you're on your way to getting the best savings for your online plant shopping:
Sign up for an account or sign-in with ShopBack.
Select the cashback Click and Grow discount link on ShopBack, and get redirected to the Click and Grow website.
Choose desired Click and Grow product and add it to the shopping cart.
Enter any available Click and Grow discount code or coupon and proceed to make an online payment.
Your Click and Grow product is on the way. Automatically receive 15% cashback for your Click and Grow purchase! Do note that cashback may take 1-2 days to appear in your ShopBack account.
Connect with Click and Grow to get the latest news on Click and Grow discount code offers, Click and Grow coupon code offers and many more
If you don't want to miss out on the latest Click and Grow special offers, or simply just can't get enough of ClickandGrow, then head over to clickandgrow.com, or follow ClickandGrow on Facebook and Twitter. Alternatively, you can also follow them on the ClickandGrow blog to keep up to date with the latest indoor garden trends and more. Also, join the Click and Grow mailing list in order to be one of the first few to learn about the latest Click and Grow discount code offers and Click and Grow special deals. You don't want to miss out on great Click and Grow offers online! For more enquiries, feel free to check out the Click & Grow help and support centre, where the detailed FAQ will answer your general queries.
Looking for other great deals similar to that of Click & Grow? Then be sure to check out these other online stores now: Homebase, Fave and HipVan. There are many other great options for decorating your living space as well as not-to-be-missed deals and discount codes from the Home & Living section on ShopBack Singapore. Be sure to check out all the best cashback deals on our ShopBack website, and we wish you a pleasant online shopping experience ahead.
| Cashback | Coupons | Details |
| --- | --- | --- |
| To enjoy 7.5% cashback with Click And Grow, make sure ShopBack is the last link you click prior to landing on the merchant's website. | Terms and conditions are applicable for all Click And Grow coupons. | Cashback excludes taxes, fees, services charges and discounts from store credits and Click And Grow coupons. |