Myprotein is Europe s top online sports nutrition manufacturer based in Cheshire, UK. It is a subsidiary of The Hut Group. Customers can purchase supplements, protein powders, vitamins, high-protein foods and snacks. The company takes great pride in providing a great selection of products at reasonable prices. Their products also include a range of dietary needs for vegetarians, vegans and for those who are looking for dairy-free and gluten-free products. Apart from sports nutrition, customers can find an interesting range of sportswear with amazing designs and performance fabrics.
Myprotein produces all their products in-house, thereby cutting down third-party expenses. The state-of-the-art manufacturing facilities and advanced testing methods ensure that customers get the best quality products. Myprotein offers Myprotein discounts from time to time and you can view these on the website.
Myprotein s History and Awards
Myprotein was founded by Oliver Cookson in 2004 and it was acquired by the British e-commerce company, The Hut Group, in June 2011. The company has grown considerably since its establishment. Given below are some of Myprotein s achievements and awards.
2007 – voted Young Company of the Year at the prestigious Growing Business Awards.
2009 – won Regional Award for Small to Medium Sized Business of the Year for the North West of England at the National Business Awards.
2009 – ranked 21st in Sunday Times Fast Track 100
2015 – highly commended for the Judges Special Award in the Best Factory Awards for the Warrington provision.
2017 – The Hut Group won International Growth Retailer of the Year at the Retail Week Awards
2018 – The Hut Group listed in Greater Manchester Ward Hadaway Fastest 50 growing companies
2018 – The Hut Group won The Queen s Award for Enterprise
Products sold by Myprotein
Myprotein is a one-stop shop for your sportswear and nutrition. The products on offer are perfect to fulfil your gym and sports requirements. These products are available for both, women and men. Checkout the website for Myprotein deals to purchase your requirements at discounted prices. A short preview of product categories available on the Myprotein website is provided below.
Nutrition –
Whether building muscles, losing weight or achieving your fitness goals, various options in this category will help you choose the apt product for your requirements. A wide range of protein powders – whey, casein, plant-powdered and non-dairy options are available. Amino acids, creatine, vitamins, minerals, food, snacks, carbohydrates, fibre and essential fats are available on the website.
Clothing & Accessories –
Fulfil your fitness goals by wearing the amazing sportswear available on the website. Women can shop for leggings, hoodies, sweatshirts, t-shirts, tops, vests, jackets etc. There is a wide range of jackets, hoodies, bottoms, tights, shorts etc., available for men as well. Accessories available are gym accessories, hats, gloves, bags, backpacks, underwear, socks and so on.
Range –
In this category, you can find a range of Myprotein nutrition. The products meet the quality standards and are reasonably priced. They are not only healthy but tasty too. The sub-categories here include protein powders, creatine, aminos, carbohydrates, fibres, food and snacks.
Dietary Needs –
In this category, the range of nutrition is grouped into vegan, vegetarian, gluten-free, dairy-free and organic.
Health and fitness goals –
In this category, you can shop for products for gaining muscles, losing weight, enhancing general health and improving sports performance.
The below table provides information about the categories and sub-categories available in the website.
| Myprotein Product Category | Products |
| --- | --- |
| Nutrition | Protein, Amino acids, Creatine, Weight management, Pre, intra and post workout, Vitamins & mineralsFood & snacks, Carbohydrates, Fibre & essential fats, Accessories |
| Clothing & Accessories | Men s clothing, Women s clothing, Collections, Accessories |
| Ranges | Core, Myvitamins, Myvegan, Pro, Myprotein bars & snacks |
| Dietary Needs | Vegan, Vegetarian, Gluten free, Dairy free, Organic |
| Health & Fitness Goals | Gain muscle, Lose weight, Improve general health, Improve sports performance |
| Others | Help & Information |
How to Shop at Myprotein?
Myprotein website is simple and user-friendly. The homepage provides information about the latest Myprotein offers and Myprotein promo codes, highly recommended products, best sellers, product categories and so on. The header contains product categories. The Search box at the top end can be used to find the required products.
This section explains how to shop for products using the categories provided in the website header. Click on a category to view a list of sub-categories.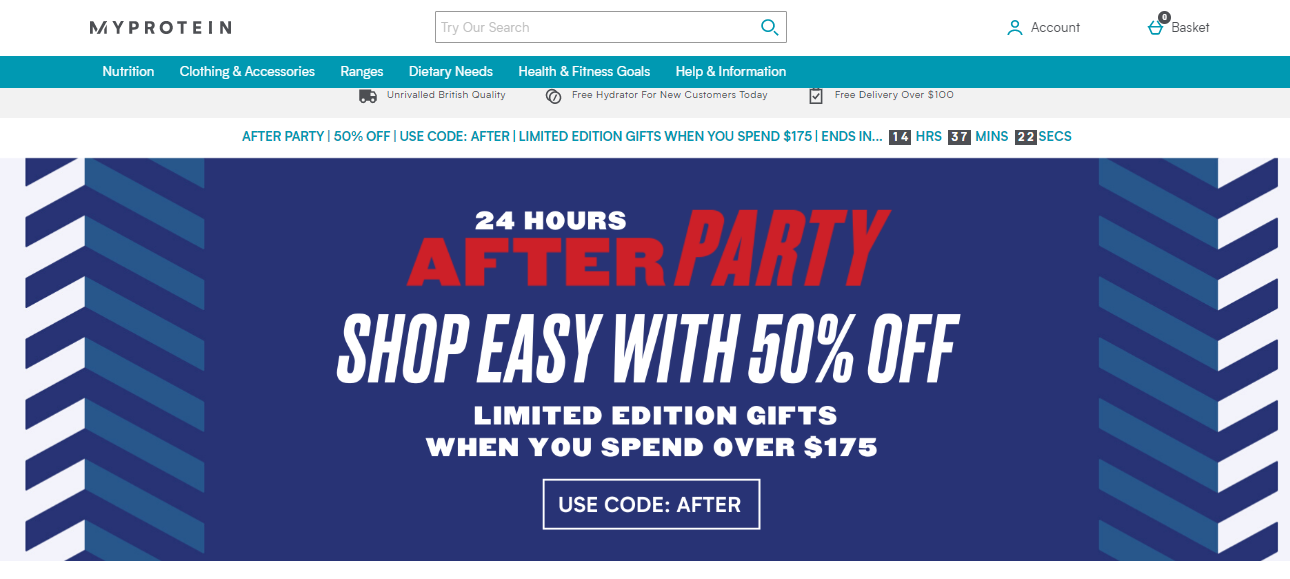 Click on the required sub-category. A page containing the products is displayed on the screen. Click on the product you wish to purchase. In case of nutrition, you can refine your search based on product category, flavour, diet, volume, price and reviews. In case of clothing, the options available are sport clothing, clothing size, colour range and price. The price of the product is provided below the image.
After you click on the required product, you can view the product page. Go through the information provided such as product overview, key benefits, ingredients, nutritional information, customer reviews etc. you might also find a Myprotein code in this page. To purchase the product, click on the "Add to basket" button.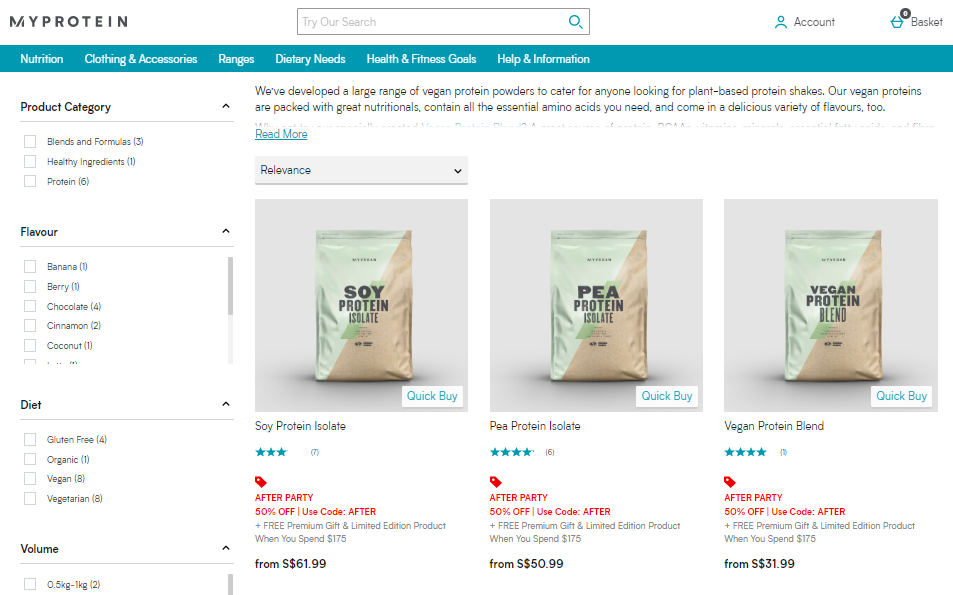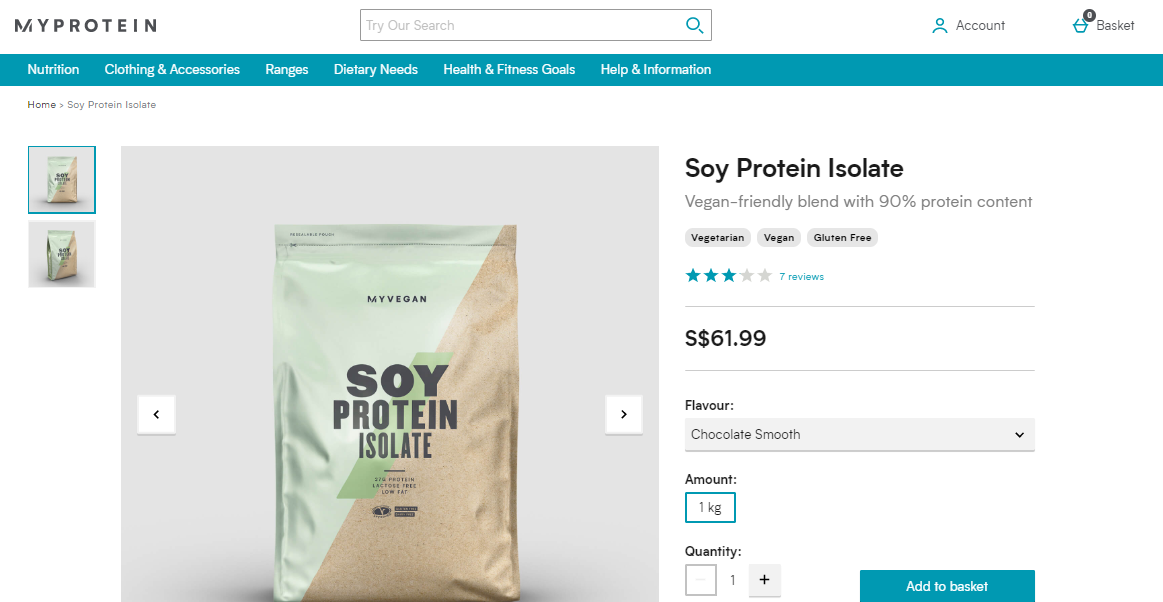 After this, 'Your Shopping basket page is displayed on the screen. If you have a Myprotein promo code or Myprotein discount code, enter it in the 'Use discount code box and click the "Use Code" button. After this, click on the "Checkout Securely Now" button to continue with the purchase process.
In the next page, you have the option to register or checkout as a guest.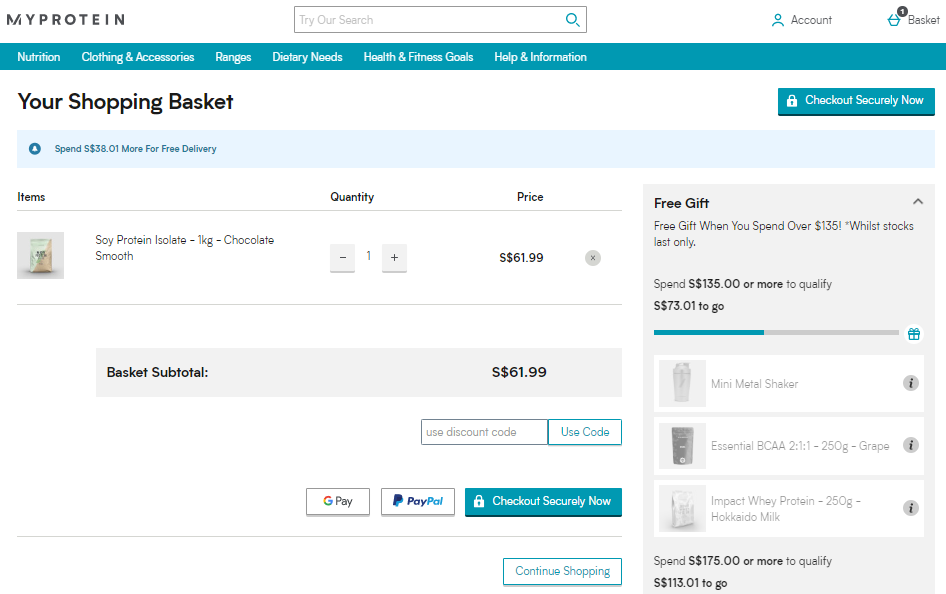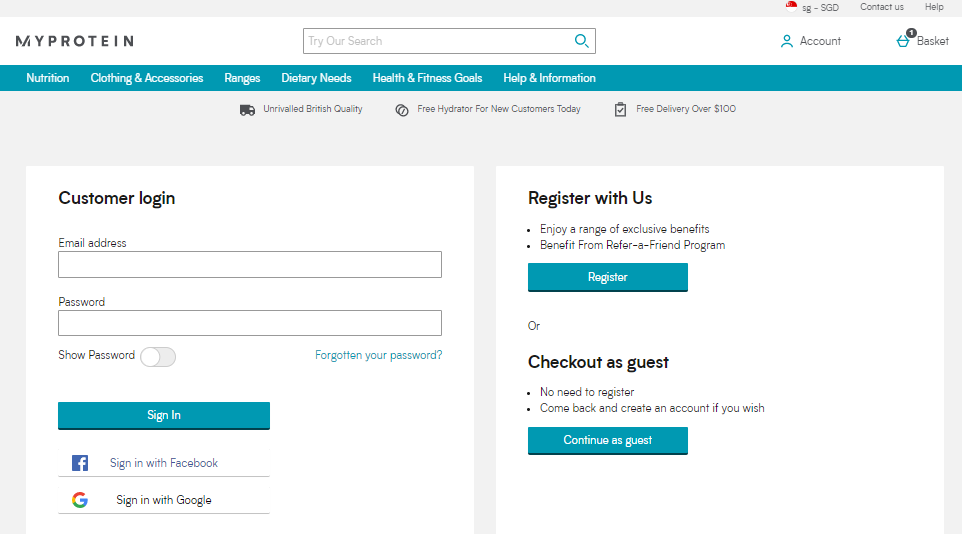 If you check out as a guest, you can view the Email and delivery address page. Enter the email and delivery address and select the delivery option and payment method. After this, click the "Submit My Order" button to confirm your order. You will receive a confirmation email with your order and delivery details.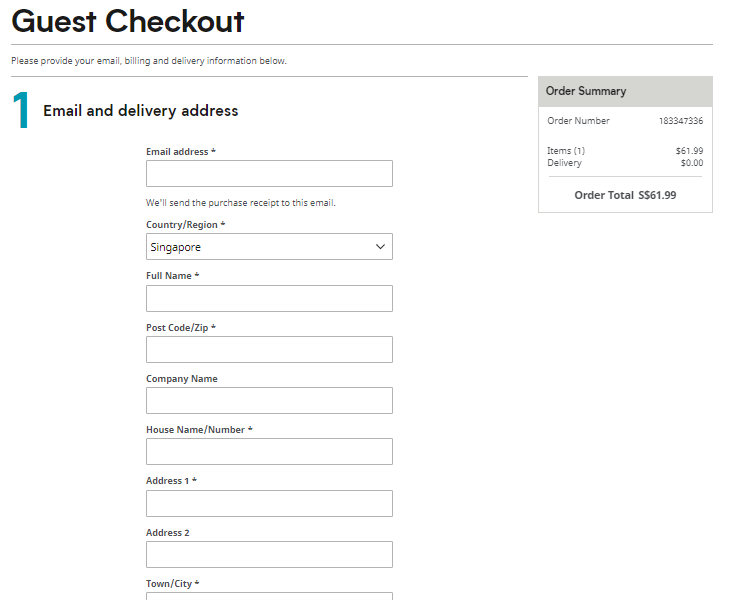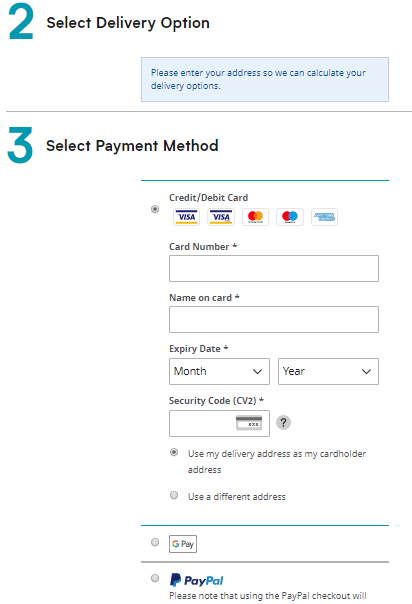 Check the website for Myprotein promotions and Myprotein sales. This is a great time to shop at discounted prices and save money. To avail Myprotein voucher codes, click on 'voucher codes in the Loyalty and Rewards section of the homepage.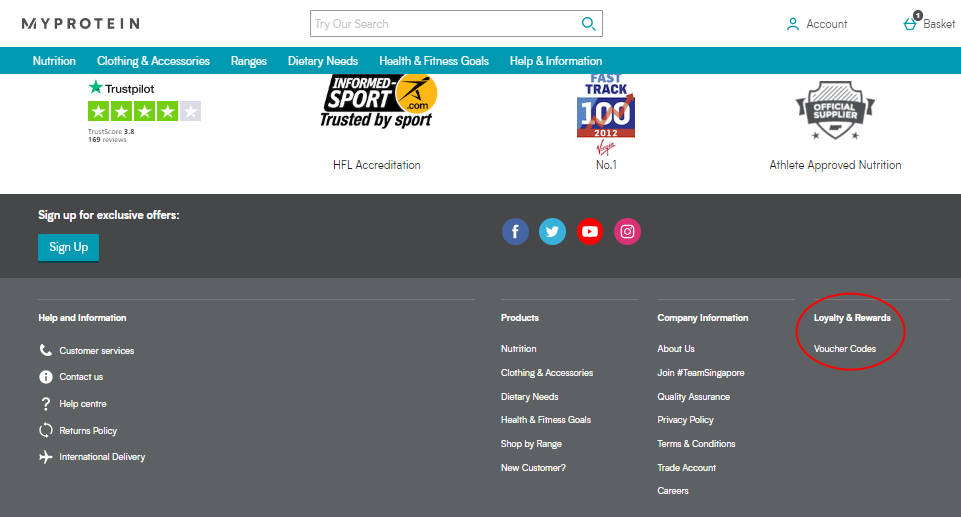 Payment Options on the Myprotein Website
Myprotein.com offers multiple payment options to its customers. The following are the payment options available on the website:
Payment via cards:
Customers can use their American Express, Maestro, Mastercard or VISA debit/credit cards to make payments.
Google pay:
Another option that you can use to make payments on the website is Google Pay. It is a digital wallet platform and online payment system developed by Google that enables users to make online payments using their Android phones, tablets or watches.
PayPal:
Customers can also make payments via PayPal, a secure online payment system that lets you make digital transactions.
MyProtein Coupons and Vouchers
Myprotein website offers a number of Myprotein vouchers and Myprotein deals that make your shopping experience a delightful one. Apart from Myprotein, several other websites offer coupons, vouchers and cashbacks. For example, currently Shopback is offering discount codes, coupons and cashback to all those who purchase Myprotein products via a registered account on Shopback.
How to Redeem Coupons and Vouchers at Myprotein?
Redeeming coupons and vouchers on the Myprotein website is a simple process and can be completed in just a few clicks.
Here is a step-by-step tutorial on how to redeem coupons and vouchers at Myprotein.com:
Step 1:
Select the item that you wish to buy and click on the "Add to Basket" button.
Step 2:
In the 'Your Shopping basket page, enter Myprotein promo code or Myprotein coupon code in the 'Use discount code box and click the "Use Code" button.
Step 3:
After this, click on the "Checkout Securely Now" button.
Step 4:
Proceed to the Checkout page and fill in details such as shipping address.
Step 5:
Select the payment method as per your convenience and enter payment details to complete the transaction.
You have successfully redeemed your coupons and vouchers at the Myprotein online store.
How to Shop on Myprotein using Shopback
Customers registered on Shopback can now earn Myprotein cashback by shopping for products on the Myprotein website via a registered account on Shopback. Follow the steps given below to earn the cashback:
Step 1: Visit the ShopBack website and select Myprotein store from the list of merchants and brands on the homepage. You can also use the search box to find the link to the Myprotein store.
Step 2: Go through important information given in 'Cashback Details , 'Tips to ensure cashback and 'Other Terms and Conditions sections.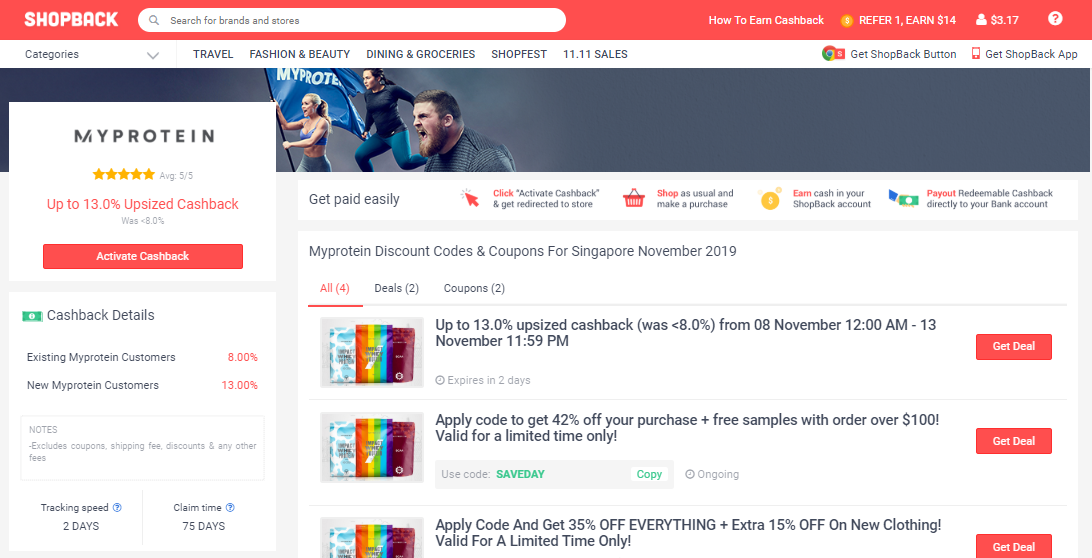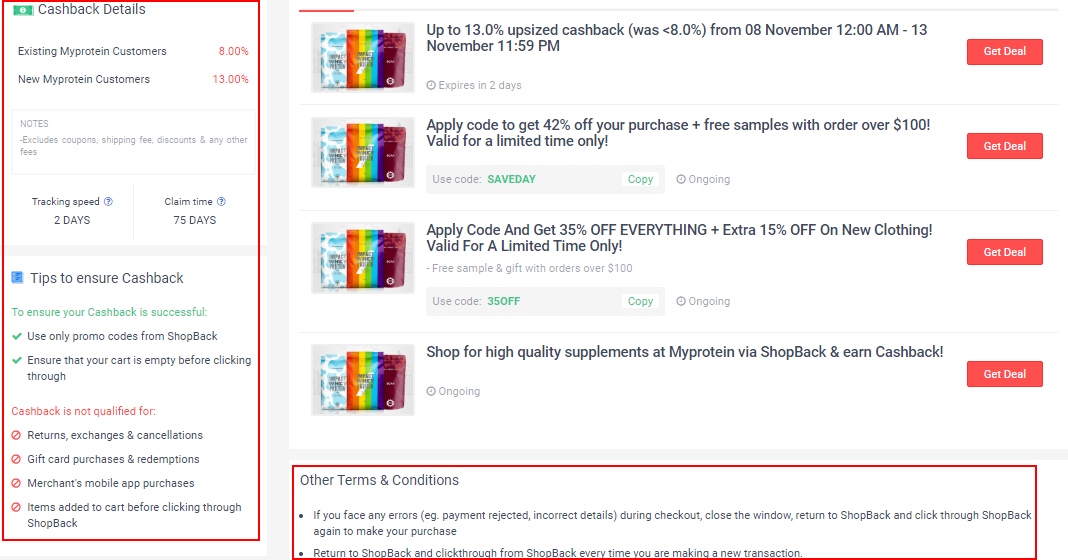 Step 3: For more attractive deals and coupons, check out the deals and coupons section.
Step 4: Click on the Activate Cashback button located on the top left corner of the page.
On clicking the button, you will be redirected to the Myprotein website to browse and select products that you intend to buy. Please note that cashback is not qualified for returns, exchanges and cancellations, and also for items added to the cart before clicking through Shopback.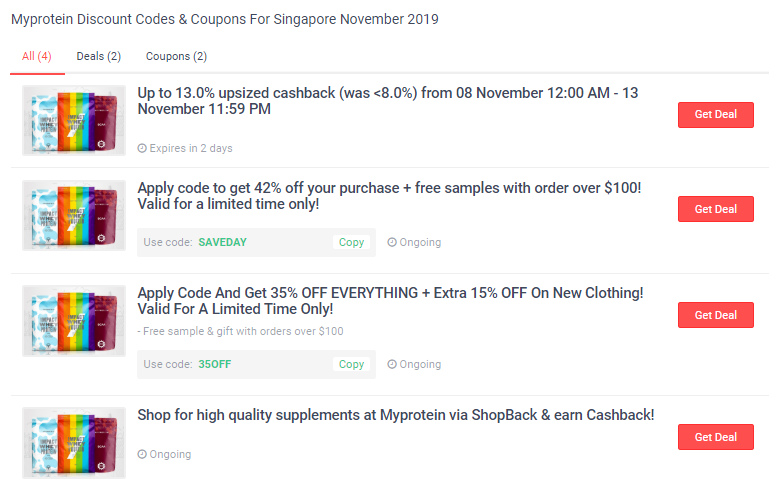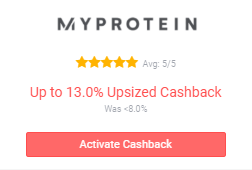 Myprotein s Shipping and Return Policy
Given below is Myprotein s shipping policy for Singapore.
Myprotein offers free delivery on orders above $100.

Customers can track the delivery.

Products will be delivered within 6 to 9 working days.

Delays can be caused due to public holidays and bad weather conditions.
Customers will be charged $15 on orders below $100.

Customers can track the delivery.

Products will be delivered within 6 to 9 working days.

Delays can be caused due to public holidays and bad weather conditions.
Visit the Myprotein website to view international delivery policy.
Given below is Myprotein s return policy.
Make sure that you get a returns authorisation number before returning any items to Myproteins.com.

You can cancel your order within 14 days, which starts on the day after you receive the item.

Items to be returned must be unused and in original packaging. Also, the security seals/tags must be intact.

In case you receive a wrong item, the company gives you a refund or replacement. You will have to return the item in the same condition you received it and within 14 days from the day you received it.

In case you receive a damaged or faulty item, contact the company s customer care.

In case you do not receive the item, you will receive a refund or a replacement. You must inform the company within 21 days from the day on which you received a confirmation email from them about the items being dispatched.
Myprotein Customer Service
Click here to contact Myprotein s customer care services in case of queries or feedback.