Microsoft store is an online platform where consumers can find a wide range of Microsoft products. The store is a trustworthy platform for purchasing a variety of Microsoft products such as their signature PCs, tablets, gaming consoles, gaming accessories, software and much more. The concept of Microsoft Store is similar to that of Apple Store and aims to provide superior services and smooth shopping experience to its customers by deploying not just store staff, but also technical advisors and specialists to assist them. So, sit back, relax and purchase the best quality gadgets and software from Microsoft Store with just a few clicks. Electronics shopping had never been so easy!
History of Microsoft Store
Microsoft Store began with a retail store in Metreon in San Francisco in 1999 which was owned and operated by Sony Retail Entertainment. However, this store operated only for two years. In 2009, the technology giant built a 'Retail Experience Center in their Redmond, Washington headquarters where they revealed their plans to establish its own retail stores chain.
In October 2009, Microsoft launched Windows 7 and with it they also inaugurated their first Microsoft retail store in Scottsdale, Arizona. In just a few days, the company opened another store in Mission Viejo, California. In the next year, Microsoft opened 5 more stores and continued to expand in California, Colorado, Illinois, Georgia, Missouri, Minnesota, Texas and Washington. Not only the USA, but the company has also established retail stores in several countries in North America, Asia-Pacific, Australia and United Kingdom since 2012.
Products Sold on Microsoft Store
Microsoft is a household name that needs no introduction. The online store of the company sells a variety of devices and software that are used almost ubiquitously across the globe. What makes Microsoft Store even more appealing is the fact that the store offers some of the most advanced and high-functionality products at affordable costs under the Microsoft sales.
Here is a brief discussion of the categories of products sold on its online platform.
Office:
One of the most widely used software, Microsoft Office has gradually become a must-have product for every work space. This intuitive and user-friendly software will surely improve your productivity by making your work more streamlined and secure. Simply buy its subscription and use this cloud based software to organize your data.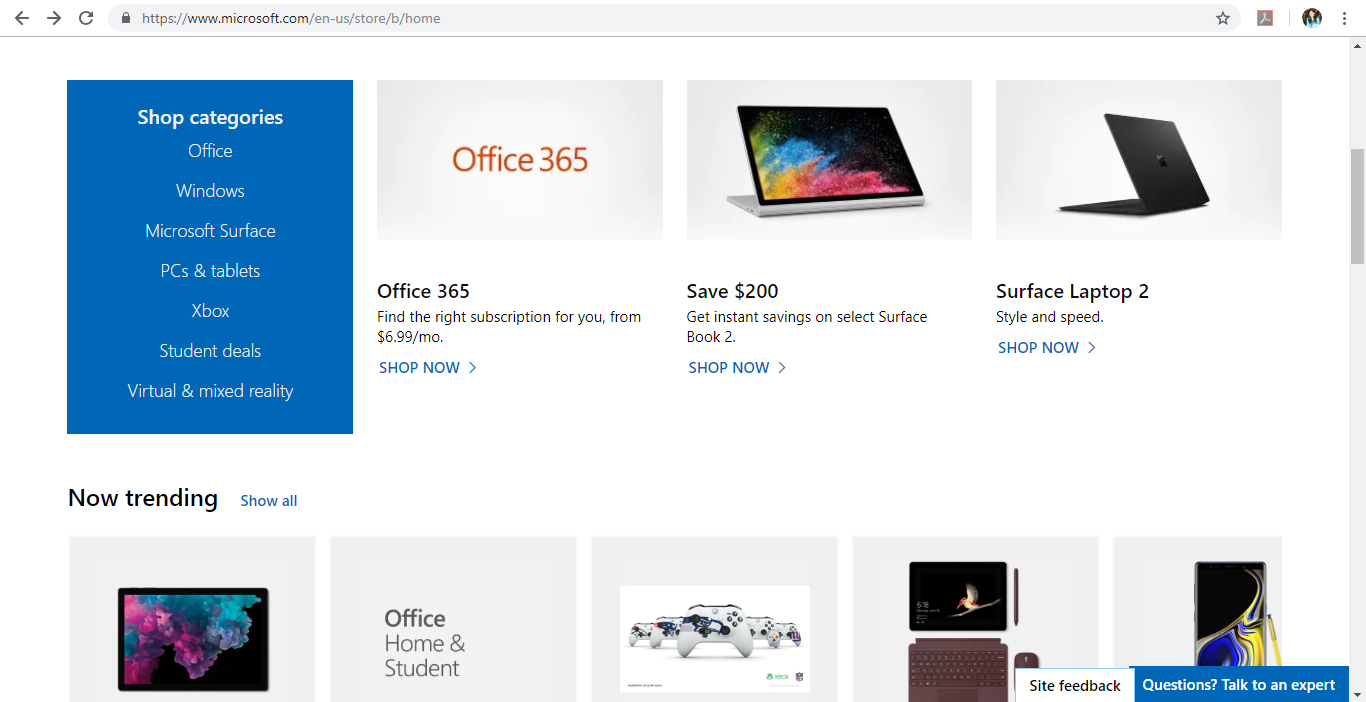 Windows:
Customers can buy all the latest versions of Windows 10 including Windows 10 Home, Windows 10 Pro and Windows 10 Pro for Workstations. Those who want to upgrade their old Windows or install Windows on their Mac device, must explore this category.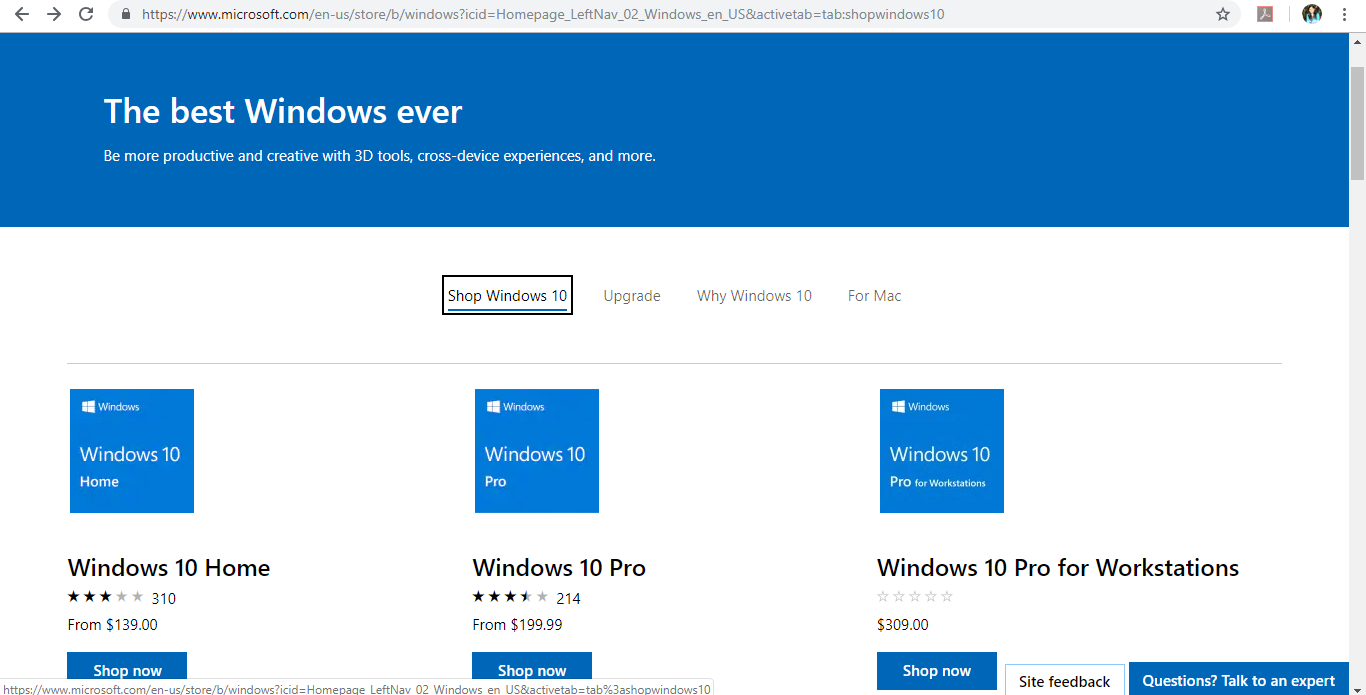 Microsoft Surface:
This category features all the latest surface laptops and accessories by Microsoft. Explore this category to find the best quality and configuration laptops in the market that will boost your productivity by several notches.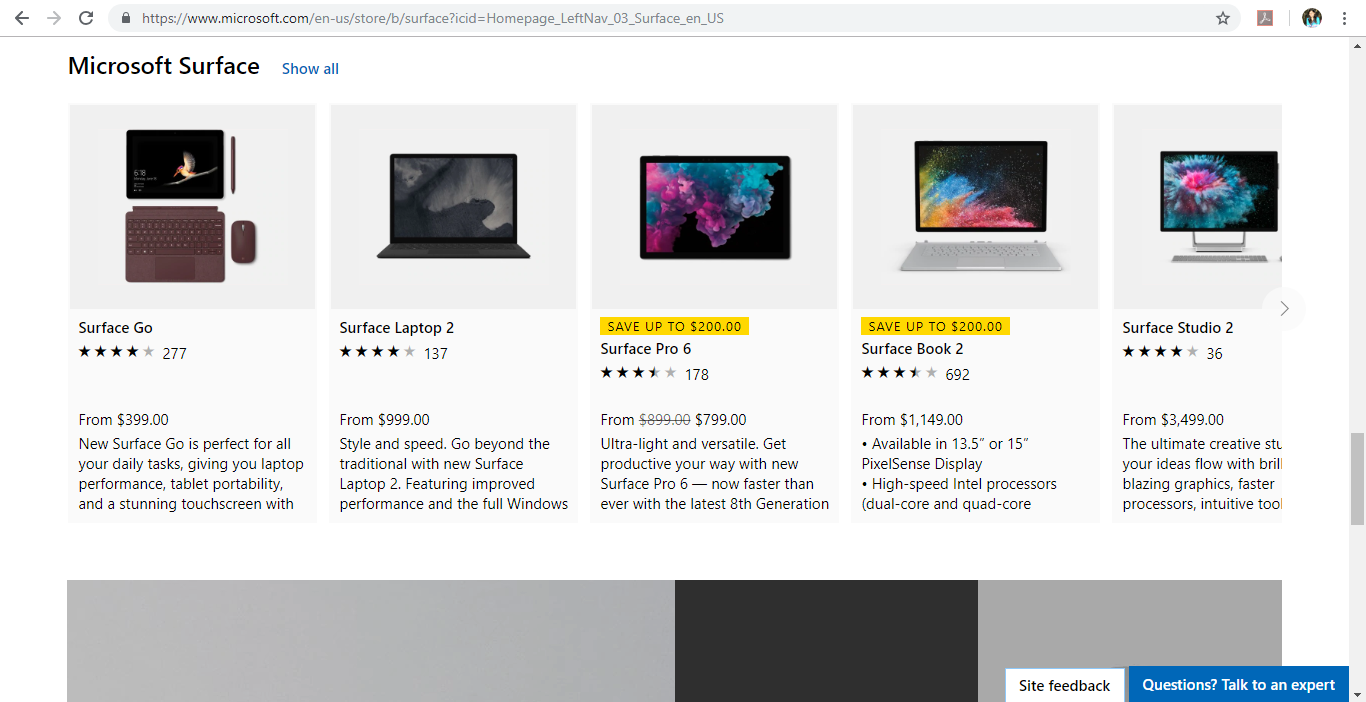 PCs and tablets:
For the convenience of their customers, Microsoft has carefully curated all its signature laptops, desktops and tablets under this category. Simply go through the catalogue and purchase your dream digital device with just a few clicks.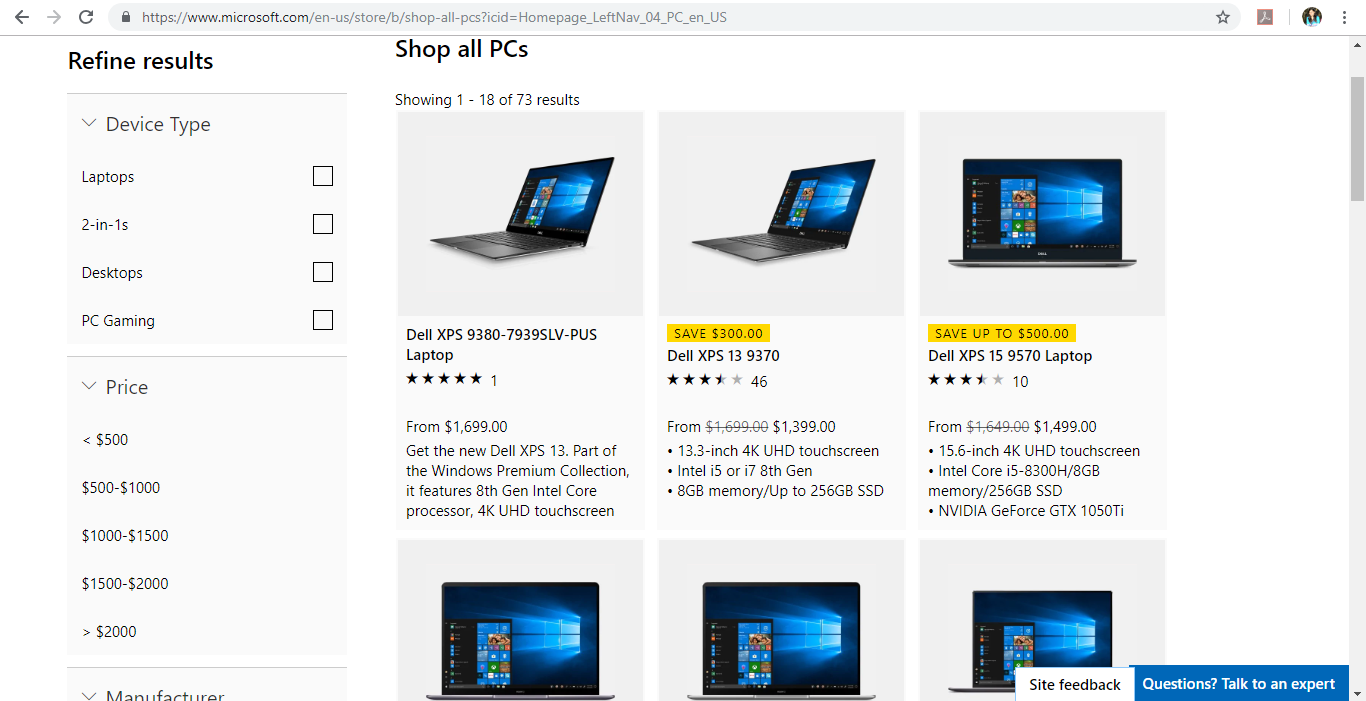 Xbox:
This category is a heaven for all the gaming aficionados. The category features various Xbox consoles, Xbox games, Xbox accessories, Xbox gears, gift cards and deals that can incredibly enhance your gaming experience.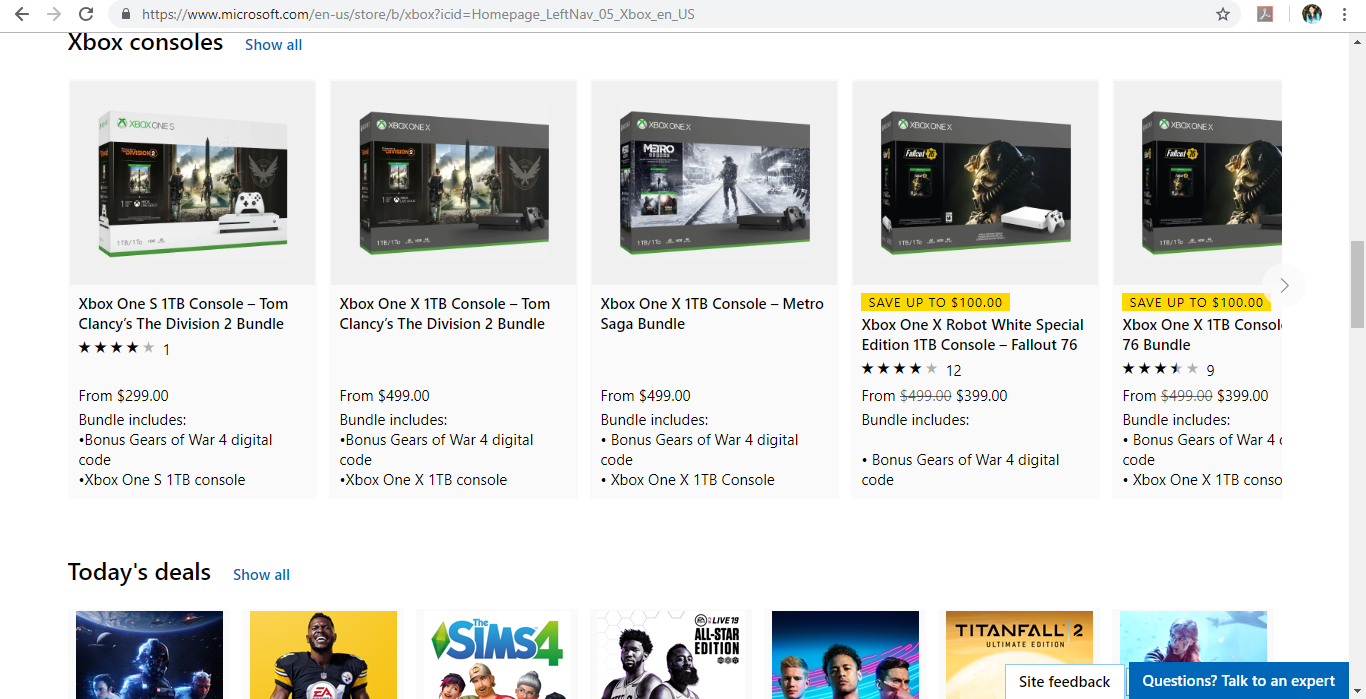 Virtual & Mixed Reality:
Microsoft always ensures that their customers get the best experience with their products and this category definitely takes the experience of users a notch higher. Products like Microsoft Hololens, Windows Mixed Reality headsets, VR-ready PCs, VR Headsets and accessories can be purchased here for a superior virtual experience.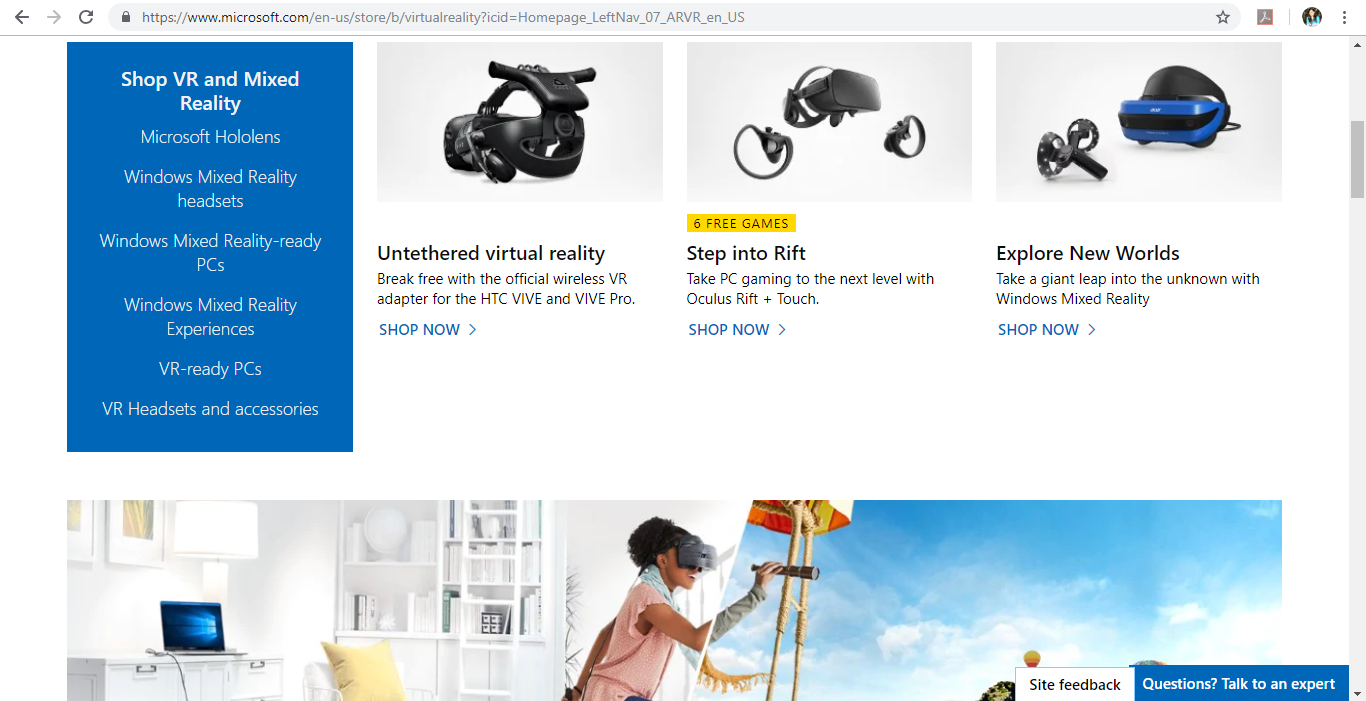 How to Shop at Microsoft Store
Microsoft Store offers a user-friendly and intuitive interface to its customers that is very easy to navigate. Click on the lens icon on top right corner of the homepage to initiate a product specific search. To shop through the various product categories, follow the procedure given below:
On the homepage, customers can find various categories listed on the header such as Devices, Software, Games & Entertainment and more. Customer may either click on one of these options or scroll down a little to view the 'Shop Categories list featuring all the different categories of products.
Click on the category that you want to explore and you will be directed to the page displaying all the sub-categories or products under that category. Select a product of your choice by clicking on it.
You will land on the product listing page. Scrutinise the product information carefully and once you are satisfied with your choice, click on 'Add to Cart . A box will appear where there are two options, to 'continue shopping or 'view cart . Click on the option you want to proceed with.
On the cart summary page, you can redeem a Microsoft promo code or Microsoft coupon by entering the Microsoft code in the 'Add a promotion code section. Click on 'Checkout button to proceed further
On the next page, provide your shipping address, contact number, payment information and review your order before clicking on 'Place Order button.
Payment Options on Microsoft Store
Microsoft Store provides the following payment options.
Credit or Debit Card:
Microsoft accepts all major credit or debit cards such as VISA, MasterCard and American Express. This payment option is a safe and secure way to transfer money online.
PayPal:
PayPal is another trusted online payment system that can be used by customers to pay for their orders. This secure online money transfer channel is one of the most popular means of transactions and can be used anywhere in the world.
Different Coupon Codes and Discounts on Microsoft Store
Microsoft offers many discounts and deals to its customers from time to time. Some Microsoft discounts are offered for a long time while some Microsoft discount codes are available for a limited period only. Customers can save a lot of money on the products available on the website by applying the Microsoft coupon codes or Microsoft voucher codes that the online store offers in Microsoft sale.
At present, the customers can earn up to 8% cashback on Microsoft surface devices if they shop with the merchant via a registered account at ShopBack. There are some other Microsoft deals that can be availed via ShopBack such as 3% cashback on Digital Goods, Xbox Live 1/3/6/12; $3 cashback on Office 365 (Monthly Subscription); $5 cashback on Office 365 (Yearly Subscription) and the like.
How to Redeem Coupons and Vouchers at Microsoft Store
Online shopping can be a very rewarding experience where customers get plenty of opportunities to save money on their purchase. Several websites offer Microsoft codes and Microsoft vouchers that can be redeemed to earn cashbacks and discounts on products.
Here is a step-by-step tutorial on how to redeem coupons and vouchers at Microsoft Store:
Step 1: Select a product that you that to purchase and click on 'Add to Cart .
Step 2: On the cart summary page, enter your Microsoft promotion code that you may find under Microsoft Sale, in the 'Add a promotion code section. The deduction will be updated accordingly.
Step 3: Click on checkout button to go to the next page.
Step 4: Proceed further by providing shipping information, contact number and payment information to complete the transaction process.
How to Shop at Microsoft Store using ShopBack
You can earn up to 8% cashback on various items via ShopBack. Here are the steps to be followed to earn Microsoft cashback from ShopBack:
Step 1: Visit the ShopBack website and select Microsoft store from the list of merchants and brands under electronics category. You can also use the search box to find the link to Microsoft store.
Step 2: Read the terms and conditions as well as any other relevant information provided such as the cashback details and tips to ensure cashback.
Step 3: Click on Activate Cashback button on the top left corner of the page.
Step 4: If you are looking for more attractive deals and coupons, check out the Microsoft Online Store Discounts, Coupons & Vouchers section.
Step 5: You will be directed to the Microsoft Store website to browse and select the products you intend to buy.
Step 6: You will be eligible to earn cashback from ShopBack on placing your order. The cashback rates might differ based on your history with ShopBack, i.e. whether you are a new or an existing customer.
The cashback offer is not applicable on purchases made on Microsoft Store app, gift card purchases and returns & exchanges.
Microsoft Store s Shipping & Return Policy
Microsoft offers free shipping on all products. The shipping time depends on the destination country.
Products that are eligible for returns and exchanges must be returned within 30 days from the date of purchase or download, as applicable. The eligible product must be returned in new condition and in its original packaging, along with all parts, components, instruction manuals and documentation that were initially included. This Return Policy does not affect any statutory rights that may apply to your purchase.
Packaged software and games must be returned with their seal intact and must include all media and product keys. As a limited exception, software and game packages that have been opened may be returned during the return period if you are unsatisfied with the license agreement or warranty, but only if you do not make or retain any copies.
Some items are not eligible for return; unless otherwise provided by law or by a particular product offer, all purchases of these types of products are final and non-refundable:
digital apps, games, in-app content and subscriptions, music, movies, TV shows, and associated content;
gift cards and service/subscription cards (e.g., Skype, Xbox Live, Groove Music Pass);
products that have been personalized or customized;
special order products, if not part of a Store promotional offering;
random access memory (RAM) products;
services that have been performed or consumed; and
Clearance items or those marked with a designation such as Final Sale or Non-Returnable.
Microsoft Store Customer Service
For any assistance or enquiry, customers can chat with the Microsoft virtual agent or refer to their support page.
Connect with Microsoft Store at: