Viator Promo Codes and Cashback on ShopBack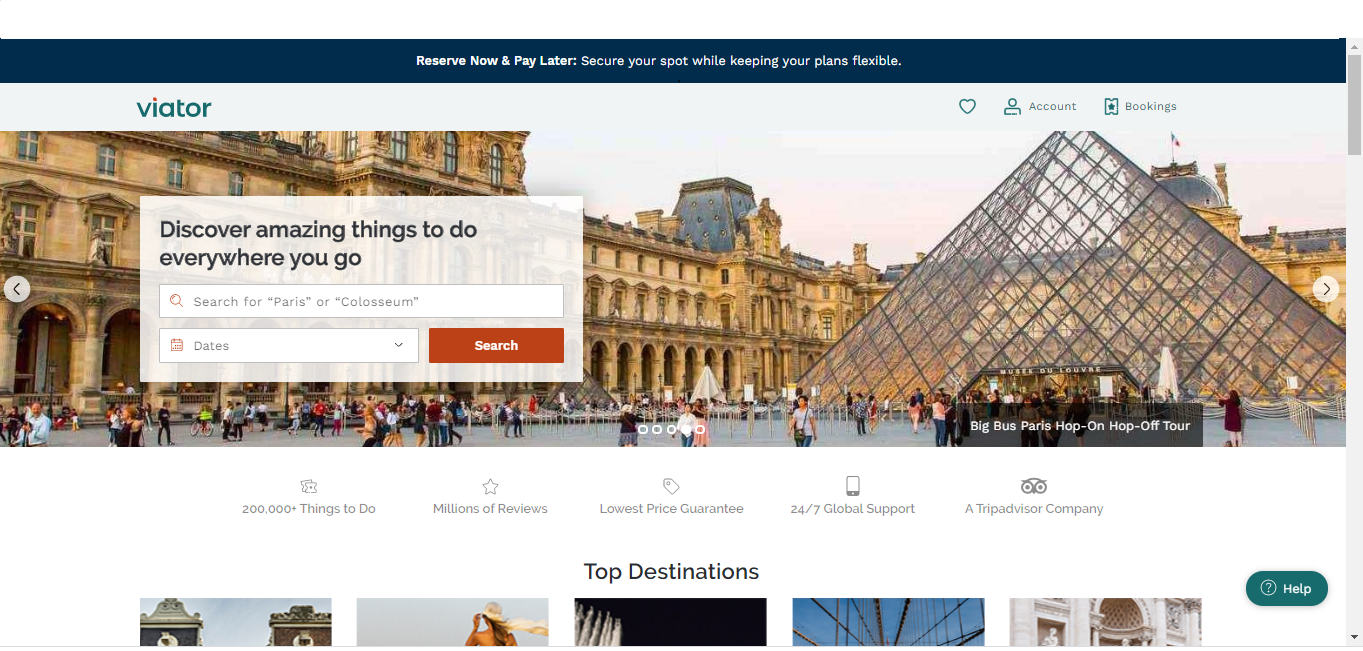 Viator is a TripAdvisor company, offering more than 200,000 tours and activities to travellers. It provides customised and pre-designed tour activities which can be easily accessed from any part of the world. Travellers can make advance bookings or book on-the-go packages to explore many exciting and fascinating international destinations. Their 24-hour cancellation policy, pocket-friendly rates and 24/7 multilingual customer support makes them the first choice for millions of customers. Viator has many hop-on hop-off tours for many hot international destinations like Rome, Amsterdam, Dubai, New York, Las Vegas, etc.
Some great deals in the past include:
Bag great Viator deals and Viator promotions, and enjoy savings on your tours and activities from Viator with ShopBack.
How to Find Viator Codes and Promotions
Tourists have plenty of ways to save a lot of money by claiming pocket-friendly deals on Viator. By using Viator vouchers and Viator codes, you can get the lowest prices on your bookings. ShopBack is another recommended option to earn cashback and save even more. On the ShopBack website or app, log in to your account and visit the Viator page. Receive timely updates, offers and Viator coupons by subscribing to the ShopBack newsletter. Sign up also with Viator and subscribe to their newsletter to receive location-specific emails and Viator promo codes.
Types of Viator Offers Available on ShopBack
Save money and revel in exciting tours and activities booked on Viator. As a tourist you can grab some good deals at Viator while booking a tour or activity via ShopBack. There are several Viator discount codes and Viator cashback offers available on ShopBack, which you can utilise on your bookings on Viator. Avail deals like free cancellation on bookings at least 24-hours in advance, discounted tour packages and Viator voucher codes through ShopBack. Along with Viator discounts, reap the benefits of cashback on every booking done on Viator through ShopBack.
Maximise Your Savings When Shopping at Viator
Relax, explore and maximise your savings by getting the best out of your bookings on Viator. Just follow a few basic steps to save more. First, sign up with ShopBack to receive regular updates on Viator discounts and deals. Viator coupon codes are also frequently updated on our ShopBack website. Be it any time of the year, you will always find great deals to suit your needs. Before finalising your bookings on Viator, check out the different deals and coupons available on ShopBack to save more money on your trips. Immediately earn cashback rewards on your bookings done through ShopBack and withdraw them in future. Keep in mind that your Viator promo code should come from ShopBack in order to receive cashback.
Promotional Benefits from Viator
You can enjoy various promotional benefits of advertised specials during Viator sales. These advertised specials like Viator promos are automatically applied upon checkout, and help you save money on your tours and activities. Also, occasional Viator promo codes are sent via email to registered members. Special discounts and prices are given to children, seniors and students in many Viator tours and activities.
How to Get Cashback with ShopBack
Getting cashback from ShopBack is super easy. A new customer must create an account with ShopBack and sign up for their newsletter subscription. Existing customers can simply log in and look up the Viator page listed on ShopBack. Click on the Shop Now button to be redirected to the Viator website. Explore the various interesting tour packages and activities listed on Viator s website, choose and make your bookings. Upon confirmation and payment, you will receive your cashback reward from ShopBack. Never forget to check the different value deals and coupons available on ShopBack before booking any tour or activity on Viator.
Get the latest updates on Viator tours, packages and activities via their social media channels here: