Trip.com Is You One-stop Travel Booking Website!
Trip.com is one of world s best travel agencies known for its impeccable services to book flights, hotels, trains and the recently added car rental services, all at reasonable rates. It is owned by CTrip, world s second largest travel agency. With more than 1.2 million reservable hotels, apartments and resorts, flights that can be booked to more than 5,000 cities all across the world, easy availability of train tickets to travel in Mainland China, UK and South Korea, and car rental services in more than 8000 cities, Trip.com ensures that its clients are spoilt for choice! Apart from their website, Trip.com can be accessed via their mobile app available on iOS and Android. The online platform is available in 13 different languages that include English, Traditional Chinese, Russian, German, Korean, Japanese, Malaysian, Spanish, Indonesian, French and Thai. The mobile app features Filipino and Vietnamese too.
Trip.com has become a favourite among customers because of the interesting offers like Trip.com cashback, Trip.com coupon and Trip.com discount deals, to name a few.
In September 2017, Chinese travel giant CTrip surprised a lot many in the travel industry by buying the petite US startup, Trip.com. This tiny firm, formerly known as Gogobot, was set up in 2010 by entrepreneurs Travis Katz and Ori Zaltzman. The new website for Trip.com was soft launched in November 2017. Finally, in January 2018, Trip.com was officially launched. CTrip is China s largest travel booking company and also one of the largest in the world. In late 2016, CTrip bought Europe s popular and Scotland-based Skyscanner for about $1.74 billion. In February 2018, a new feature to book South Korean rail ticket was added to the Trip.com website. With this addition, this website became the first third-party to sell Korail tickets online. Also, in March 2018, Trip.com introduced car rental service to more than 8000 cities all across the globe. This service was added on its English website.
Services Offered by Trip.com
Trip.com ensures that all their customers enjoy a wonderful trip, free of hassles and at reasonable rates. The company is popular for booking cheap flights, discounted hotels, train tickets and car services. Thanks to the excellent services and attractive travel deals, Trip.com is successful in increasing its client base. Customers use the Trip.com website or mobile app to book flights, hotels, trains and car services.
Flights
– When booking a flight, users can use Trip.com s advanced flight search engine to filter out cheap flights based on airline, price, duration, departure time, arrival time and halts. Their impressive flight network has almost all parts of the globe covered, which makes booking flight tickets via Trip.com and travelling a delightful experience.
Hotels
–When booking a hotel via Trip.com app, you can search hotels based on price, deals, facilities, ratings and reviews. You can also cancel or modify your booking. Customers can use this platform to search and book for cheap hotels in their area. Trip.com presents its customers with an extensive range of all kinds of hotels, worldwide, at great prices.
Trains
– Trip.com s website and app spares you the hassle to stand in queue at the railway station to buy your train tickets while travelling within Mainland China, UK and South Korea. For a quick and easy train travel in China, all you have to do is log on to the website, check the required train schedule and book cheap tickets for any high-speed rail route. Trip.com s database is connected with China s train information centre so that users can access the latest information, such as train timetable and ticket rates for all train routes in China. After booking your tickets on Trip.com, you can collect them at any station in Mainland China or request for delivery to a place of your choice. Please note that delivery service is provided in selected cities only.
Cars
– Travellers can rent a car using this website. Trip.com collaborates with more than 100 rental car suppliers to provide services in more than 8000 cities in about 200 countries and regions, at reasonable rates. It also provides multilingual customer service that operates round-the-clock!
How to Book Services at Trip.com?
You can check the website for top flight deals, famous travel destinations, array of hotels, popular trains in Mainland China, South Korea and UK. You can also rent a car in about 200 different countries via Trip.com. You can save some money by using your Trip.com voucher and Trip.com promo codes during booking. You can utilize Trip.com discount code, Trip.com coupon code, Trip.com voucher code or any other Trip.com code during the Trip.com promotion period.
Trip.com homepage contains the following four tabs – Flights, Hotels, Trains and Cars. Click on the corresponding tabs to make your bookings and get additional information.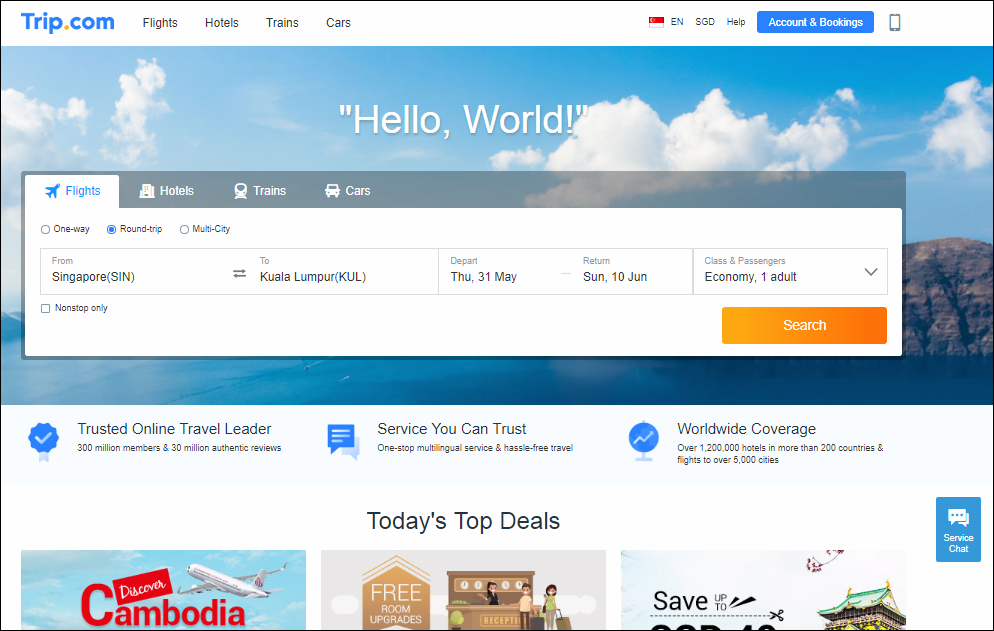 Here is the step-by-step procedure to book a flight via Trip.com.
Step 1:
On the homepage, click on the "Flights" tab. This tab contains the "Search Flights" section and top round-trip flight deals.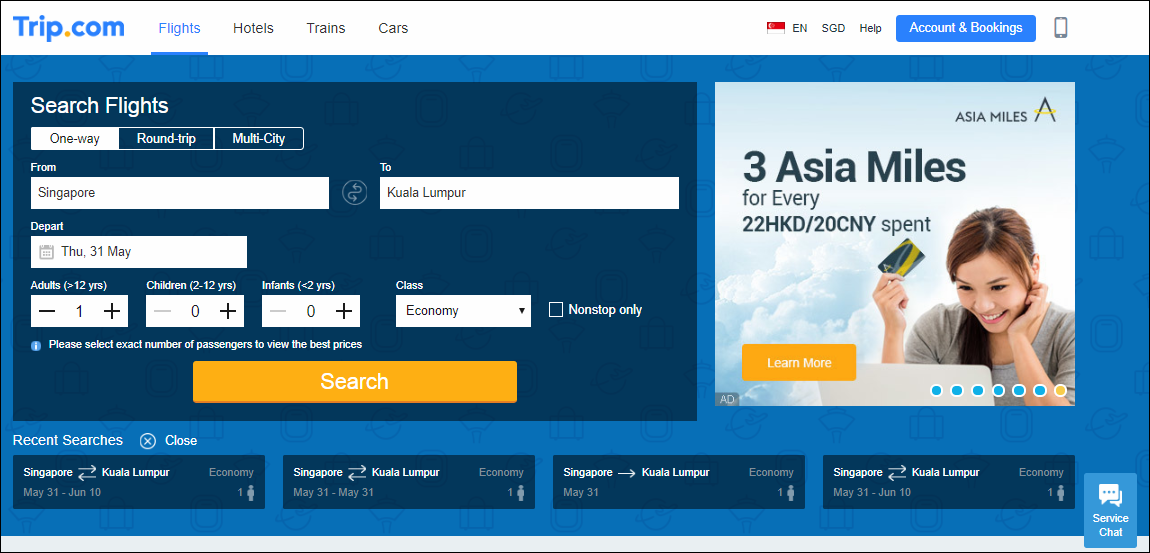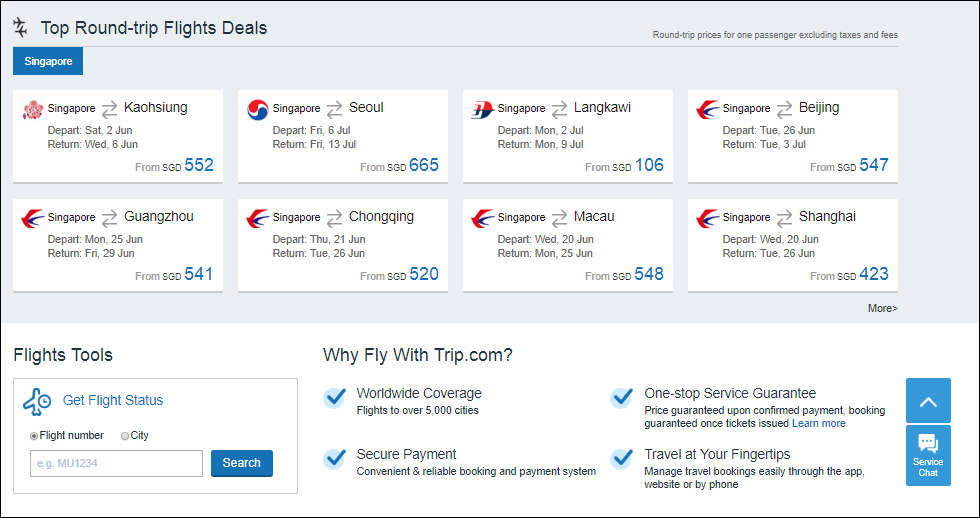 Step 2:
In the "Search Flights" section, select the type of trip, i.e., one-way, round-trip or multi-city. Select the departure and arrival cities, journey dates, passenger details and travel class. Select the 'Nonstop only checkbox if you are looking for nonstop flights. Click on the 'Search button. You will be redirected to the page with a list of recommended flights between the departure and arrival cities along with flight details such as departure and arrival timing, duration of the journey and prices.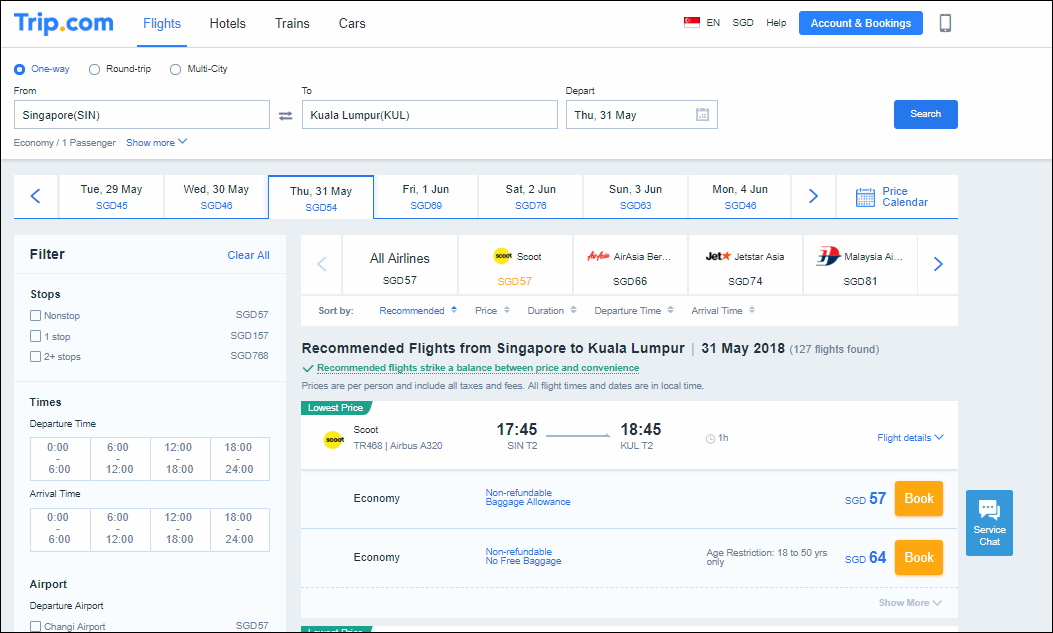 Step 3:
To narrow down the search, you can filter flights based on stops, timings, airport, airlines, travel class, stopover city, stopover duration and passenger type.
Note: Alternatively, you can search flights by selecting the "Flights" tab on the home page of Trip.com. Enter the following details – trip type (one-way, round-trip, multi-city), departure and arrival airports, journey dates, travel class and number of passengers, and click the "Search" button.
Step 4:
In the flights recommended list, click the "Book" button to continue with the flight booking process.
You will be redirected to the page where you can enter your details. If you have a Trip.com promo code, you can enter it in the field provided and avail Trip.com discounts.
Step 5:
After entering your details, click on the "Accept and Continue" button. Here, you can view passenger details along with the contact details. You can also view the fare, taxes and other fees.
Step 6:
Click the "Pay" button to make the payment. You will be redirected to the page, where you can enter your card number and make the payment. After entering the card number, click the "Pay Now" button to confirm your booking.
Similarly, you can book a hotel, train tickets or rent a car via Trip.com using the "Hotels", "Trains" and "Cars" tab, respectively.
Payment Options on Trip.com
Trip.com offers a payment system that is not only convenient but highly secure too.
Debit and Credit cards
: Customers can make their payments to Trip.com through various debit and credit cards, such as, VISA cards, Mastercard, UnionPay, JCB and American Express.
Different Coupon Codes and Discounts on Trip.com
Trip.com members can avail a lot of discounts and deals. To become a Trip.com member, all you have to do is sign up by registering your account. Trip.com promotions make your booking process a delightful one as you can avail of Trip.com coupons and interesting Trip.com offers, which can be redeemed during checkout. To book services with Trip.com at pocket-friendly prices, apply Trip.com promo codes that are available online. A lot of websites offer Trip.com voucher codes and Trip.com coupon codes to help you save some money during the bookings.
How to Redeem Coupons and Vouchers at Trip.com?
Booking services on Trip.com ensures that you have a pleasing experience as you can avail of their best travel deals at affordable prices. You can redeem your coupons and vouchers at Trip.com during the checkout process.
The step-by-step process to redeem coupons and vouchers is given below:
Step 1:
In the homepage, click on the required tab to book your service.
Step 2:
Enter the required details and proceed to the Checkout page.
Step 3:
Fill in your information, such as, name and contact information. Here, you will find a field in the "promo code" section, where you can enter the Trip.com promo code to avail discounts.
Step 4:
In the next page, select the payment method and enter the payment details to complete the transaction.
How to Book Services on Trip.com using ShopBack
ShopBack offers up to 3% cashback on booking flight, hotels and train services on Trip.com. Perform the following steps to earn cashback from ShopBack:
Step 1:
Visit the ShopBack website and select Trip.com from the list of merchants and brands on the homepage. You can also use the search box to find the link to Trip.com store.Step 2: Go through the necessary information given on the website, such as, cashback details, tips to ensure cashback, and terms and conditions.
Step 3:
Click on the Activate Cashback button located on the top left corner of the page.
Step 4:
For more attractive deals and coupons, check out the Trip.com Discount Codes, Promo Codes & Coupons section.
Step 5:
You will be redirected to the Trip.com website to browse and make your bookings.
Step 6:
You will be eligible to earn cashback from ShopBack after you confirm your booking.
The cashback offer is not applicable on returns, exchanges, cancellations and changes in bookings. It is also not valid for gift card purchases, Ctrip app purchases, voucher codes that are not listed on Shopback and credit card promotions.
Customers must comply with certain laws and regulations of the People s Republic of China while using the services offered by Trip.com. They should also agree not to use the services for any improper or illegal activities, including but not limited to the following:
Information that goes against basic principles set in the constitution.

information that risks national security, leaks state secrets, weakens national unity and threatens state power;

information that ruins the honour and interest of the country;

information that instigates ethnic discrimination, ethnic hatred, and weakens ethnic solidarity;

information that hurts the country s religious beliefs and encourages cults and feudal superstitions;

information that spreads rumours, weakens social stability and disturbs social order;

information that spreads pornography, obscenity, violence, gambling, terrorism, murder or supports crimes;

information that offends others and violates the legal rights of others;

information that contains false, harmful, vulgar, threatening, privacy-infringing, harassing, slanderous, aggressive, obscene or any other morally objectionable content;

information that is prohibited or restricted by Chinese laws, rules, ordinances, regulations, and any other specifications with legal force.
Trip.com Customer Service
Trip.com aims to offer excellent customer service to its clients. Their customer service team can interact in multiple languages, with service in English available round-the-clock. You can avail of their service directly via phone, email or their mobile app.
Email addresses and phone numbers to contact Trip.com are: