High-End Fashion on the Cheap with Farfetch
Farfetch is an ultimate destination for those who are looking to revamp their wardrobe with the latest fashion. This online marketplace aims to connect their customers with a large network of boutiques located all across the globe. Latest luxury brands in clothing, shoes, bags, accessories, jewellery, gifts and vintage items are available on the website. This digital marketplace flaunts products from more than 3,200 different brands, world-renowned as well as newly emerging. The company is headquartered in London and has branches in New York, Tokyo, Shanghai, Lisbon, Porto, Guimarães and São Paulo. Customers can take the opportunity to shop from more than 526 luxury boutiques located in Europe, Asia, North America, South America and many more places around the globe.
The company ships to over 190 countries around the world. With websites in 12 local languages, multilingual customer support and great delivery options, such as same-day delivery, Farfetch has carved a niche in the hearts of millions of customers. Farfetch sale is a perfect time when customers can purchase these luxury products at reasonable rates. Checkout the website for interesting Farfetch offers on products for women, men and kids. Apart from the website, you can download the Farfetch app available for iOS and Android devices.
A Portuguese entrepreneur s immense love for fashion led to the birth of Farfetch in 2007. José Neves is involved in fashion since the mid-1990s. He launched Farfetch e-commerce website to connect customers with refined fashion boutiques that may or may not have an online presence. By October 2008, Farfetch sold products from 25 boutiques in 5 different countries. By 2010, products were offered from more than 64 boutiques. In the same year, the company s first office was set up in USA and Sao Paolo, Brazil. By 2016, Farfetch had partnered with over 500 boutiques and 200 direct brands.
Products sold by Farfetch
Farfetch offers a wide range of luxury fashion products for women, men and kids. The Farfetch Singapore marketplace lists its products under 10 broad categories – Sale, New In, Designers, Clothing, Shoes, Bags, Accessories, Jewellery, Vintage and Gifts. Some of the featured designers are Chloe, Burberry, Dolce & Gabbana, Fendi, Givenchy, Gucci and Jimmy Choo. Check out Farfetch deals, Farfetch promo codes and Farfetch discounts that make sure you purchase the products at affordable prices. Here s a short preview of product categories that are available on Farfetch.
Clothing
- Buckle up and get set to explore the marvels of luxury fashion as you browse through the clothing options on Farfetch. The plethora of clothing options for women include activewear, beachwear, coats, denims, dresses, jackets, jumpsuits, lingerie, skirts and a lot more. Men can also find an interesting range of clothing that include coats, denims, polo shirts, shirts, shorts, suits, pants etc. If you are looking to purchase apparel for kids, you can find a lot of options for babies as well as older kids.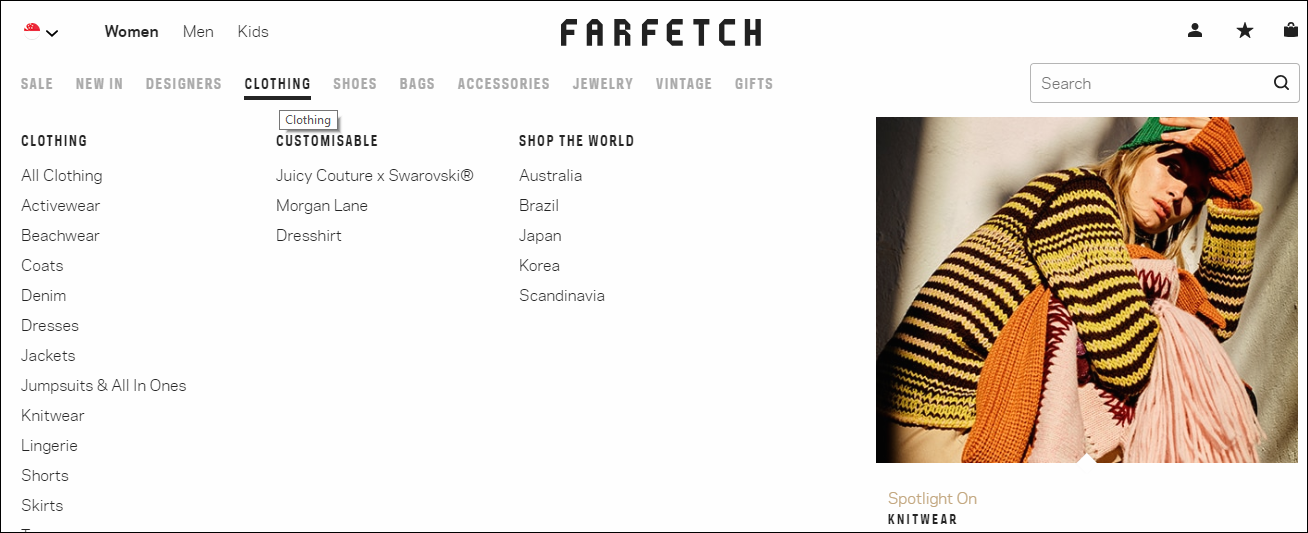 Shoes
– Farfetch flaunts an array of shoes for women, men and kids. While women can pick their favourites from a range of ballerina shoes, boots, espadrilles, flip-flops, slides and mules, men can check out boots, Derby shoes, loafers, monk shoes and so on. A variety of shoes are available for kids as well.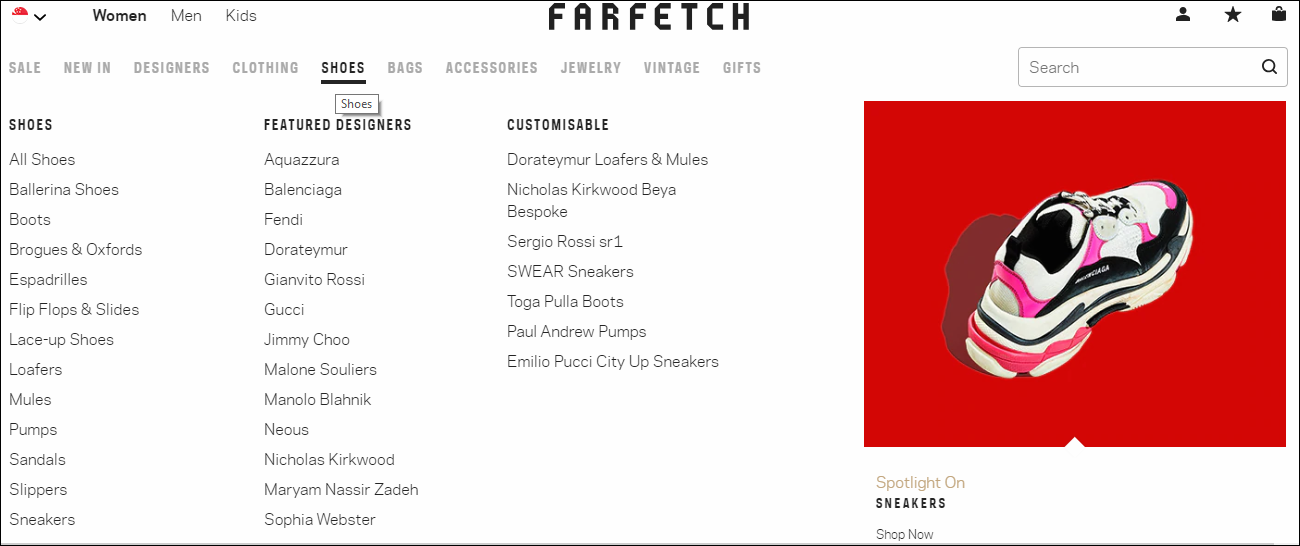 Bags
– Pair up your outfit with some elegant bags from Farfetch. There are chic designs available for women and men. Some featured designers are Bottega Veneta, Cult Gaia, Gucci, JW Anderson and many more. You can also order your customised bag from Judith Leiber Couture.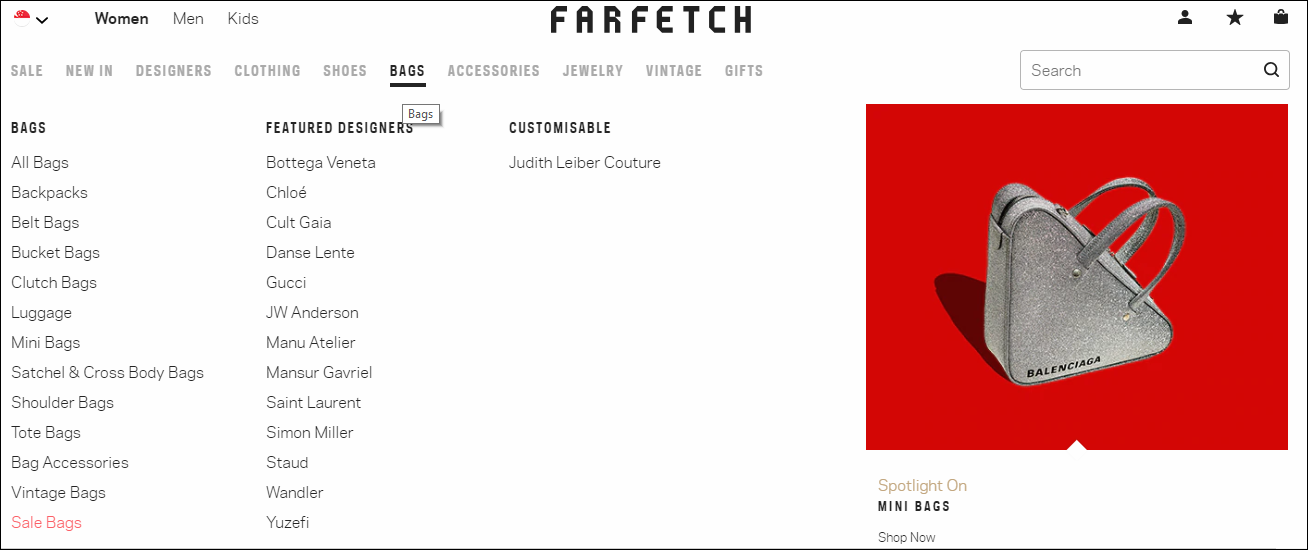 Accessories
– Farfetch has carefully selected and presented some of the trendiest accessories on its website. From belts to gloves, glasses to hats and scarves to sunglasses, women can buy them all. Accessories offered to men are belts, gloves, hats, sunglasses, wallets and many more. You can use Farfetch promotion codes during checkout to avail discounts.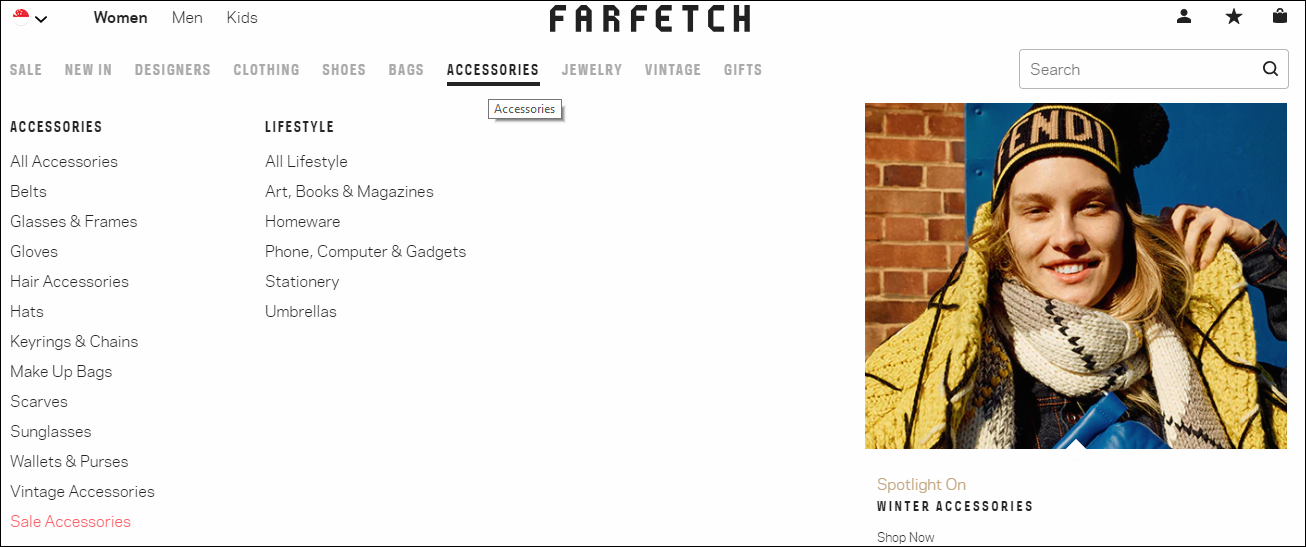 The below table list the categories and sub-categories for the women s section in the Farfetch website. To check out categories and sub-categories for men and kids sections, kindly visit the website.
| Categories | Products |
| --- | --- |
| Sale | All Sale, Sale Clothing, Sale Coats, Sale Dresses, Sale Knitwear, Sale Jackets, Sale Tops, Sale Shoes, Sale Bags, Sale Accessories |
| New In | New In Today, New In This Week, New Brands to Know, Exclusives & Collaborations, New Season Now |
| Designers | Featured Designers |
| Clothing | All Clothing, Activewear, Beachwear, Coats, Denim, Dresses, Jackets, Jumpsuits & All in Ones, Knitwear, Lingerie, Shorts, Skirts, Tops, Pants, Sale Clothing |
| Shoes | All Shoes, Ballerina Shoes, Boots, Brogues & Oxfords, Espadrilles, Flip Flops & Slides, Lace-up Shoes, Loafers, Mules, Pumps, Sandals, Slippers, Sneakers, Sale Shoes |
| Bags | All Bags, Backpacks, Belt Bags, Bucket Bags, Clutch Bags, Luggage, Mini Bags, Satchel & Cross Body Bags, Shoulder Bags, Tote Bags, Bag Accessories, Vintage Bags, Sale Bags |
| Accessories | All accessories, Belts, Glasses & Frames, Gloves, Hair Accessories, Hats, Key rings &Chains, Make up Bags, Scarves, Sunglasses, Wallets & Purses, Vintage Accessories, Sale Accessories |
| Jewellery | All Jewellery, Bracelets, Brooches & Pins, Earrings, Necklaces, Rings, Watches, Vintage Jewellery, Sale Jewellery, All Fine Jewellery, Bracelets, Earrings, Necklaces, Rings, Watches |
| Vintage | |
| Gifts | |
The Farfetch website is user-friendly and allows customers to place their orders in a jiffy. The website contains sections for women, men and kids. You can click on these based on your shopping requirements. Every section contains categories. You can navigate to the required product either by clicking on the categories and sub-categories, or by entering the name of the product in the Search box.
To purchase a product, select a section, click on a category and select an item from the sub-category. A list of products from the selected sub-category is displayed on the screen.
Click on the required product. A page displaying the product photos, shipping and returns details, price, product details and size is displayed on the screen.
Click on the "Add to bag" button in case you are interested to purchase the product. Your shopping bag list is displayed on the screen.
After you complete adding products to your shopping bag, check the summary and click the "Go to checkout" button. In the Sign in screen, returning customers must enter their email address along with password and click the "Sign In" button. New customers must enter their email address in the provided field and click the "Continue" button. Customers can also log in via their Facebook account.
In the next screen, enter your shipping address, security details and click the "Save & Continue" button.
In the Payment screen, choose your payment option and enter details in the provided fields. In case you have a Farfetch promo code, Farfetch discount code, Farfetch voucher code or any other Farfetch code, enter it in the provided field to avail discounts and then Click the "Save & Continue" button.
Next, in the Review page, select your delivery method, make the payment and place the order.
Customers can find great deals on products during Farfetch promotions. You can avail plenty of discounts using Farfetch vouchers and coupons during the checkout process.
Payment Options on Farfetch Singapore
Paying for your orders on Farfetch is a simple and quick process. The website accepts payments in the following ways.
Payment via cards:
Customers can pay for their orders via Visa, MasterCard, American Express, Delta and Visa Electron.
PayPal:
PayPal is a popular online payment system that enables users to transfer funds electronically.
Apple Pay
: Apple Pay is another popular mobile payment system that allows users to pay for their purchases via iOS apps and on the web.
Please note that Farfetch does not accept cash on delivery or instalments.
Different Coupon Codes and Discounts on Farfetch
Farfetch offers plenty of discounts and deals from time to time. All information about Farfetch promotions and discounts is provided in the Sale category of the website. The company also offers Farfetch promo codes, Farfetch coupon codes and Farfetch discount coupons on the website. Farfetch promo code 2018 makes it great to shop on the website and save money.
Apart from Farfetch, customers can check out websites like Shopback for Farfetch cashbacks and promotions.
How to Shop on Farfetch using ShopBack
Customers will be delighted to know that Shopback is currently offering 3% cashback to all customers who purchase products from the Farfetch website using their registered account on Shopback. Steps to be followed to earn cashback from ShopBack are provided below:
Step 1: Visit the ShopBack website and select Farfetch from the list of merchants and brands given on the homepage. You can also use the search box to find the link to the Farfetch store.
Step 2: Go through the terms and conditions and other important information such as cashback details and tips to ensure cashback.
Step 3: For more deals and discounts, check out the 'Farfetch Coupons, Vouchers + Promotions section.
Step 4: Click on the Activate Cashback button located on the top left corner of the page. You will be directed to the Farfetch website to browse and select the products you wish to purchase.
You are eligible to earn cashback from ShopBack on placing your order. The cashback offer is not applicable on purchases made on Farfetch app.
Farfetch s Shipping, Return, Refund and Exchange Policy
Some important information regarding Farfetch s delivery services is provided below.
Same day delivery service is offered only in Los Angeles, New York, London, Paris, Miami, Rome, Barcelona, Milan and Madrid.
Customers get to know if they are eligible for same day delivery while entering their address at checkout. Customers who are not eligible for same day delivery service will not be able to view the option at checkout.
Farfetch does not ship to P.O. boxes and APO/FPO boxes.
Customers who want to change their shipping address after placing the order can do so by contacting Farfetch s customer care service.
If you are unavailable to receive the order at the provided address, Farfetch will try to redeliver. However, if the company is unable to redeliver, the order will be returned and you will receive a refund minus the shipping cost.
The company offers free shipping on a wide range of products. You can check out if a product is eligible for Farfetch Free shipping in the 'Shipping & Returns section of the product page.
Here s Farfetch s return, refund and exchange policy.
company provides 14 days from receiving orders to return products. Customers can book a free returns pick-up within 7 days of receiving the order so that the returned order arrives at the boutique in time. To view the process for a free returns pick-up, click here. Refund excludes the original cost of shipping.
Returned products will be collected from the same country to which the order was delivered.
To exchange an item, you will have to return it first and then place the new order. You will receive a refund for the original product, minus the return cost.
Refund will be provided in the original payment method after the boutique receives the returned order. Payments will be processed with 14 working days.
Farfetch Customer Service
iry or help, customers can contact Farfetch customer service by dialling +61 488 839 167. You can also contact the customer service by submitting the enquiry form given on their website.