Look and feel fantastifc with Lookfantastic!
Lookfantastic is an ultimate online shopping destination for hair, beauty and skincare products. It presents its customers with more than 14,000 products, namely, hair care, skin care, make up, fragrance, organic and natural products, and electrical, from over 350 brands. It boasts of drawing more than 500,000 visitors per month to its website. Apart from its high quality brands, Lookfantastic offers its customers exclusive free gifts with various purchases and attractive member rewards.
The beauty expert team at Lookfantastic undergo extensive training directly from brands to enrich their knowledge base about each and every product that the brand offers. This popular online store makes it easier for its customers to purchase internationally acclaimed brands like Cloud Nine, Bourjois, Nioxin, Clinique, Kérastase, Lancôme and many more. To own some of these products, just log on to the Lookfantastic sg (Singapore) website and enjoy shopping right from the comforts of your home!
Established in 1996 by the Crown family, Lookfantastic.com has gradually grown over the years to become Europe s leading retailer for beauty. In November 2010, The Hut Group acquired the Lookfantastic group for £19.4m (a combination of cash and equity). Daniel Crown, CEO of Lookfantastic group, joined the Board of The Hut Group and continued to expand the business.
Products sold by Lookfantastic
The impressive range of beauty products offered by Lookfantastic is sure to charm a lot of women as well as men. Their online store categorizes products based on brands, newly introduced ones, top 10 products, hair, makeup, face, body, electrical, products for men and K-beauty products. As part of their promotions, you can access Lookfantastic discounts by applying Lookfantastic cashback or a Lookfantastic voucher.
Their Lookfantastic beauty box concept is a perfect gift for women. It is a theme-based concept that offers about 6 premium products from world-famous brands that are beautifully packed and delivered to your home. Customers who wish to avail of the beauty box must subscribe for it and Lookfantastic ensures that it is delivered at your doorstep! A brief overview of the various product categories available on Lookfantastic is presented below.
Hair – Lookfantastic offers a complete range of hair care products that ensure lustrous and beautiful hair. The products listed under this category are shampoos, conditioners, hair brushes and combs, hair extensions, products for treating hair loss, hair supplements, hair styling tools and a lot more.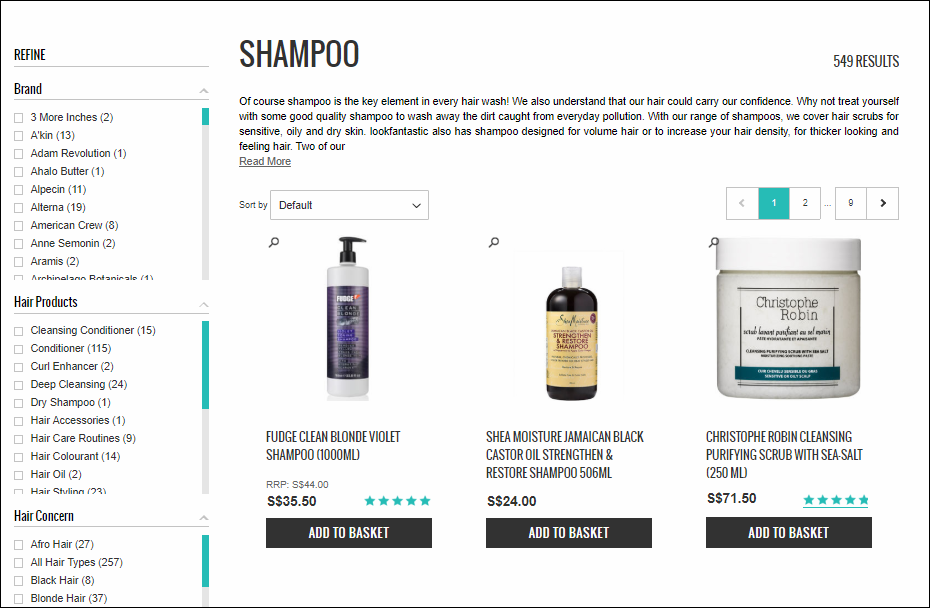 Makeup – Lookfantastic is perfect for those who are looking for a wide range of high-quality makeup. It presents its customers with a variety of makeup for face, eyes and lips. These include blushers, bronzers, concealers, face powders, eye shadows, eyeliners, false eyelashes, mascaras, lip glosses, lipsticks etc.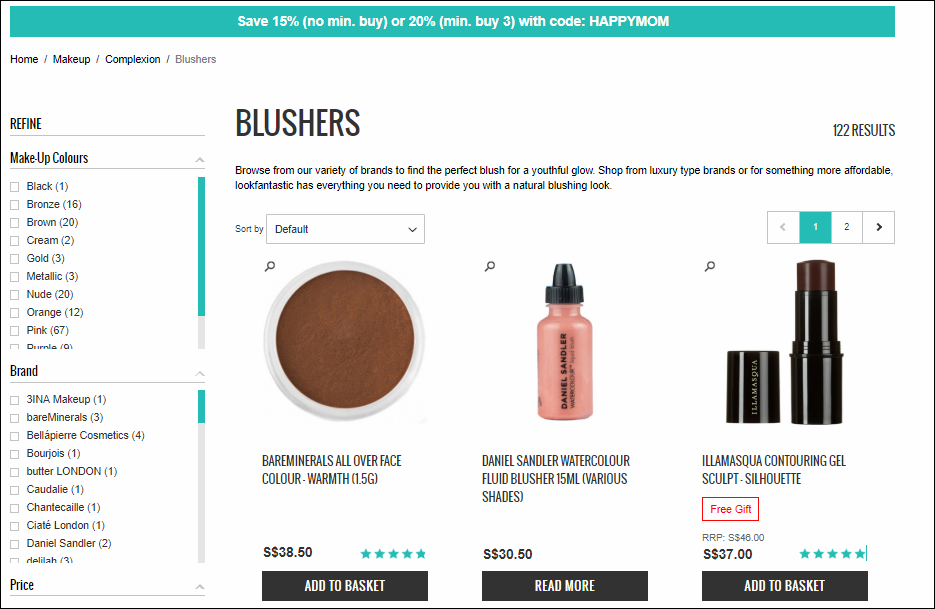 Face – Consumers can purchase products for a flawless and blemish-free face. Some of the many products available in this category are cleansers, exfoliators, make up removers, lotions, eye care and skin care. Products are also available for anti-ageing, dark circles, acne-prone skin and all skin types. Some of the top brands that offer these are Algenist, Caudalie and Jurlique to name a few.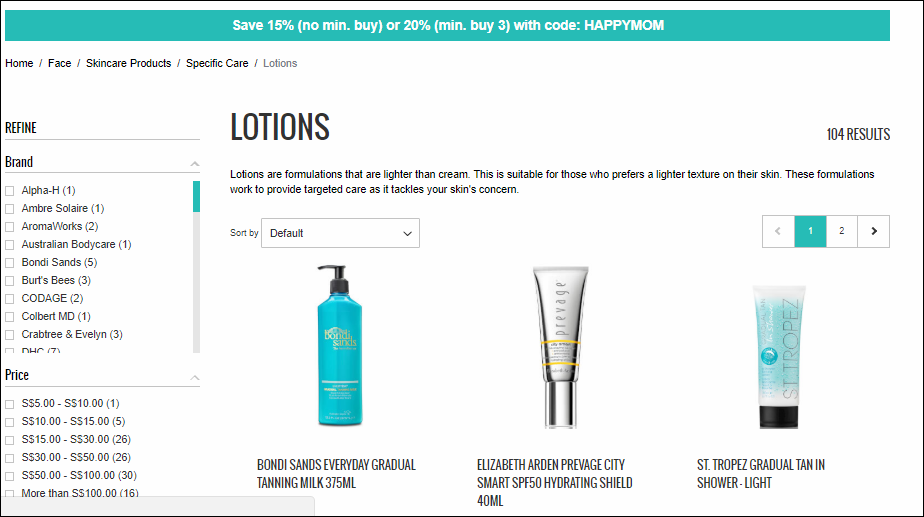 Body – Lookfantastic handpicks an interesting range of body care items for its customers. Check out body washes, bath oils and soaks, exfoliators, butters, balms, creams, lotions, oils etc from prestigious brands such as Bliss, Gold collagen, Hand Chemistry, Imedeen and Weleda.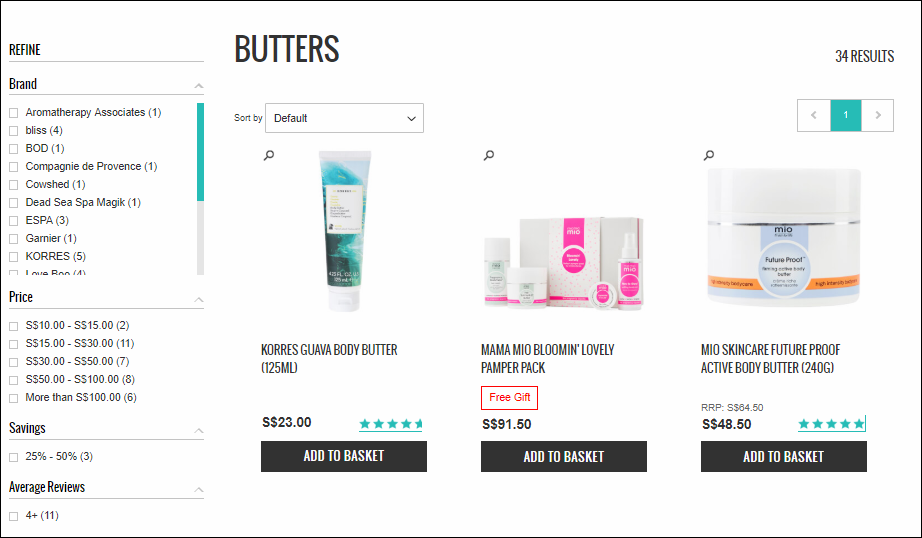 Apart from the above mentioned, Lookfantastic also offers products for men, Korean beauty products and electrical items for beauty. The table below indicates some of the products offered by Lookfantastic.
| Lookfantastic Product Category | Lookfantastic Product Sub-Category |
| --- | --- |
| Hair | Conditioner, Hair oils, Hair Styling, Hair Thinning & Loss, Shampoo, Supplements & Treatments, Products for All Hair Types, Anti Dandruff & Scalp Care |
| Makeup | `Blushers & Bronzers, Concealers & Colour Correctors, Makeup Removers, Eye Shadows, Eye Liners, False Eyelashes, Lash & Brow Enhancers, Mascaras, Primers & Enchancers, Lip Glosses, Lip Liners & Pencils, Lip Plumpers, Lip Stains & Lipstickers, Lip Protection & Balms |
| Face | Facial Sponges & Cloths, Skin Care Systems, Balms, Lotions, Mists, Moisturisers, Oils, Serums, Eye Care, Masks, Peels |
| Body | Bath Oils, Soaks, Salts, Body Washes, Cleansing Bars, Body Butters, Creams, Lotions, Oils, Products for Mother & Baby, Slimming Products |
| Electrical | Clippers & Trimmers, Curling, Hair Dryers, Hair Straighteners, Hair Removal |
| Men | Shaving Creams, Gels, Post-shave, Pre-shave, Face Cleansers, Moisturizers, Serums, Toners |
| K-Beauty | Cleansers, Exfoliators, Toners, Treatment Serum, Sheet Mask, Moisturizers, Sun Protection |
| | |
How to Shop at Lookfantastic
The Lookfantastic website is very easy to use, thereby making the consumer comfortable to shop for different products from multiple brands. The search box at the top of the website page enables consumers to conduct a product-specific or brand-specific search. Various categories for brands, new products, top 10 products, hair, makeup, face, body, electrical, men, beauty box, offers, K-beauty and latest trends are displayed on the header of the website. You can also view Lookfantastic discount codes on this page. From here, customers can choose the categories they want to explore and shop.
The homepage displays Lookfantastic discount code, new products, beauty recommendations, brand focus and current best sellers. Consumers can click on these products for more information or to purchase them.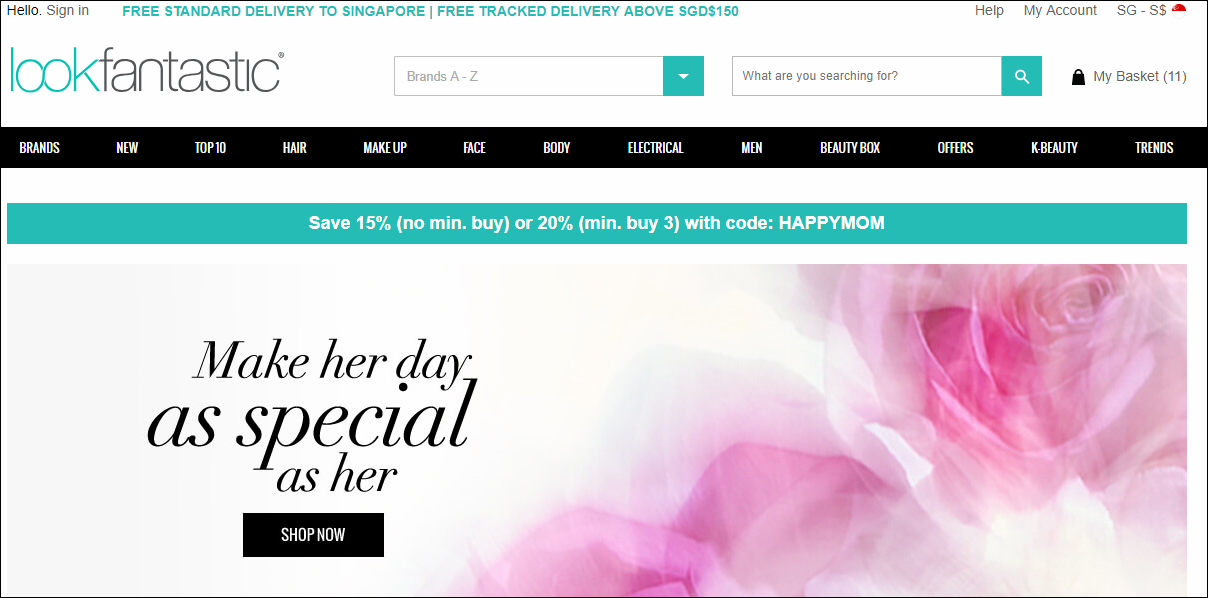 Browse the categories and sub-categories on the homepage. On clicking the sub-category, consumers can view different products on sale.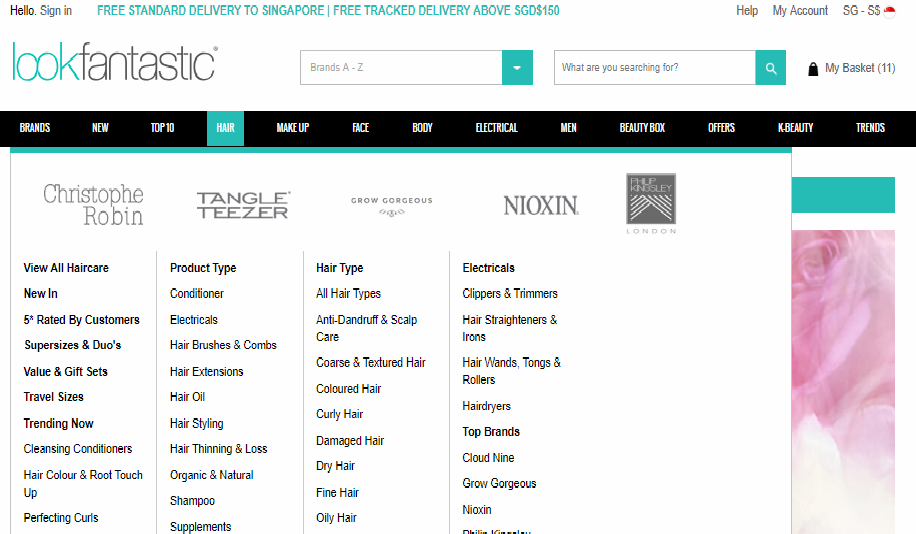 The number and subtotal of items added to your basket is displayed on the screen. Click the "Continue Shopping" button to shop for more products.

To purchase the items added to the basket, click on "My Basket" on the right corner of the page. Here, you can view two buttons, "Continue Shopping" and "Checkout Securely Now". If you wish to purchase more items, you can continue shopping and add more products to your basket. Click on the "Checkout Securely Now" button to purchase the items.

You will be directed to a page where existing or new customers have to enter their details. If you are an existing customer, enter your email address, password and sign in.

If you are a new customer, click the "Continue" button in the New Customer box. A page where you have to enter your full name, email address, password and referrer code is displayed. Enter your details and click the "Continue" button or sign-in through Facebook.

You can now view the "Checkout" page. Enter your shipping details, select the delivery option and payment method. The order summary and delivery charges are displayed on the screen. Click the "SUBMIT MY ORDER" button. Make payment on the next screen to complete the transaction. Shortly after, you will receive an order confirmation mail or a text confirming your order on your phone number, along with the expected date of delivery of your order.
Customers can find great deals on products during the Lookfantastic sale, Lookfantastic offers or Lookfantastic deals displayed on the homepage. You can avail the discounts by using Lookfantastic vouchers and Lookfantastic coupons during the checkout process.
Payment Options on Lookfantastic
Customers can make their payments through multiple channels such as Mastercard, Visa, Visa Debit, Visa Electron, American Express cards, PayPal, Ayden, Alipay and Switch/Maestro. Please note that Lookfantastic does not accept postal orders or cheques.
Different Coupon Codes and Discounts on Lookfantastic
Lookfantastic has interesting deals and discounts for its customers. Lookfantastic vouchers, Lookfantastic coupons and Lookfantastic discounts are offered throughout the year. Some of the ongoing deals can be found on the page - so please have a look through before shopping!
The best part about online shopping is that customers can relax and purchase items by simply clicking on the required items. And, the discounts offered by the online retailers make the experience even more pleasing. Lookfantastic offers Lookfantastic discount vouchers, Lookfantastic voucher codes, Lookfantastic coupon codes and Lookfantastic promo codes. Customers can redeem these to earn cashbacks and discounts on products.
Given below are step-by-step instructions to redeem vouchers and coupons at Lookfantastic:
Step 1:
Select the item that you want to purchase and click on Add to Basket .
Step 2:
Proceed to Your Shopping Basket page, scroll down, enter your Lookfantastic promo code or any other Lookfantastic code in the provided box and click the "ADD" button to avail discounts.
Step 3:
Click on the "CHECKOUT SECURELY NOW" button to move to the Checkout screen.
Step 4:
Enter the shipping address. Select delivery option and payment method as per your convenience.
Step 5:
Finally, click the "SUBMIT MY ORDER" button. Enter the payment details to complete the transaction.
Find Lookfantastic Cyber Monday or Black Friday deals at ShopBack this November 2018!
The year-end brings about a lot of happiness and savings! Part of the reasons why are the Cyber Monday and Black Friday sales. So before you do your shopping, be sure to look for Lookfantastic Black Friday and Cyber Monday sale at ShopBack so you can clock in great savings when you shop! On top of that, you get to enjoy Cashback too!
Shop Lookfantastic Mother s Day Promo to Get the Best Deals on Gifts for your Mom!
Your Mom deserves to look her best and feel her best at all times. However, cosmetics can be very expensive, expecially the good ones. So check out this Lookfantastic Mother s Day sale to save on the best cosmetics today! Order now to ensure that you maximise your savings and make full use of this Lookfantastic Mother s Day promo! You can also earn Cashback on top of savings from the Lookfantastic Mother s Day promotion with ShopBack! Check ShopBack to find the latest and most updated Lookfantastic Mother s Day promo code and earn Cashback!
How to Shop on Lookfantastic using ShopBack
Customers can get up to 5% cashback on a number of items on shopping from Lookfantastic. You can follow the steps given below to earn cashback from ShopBack:
Step 1:
Visit the ShopBack website and select Lookfantastic store from the list of merchants and brands on the homepage. You can also use the search box to find the link to Lookfantastic store.
Step 2:
Read the terms and conditions and other related information such as cashback details and tips to ensure cashback.
Step 3:
Click on Activate Cashback button on the top left corner of the page.
Step 4:
For more attractive deals and coupons, check out the Lookfantastic Singapore Vouchers, Promo Codes & Cashback section.
Step 5:
You will be directed to Lookfantastic website to browse and select the products that you wish to purchase.
Step 6:
You will be eligible to earn cashback from ShopBack after placing your order. The cashback rates might differ based on your history with ShopBack, i.e. whether you are a new or an existing customer.
The cashback offer is not applicable on purchases made on Lookfantastic website.
Lookfantastic s Shipping and Return Policy
The shipping rates of products are based on customer s delivery location. Lookfantastic offers free shipping on all orders above SGD$150. The shipping fee is displayed in your order summary.
Here is what you should know about returning items to Lookfantastic.
You must check the items received, before using them. If any errors or issues occur, report to Lookfantastic so that they can investigate. Prior to returning an order, contact Lookfantastic s customer service team and request for a returns authorization number. Without this number, the return process might take a longer time.

Lookfantastic s return policy does not affect your statutory rights. For more information, visit UK Government s website at www.direct.gov.uk or contact Consumer Direct on 08454 04 05 06.

Customers have the right to cancel the contract within 14 days, without providing any reason. After 14 days, the cancellation period will expire. To cancel the contract, you must inform Lookfantastic though a clear statement, for example, by selecting the correct option in their account or through a letter sent by post. You can also use the model cancellation form provided on Lookfantastic s website.

The items that you are returning must be unopened and in original packaging. Goods to be returned must be in pristine condition with any retail seals unbroken.

On cancelling the contract, Lookfantastic reimburses all your payments, including the cost of delivery (except for supplementary costs that arise if you chose a delivery type other than the least expensive type of delivery offered by Lookfantastic).

From the reimbursement, the company can deduct for loss in value of any goods supplied, if the loss is due to unnecessary handling by you.

Lookfantastic will make the reimbursement not later than:

14 days after the goods are received.

14 days after the day you provide evidence that the goods have been returned.

If no goods are supplied, 14 days after the day on which Lookfantastic is informed about your decision to cancel the contract.

Reimbursement will be made using the same mode of payment as you used for the initial transaction, unless you have agreed otherwise. In any case, you will not incur any fees due to the reimbursement.

Goods returning cost must be borne by you.
Lookfantastic s Customer Service
For any inquiry or help, customers can contact the Lookfantastic customer relations team by sending an email to [email protected] along with their queries.
Connect with Lookfantastic