Safeguard your health and beauty with Guardian
Wouldn t it be wonderful if you could order your health and beauty related products online? Imagine a single location where you will find all types and categories of health products, and that too without leaving the comfort of your home. To make things even more interesting, what if you could get these products at a discount? Does it feel too good to be true? Well, not at Guardian. For all your beauty and health related products, right from skin care to hair care, Guardian provides you with plenty of options to choose from. It is an easy platform which allows you to view details of the product and buy them instantly.
Guardian – A brief introduction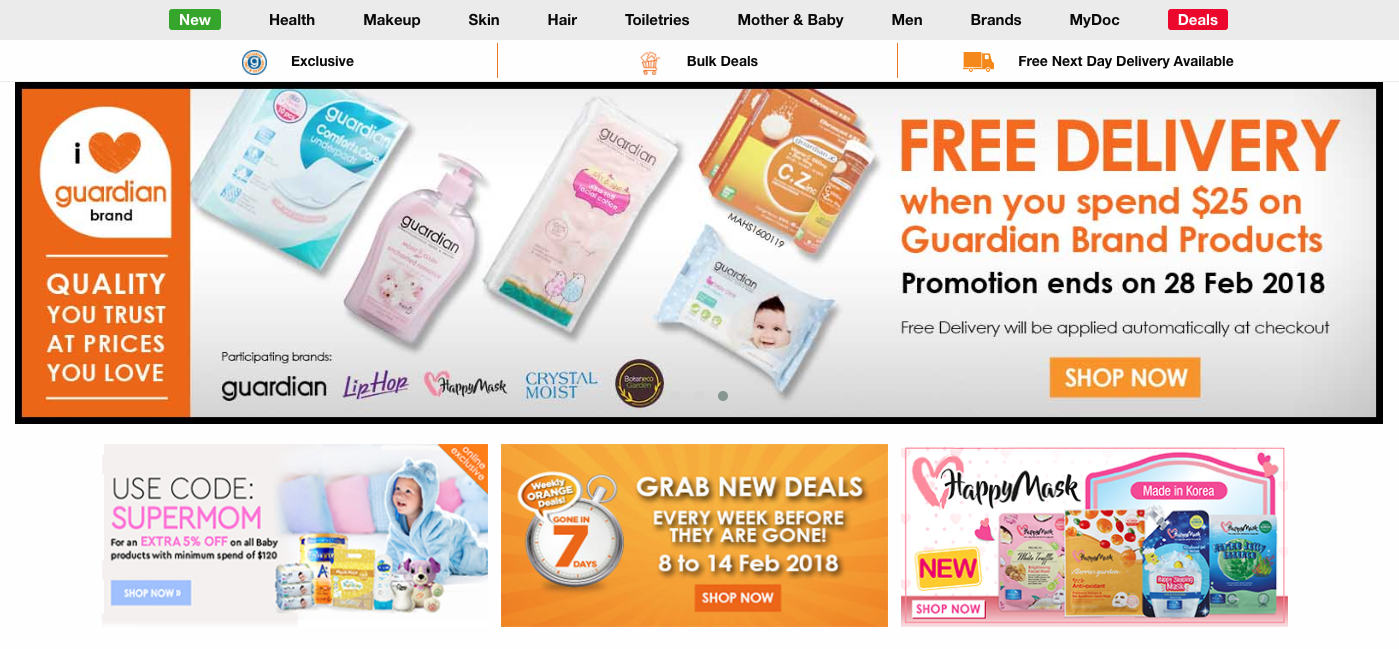 The Guardian range of stores was established in Singapore in back in the year 1972, but only as a pharmaceutical unit. Slowly and steadily other products such as health and beauty made it into the stores. The brand has been around for over four decades and had earned a reputation for itself. Guardian wishes to be the number one brand when it comes to beauty and health chain brands in Singapore. It plans to do so with sheer commitment to provide better service and products to the customers.
You can find Guardian s presence at a lot of places. So, if you are someone who likes to sit in that cozy sofa of yours and order things online, Guardian online stores will take care of your needs. But if you are someone who likes to visit brick and mortar outlets, the brand has you covered from that aspect as well. Irrespective of where you live in Singapore, you are never too far away from Guardian for your health and beauty purchases. What makes the shopping experience even more enjoyable is the number of deals and discounts that you are entitled to in a Guardian store.
Products you can buy at Guardian

The moment you step into or visit a Guardian store, you have a plethora of categories and end products to choose from. Here are some of the products that you will be able to get your hands on during your shopping experience. One must remember that these are not the only products, as you have access to much more than these.
Health:

Most of us are slowly and steadily getting conscious about our health and are taking steps to improve the same. At Guardian you have access to products ranging from common cold and flu to first aid, from family care products to foot care products. Also are available products ranging from Nutrition to skin treatment, from supplements to weight management.

Makeup:

For all those individuals who like to look good, the Makeup section at Guardian plays the role perfectly. You have access to products for eyes, face, nails, fragrances, accessories and even makeup removers. The store also has some of the most renowned and widely used brands in this segment as well.

Skin Care:

If you are particular about taking good care of your skin, Guardian doesn t leave you disappointed. One can purchase products such as skin scrubbers, moisturizers, anti-acne products, sun protection, lip care and the list goes on.

Hair Care:

Guardian understands that taking good care of your hairs is as essential as taking care of your body, thus they have a wide range of products to help you do that. You will be able to get your hands on shampoos, hair treatment products, conditioners, hair loss prevention products, hair colors, hair styling products and many more.

Toiletries:

The brand is known for covering all the bases and toiletries is one of them. Individuals can find products related to oral care, bath accessories, deodorants, shaving etc. Shoppers can either go by these categories or jump into their favorite brands and see the products.

Mother and Child Care:

Guardian serves as the ideal stop for all mother and child care products such as milk formulae, vitamins, diapers and wipes, feeding products, mother care, strollers, baby food and many more. In fact, you as a parent will be spoilt for choices when it comes to mother care or child care.

Men Care:

Guardian has a lot of products up its sleeves when it comes to men care as well. You will easily find items such as skin care products, hair loss prevention products, grooming tools, fragrances etc.
How to use Guardian for shopping?
As mentioned earlier, you can either walk into any of the Guardian stores for your purchases or get it done online. Going online gives you some advantages such as convenience and some amazing deals. One doesn t need to be aware of rocket science to be able to shop at Guardian online portal. You just need to visit the website and search a product from the various categories that the website provides you with. If you do not wish to search products by categories, you can use the search bar at the top to look for specific products. Once you land on a product page, you can add the product to cart.
At this point, you can choose either to proceed with further shopping or checkout the stuff you have added. The website will ask for login credentials if you are an existing member or you can continue as a guest. Post that one needs to select the delivery mode; either have it delivered to your doorstep or pick up from any location near your house. You then need to review your order and make payment for the same. Up on receiving the payment, Guardian will send you an email with the confirmation of the payment and delivery details. Since the website has regular promotions, you get to benefit from the same.
Make the most of your shopping with the help of Guardian Promo Code
Guardian promotion is one of the easiest and most affordable ways of purchasing any product related to health or beauty. When you visit the portal, you can see several existing coupon code and other discount codes. Some of them are product specific while others are generic. When you check out the product, you can apply these coupons and avail discounts. For individuals who like to shop a lot can benefit from Guardian promo codes. You will come across various offers such as buy for a certain amount and get some monetary credits or discounts.
Deals for Individual Buyers
When you click the deals tab on the home page of the website, it leads you to an exhaustive list of products that have offers on them. There are thousands of products that you can choose from and all of them have quite interesting discounts on them. For an instance, if you spend more than $65 on buying products, the website might provide you vouchers worth $8 discount vouchers and additional discounts worth $18. So not only do you get immediate discounts for the current purchase, but a voucher for future purchase as well.
Bulk Deals you cannot ignore
Guardian is not only great for individual buyers, but also an amazing place for bulk buyers. For all those who believe in buying items in large quantity, Guardian is an ideal place. When you visit the website, you will find a deals tab right on the home page. It leads to some offers that you cannot simply ignore. When you click on the Bulk Deals link on the page, you have access to even better deals. Products on this page reward you, should you purchase more of them. For an example, if a product costs $20 in the market, you could get the same for $15. On the top of that if you buy four or more of the same product you will be able to save additional $2-$3 on the entire order. A synonym for Bulk Deals would be savings galore. These deals are great opportunities for stacking up gifts or normal items for prolonged usage. Checking this space out on a regular basis can help you make substantial save on purchases.
How to apply Guardian coupon code
It is a fairly easy and simple process to follow even for people new to the online way of things. Once you have decided which product you wish to buy, you can simply add it to the cart. After you have finalized all the items then you can proceed to check-out the items. It is at this point that you can key in the Guardian promotion code that you happen to have. These codes let you bring down the costs of your immediate purchases and in some cases future purchases as well. One more thing to keep in mind is that, not all of these promo codes would result in immediate monetary benefits. A few of them are designed in such a way that you are rewarded for shopping at Guardian again and again.
ShopBack lets you have even better deals
we tell you, there is even a better way of getting discounts at Guardian than what you have experienced? Well, you simply need to visit ShopBack and enjoy the discounts. Getting hold of a Guardian promotion is not restricted to Guardian website only. ShopBack has a lot of promo codes and vouchers that a buyer can benefit from. You just need to visit the ShopBack website and search for Guardian, the website will then provide all the active promo codes available for use at that point. There are a lot of coupon codes present on the website and you can pick one based on your needs be it from Guardian or similar websites like Watsons. So, you can potentially save a lot more by visiting ShopBack website in addition to Guardian website.
As soon as you make the payments and complete the order, Guardian will send you a confirmation email regarding the product(s). If you do not receive the mail within a few hours, it is advisable to reach out to the customer support. In the event that you are not happy with the product that you have received, you can always exchange the same.
All the exchanges or refunds must be done within 7 days of receiving the product and must be in its original condition. You can either drop by to any of the Guardian stores and initiate the process or ask for an exchange from the website. One must keep in mind that any charges towards delivery will not be refunded as part of this. There usually are no restrictions on the products that one can buy. However, when it comes to products in large quantities, the management might review the order. This is to ensure that fair practices are being followed and that no Guardian customer is at harm.
One of the reasons why Guardian has garnered so much if respect and customers over the years, is due to the presence of a good customer service desk. Over the past four decades, the firm has constantly innovated and improved its customer service department. Should you face any issues or have any queries, there is an exhaustive FAQ section that you can benefit from. For further queries, you can reach contact them by filling up an online form, which requires your contact information along with your query. Alternatively, you can email your queries to [email protected] For people who wish to call and have their queries addressed, they can dial in 1800-181-8100. Guardian can also be reached via their Facebook page here: