Agoda Promo Codes and Cashback at ShopBack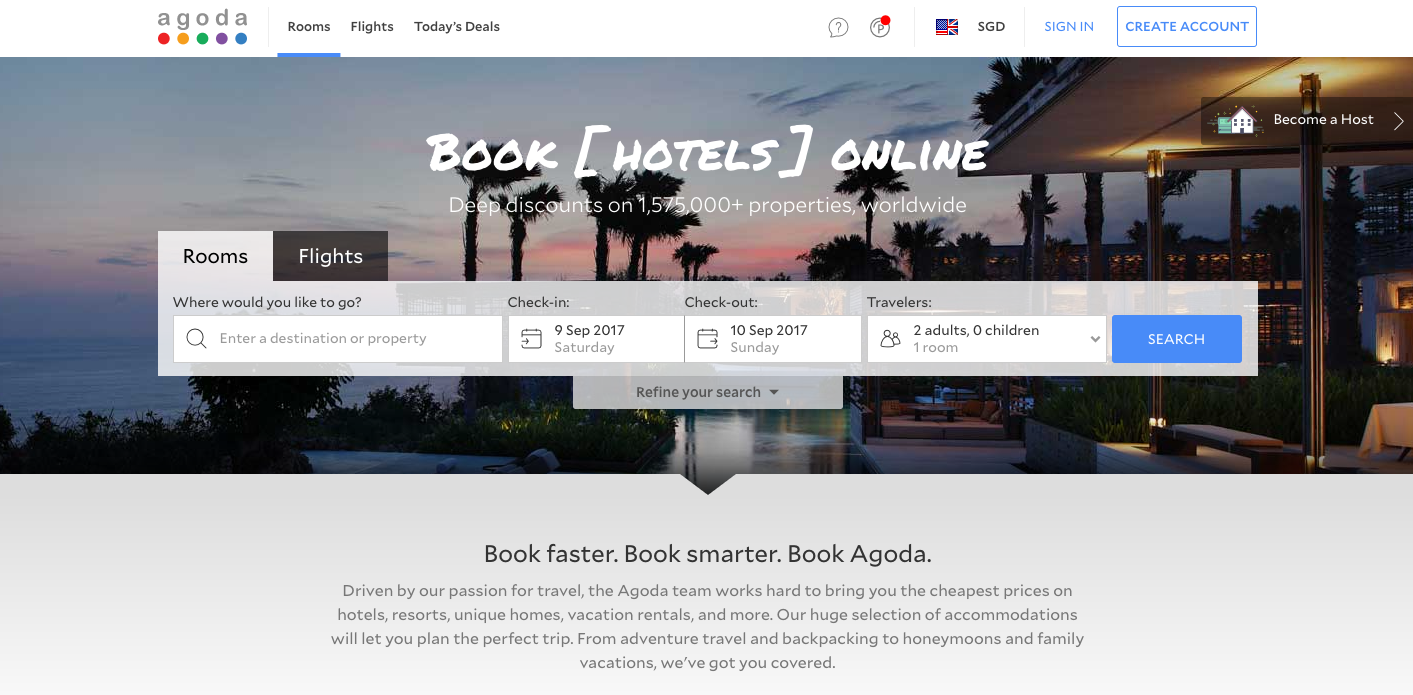 Agoda has and always will be one of the biggest names in the online travel booking market giving users access to over 2.5 million properties and counting. From, an Agoda promo code to Insider Deals, making a booking at Agoda means enjoying greater savings with some of the most competitive prices waiting for you.
Some of the best deals in the past includes:
6% off booking with OCBC credit cards

8% off hotels in selected locations for Citibank card members

Upsized Cashback of up to 12%

Up to 80% off with Agoda Insider Deals
You can expect more of these offers when booking at Agoda with ShopBack!
How to find Agoda promotions and codes
There are plenty of ways you chance upon coupons to help you save at Agoda. One of the best ways is at ShopBack. There are various channels to acquire discount coupons from ShopBack and this includes subscribing to ShopBack s newsletters, going to Agoda s page on the ShopBack website or visiting their coupons section on the ShopBack App.
Type of offers at Agoda available at ShopBack
Agoda guarantees savings for virtually everyone. First and foremost, you will get rewarded with Cashback everytime you make a booking. On top of that there are the promotions such as Insider Deals that dish out discounts of up to 80%. Then there are the promotional coupons that give you discounts off all bookings or once a certain condition is met. So sometimes you can enjoy an Agoda promo code if you re a new customer or if you re booking at a certain location. If you re a DBS cardmember, a Citi cardmember, an OCBC cardmember or a card holder in one of the many banks in Singapore you get to enjoy some great savings too via discount codes and special exclusive prices.
How to maximize savings while shopping at Agoda
There are a few simple things you need to do in order to maximize your savings. The first and most important thing to do is to sign-up with an account at ShopBack to enjoy Cashback rewards whenever you make an Agoda booking. Don t forget to also visit the Agoda page on ShopBack to look for coupons and codes which are updated regularly. Remember to only use codes featured in ShopBack to be sure of your eligibility of receiving Cashback.
Another way to save is to sign-up with Agoda for an account. Once you are logged in, you will receive exclusive prices only for Agoda members of up to 80%. This is another hassle-free way to enjoy great prices.
How to get Cashback with ShopBack
To enjoy your Cashback rewards every time you make a booking with Agoda is pretty simple. All you have to do is to sign up for an account with ShopBack. Once you have a ShopBack account, just visit Agoda s page within ShopBack and do a clickthrough to be redirected to Agoda s website. You will then be rewarded with Cashback once you make a booking. A good tip would be to look through Agoda s website or ShopBack s Travel Deals page to find the best deals and Agoda promo codes before you start booking at Agoda.
For the latest deals and announcements, do check out Agoda s various channels of communications here: