Skip Public Transport on Your Trip with Rentalcars.com
Rentalcars.com offers its customers the freedom to explore and enjoy trips without falling in the hassle of local transports. Rentalcars.com provides smooth and simple online car rental services across the globe. Being one of the largest online car rental service it focuses on great customer experience by delivering exceptional quality and timely service. Rentalcars.com has collaborated with many leading suppliers to give timely and pocket-friendly cars on rent.
Rentalcars.com gives maximum choices, great prices, complete transparency and amazing customer service. The service provider offers well-maintained and clean vehicles like sedans, SUVs, hatchbacks, luxury cars, minivans, automatic cars, etc. on rent with best prices. Not only this, pre-booked taxis and chauffer driven cars are also provided to the customers on demand. Plus, customers can add several other benefits in their rental plans like full protection, insurance, baby car seats, etc. The multilingual call center is open 7 days a week, 24 hours, offering anytime support to the customers.
Visit Rentalcars.com and explore a variety of car options available for rental purpose. Enjoy great discounts by using Rentalcars.com code.
History of Rentalcars.com
Rentalcars.com was established in the year 2004 known as TravelJigsaw. The business grew manifolds and within a span of four years the service provider was making 1000 bookings a day. Year 2010 saw a positive development when the company joined hands with Priceline Group and was rebranded as Rentalcars.com.
The service provider has earned many prestigious awards in the past. Rentalcars.com won awards like World Travel Awards 2016 (UK s best car hire website) and Travolution Award 2015 (World s leading rental company App). Also, the service provider has a rating of 7.4 out of 10 on Trustpilot based on 92,028 reviews.
Presently, the company enjoys a colossal amount of car rental booking of 8 million a year, over 60,000 locations. Rentalcars.com is present in 160 countries and has more than 1500+ colleagues. Rentalcars.com has not only captured the market over the years but has earned the trust of travellers irrespective of gender, nationality or culture.
Products Sold by Rentalcars.com
At Rentalcars.com you can find a perfect match for your leisure and business travel needs. Choose from a variety of well-maintained rental cars based on your requirement. Book your preferred car by checking all the specifications and ratings online, and get added benefits and insurance on Rentalcars.com. Listed below are the types of cars and models available for rent on Rentalscars.com.
Small Cars –
Choose from options available in small cars segment and book it for your travelling purposes. These cars can easily seat 3-4 people and comes with features like air conditioning and automatic gearbox.
Medium Cars –
You can also select medium-sized car for your rental purposes. These cars can easily seat 4-5 people and are more comfortable in seating as well as driving.
Large Cars –
Large rental cars offer more seating space, extra storage and better driving experience, while travelling. Choose any large car for extra comfort, more leg room and luggage space.
Premium Cars –
Rentalcars.com also provides premium cars on rent. To enjoy class, quality and comfort, you can always choose and book from world-class premium cars.
SUVs –
For exploration, excursions or even business purposes you can rent SUVs. Enjoy comfortable seats, spacious cabins and powerful engine while driving the beasts.
Make sure to check for the Rentalcars.com promo and offers sent via email and text messages before booking your rental car from the service provider.
| Rentalcars Product Category | Products |
| --- | --- |
| Small Cars | Ford Fiesta |
| Medium Cars | Ford Fiesta, Ford Focus, Ford Mondeo, Volkswagen Golf, Audi A3 |
| Large Cars | Peugeot 508, Audi A3, BMW 216i AT, BMW 3 Series, BMW 5 Series |
| Premium Cars | Peugeot 3008, BMW X3, BMW 5 series |
| SUVs | Peugeot 3008, BMW X |
How to book a car on Rentalcars.com?
Rentalcars.com offers amazing rental service and an easy approach for booking a car through their website. The anytime and anywhere car rental service makes booking a car hassle-free. The homepage displays categories like currency dropdown menu, country/language option, manage booking and sign in tabs. You can also find brand partners in car hire and many other important details displayed on homepage for your reference.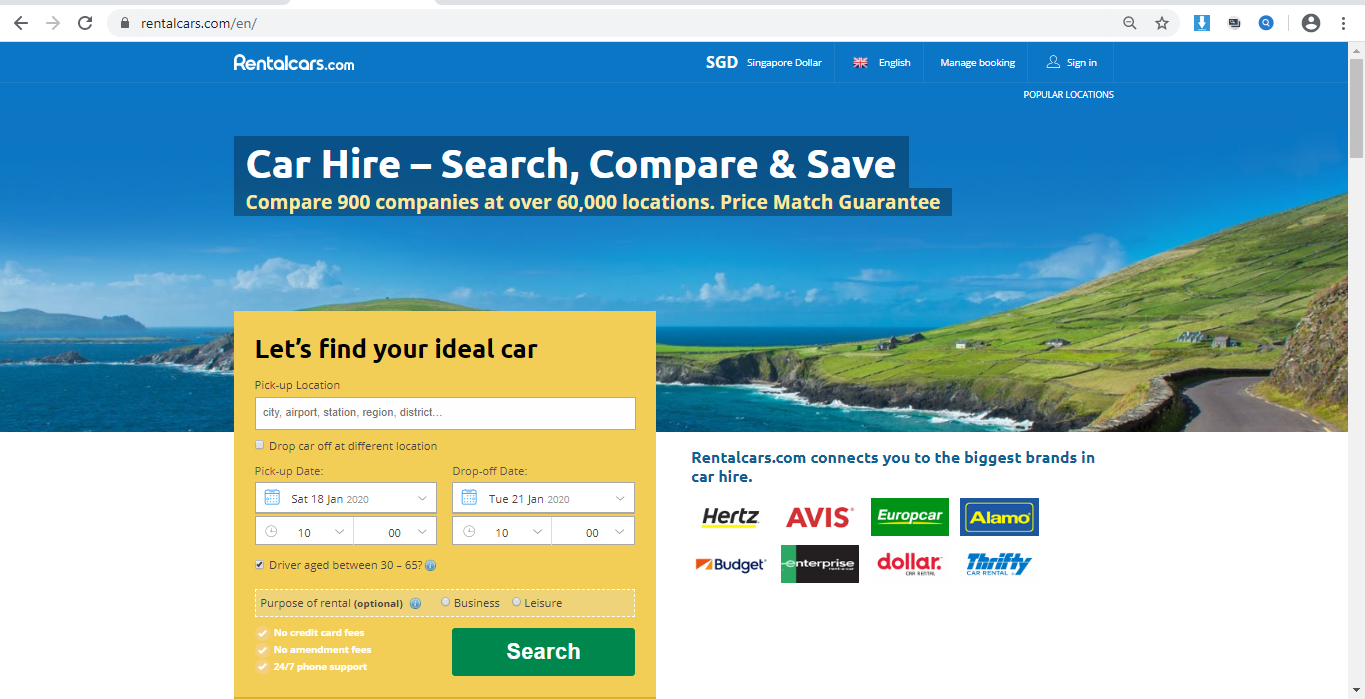 1. Enter your pick-up location, select pick-up and drop-off date and time and choose the purpose of renting a car in the search box.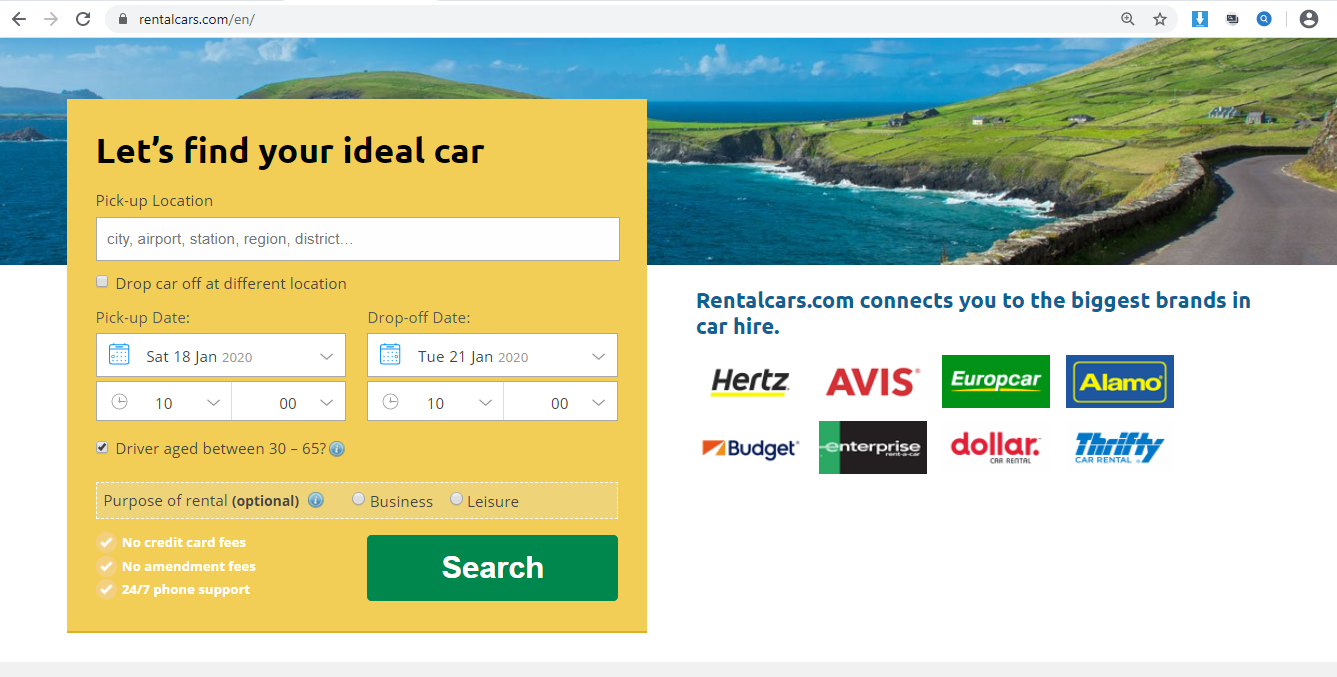 2. After entering all the requested details, click on the 'Search button. On a new page, options of various types of car and different deals will be displayed. Select the type of car you want e.g. medium cars, premium cars, etc. Then explore the variety of rental cars and deals available, offering details like car specification, price, rental agency, rating and other information.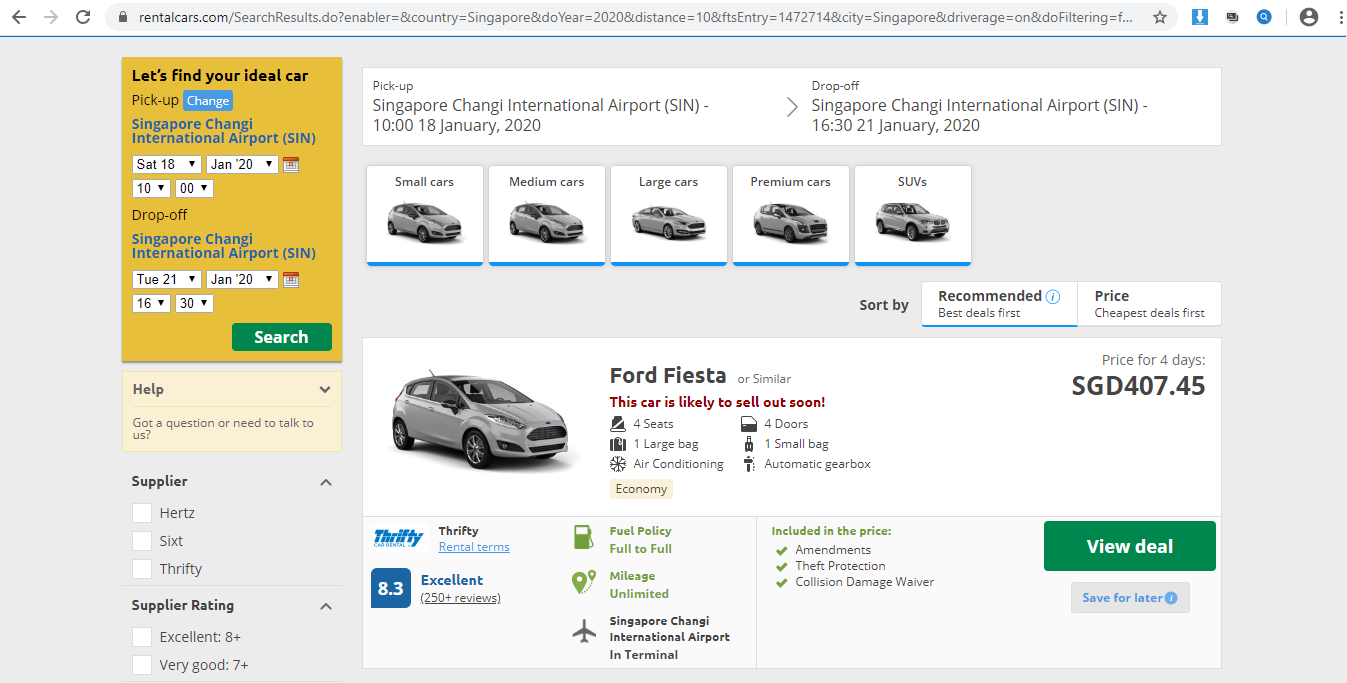 3. Choose the car you wish to rent out and click on 'View Deal button. On the next page, check out the complete details and what is included in the rental price. Also, check the supplier location, working hours and pick-up instructions. After shortlisting your choice of car, choose any one option according to your preference 'Go To Book Without Full Protection or 'Go To Book With Full Protection button at the bottom of the page.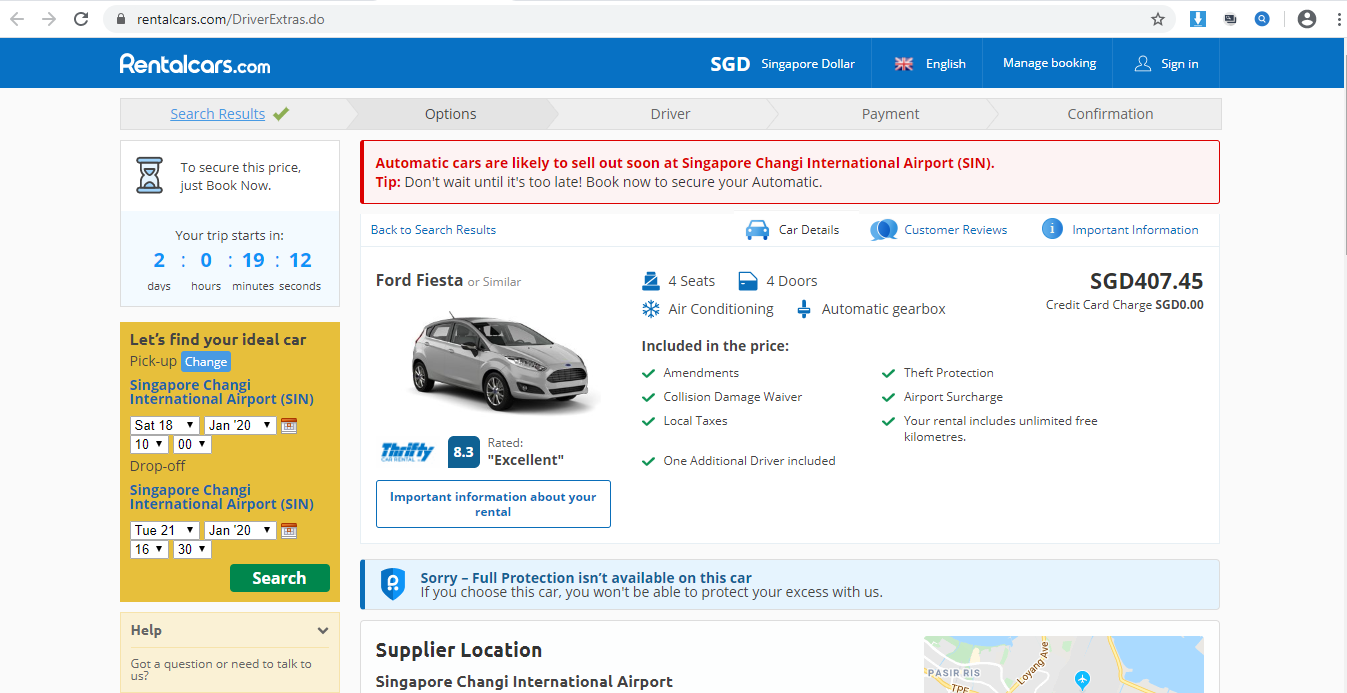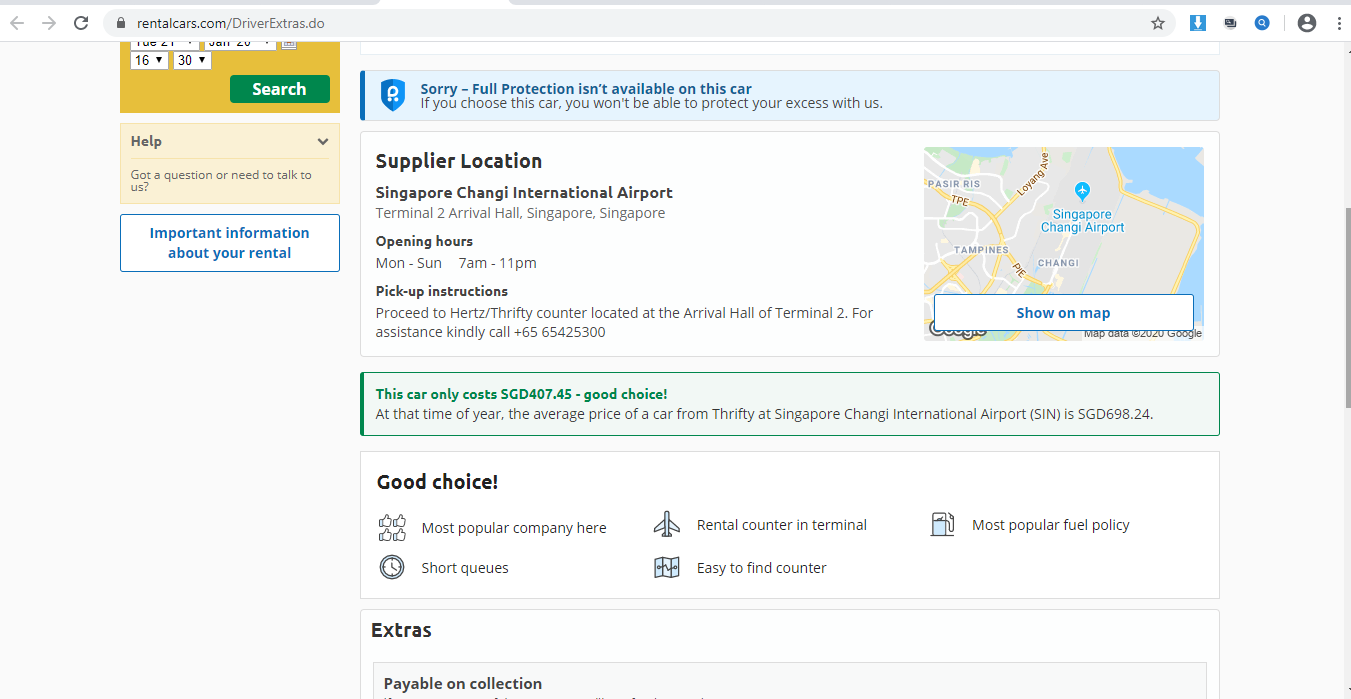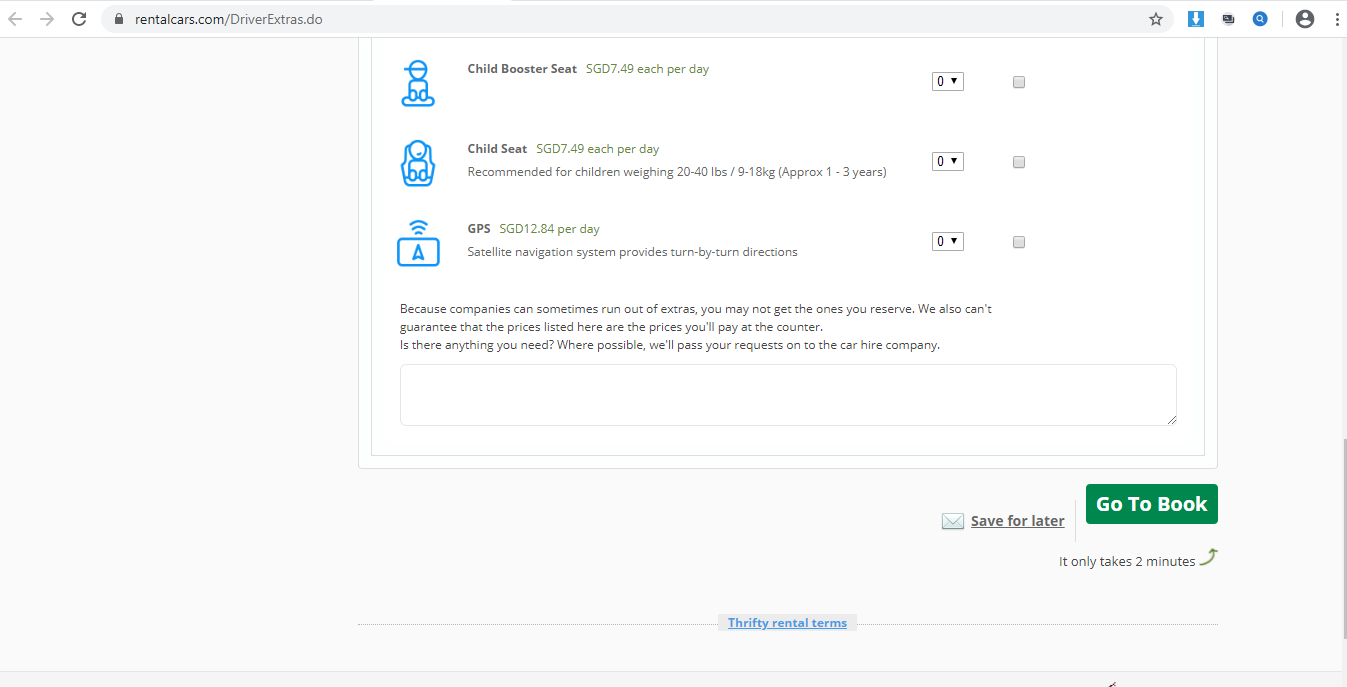 4. By clicking 'Go To Book , verify all the car details on the next page and make changes if required. Enter driver s details and flight details. You can also opt for discount and offers by selecting the 'yes box for subscription. Then click on 'Book Now option.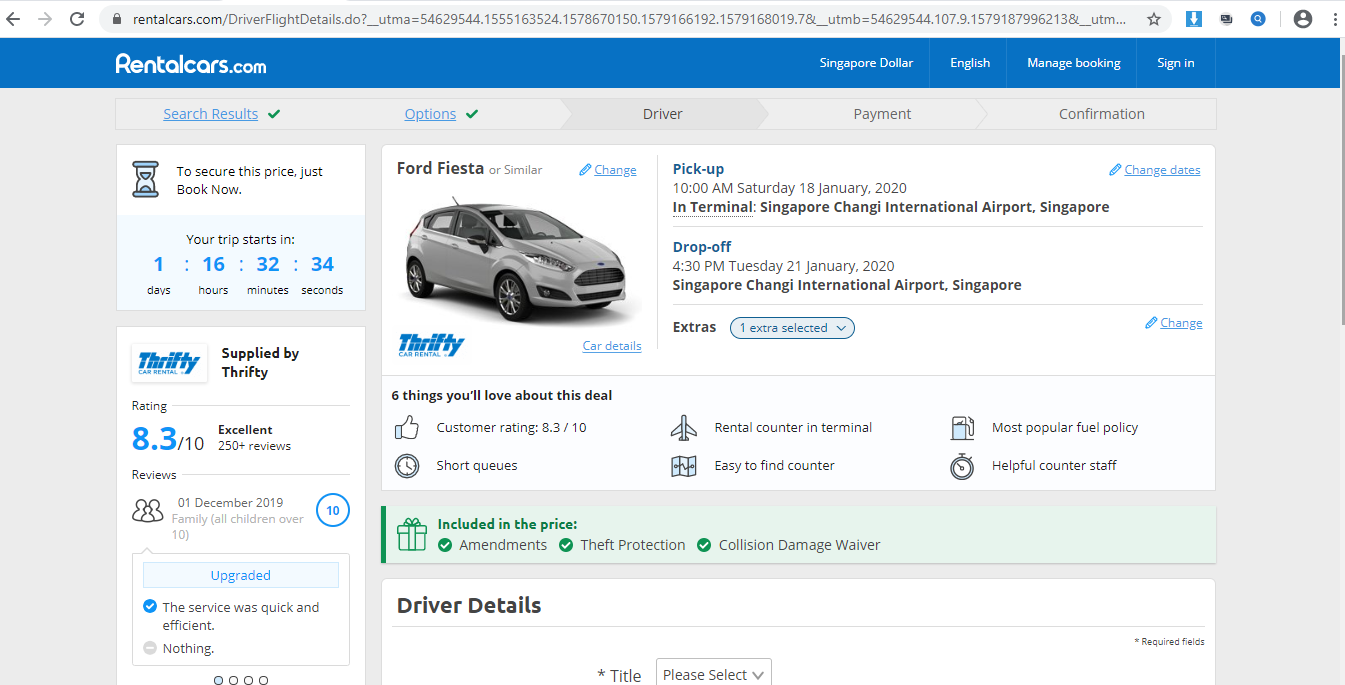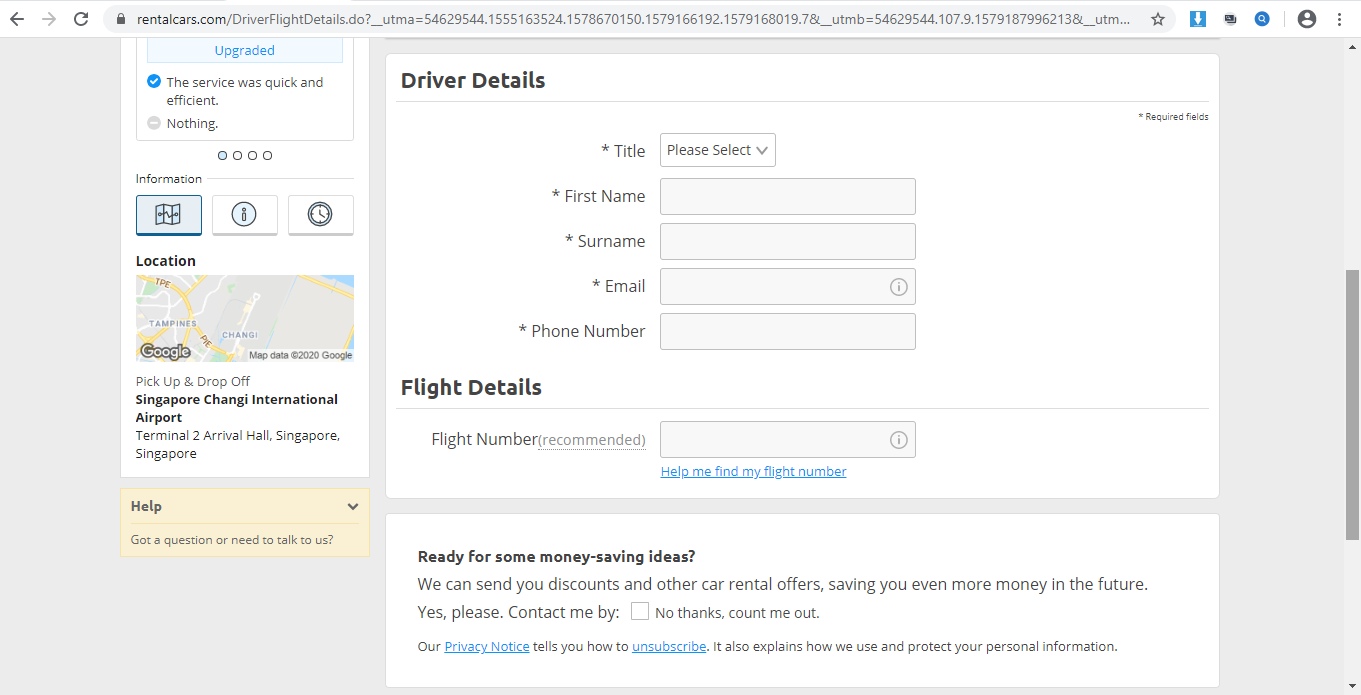 5. You will see price breakdown and other charges on the right hand side of the page. Enter your payment details and click on 'Book Now to complete your car rental booking.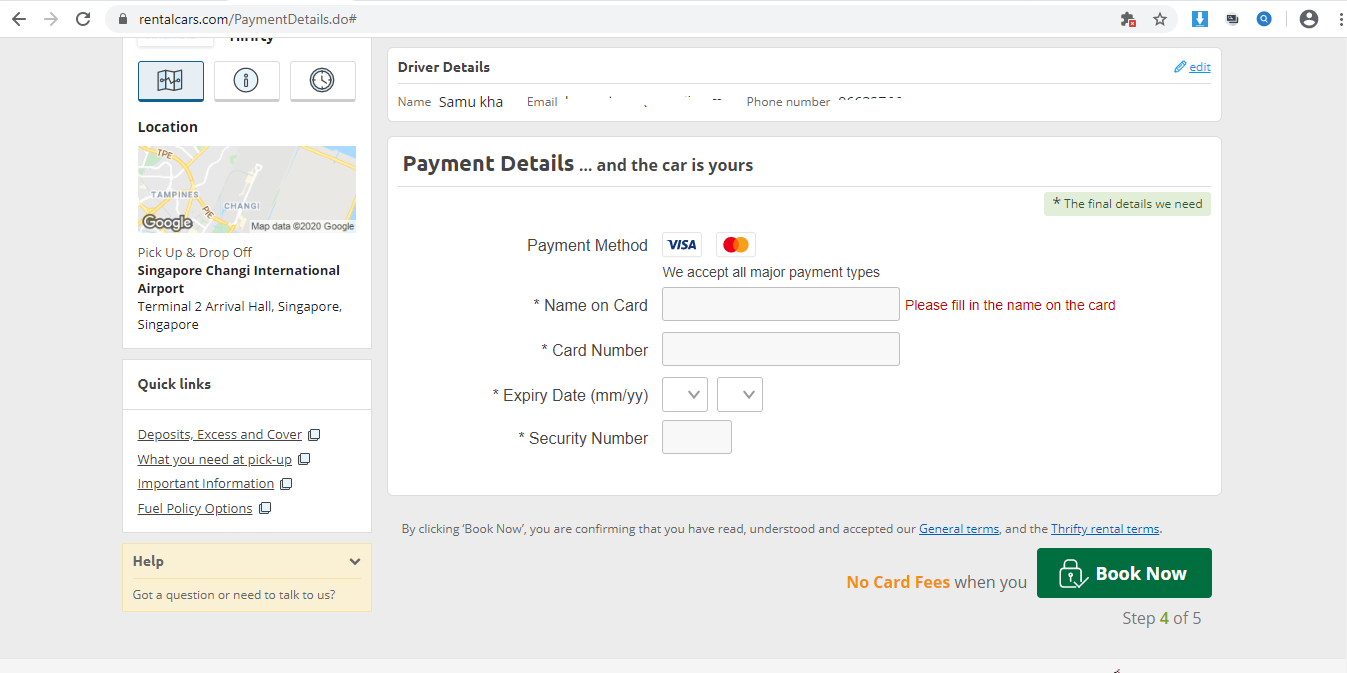 6. You will see all the details of your booking on the final page and will receive a confirmation about the same from Rentalcars.com. Before collecting the car from the partner rental agency provide your Rentalcars.com promo code to avail discount on your booking.
Payment Options on Rentalcars.com
Rentalcars.com provides the following payment methods for your convenience.
Credit Card:
Rentalcars.com accepts payment from nearly all major Visa and Master credit cards for online payments. Customers can easily make online payment with their Visa and Master credit cards to book their preferred car. In fact, one of the major conditions to rent a car is to provide a credit card in the name of main driver with sufficient balance on it to fund the car deposit.
Different Coupon Codes and Discounts on Rentalcars.com
By signing up with Rentalcars.com you will get best rental prices while hiring a car. Also, by subscribing for their e-newsletter you can enjoy exclusive offers like Rentalcars.com coupon codes and Rentalcars.com discount codes, which you can utilize on your car rental bookings. Enjoy comfortable rides and save money by using these discount codes.
Customers can also earn cashback if they book a rental car from the service provider via a registered account at ShopBack.
How to Redeem Coupons and Vouchers on Rentalcars.com?
Online booking service has made renting a car simple and hassle-free. Renting a car for purposes of excursion, travelling or to run errands is just a click away. Along with getting an easy access to rental cars, you can enjoy good savings on your travelling expenses by using various discount codes and coupons offered by the rental service provider. Avail Rentalcars.com discount by using Rentalcars.com coupon while booking your rental car.
Following are the steps to redeem vouchers and coupons at Rentalcars.com:
Step 1:
On the home page, enter your pick-up location, pick-up date, drop-off date, time and purpose of rental and hit search button.
Step 2:
On the next page, choose the size and type of car you need for your rental purpose.
Step 3:
After selecting the car, click on the 'Go To Book tab and book the car. Proceed to the payment page and fill in your payment details.
Step 4:
Once the booking is done before collecting the car from the rental agency provide the Rentalcars.com promo code or Rentalcars.com voucher /eVoucher to avail discount on your booking. In case, if you forget to present the voucher /eVoucher, then you will not be eligible for discount or cashback.
How to Shop on Rentalcars.com using ShopBack
ShopBack offers cashback on bookings if you book a car from Rentalcars.com. This cashback offer is valid from 14 January- 18 January. Following steps will help you get cashback from ShopBack:
Step 1:
Select Rentalcars.com from the directory of brands on the ShopBack homepage, or use the search option to find a link to the Rentalcars.com website.
Step 2:
Check the terms and conditions, time, and other important information to ensure error-free cashback from ShopBack.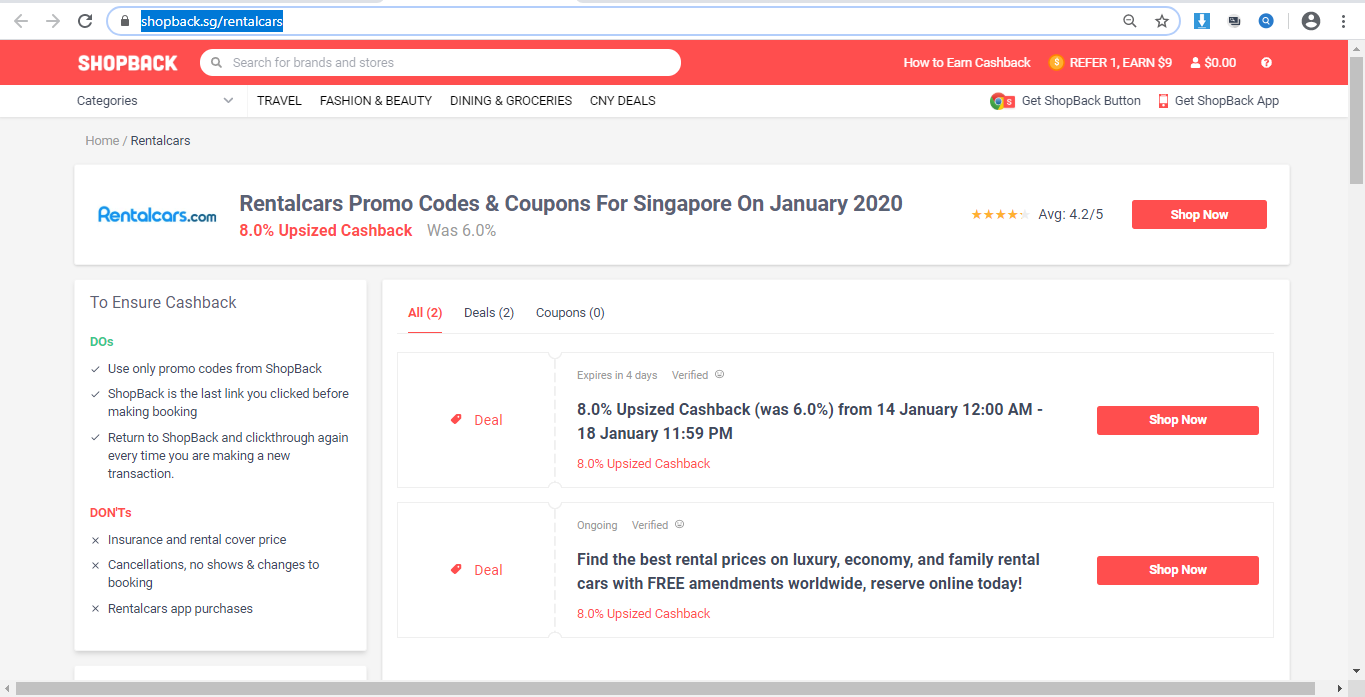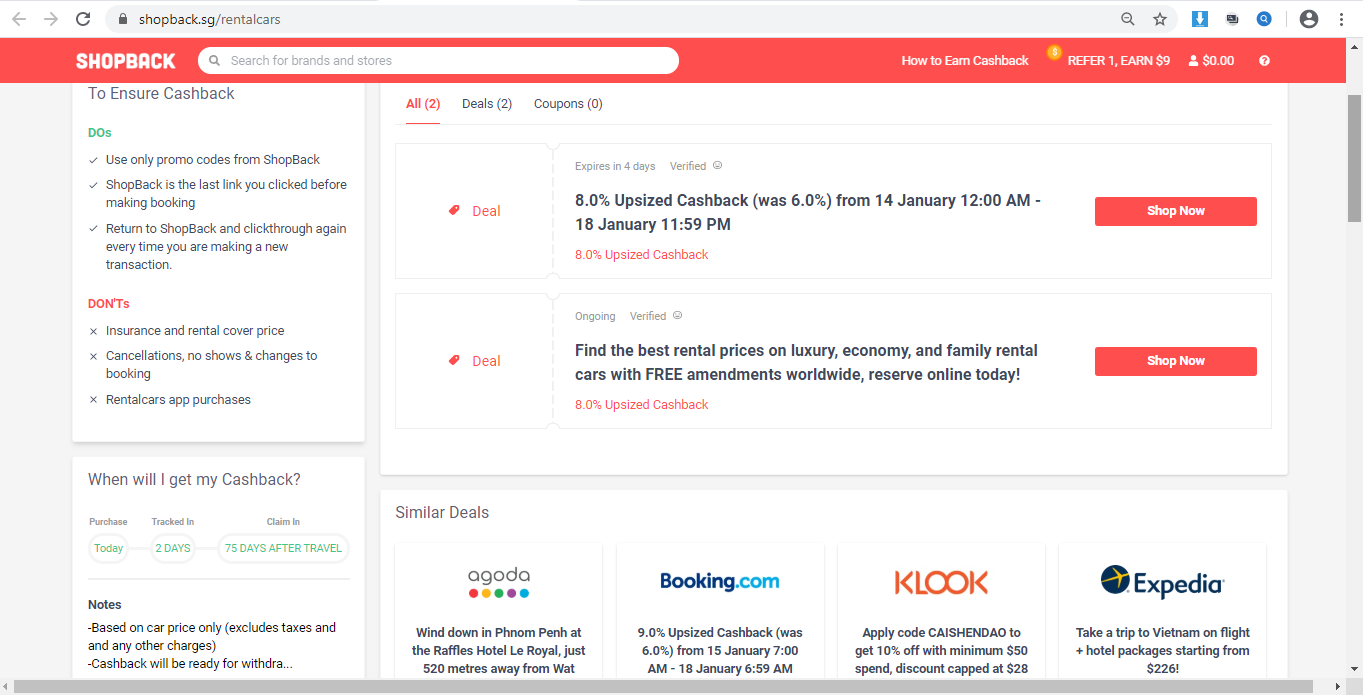 Step 3:
Click 'Shop Now button and then to activate your cashback coupon click on 'Go To Rentalcars.com Now button.
Step 4:
Explore more rewarding deals by checking out the 'Discounts + Cashback section.
Step 5:
You will be eligible to earn cashback from ShopBack after booking a car and making the payment for the same on Rentalcars.com. The Rentalcars.com cashback amount will vary from customer to customer depending upon their history with ShopBack.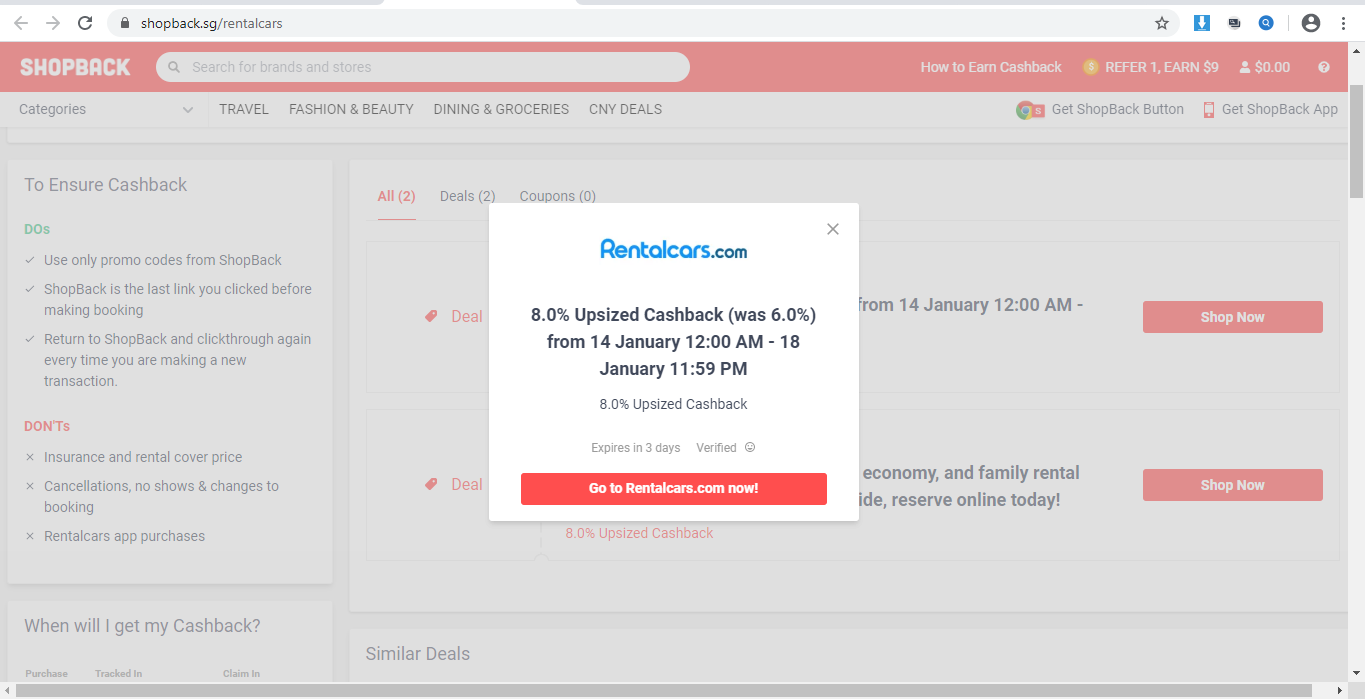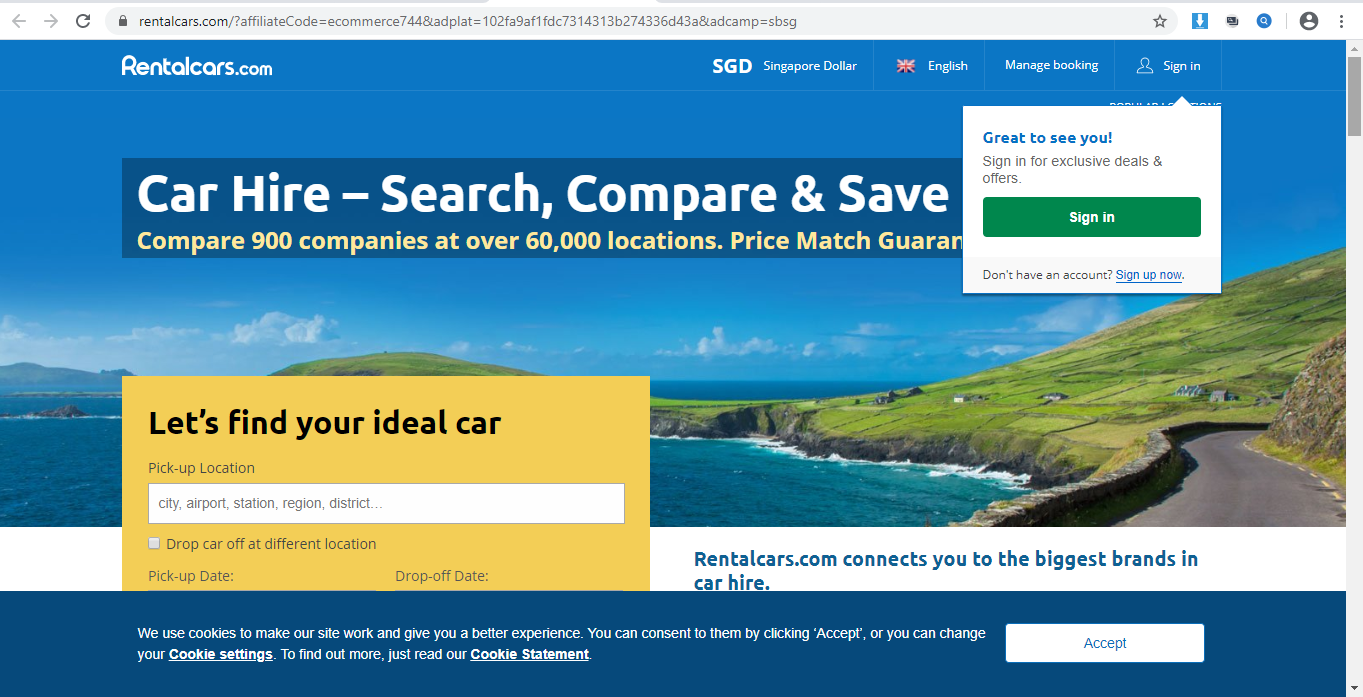 Rentalcars.com Cancellation and No Show Policy
The cancellation and no show policy of Rentalcars.com are listed below:
Cancellation:

If cancellation is done before 48 hours or more from the rental booking date and time, then your paid amount will be fully refunded.

In case, cancellation is done in less than 48 hours before your pick-up time, then the cost of 3 days rental will be deducted from your booking deposit. Rest of the amount will be refunded.

If the car is booked for less than 3 days, then no additional charges will be levied and no refund will be given.

No Show:

If the customer fails to pick-up the car at the booked time and date, or is unable to provide all the mandatory documents then there will be no refund for the money paid. The booking will be cancelled without any refund.

Also, if the customer fails to provide credit card in the name of main driver with sufficient funds on it for car s deposit, then car hire company reserves the right to cancel the booking.

Changes to your bookings can be done any time before pick-up of the car. Any changes before 48 hours can be done through the website s 'Manage Booking section. If alteration is required in less than 48 hours, then you can call on the 24x7 customer support number, local number 000 800 0501 226 or on international number +44 161 830 5704.
Rentalcars.com Customer Service
You can connect with Rentalcars.com customer care through various platforms. For quick resolutions to your queries directly chat with customer service representative via their live chat support. You can also write an email at [email protected] .To book a car or to resolve any issue call on local number 000 800 0501 226 or on international number +44 161 830 5704, this is available 24x7. To find more answers on driver requirements, fuel and mileage, travel plans, insurance, payments and fees, booking and picking-off and dropping-off details, explore contact us page. Also, browse or search an answer to all your queries on help page as well.