Step up Your Game with Razer
If you are a gaming enthusiast, then Razer is just what you are looking for. One of the world s leading lifestyle brands for gamers, Razer has a major fan following in all the continents of the world. With its award-winning products, Razer has managed to build the world s largest gamer-focused ecosystem of software, hardware and services. Known for its high-performance gaming peripherals and gaming laptops, Razer has dared to venture into other domains as well such as mobile phones and e-wallet services. With over 70 million users of Razer s software platform, the company remains unbeatable in the gaming world. This leading brand is recognized for its excellent products and innovative services across USA, Europe and China. So, join the bandwagon and explore the official website of Razer i.e. www.razer.com to update your gaming arsenal with their top-notch products!
Razer was set up as a subsidiary of Karna LLC in 1998, to develop and market the Boomslang, a high-end computer gaming mouse. However, Karna ceased to operate in 2000 because of financial crisis. In 2005, the current iteration of Razer was founded by Min-Liang Tan and Robert Krakoff after procuring the rights to the Razer brand. Razer continued to develop computer gaming devices such as Razer Switchblade, Razer Edge gaming tablet computer, Razer blade portable gaming laptops and Project Christine, a modular gaming PC. In 2015, Razer acquired the software division of video game company Ouya and in 2016 and 2017, it purchased THX and Nextbit (a manufacturer) respectively.
Razer has won several accolades for its high-end products which includes People s Choice Award at Consumer Electronics Show (CES) 2016, for Razer Blade Stealth Ultrabook. After creating ripples across the gaming industry, Razer decided to spread its wings by launching Razer Phone, its first smartphone in 2017. In 2018, the company further expanded its reaches by acquiring MOL, an e-payments platform and launching an e-wallet service called Razer Pay in Malaysia. Since 2019, the company has decided to realign its operations by closing the Razer Game Store.
The official website of Razer sells a wide range of products for technology and gaming enthusiasts. From physical devices to sophisticated software, Razer has a great collection of products available on its RazerStore. Here is a brief discussion of the product categories available on the company website:
Products:
If you are a tech-savvy person who loves gadgets, then this is the ideal place for you. Razer sells a stunning range of tech products such as laptops, keyboards, mice, mobile, desktops, displays & routers, gaming consoles, headsets and a lot more. Explore this category for purchasing high-quality gadgets for your personal use. You can also find Razer Pay, their e-wallet service, under this category.
Software:
If you are looking for software to install on your computer systems or other devices, then check out this category. Software such as Cortex Game Booster, Chroma RGB and Synapse 3 IOT Drivers are sure to enhance your tech experience by several notches.
| Razer Product Category | Products |
| --- | --- |
| Products | Laptops, Mice, Mats, Keyboards, Mobile, Headsets & Audio, Broadcaster, Console (PS4 / Xbox), Desktops, Displays & Routers, Licensed, Collections & Customs, Gear, Apparel & Bags, Razer Gold & Silver, Razer Pay |
| Software | Cortex Game Booster, Synapse 3 IOT Drivers (beta), Chroma RGB, Streamer Companion App, SoftMiner (beta), Synapse 2.0 (legacy) |
Shopping at Razer website is extremely easy and convenient because of its user-friendly interface. The website allows you to navigate effortlessly and purchase products without any hassles. Follow these simple steps to shop from the RazerStore.
The product categories are displayed on the header of the website, which drop down to reveal the sub-categories. Select a product category and a subcategory on the homepage by clicking on it.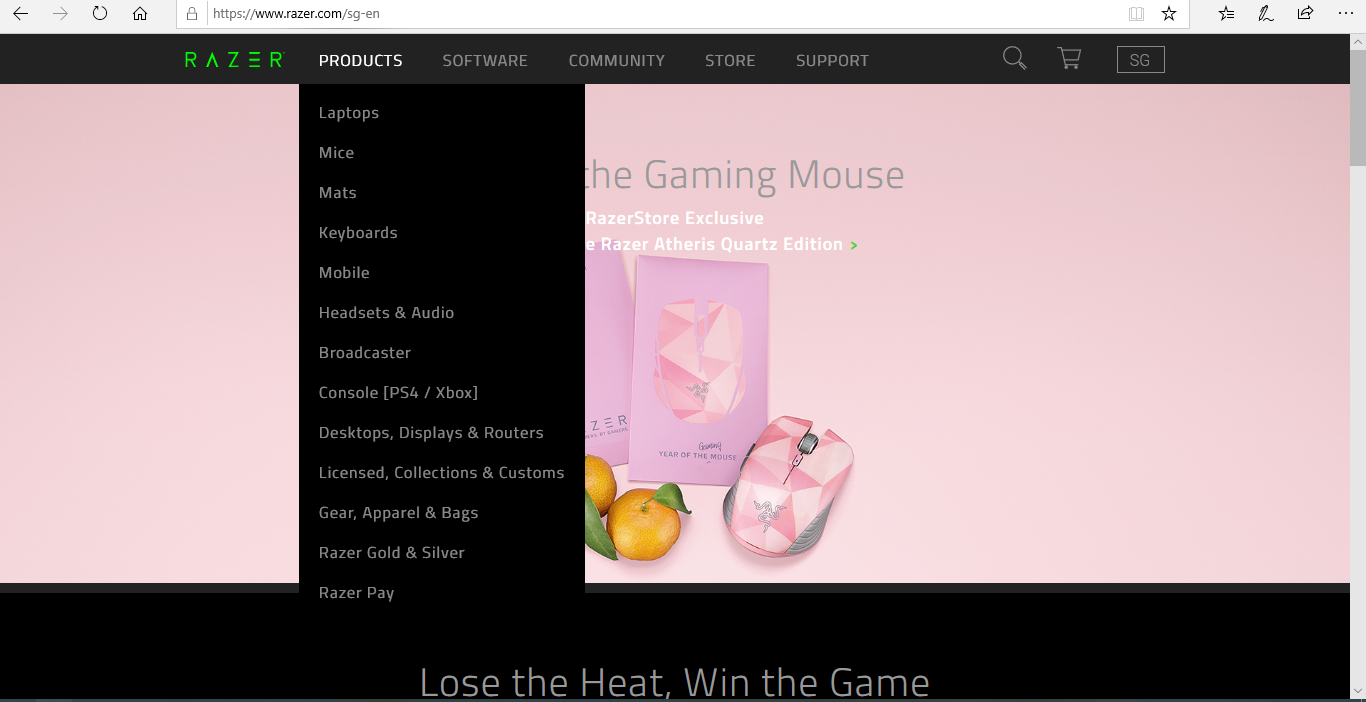 You will be directed to the page that catalogues all the products listed under your chosen sub-category. Go through the list and select a product by clicking on "Learn more". You will observe that Razer offers great Razer deals on many products.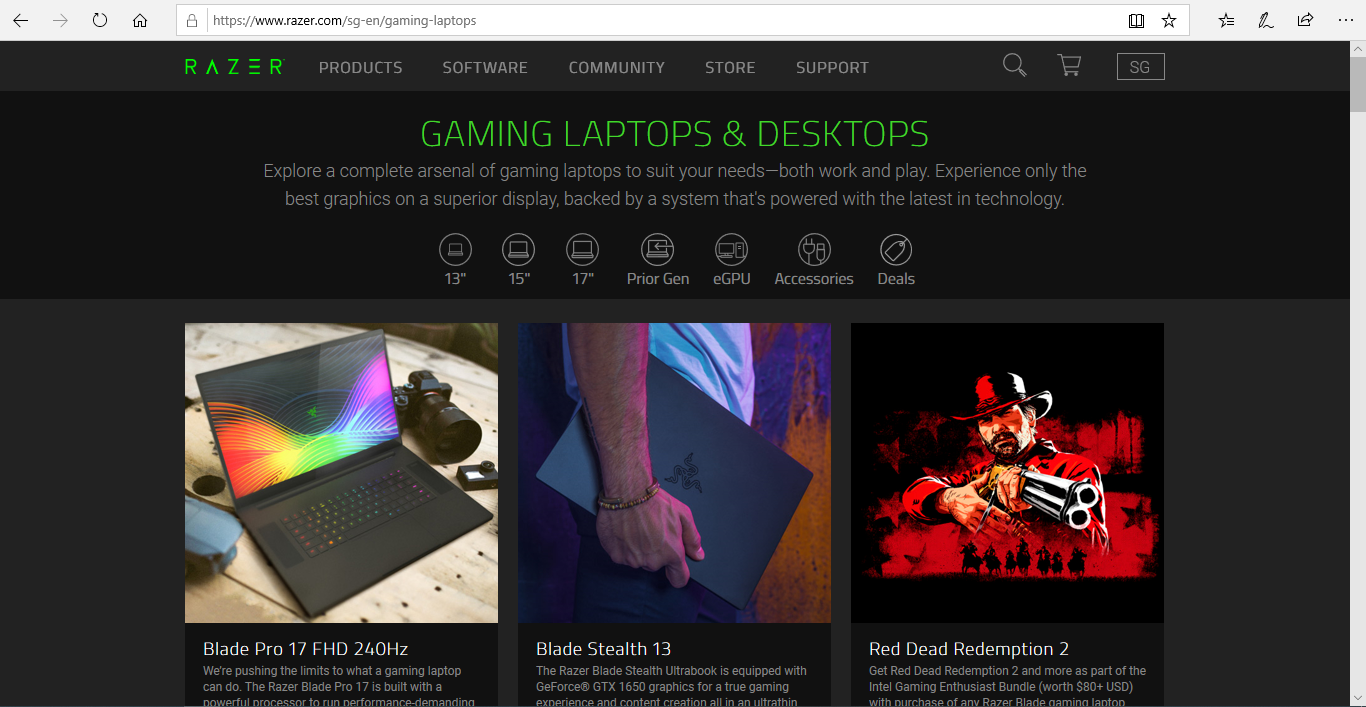 On the next page you can find all the details regarding your chosen product. Carefully read all the information on the product listing page and click on 'Buy now button on the top right corner.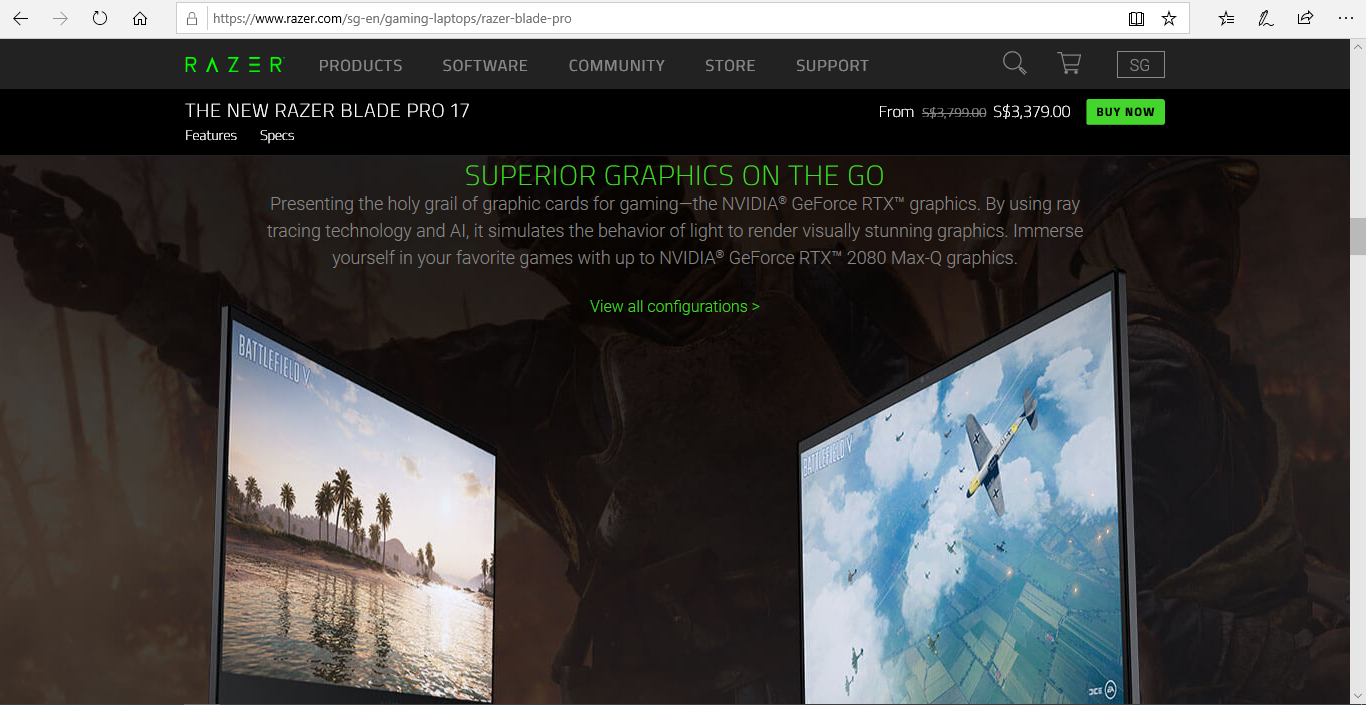 You will land on the page that summarises all the specifications of your product. At the bottom right corner of the page, you will find 'Add to Cart button. Click on it to proceed further.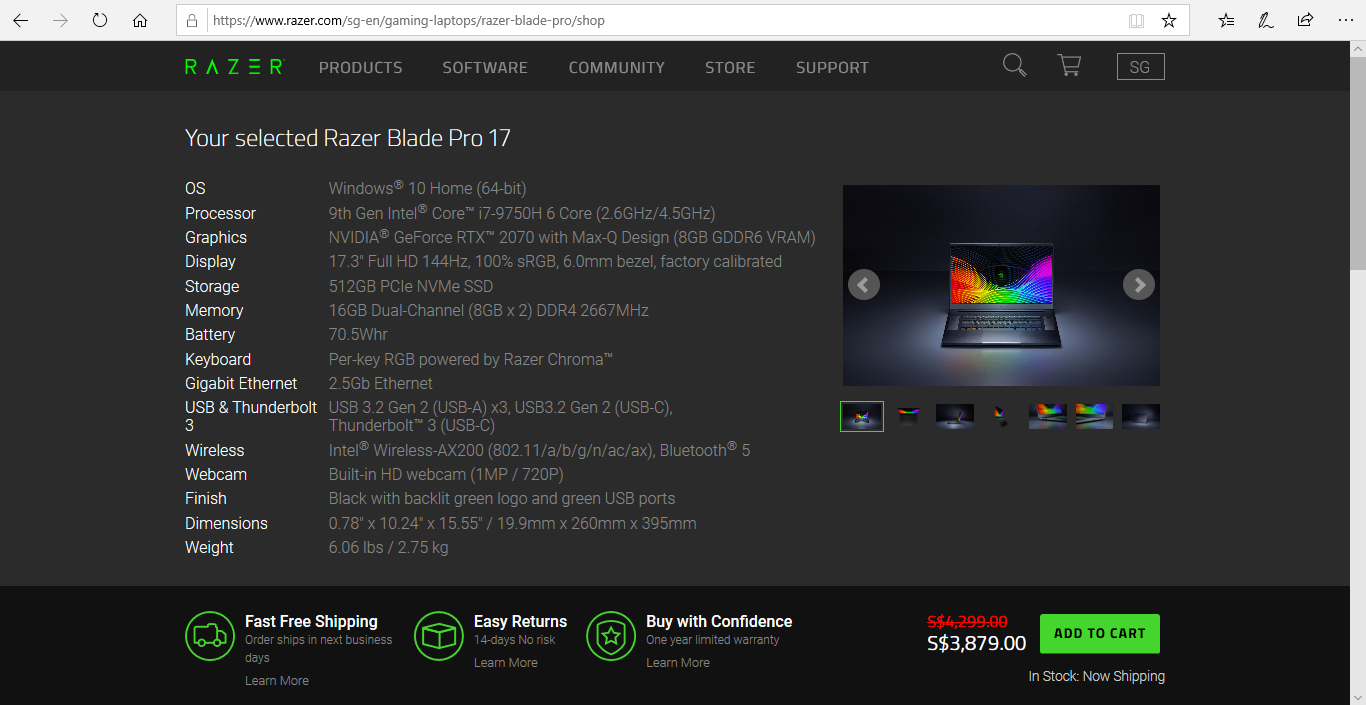 On the cart summary page, go through your cart once more. If you are satisfied, click on 'checkout button. You can also redeem a Razer promo code by entering the Razer code in 'Have a promo code? section.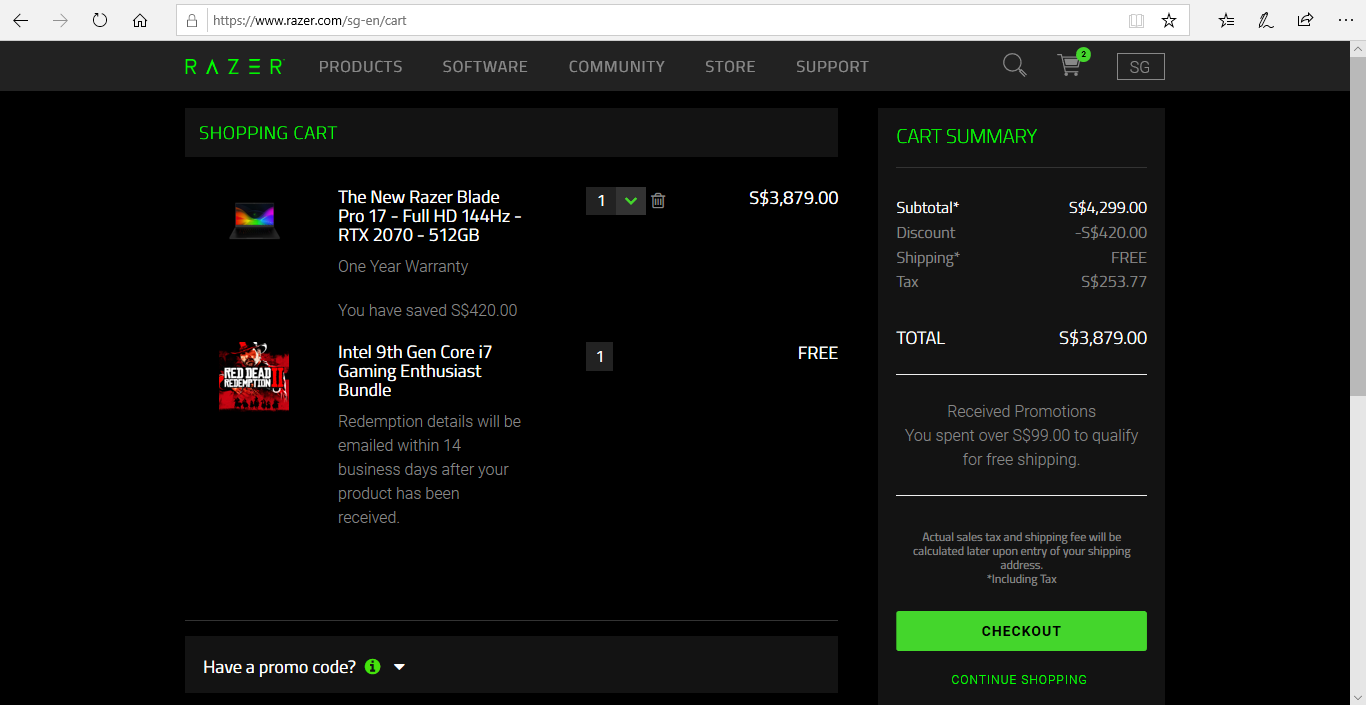 You will be directed to the next page where you are supposed to provide your billing and shipping information. Fill in your personal details such as name, contact number, delivery address etc. Select a shipping method and then proceed to the payment section to pay for your order. If you have redeemed a Razer promo, then the Razer discount will be automatically updated in the bill amount. Once the transaction is successful, you will be notified about your order confirmation via email or text.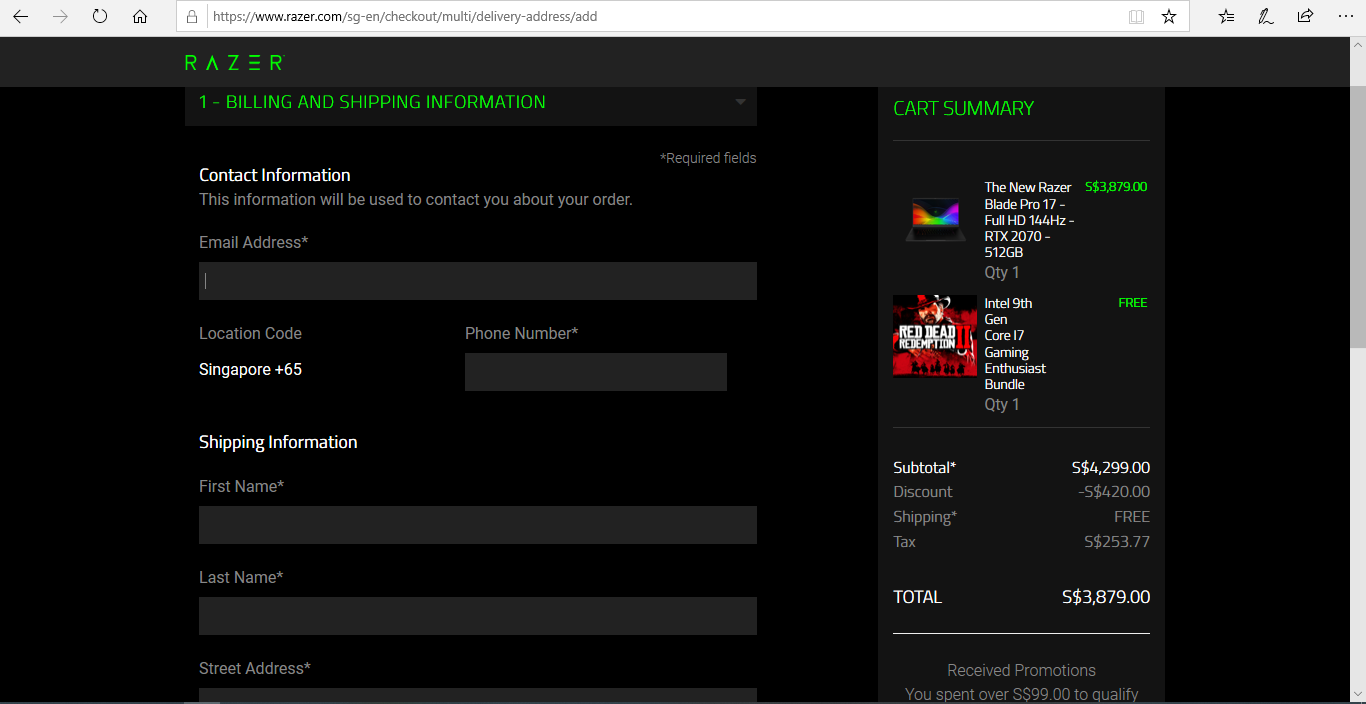 Razer accepts payment through PayPal, Visa, MasterCard, American Express and Diner s Club credit cards. Customers can rest assured that their credit card details will be safe and secure as the company s server encrypts all the information submitted to them.
Different Coupon Codes and Discounts on Razer
Razer consistently offers many Razer coupons and Razer vouchers to its customers. Some of these Razer coupon codes are available only for limited periods while some Razer voucher codes can be active for a long time. The Razer sale also gives you an opportunity to shop for their products at amazing discounts. Many products are also available at affordable prices during Razer promotions. Make sure to check out the Game Deals section on the website for more Razer discount codes.
Customers can also avail Razer cashback if they shop at the website via a registered account on ShopBack.
How to Redeem Coupons and Vouchers at Razer
Online shopping is not only convenient but also extremely rewarding and fun. Consumers get plenty of opportunities to save a lot of money by availing several offers and deals, given away during Razer sale. Here is a step-by-step process to redeem coupons and vouchers at Razer:
Step 1:
Select the items from the catalogue of products and click on "Add to Cart" to add them to your shopping cart.
Step 2:
Proceed to the checkout page and enter your Razer promo code in the "Have a promo code?" box. Click on 'Apply to redeem the promo code.
Step 3:
Once your code is applied to your sub-total, click on 'Checkout to proceed further.
Step 4:
Provide your shipping information and select your preferred delivery method and payment option. Complete your transaction for order confirmation.
How to Shop on Razer using ShopBack
ShopBack offers cashback on your shopping if you shop from Razer. Also, ShopBack offers some coupons and deals too for Razer products. Below mentioned are the steps to shop via ShopBack:
Step 1:
Choose Razer from the list of merchants on the ShopBack homepage, or use the search box to find a link to Razer page.
Step 2:
To ensure cashback, carefully read do s and don ts, notes, terms and conditions and other relevant information mentioned on the left hand side of the website.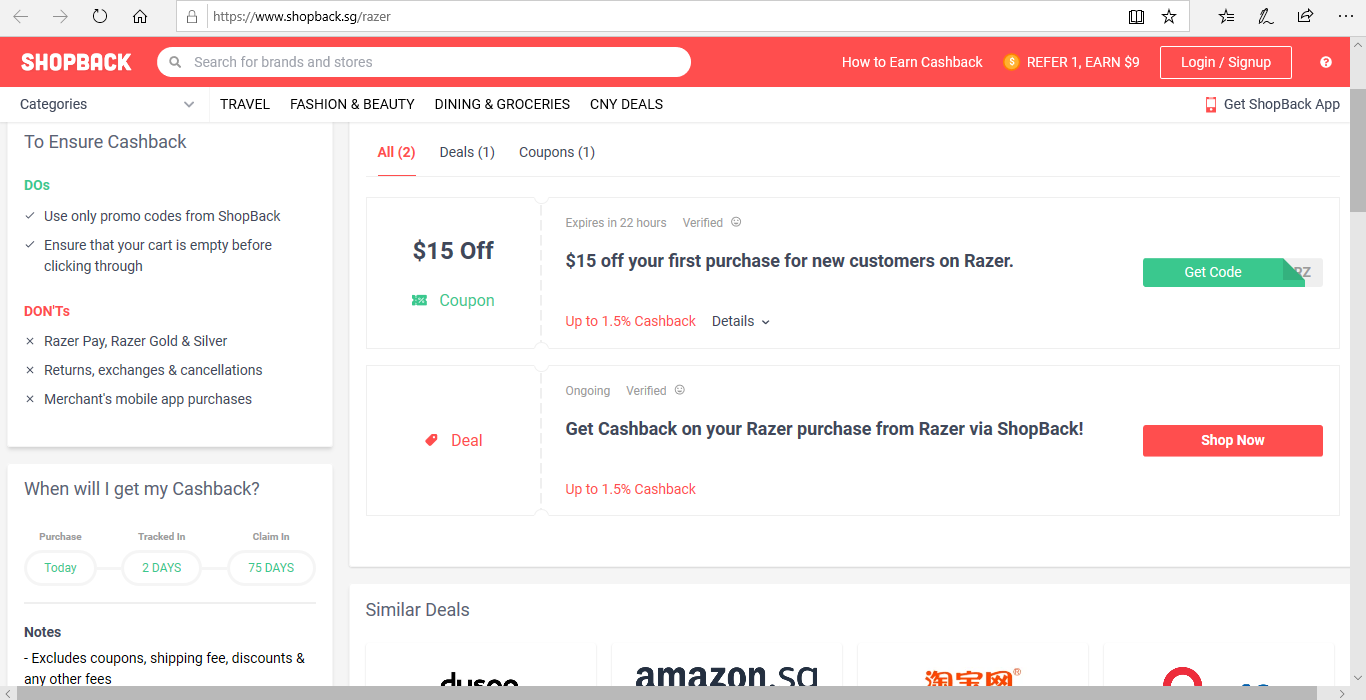 Step 3:
Click on 'Shop Now button, and then click on the 'Go to Razer now! button on the pop-up window.
Step 4:
You can explore more tempting deals by checking out the 'Razer Promo Codes, Sales & Promotions section.
Step 5:
You will be eligible to receive cashback from ShopBack after placing the order with Razer. Cashback offer is valid only when you shop via ShopBack website.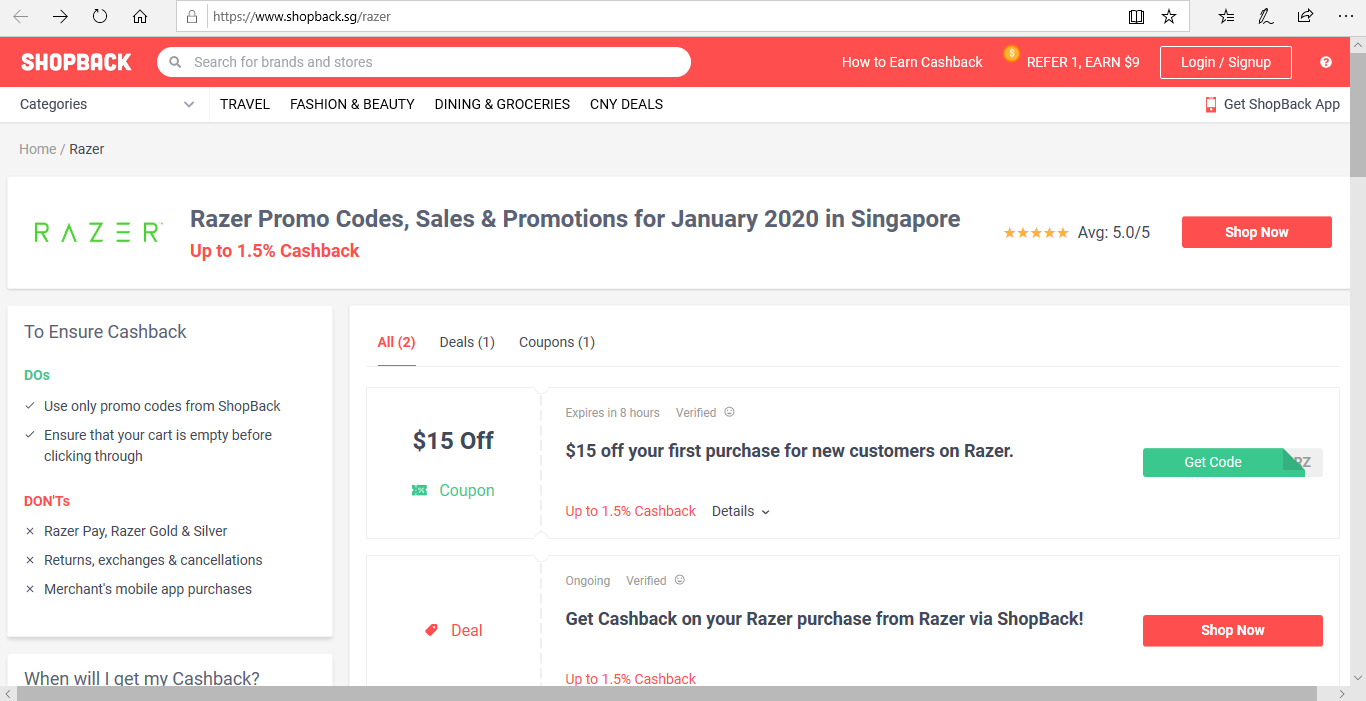 Razer s Shipping and Return Policy
Shipping:
Razer offers two shipping methods to Singapore customers: Standard and Express. You can select the shipping method during the checkout process.
Standard shipping delivers the order in 6 to 10 business days after the order has been shipped. If the order costs less than S$99, then a shipping fees of S$10 will be charged. If the cost of the order exceeds S$99, the shipping will be free of cost.
In Express shipping, the order is delivered in 3 to 5 business days once it has been shipped. For orders costing less than S$99, the shipping fees is S$20 and for orders that cost more than S$99, the shipping fees will be S$10.
Customers can also track their shipment while it is in transit.
Return Policy:
Razer s return and refund policy is applicable on only those items which have been purchased directly from their Razer Online Store. If you wish to return a product, you must initiate a return request within 14 days from the date of delivery of the product. To qualify for a full refund (exclusive of initial shipping and handling charges), the customer needs to contact Razer s technical support team and obtain a Return Merchandise Authorization Number (RMA) within the specified time period.
Customers must ensure that the product has been returned in its original packaging and condition. Also, make sure that the RMA number is noted outside the returned product s package. Once the returned product is received by Razer, it will initiate its refund process. You will be reimbursed within 45 days of Razer s receipt of the returned product.
For any support or assistance, customers can visit the 'My Support page and fill the support form. Enter your queries in the box provided to describe your issue and click on 'Submit .