Trendy And Chic Apparel With Revolve!
Revolve, a world-renowned e-commerce website, is an ultimate destination that flaunts the latest chic and trendy apparel collection by mid to top brands and designers. The company s catalogue showcases products especially designed for young customers who are looking for something special and unique that is hard to find in a brick-and-mortar store. With tens of thousands of products from over 500 brands, this website is a perfect platform for all those men and women who are looking out for plenty of options.
Since 2012, Revolve has been growing by more than 50% each year. The company also boasts of adding hundreds of products to its "new" tab every day. Rest assured, you will find only authentic and first-run products that are purchased directly from the designer. Apart from the website, you can download Revolve s easy-to-use app available for iPhone, iPad and Android.
The story of Los Angeles-based Revolve online company is truly inspirational. Two men who were not quite familiar with the fashion industry built this million-dollar clothing company. This data-driven firm flaunts a sale value of more than $1 billion in 2018. Revolve was established in 2003 by Michael Mente and Mike Karanikolas, who had no experience in fashion. However, their business backgrounds and analytical approach helped Revolve beat their competitors and achieve new heights of success.
Revolve offers an array of merchandise that include clothing, shoes, beauty products and accessories from mid to top brands and designers. The designs are trendy and perfect for young men and women who are always looking for something new, chic and different. As part of Revolve promotions, you can access discounts by applying a revolve promo code or revolve voucher code. A short preview of the various product categories on Revolve is given below.
Clothing
– Revolve is the perfect destination for those fashionistas who are looking to revamp their wardrobe with the latest chic apparels. Denims, dresses, jackets, coats, jumpsuits, rompers, pants, shorts and skirts, you can grab these all on the Revolve website. Apparels from top designers like Alice Mccall, Adrienne Landau, Ksubi, LEVI S Premium, Adidas and Calvin Klein are available on the website for both, women and men.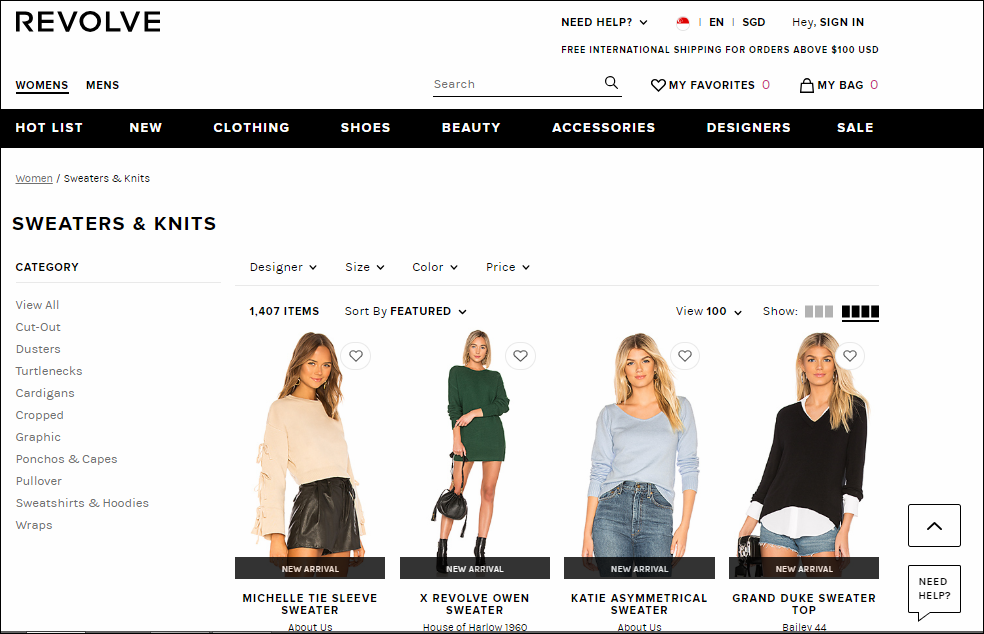 Shoes
– Pick your favourites from a wide range of shoes for both, men and women on the Revolve website. The different categories available for women are boots, booties, flats, heels, sandals, sneakers and wedges. Men too can enjoy a happy shoes shopping time as they browse through categories such as boots, lace-ups, sandals, slip-ons and sneakers.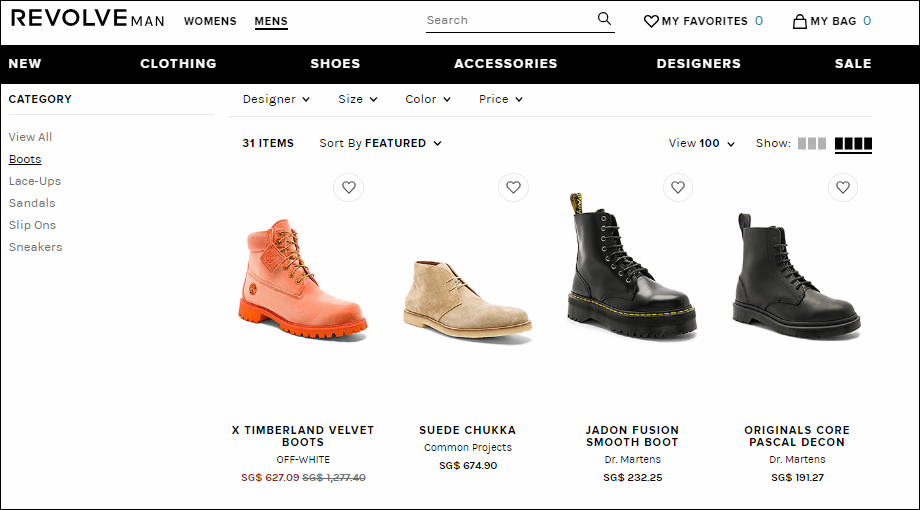 Beauty:
Revolve Singapore offers high-quality beauty essentials from top brands as well as the lesser known ones. Some of the popular beauty brands are Amika, Dr. Barbara Sturm, Gisou by Negin Mirsalehi, Oribe and Vintner s Daughter. The website displays beauty product categories based on makeup, hair and skincare. The 'Featured category displays new arrivals and best sellers.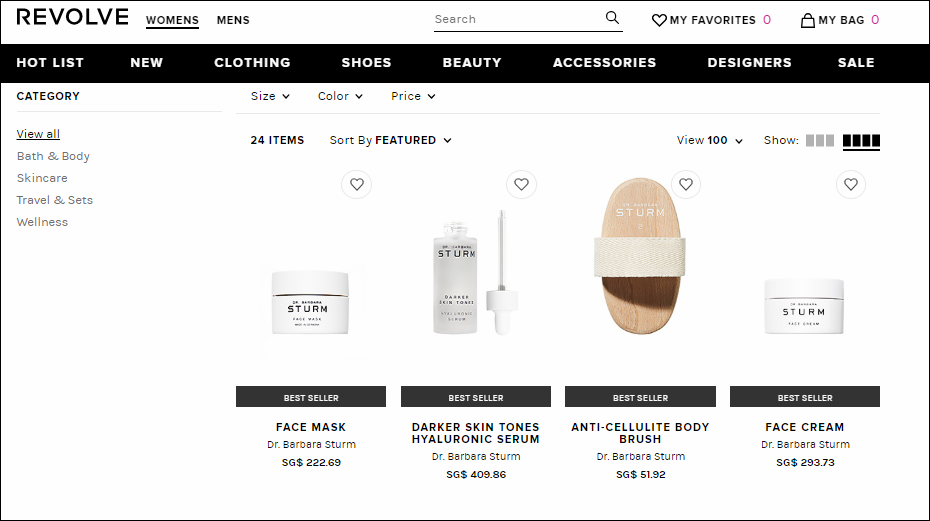 Accessories
: From hats to sunglasses, belts to scarves and bags to jewellery, you can find all these and some more on the Revolve website. You can purchase these all from the comforts of your home.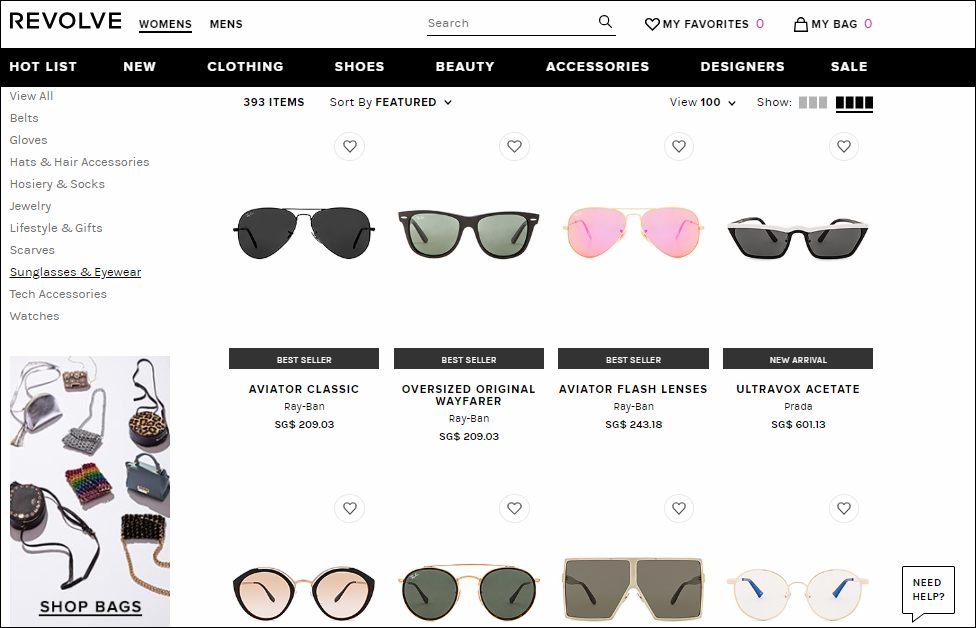 The categories and sub-categories of products for women are given in the table below.
| Product Categories (Women) | Product Type |
| --- | --- |
| Clothing | Activewear, Denim, Revolve Dresses, Intimates, Jackets & Coats, Jumpsuits, Loungewear, Pants, Rompers, Shorts, Skirts, Sweaters & Knits, Swimwear, Tops |
| Shoes | Boots, Booties, Flats, Heels, Sandals, Sneakers, Wedges |
| Beauty | Makeup, Hair, Skincare |
| Accessories | Hats, Sunglasses & Eyewear, Belts, Tech Accessories, Scarves, Bags, Jewelry |
| | |
| Product Categories (Men) | Product Type |
| --- | --- |
| Revolve Clothing | Activewear, Denim, Hoodies & Sweatshirts, Jackets & Coats, Pants, Shirts, Shorts & Swim, Sweaters & Knits, T-Shirts |
| Shoes | Boots, Lace-Ups, Sandals, Slip-Ons, Sneakers |
| Accessories | Grooming, Hats, Jewelry, Sunglasses & Eyewear, Bags |
| | |
Revolve s website is user-friendly and simple to use. It contains two separate links to product categories for women and product categories for men. All the categories are listed on the header of the website. Click on the categories to view the sub-categories and purchase the necessary items. You also have the option to search for the required product by directly entering the product name or brand in the Search box located at the top end of the website.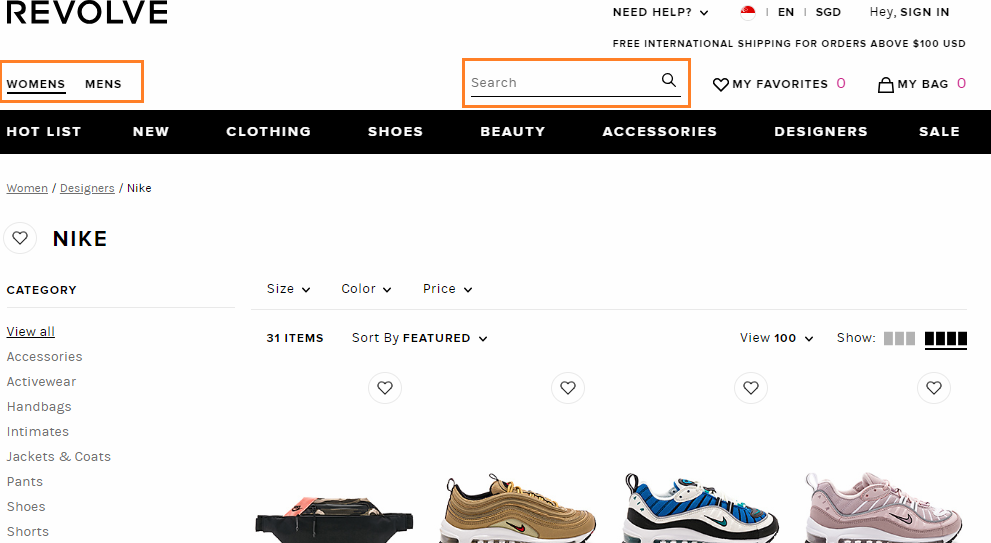 Browse through the categories and then choose the sub-category based on your requirements. You can view the different products available in the selected sub-category. Alternatively, you can enter the product name in the Search box to search for the required product.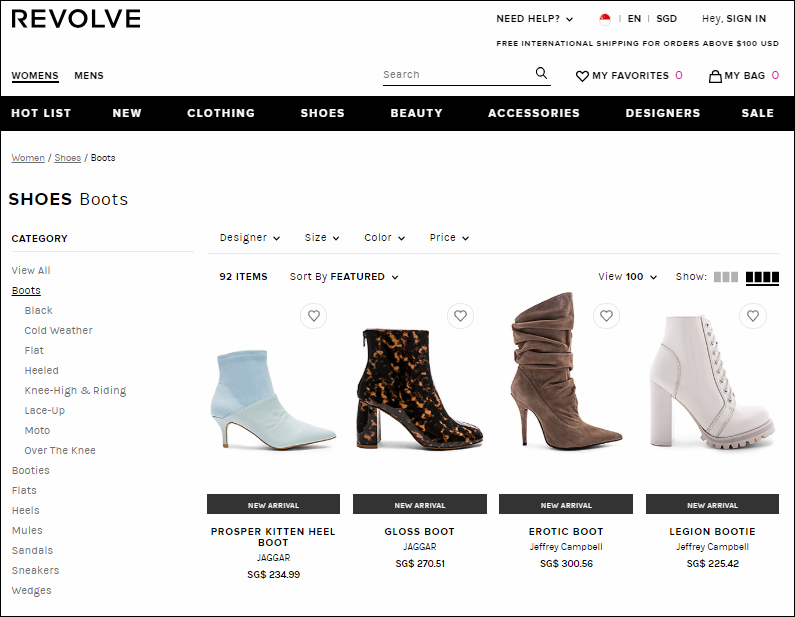 Click on the product of your choice. You are redirected to the product page. It displays the sizes available along with product description and information about the brand.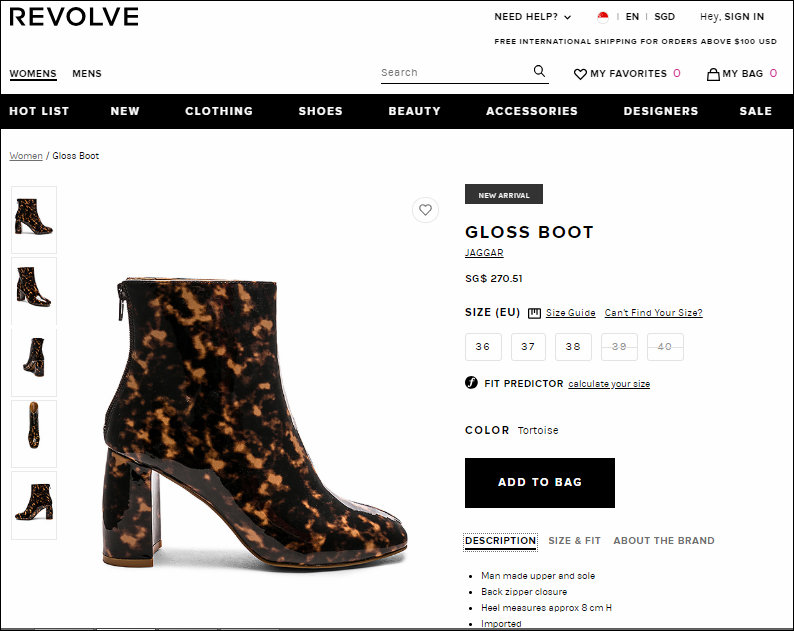 Click the "Add to Bag" button to continue with the purchase process. Similarly, add all the products that you want to purchase in your shopping bag and then click the 'My Bag link to continue with the checkout process.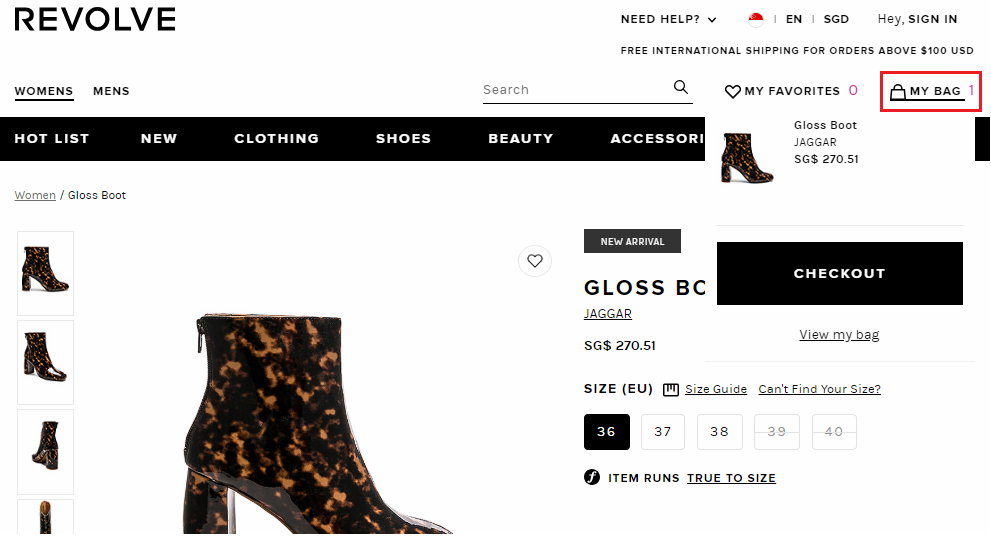 Click on the "Checkout" button. If you are an existing customer, enter your email address and password in the fields provided. If you are a new customer, click on the "Proceed to Checkout" button. You will have a chance to create your own account on the Revolve website.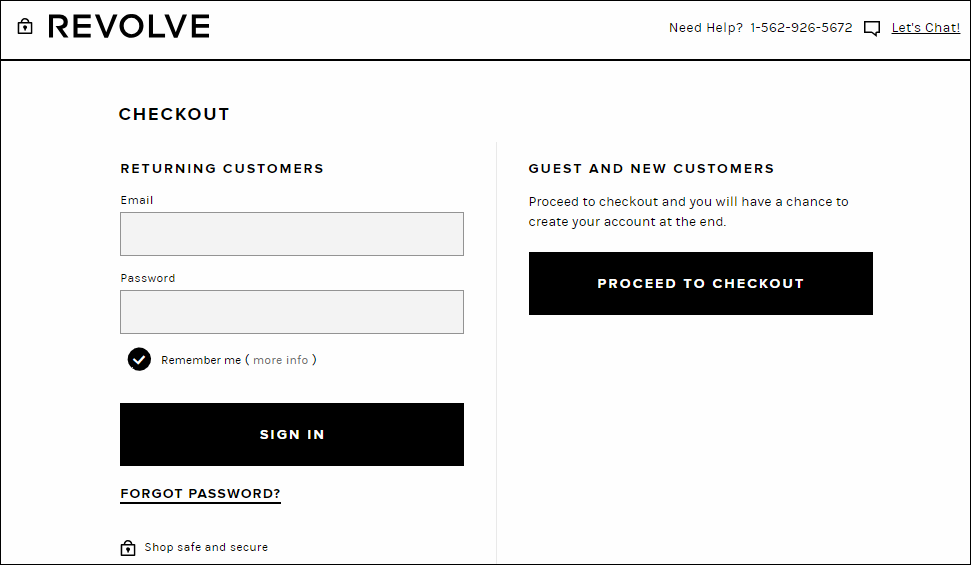 In the next screen, enter your shipping address. To know about new arrivals, Revolve cashbacks, Revolve sales and Revolve promos, submit your email address in the provided field. If you want to create an account on the Revolve website, click the "yes" button provided next to 'Create an Account option. Click the "Save and Continue" button to continue with the checkout process.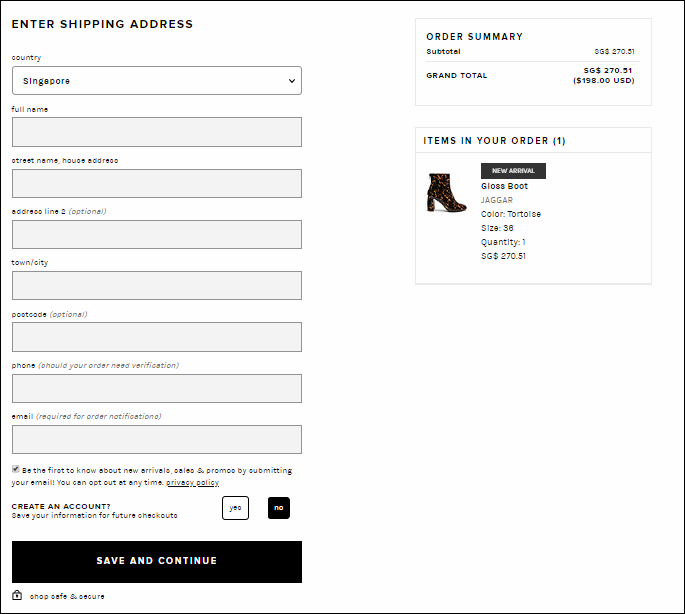 In the Delivery page, choose your shipping option, check your order summary and all the items in your order. Click the "Save and Continue" button.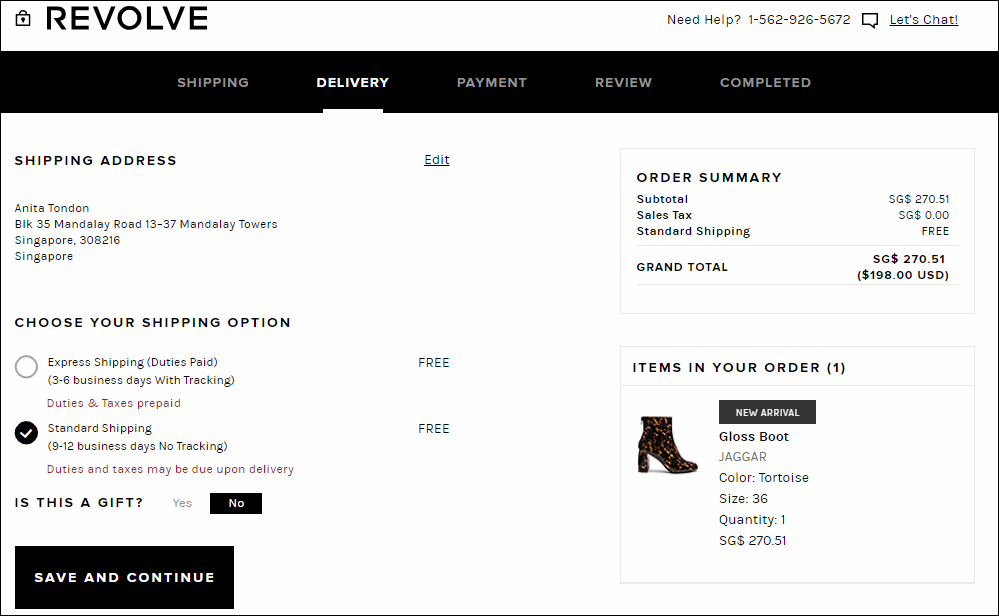 In the Payment page, select the mode of payment and enter all the necessary details. To avail discount, click on the 'Promo Code link and enter your Revolve promo code, Revolve discount code or any other Revolve code in the "Promo Code" box. Click the "Apply" button to apply the code and avail Revolve discounts. Next, click the "Save and Continue" button.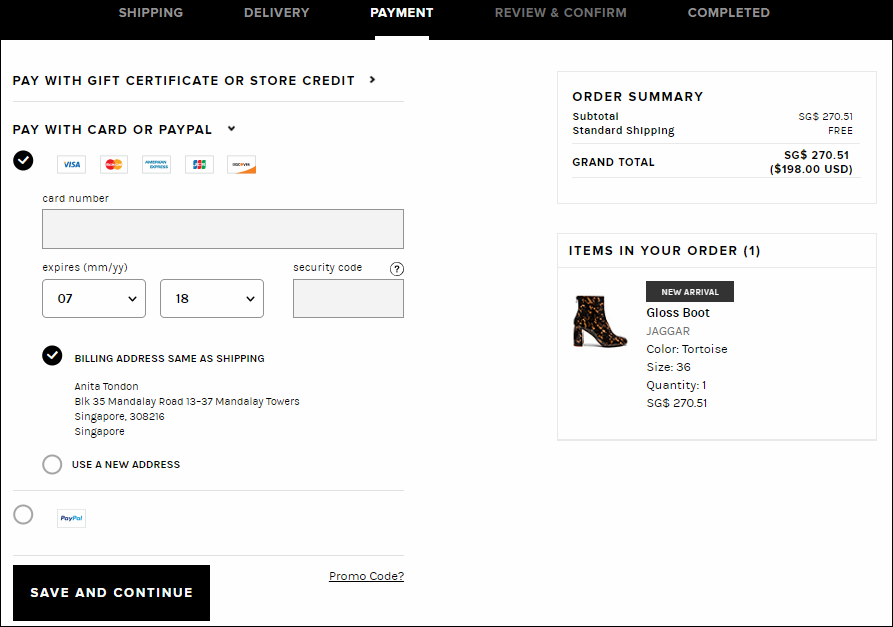 In the Review and Confirm page, review your order and complete the purchase process.
Payment Options on Revolve
Revolve offers several secured platforms for payments. You can pay for your purchases using any one of the several methods given below.
Payment via card
s: Customers can pay for their order via Mastercard, VISA, American Express, Discover and JCB. Revolve does not accept cards issued by local banks that do not carry logos of the ones mentioned above.
PayPal
: You can purchase products on the Revolve website by paying via PayPal, a popular secure online payment system that lets you make digital transactions.
Store Credit and Gift Certificates
: You can use your store credit or gift certificate or gift code. Enter the gift code in the box during the checkout process. These codes do not expire and can be combined with promotions.
Different Coupon Codes and Discounts on Revolve
Apart from the array of product options and brands, Revolve has won the hearts of millions of customers thanks to the multiple Revolve vouchers and Revolve coupons. Cashbacks are offered by popular websites like Shopback. Use Revolve coupon codes during checkout to avail discounts and save a lot of money. Customers can sign up for emails to receive information about promotions, sales and new arrivals on the Revolve website.
How to Shop on Revolve using ShopBack
ShopBack offers up to 3.5% cashback on various items if you shop from Revolve using a registered account on the Shopback website. The step-by-step procedure to earn cashback from ShopBack is provided below:
Step 1
: Visit the ShopBack website and click on the Revolve store. You can also use the search box to find the link to the Revolve store.
Step 2
: You can find more attractive deals and coupons in the "REVOLVE Promo Codes, Discounts 2018 and Cashback" section.
Step 3
: Read important information such as cashback details, tips to ensure cashback and other terms and conditions given in the Shopback website.
Step 4
: Click on the "Activate Cashback" button located on the top left corner of the webpage.
You will be redirected to the Revolve website, where you can browse and select the products you wish to buy. You will be eligible to earn cashback from ShopBack after placing your order. Please note that the cashback offer is not applicable on Revolve app purchases and voucher codes not listed on Shopback.
Revolve s Shipping & Return Policy
Revolve offers the following two shipping options:
Express (Duties Paid) – The estimated delivery time for Express delivery option is 3 to 6 business days. Customers have to pay a delivery fee of SG$13.66 for orders less than $100 USD. Free delivery service is provided for orders above $100 USD.

Standard – In case of Standard shipping option, estimated delivery time is 9 to 12 business days. Customers have to pay a delivery fee of SG$13.66 for orders less than $100 USD. Free delivery service is provided for orders above $100 USD.
Due to some restrictions, Revolve does not ship to certain countries. To check the list of these countries, click here.
Some of Revolve s return and exchanges are listed below.
If you are not satisfied with a certain product, you can return it within 30 days of purchase and receive a full refund. However, customers in Singapore must bear the shipment cost for returns and exchanges.

Some discounted items marked as 'Final Sale are not eligible for refund, exchange or store credit.

Only the returned items that are undamaged, unworn, unwashed and unused with the original tags intact are eligible for refund.

After your return is processed and your refund is issued, you will receive a refund confirmation email.

If you receive a damaged item, please contact customer service immediately.

During the holiday season (November 1st – December 25th), Revolve accepts your returned item after 30 days as long as it is received by 10th January.
For live customer support, you can chat using the option provided in Revolve s website. Customers in Singapore can call by dialling 1-562-926-5672. You can also email your queries at [email protected]