Look strawberry fresh with Strawberrynet
StrawberryNET is a leading online retailer of beauty products. Proud to call themselves "The Fresh Cosmetic Company", StrawberryNET is a one-stop online shopping destination dedicated for all your makeup, cosmetic, skincare and haircare needs. The online store is famed for its fresh and authentic branded beauty products, sold at affordable prices. This Hong Kong based e-commerce website has a strong international presence with thousands of satisfied customers from over 200 countries across the globe.
StrawberryNET offers a vast collection of cosmetics and fragrances with more than 30,000 items from more than 750 brands, including high-end luxury brands like Estee Lauder, Givenchy, Christian Dior, Darphin, Jimmy Choo, Ralph Lauren, Gucci, Salvatore Ferragamo, Stella McCartney, Tiffany & Co. and Valentino. Thanks to the online store, now you can purchase your favourite beauty products at amazing discounts, at 'StrawberryNET.com or 'StrawberryNET Beauty Shopping app without any hassle.
StrawberryNET was founded in 1998 in Hong Kong. The online store is the ultimate destination for buying luxury branded products at highly discounted price. It is the first cosmetic website to offer free shipping in over 200 countries. The inclusivity of the eCommerce website is also reflected by the fact that the website is available in 38 languages.
StrawberryNET has been rated by over 400,000 customers and has been awarded the Biz Rate Circle of Excellence Platinum Award, twice in a row.
Products Sold on StrawberryNET
StrawberryNET is primarily a cosmetics eCommerce platform selling a diverse range of products under different categories such as skincare, makeup, haircare, perfume, men s skincare, men s cologne and home scents. The online store houses more than 750 brands ranging from popular brands like NARS, Clinique, Bobbi Brown and Estee Lauder to fairly lesser-known brands like Rio, Somatoline and Clarisonic. Here s a short preview of the categories of the products available on the website:
Skincare
– For a glowing and healthy skin, StrawberryNET offers a huge variety of high-quality skincare products and accessories. The website lists more than 6500 products from many sought-after brands under this category, which includes body care products, dental care, eye and lip care, face care, sun care and skincare sets.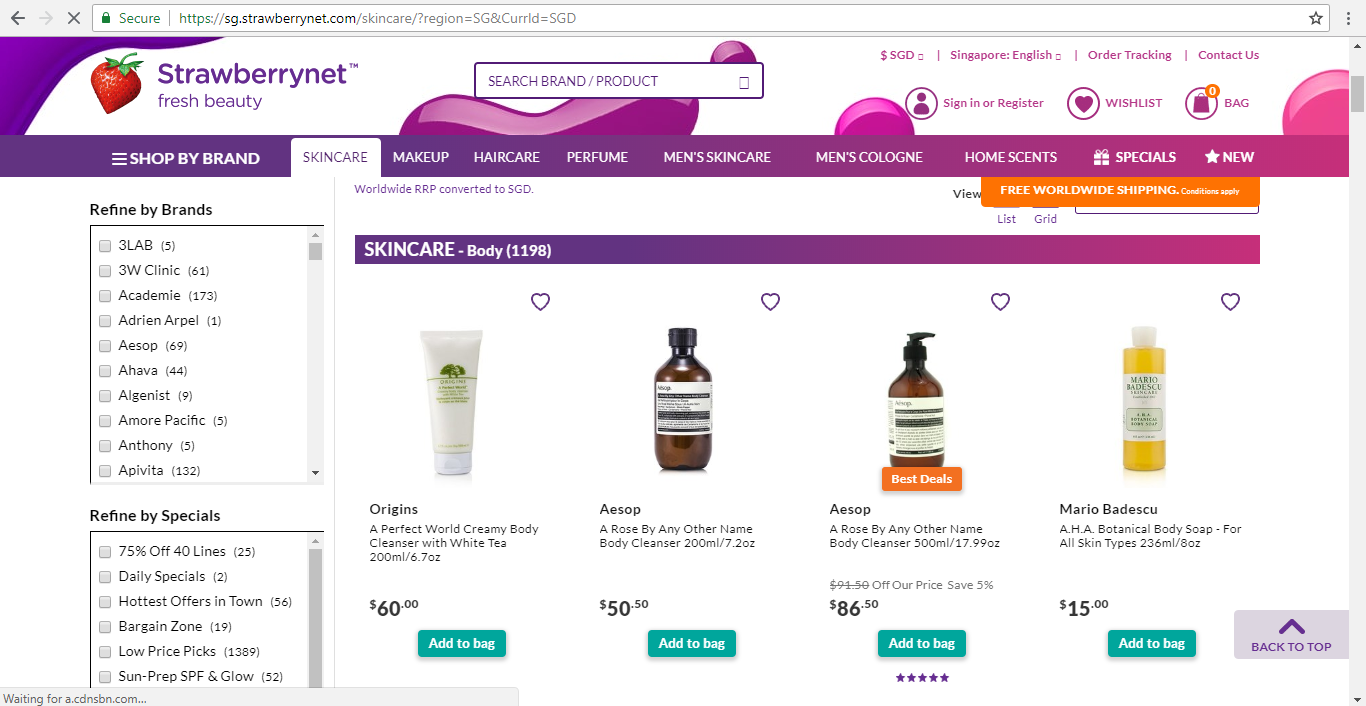 Makeup
– This category of products includes a diverse range of cosmetics from the best global brands. From daily wear makeup to cosmetics that are sure to make you look extra special on your special occasions, you can shop to your heart s content from this category. The website sells products like BB creams, foundations, eye shadows, eyeliners, lipsticks, nail polish etc. under this category.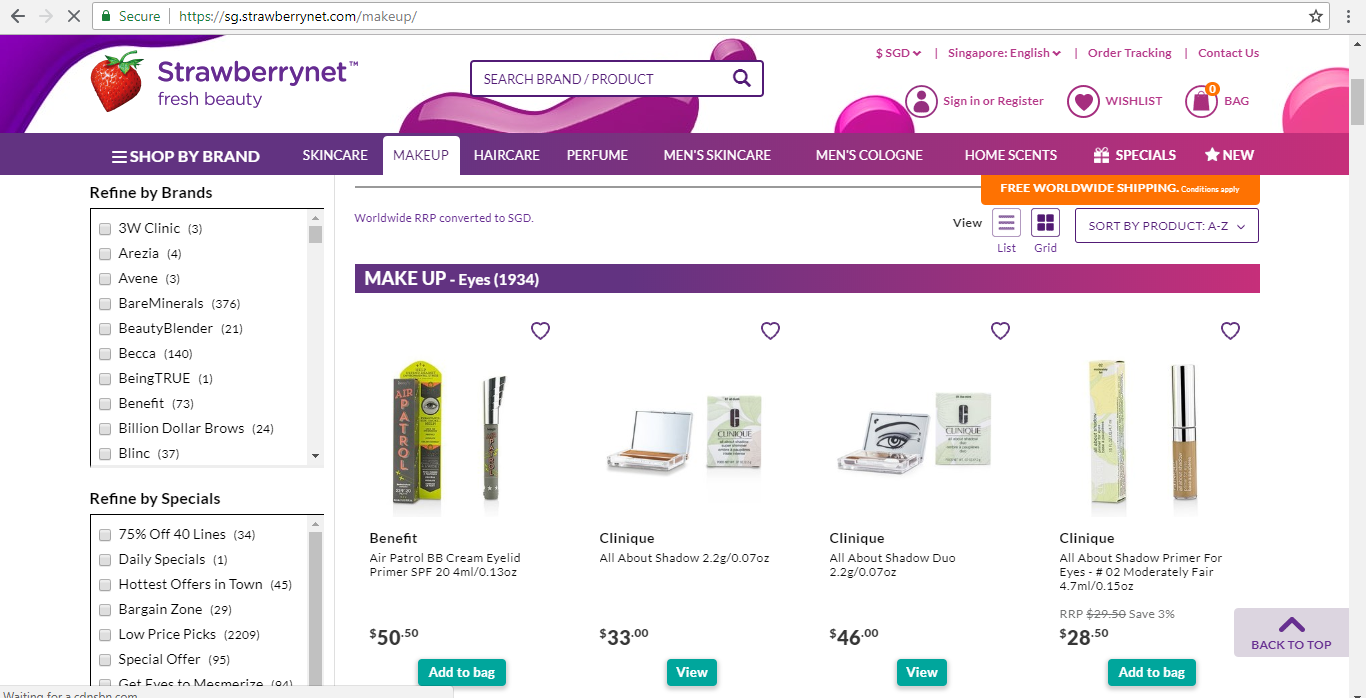 Haircare
– For maintaining healthy, voluminous and luscious locks, explore this category on StrawberryNET where you ll find a vast array of haircare products such as conditioners, shampoos, haircare sets, intensive hair treatment products, and hairstyling tools and products. With more than 3500 products from many high-quality brands, this is the go-to place for your haircare regimen.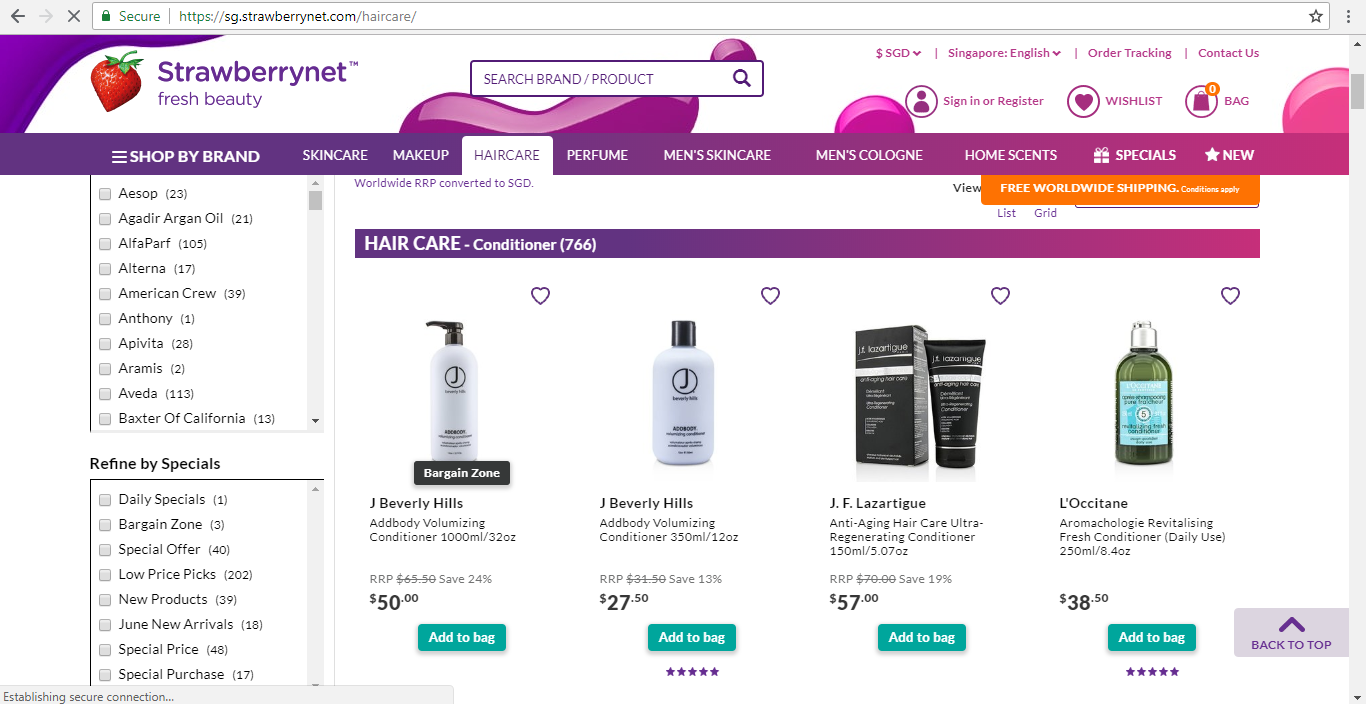 Perfume/Cologne
– StrawberryNET offers an exclusive range of fragrances to their customers. The online store ensures that it provides authentic fragrances from the most popular and sought-after labels. Smell amazing on your special occasions by wearing fragrances brought to you by StrawberryNET.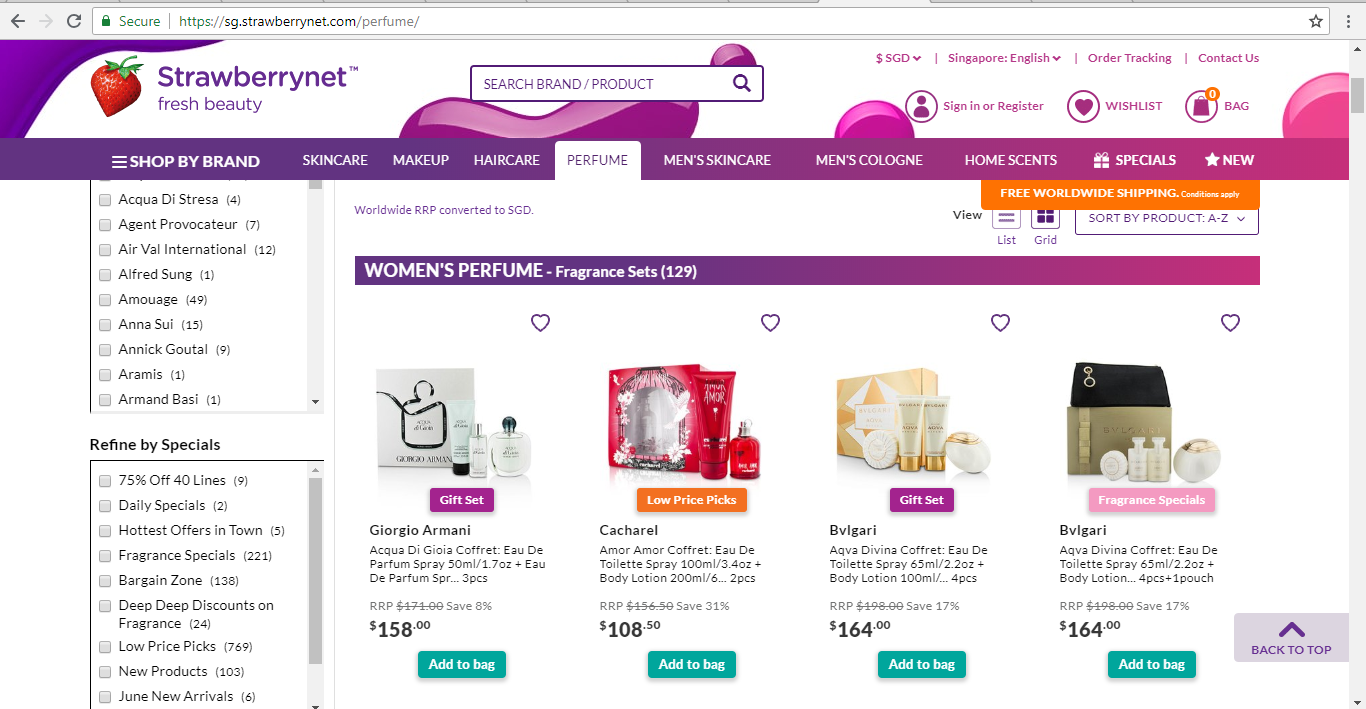 Home Scents
– This is a special category of products where customers can buy candles, diffusers and home sprays to make their homes smell fresh and lovely.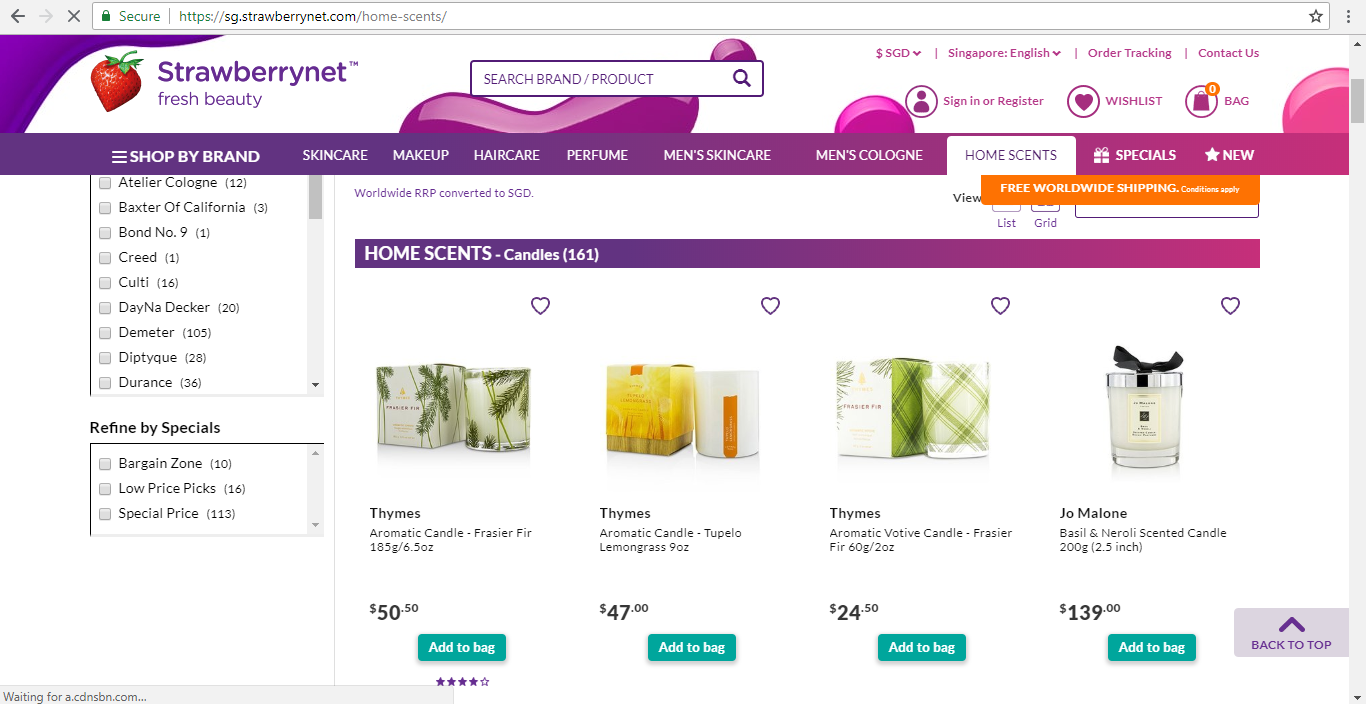 | Strawberrynet Product Category | Strawberrynet Product Sub-categories |
| --- | --- |
| Skincare | Body, Dental Care, Eye & Lip, Face, Neck & Decollete, Skincare Sets, Sun Care, Tools & Accessories |
| Makeup | Eyes, Face, Lips, Makeup Sets, Nails, Tools & Accessories |
| Haircare | Conditioner, Haircare sets, Intensive Treatments, Shampoo, Styling Products, Tools & Accessories |
| Women s Perfume | Fragrance Sets, Scented Bath & Shower, Scented Body Care, Women s Fragrances |
| Men s Skincare | Body, eye & Lip, Face, Grooming & Shaving, Skincare Sets, Sun Care |
| Men s Cologne | Fragrance Sets, Grooming & Shaving, Men s Fragrances, Scented Bath and Body, Scented Body Care |
| Home Scents | Candles, Diffusers, Home Spray |
| | |
How to Shop at StrawberryNET?
The StrawberryNET website offers a user-friendly interface where customers can easily scan through the categories and products. The search box at the top of the homepage enables the consumers to conduct product-specific search. There are different categories on the header for shopping by brand, skincare, makeup, haircare, perfume, men s skincare, men s cologne, home scents, specials and new. From here, customers can choose the categories they want to explore and shop.
The homepage is divided into sections featuring 'Daily Specials , 'Strawberry Picks , 'Top 40 Specials , 'Bestsellers and 'New Arrivals .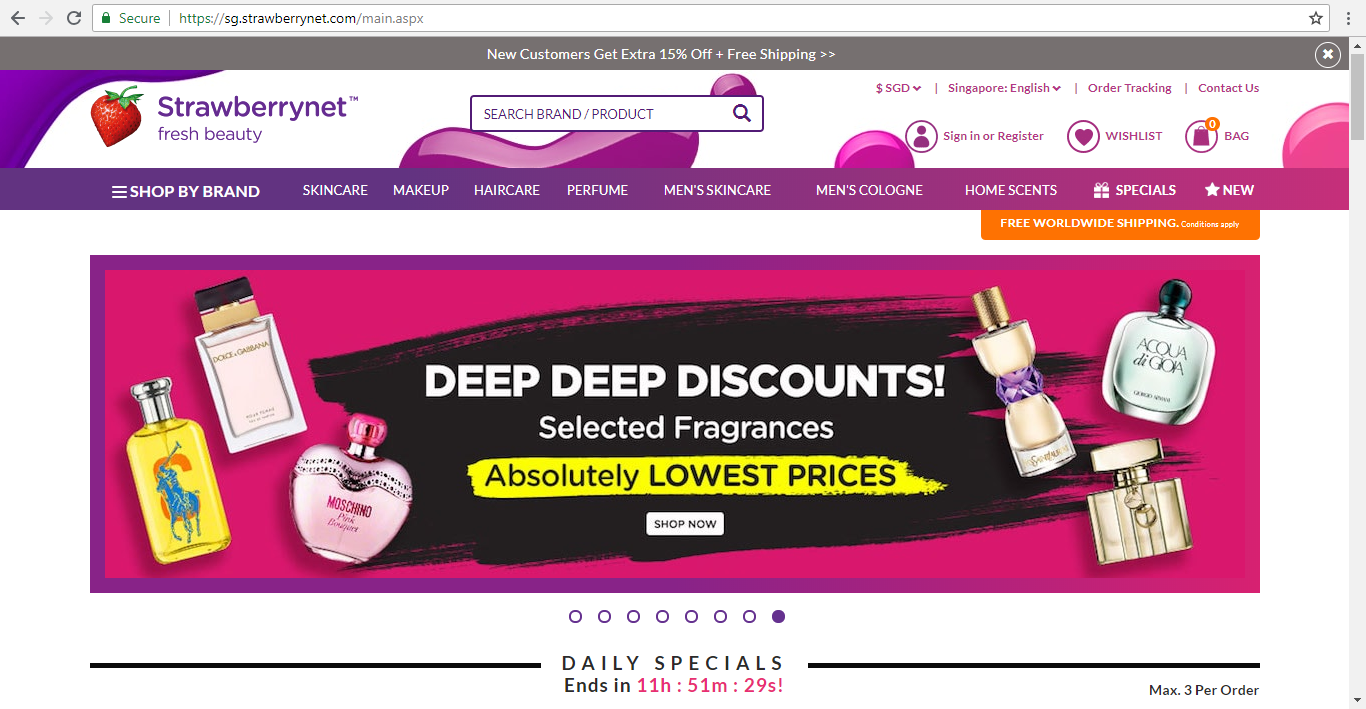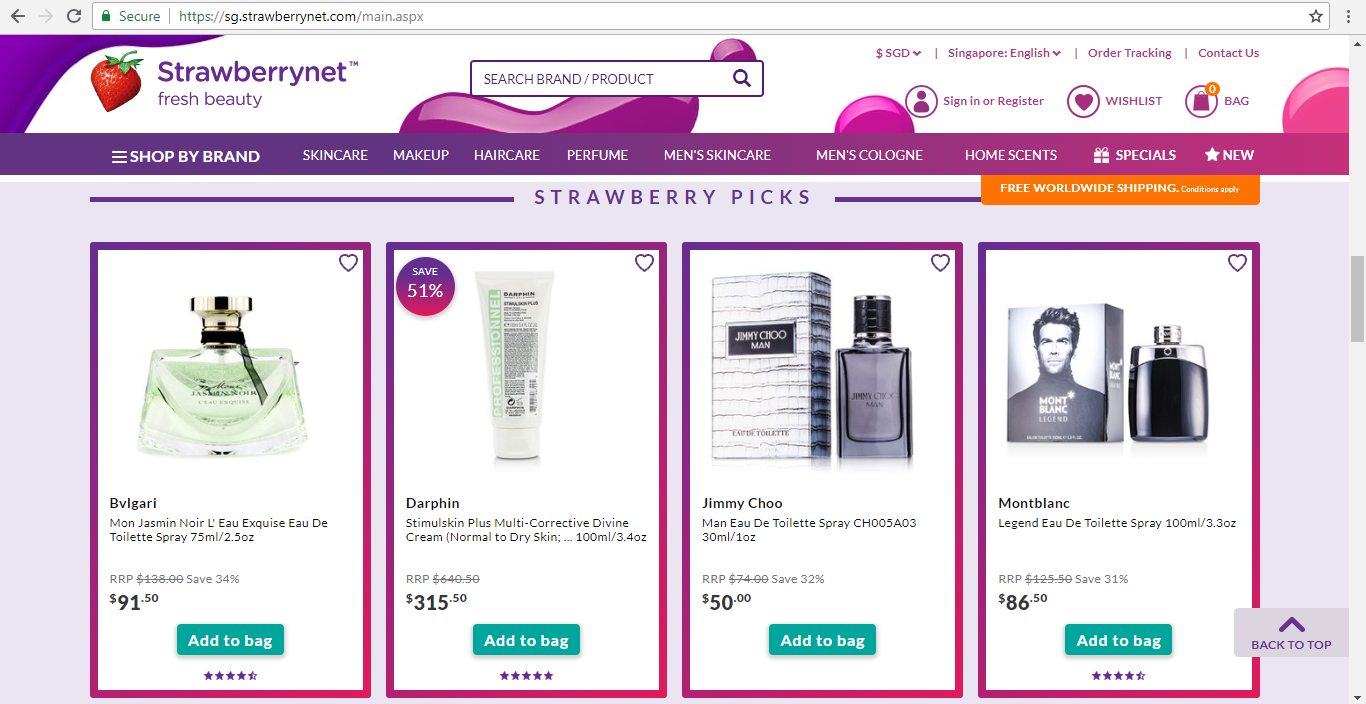 Browse the categories on top of the homepage from where you can choose the type of product you wish to buy. You will be directed to the page where sub-categories are listed.

Select the sub-category from the left corner of the page which will list all the products on the main display area, under that particular sub-category. From here, you can choose and click on the product you wish to buy. You will land on the product listing page. Check the details of the products and proceed to buy your desired product by clicking on the "Add to Bag" button.

Click on the shopping bag icon on right corner of the page. From here, you can proceed to checkout. If you wish to purchase more items, you can continue shopping and add more products to your cart. Once you are satisfied with the list of products in your cart, click on the "Checkout" button.

You will be directed to the page displaying your shopping cart summary. You can find a box on the right corner where you need to enter your email address and click on 'next to checkout.

Enter your shipping details. The delivery charges will be displayed on the screen. Enter your card details at the end of the page to make payment and complete the transaction. Shortly after, you will receive an order confirmation mail or a text confirming your order on your phone number, along with the expected date of delivery of your order.
Customers can find great deals on products at StrawberryNET sale or StrawberryNET offers displayed on the homepage. You can avail the discounts by using StrawberryNET vouchers and StrawberryNET coupons during the checkout process.
Payment Options on StrawberryNET
There are many options for making payments at StrawberryNET website for your orders. Here s a brief discussion on the various options that customers can avail:
Credit Card

– StrawberryNET accepts all major international credit cards, including virtual cards, such as VISA, MasterCard, American Express, Discover, JCB, Diners Club, Paypal and KCP. Transaction through credit card is a fast, safe and secure way to make payments.

Money Order/ Bank Draft

– If you don t have a credit card, then StrawberryNET provides another payment option which can be availed easily. Customers can pay for their orders via money order or transfer the amount through bank drafts. In case you choose this option, you will have to contact the StrawberryNET customer service for instructions and details.

Offline Transfer

– This mode of payment is available in some countries through payment methods such as Boleto, EBANX, Nordea, Alipay, 99bill, Tenpay, BankIn, UnionPay, Paypal China. Customers can select the payment method available in their country and proceed to make payments through it.

PayPal

– The StrawberryNET website offers two ways to pay through PayPal. The express way is the first way where you can select the 'Checkout with PayPal option in the shopping cart. Enter you email address first and you will be directed to the PayPal site to continue the payment process. The second way is available when you reach the payment section of the checkout process. You can select the 'PayPal payment option and proceed to make payment via the PayPal website.
Different Coupons Codes and Discounts of StrawberryNET
StrawberryNET is famed for its massive discounts and offers. The online store offers heavy StrawberryNET discounts on many products on a regular basis. Some StrawberryNET deals are available for a long time while some StrawberryNET discount coupons are offered for limited periods only. To avail these discounts and save your money, apply the StrawberryNET voucher code or StrawberryNET coupon code while making payment for your order.
At present, the customers can earn 4% cashback on StrawberryNET products if they shop with the merchant via a registered account at Shopback.
How to Redeem Coupons and Vouchers at StrawberryNET
Shopping from StrawberryNET is a very rewarding experience where customers get plenty of opportunities to save money on their purchase. The online store offers codes and vouchers that can be redeemed to earn cashbacks and discounts on products.
Here is a step-by-step tutorial on how to redeem coupons and vouchers at StrawberryNET:
Step 1:
Select the item that you wish to buy and click on Add to Cart . Go to the order summary page and click on 'next to checkout after entering your email address.
Step 2:
Proceed to the Checkout page and fill in the details of your shipping address and contact number.
Step 3:
Scroll down for the payment screen. Here, you will find a box under the payment summary section to enter your StrawberryNET promo code or any other applicable StrawberryNET code for availing discounts.
Step 4:
Select the payment method as per your convenience and enter the payment details to complete the transaction.
How to Shop on StrawberryNET using ShopBack
ShopBack offers 4% cashback on various items if you shop from StrawberryNET. Here are the steps to be followed to earn StrawberryNET cashback from ShopBack:
Step 1:
Visit the ShopBack website and select StrawberryNET store from the list of merchants and brands on the homepage. You can also use the search box to find the link to StrawberryNET store.
Step 2:
Read the terms and conditions as well as any other relevant information provided such as the cashback details and tips to ensure cashback.
Step 3:
Click on Activate Cashback button on the top left corner of the page.
Step 4: If you are willing to find more attractive deals and coupons, check out the StrawberryNEt Singapore Coupon Codes, Discounts & Deals section.
Step 5:
You will be directed to StrawberryNET sg (Singapore) website to browse and select the products you intend to buy.
Step 6:
You will be eligible to earn cashback from ShopBack on placing your order. The cashback rates might differ based on your history with ShopBack, i.e. whether you are a new or an existing customer.
The cashback offer is not applicable on purchases made on StrawberryNET app.
StrawberryNET s Shipping and Return Policy
At StrawberryNET, shipping is free on your first order, with no minimum purchase cost. For subsequent orders, there is a shipping cost of US$5 for orders under US$30 while the shipping is free if the order costs US$30 or above (after discounts). Shipping costs are converted to your local currency on the basis of daily exchange rate.
There are small handling charges on some products like fragrances and haircare products due to their flammable nature and heavy weight. Other than that, courier and express shipping rates are applicable which are calculated at checkout.
StrawberryNET offers a 30 days unconditional return and refund policy for its products. If the customer is dissatisfied with the delivered product (with any reason), he/she may return the items for a refund. The customer must ensure that the items are in original condition in which they were received. If you have ordered the wrong product, then too the product can be returned for a full refund, provided that the items are unopened and unused.
To initiate a return request, contact the orders department of StrawberryNET at [email protected] . They will inform you where to send the items and how to arrange the refund.
The returned orders will be refunded via the same method used to make payment for the order. For damaged, defective or incorrectly sent items, the return postage will be reimbursed and will be credited using same payment method used to pay for the order, or through store credit in special circumstances.
There is no return or refund policy under any circumstances for fragrances and home scents due to international aviation restrictions.
StrawberryNET Customer Service
For any enquiry or help, customers can visit StrawberryNET s 'Contact Us page where they can send their query via an email. Customers can also call on their international toll-free number – 18555498663 or send a fax on (852) 28115138.
Connect with StrawberryNET