Cath Kidston Promotions, Vouchers & Discount Codes
Up to 40% off Cath Kidston!
Get Cashback when you buy from Cath Kidston!
From 3 Jan 2018 00:00 onwards, Cath Kidston Cashback has been revised to 2% Cashback. ShopBack must be the last link you clicked in order to get Cashback. If other website links are clicked after clicking through ShopBack, Cashback will not be tracked (E.g. coupon and deal websites)

If for some reason your payment made on merchant page has failed, do click through ShopBack again and re-do your purchases to ensure tracking is still active

Return to ShopBack and click through to the merchant every time you are making a new transaction.

If you are making 3 separate transactions on the merchant, you should click through ShopBack 3 times, each time before making a new purchase.

For more details: www.shopback.sg/terms-and-conditions
Recent Articles
More about Cath Kidston
Get Stylist With Cath Kidston Now!
Cath Kidston is a fashion and homeware brand that has customers all over the world. Their unique range of items comprises stylish bags, trendy kids' collections, signature fashion products and exclusive gift ideas. Cath Kidston is best known for its elegant printed collection especially for women. Their online store has a user-friendly interface where you can browse through several product categories, purchase items of your choice and get them delivered at your doorstep. While shopping online, customers can save some bucks on numerous products listed under Cath Kidston sale.
History of Cath Kidston Limited
Cath Kidston Limited was found by Cath Kidston in 1993. It is a British international chain of home furnishing retail outlets headquartered in London, England. The designer Cath Kidston opened her first retail shop in London's Holland Park in 1993, which sold hand-embroidered tea-towels and renovated furniture. In 2011, there were 41 stores in the UK, two in the Republic of Ireland, three in Korea and 11 in Japan. Later, she opened 136 shops that include a flagship store on Piccadilly and four outlets in China.
In 2010, retaining a minority stake, Cath Kidston sold a majority stake of the company to the private equity investors TA Associates. In 2016, TA Associates sold its stake to Baring Private Equity Asia.
Product Categories Sold on Cath Kidston Singapore
Cath Kidston is a one-stop shopping destination hosting an array of top-quality products. Also, you will find numerous branded items on their website, under Cath Kidston sale.
Here is the short preview of the product categories available on Cath Kidston's website.
New In: This category lists a wide range of new arrivals on Cath Kidston online store. You can sort the list using the filters and purchase a product of your choice.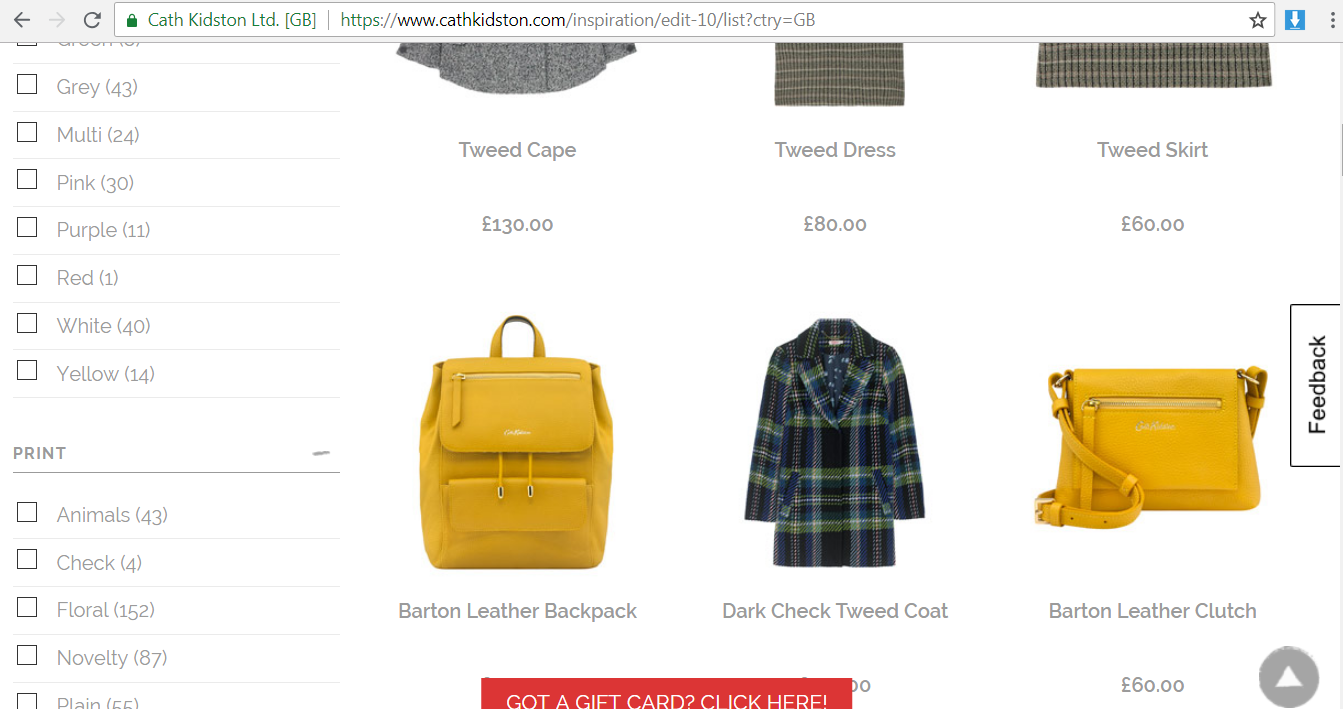 Disney: It has a set of new collections that are arriving soon on the stores. Also, it contains information on snow white launch events, global stockists and several Cath Kidston's competitions.
Collections: Under this section, customers can find a huge collection of products, designed in a variety of patterns.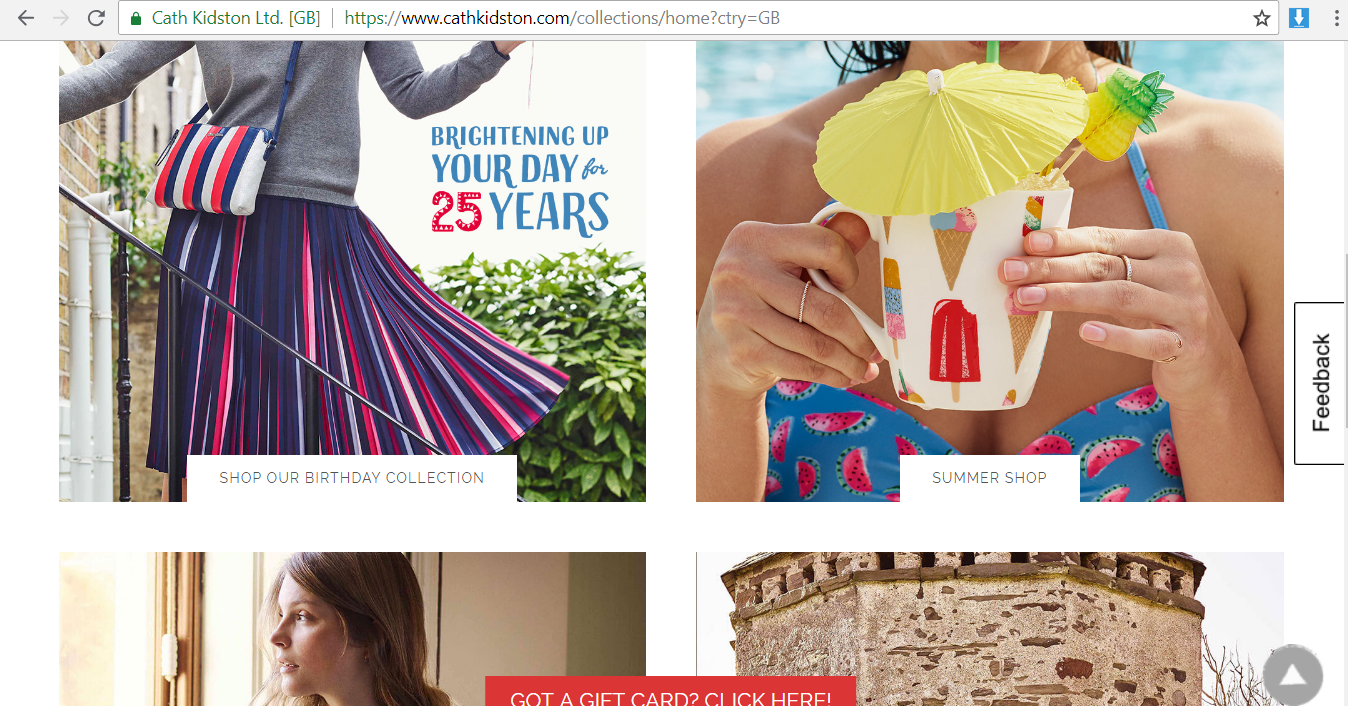 Gifting: This category hosts numerous gift idea including babies' and kids' items. Here, along with the gifts, you can avail gift wrapping services too.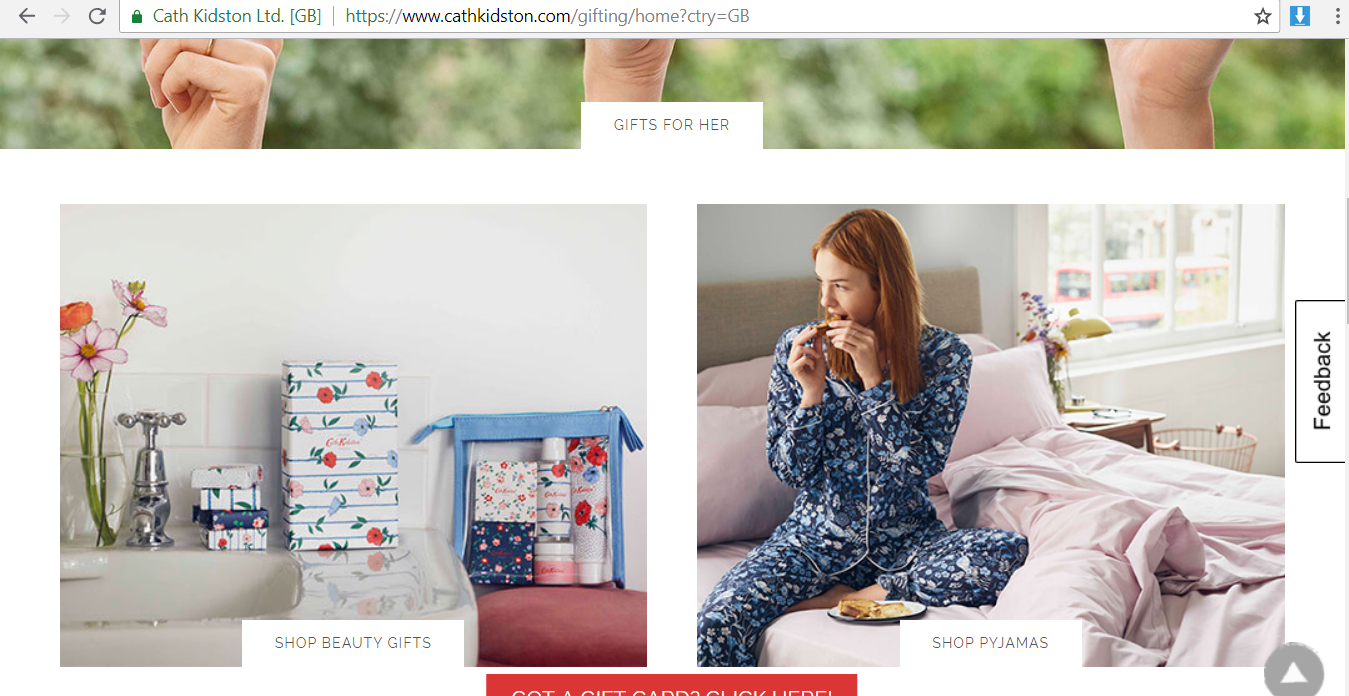 Bags: In this category, you can find all kinds of trendy bags for all age-groups such as backpacks, handbags, tote bags, shoulder bags and many more.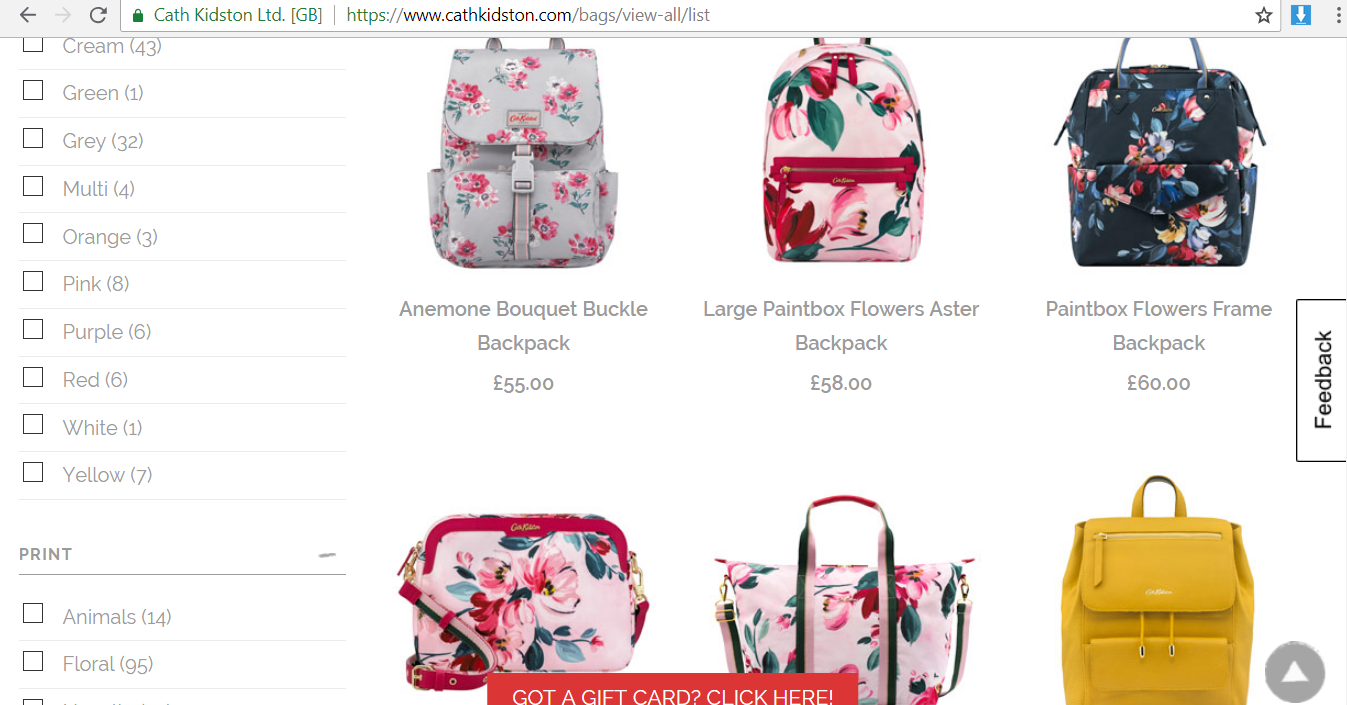 Accessories: This section lists different types of accessories that include travel accessories, mobile accessories and bathroom accessories. Apart from them, it also has other stylish product categories including footwear, watches, beauty products and umbrellas.
Fashion: This category provides a range of fashionable attires. You can sort the products according to the price, colour and print types and purchase them as per your requirements.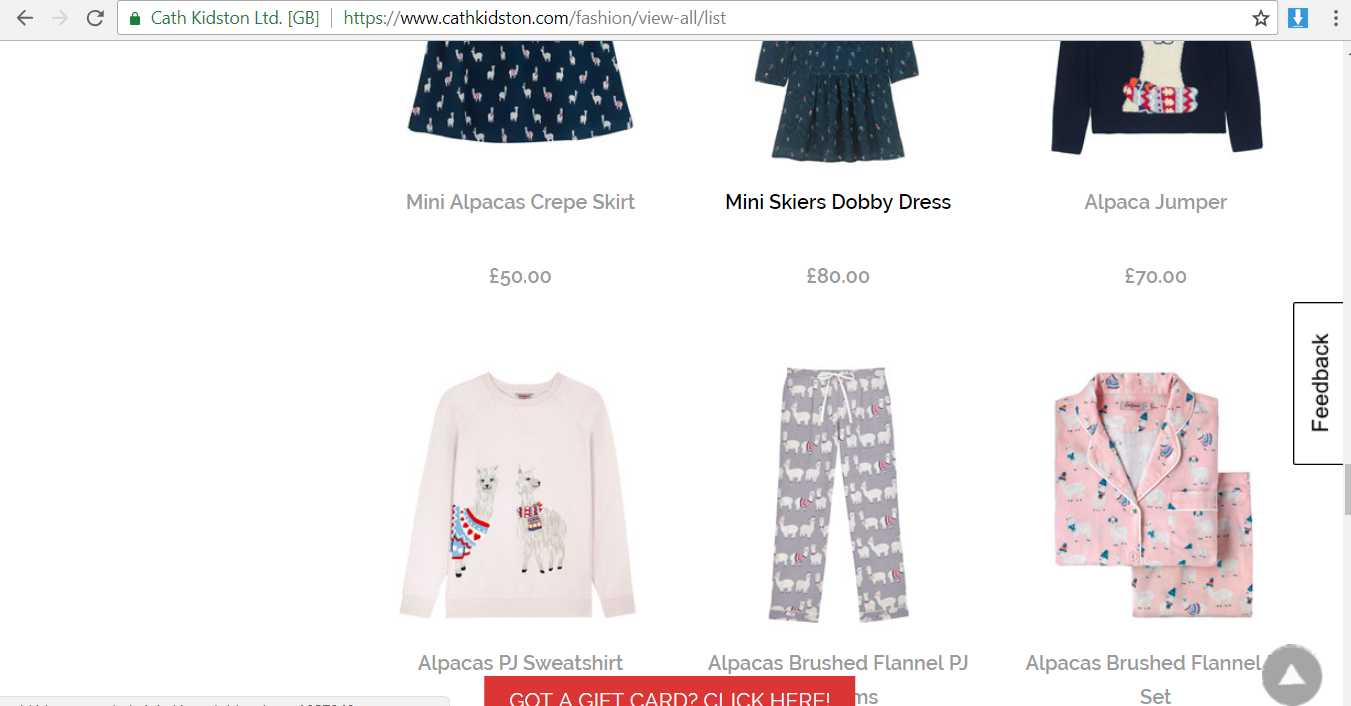 Home: In this section, customers can get everything for their home ranging from kitchenware to aprons, cushions and bedding.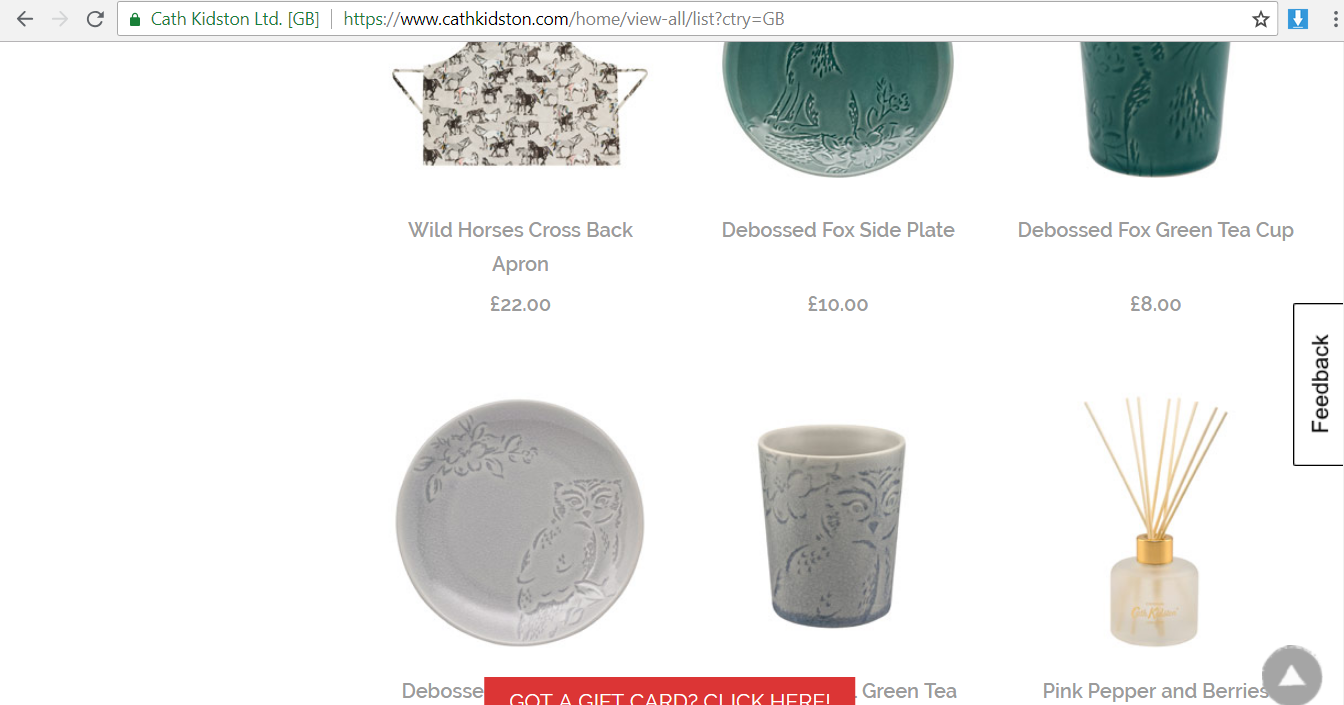 Cath Kids: This category is exclusively for kids. Here, you can find a variety of attractive items for children including kids' bags, stationery, mealtime, swimwear and outerwear.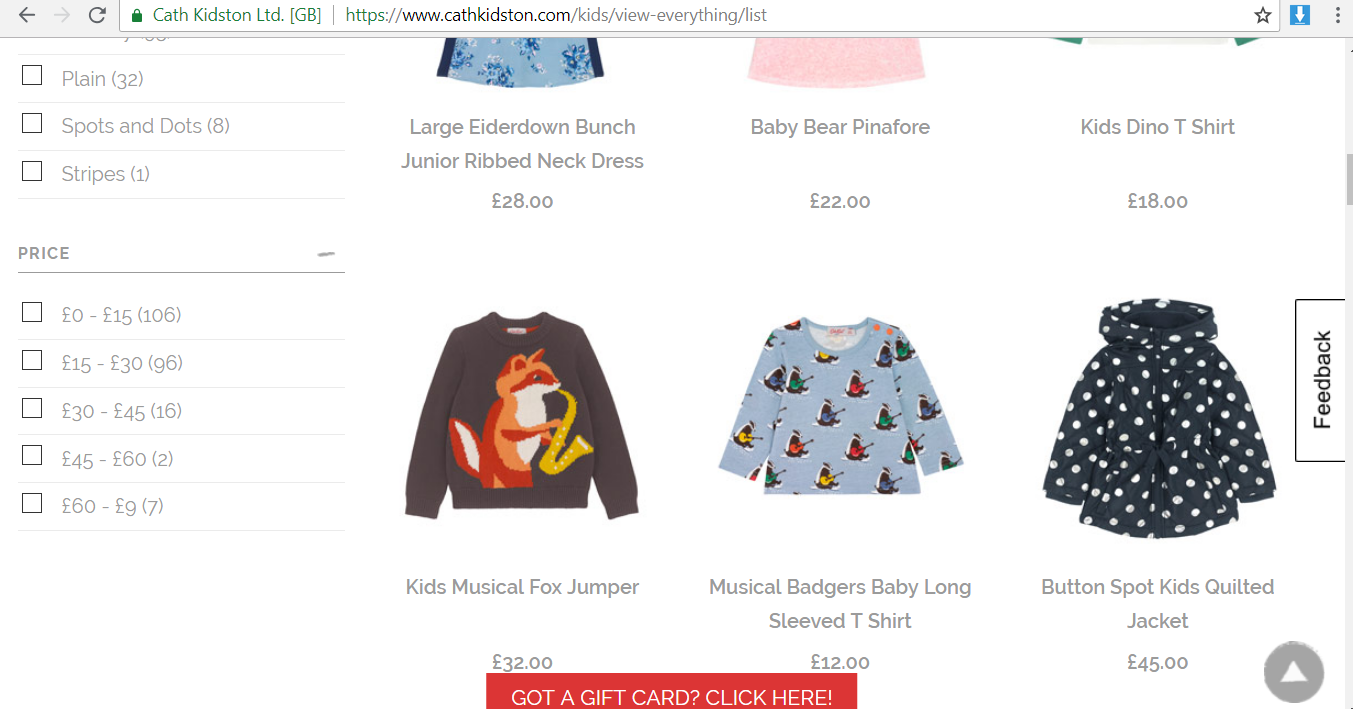 Baby: Customers can get the latest collection of baby clothes and new-born babywear under this category.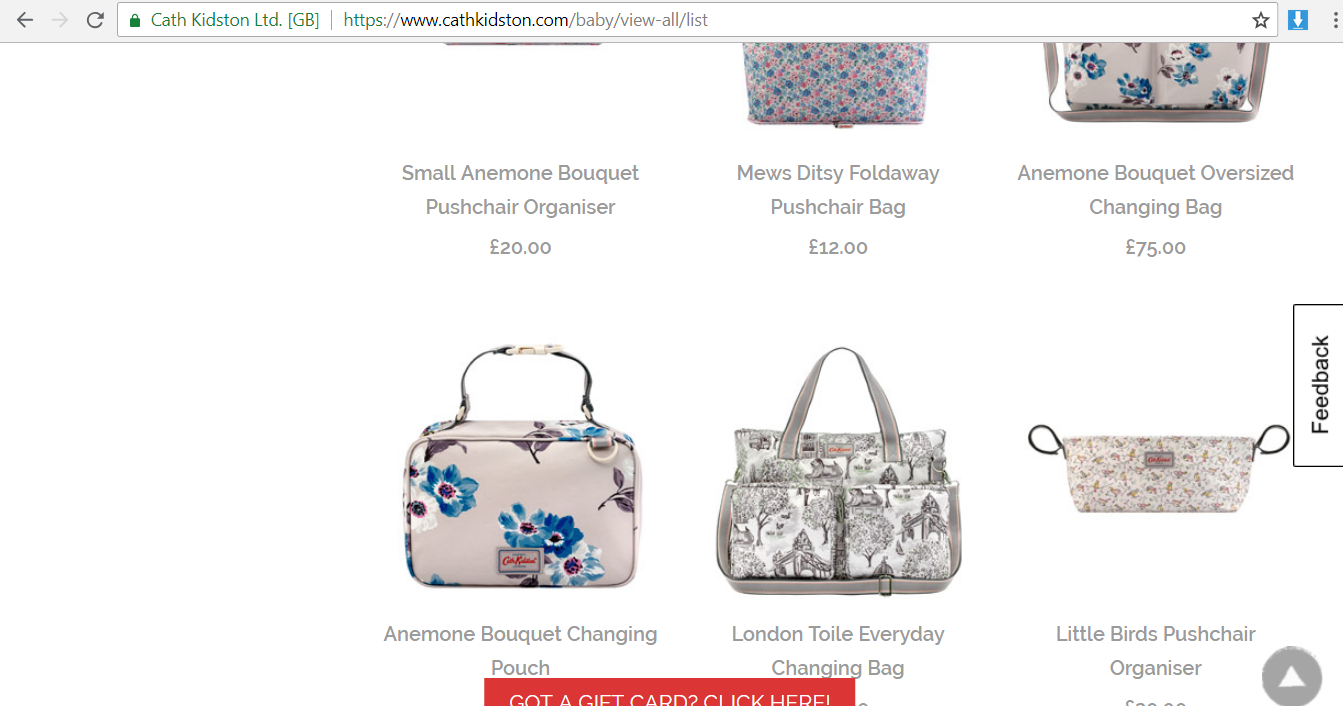 | Product Categories | Sub-categories |
| --- | --- |
| New In | New in Bags, New in Accessories, New in Fashion, New in Home, New in Kids, Bestsellers, Shop by Print |
| Collections | The Archive, Dress Collection, The Paintbox Collection, New Balance x Cath Kidston, York Flowers, Wild Horses, Home Fragrance, Otterly Amazing London Map Collection London Prints Grove Bunch Collection Bee-utiful Badgers and Friends Heinz x Cath Kidston Make a Halls a Home 25th Birthday Collection Fearne @ Cath Kidston – Coming Soon |
| Gifting | Gifts for Teachers, Cards and Wrapping Gifts for Her, Gift Cards Gifts for Kids, Gifts for Babies, Pyjamas Beauty Gifts under £40, Gifts under £20, Gifts under £10, Gift Wrap Service |
| Bags | Matching Sets, Leather Bags and Accessories, Travel & Weekend Bags, Backpacks, Handbags, Occasion Bags, Carryall Bags, Tote Bags, Cross Body Bags, Foldaway Bags, Shoulder Bags, Gift Cards |
| Accessories | Purses & Wallets, Technology, Footwear, Hats, Scarves and Gloves, Washbags, Lanyards and Straps Glasses Cases, Keyrings & Bag Charms, Watches, Umbrellas, Travel Accessories, Beauty Gift Cards |
| Fashion | Dresses, Skirts, Knitwear, Tops & Blouses, Nightwear, Outerwear, Socks & Pants, Hats, Scarves and Gloves, Gift Cards |
| Home | Cooking and Dining, Travel, Cups & Lunch Containers, Water Bottles, Bedding Cushions, Bathroom Candles and Diffusers, Stationery, Laundry and Shopping Bags, Home Accessories, Outdoor Entertaining, Knitting, Sewing & Crafts, Fabric and Wallpaper, Digital Wallpaper |
| Cath Kids | Junior (age 6+), Back to School, Kids Bags, PJs & Nighties, Girls Boys Toys, Footwear, Stationery, Accessories, Mealtime, Tech and Travel, Swimwear, Outerwear, Gift Cards |
| Baby | Baby Girl Clothes, Baby Boy Clothes, Baby Changing Bags, Baby Sleepsuits, Baby Shoes & Booties, Baby Hats & Caps, Baby Bibs, Baby Swimwear, Baby Accessories, Baby Mealtime, Baby Unisex, Baby Gifting |
| | |
How to Shop at Cath Kidston?
Cath Kidston's website has a simple interface for an effortless shopping experience. Follow the step-by-step procedure mentioned below for shopping online at Cath Kidston.
Step 1: Go to the official website of Cath Kidston. You will find a number of product categories at the top of the homepage. The search box at the top right corner of the homepage allows you to search for a specific product.
Step 2: When you place the mouse pointer over a category, you will be able to see a list of sub-categories.
Step 3: Once you click on a specific sub-category, you will be re-directed to the page where you will find a list of products according to your selection.
For example, if you select Cath Kidston Bags category, you will get a list of sub-categories displayed that include Cath Kidston backpacks, Cath Kidston cross body bags and Cath Kidston tote bags. By selecting any one of the options, say 'cross body bags', you will be directed to a page with a list of cross body bags along with three types of filters on the page.
Step 4: Choose a product of your choice by clicking on it. You will be directed to the product description page. Here, you will get to see all the information about the product and delivery details.
Step 5: If you are satisfied with the product, click on 'Add to Bag' button at the right side of the page. A pop-up menu of your shopping bag appears on the screen.
Step 6: Click on 'Go to Checkout' button for placing your order on Cath Kidston. You will be re-directed to your shopping basket page. You will get to see the product(s) added to the cart. Enter the Cath Kidston voucher code/ Cath Kidston promo code in the 'Promotion Code' text box, if you have any.
Step 7: Once you review the total amount that need to be paid, click on 'Go to Checkout' button for confirming your order. Once you click, you will be directed to the secure checkout page.
Step 8: On this page, enter your e-mail address. If you already have an account on Cath Kidston, click on 'Yes, I have a password' option and proceed with entering your password. Else, click on 'No, continue as a guest' option and enter all the necessary inputs and click on 'Continue' button. You will be directed to the delivery details page.
Step 9: Here, you need to enter all the delivery details and click on 'Continue' button and you will be directed to the payment page. Enter your card details and complete the transaction to confirm your order.
Payment Options on Cath Kidston
Cath Kidston accepts payments through all major credit/debit cards verified by VISA, MasterCard, Visa Delta, American Express and PayPal. Also, you can pay for your order using Cath Kidston's Gift Card or e-Voucher. You can make your payment both online and over the phone as well.
Upon submitting your payment details, they check the details of every first order with the fraud protection agencies, in order to prevent any illegal usage of the credentials.
Different Coupon Codes and Discounts on Cath Kidston
If you are looking for products under Cath Kidston sale, visit their official site and look for 'Offers' section on the homepage. On clicking this section, you will be redirected to a page where you will find a list of product categories which has items on Cath Kidston offers.
For example, if you click on 'Accessories' category from the list, you will get a set of accessories that are sold under offer. This category includes items like Cath Kidston wallet, Cath Kidston mini card purse and Cath Kidston multi key charm.
How to Redeem Coupons and Vouchers at Cath Kidston
It is very simple to use any of the Cath Kidston code on your purchase, such as Cath Kidston coupon code or Cath Kidston discount code.
To redeem your coupons, all you need to do is, add the item(s) that you want to purchase, to the shopping basket. On the checkout page, you will find Cath Kidston 'Promotion Code' text box where you need to enter Cath Kidston voucher code or Cath Kidston coupon code for availing discounts. Once you enter any of the valid Cath Kidston promo code, it will be applied to your total amount.
How to Shop on Cath Kidston using ShopBack
ShopBack's cashback options on different brands/stores varies from time to time. Currently, it offers 2.0% cashback for the orders through ShopBack at Cath Kidston. Follow the procedure below to avail this exclusive offer on your purchase.
Visit the official website of ShopBack and enter 'Cath Kidston' in the search bar at the top left of the homepage. You will be directed to the Shopback's Cath Kidston page.
To initiate the cashback for your orders, click on 'Activate Cashback' button that is at the left side of the page. On clicking, a pop-menu appears where you need to provide login credentials to apply the cashback.
Provide the essential inputs and get into your ShopBack account. Click on 'Activate Cashback' button and a pop-up menu appears where you need to confirm your activation by clicking on 'Continue to Cath Kidston'. Now, you will be directed to the merchant's official site where the Cath Kidston cashback will be applied when you purchase products from there.
Look for other Cath Kidston discounts and offers under 'Deals and Coupons' section on the page. Also, ShopBack offers an option of earning cashback by referring friends. For more details on this offer, click on 'Refer 5 Get $99' at the top right corner of the page.
Cath Kidston's Shipping & Return Policy
There will be delivery charges if the item is ship outside of the UK. The orders will get delivered within 7-10 working days.
An email will be send to you once the order has been dispatched. Contact customer care team order had not been received within the stipulated time period.
There will be no deliveries PO Boxes, hotels and universities.
For unsatisfied product received, you may return the item back within 28 days in its original condition.
The process will take 7-10 days from the date of receipt upon receiving of returned product(s).
Cath Kidston Customer Service
For order enquiries and general information, send an email to [email protected]. To place an order for digital wallpapers and enquiries, email at [email protected] and for orders and enquiries on their made-to-measure curtains and blinds, get in touch with them by sending an email to [email protected]. All emails received by the team will be respond within a 24 time frame.
Connect with Cath Kidston