Amazon Japan is the Japanese website of U.S online retail giant Amazon.com, a one-stop premium destination for online shopping. The company operates in many countries across the globe including US, UK and Ireland, France, Canada, Germany, Italy, Spain, Netherlands, Australia, Brazil, Japan, China, India and Mexico, selling a wide range of products to its customers.
Amazon Japan offers a customer-centric shopping experience by bringing a virtual convenience store to your home! Consumers no longer have to go to the shopping stores, struggle to find the products they require or wait at the billing counter. Every item that you wish to buy is just a click away. All you need to do is to log on to the Amazon.co.jp website or download the Amazon Japan app on your mobile phones, to avail a time-saving and hassle-free shopping experience within the comfort of your home.
Amazon.com was founded by Jeff Bezos in 1995 in the garage of his home in Bellevue, Washington. The company was initially launched as an online bookstore. Amazon accessed books at wholesale from Ingram (now called Ingram Content Group) and sold them on the online store, that had a much higher capacity than any conventional brick and mortar bookstore. Within two months of business, Amazon sold to all 50 states in USA and to 45 countries, gaining traction in the local and international market.
In 1998, Amazon announced that it will expand its product range beyond books. The company bought the Junglee Corporation and Planet All, which helped Amazon.com to expand its customer base and range of products from books to clothing to electronic items.
In October 2000, Amazon.com launched Amazon.co.jp, a Japanese-language site to cater to the Japanese-speaking population around the world. The website entered Japan s market with a comprehensive books catalogue offering more than 1.7 million Japanese and English-language titles. In 2001, Amazon JP(Japan) opened new stores for CDs, DVDs, videos, software and TV games and diversified its product range.
Amazon.co.jp introduced "Amazon marketplace" in 2002 which was a new online marketplace platform for buying and selling new goods, used goods, collector goods etc. among third parties. The e-commerce website further expanded its product categories in Japan from 2003 to 2014 by launching various stores on the Amazon JP website.
In 2007, Amazon launched Amazon Prime in Japan. It is a paid subscription service offered by Amazon.com that allows the users to access free two-day delivery (one-day in some areas), streaming video/music and other benefits for a monthly or yearly fee. In 2012, Kindle Paperwhite and Kindle Fire services were launched for e-readers in Japan. In 2017, Amazon introduced Echo and Alexa, their AI (Artificial Intelligence) enabled devices in Japan s market. The company has upgraded its services and market strategy with changing times, which is why it has been able to establish itself as a strong player in Southeast Asia.
One of the fiercest competitors of Amazon Japan is Rakuten Ichiba, a Japanese e-commerce platform that continues to remain the largest e-commerce site in Japan in terms of market share and sales. In an effort to surpass Rakuten, Amazon JP announced in 2017, the expansion of same-day delivery service in many areas in Japan. Although, the company faces tough competition from strong regional players like Rakuten and Alibaba Group in Southeast Asia, it continues to thrive and gain mass appeal.
Products Sold on Amazon Japan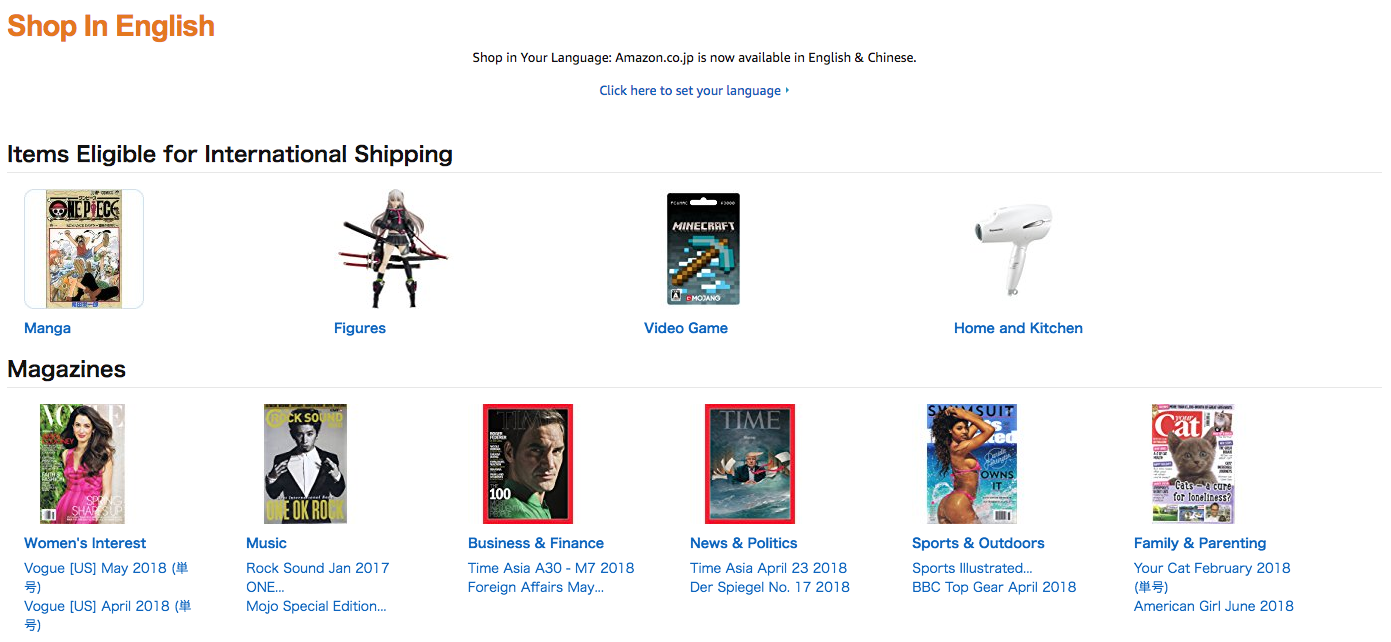 Amazon JP offers a wide assortment of products and services to its customers. Customers can buy electronic appliances, computers, kitchenware, medicines, groceries, clothing and other accessories from the website without going through the struggles of shopping at retail stores. Here s a short preview of the categories of items available on the online store
Books, Comics and Audible –
Amazon JP offers an enormous collection of books, comics, manga and audiobooks. Book-lovers can purchase Japanese and English-language titles in paperback or hardcover versions or in digital format. Customers can also find comprehensive collection of world-renowned Japanese Manga on Amazon Japan.
DVDs, Music and Games –
This section consists of items such as DVDs in a variety of genres, TV games, PC games, digital games, digital music and musical instruments. A complete entertainment solution for customers.
Electronics and Camera –
If you wish to purchase electronic items such as kitchen appliances, home appliances, air conditioners, cameras, smartphones, TV, electronic accessories, headphones and optical instruments, at great discounts, then this is your go-to category.
Computers and Office –
For items such as computers, tablets, printers, modems, hard drives, memory cards and office stationeries, Amazon JP offers this section. Customers can easily find products for their personal and professional use within this category, with great deals.
Home and Kitchen and Pet and DIY –
From kitchen and home essentials to pet supplies and pet food, customers can easily find everything that they need for their homes. The category includes products like kitchenware, utensils, carpets, curtains, bedding, furniture, garden tools, DIY tools, pet food etc.
Food, Beverage and Alcohol –
In today s busy lifestyle, it s not always possible to visit grocery stores for daily supplies. Therefore, Amazon JP offers a variety of grocery and gourmet products as well as different alcohol varieties with same-day delivery options. Customers can buy budget-friendly or premium brand products, according to their personal preferences.
Drugstore and Beauty –
This section of Amazon Japan offers its customers a wide range of healthcare products and cosmetics such as medicines, contact lenses, diapers, hair care/styling products, skincare, makeup, bath/body care, oral care etc.
Baby, Toys and Hobby –
The young parents no longer need to worry about going to the supermarkets for buying essential baby care items. Amazon offers a wide array of items needed for babies and their mothers, toys, picture books and children books as well as items to encourage hobby among children and adults.
Clothing, Shoes and Jewellery –
This category houses a great collection of women and men s clothing, shoes, jewellery, luggage etc. from many popular brands.
Sports and Outdoors –
Customers can buy products like bicycles, fishing equipment, fitness and training items, golf equipment, sports clothing and shoes for their outdoor activities.
Auto and Industrial –
Sometimes its difficult to find accessories for different kinds of vehicles and industrial machines. Therefore, Amazon JP offers the category where you can buy car products, motorcycle products, work safety equipment, industrial supplies, tools etc.
| Amazon Japan Product Categories | Amazon Japan Products |
| --- | --- |
| Books, Comics and Audibles | Japanese Book, Foreign Language Books, Comics, Magazine, Hardcover, Bunko Pocket-Sized Paperback, Shinsho Pocket-Sized Paperback, Children s Books, New and Future Release, Bulk Buys, Outlet Books, Used Books, Trade-in, Kinde eBooks, Kindle Comics, Foreign Language eBooks, Kindle Unlimited, Prime Reading, Audible Audiobooks and more, Membership Registration |
| DVD, Music and Games | DVD, Blu-ray, Amazon Video, Music, Digital Music, Musical Instruments, TV Games, PC Games, Digital Games, Trade-in |
| Electronics and Camera | Kitchen Appliances, Home Appliances, Health and Beauty Appliances, Air Conditioning and Seasonal Appliances, Lighting, All Appliances, Cameras and Camcorders, Wearable Cameras and Action Cameras, Optical Instruments, Mobile and Smartphones, TV and Recorders, Audio Headphones and Earphones, Wearable Technology, Electronics Accessories, All Camera and AV Equipment, Used Camera and Camcorders, Used Electronics and Phones, All Used Items, Amazon Launchpad, CE, Camera and PC, Trade-in, Alexa Smart Home |
| Computers and Office | Computers and Tablets, Monitors, Printers and Ink, Keyboards, Mice and Graphic Tablets, Wireless LAN and Networking Devices, Parts, CPU and Internal Hard Drives, External Drives and Storage, Memory Cards and USB Flash Drives, Accessories, Blank Media and Cables, Gaming PC and Accessories, All Computers and Peripherals, Security Graphics, Downloads Subscriptions All Software, All Stationery and Office Products, Office and School Supplies, Pens, Pencils and Supplies, Office Paper Supplies and Planners, Furniture and Lighting, Office Electronics |
| Home and Kitchen, Pet and DIY | Kitchenware, Utensils and Dishes, Interior and Sundries, Carpets, Curtains and Cushions, Furniture Storage, Bedding Bathroom, Cleaning Supplies and Laundry, Security, Home Appliances, Arts, Crafts and Sewing, All Home and Kitchen Power Tools, Hand Tools, Remodeling, Garden Exteriors, DIY, Tools and Garden, Pet Supplies and Pet Foods |
| Food, Beverages and Alcohol | Grocery/ Gourmet Rice, Noodles, Breads and Cereals, Herbs, Spices and Seasoningsm Sweets, Beverages and Water, Coffee and Tea, Otona Select, Nippon Store, Amazon Fresh, Amazon Pantry, Bargain Beer, Low-malt Beer, Wine, Sake, Shochu, Plum Wine, Western Alcohol and Liqueurs, Chuhai, Non-Alcoholic Beverage, All Alcohol, Wine Sommelier |
| Drugstore and Beauty | Diapers and Wipes, Household, All Drugstore, Hair Care/Styling, Skin Care, Makeup and Nail, Bath/Body Care, Oral Care, Luxury Beauty, Natural Organic, Doctor s Cosmetics, Trialkit |
| Baby, Toys and Hobby | Baby and Maternity, Toys, Picture Books and Children s Books, Amazon Family, Hobby, Musical Instruments |
| Clothing, Shoes and Jewellery | Women. Men. Kids and Baby |
| Sports and Outdoors | Luggage, Bicycles, Fishing, Fitness and Training, Golf |
| Auto and Industrial | Car Products, Motorcycle Products, Car and Motorbike, Vehicle DIY, Tools and Garden Work, Safety Equipment, Industrial Supplies, Lab and Scientific, Janitorial and Sanitation |
| Amazon Music | Digital Music, CDs and Vinyl |
| Appstore for Android | Games, Fire Apps and Games |
| | |
How to Shop at Amazon Japan?
Amazon Japan website has a user-friendly interface that enables the customers to shop easily and intuitively. The search box on top of the homepage helps the users to conduct product-specific searches. The header on the homepage is divided into sections like 'Shop by Department , 'Your Store , 'Today s Deals , 'Gift Cards and 'Sell where customers can explore and select the product categories to shop from.
The homepage itself is divided into several sections displaying the best seller items from different categories of products, Amazon Japan deals, Amazon Japan promotions, new arrivals as well as item suggestions based on your previous searches.
1. Browse the department and select the category that you wish to explore. The website will display the category on the sidebar as well as the top while the products will be listed in the main display area under subcategories.
2. Select the subcategory and choose the product you want to purchase from the page. You will be directed to the page elaborating on the product s details. If you are satisfied with the details, click on the 'Add to Cart button.
3. You will land on the 'Checkout screen. If you intend to add more products to your shopping cart, you can continue shopping. 4. 4. Once your cart is ready with all the products you want to buy, click on 'Checkout button.
5. Fill in your email and shipping details on this screen. The website will display total amount to be paid inclusive of delivery charges. Make payment on the next screen to complete the transaction. You will soon receive your order confirmation via email or a text on your registered phone number mentioning the expected date of delivery.
For great deals and discounts, you can explore the products listed under 'Today s Deals or Amazon Japan Sale when applicable.
Payment Options at Amazon Japan
There are many payment options available on the Amazon Japan website for customers. Here s a list of payment options that can be availed -
Cash on Delivery (COD) –
This is a popular mode of payment on Amazon JP where the customers can pay for their order in cash at the time of delivery. This option is for the convenience of customers who prefer to pay in cash and avoid using their credit/debit cards.
Credit/ Debit Cards –
Amazon JP accepts a variety of credit and debit cards for payment. Customers using VISA, MasterCard, American Express, Diners Club, JCB and UnionPay (Credit card only) cards can avail the option of paying for their orders via their credit/debit cards.
Convenience store –
Customers at Amazon JP have the option of paying at several convenience stores such as Seven-Eleven, Lawson/ MiniStop, FamilyMart, Circle K SunKus, Daily Yamazaki/ Yamazaki Daily Store, Seiko Mart and Lawson-Three F. There are two types of payment available at these stores i.e. by issuing a bar code from an in-store kiosk (Loppi, FamiPort, Club Station, K Station etc.) and by telling the store clerk your payment number (payment coupon number).
ATM –
Consumers can pay for their orders at the ATMs of specific banks that have a Pay-easy logo. You can refer to the list of banks where you can avail this facility, mentioned on the official website of Amazon, for further information.
Internet Banking – You can pay for your Amazon order via Internet banking at The Japan Net Bank, Jibun Bank and SBI Sumishin Net Bank. These banks offer a secure payment platform that is user-friendly and efficient for transactions.
E-Money –
You can pay for your orders using e-money option available on Rakuten Edy (Edy Card or Osaifu-Keitai phone with the Edy app installed), Suica (Suica Internet Service or Mobile Suica), iD (only available from an Osaifu-Keitai with the FeliCa app installed) and JCB PREMO.
Different Coupon Codes and Discounts on Amazon Japan
Amazon Japan offers many discounts and deals to its customers from time to time. Some Amazon Japan discounts are offered for a long time listed on the homepage, while some Amazon Japan discount codes are available for a limited period only. The consumers can save a lot of money on products available on the website by applying the Amazon Japan promo codes or Amazon Japan coupon codes that the online store offers during promotional periods.
At present, the customers can earn 1% cashback on Amazon Japan products if they shop with the merchant via a registered account at Shopback.
How to Redeem Coupons and Vouchers at Amazon Japan?
Online shopping can be very rewarding and pocket-friendly with plenty of opportunities to save a lot of money on your purchase. Several websites offer codes and vouchers that can be redeemed to earn cashbacks and discounts on products.
Here is a step-by-step tutorial on how to redeem coupons and vouchers at Amazon Japan:
Step 1:
Select the item that you wish to buy and click on 'Add to cart . If the product is available in Amazon Marketplace, then click on See all buying options . You will be directed to a page listing all the sellers selling that product along with the details of the product s condition. Select the seller you wish to purchase from and click on 'Add to cart .
Step 2:
Proceed to the Checkout page and fill in the details of your email as well as shipping address.
Step 3:
Click on continue to move to the payment screen. Here, you will find a box under the payment summary section to enter your Amazon Japan code or any other applicable Amazon Japan coupon for availing discounts.
Step 4:
Select the payment method as per your convenience and enter the payment details to complete the transaction.
How to Shop on Amazon Japan using ShopBack
ShopBack offers 1% cashback on various items on Amazon Japan. Here are the steps to be followed to earn cashback from ShopBack:
Step 1:
Visit the ShopBack website and select Amazon Japan store from the list of merchants and brands on the homepage. You can also use the search box to find the link to Amazon Japan store.
Step 2:
Read the terms and conditions as well as any other relevant information provided such as the cashback details and tips to ensure cashback.
Step 3:
Click on Activate Cashback button on the top left corner of the page.
Step 4: If you are willing to find more attractive deals and coupons, check out the 'Amazon Japan Discount Codes and Promotional Codes section.
Step 5:
You will be directed to Amazon Japan website to browse and select the products you intend to buy.
Step 6:
You will be eligible to earn cashback from ShopBack on placing your order. The cashback rates might differ based on your history with ShopBack, i.e. whether you are a new or an existing customer.
The cashback offer is not applicable on purchases made on Amazon Japan app.
Amazon Japan s Shipping and Return Policy
The shipping rates on Amazon Japan are based on the weight of the items and the origin and destination location for delivery. The total shipping cost is calculated after adding the 'Per Shipment cost as well as 'Per Item cost in the order. For shipping of products on addresses outside Japan, Amazon has listed different Amazon Japan international shipping charges for different countries. Customers can refer to these shipping rates before proceeding for checkout.
You can see the shipping fee on the order checkout page before you make the payment.
Amazon Japan offers 30 days return policy for the products sold on the website. However, the return policies for items fulfilled by Amazon Marketplace sellers differ from that of items fulfilled by Amazon.co.jp. Customers can choose the item they want to return on 'Your Order page by clicking on 'Return or Replace Items . Your request for return and refund will be initiated.
In case your transaction involves a third-party seller at Amazon Marketplace, you might have to contact the seller directly to initiate the return and refund request.
Here are the requirements for a valid return:
Order number or tax invoice

Bank details if the payment was made in cash

Printed shipping label and Amazon Tax Invoice in the return package box
Steps to return an item to Amazon:
Step 1:
Check whether the item is eligible for Amazon return policy or third-party seller return policy.
Step 2:
Go to 'Your Orders section of your Amazon account and click on 'Return or Replace Items .
Step 3:
Fill in the Online Return. You can either print the shipping label or prepare all the necessary information on paper.
Step 4:
Pack the item and attach the shipping label created in the previous step. In the other scenario, pack your item with the necessary information prepared.
Step 5:
Drop off the package at the convenience store that is Amazon s courier partner or request a pick up.
For any query, customers can contact the Amazon Customer Service by choosing the 'Customer Service section on their account. They will be directed to the page where they can either send an email to the company s customer care or contact them on the contact details provided there.
Connect with Amazon Japan