Alcohol Delivery Coupons & Promo Codes May 2019
Cashback is temporarily unavailable for this merchant. Alternatively, check out other food delivery merchants for Cashback.
From 2 March 2018 00:00 onwards, Cashback is temporarily unavailable for Alcohol Delivery.

For more details: www.shopback.sg/terms-and-conditions
More about Alcohol Delivery
Alcohol Delivery - bringing liquid enjoyment straight to your doorsteps!
Singapore Alcohol Delivery offers 1 hour Alcohol Delivery service anywhere in the country. You can order and buy the best variety of spirits & beer via the online shop at cheap and affordable rates.
This 24 hour Alcohol Delivery service is perfect whether you need to place an advance order for your upcoming party, or you are running out of alcohol in the middle of a party. Simply logon to the website, place your order and wait for your drinks – it's that easy.
Note that you will have to register with your date of birth before accessing the website to ensure that you are of legal drinking age in Singapore.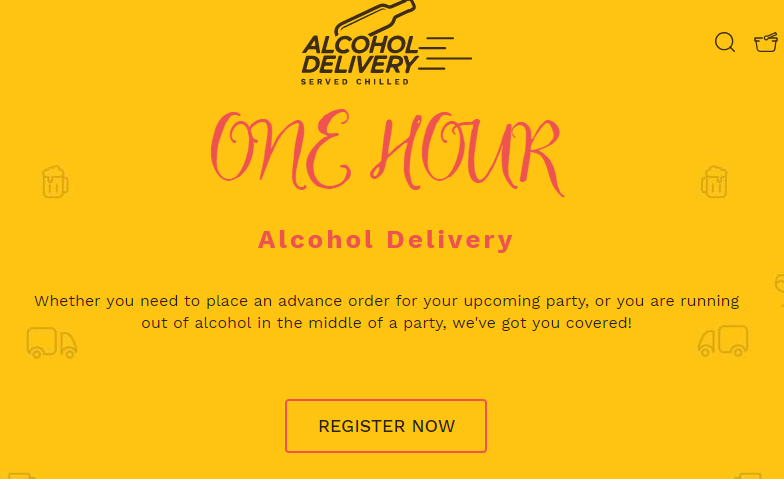 Alcohol Delivery strives to satisfy all their customers and empower them to order what they want, when they want, how they want it. At the desk with your personal computer, mobile phone, tablet, Alcohol Delivery will deliver your desired drinks right to you.
Other than satisfying customers with their prompt and friendly services, they also aim to offer customers the best quality booze at the best price possible. The company has a network of renowned suppliers that are able to provide genuine and authentic alcoholic drinks at the cheapest price. Alcohol Delivery then translates these cost savings to offer customers the best price available in the market.
In addition, not only do they offer last minute party savers, they are more than happy to assist customers with food catering, venue recommendations for various events such as wedding receptions, corporate events or even a simple BBQ, chalet, staycation or any party. You can simply drop them an email or give them a ring in advance and they will work to satisfy all of your requirements.
By contacting them in advance, you will be able to choose from a larger variety of drinks as compared to the online menu, receive bulk discounts and other value added services such as calculation of booze required, food catering, venue recommendations, cocktail/theme ideas and more.
Products sold on Alcohol Delivery Singapore
Whether you are looking for the perfect red wine to keep you company after a long day's work or a mix of spirits to keep your party going through the night, cheap alcohol delivery across categories is available on this website. Here we bring you a preview of the products available for sale on Alcohol Delivery Sg.
| Alcohol Delivery Product Categories | Alcohol Delivery Products |
| --- | --- |
| Beer & Cider | International Beer, Craft beer, 5 litre/ 20 litre/ 30 litre Kegs, Ciders, Non-alcoholic Beer, Whisky, Bourbon |
| Spirits | Whisky, Sake, Shochu, Umeshu, Soju, Brandy, Cognac, Vodka, Tequila, Gin, Rum, Liqueur, Aperitifs, Digestifs, Vermouth |
| Wines & Champagne | Red Wine,. White Wine, Dessert Wine, Rose, Sparkling Wine, Champagne |
| Others | Snacks, Bar Tools, Entertainment, Alcohol Miniatures, Mixers and Beverages. Premix & Alcopops |
| Gifts | Mystery Bags, Gift and Packaging |
| Packages | Party Packages, Cocktail Packages |
| | |
In addition, the website also has a list of 'featured items' on the main page for people looking to know about popular alcoholic beverages.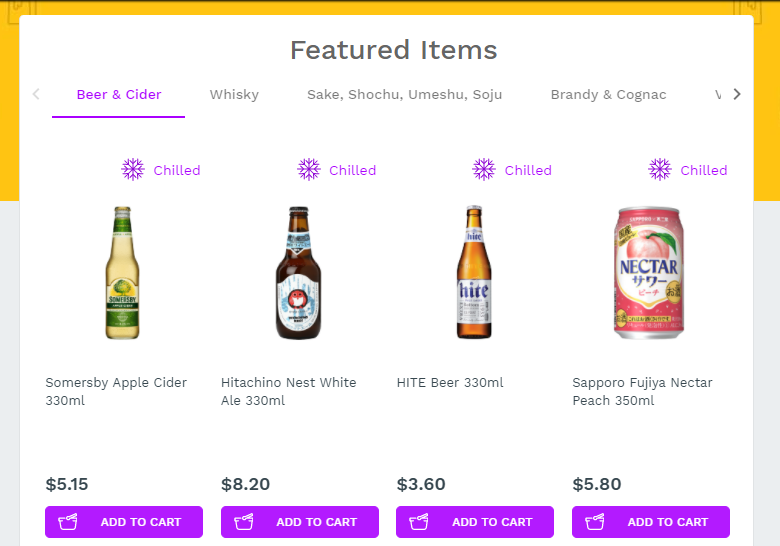 Further, people that regularly purchase alcohol from this website earn loyalty points with each order which can be redeemed in the Loyalty Store. Here, one can choose from a host of beverages, each requiring a certain amount of loyalty points for purchase.
How to order on Alcohol Delivery Singapore
Step 1: Choose from a wide variety of drinks from the menu for 24 7 alcohol delivery in Singapore. To order you can call the company at 9-CHILLED or 9-2445533 or order online. Your delivery will reach you within 1 hour.
Step 2: To order online, search for something specific by using the search bar or if you're looking for a particular type of item you can browse by category located along the top of the page.
Step 3: Once you have found the beverage you want, select your quantity (if applicable) and click on the 'Add To Cart' button. You will be able to see the confirmation for the same as a note at the top.
Step 4: You can either click on the 'Continue shopping' button or review the items in your cart by clicking on 'View cart. Review your cart and if you're happy with the items in your shopping bag, click 'Checkout' to complete your order. If you have an Alcohol Delivery discount code you'd like to use, key it in the box provided while checking out.
Step 5: During the checkout process you will need to enter or confirm your billing information, payment information and order review. Once everything has been processed and the order is finalised, you will receive a confirmation e-mail for the same.
Payment options on Alcohol Delivery Singapore
Payment methods offered are via Cash on Delivery or online VISA/MASTERCARD payment. Please note that currently they do not accept payments via AMEX. In addition, all discounts or promotions are only applied to the alcoholic products.
Alcohol Delivery coupon codes and cashback with ShopBack
Along with an extensive product range, customers in Singapore can also enjoy amazing offers such as an Alcohol Delivery promo code and additional cashback when they shop via ShopBack.
How to Shop on A1Supplements using ShopBack
ShopBack offers customers cashback on various items if you shop from Alcohol Delivery in Singapore. Here are the steps you need to follow to earn cashback from ShopBack:
Step 1: Visit the ShopBack website and click on the Alcohol Delivery store at the bottom of the homepage. You can also use the search box to find the link to the merchant store.
Step 2: Click on "Activate Cashback" button on the top left corner of the page.
Step 3: If you are interested in finding the latest Alcohol Delivery coupon code, check out the Promo codes, coupon codes, vouchers and discount codes section.
Step 4: You will be redirected to the Alcohol Delivery website to browse and select the items.
Step 5: When you place the order, you will be eligible to earn cashback from ShopBack. The cashback rates differ based on product categories and based on whether you are a new or an existing customer.
Delivery conditions and legalities
All deliveries must be received by persons aged 18 or above.
Alcohol Delivery reserves the rights to request for a valid photo ID to verify recipient's age.
Alcohol Delivery reserves the rights to reject your purchase if you appear intoxicated or are physically or verbally abusive to any of the team members.
Alcoholic purchase above $50 will get free delivery.
A $10 delivery fee will be incurred for orders below $50.
All of the white wines, beers and champagnes will be served chilled.
Note, that the website offers delivery to anywhere in Singapore, even to your picnic on the beach, botanical gardens, chalets, parties, yachts and many more. However, a surcharge of $10 applies to destinations in Sentosa. In addition, in a case of a failed delivery, or failed payment, a charge of not less than $10 will be incurred in compensation for any administrative costs and mileage.
A surcharge of $7 is applicable for deliveries to your designated BBQ Pits in any of the National Parks, such as:
East Coast Park
West Coast Park
Pasir Ris Park
Labrador Park
Delivery to the extreme west of the island will have a minimum order of $85 and delivery timing might vary due to the time taken to service such areas. (These locations includes examples like: NTU, TUAS, JOOKOON, LIM CHU KANG, SEMBAWANG PARK, SENTOSA).
Order processing and delivery on Alcohol Delivery Singapore
The website offers 1 Hour delivery timings, daily, 365 days a year. The timings for orders are
Sundays to Thursdays 12pm to 12am;
Fridays, Saturdays & PH Eves 12pm to 2am
Orders before the operation hours are scheduled for one of the first dispatch which will reach you by 1.30pm. Deliveries outside the 1 hour delivery timings will require orders to be placed in advance. Advanced orders must be placed 24 hours prior to delivery time.
Advanced orders can be placed by calling their hotline: 9-2445533 (9-CHILLED), on any day from 12PM to 10.30PM. Delivery timings can be scheduled at your desired time, subject to availability.
Please note that during inclement weather, traffic congestion, extremely high call volume or other unforeseen circumstances, deliveries may take longer than 1 hour or may be temporarily unavailable. If any of such circumstance arises, the staff at Alcohol Delivery will contact you via your contact number submitted and update you with the relevant details and estimated time of arrival.
Important points to note when placing an order
All liquor bottles are in 700ml unless otherwise indicated. Sizes of bottles might change, however that does not automatically mean a lower change in price.
All of the wines/champagnes are procured from all the relevant brand/winery owners on a very regular basis. Hence, all of the wines & champagnes that have specific vintages may vary from time to time once the brand owners/winery starts to sell their newer vintages.
All customers are advised to examine all goods purchased at point of delivery. Any breakages or discrepancies in quantities or items delivered should be brought to the attention of the delivery personnel immediately.
Exchange for items do not apply for perishable items (eg. Ice packs/ICE Cubes) due to hygiene reasons. Also, a surcharge of 10% is applicable on the total bill for orders on all public holidays.
For purchase of any non-alcoholic products (including items such as mixers, ice, disposable wares and snacks) orders will be eligible for delivery only;
(i) if an equal value of alcoholic products is purchased where total value of non-alcoholic products is below $50;
(ii) if value of total non-alcoholic products exceeds $50.
Place orders for events or bulk purchase
No matter whether you require additional services for your events, a personal birthday event, or even you are running a bar/club/restaurant, Alcohol Delivery has you covered. The website can not only cater for events, but can even deliver your alcohol in chiller boxes (Styrofoam boxes) in ice if you need your alcohol delivered ice cold.
In addition, you can even request drinks that are not listed in the menu. Be it chalets, birthday parties, staycations, weddings or even for corporate events, Alcohol Delivery can customise their services to cater to your needs.
Simply call their support team in advance or contact them via email. Alcohol Delivery can be your one stop solution, to food and drinks catering, bartending and DJ services. Some examples of various events that they can cater to:
Wedding receptions
Corporate Events
Product Launches and Store Openings
Exhibitions
Chalet
Staycation
Beach parties
Barbeques
Boat parties
The event services offered by Alcohol Delivery include:
Approximation of required amount of alcohol for events
A larger variety and exclusive products to choose from
Bulk discounts on advance orders
Drinks can be returned if not consumed, enabling clients to reduce wastage of financial resources
Cocktail/drink ideas and themes to pair with your events
Provision of ice and ice boxes
Venue recommendations
Sell on Alcohol Delivery Singapore
The leading online alcohol delivery service in Singapore also allows businesses to sell their products on the website and reach the right target audience with tens of thousands of potential drinking customers while enabling all products to be delivered and enjoyed in every corner of Singapore.
If you are interested to showcase your products, featuring your products, please contact Alcohol Delivery to discuss further.
Connect with Alcohol Delivery Singapore
In case you have any queries regarding your order or event, you can easily get in touch with the team at Alcohol Delivery in Singapore. You can connect with them on call daily from 12:00pm to 10:30pm at 9-2445533 (9-CHILLED).
Be sure to also follow the brand on social media to know about the latest additions and offers on beverages.