FWD Insurance Provides Great Coverage for All
FWD Insurance is one of Singapore s finest insurance company that offers direct-to-consumer business in a wide range of products. The company offers comprehensive policies in life and general insurance products including car, travel, personal accident, direct-term-life and maid insurance. Founded in April, 2016 in Singapore, FWD Insurance aims to alter the insurance business landscape by leveraging technology to deliver relevant products at affordable cost. The company has achieved a significant milestone and emerged as the fifth largest group medical insurer in Singapore with impressive track record across diverse range of industries.
FWD Insurance constantly innovates and develops new products for individuals as well as businesses that are reliable and cost-effective. So, what are you waiting for? Explore FWD insurance today and safeguard your loved ones as well as your prized possessions against any future unfortunate situation.
Products Sold by FWD Insurance
FWD Insurance offers a wide range of insurance products to its clients. This completely direct and online life and general insurance platform has been designed to cater to the evolving needs of consumers in Singapore. Here is a short preview of all the product categories available on the FWD Insurance website:
Car:
Insure your precious car with three comprehensive car insurance plans on FWD Insurance that cover vehicle repairs, medical, roadside assistance and third-party damages. These plans are not only affordable but customisable as well!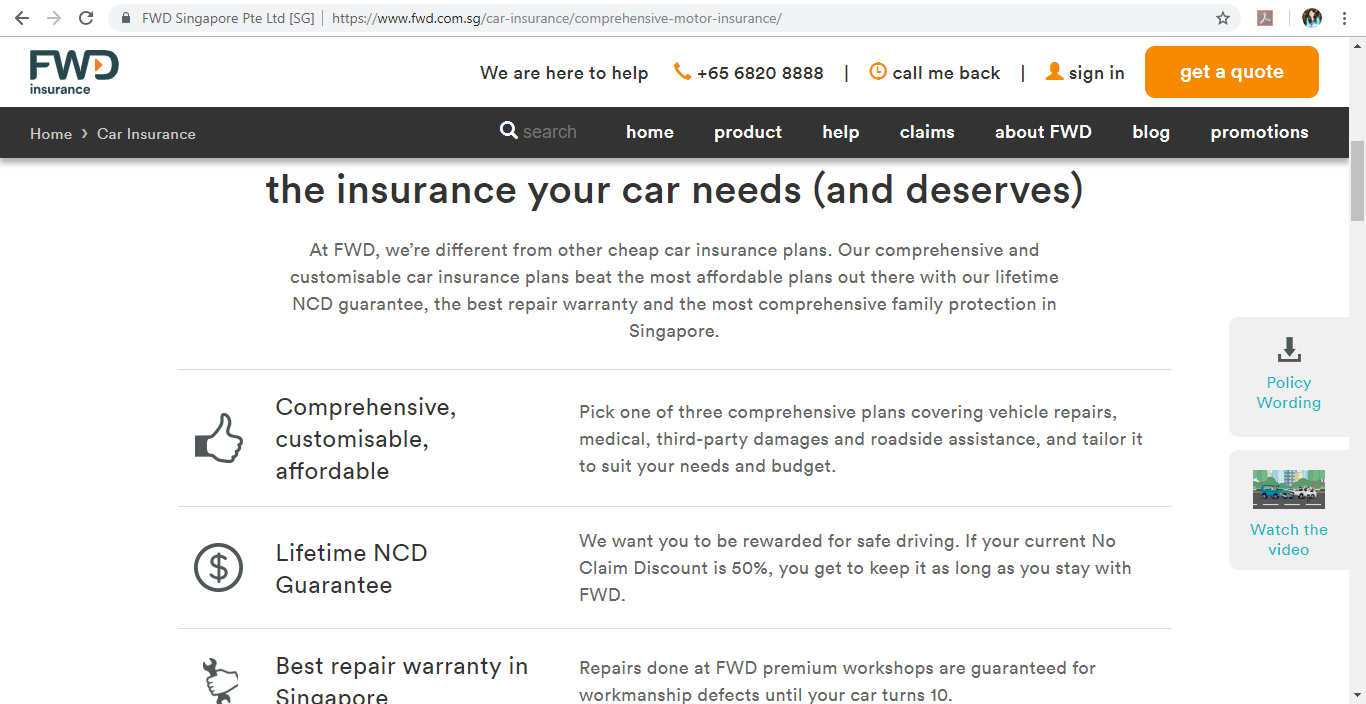 Travel:
Whenever you are travelling, make sure that you insure your travel plans for a smooth and stress-free vacation with your loved ones. FWD Travel Insurance ensures that you have a memorable worry-free travel experience by providing you excellent travel insurance plans at low premiums. The plans cover unlimited medical evacuation, sports equipment protection and other comprehensive coverage. There are several attractive FWD travel insurance promo code on the website that can be redeemed to earn great discounts.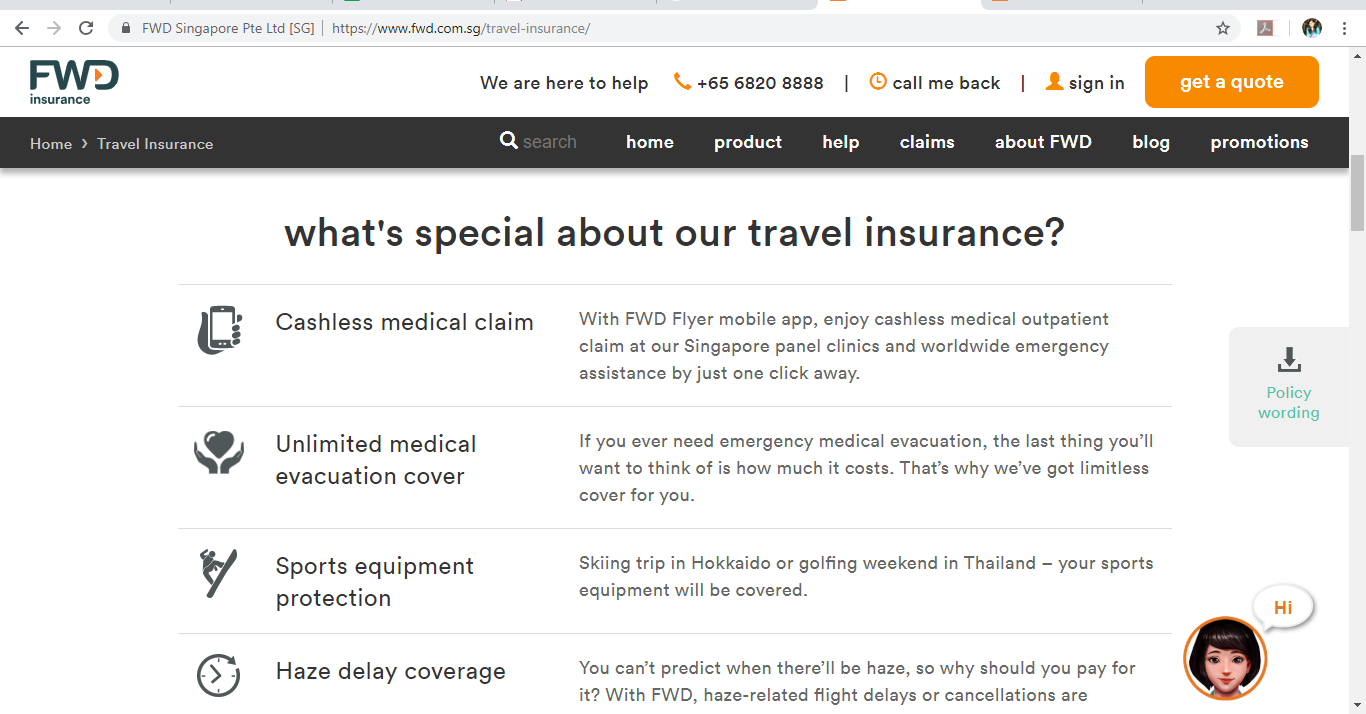 Maid:
Hiring a maid or renewing her work permit can incur unexpected expenses many times. So, insure yourself and your maid with FWD Insurance s maid insurance plans that provide medical insurance and accident cover for your maid. The company also issues a bond to the Ministry of Manpower.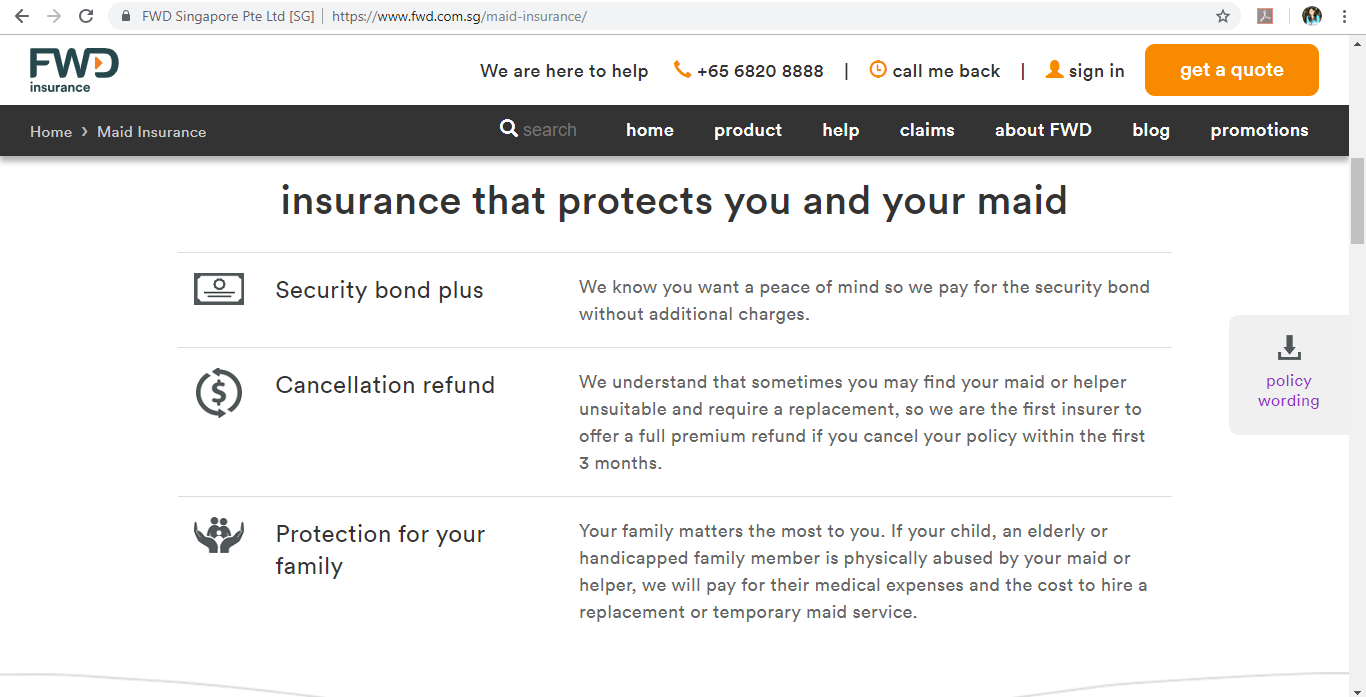 Cancer:
Protect your loved ones and stay armed with FWD Insurance s cancer insurance plan that provides comprehensive coverage for all types of cancer. These plans offer a free Medical Second Opinion to consult with a second doctor in an unfortunate event of a confirmed diagnosis. FWD Insurance promises to have your back and pay for all stages of cancer, whether early or late stage.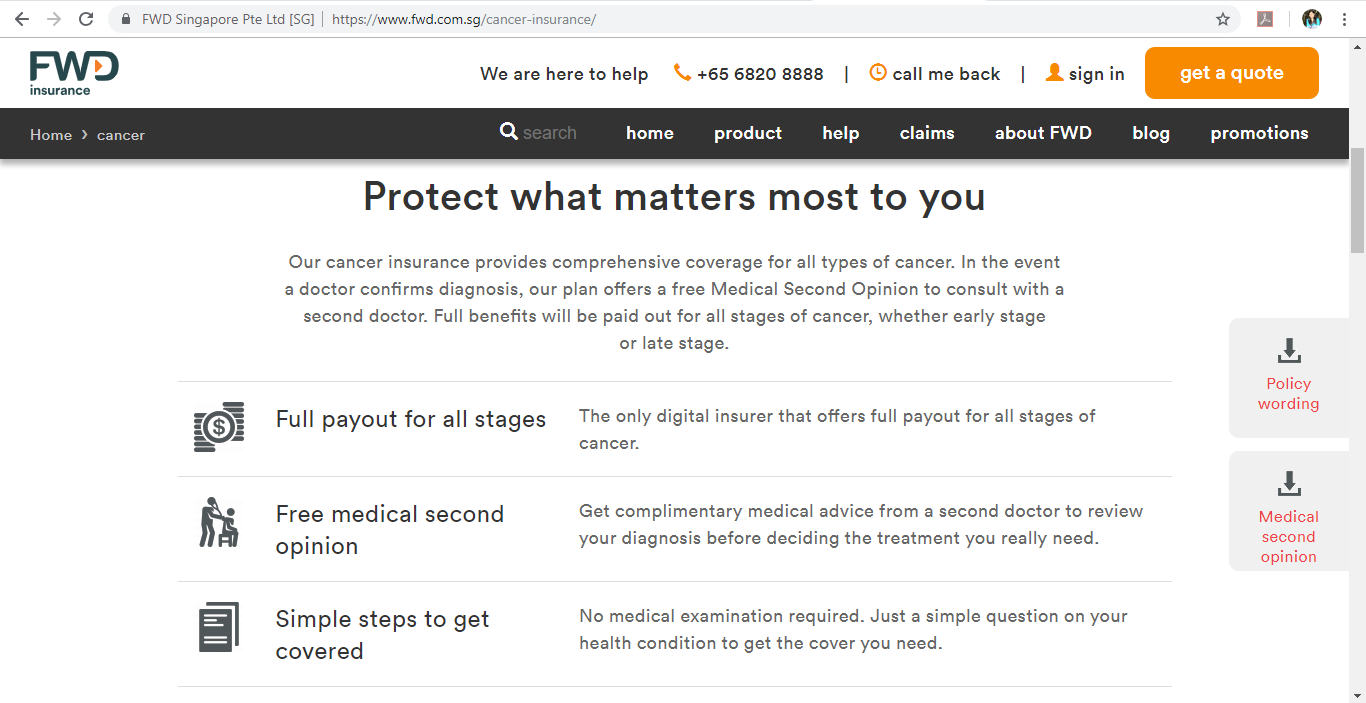 International Health:
Whether you are an expat, a Singaporean or a student, the international health insurance plans from the online insurer give you access to world class medical facilities with your preferred doctor.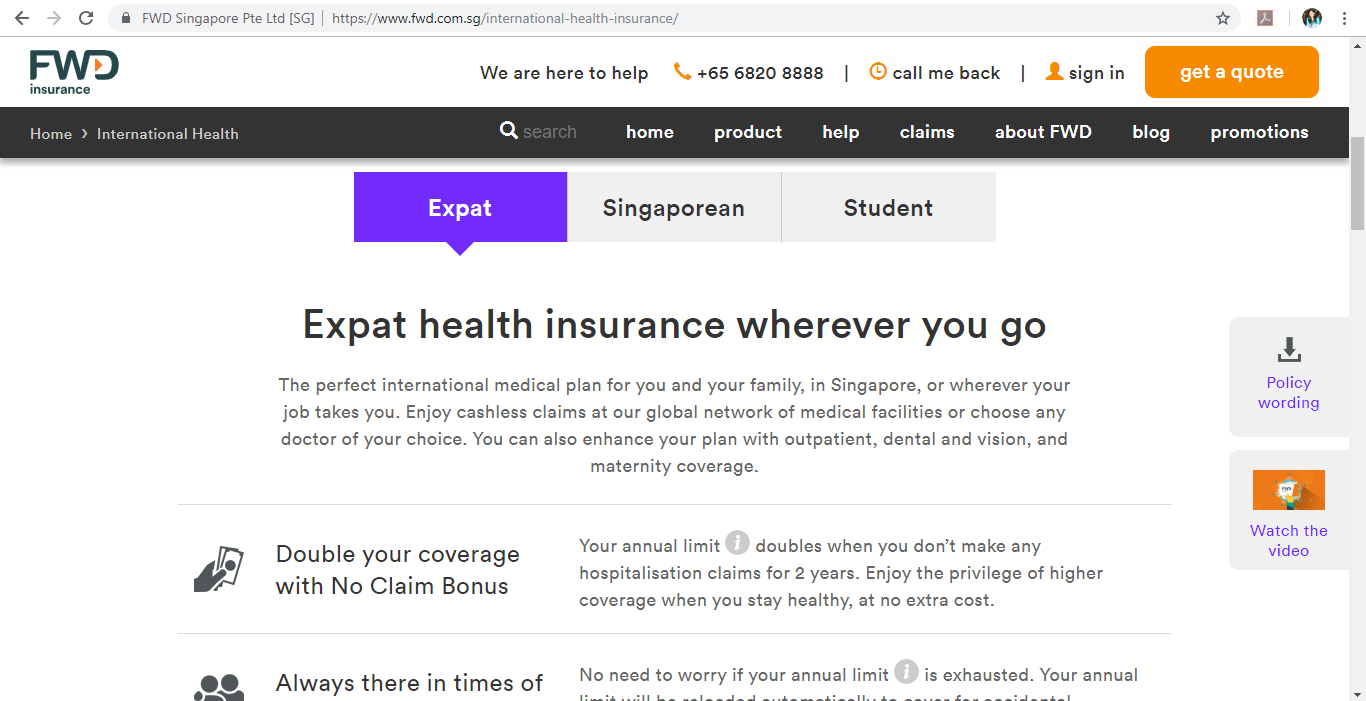 Term Life:
Term Life insurance provides financial support to your loved ones in difficult times when you are unable to provide for them. FWD Insurance provides many benefits ranging from basic life insurance coverage for terminal illness and death to comprehensive protection for permanent disability and critical illness. Assess your requirements and mix and match your life term insurance benefits as per your needs.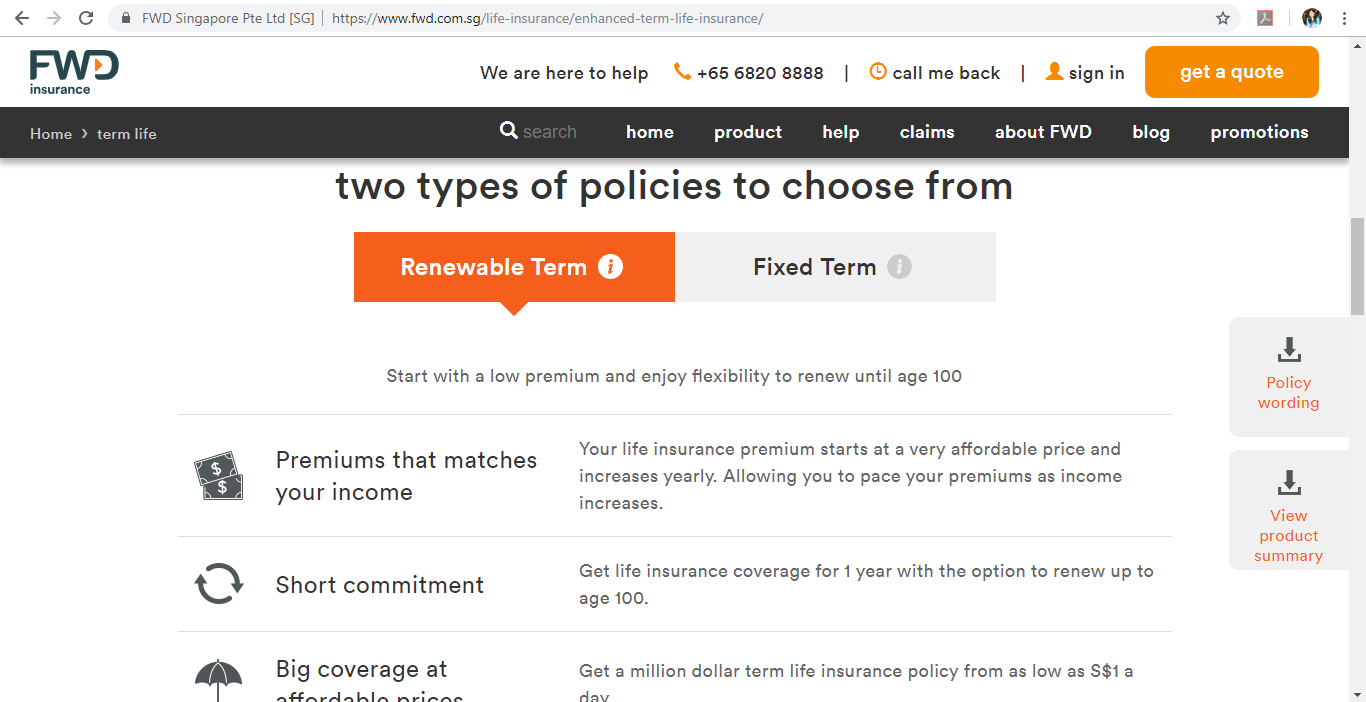 Other than these, FWD Insurance offers insurance plans in many other categories as well such as commercial car, motorcycle, personal accident, endowment and direct-term-life.
How to Buy Insurance at FWD Insurance
The official website of the insurance company is extremely user-friendly with a simple and intuitive design. Insuring your vehicle, home, travel plans or health has never been so easy! Simply follow the following procedure to purchase your desired insurance policy from FWD insurance;
The header on the homepage displays the 'product drop-down button from where you can select the type of insurance you intend to purchase. You may also select a category of product from the list of products displayed on the homepage.
Once you click on the product category, you will be directed to the product listing page. Carefully read all the information regarding your chosen product and click on 'get a quote button. You can also avail the FWD insurance promo code listed on this page.
On the next page, enter the details being asked and click on the 'next button. You will receive a quote within seconds.
If you wish to add more items to your plan, you can add and customise your policy according to your requirements. Continue by clicking on the 'next button and complete all the necessary fields.
Once you have selected and customised your policy, you will be directed to the page where you can enter your FWD Insurance promo to earn discounts. Enter an available promo code and click on 'submit button.
Once you have added all the covers you seek from your insurance policy, proceed further by providing your personal details. Review your policy summary and continue to pay for your purchase.
Payment Options on FWD Insurance
Customers can make payments on FWD Insurance via their credit card verified by VISA or MasterCard. Simply enter your card number, expiry date and CVV/CVC number in the respective fields on the payment window to complete your transaction.
Does FWD Insurance Have Sales and Promotions?
FWD Insurance offers plenty of discounts and deals under FWD insurance promotions in each insurance category. Whether you re buying a FWD car insurance policy or FWD motor insurance, you can find a number of FWD Insurance promo codes available for each type of insurance. Some of these FWD Insurance promo codes are applicable for limited period, while some FWD insurance codes can be availed at all times. Simply use FWD Insurance discount codes, available on the official website of the company and earn great discounts and cashbacks.
At present, customers can earn $3 cashback on single trip travel insurance, $12 cashback on annual trip travel insurance and $45 cashback on FWD car insurance if they buy their policies through a registered account on ShopBack.
How Do I Use a Promo Code on FWD Insurance?
Getting insurance is no longer a hassle with FWD Insurance. The online insurance model of the company not only makes the process extremely quick and convenient but also gives you plenty of opportunities to save money on your purchase. Several websites offer codes and vouchers that can be redeemed to earn cashbacks and discounts on insurance policies.
Here is step-by-step tutorial on how to redeem coupons and vouchers at FWD Insurance:
Step 1: Select the type of insurance you wish to purchase. You will be directed to the product listing page.
Step 2: On the product listing page, note the displayed promo code. Click on 'get a quote to proceed.
Step 3: Provide your basic preference details and add the various available benefits to customise your policy.
Step 4: On the next page, enter your applicable promo code in 'Have a promo code box and click on 'submit .
Step 5: Proceed further to provide your personal information and complete the transaction process.
How to Shop on FWD Insurance Using ShopBack
Customers can earn cashbacks from $3 to $45 on different insurance policies if they utilise the deals on ShopBack. Here are the steps to be followed to earn cashbacks on FWD Insurance through ShopBack:
Step 1: Visit the ShopBack website and select FWD Insurance store from the list of merchants and brands under the travel section. You can also use the search box to find the link to FWD Insurance store.
Step 2: Read the terms and conditions as well as any other relevant information provided such as the cashback details and tips to ensure cashback.
Step 3: Click on Activate Cashback button on the top left corner of the page.
Step 4: If you are looking for more attractive deals and coupons, check out the FWD Insurance Singapore Promo & Codes section where you can find attractive FWD travel insurance promotions as well as FWD car insurance promo codes.
Step 5: You will be directed to FWD Insurance website to browse and select the policies you intend to buy.
Step 6: You will be eligible to earn cashback from ShopBack on finalising your purchase. The cashback rates might differ based on your history with ShopBack, i.e. whether you are a new or an existing customer.
The cashback offer is not applicable on purchases made on ShopBack mobile site/app.
FWD Insurance s Privacy Policy
Here are some of the important clauses from FWD Insurance s privacy policy.
FWD may generate and compile information about you. Personal information provided by you and all information generated and compiled by FWD about you from time to time is collectively referred to as "Your Personal Data".
The purposes for which Your Personal Data may be used are as follows:
offering and providing services and products to you,;
processing and assessing requests or applications sent by you regarding FWD s services or products, issuing or arranging insurance contracts and maintaining your account with FWD;
designing insurance services and products;
marketing services and products to you
operating, maintaining and providing subsequent services in relation to the applications for services and/or products;
creating and maintaining the credit and risk related models of FWD;
data compilations and statistical analysis;
processing payment instructions;
exercising any rights that FWD may have in connection with the services and/or products provided to you;
verifying and conducting any eligibility, credit, physical, medical, security, underwriting and/or identity checks in connection with provision of services or products;
any purposes in connection with any claims made by or against or involving you;
complying with a foreign and domestic laws and regulations codes of practice or guidelines applicable to FWD or companies of the FWD group;
meeting commitments with any legal, regulatory, governmental, tax, law enforcement or other authorities, industry bodies in Singapore or any other jurisdictions where the FWD has presence or business;
complying with policies and procedures applicable within the FWD group; and
any other purposes directly related to (i) to (xiv) above.
FWD may disclose Your Personal Data with the following parties, whether within or outside Singapore for the purposes described above:
members of the FWD group;
persons or companies acting for or on behalf of FWD, (e.g. professional advisors);
persons or companies carrying on insurance or reinsurance-related business engaged by FWD;
physicians, hospitals, clinics, medical practitioners, laboratories, technicians, loss adjustors, risk intelligence providers, claim investigation companies, administrators or other professional advisors engaged by FWD ("Our Partners");
third parties, including distributors, intermediaries, agents, contractors or service providers that provide services in relation to FWD s businesses; and/or
persons or companies to whom FWD or the FWD group has to make disclosure under any law, rules, regulations, codes of practice or guidelines (whether applicable in or outside Singapore).
FWD Insurance s Customer Service
For any assistance or query, customers can write to FWD on [email protected] or call them at +6568208888.