Eatigo Discount Codes, Promo Codes & Coupons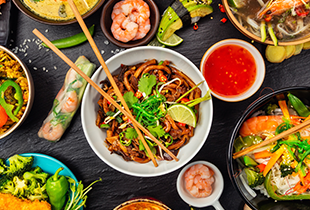 Up to 50% OFF Table Reservations + Cashback
Number of active reservations is capped at three. Concurrent reservations are not allowed. Please visit website for the latest updates.
Subject to Eatigo's T&Cs.

Cashback is only awarded for attended reservations. From 25 Jan 2018 00:00 onwards, Eatigo Cashback has been revised to $1.50 Cashback.

Please be aware that some transactions may track at a slightly different rate, but will uplift on a monthly basis, once the transaction is confirmed by the merchant.

Accounts that engage in fraudulent orders/activities to game/cheat the Cashback system will be banned and Cashback forfeited
Recent Articles
More about Eatigo
Save More With Eatigo Promo Codes
If you have never heard of Eatigo, then you have been missing out on some of the most amazing discounts ever offered. Eatigo provides time-based discounts up to 50% for restaurant goers even without the use of an Eatigo code to cut down the price. How does it work without an Eatigo promo code? Well, restaurants set discount levels based on the crowdedness of the restaurant, so if you go during an off-peak hour, you can get up to 50% off your total bill! But that's not the best part; you can even use an Eatigo discount or a Eatigo promotion to buff up that price reduction. With Eatigo deals, you will be able to save a ton while still eating all the delicious food that you've been craving.
Eatigo Reviews You Can Trust
Eatigo is a relatively new entrant in the online reservation space, but it has made a name for itself within South-East Asia region and has since been backed by Tripadvisor. Eatigo sales are transaction-free and hassle free, with money only changing hands after you're done with your meal and making payment at the restaurant. Eatigo simply reserves a table for you and your friends, and gives you a discount based on your reservation! You can enjoy an affordable restaurant meal with an Eatigo code if there happens to be an ongoing Eatigo promotion.
Double Up With Eatigo Promotion Codes And ShopBack
Get double the rebate when you use an Eatigo discount with ShopBack. Shopback offers our customers cashback for every transaction made through our website or app. Cashback can be stacked with any Eatigo promo code you have, making for twice the amount of savings with half the work! ShopBack even offers you Eatigo codes that you can't find anywhere else on the internet. Saving money has never been as simple as with ShopBack and Eatigo promotions.
What's more, Eatigo does not require any initial upfront costs or credit card details! All you need to do is reserve a table at your chosen restaurant, key in your Eatigo promo code, and enjoy the savings. Reserving a table through ShopBack and Eatigo means you'll always have an Eatigo discount code at hand, and that you'll never need to pay full price for a meal at a restaurant again! To enjoy all the best Eatigo deals and Eatigo sales, simply book an online reservation on this page.
Eatigo Sales and Cashback
Want to know how you can use Eatigo promo codes while still get cashback from ShopBack? We'll teach you! Follow our 7-step process to using Eatigo discounts through the ShopBack cashback system, and see your savings rise. Saving while using an Eatigo promotion has never been this easy!
Head over to the ShopBack homepage and get yourself an account OR log-in if you already are a current ShopBack member.
Jump on over to Eatigo's merchant page, or any one of our other great partners.
Choose from the many great Eatigo deals available for all our users.
Click the "Shop Now" button and let ShopBack redirect you to the Eatigo sales page.
Find a restaurant of your liking, make a reservation, and apply the Eatigo code for your additional discount. Reminder: be sure to stay within the redirected window to ensure you receive your cashback.
Have a great time at the restaurant, and check your ShopBack account thereafter and watch the savings roll in.
Repeat for more Eatigo discount goodies.
No matter your preference of food or how many people there are in your party, Eatigo deals will allow you to eat great food at affordable prices. Eatigo discounts stack up with Eatigo promo codes, as well as ShopBack's cashback system, giving you three times the savings! Saving money with an Eatigo code has never been this easy! Be sure to revisit the Eatigo merchant page every now and then to keep yourself updated on the newest Eastigo sales Shopback has available. Shopback also provides new Eatigo codes every once in a while. Want to know more to save more money with Eatigo? Read on and find out more!
Connect with Eatigo Deals
If you are on the search for more great Eatigo deals, you've come to the right place. No need to go searching the massive internet for discount, instead head over to Eatigo's social media account for all your Eatigo promotion needs! Through their social media platforms, you will be updated on the latest Eatigo deals and Eatigo sales available!
Facebook: Eatingo's Facebook account allows you to communicate with the Eatigo team, letting you ask your questions and queries. What's more, through Facebook, you might even stumble across a rare Eatigo code or two, to make your meals that much more affordable. All you need to do is head over to their Facebook page, hit that "like" button, and keep an eye out on posts from them.
Instagram: Eatingo uses Instagram to keep you informed on the latest food trends in Singapore through great images and caption. Through these captions, you might even find a Eatigo promo code hidden within the text. Follow Eatigo on Instagram now! You'll never know what kind of Eatigo deal you might be able to find.
More Great Deals with ShopBack
Need more great sales similar to Eatigo promotions and Eatigo codes? ShopBack has your back when it comes to all things savings. Be it FoodPanda or Deliveroo, our wide range of merchants are happy to help! And don't forget the discounts and cashback that come with them. Simply head over to ShopBack's store directory for a full list of out partners, find your favourite, and let the shopping begin!