Hungry but stuck at home?
Still looking for dining deals? Check out these deals from our other merchants!
Enjoy these Food, Beverage and Grocery Delivery Deals!
Journey Through Singapore s Culinary Scene with Eatigo!
Eatigo, Southeast Asia s number 1 restaurant reservation app, allows diners to make bookings in any of their 2,000 plus restaurants spread across different parts of the world. With its time-based discounts and wide list of restaurants, Eatigo ensures that its customers not only save time, but money too. It offers dining discounts ranging from 10% to 50% throughout the day, with higher discounts mostly during off-peak hours. Headquartered in Bangkok, Eatigo is actively available in Singapore, Hong Kong, Malaysia, Philippines, India and is expanding in many more countries. Backed by TripAdvisor, Eatigo is gaining rapid popularity, has seen more than 2 million downloads and has seated over 5 million diners.
The Eatigo app is user-friendly and its extensive list of restaurants includes 5-star restaurants, popular food joints, Michelin star restaurants and small scale eateries. It also offers a plethora of cuisines like American, European, Mexican, Vietnamese, Italian, French, Spanish, Asian, Greek, Japanese, Thai, Indian and many more, all within a discount of up to 50%.
Salient features of Eatigo include easy reservation with no pre-payments along with an option to cancel the reservation and easy accessibility to restaurant information, such as restaurant address, menus, reviews and recommendations. Diners have a choice to select from more than 20 food categories such as exotic buffets, quick bites, burgers, pizzas, cafes and a lot more! To save extra bucks, book your table during off-peak hours.
Eatigo was founded in 2013 by Telco veterans Michael Cluzel, group CEO of Eatigo, Siddhanta Kothari, CFO, Judy Tan, Director and Pumin (Louis) Yuvachruskul, CEO for Thailand. Headquartered in Bangkok and incorporated in Singapore, Eatigo has employed more than 100 employees across their offices in six different countries.
In June 2014, Eatigo celebrated its success in Thailand – a country unfamiliar with online restaurant reservations at that time. After introducing the online restaurant-reservation concept to people in Thailand, Eatigo was successful in acquiring more than 95 percent market share in the online restaurant-reservation business. By February 2015, Eatigo had taken charge in Singapore with more than 50 percent of the market share.
Through a series A round in December 2015 and series B round in September 2016, Eatigo successfully raised about $15million. Backed by TripAdvisor, in 2017, Eatigo launched their business in Hong Kong and Malaysia, where they experienced immense success in just a few months. By this time, Eatigo had created a niche for itself as the market leaders in South East Asia.
Eatigo claims to see 20 percent month-on-month growth for revenue and reservations, 700 restaurant partners and on average, at least one diner seated every three seconds per day.
Restaurant Categories Offered by Eatigo
Eatigo allows its diners to make a restaurant reservation based on restaurant location, dining discounts, cuisine, date and time. Download their user-friendly app or log in to their website to avail of Eatigo discounts and Eatigo offers, and make your reservations. The app categorises restaurants based on discounts, type of restaurant, cuisines and restaurant location. It also consists of a number of blogs that provide information about the listed restaurants ambience and the specialities on offer. Here s a brief overview of some of the categories of restaurants that diners can choose using the Eatigo app.
50% Off All Week / Day – This category lists out all restaurants that offer tasty treats at half the price. It displays the time till when the offer is valid and the number of recent reservations. Diners can pick their favourites based on the cuisine and ambience to suit their occasion. Discounts can be availed on a-la-carte as well as buffet selections. This category presents a wide array of cuisines that include local delicacies, as well as Asian and International treats.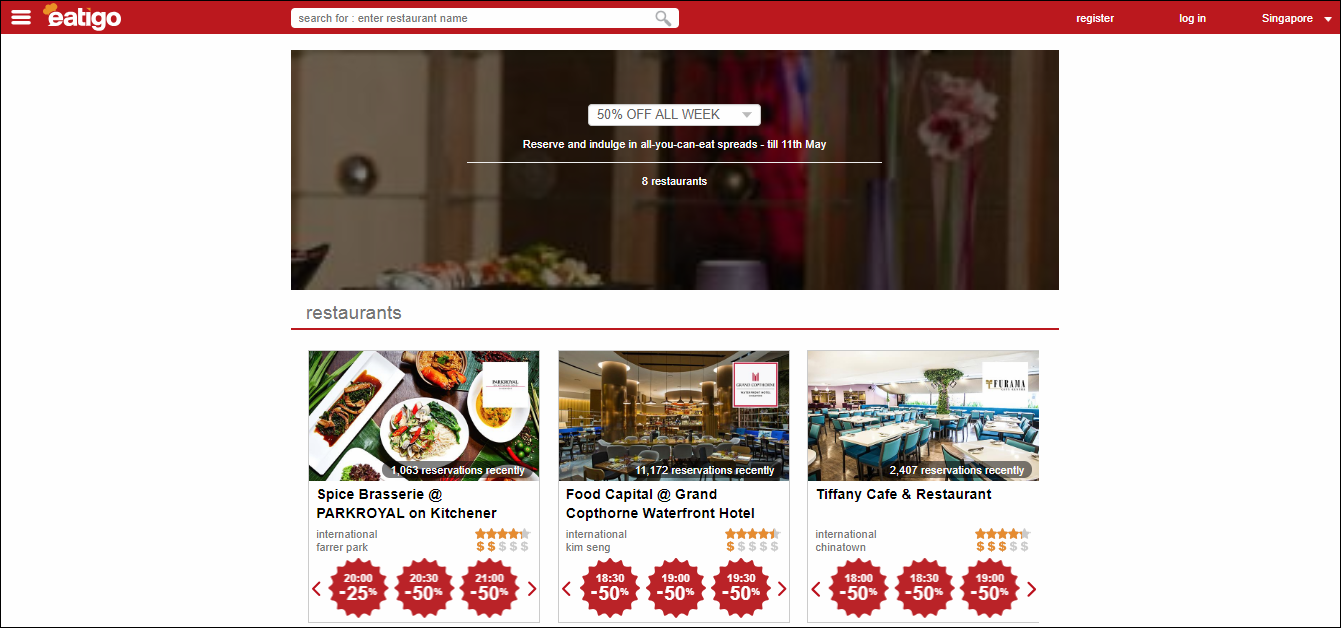 Hotel Buffets
– Here, you can glance through a list of hotels that offer sumptuous spreads from multiple cuisines. Eatigo buffets are quite popular among its guests and highly recommended. The restaurants listed under this category also display information about the recent reservations done, along with the discounts.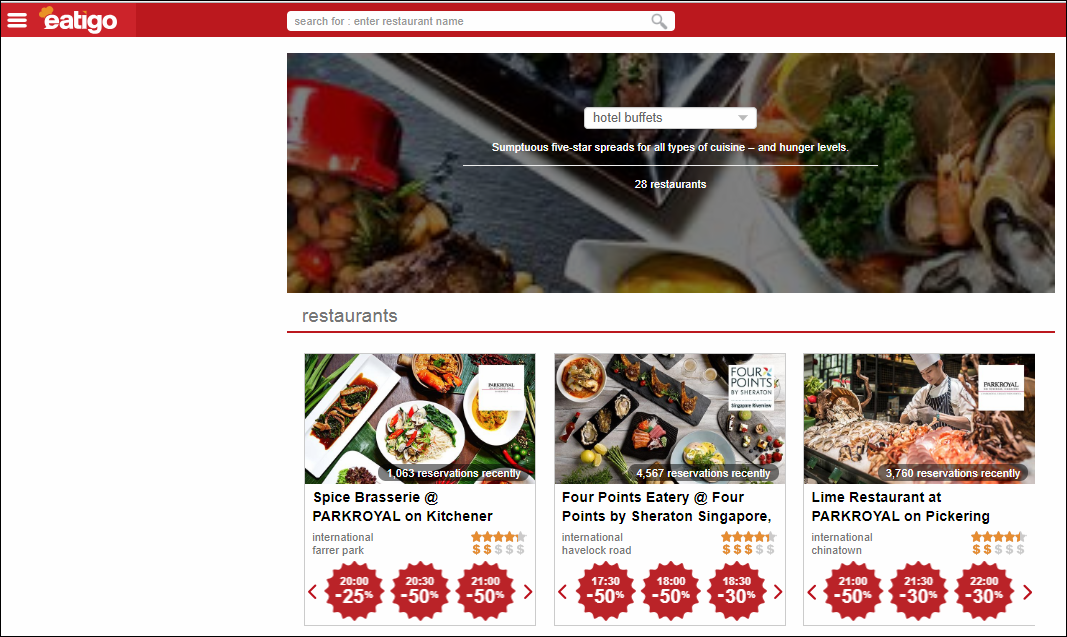 Orchard
– Eatigo Singapore has a list of dining options for diners who are looking forward to enjoy a meal in Singapore s famous Orchard Road, a 2.2 kilometre road in the Central Area of Singapore. Download the Eatigo Sg (Singapore) app and scan through the various restaurants listed in the Orchard section to enjoy a delectable meal as you explore Singapore s famous shopping belt and tourist destination.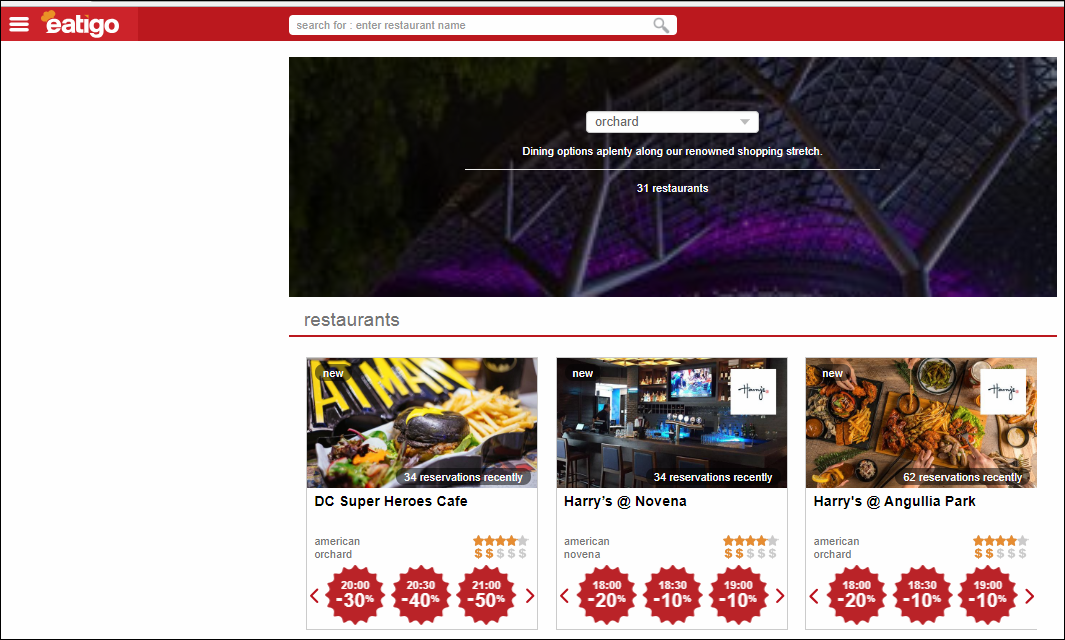 Indian
– Under Eatigo s Indian category, you can find a list of restaurants and eateries that offer Indian food. From homely eateries to five-star restaurants, diners can pick their favourites from a wide range and enjoy a delicious Indian dining experience. The restaurants listed in this category offer North Indian cuisine, South Indian cuisine, Biryanis, Parathas, Tandoori items and a lot more.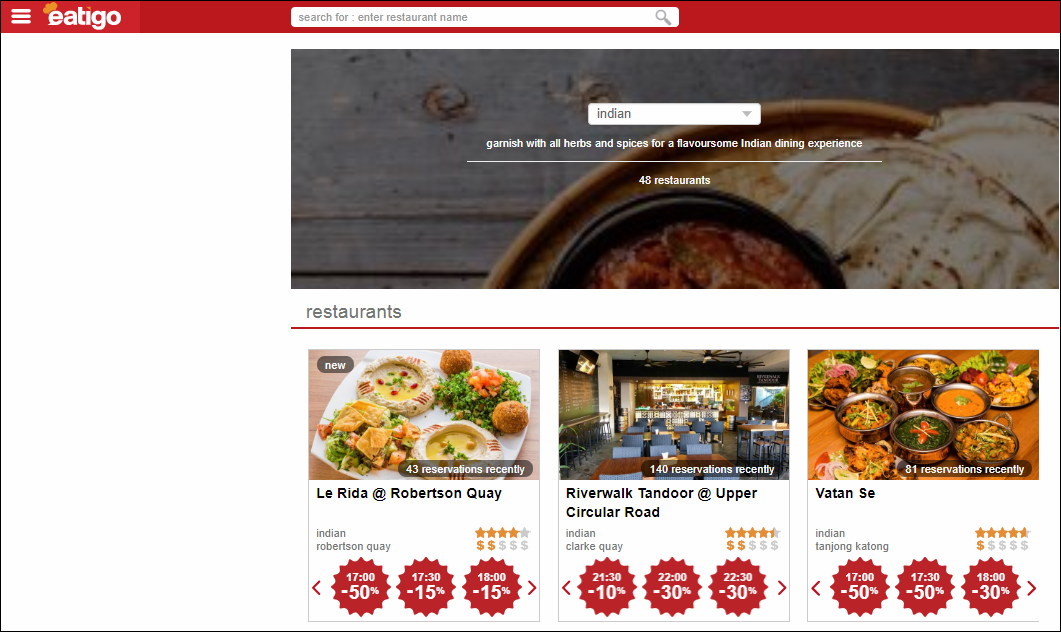 | Eatigo Dining Locations | Eatigo Restaurants |
| --- | --- |
| Orchard | Seoul Yummy @ ION Orchard, Kotobuki Izakaya @ Wisma Atria, Coca Restaurant @ Ngee Ann City, Tonkichi @ Takashimaya |
| Somerset / Dhoby Ghaut | M Seven Cafe Harry s @ Cuppage, The Assembly Ground, Yoogane @ 313 Somerset |
| Jurong / Clementi | Yoogane @ Westgate, Founder Bak Kut Teh @ Jurong Point, Seoul Yummy @ JEM, Brotzeit @ Westgate |
| | |
| Eatigo Cuisines | Eatigo Restaurants |
| --- | --- |
| Hotel Buffets | Blue Jasmine @ Park Hotel, Farrer Park Azur @ Crowne Plaza Changi Airport, Spice Brasserie @ PARKROYAL on Kitchener, Four Points Eatery @ Four Points by Sheraton Singapore |
| Indian Food | Patro s @ ECP Riverwalk, Tandoor @ Upper Circular Road, Prata Alley Urban Roti @ Syed Alwi Road |
| | |
Apart from the ones mentioned in the above table, Eatigo s restaurant categories include Yoogane, Korean, muslim-friendly eateries, River Gauche Patisserie, Chinese cuisines, Fart Tartz, Wine Connection, Seoul Yummy, all you can eat hotpot, punggol / sengkang, holland v / bukit timah, tanjong pagar eateries, all you can eat BBQ, casual dining.
How to Make Reservations on Eatigo?
The Eatigo website is hassle-free and extremely easy to use. The search box at the top of the app enables diners to make their reservations by cuisine, location or restaurant.
Payment Options on Eatigo
After booking a table through Eatigo and enjoying the meal, guest must make their payments at the restaurants. The mode of payment depends on the restaurant s payment policies. For every diner arriving as per the reservation, Eatigo is paid a pre-decided fee by the restaurant.
Does Eatigo Have Sales and Promotions?
Eatigo offers interesting discounts and deals throughout the year. Customers can avail of Eatigo vouchers and Eatigo coupons. There are a number of ongoing deals too, which include refer a friend and get $5 reward, book your table at a romantic restaurant and get 50% off, earn extra reward points by sharing Eatigo with your friends, dine in selected restaurants during happy hours to enjoy up to 50% off.
How Do I Use a Promo Code on Eatigo?
Discounts and deals can make dining a fun-filled event with your near and dear ones. You not only get to eat to your heart s content but also save some money. You can find great deals on restaurants during the Eatigo promotions displayed on the homepage. You can avail the discounts by using Eatigo discount codes and Eatigo coupon codes.
The step-by-step process to redeem coupons and vouchers at Eatigo is given below:
Step 1:
Select the restaurant for reservation. You can view the 'enter reservation details pane on the right.
Step 2:
Enter the required information in the boxes provided. Information includes date of reservation, number of people, time and discount, guest name, email address and contact number. Here, you will also see a box for Eatigo promo code.
Step 3:
Enter the promo code or any other applicable Eatigo code to avail discounts.
Step 4:
Click the 'click to review reservation button.
How to Book Tables on Eatigo using ShopBack
ShopBack offers $1.5 cashback if you book your table through Eatigo. Here are the steps to be followed to earn cashback from ShopBack:
Step 1:
Visit the ShopBack website and select 'eatigo listed in the dining tab of ShopBack s homepage. You can also use the search box to find the link to Eatigo store.
Step 2:
Read the terms and conditions and any other relevant information, such as tips to ensure cashback listed on the page.
Step 3:
Click on the Activate Cashback button located on the top left corner of the page.
Step 4:
To find more attractive deals and coupons, check out the Eatigo Discount Codes, Promo Codes & Coupons section.
Step 5:
You will be redirected to Eatigo website to browse and make your reservations at the required restaurants.
Step 6:
You will be eligible to earn cashback from ShopBack on placing your order. The cashback rates might differ based on your history with ShopBack, i.e. whether you are a new or an existing user.
The cashback offer is not applicable on purchases made directly on Eatigo app.
Eatigo s Terms and Conditions
Here are the terms and conditions that you must be aware of before booking a table through Eatigo s website.
Eatigo expects diners to arrive on time as the reservation is guaranteed for only 30 minutes.

On arrival, diners must inform the waiter about their reservation with Eatigo.

Discounts are applicable to all foods on the menu, except drinks (unless restaurant has a special policy).

Diners cannot accumulate discounts on any in-house promotions.

Discounts are applicable only for dine-in and cannot be used for takeaway or delivery.

Prices of food items can vary on special holidays. You can contact the restaurant for further details.
For any assistance, you can contact Eatigo customer service by sending an email or connect with them via social media at: