Empower Your Enterpirse With Dell Small Business!
Dell Small Business empowers employers around the world by offering them the tools, technology and resources. With over 30 years of experience, Dell is dedicated to creating products and services for small business needs. Dell s Small Business Technology Advisors provide tailored solutions for all kinds of technical queries. Also, they provide round-the-clock ProSupport, which solves critical issues with the help of highly trained engineers. Dell Small Business offers financing solutions too. Users can just apply for it and purchase the products easily with low monthly payments and also for building the business credit.
PC s Limited dba (the former name of Dell Computer Corporation) was founded by Michael Dell in 1984. In the same year, the company produced the first computer of its own design (the Turbo PC), featuring an Intel 8088 processor running at a speed of 8 MHz, which was sold for US$795. In the first year of trading, the company grossed more than $73 million. In 1987, the company dropped the PC s Limited dba to be Dell Computer Corporation and began to expand it globally. It set up its first international operations in Britain. In 1988, the company s market capitalization grew from $30 million to $80 million. In 1992, Dell Computer Corporation was listed one among the world s 500 largest companies in Fortune magazine.
In 1996, Dell started selling computer online through its official website. In 2002, Dell introduced a range of electronic items that include televisions, digital audio players and printers. In 2003, the company name was changed to "Dell Inc." In 2006, Dell purchased an American computer hardware manufacturer Alienware. In 2007, Dell began to sell laptops, budget computers and high-end PCs with Ubuntu Linux 7.04 pre-installed and in 2009, Dell shipped the Inspiron Mini laptops with Ubuntu 8.04 version. The company released the Alienware 17 in 2017.
Products Sold on Dell Small Business Singapore
You can visit Dell Singapore official site and shop for best dell computers for small businesses. It has a user-friendly interface that has numerous product categories hosting various Dell Small Business laptops and Dell Small Business Computers. Dell Small Business coupon code can be applied for any of your orders on this site. Here is a brief discussion on different product categories available on the Dell website:
Laptops and Tablets
: This category provides the best dell laptops for small business. Also, it has chromebooks, ultrabooks, tablets and convertibles for your business needs.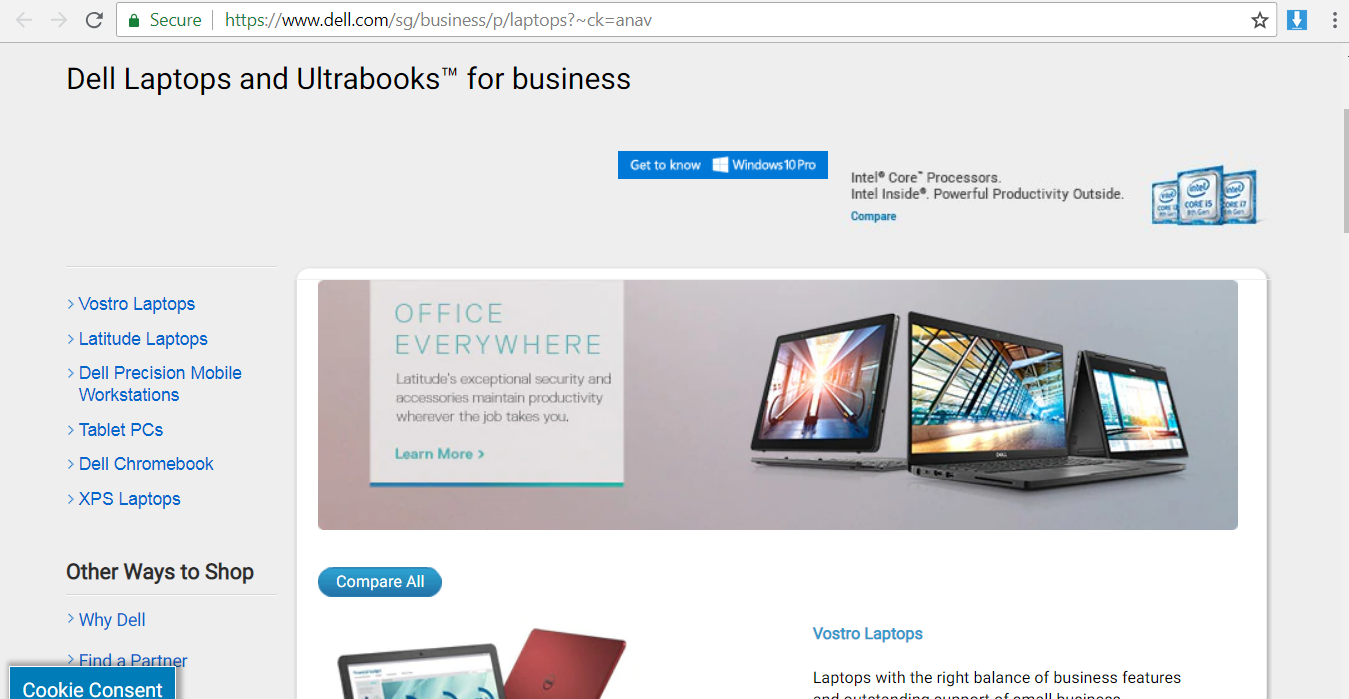 Desktops and Workstations
: This is a go-to category for purchasing reliable business desktops and fully customisable workstations certified with professional applications. Dell Small Business desktops are equipped with all the business features.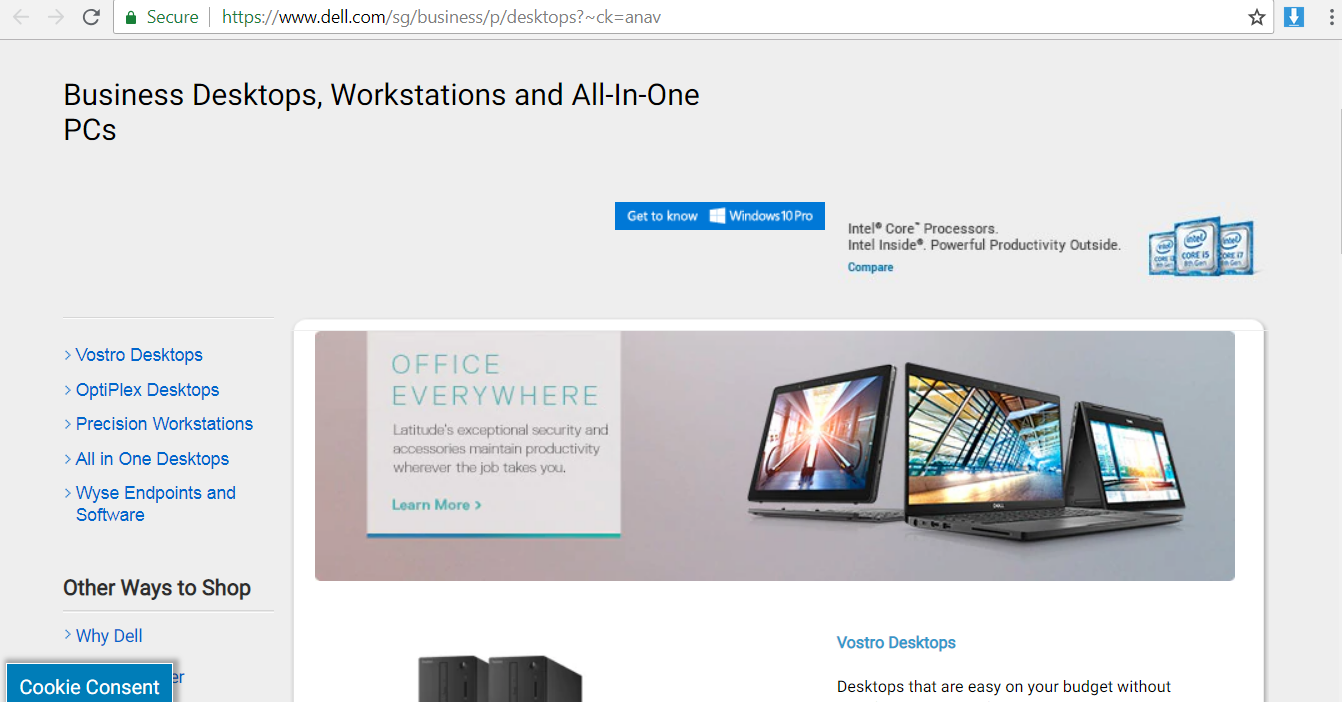 Enterprise
: Apart from desktops and laptops, this website also hosts Dell Small Business servers, products for storage, network switch and ethernet switch devices and certified parts for Dell servers, storage and networking systems.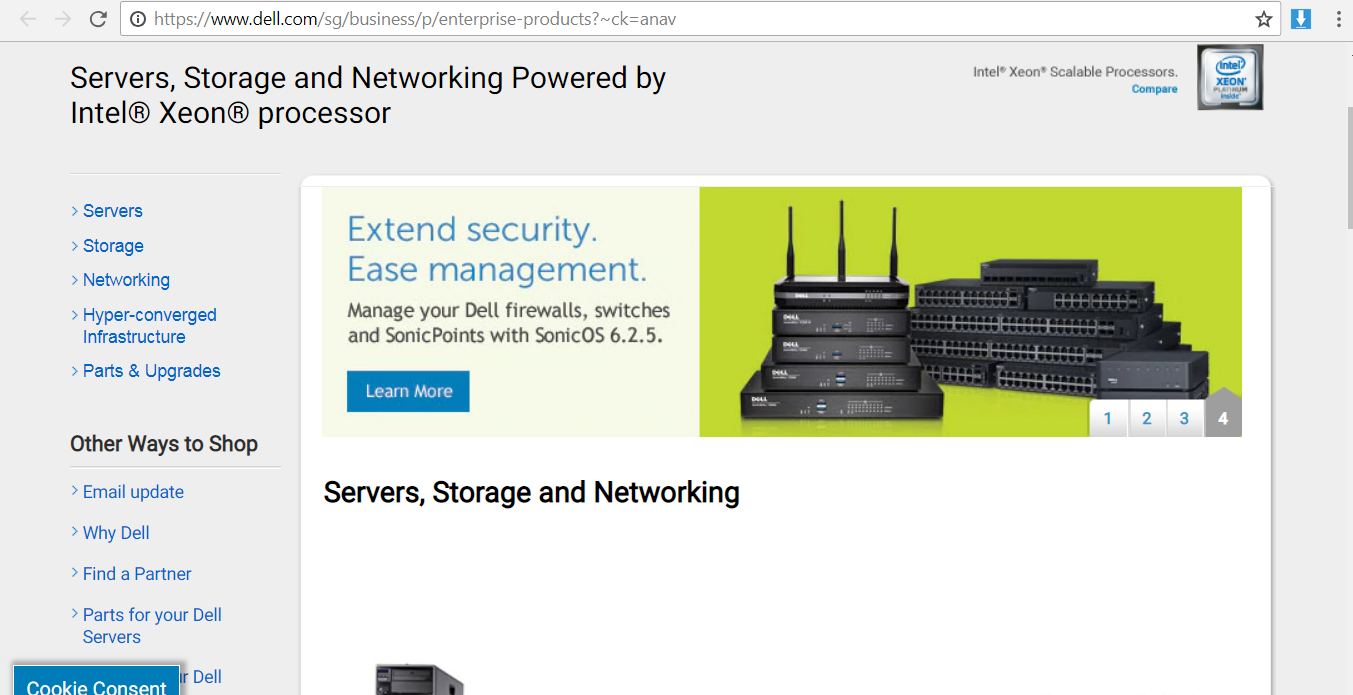 Electronics and Accessories
: If you are looking for any electronic items, accessories and software categories for your systems, then you can find them all under this section.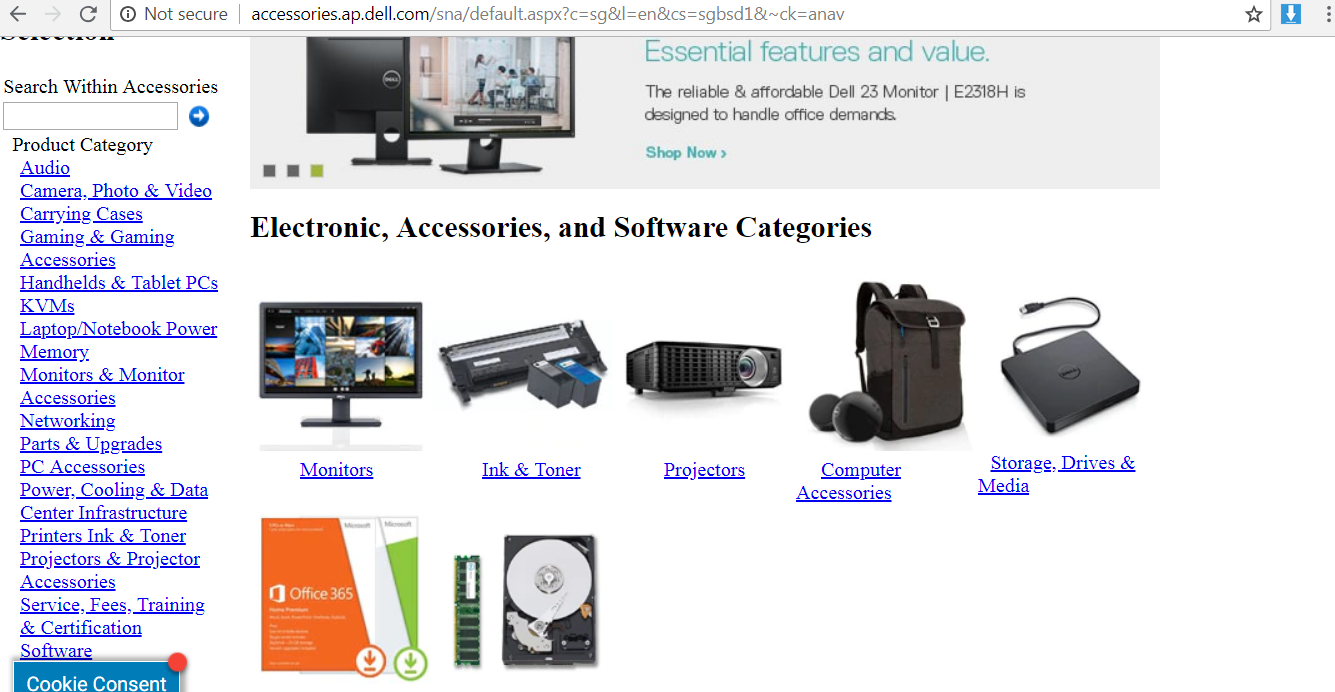 Workstations
: This category has a range of precision workstations featured with the most powerful Intel processors and certified professional applications, for your business purposes. They offer workstations of three types such as fixed workstations, mobile workstations and rack workstations.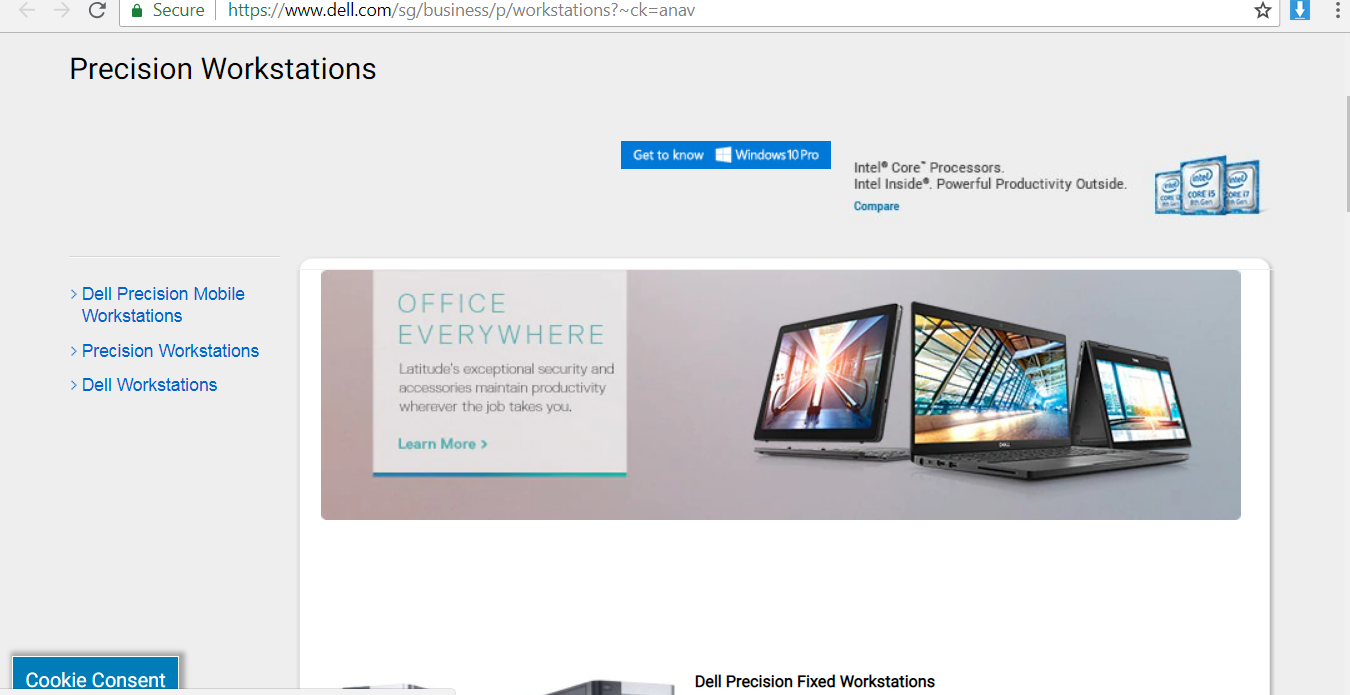 | Product Categories | Sub-categories |
| --- | --- |
| Laptops and Tablets | Vostro Laptops, Latitude Laptops, Dell Precision Mobile Workstations, Tablet PCs, Dell Chromebook, XPS Laptops |
| Desktops and Workstations | Vostro Desktops, OptiPlex Desktops, Precision Workstations, All in One Desktops, Wyse Endpoints and Software |
| Enterprise | Servers, Storage, Networking, Hyper-converged Infrastructure, Parts & Upgrades |
| Electronics and Accessories | Monitors, Printers, Projectors, Laptop Accessories, Parts and Upgrades |
| Workstations | Dell Precision Mobile Workstations, Precision Workstations, Dell Workstations |
| | |
How to Shop at Dell Small Business?
You can visit the official website of Dell and purchase the products for different purposes either by browsing through different tabs available at the top section of the homepage or just by entering the keyword or E-Value Code for the product in the search box.
Also, on the homepage, you will find a list of new product releases in the market and various deals on Dell products.
When you click on a particular tab based on your purpose, you will get a product list with all the specifications that meet your needs. For example, clicking on the 'For Work tab displays a list of product categories with business features.
Click on a product that you want to purchase, and you will be directed to the product listing page. For example, an XPS laptop is selected here. On this page, you will get to see detailed information on the laptop s configuration, features, design, accessories, services and manuals.
Also, the page suggests other product(s) with the listing, which has similar configurations as your product. You can have a look at them and add to your cart to make a comparison while making an order. This can be done by clicking the 'Add to Compare checkbox, which is present just above the product image.
At the end of the configuration listing, you can find the price details that include starting price, cash offer, price inclusive of GST, online price and also options for buying the product on instalment. Also, you will find the E-Value code of the product here. If you are satisfied with the product, click on 'Buy Now button to place your order.
After clicking on the 'Buy Now button, the page displays various Dell services and software options with price details. Services under this list include hardware support, accidental damage services, installation services and security software. If you select any of these services, the cost of the particular service(s) will get added to your subtotal amount.
If you do not require any of the additional services, you can just click on the 'Buy Now button available at the top of the page. You will be directed to the order summary page of the product.
Review your product on this order summary page and click on 'Proceed to Checkout option to place your order. You will be redirected to your shopping cart.
The shopping displays the product that you have added to it to purchase. You can click on 'Save Cart option to save the item in your cart and shop later or click on 'Checkout button to proceed with your checkout. You will be directed to cart summary page.
This cart summary page provides two different options to checkout in a secured way. New customers can just click on 'checkout as guest option and proceed with the process. Existing customers can provide the login credentials and click on 'sign in button to checkout.
When you click either of the options, you will be redirected to a page where you need to enter the shipping details. Click on continue after providing the inputs and you will be directed to the payments and billing page.
Payment Options on Dell Small Business
Dell website offers three options for your online payment. Customers can choose any one of the options for online money transfer and purchase the products. Make sure you apply the Dell Small Business coupon while making the payment (if you have any).
Credit card/Debit card
: You can use MasterCard, VISA or Amex credit card/debit card to make direct payment and purchase your orders through the website. The debit card/credit card will be charged further upon the submission of the order. If you opt to make your payment via credit card, Dell Fraud Prevention team may contact you to confirm your details, in order to prevent any unauthorised use of your credit card.
Cheque/Bank Draft
: If you do not want to make the payment online, then you can choose this option. They accept personal cheque, company cheque and bank draft. Also, they arrange a courier to collect the cheque while processing the order.
Telegraphic Transfer
: This option allows you to make your payment by telegraphic transfer.
Note: Cheque payments and telegraphic payments must be made within 5 days of placing the order. Else, your order will be at risk of being cancelled.
Different Coupon Codes and Discounts on Dell Small Business
Visit the Dell Small Business Singapore site and find the exclusive deals and discounts on the homepage under Dell Deals section. Here, you can find Dell Small Business desktop deals and various deals for laptops, gaming and electronic items too. Also, Dell Small Business Singapore offers special discounts for students. You just need to fill up the 'Student Purchase Form , attaching a copy of your Singapore student card to avail this discount.
How to Redeem Coupons and Vouchers at Dell Small Business
If you have any Dell Small Business coupon code or discount code, you can make use of it while proceeding to checkout the items from your shopping cart on Dell Small Business store. Navigate through the 'Discounts and Coupons section on the checkout page and enter the code in the textbox. Click on 'Apply Coupon button and the code will be applied to the products in your shopping cart.
How to Shop on Dell Small Business using ShopBack
Customers can find Dell Small Business cashback options on ShopBack. Currently, ShopBack offers 1.0% cashback for all ShopBack customers on every purchase at Dell Small Business through ShopBack website. Follow the step-by-step procedure mentioned below to avail this offer.
Visit the official ShopBack website of Singapore. You will get to see different store categories on the homepage. Click on 'Electronics option and look for 'Dell Small Business store.
Click on 'View all Electronic Stores option. The page displays all the available electronic stores on ShopBack. Browse through the list and select Dell Small Business option. You will be redirected to Shoback s Dell Small Business page.
On the left pane of the page, you can see the cashback option offered by ShopBack. Click on 'Activate Cashback to initiate the offer. A pop-up window appears where you will need to enter the ShopBack account details for availing this offer.
Once you are logged in to the account, click on 'Activate Cashback option again. A pop-up window appears with an option to confirm your activation. Click on 'Continue to Dell Small Business button to confirm and the page redirects you to the official website of Dell where your cashback will be applied on your purchase.
For more details on earning cashback, click on 'How to Earn Cashback tab on the top right section of the homepage of ShopBack s Dell Small Business site. Also, other offers include 'Refer 5 Get $99 , which provides you $99, if you refer 5 persons.
Look for other available offers under 'Dell Small Business Discounts & Coupon Codes section.
Dell Small Business Shipping & Return Policy
Your orders will be delivered to you in 7 – 12 working days, from the time Dell receives your order. Your orders may be delayed due to several reasons that include unapproved payments and part shortages.
If you want to check your order status, make a call to their customer care number on 1800-88-4432.
If you want to return your products, you can return them to the relevant Dell s factory in Singapore. It should be done within 30 days of the invoice date for replacement or a refund of the item purchase price. This will not include any shipping and handling charges that is added on your invoice. Products should be returned within five days of the date of receiving the Equipment Return Authorization Number. Returned products must be received by Dell with its original packaging.
This policy does not apply to any third-party products or accessories that are purchased through Dell. Also, it is not applicable for Dell Spare Parts sold under sales and refurbished products or parts.
Dell Small Business Customer Service
ce is easily approachable. If you want to find contact options for your orders, you can visit the online Contact Order Support site and search for them by submitting your internet recipient number or order number in the search box. If you do not have any, you have other lookup options on the page, just below the search box.
When you do not have any order information, you can just make a call on 1800-394-7486 and contact their customer service team.
Connect with Dell Small Business