Chope the Best Dining Deals with ChopeDeals
Chope is a Singapore-based dining reservation platform that offers biggest collection of food and beverages dining deals. This online real-time restaurant booking platform is an ideal destination for foodies who like to try different cuisines at popular restaurants around them. With thousands of restaurants and almost all major cuisines of the world to choose from, Chope offers innumerable options to the diners on a single platform. Not only this, Chope also has in store hundreds of crazy deals that will take your dining experience to a new level. It enables you to enjoy hearty meals at the best restaurants without worrying about long waiting queues and exorbitant bill amounts.
Simply log in to the Chope.co website or download the Chope app and enjoy superior dining experience at numerous eating joints ranging from small cafes to Michelin star restaurants.
Chope was founded in 2011 by Arrif Ziaudeen. Ziaudeen, who had the experience and exposure of San Francisco Bay Area, understood the fact that it was possible to make money doing what you love. This fuelled his desire to become an entrepreneur. He decided to nurture his entrepreneurial skills and acumen by joining full-time MBA at Stanford University where he developed the contacts and ideas that paved the way for him.
Ziaudeen conceived the idea of establishing an online portal for real-time restaurant reservations when he realized that no person in Asia had launched such a platform yet. Such restaurant reservation platforms were already popular in the U.S.A and a few European countries, but Asia was yet to see such an online booking portal. As a result, initially many restaurants were sceptical about his idea, but Ziaudeen had complete faith in his business model. ChopeDeals was ultimately launched in Singapore, but before its launch, the company had to convince the restaurants and train their staff on using online reservation management systems. The online reservations gradually began to increase as more and more restaurateurs and café owners began to adapt to technological advancements. In 2012 itself, the company s application had been used by 1,000,000 diners.
Over the years, Chope raised funds from various coveted investors and expanded its operations in major destinations in the Asia-Pacific region including Hong Kong, Shanghai, Beijing, Bangkok, Phuket, Jakarta and Bali. In 2017, the company also acquired MakanLuar.com, Indonesia s leading restaurant reservations platform. The company continues to grow and serve millions of diners everyday across the Asia-Pacific.
Restaurant Categories Offered by ChopeDeals
ChopeDeals is a one-stop destination for finding the perfect restaurant for your next meal! The platform features thousands of restaurants from where you can select one that is close to your location. If you are in Singapore, you can simply browse through the list of restaurants arranged in alphabetical order. You can also apply filters to search according to your preferred cuisine or location.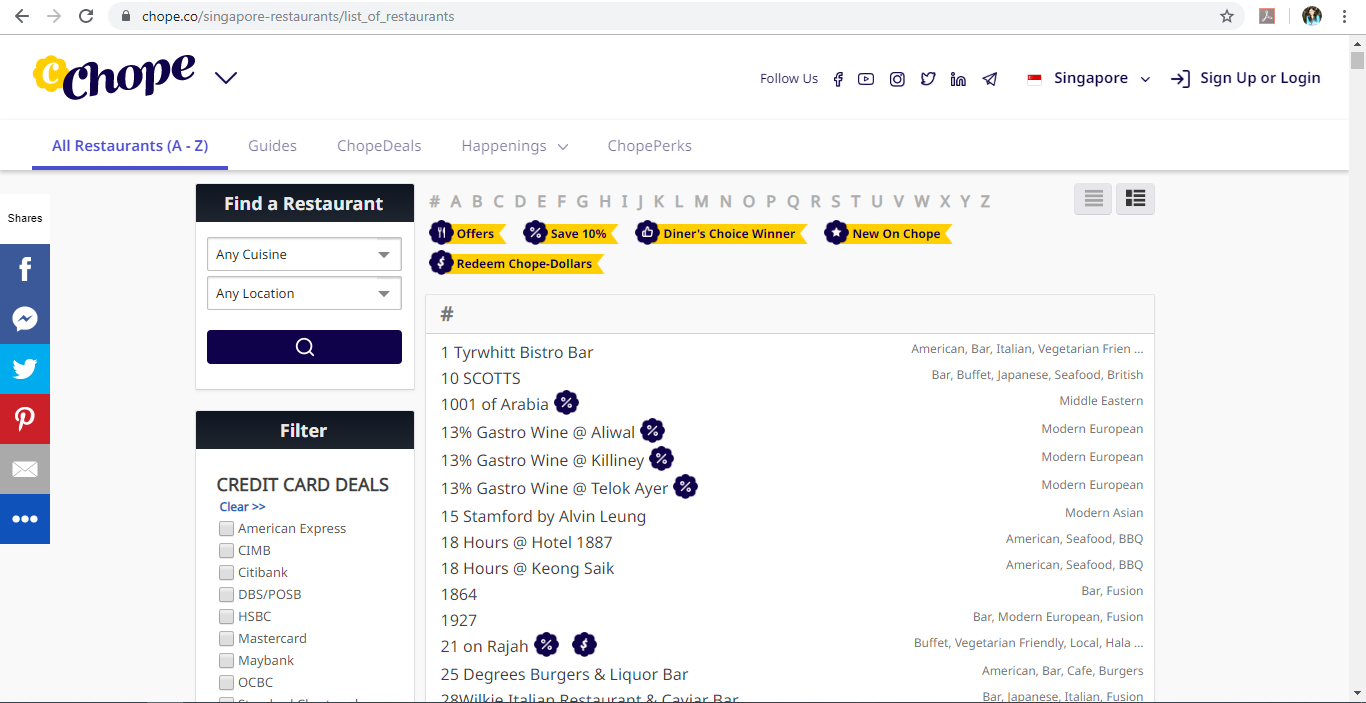 Guide –
This section features various collections of restaurants, especially curated for customers seeking a particular kind of experience such as 'Most Romantic Restaurants , 'Japanese Restaurant Guide , 'Unique Dining Experience Guide , 'Most Popular Spots , 'Michelin Guide Singapore 2018 and much more. These collections are listed under different categories such as 'Dine & Save , 'Diners Favourites , 'Area Guides , 'Cuisine Guides , 'Lifestyle and 'Chope X Partners .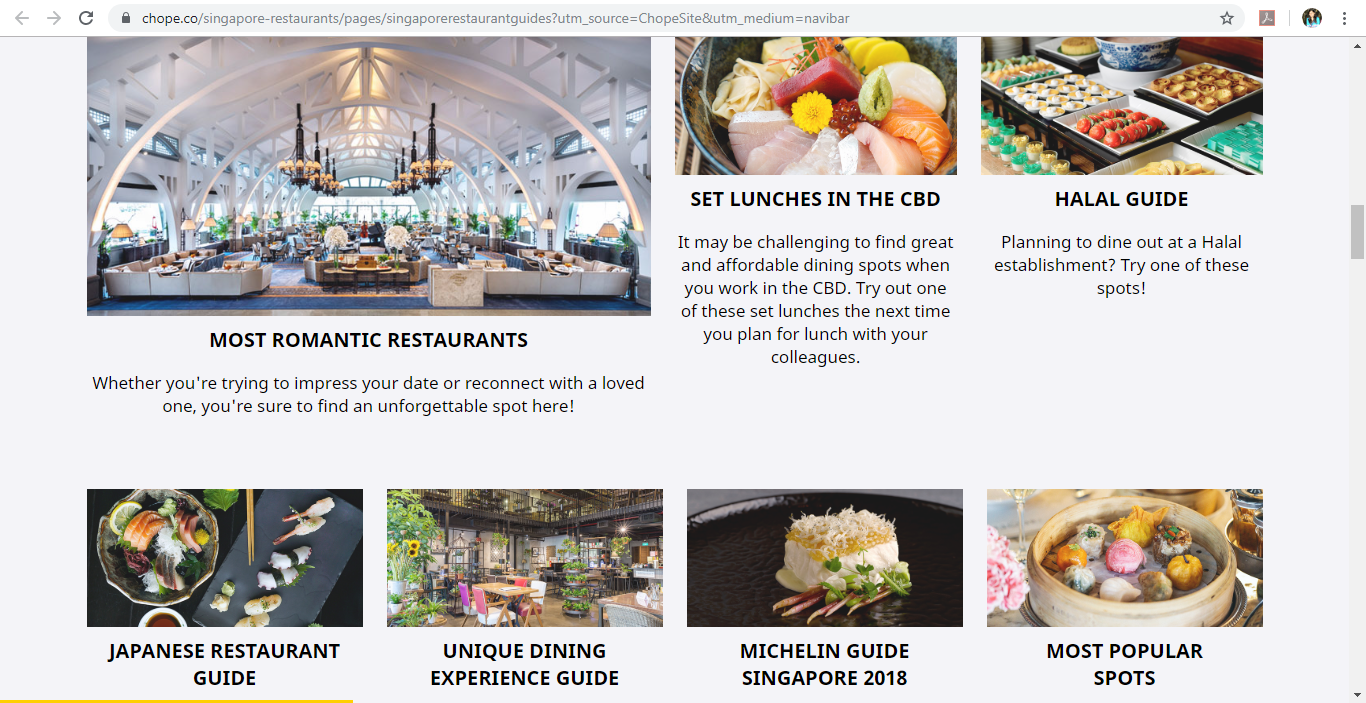 ChopeDeals –
The Chope homepage also features a ChopeDeals section on the top bar. Once you click on it, you will be directed to the page where you can find all the deals being offered by restaurants on the platform. Choose the best Chope promotion from the list and avail amazing discounts on your orders.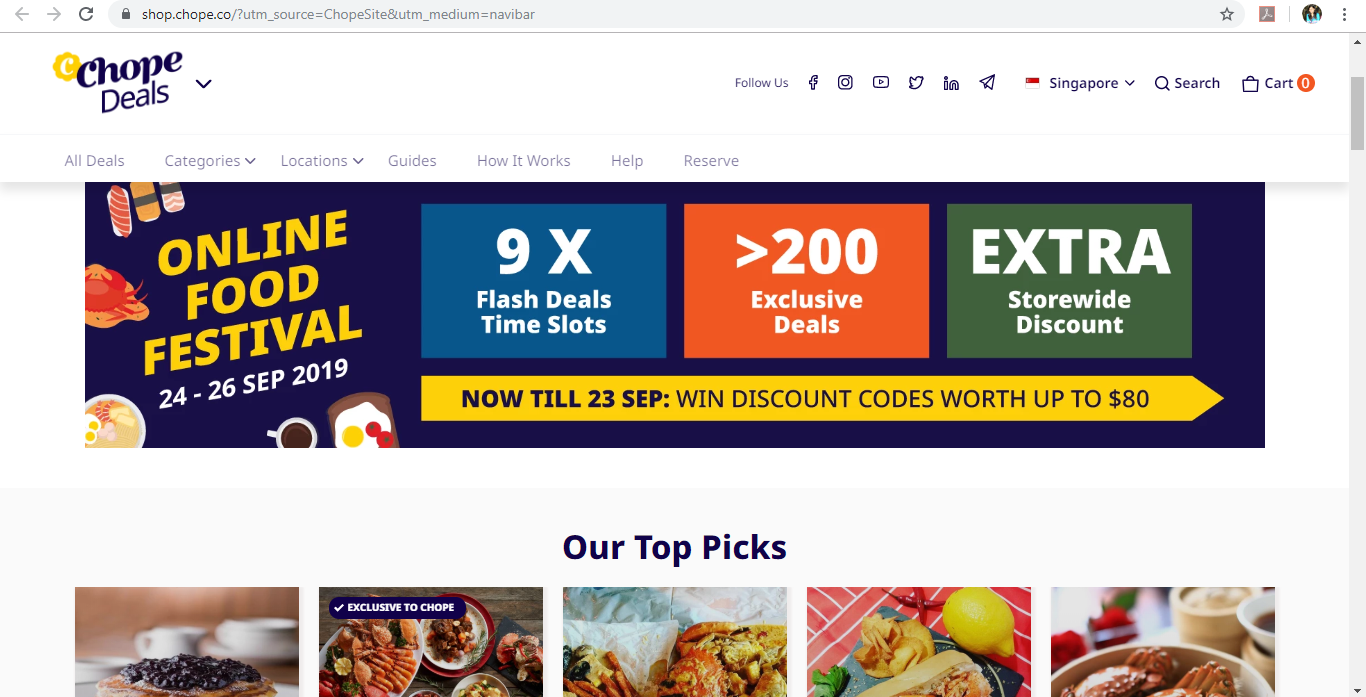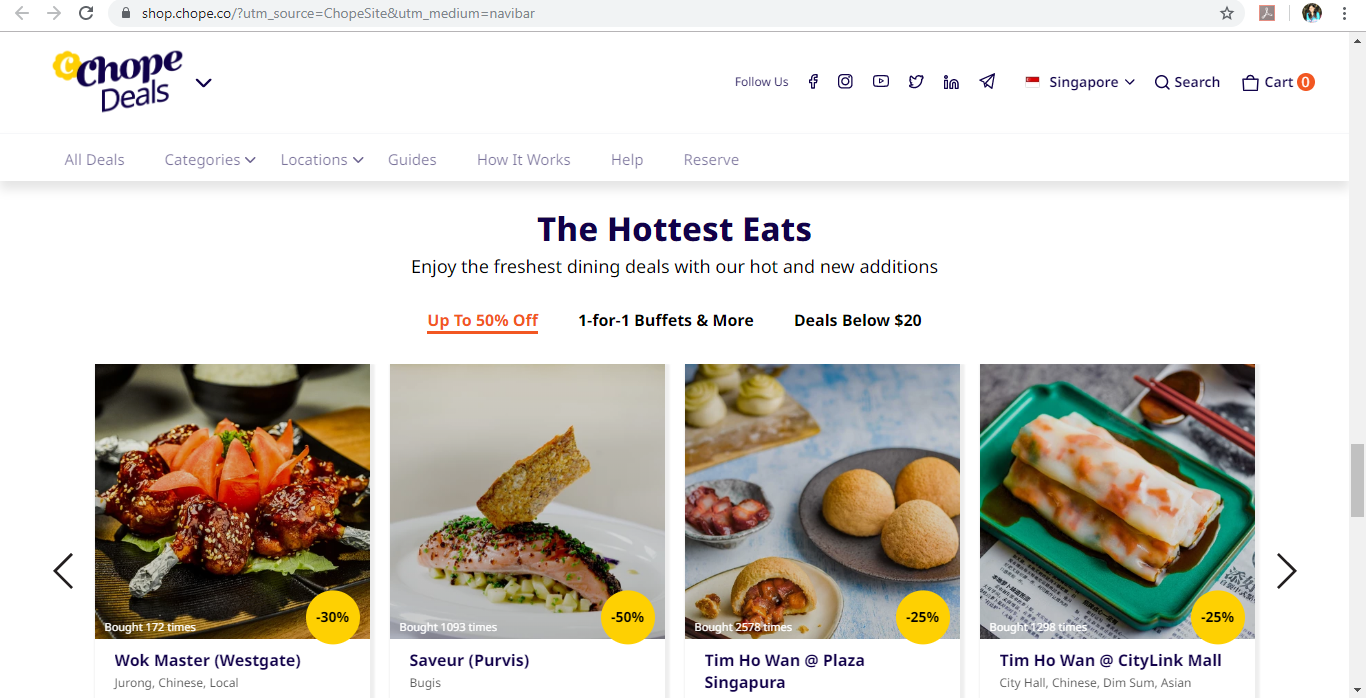 How to Make Reservations on Chope?
Chope offers a simple and user-friendly interface to its customers for making reservations. To book a table, simply go to the Chope homepage and fill in the information such as date, time, number of diners and your cuisine/location or restaurant preference in the "Let s get going" section. Click on the search button to find your desired restaurant.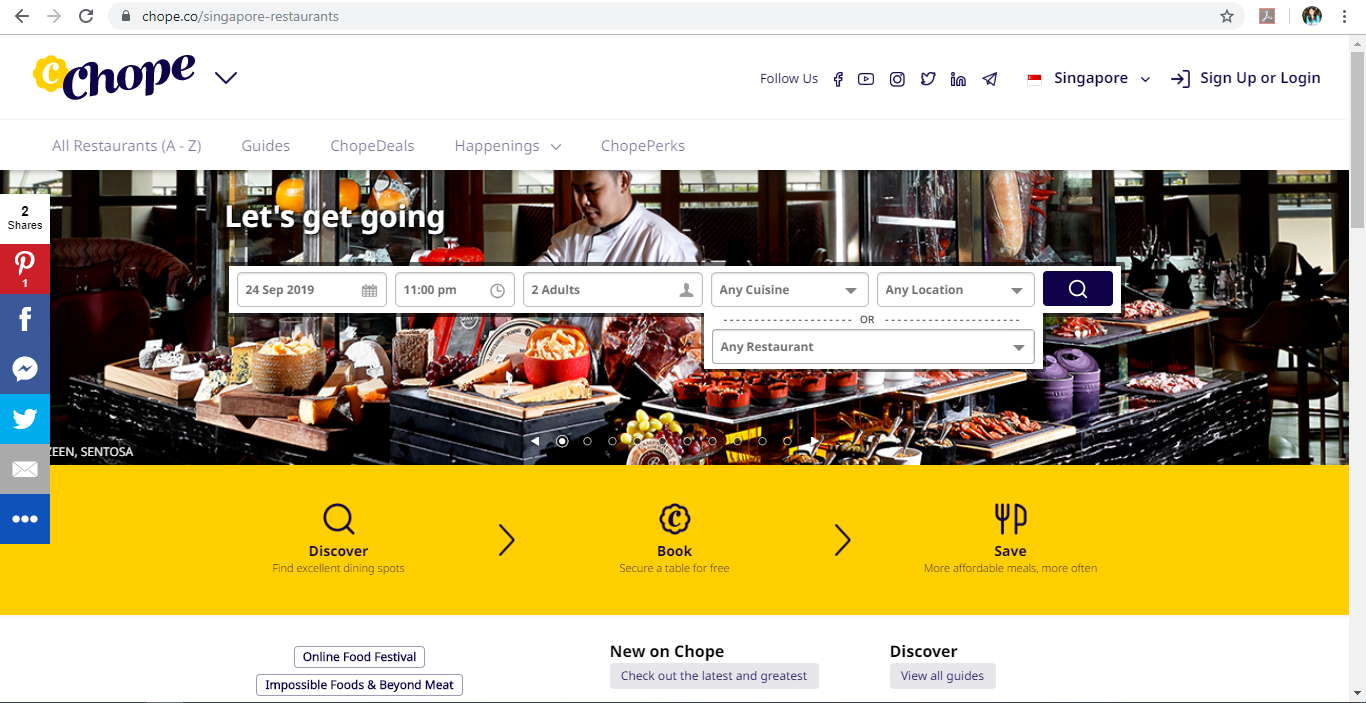 Customers can also browse through list of restaurants by selecting one of the sections such as 'All Restaurants (A-Z) , 'Guides and 'ChopeDeals . Once you choose an option, you will be directed to a page listing all the choices under that category. Select a restaurant from the list to proceed further.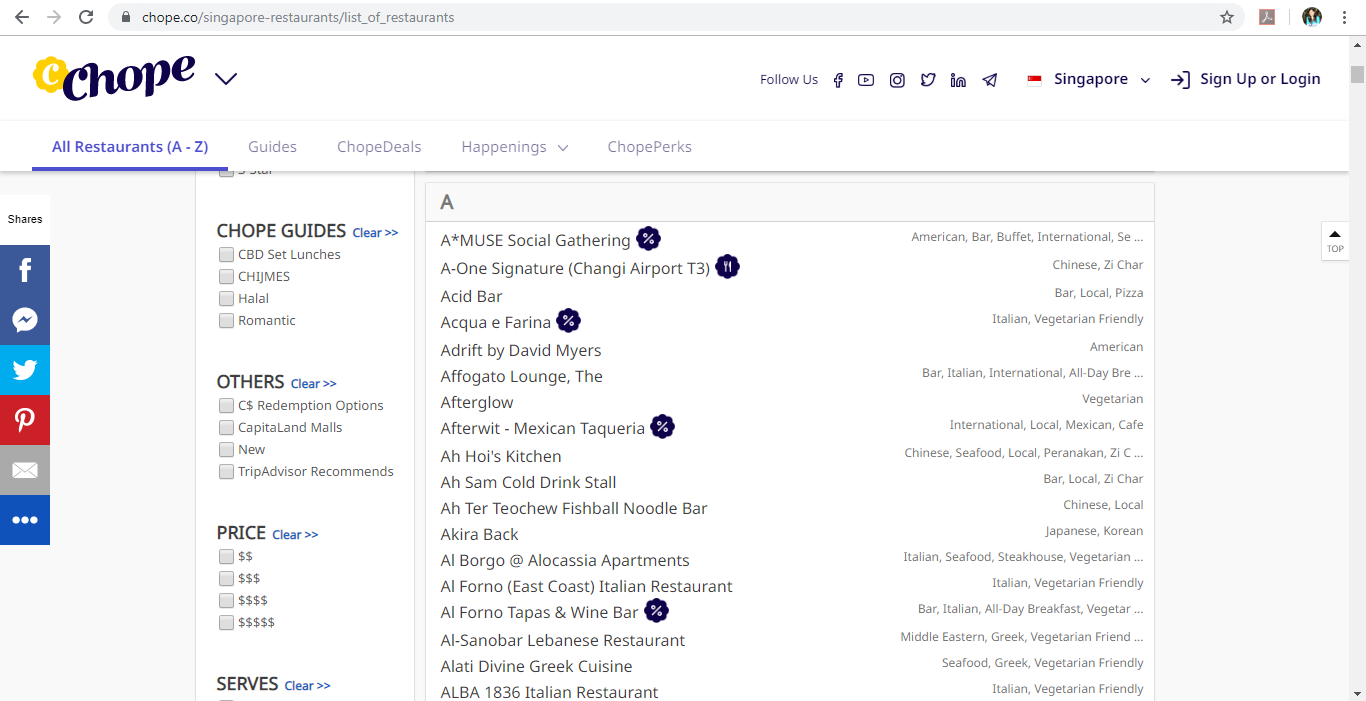 You will land on the restaurant listing page where you will find all the details regarding the restaurant such as the cuisines offered, location, menu, address, hours, price and the Chope vouchers being offered. Go through the details and enter the booking information once you are satisfied with your choice. Select the number of diners, the date of reservation and time, and click on 'Book Now .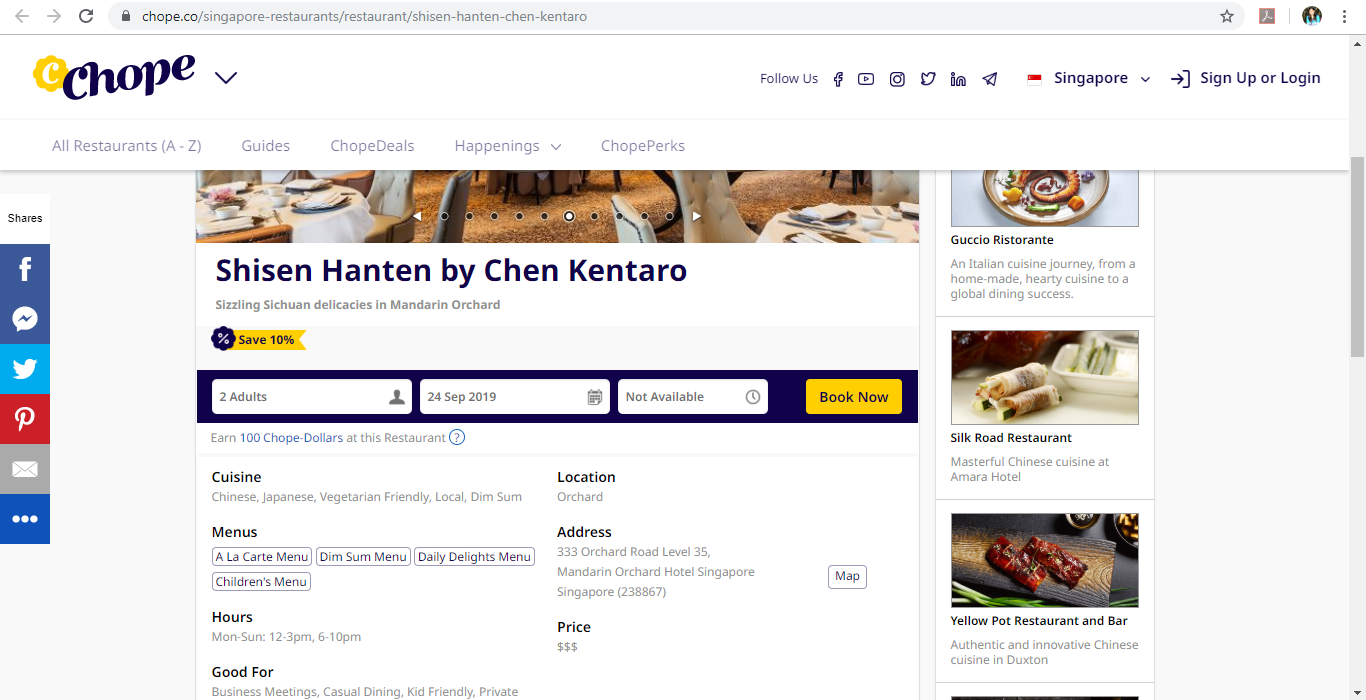 A pop-up will appear, summarising your booking request. Click on 'Book Now to proceed further. You will be directed to the next page where you need to provide further information such as name of the diner, email address, contact number and a message, if any. Here, you can also enter a Chope promo code in the 'Use a promotion code section to avail discounts. Click on 'Confirm button to confirm your booking. You will be sent a confirmation text via email or SMS.
Payment Options on ChopeDeals
Chope is primarily a restaurant table booking platform. The service provided by Chope is free of charge to the user. However, some partner restaurants request the diners to provide their debit/credit card authorisation to discourage no-shows or last minute cancellations. Also, you may require to provide credit card details for availing some deals.
Different Coupon Codes and Discounts on ChopeDeals
Chope offers hundreds of Chope discount codes and vouchers to its customers that are comprehensively listed under the ChopeDeals section. From up to 50% off to 1-for-1 Buffets and more, there are many amazing Chope discounts and Chope promos that would leave you overwhelmed. Grab these crazy deals and enjoy delectable meals at your favourite restaurants without burning a hole in your pockets!
Customers can also avail cashback on their restaurant bills via ShopBack.
How to Redeem Coupons and Vouchers at ChopeDeals
Discounts and deals can elevate your dining experience by enabling you to enjoy sumptuous meals at affordable prices. It not only saves money but also makes your experience more enjoyable. Chope offers many unbelievable deals under its ChopeDeals section that are sure to transform you into a loyal Chope customer!
Here s the step-by-step process to redeem Chope promo codes and vouchers:
Step 1:
Select the restaurant for reservation. You can use the filters on the left pane to find your choice of restaurant.
Step 2:
After choosing the restaurant, enter your reservation details in the boxes such as the number of people, date and time. Click on 'Book Now to proceed further.
Step 3:
On the next page, provide further information such as guest name, email address and phone number. At the bottom of the page, you will find a box called 'Use a promotion code where you can enter your Chope promo code.
Step 4:
Click on the 'Confirm button to finish your booking process.
How to Purchase Vouchers on ChopeDeals using ShopBack
ShopBack offers cashback when diners make a voucher purchase on ChopeDeals. Here are the steps to be followed to earn cashback from ShopBack:
Step 1:
Visit the ShopBack website and select 'ChopeDeals listed in the dining tab of ShopBack s homepage. You can also use the search box to find the link to the ChopeDeals store.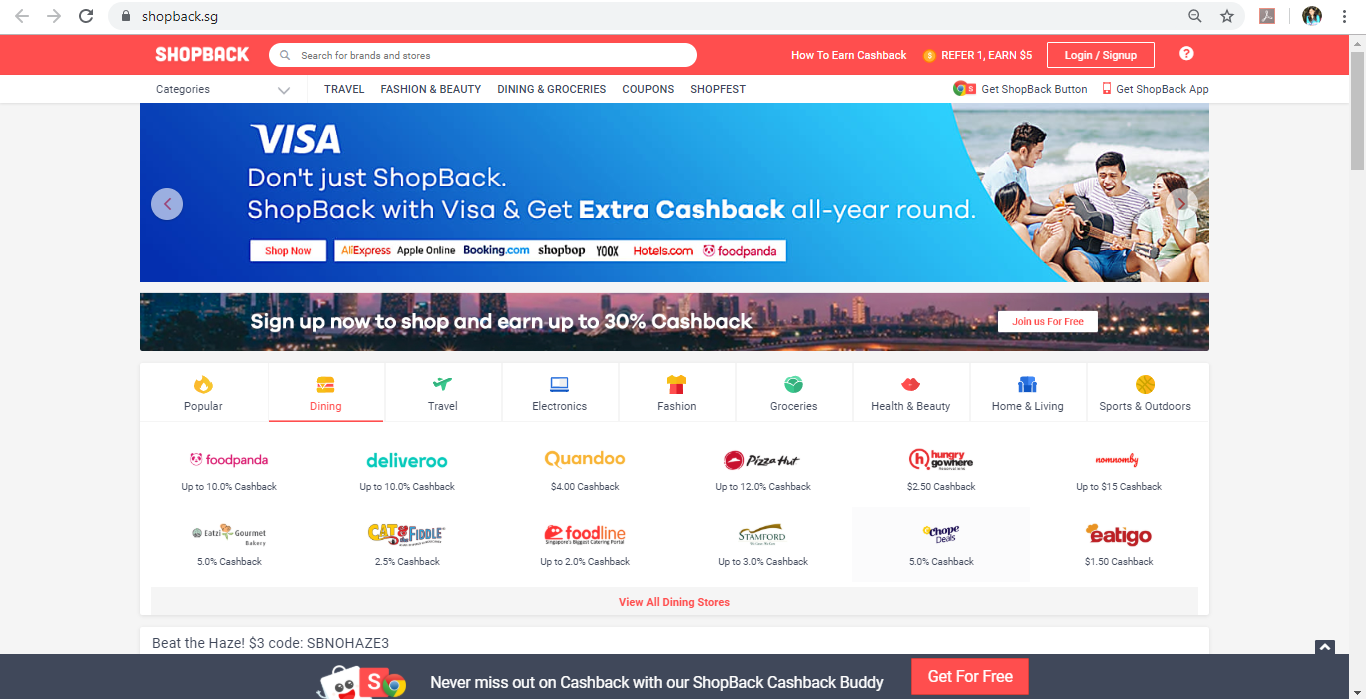 Step 2:
Read the terms and conditions and any other relevant information, such as tips to ensure cashback listed on the page.
Step 3:
Click on the Activate Cashback button located on the top left corner of the page.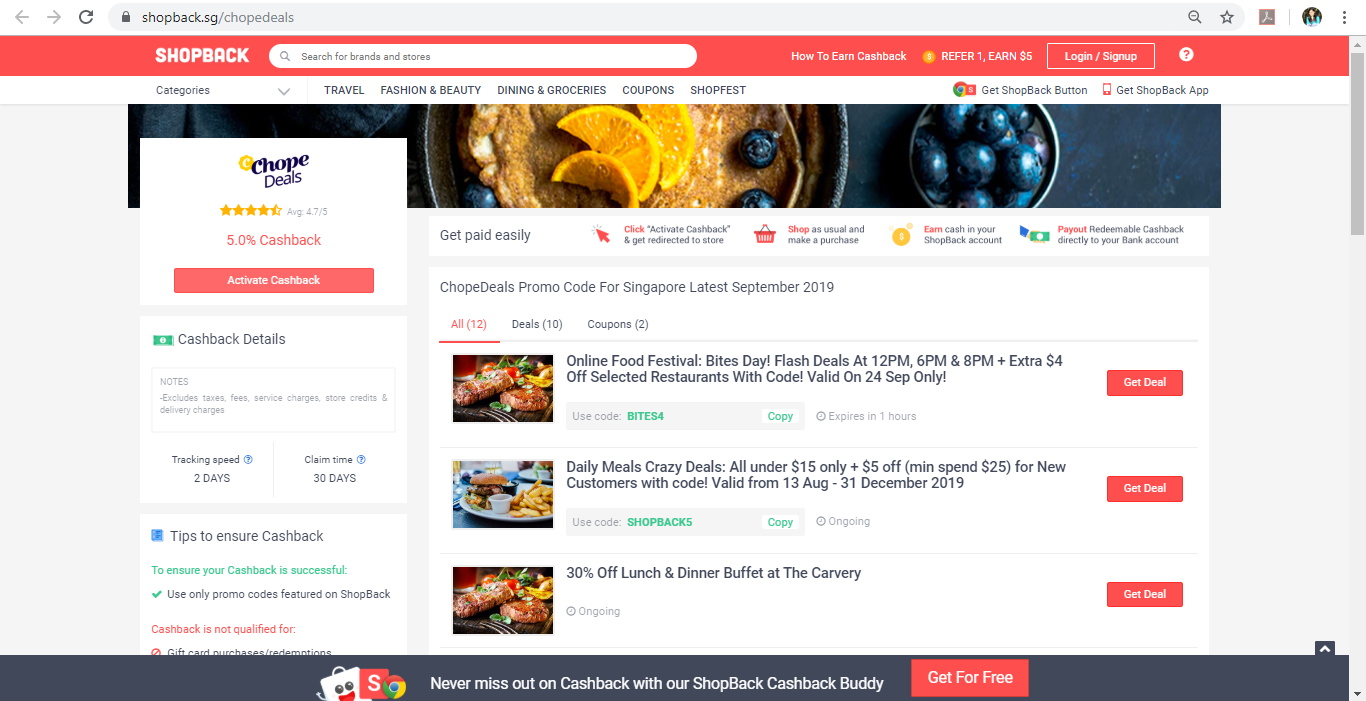 Step 4:
To find more attractive deals and coupons, check out the ChopeDeals Promo Code section.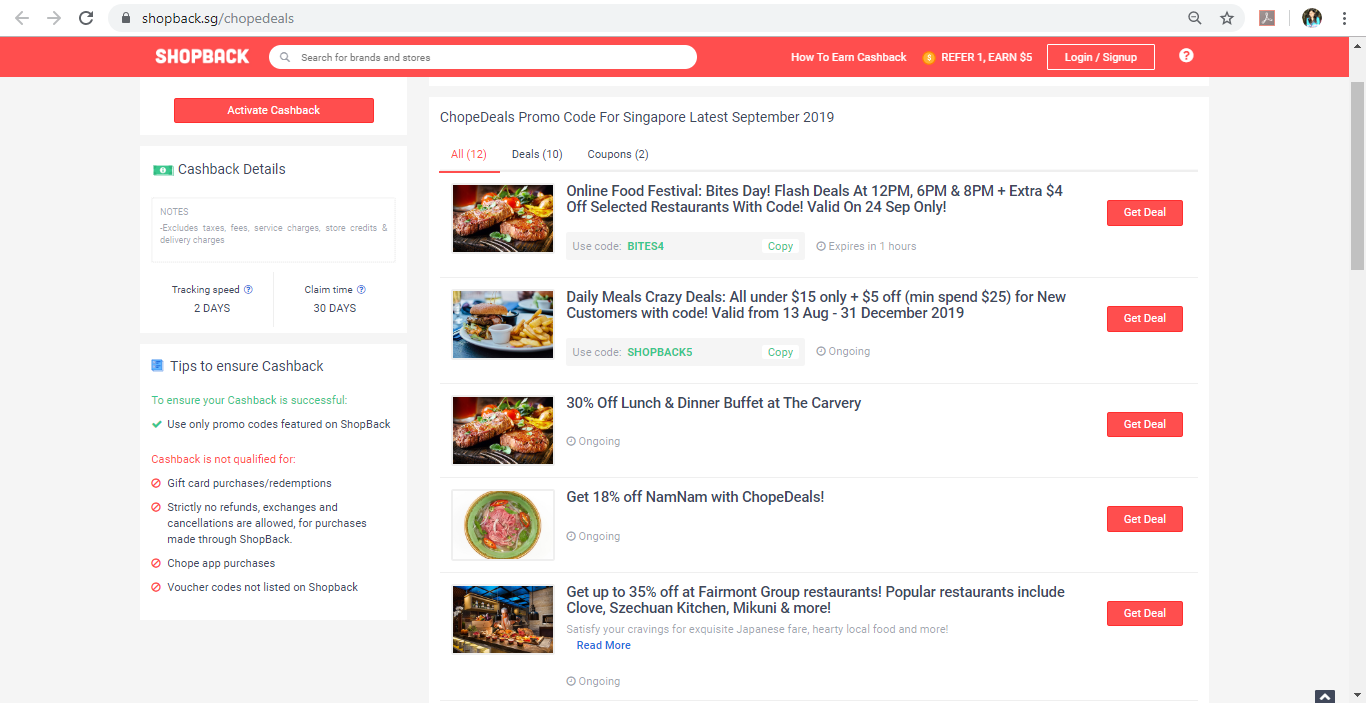 Step 5:
You will be redirected to the ChopeDeals website to browse and make your voucher purchase.
Step 6:
You will be eligible to earn cashback from ShopBack when you make a voucher purchase. Cashback rates might differ based on your history with ShopBack, i.e. whether you are a new or existing user.
The cashback offer is not applicable to voucher purchases made directly on the Chope app.
ChopeDeals Terms and Conditions
While there are exhaustive terms and conditions mentioned on the Chope website, here are some of the important ones that you must be aware of before booking a table through Chope s website or app:
You must be at least 18 years of age to use the website.

As per the law, the site requires parental consent to provide services to children under 16. However, the website is not designed for minors (children under 16). In Indonesia, the age of majority is 21 years while in Thailand, it is 20 years. In those jurisdictions, the site will require parental consent if you are below the age of majority.

Chope reserves the right to deactivate your account if it has been inactive for a period of six months or more, or if you are in breach of any of their website conditions or if Chope believes that you have been using the account for unlawful and/or undesirable activities.

Chope may offer the use of any service, subject to payment of a fee or other charges. If you wish to use such service, you must make full and prompt payment to Chope in accordance with the payment terms specified by Chope during transaction. Unless otherwise stated, all fees are quoted in Singapore dollars.
If you have any feedback/suggestion for Chope website, services or app, you can reach out to them at [email protected] For any query or feedback for a specific restaurant, you need to contact the restaurant.