One Stop Household Shopping with Bed, Bath & Beyond
Bed Bath & Beyond is a one-stop destination for shopping household merchandise. It is an American chain of over 300 retail stores for domestic merchandise like bath accessories, bed linens, kitchen textiles, dinnerware, cookware, kitchen utensils, basic home furnishings and small electrical appliances. Although the superstores of the company are located in America, the online shopping website of the merchant ships its products to more than 100 countries.
Bed Bath & Beyond offers a vast range of products that will make your household chores easier and transform your living space into a beautiful home that you always dreamt of. All you have to do is to log on to the official website of the retailer (bedbathandbeyond.com) or download Bed Bath and Beyond s mobile app to start shopping.
History of Bed Bath & Beyond
Bed Bath & Beyond was established in 1971 by Leonard Feinstein and Warren Eisenberg as "Bed 'n Bath". The company started as a small chain of specialty bath and linen outlets in suburban New York. Feinstein and Eisenberg had previously worked in management positions at Arlan s, a discount chain, and had sensed the shifting trends in retailing business. Both the men saw immense potential in beginning the designer approach to linens and housewares and founded a chain of specialty stores, which was a new trend in retailing in the 1970s.
Bed 'n Bath was a pioneer in specialty retailing. By 1985, the company had established 17 stores situated across New York, New Jersey, Connecticut and California. The same year, Feinstein and Eisenberg launched their first superstore to gain an edge over other specialty chains that had recently emerged across US. The superstore was a sprawling 20,000-square-foot outlet offering a comprehensive range of home furnishings along with its traditional linens and bath products. This superstore turned out to be a revolutionary move since it offered the customers ample of choices in all possible colours, style and size of every product.
In 1987, the founders of the retail chain changed the name of their company to Bed Bath & Beyond to reflect their superstore format. By 1991, the company expanded its superstores in New Jersey, California, Illinois, Virginia, Florida and Maryland. In 1994, Bed, Bath & Beyond introduced more product categories such as electric appliances like toaster ovens, vacuum cleaners, coffee makers, etc. and home accessories like gourmet food, clocks and lamps. This further widened the company s customer base.
By the closing of 1990s, Bed Bath & Beyond s sales had exceeded USD 1 billion. In 2000, the organisation grew to 311 stores in 43 states across USA. The online shopping website of the company was also launched in the following decade which expanded the retail chain s global footprint by shipping its products to 225 countries. As of now, the organisation is counted among Fortune 500 and the Forbes Global 2000 companies.
Products Sold on Bed Bath & Beyond
Bed Bath & Beyond operates the largest specialty stores for houseware goods in the US, selling a comprehensive collection of items from bedding and kitchen accessories to personalized gifts and beauty products. The brand literally lives up to its name by selling everything that you need in a household from bed, bath beyond. Here s a short preview of the product categories available at the online platform of Bed, Bath & Beyond:
Gifts and Personalised Gifts
: This category lists a wide array of products that you can gift to your near and dear ones. The Bed Bath & Beyond website has carefully curated all the items in specific sub-categories for both the genders as well as babies and pets according to their interests or occasions. These gifts can also be personalised for extra special touch.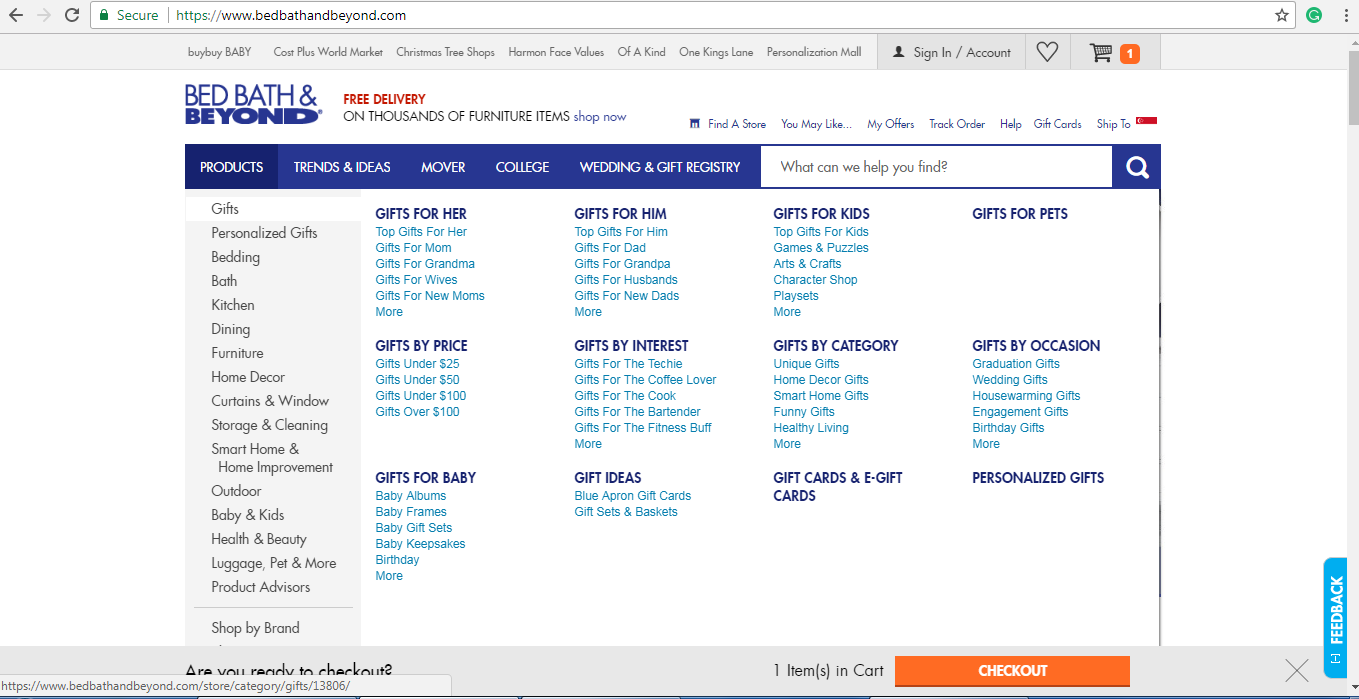 Bedding
: If you are looking for premium quality bedding for your home, then this is your go-to place. Under this category, customers can purchase cosy Bed Bath & Beyond quilts, blankets, bedsheets, pillowcases, bed covers and mattresses of different types and sizes.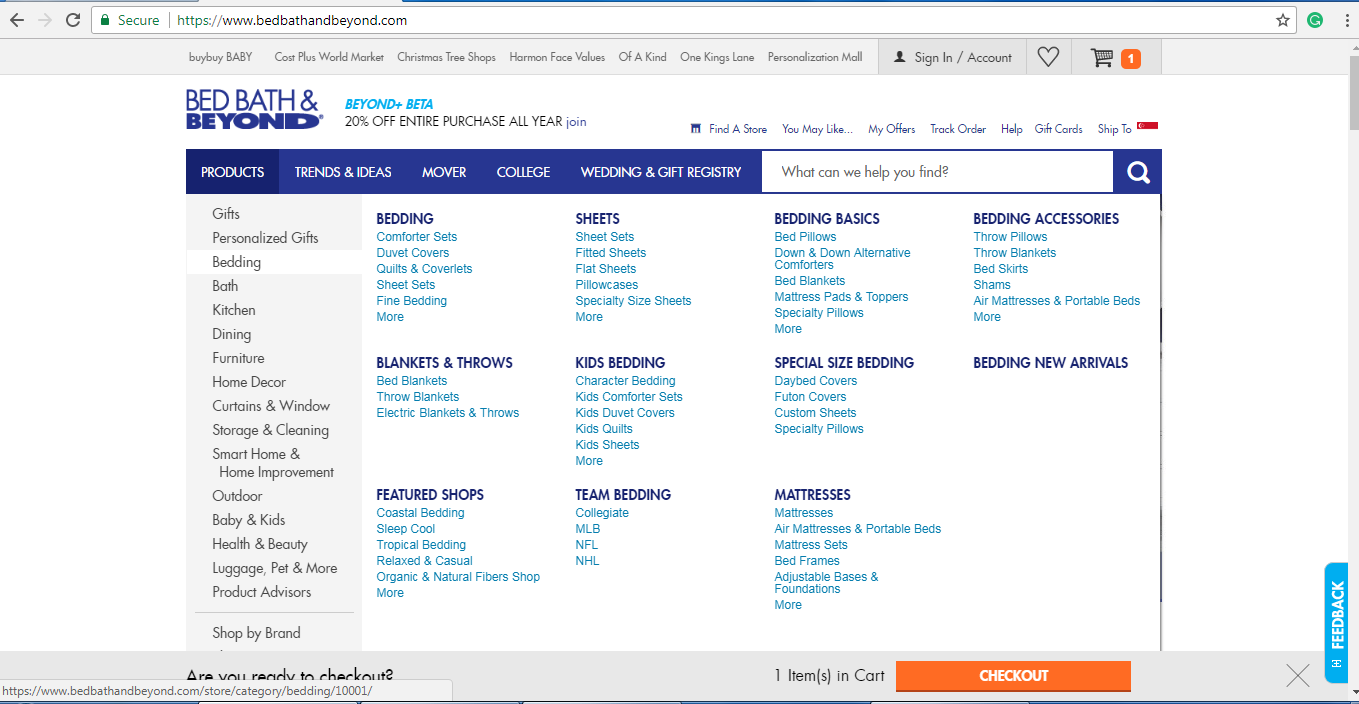 Bath
: For a beautiful and sophisticated bathroom, customers must explore this category where they will find a variety of bathroom essentials such as bath furniture, toilet seats and accessories, bathroom accessories, shower accessories, bathroom mirrors and lighting, bath towels and rugs and the like.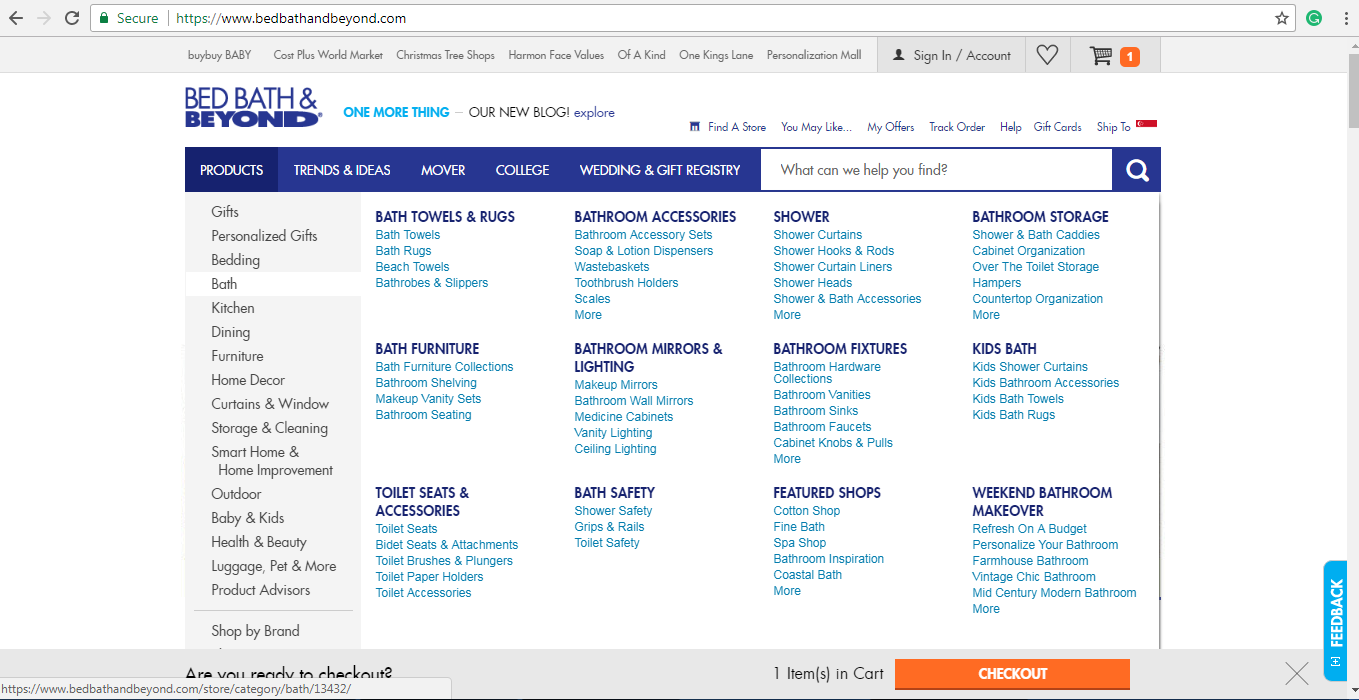 Kitchen
: One of the most important part of every house is its kitchen and Bed Bath & Beyond makes sure that its customers have access to the best quality kitchenware and other accessories. The category lists a wide range of kitchen items such as kitchen linens, kitchen organizations, bakeware and baking tools, food storage containers, cooking utensils, coffee makers, knives and cutlery, kitchen appliances, sink accessories, etc.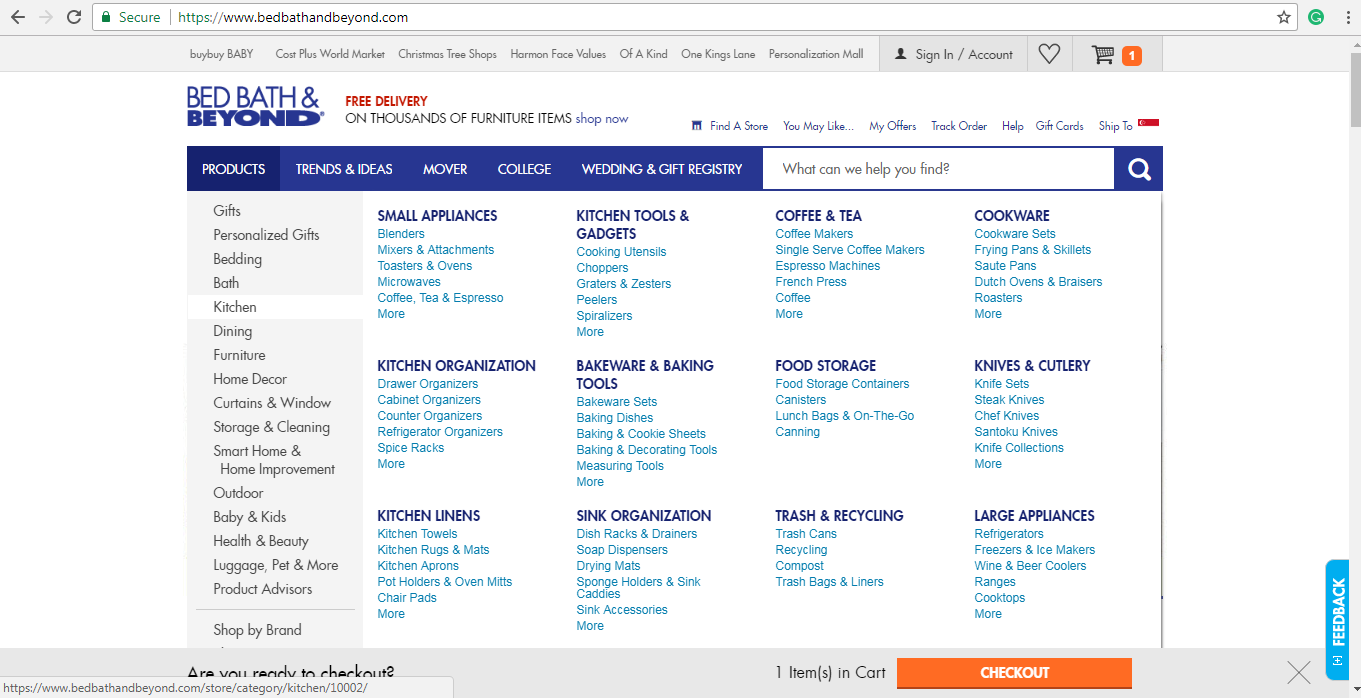 Dining
: Eat your meals in style with high-quality dining wares from Bed Bath & Beyond. Customers can find a huge collection of classy dinnerware, glasses and drinkware, serving bowls and trays, bakeware, table linens, sterling silver flatware and sets, etc.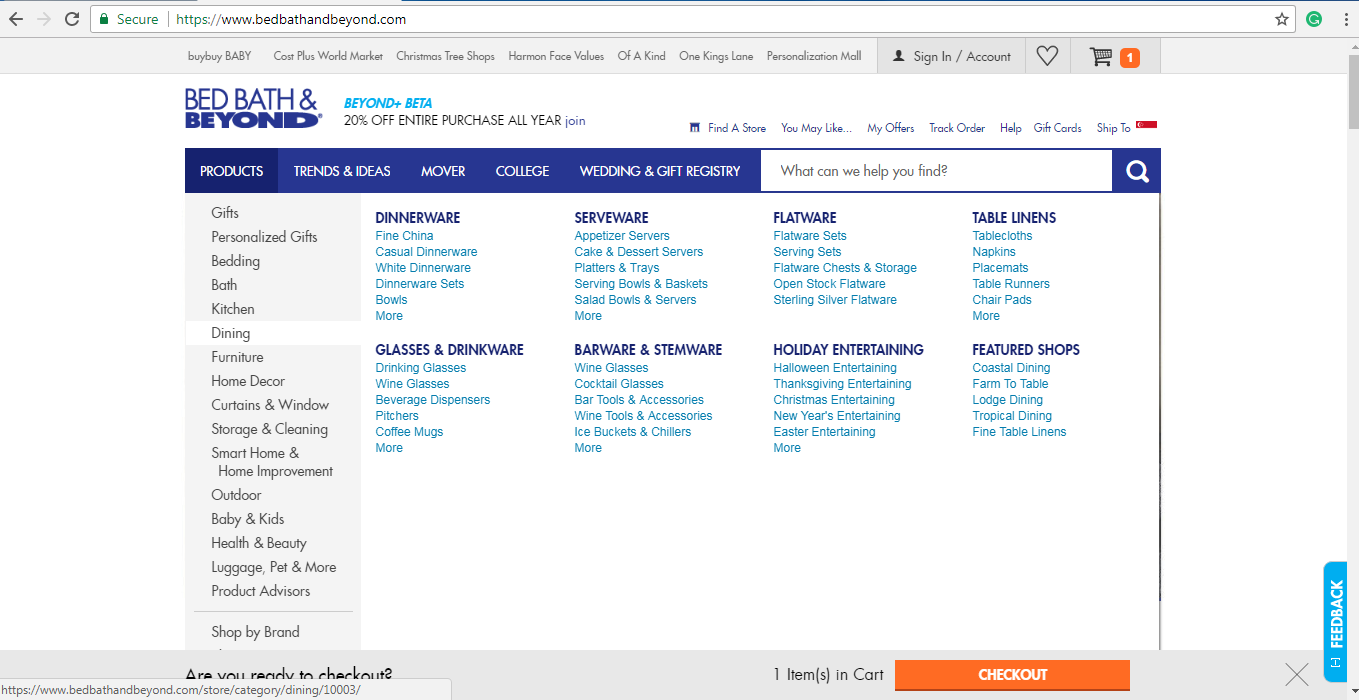 Furniture
: Decorate your home with the elegant and unique range of furniture by Bed Bath & Beyond. Under this category of products, customers can explore furniture for different areas of the home including living room furniture, bedroom furniture, office furniture, kitchen and dining furniture, baby and kid s furniture, bath furniture and the like.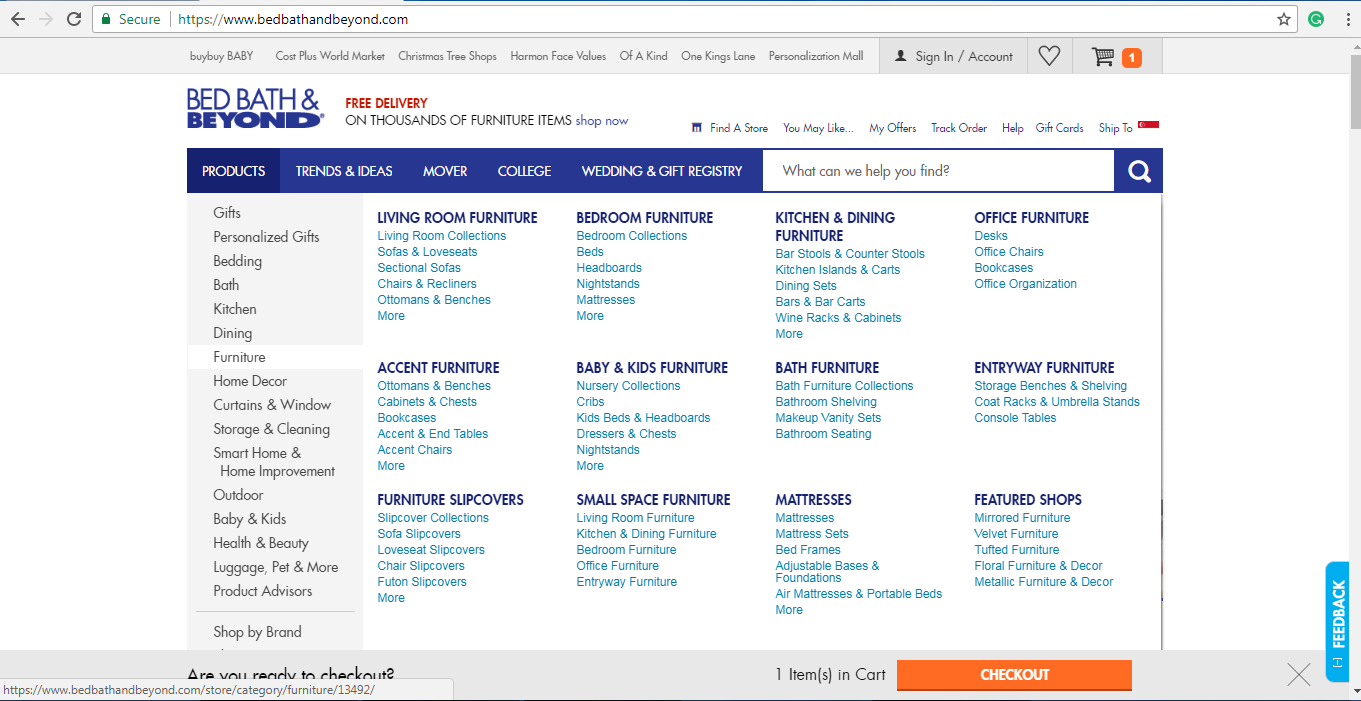 The website features many more such categories for household goods. All the categories have been listed in the table here-
| Product Category | Sub-Categories |
| --- | --- |
| GIFTS | Gifts for Her, Gifts for Him, Gifts for Kids, Gifts for Pets, Gifts by price, Gifts by interest, Gifts by category, Gifts by occasion, Gifts for Baby, Gift ideas, Gift cards and e-gift cards, Personalised gifts |
| PERSONALISED GIFTS | Personalised Wedding Gifts, Photo Gifts, Personalised Bedding, Personalised Bath, Personalised Kitchen, Personalised Dining, Personalised Wall Art, Personalised Jewellery, Personalised Gifts for the Home, Personalised Gifts for Pets, Personalised Gifts for Baby, Personalised Outdoor |
| BEDDING | Bedding, Sheets, Bedding Basics, Bedding Accessories, Special Size Bedding, Blankets and Throws, Team Bedding, Kids Bedding, Bedding New Arrivals, Featured Shops, Mattresses |
| BATH | Bath Towels and Rugs, Bathroom Accessories, Shower, Bathroom Storage, Bath Furniture, Bathroom Mirrors and Lighting, Bathroom Fixtures, Kids Bath, Toilet Seats and Accessories, Bath Safety, Featured Shops, Weekend Bathroom Makeover |
| KITCHEN | Small Appliances, Kitchen tools and gadgets, Coffee and Tea, Cookware, Kitchen Organisation, Bakeware and Baking tools, Food Storage, Knives and Cutlery, Kitchen Linens, Sink Organisation, Trash and Recycling, Large Appliances |
| DINING | Dinnerware, Serveware, Flatware, Table Linens, Glasses and Drinkware, Barware and Stemware, Holiday Entertaining , Featured Shops |
| FURNITURE | Living Room Furniture, Bedroom Furniture, Kitchen and Dining Furniture, Office Furniture, Accent Furniture, Baby and Kids Furniture, Bath Furniture, Entryway Furniture, Furniture Slipcover, Small Space Furniture, Mattresses, Featured Shops |
| | |
| Product Category | Sub-Categories |
| --- | --- |
| HOME DECOR | Decorative Accessories, Lighting, Clock,s Candles and Fragrances, Fine Giftware, Rugs and Door Mats, Wall Art, Wall Décor, Mirrors, Frames and Albums, Furniture Slipcovers, Holiday Décor |
| CURTAINS AND WINDOW | Window Curtains and Drapes, Blinds and Shades, Curtain Rods and Hardware, Inspiration Windows, Featured Shops |
| STORAGE AND CLEANING | Storage and Organisation, Cleaning, Laundry, Closet Storage, Vacuums and Floor Care, Trash and Recycling, Kitchen and Bath Storage, Office Organisation, Jewellery Boxes and Storage, Garage Storage, Storage and cleaning, New Arrivals |
| SMART HOME AND HOME IMPROVEMENT | Smart Home, Safety and Security, Heating and Cooling, Lighting and Ceiling Fans, Bathroom Fixtures, Kitchen Fixtures, Large Appliances, Electrical, Tools, Hardware, Wallcoverings, Storage and Organisation |
| OUTDOOR | Patio Furniture, Patio Accessories, Patio Umbrellas and Shade, Grills and Outdoor Cooking, Outdoor Dining and Entertaining, Outdoor Décor, Fire Pits and Outdoor Heating, Lawn and Garden, Beach and Pool, Sports and Outdoors, Bikes, Mosquito and Pest Control |
| BABY AND KIDS | Strollers, Car Seats, Gear and Travel, Baby Nursery, Nursery Décor, Nursing and Feeding, Bath and Potty, Health and Safety, Infant Toys (Ages 0-3 years), Kids Toys, Seasonal, Baby and Kids Clothing |
| HEALTH AND BEAUTY | Fitness, Massage and Relaxation, Health and Wellness, Oral Care, Personal Care, Grooming, Hair Care, Beauty, Skin Care, Medicine and First Aid, Vitamins, Supplements and Nutrition, Sexual Wellness |
| LUGGAGE, PET AND MORE | Luggage, Pet Care, Team Fan Shop, Smart Home and Electronics, Food and Drink, Apparel and Accessories, Fine Jewellery, Watches, Fashion Jewellery, Children s Jewellery and Watches, Men s Jewellery and Accessories, Jewellery Boxes and Storage |
| | |
How to Shop at Bed Bath & Beyond
Bed Bath & Beyond has a user-friendly interface for a seamless and convenient shopping experience. The search box at the top of the homepage can be utilised for making product-specific searches. The categories of products are listed on the header of the homepage. From here, the customers can browse through the subcategories of products.
The homepage is divided into various sections such as featured product categories, 'Featured Videos , 'Just For You , 'You May Like and 'Popular Categories .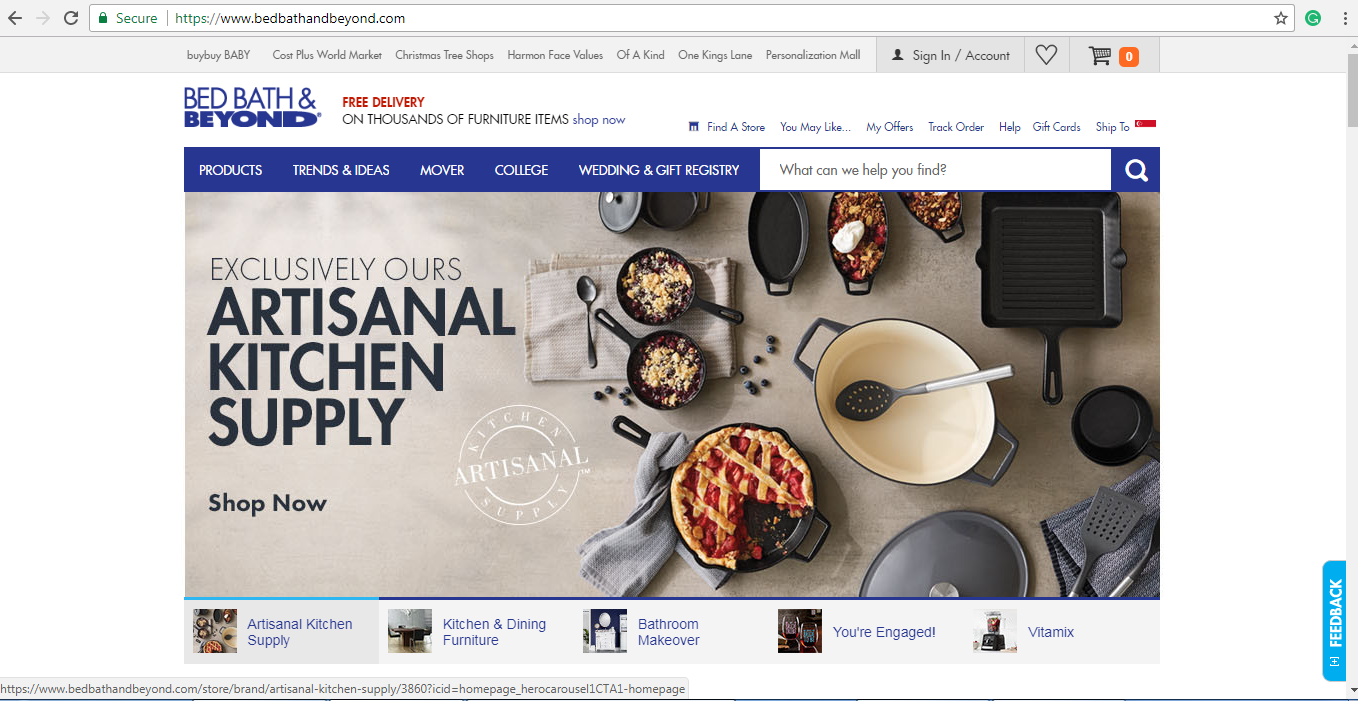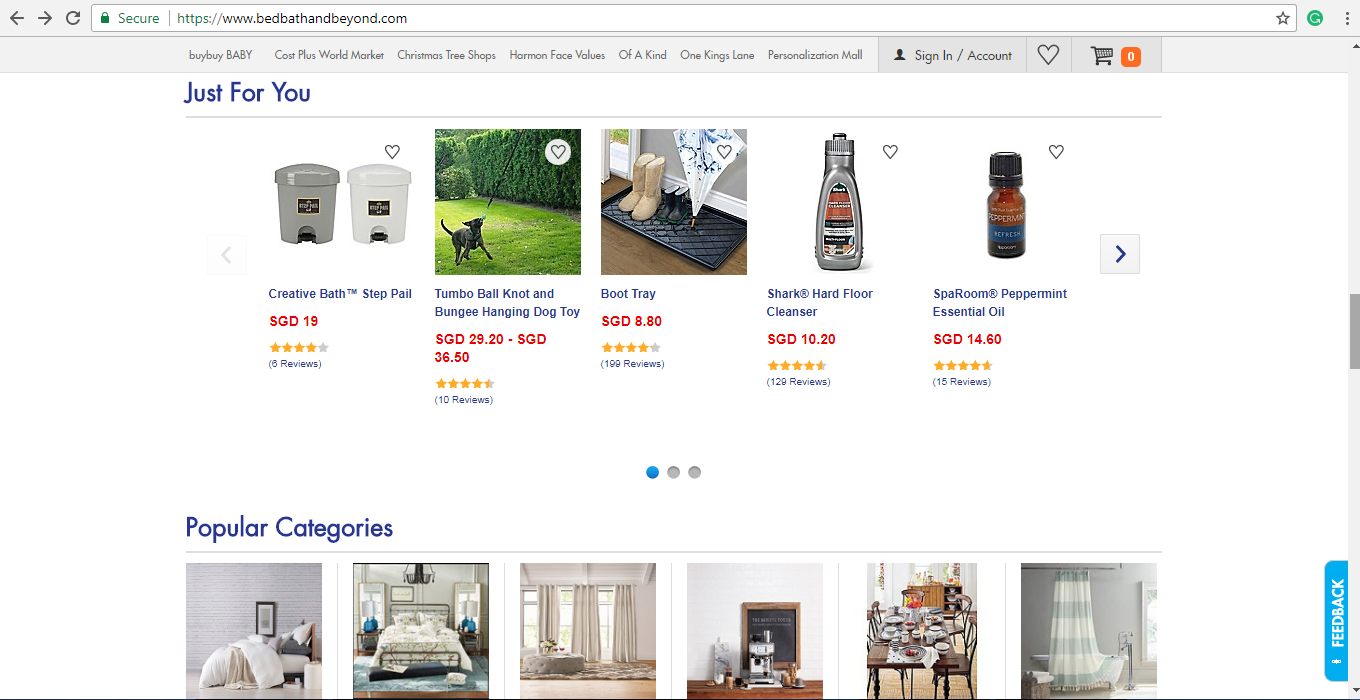 Browse the categories from the top right-hand corner of the page and select a sub-category that you want to explore. You will be directed to the page cataloguing all the products under that sub-category.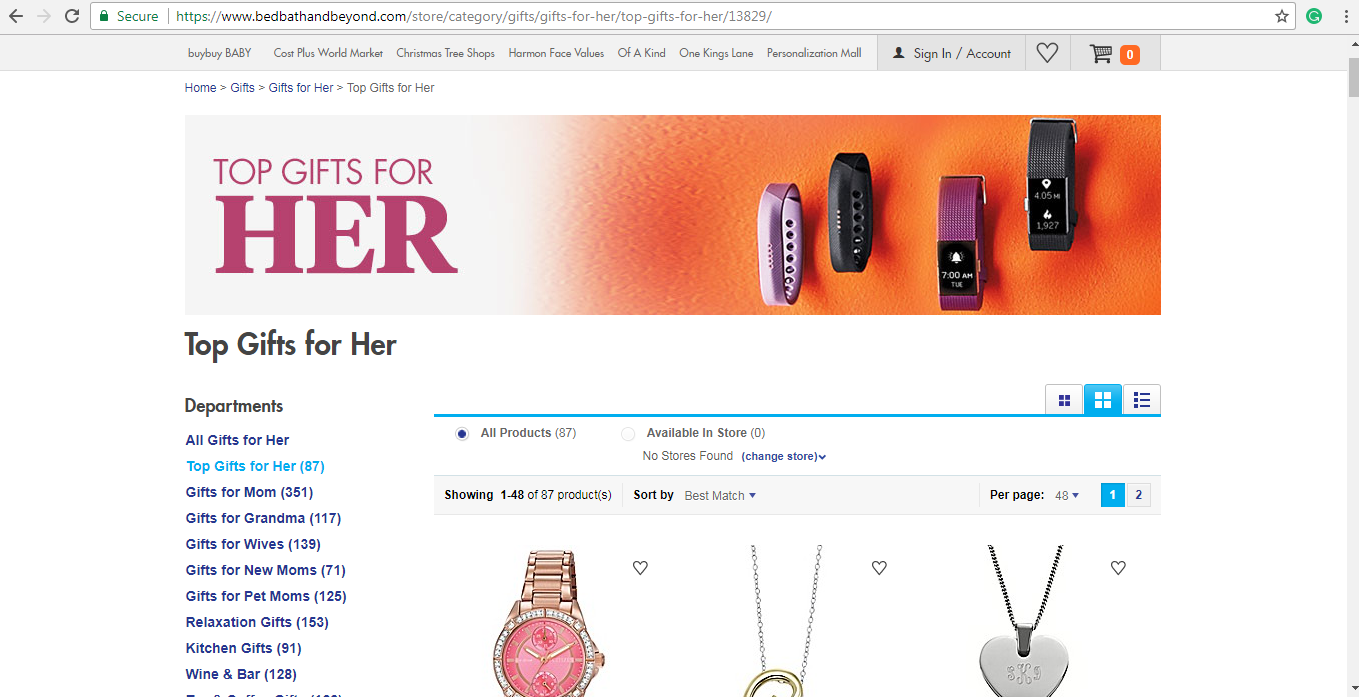 Select the product you wish to buy and go through the details of the item, mentioned on the product description page. Once you are satisfied with your choice, click on 'Add to Cart .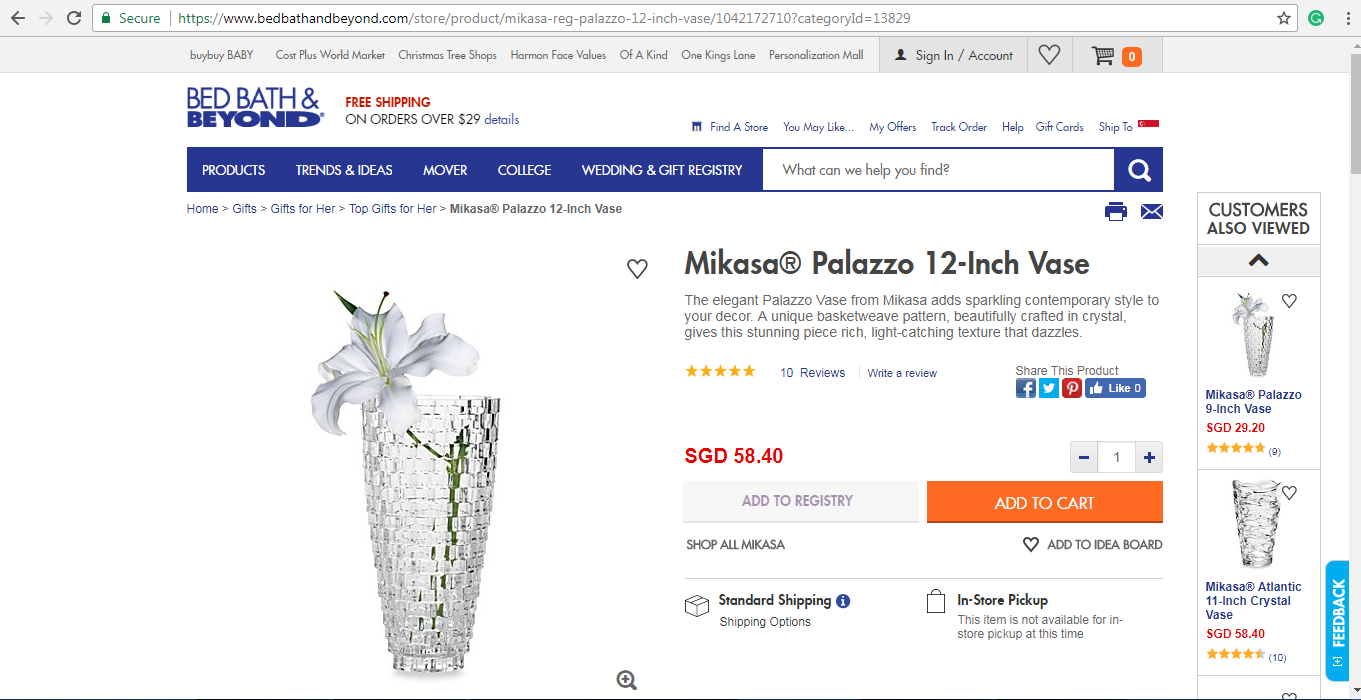 You will be taken to the checkout screen. If you want to add more products to your cart, then you can continue shopping. Once you have added everything you need, click on the 'Checkout button.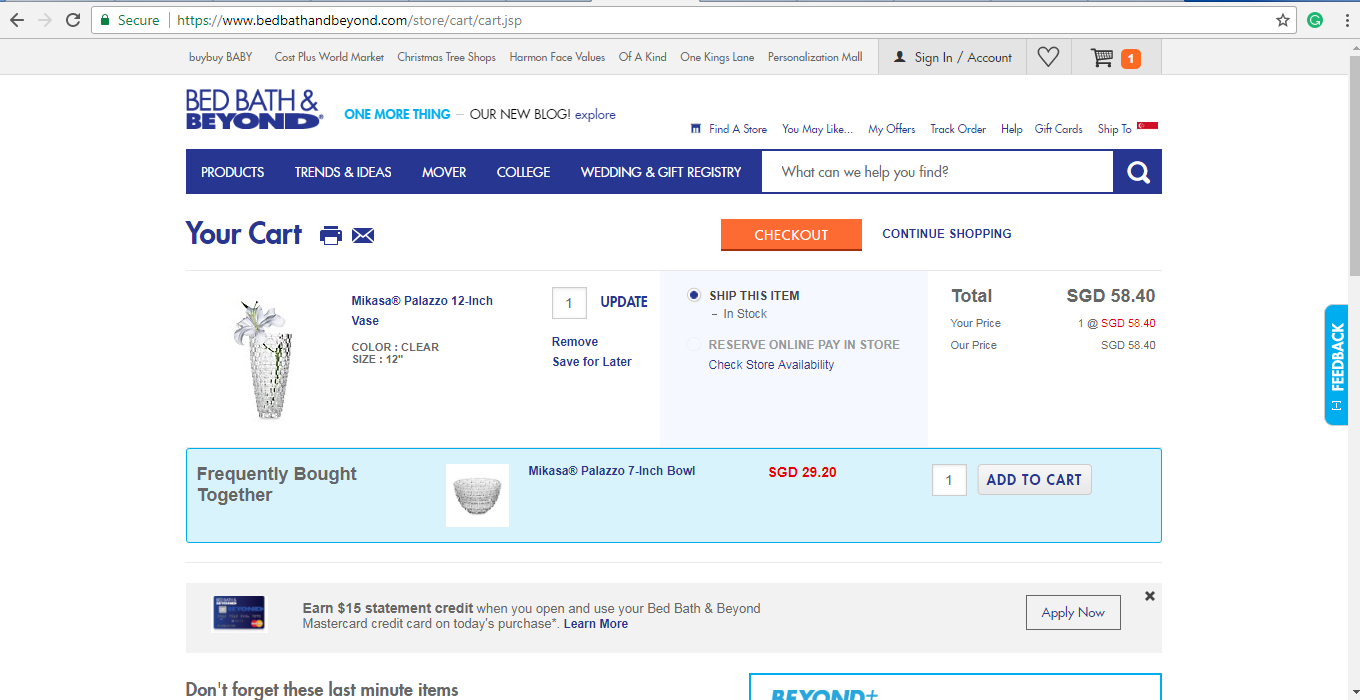 Enter your email and shipping details on this screen. The delivery charges will be calculated and added to the bill amount displayed on this screen. Click on 'Continue and make payment on the next screen to complete the transaction. You will receive order confirmation via email and your products will be delivered to you within the promised date.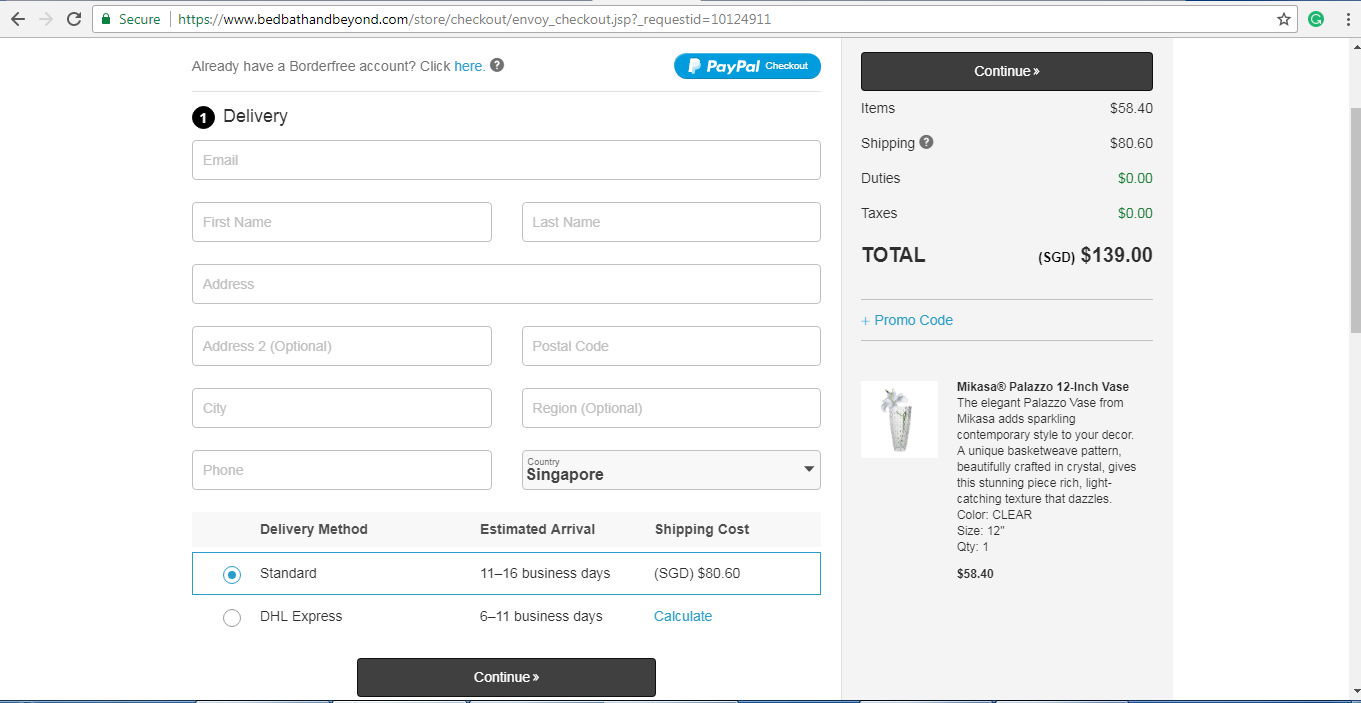 If you want to save more money on your purchase, you can avail promo code for Bed Bath & Beyond online that is offered during Bed Bath & Beyond sale.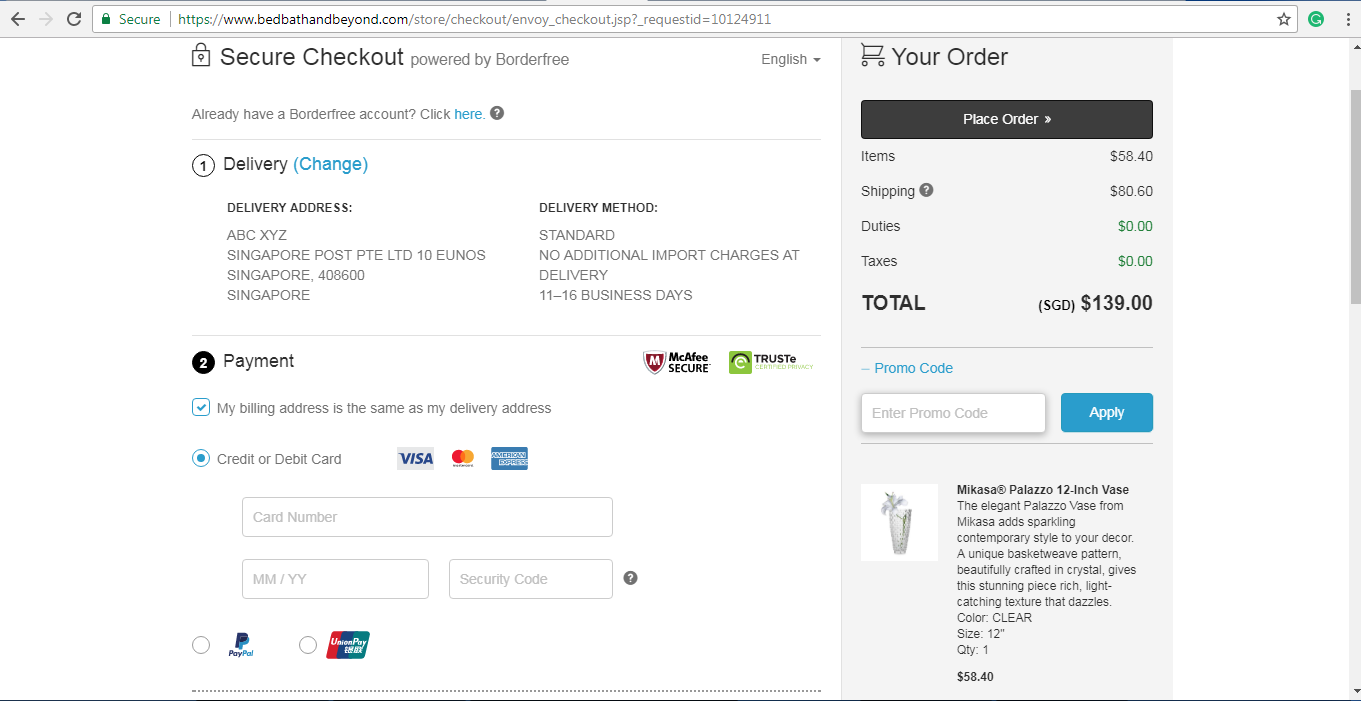 Payment Options on Bed Bath & Beyond
There are multiple ways to pay for your orders on Bed Bath & Beyond. These payment methods are discussed briefly in the following section-
Credit or Debit Card
: Customers can pay for their purchase through their debit or credit cards verified by VISA, MasterCard or American Express. This is an easy and secure way to make transactions for your order on this platform.
PayPal
: PayPal is another trusted online payment system that can be used by customers to pay for their orders. This secure online money transfer channel is one of the most popular means of transactions and can be used anywhere in the world.
UnionPay Credit Card
: Bed Bath & Beyond also accepts payments made through UnionPay Credit Cards.
Different Coupon Codes and Discounts on Bed Bath & Beyond
The online retail store offers many Bed Bath and Beyond coupons to its customers from time to time. Some Bed Bath and Beyond discounts are offered for a long time while some Bed Bath and Beyond discount codes are available for a limited period only. The consumers can save a lot of money on household products sold by the online retailer by applying the Bed Bath and Beyond promo codes or Bed Bath and Beyond coupon codes that the online store offers during Bed Bath and Beyond promotions.
At present, the customers can earn 3% cashback on products sold by Bed Bath and Beyond if they shop with the merchant via a registered account at ShopBack.
How to Redeem Coupons and Vouchers on Bed Bath & Beyond
Online shopping is fun when there are plenty of opportunities to save money by availing discounts. Various websites offer Bed Bath and Beyond cashbacks when you shop using their links while others offer Bed Bath and Beyond coupons and Bed Bath and Beyond vouchers to help the customers save a lot of money.
Here is a step-by-step tutorial on how to redeem Bed Bath and Beyond coupons:
Step 1
: Select the item you want to buy and click on "Add to Cart".
Step 2
: Proceed to the Checkout page and give your email as well as delivery details.
Step 3
: On the payment screen, enter the Bed Bath and Beyond promo code in the box under the Order Summary section.
Step 4
: Select your chosen payment method and enter the payment details to complete the transaction.
How to Shop on Bed Bath & Beyond using ShoBack
ShopBack offers 3% cashback on various items if you shop from Bed bath and Beyond. Here are the steps to be followed to earn cashback from ShopBack:
Step 1
: Visit the ShopBack website and select Bed Bath & Beyond store from the list of merchants in the Home and Living section. You can also use the search box to find the link to Bed Bath and Beyond store.
Step 2
: Read the terms and conditions as well as any other relevant information provided such as the cashback details and tips to ensure cashback.
Step 3
: Click on Activate Cashback button on the top left corner of the page.
Step 4
: If you are willing to find more attractive deals and coupons, check out the 'Bed bath & Beyond Discount Codes, Promo Codes & Coupons section.
Step 5
: You will be directed to the Bed Bath & Beyond website to browse and select the products you intend to buy.
Step 6
: You will be eligible to earn cashback from ShopBack on placing your order. The cashback rates might differ based on your history with ShopBack, i.e. whether you are a new or an existing customer.
The cashback offer is not applicable on purchases made on Bed Bath & Beyond app.
Bed Bath & Beyond s Shipping and Return Policy
The shipping cost is based upon total amount of the order and an additional surcharge may be applicable for some items due to their weight and/or size. If the surcharge is applicable, the relevant information will be noted on the product description page and the total shipping amount of your order. Shipping time depends on different factors such as items selected, shipping destination and the selected shipping method. A more accurate shipping estimate is provided during checkout.
If you are not satisfied with the product delivered to you, you can initiate a return request by calling on 1-800-GO BEYOND® (1-800-462-3966). You will be provided with further instructions on whether and to where the returns should be shipped and the amount of refund you will be entitled to. The refund amount will be credited to your account in the same currency and exchange rate as your original debited amount.
The customers must ensure that the packing slip is included along with complete information and your contact number. Bed Bath & Beyond does not refund the shipping fees for preference returns and all items are not eligible for returns. The company takes approximately three weeks for the return transit time and an additional 4 business days to initiate refund.
Bed Bath & Beyond s Customer Service
For any query or assistance, customers can call on 1-800-GO BEYOND® (1-800-462-3966) or communicate through the company s Live Chat portal operating from Monday to Friday (9 AM – 11:59 PM EDT) and Saturday – Sunday (9 AM – 9 PM EDT).
Connect with Bed Bath & Beyond-