ZUJI Discount Codes, Promo Codes & Coupons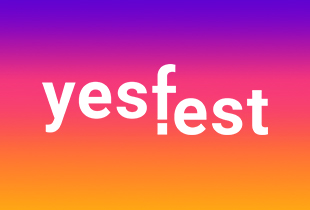 8% off package bookings for Standard Chartered Mastercard credit or debit cards
Book by 31 Dec 2017. Travel by 31 May 2018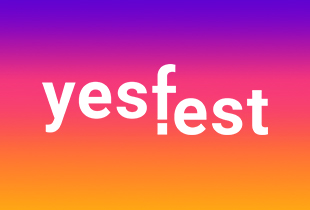 13% Off Hotel Booking for Standard Chartered Mastercard credit or debit cards
Book by 31 Dec 2017. Travel by 31 May 2018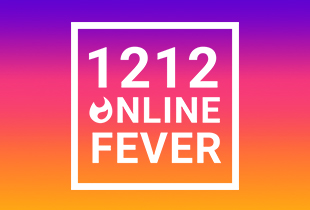 Japan Mega Sale 10% Off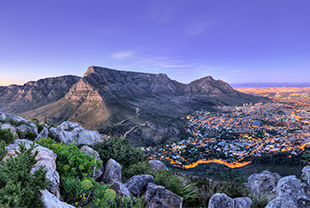 Enjoy exclusive cashback on ALL hotel bookings
Applicable for all hotel bookings, including chain hotels. Any use of hotel coupon code will not qualify for cashback. Check full T&Cs on Zuji.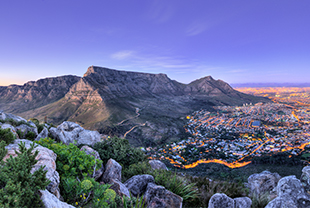 Hong Kong return flights from $180
Terms and conditions apply. Refer to merchant site for more details.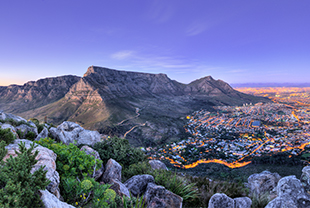 Popular flight and hotel packages with big savings!
Check often for new and updated package discounts for Top Asia destinations like Seoul, Hong Kong, Taipei, and more. See full T&Cs on Zuji.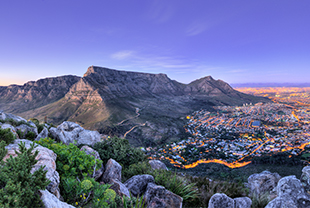 Fly to Kuala Lumpur from as low as $52!
Promotions & discounts on flights to 1000+ destinations Worldwide! Check T&Cs on Zuji.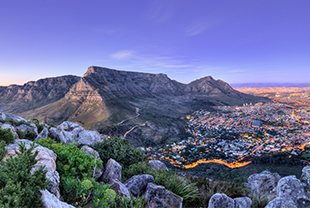 Weekly flash sales on selected destinations or airlines!
Best flight price and discounts on ZUJI especially on the selected destinations. Check T&Cs on Zuji.
For more details: www.shopback.sg/terms-and-conditions
Recent Articles
More about ZUJI
Fly around the world with ZUJI
If you love to travel, then you'll definitely love ZUJI. ZUJI is an online travel agency that provides travel packages in the Asia Pacific region. Since ZUJI was founded in 2002 under Travelocity, they have enabled 3.5 million trips across the globe – and the numbers continue to increase steadily. In 2013, ZUJI was bought over by Webjet, under which they have experienced a revival of high profits. ZUJI has operations in Singapore, Hong Kong, Australia, New Zealand and North America, and partnerships with 400 airlines and 150,000 hotels globally, as well as many car hire and insurance vendors. Want to visit the beautiful beaches of Bali? Hungry for a taste of some delicious Thai food? Curious about China's decades-long history? ZUJI offers travel guides to top destinations. Head over to ZUJI to check out some of the most popular tourist sites! All travel packages are kept affordable with insanely low prices. ZUJI promises that providing the customer with memorable journeys and experiences is at the heart of all that they do. You will experience luxurious travel with the easy, hassle-free holiday planning with ZUJI.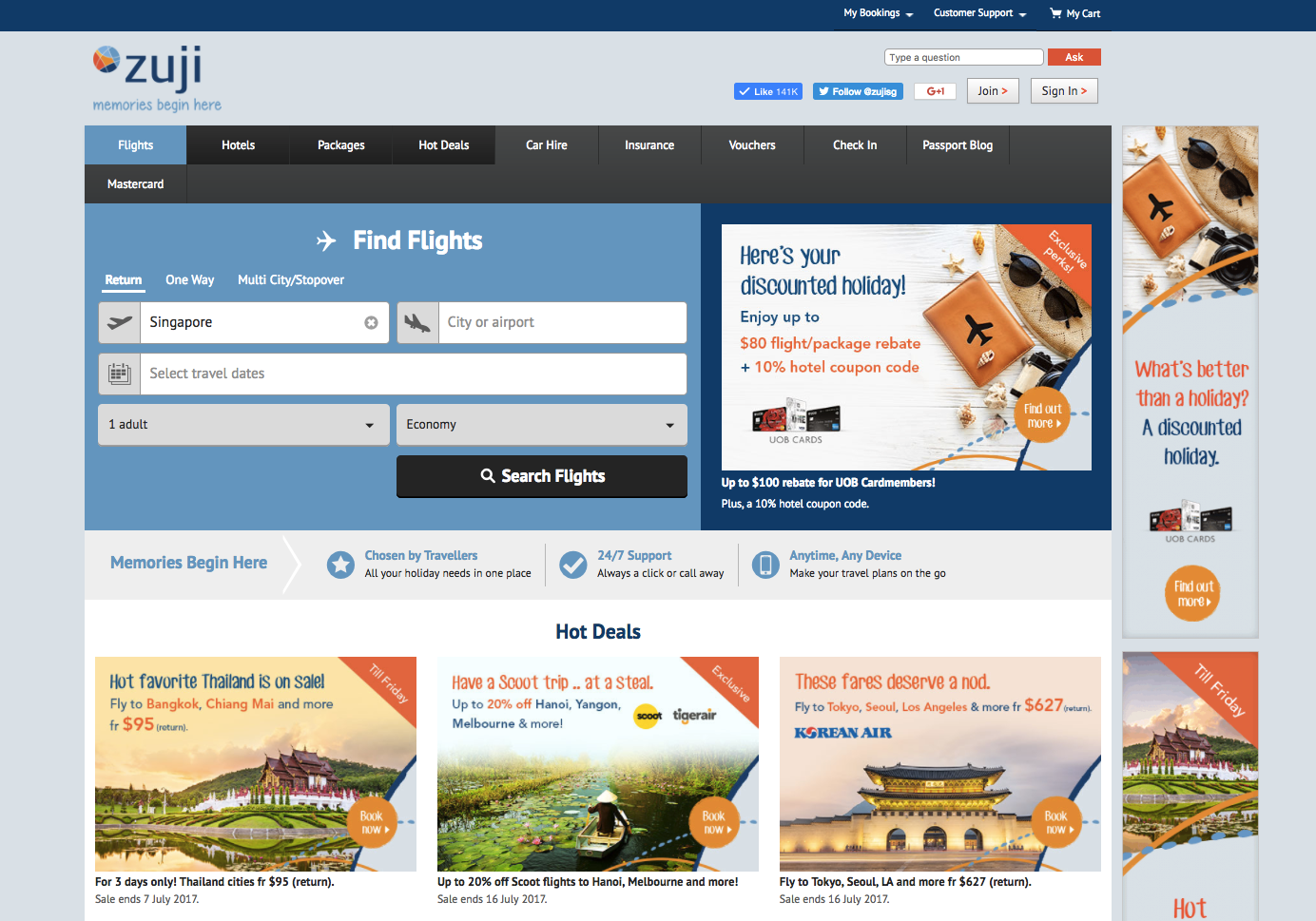 ZUJI's unbeatable booking services
With so many other notable travel agencies like Expedia, you might be wondering: Why ZUJI? Well, here are some reasons why ZUJI is the online travel agency for you.
Travel with established and well-known airlines
Rest assured that ZUJI partners with top-notch airlines like Singapore Airlines, Cathay Pacific, Qatar Airways and many more. With friendly service crew, these airlines are sure to make the journey fun and relaxing. ZUJI then takes you to well-known hotels, famous for their calm and soothing ambience.
Fulfill all your travel needs
With ZUJI, you can easily make flight bookings, hotel and other accommodation reservations, car and transport hiring and insurance. With these services, you can arrange a complete holiday without needing to go to other travel sites. Those who have no idea where to start can also choose from holiday packages that ZUJI has to offer – often at promotional prices too! The latest ZUJI packages are for Bangkok, Bali and Kuala Lumpur so be sure to check them out.
Hassle-free ZUJI bookings
Want to arrange a holiday but think that it's too troublesome to head down to a travel agency? Then visit ZUJI instead! Booking flights has never been so easy with the help of ZUJI, with instant confirmation for any booking that you make. Also rest assured that the ZUJI customer service operates 24/7, and is just a click away.
Special offers and deals
You can travel cheap with ZUJI promotions and deals. Bundle your travel options into a package to get even more savings. You can use ZUJI voucher codes and coupons to get even better prices when you travel. You don't have to compromise on luxury anymore with these awesome discount deals! You can also head over to the Hot Deals section to find out the latest promos that ZUJI has to offer.
Unique offers from ZUJI Exclusives
ZUJI Exclusives is the perfect place to go for true blue Singaporeans! ZUJI exclusives provides travel deals exclusive to Singaporeans. Here are some reasons why you should book with ZUJI Exclusives:
You can't find better deals than here! If you can get a better deal somewhere else, ZUJI will give you the trip for FREE
ZUJI guarantees a 21 day money back for all purchases
You can get expert information from their customer service team, who are available by email and online chat daily
ZUJI cashback offers when you use ShopBack
What's better than savings when you book a ZUJI trip online? Savings + cashback, of course! When you use ZUJI through ShopBack, you could earn up to 6% cashback when you do ZUJI hotel bookings! For travel packages, you could still enjoy 2% cashback; for flights, 1% cashback. Hotel bookings are low-cost at ZUJI, with rooms in Singapore going for as low as $141 per night. Or, you could relax on the beach with cheap flights to the beautiful island of Maldives.
So how do you make sure that you make sure of your promos, whilst get all your cashback? It's easy! Just follow these simple steps:
Sign up for an account or sign-in with ShopBack.
Select the discount or promo code for your choice of product.
Click on the promo code, and get redirected to the ZUJI website.
Sign up for a ZUJI account, then proceed to select the travel promo that you desire.
Enter the relevant ZUJI voucher code before payment.
Receive cashback for your purchase! Do note that cashback may take 1-2 days to appear in your ShopBack account.
ZUJI online check-in and booking management
With ZUJI's online check-in, you can now select seats and print your boarding pass online with ease. What's more, you can also manage your bookings quickly. ZUJI will send you a confirmation email with the travel itinerary and other important travel information for your perusal.
ZUJI Packman App
Do you have holiday packing just as much as we do? Then you'll love the ZUJI Packman App. With the ZUJI Packman, you can create multiple packing lists and save a version of your travel itinerary for easier reference. You can also share your packing list with other trip mates and assign them to bring some of the items on the list! Set reminders for pending items on the app, and keep some of the packing items private if you prefer. See what your friends are packing by downloading the app today! It is free on the Apple App Store.
ZUJI on social networking sites
Follow ZUJI on their social media accounts to get the latest deals and promos on your favourite travel packages! ZUJI has accounts on Facebook, Twitter, Instagram and Google+ - be sure not to miss out on fantastic travel offers! You can also sign up for the ZUJI newsletter to get frequent updates on news and all things travel-related.