vPOST Discount Codes, Promo Codes & Coupons

Cashback is temporarily unavailable for this merchant. Alternatively, check out other merchants for Cashback.
ShopBack must be the last link you clicked in order to get Cashback. If other website links are clicked after clicking through ShopBack, Cashback will not be tracked (E.g. coupon and deal websites)

If for some reason your payment made on merchant page has failed, do click through ShopBack again and re-do your purchases to ensure tracking is still active

Return to ShopBack and click through to the merchant every time you are making a new transaction.

If you are making 3 separate transactions on the merchant, you should click through ShopBack 3 times, each time before making a new purchase.

For more details: www.shopback.sg/terms-and-conditions
Recent Articles
More about vPOST
About vPost Singapore
Launched in 1999 by Singapore Post Limited (SingPost), Post, or Virtual Post, was riding on the growing momentum for online shipping. vPost has since grown to become one of the largest online shopping and shipping service providers in Southeast Asia. Enabling globe shopping without globe-hopping, vPost allows its members to shop at online stores located in the US, Europe, China and Japan regions before shipping the items to local addresses.
With vPost, online shopping options have only grown with thousands of merchants, better prices and convenient, consolidated shipping.
vPost Singapore today
As of 2013, vPost members can make use of their new free PopStation (Pick Own Parcel Station), to collect parcels around the clock. After selecting the option during shipment, members will get a notification with a collection code to pick up their parcels by the PopStation of their choice, making delivery a more flexible process. As PopStation expands its locker space across the island, users now have more and more options for personal convenience.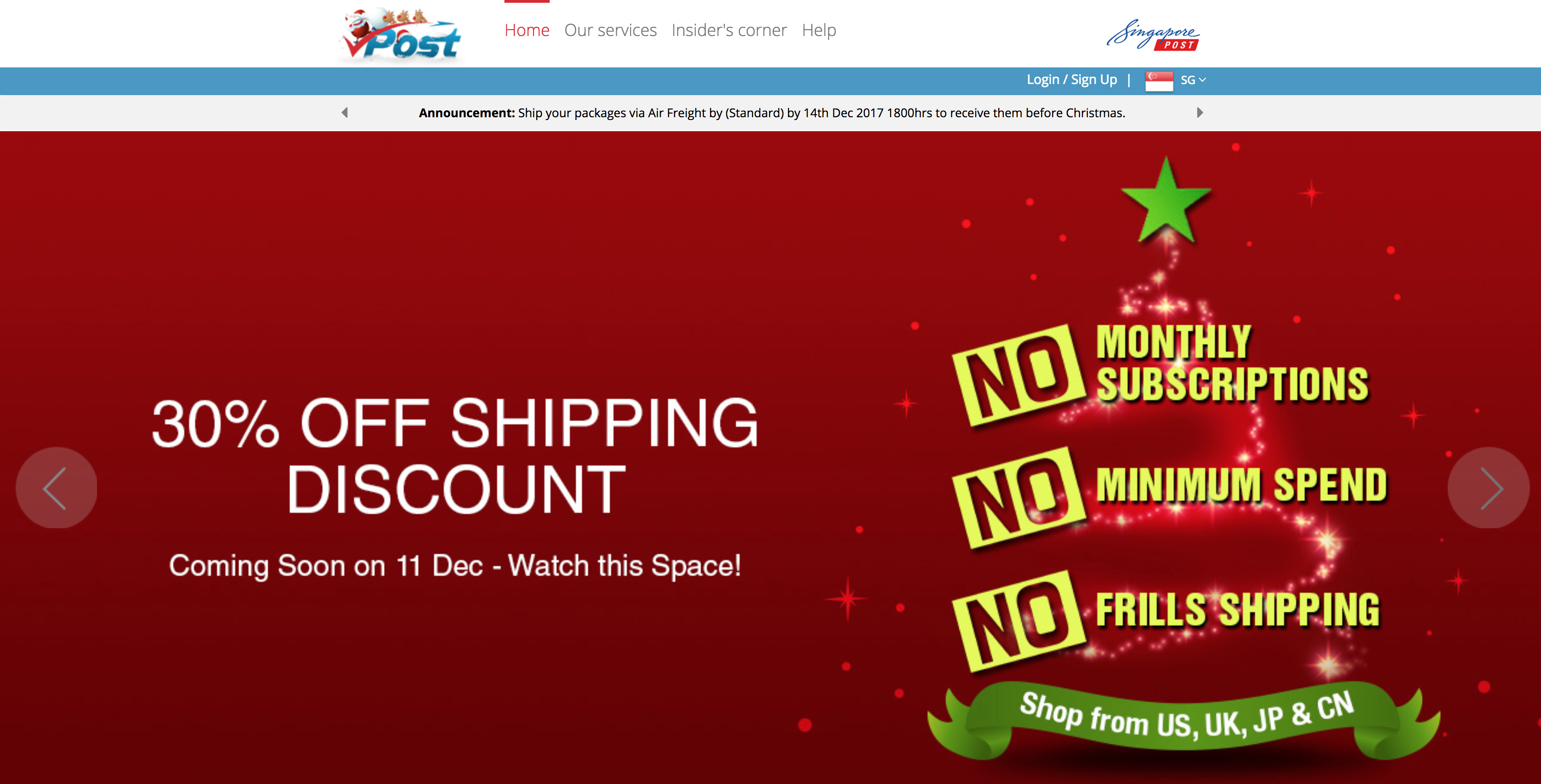 How to use vPost
Having a middleman in shipment forwarding can sound daunting to newbies, so this is a quick guide on how to get started.
The membership is free and upon signing up, vPost members will be given free personalized US, Europe, China and Japan addresses, opening the gateway for them to shop directly at overseas websites that do not accept international orders - while enjoying significant shipping savings.
Go to the merchants' page you wish to shop at and complete your shopping as per usual. For the address, key in your vPost address and number. This way, your package would be sent to the local vPost warehouse instead of direct shipping, avoiding extra sales tax imposed by the seller as you have now gone through local delivery instead. Likewise, for sellers that do not sell overseas, this is the best way to acquire the goods.
Next, once the item arrived, you will get a notification from vPost. Then, just log into your vPost account and choose from standard, economy or sea shipping, then check out and pay for your shipment. Combined with 21 days free storage, bundling discounts and no base charge from second items onwards, consolidate as many packages as possible in one shipment before check out. Don't forget to use a vPost voucher code when you check out if any. Depending on your choice of shipping system, the item could be sent to you as quick as four working days.
And that's it! Shop away for hassle-free and cheaper delivery fees!
vPost shipping is the way to go, here's why
How is vPost shipping different from the rest, and why is using vPost more cost efficient? Well, this is because vPost's uses Economy/Actual Weight charges, have bundling discounts and vPost promotions ofter, as well as a 21-day free storage. This makes them one of the most cost-efficient agent compared to their competitors.
In general shipping practice, the item is being shipped based either on the volumetric weight or actual weight, whichever is higher. In the case of the former, the volumetric weight of an item is accounted for in the formula: (length x weight x height) divided by 5000. This means the 'weight' is accounted for the bulkiness of the item. In terms of actual weight, it would be how heavy the particular package is when you weigh it on a weighing scale.
For example, if a customer were to buy a pair of heels, the item viewed in volumetric weight could be up to 3kg, due to the chunky and bulkiness of the item. However, it's actual weight could just be 1kg. Going by the standard shipping, the shipping costs that the shopper would have to bear would be 3kg (the higher weight quantity), meaning that you're now being charged a higher amount for shipping a larger item.
When you use vPost's Economy/Actual Weight shipping, you would only be paying for the item's actual weight itself! This means you're saving up on the 2kg worth of shipping costs for one item. This combined with their consolidated shipping service allows you to ship everything that you bought across different stores in one giant package, saving total costs and hassle of endless doorbell smashing by the courier servicemen.
The vShop4U service, for all USA, Europe, China and Japan shopping
Need help in navigating the complex order process, especially when they're in a language you don't understand? Or prefer to have someone purchase their items for you? Look to vShop4U for a hassle-free, 100% transparent service. vPost lets the members know exactly how much they need to pay, make the purchase for them and have them delivered to your doorstep.
Some of the popular merchants that could be found include Amazon, vip.com, Rakuten, Mark & Spencer, HP, XBOX, Colourpop and Barneys New York. Fashion, beauty, lifestyle and living, you can find a range of international stores to make your purchases through vShop4U.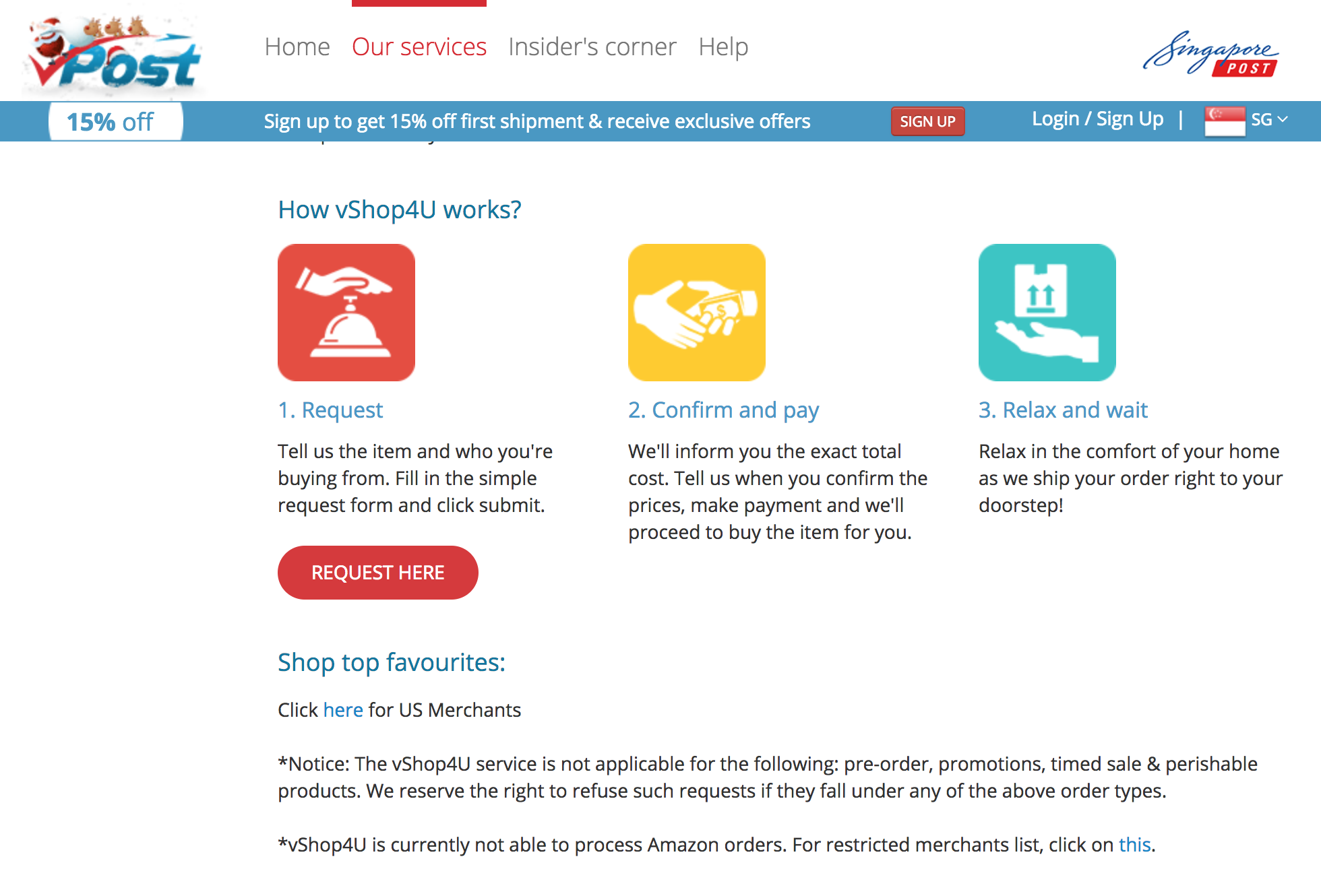 Festive vPost promo code 2017, the way to get more savings.
That's right, you can gain more savings with vPost codes that could be found during festive seasons! Joining in the festive fun at certain times of the year, including the upcoming Christmas, the company dishes out exclusive, time-limited vPost coupon codes! You can use these vPost discount codes when you are on the checkout page.
There, review your orders and consolidate all the available packages if possible. Then, enter any vPost promo code 2017 you have at the same checkout page. The discount should be reflected and you can continue to make your payments.
Finding these codes are easy too - follow us on ShopBack and check out the latest vPost codes at a glance! Alternatively, just head over to the homepage and you can see all the newest vPost promotions on their banners. Jot the code for your checkout, and save, save, save! The best timing to take a look are during all the festive seasons, such as Black Fridays and Christmas, so don't forget to check back often!
What are the payment options
At the moment, vPost accepts three kinds of payments. Firstly, credit and debit cards (Visa/Master), and vPost only accepts locally issued credit cards for payment. Secondly, there is PayPal. Thirdly, you may also use American Express (AMEX)
Go through ShopBack for more cashback, here's how!
On top of vPost promotions and vPost promo codes 2017, here's how you can earn more savings! By going through ShopBack, you get to earn up to 2% cashback on your orders. Here's our step by step guide on how you can get started.
Sign up or log in to your ShopBack account. Don't worry, when you're clicking on 'click deals', you will be promoted to log in too, so you won't miss out on the cashback.
Search and go to the merchant page and take a look at the deals. Sometimes, there are exclusive coupons to be found too.
Click on 'get deal' and wait to be redirected to the merchant's page in a new window.
Go about on your usual shopping as how you usually would. Make sure to stay within the same window all the way till you complete your payment.
At the checkout, double check your items and make sure you have keyed in any coupon codes you could find.
Confirm order and make payment. Make sure you're still in the same window.
You should receive a ShopBack email soon after your payment is complete. Then wait for the cashback to turn redeemable.
It's just that simple. One extra click to bring bigger savings, so be sure to sign up now!
Enquiries? Here's how to reach out to vPost Singapore
Have any questions? Head on over to vPost's help desk, which you can find at the top bar of the homepage. There is a list of FAQ that you can take a look for general queries, including how specific services work, problems with your account to a list of banned items for shipping.
Besides going through the FAQ available, you can reach out to the vPost customer service for more personalized requests. In the case of missing parcels, delayed services, and further questions, head over to the 'Contact Us' page. Here, you can choose one of the three available ways: online chatting, messaging as well as calling their hotline. Please note that online chat have a daily service timing, while the messaging and hotline option is open at all times, every day.
Online Chat: daily 8am to 8pm
Hotline: 1605 (Press #4 for 'vPost') & +65 6841 2000 (calling from outside SG). Opened 24 hours, 7 days a week.
Address: Singapore Post Limited, 10 Eunos Road 8, Singapore Post Centre, Singapore 408600. Open Monday to Friday, 8am to 6pm
Besides their messaging service, you can also find vPost on social media platforms like Facebook and Twitter.