A one-stop shopping destination in Singapore, TANGS has marked its territory as a leading player in the retail industry. For people in Singapore, it is like Selfridges in London and Bloomingdale s in New York City. Constantly updating itself as per the changing needs of the society, it has brought about a large-scale transformation in its grand launch in 2012 during its 80th anniversary. TANGS Singapore provides a truly immersive customer experience. Presenting a mix of selected items of local and international brands from Fashion, Home, Beauty, Kids and Food & Beverages categories, it s known for best quality products with a unique blend of traditional and modern heritage.
The founder of TANGS, CK Tang lived in the Chinese province of Swatow where his father was a pastor. Due to struggles of poverty and to overcome them, CK Tang set out to Singapore in 1923 with trunks filled with lace and linen. "It all began with an old tin trunk", says TANG who sold door-to-door until 1932, when he opened his own store. It did well and soon he expanded his franchise to include merchandise from China that included baskets, Jewellery and other curios of China. With greater vision and experience, Tang started his TANGS department store at Orchard Road and this place slowly became one of the busiest shopping streets in the world. He earned the name of "The Curio King" and in 1982, the new 33-storeyed Tang Plaza opened with a 5-star shopping complex and The Dynasty Hotel. The revamped version of TANGS Orchard gives a truly enriching shopping experience to its customers with exclusive services in every corner, dining facilities and rest spots. There are various rewarding loyalty programmes and 24-hour hassle-free shopping at tangs.com or the TANGS mobile app.
Currently, TANGS stores are across Singapore and Malaysia. There are six stores, namely, TANGS VivoCity, TANGS at Tang Plaza, TANGS Empire Subang, TANGS 1 Utama, TANGS The Shore, Melaka and TANGS Genting.
Products Sold by TANGS.com
TANGS.com offer products across various concepts such as beauty, fashion for men, women and kids, lifestyle, gift items, food, travel and technology. Many popular brands such as Vero Moda, Timberland, Giorgio Armani, Herschel, Polo Ralph, Liebherr, Recolte and GINLEE Studio to name a few are available for online shopping.
Women
– Women s fashion in categories such as clothing, shoes, handbags and accessories of various popular brands are available. A range of clothing styles like a jumpsuit, dresses and lingerie; shoes like platforms, flats, slip-ons, heels and accessories include the latest designs of watches and jewellery.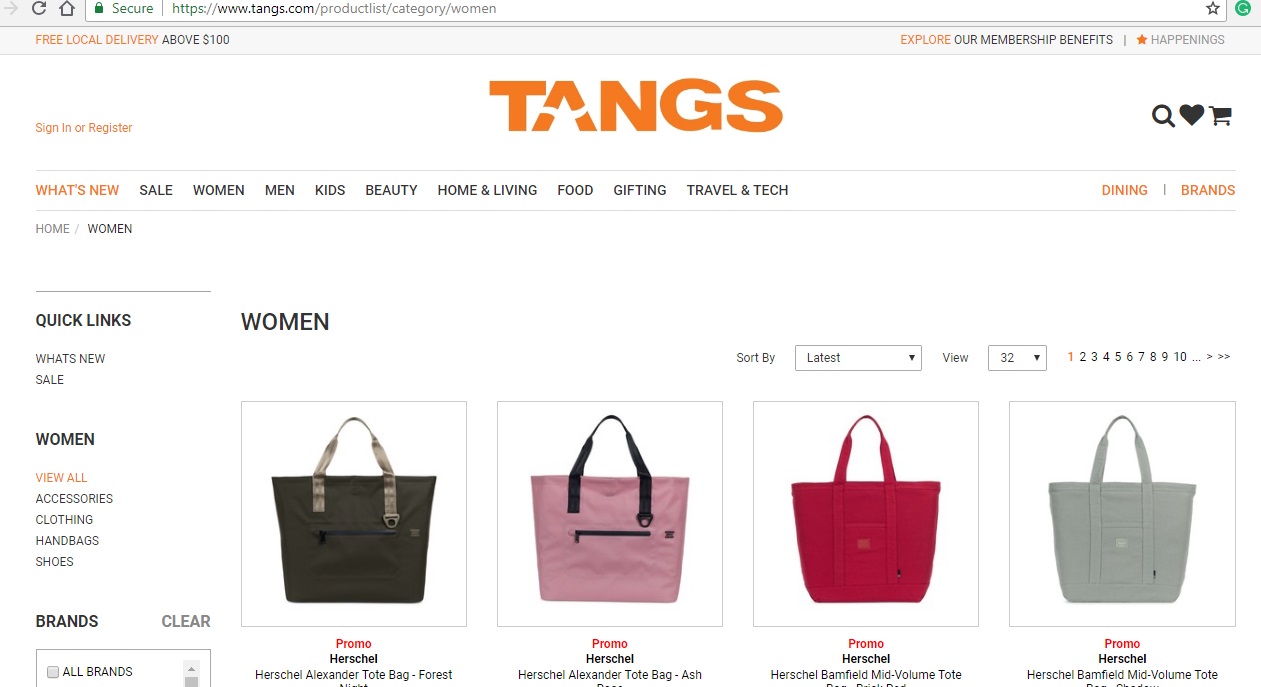 Men
– Fashion for men is inclusive of a variety of styles and product categories. Under the sub-heads of Clothing, shoes, bags, accessories and grooming, it has products from well-known brands.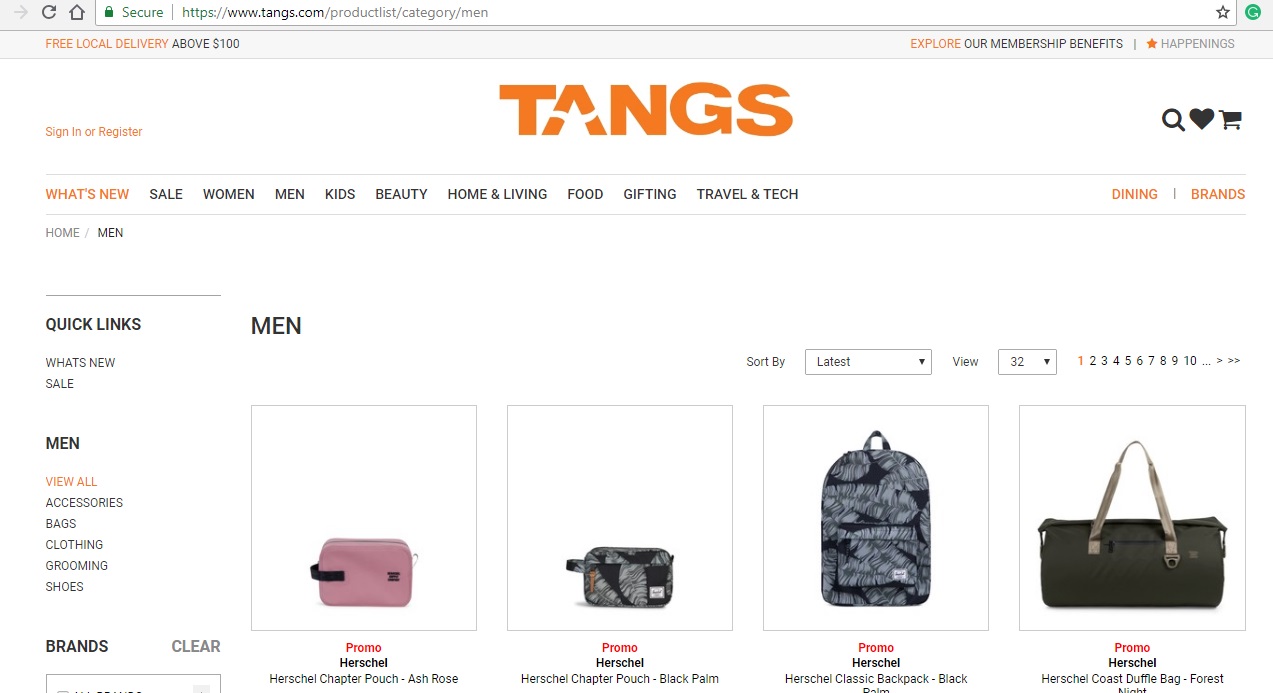 Kids
– The kid section has a variety of products. It ranges from baby care, bags & pouches, beauty, caps, car seat, clothing to dental care, feeding, gift box, learning, shoes and soft toys. It also includes sports and outdoor, strollers and toys.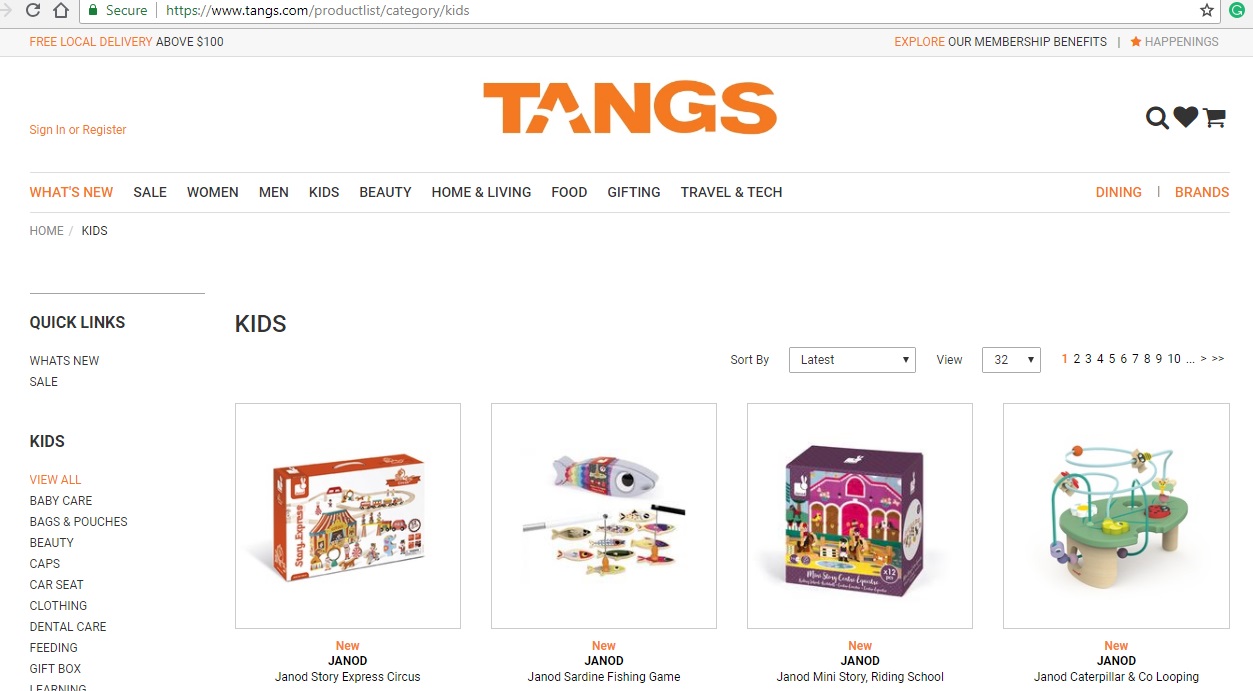 Beauty
–Here, there are products from various categories such as device, skincare, makeup, men s grooming, services and workshop. Devices have products for body and face and it also includes brushes and hair care products from brands like Tangle Teezer, Philips and Tuft.
Home & Living
– A wide range of products are there is display under home & living. It has items under housekeeping, coffee & tea, bed & bath, furnishings, kitchen, appliances.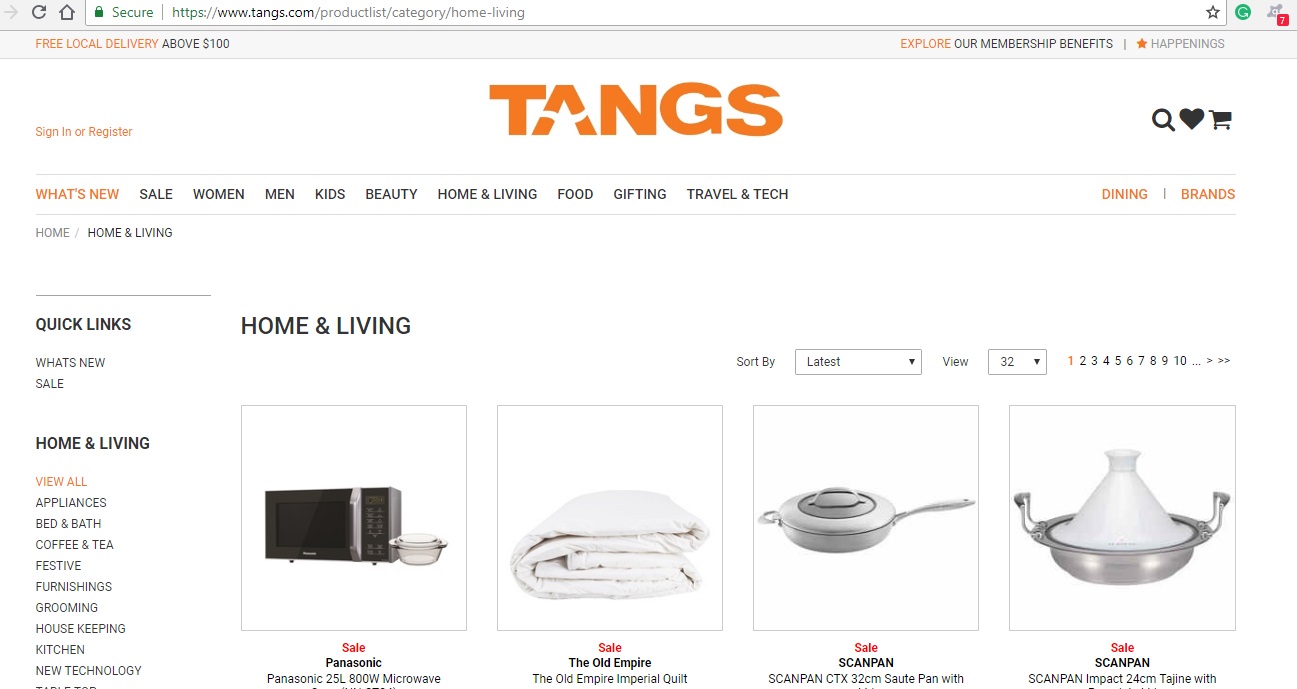 Food
– Find a lot of food options in biscuits, dessert, mid-autumn, snacks, chocolate & sweets, condiments, coffee & tea, honey, juicing and hampers. The brands of food items are premium outlets such as Prestigio Delights, TCC, Tai Chong Kok, Garden Pastry, Grand Hyatt Singapore and Sweet Enchantment.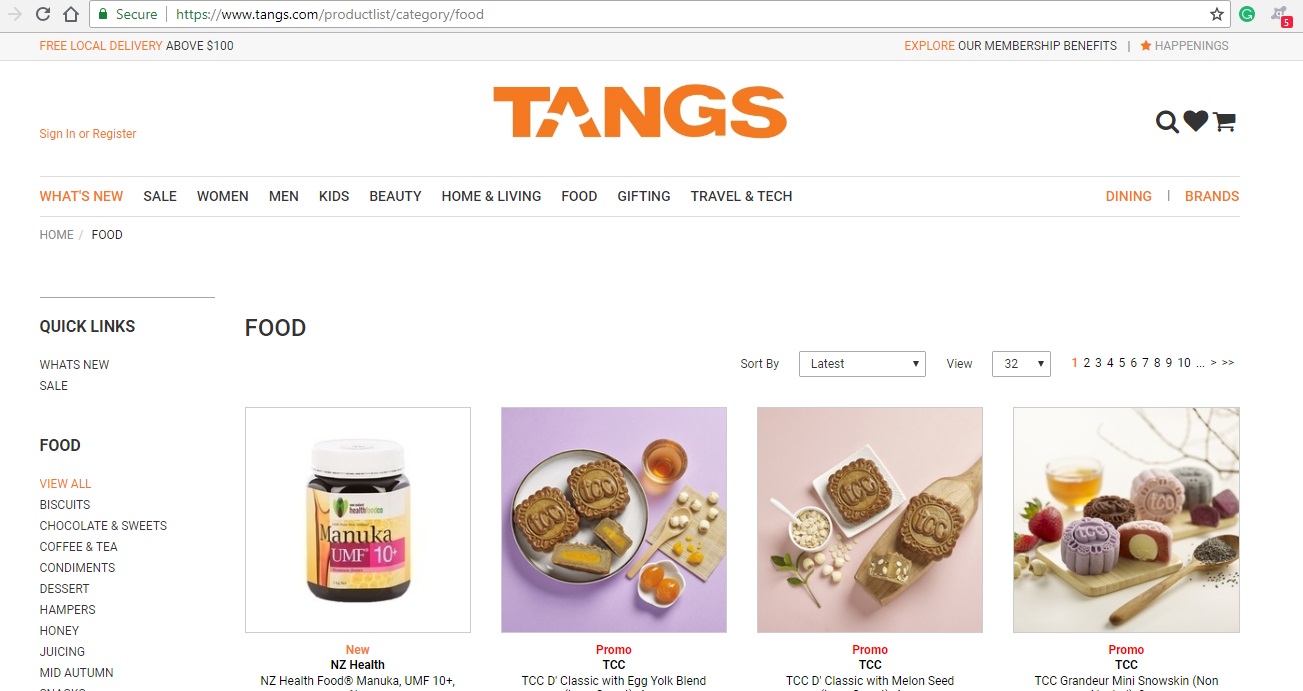 Gifting
– The gifting section has a range of books, toys & stationary, collectibles, fashion & jewellery, fragrances, gift card, home & living from brands like Epigram Books, Elephant Parade, Singapore Memories, Royal Selangor and RISIS.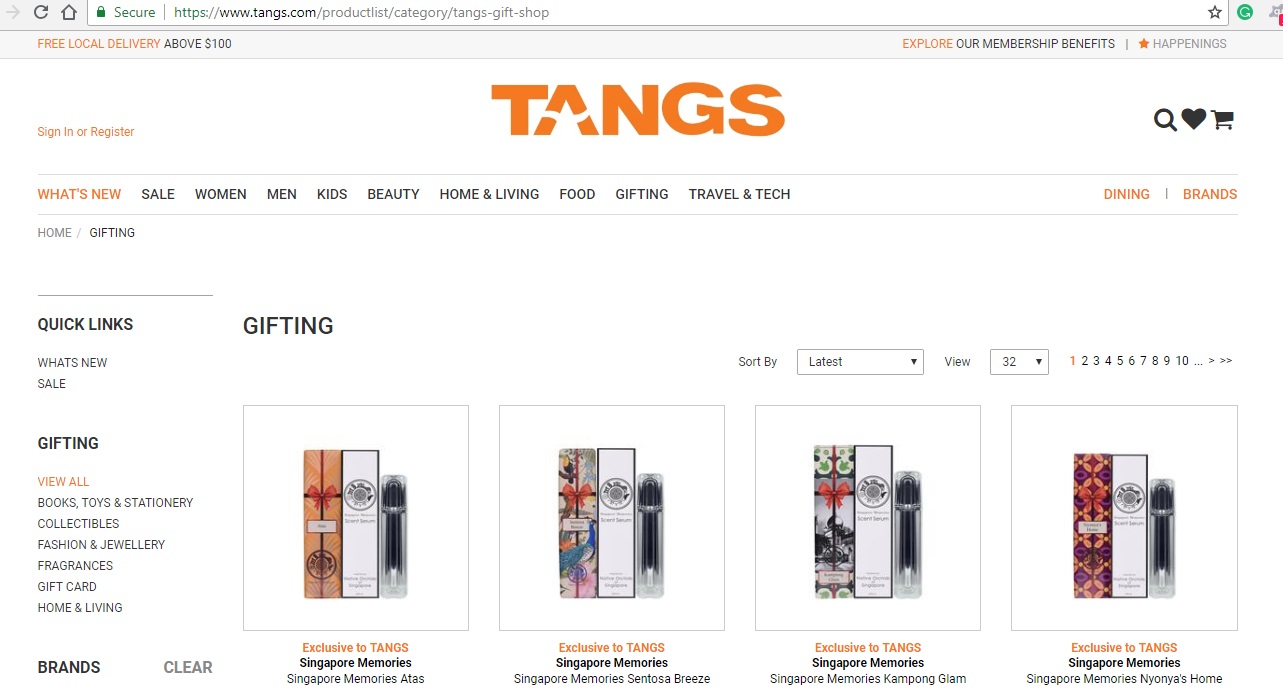 Travel & Tech
–If you are going travelling, you can do it in style by shopping from TANGS.com. The latest styles and design of soft luggage, hard luggage and travel accessories are available here. Tech has home tech, headphones, earphones and speakers.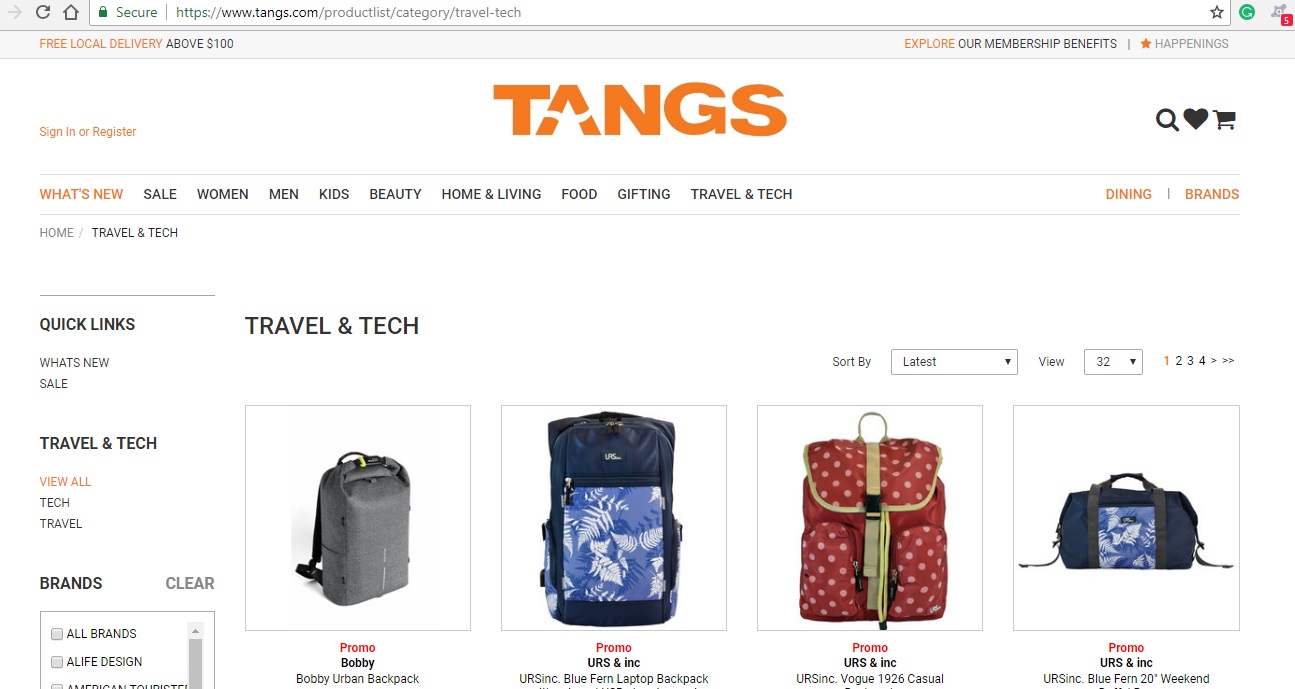 The various product categories sub-categories offered on TANGS.com are given in the table below:
| Product Category | Product Type |
| --- | --- |
| Women | Clothing, Shoes, Handbags, Accessories |
| Men | Clothing, Bags, Accessories, Grooming, Shoes |
| Kids | Baby care, Bags & Pouches, Beauty, Caps, Car Seat, Clothing, Dental Care, Feeding, Gift Box, Learning, Shoes, Soft Toys, Sports and Outdoor, Strollers, Toys |
| Beauty | Device, Skincare, Makeup, Body Care, Fragrance, Hands & Nails, Hair Care, Men s Grooming, Services, Workshop |
| Home & Living | Kitchen, Appliances, Table Top, House Keeping, Coffee & Tea, Bed & Bath, Furnishings, Grooming, Wellness, Festive, New Technology |
| Food | Biscuits, Dessert, Mid Autumn, Snacks, Chocolate & Sweets, Condiments, Coffee & Tea, Honey, Juicing, Hampers |
| Gifting | Books, Toys & Stationary, Collectibles, Fashion & Jewellery, Fragrances, Gift Card, Home & Living |
| Travel & Tech | Travel, Tech |
| | |
How to Shop at TANGS.com?
TANGS.com is a user-friendly website providing an effortless shopping experience. New arrivals are listed in a section to let you shop the latest trends. TANGS sale items are listed under the category of 'SALE on the homepage of the website.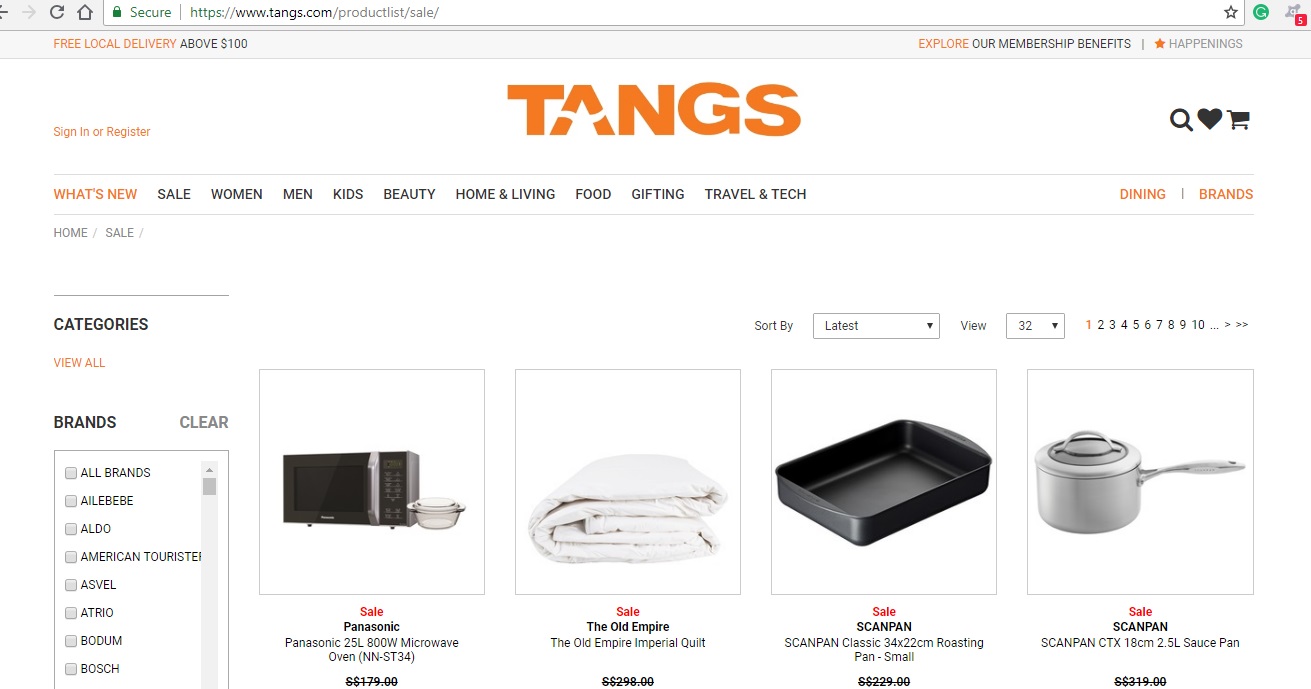 Any kind of product, from categories such as beauty, lifestyle, men s fashion, women s fashion, home and living, etc. can be chosen from the home page. It directs you to a TANGS promotion page with several options of products from that category.
Click on the categories to view the sub-categories for specific results as per your requirement.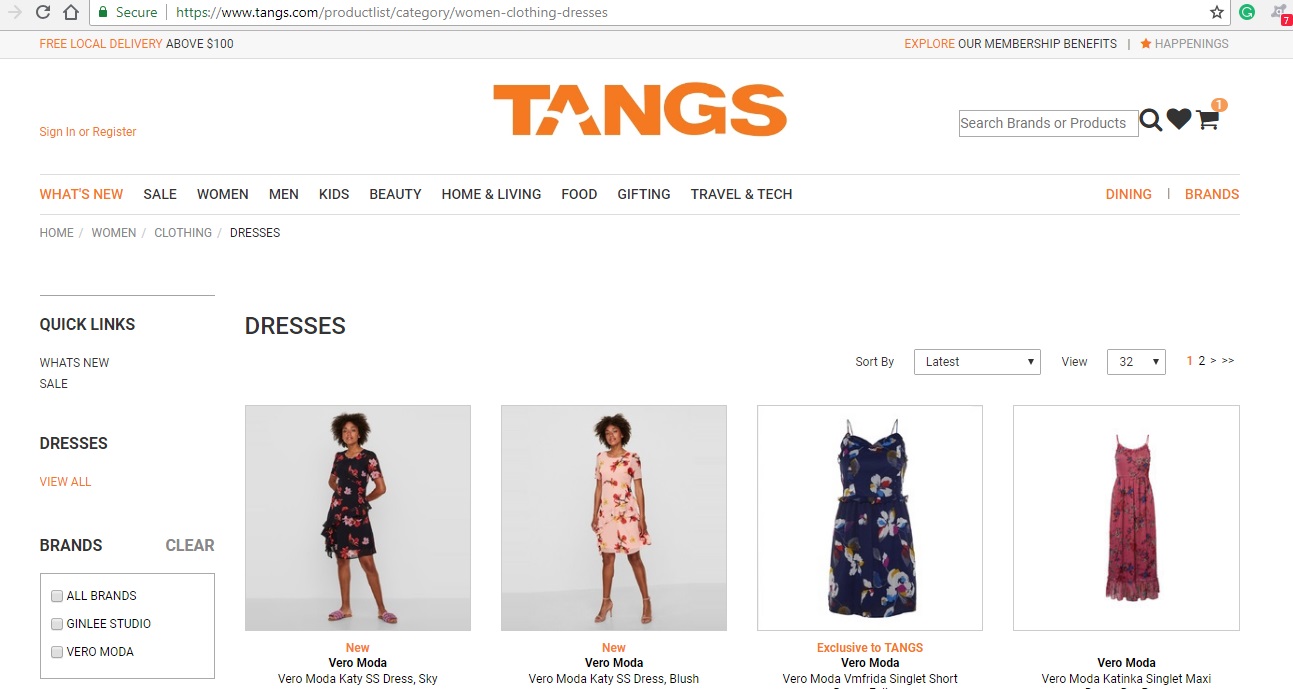 Select the product that you need from the options. You will find a page opening with all the product details. If you want to purchase the chosen product, proceed for payment by clicking on the "Add to Cart" button. Lookout for available TANGS promo codes and discounts. Enter the 'Promo Code if there is any and click on 'Apply to view the discounted prices.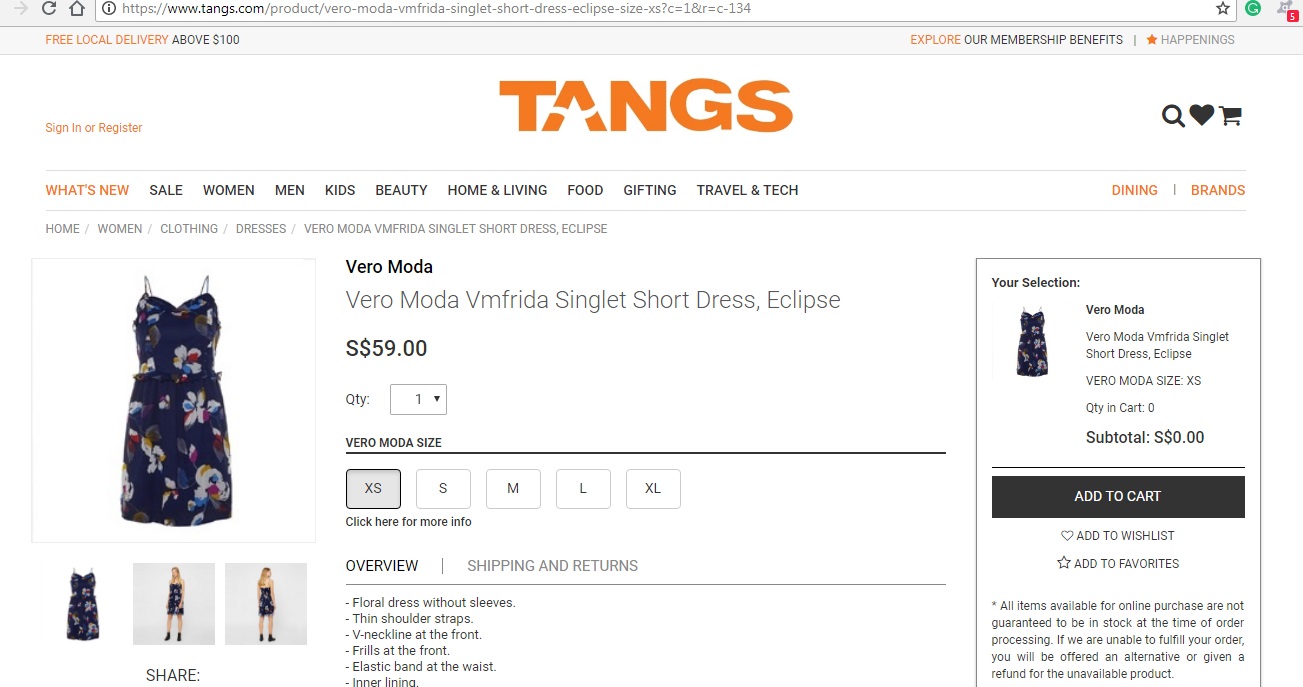 You will find the shopping cart icon on the right corner of the page. Click on the icon to checkout. Check the details in your cart like quantity, size, etc. and click on the 'CHECKOUT button on the right.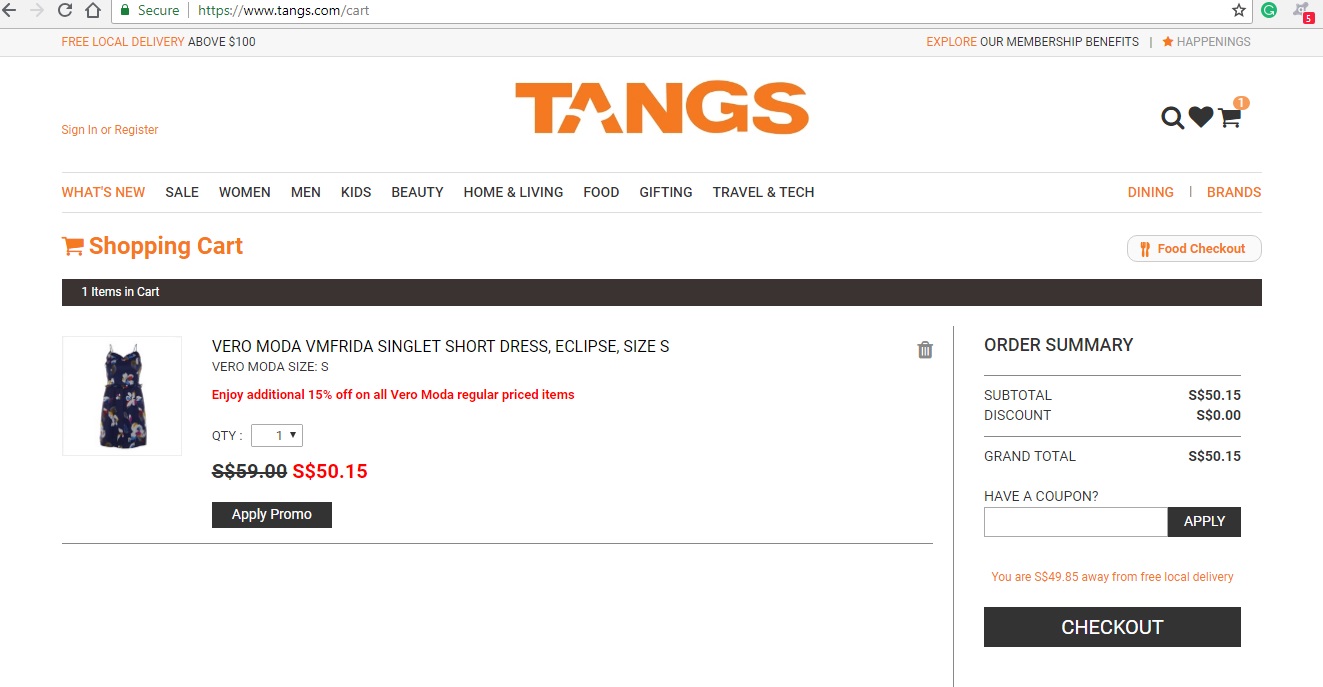 A pop-up will appear to continue to login or continue as a guest. You can do either of them to purchase the product. For signing up, you need to provide your email ID and other details. You can continue as a guest if you do not want to be a member to purchase your product.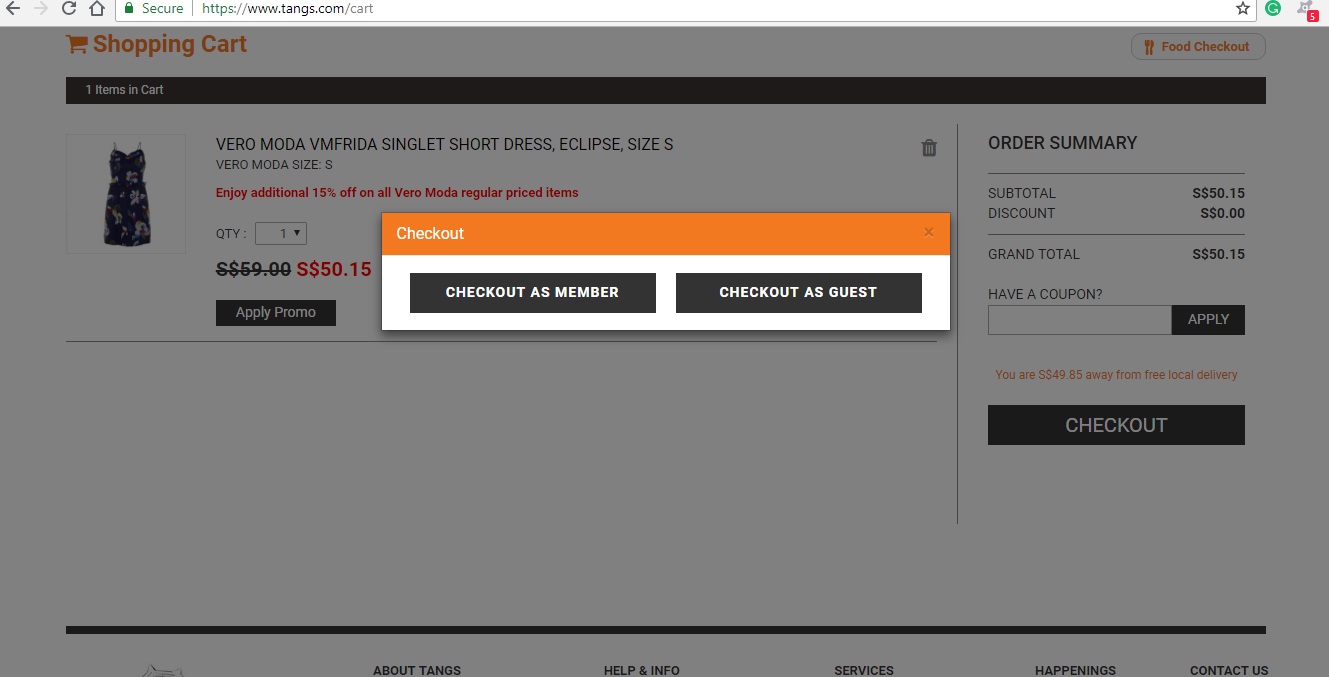 A page will appear for entering details about billing, shipping, etc. Enter your billing address and shipping address.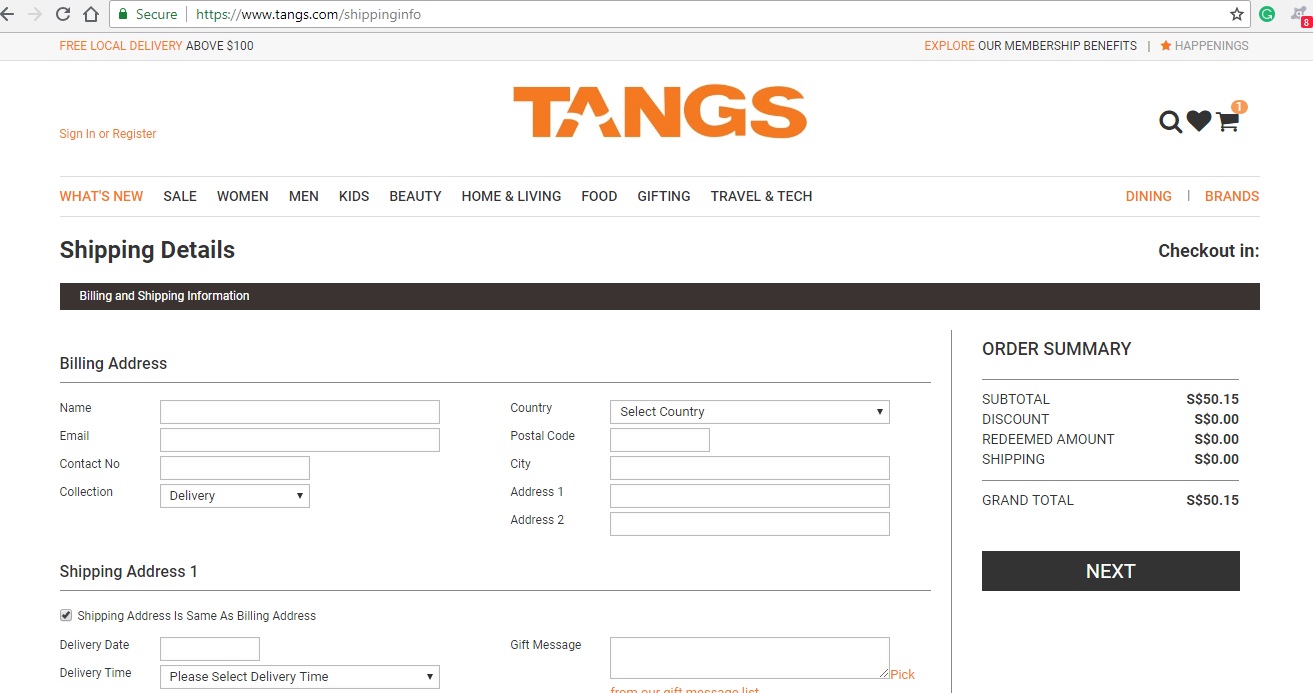 Enter the delivery date and delivery time. Check the product details again and click the checkbox for the address at which you want the product to be delivered. Click on 'NEXT in the right to proceed to payment.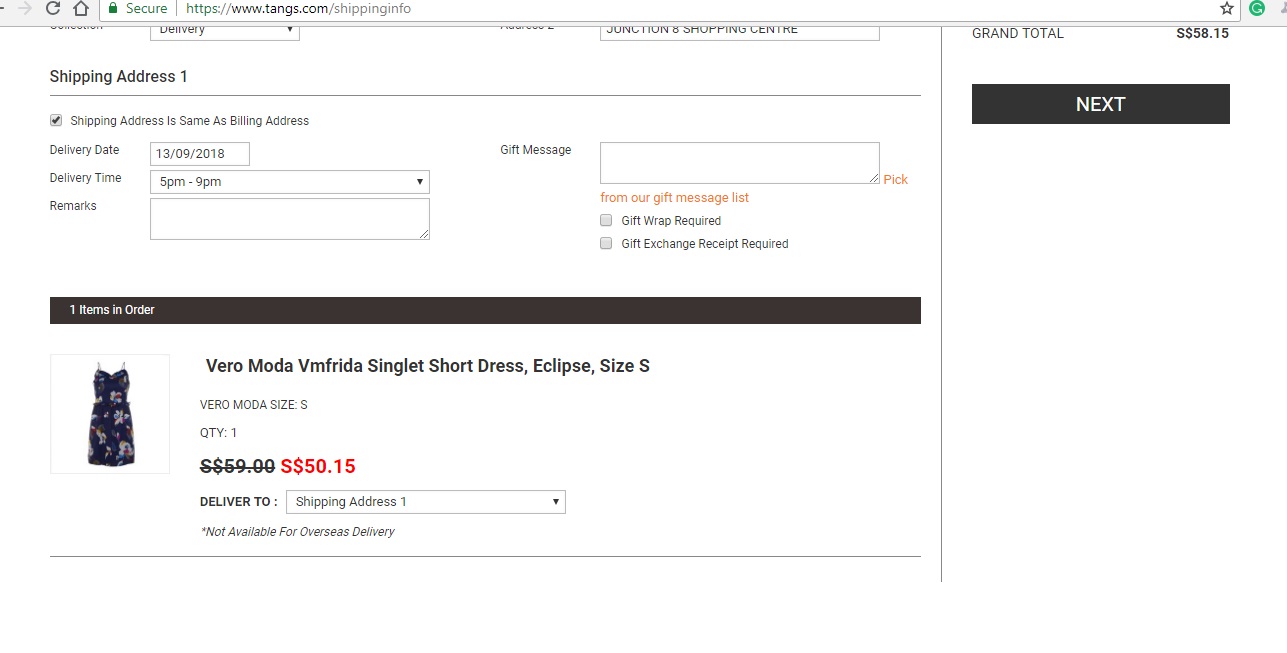 The summary of your purchase details along with the payment options will be displayed. Click on 'PROCEED TO PAYMENT on the right to purchase the product.
You can find great deals on products during the TANGS.com sales and promotion period. You can avail the discounts by using TANGS discount code and TANGS.com promo code during the checkout process.
Payment Options on TANGS.com
Customers can pay via multiple channels for their purchases on TANGS.com. The products of their choice will be delivered at their door-step.
There are six methods of payment mentioned on the TANGS.com website:
Card Payment

: VISA, Master Card, American Express and JCB cars payments can be made through VISA cards by entering card details such as Credit Card Number, Expiry Date, CVV and Cardholder Name. Click on the 'Submit button at the bottom of the page. You will be directed to the bank s page for authorisation and can complete the payment.

WeChat Pay

: Customers can select this method of payment and Fomo Pay displays a scan code. This must be matched, and payment must be completed within 15 minutes of opening this screen.

Alipay

: When this method of payment is selected, the FOMO Digital Alipay displays the Alipay scan code. You must open Alipay on your phone and match the code to make the payment.
Different Coupon Codes and Discounts on TANGS.com
TANGS promo codes and TANGS voucher codes have won the hearts of people in Singapore. You can use these during the promotional periods especially TANGS Black Friday, a time people wait to avail huge discounts on products from TANGS sales.
ShopBack offers $2 Cashback for products of TANGS e-store to those clients who shop via a registered account at ShopBack.
How to Redeem Coupons and Vouchers at TANGS.com?
Shopping on TANGS.com leaves you with a highly rewarding experience which is why it is a favourite among most people in Singapore. TANGS Sg has created a special place and has become a one-stop shopping destination for many. Apart from TANGS.com, several other websites offer TANGS promo, TANGS coupon, TANGS voucher, TANGS coupon code. You can get discounts by using any of these during the checkout process.
Here is a step-by-step procedure to use Cash Off or discount vouchers available on the TANGS.com website:
Step 1
: Select the items of your choice and click on 'ADD TO CART .
Step 2
: Proceed by clicking on 'CHECKOUT and fill in the details of your email, phone number, billing and shipping details.
Step 3
: In your order summary, enter the promo code in the right of the screen and click on 'APPLY CODE . Your TANGS.com discount voucher or TANGS.com discount coupon amount is displayed in the order summary.
Step 4
: Finally, click the 'CHECKOUT button and select the appropriate payment method to purchase your discounted product.
TANGS coupon and TANGS discount is a great way to save some money while purchasing goods.
How to Shop on TANGS.com using ShopBack
ShopBack, currently offers $2 Cashback on items from TANGS.com if purchased via a registered account at Shopback. The steps to earning cashback through ShopBack are mentioned below:
Step 1
: First, you need to log in to the ShopBack account and select TANGS.com store from the list of brands on the homepage of ShopBack. You can also use the search box to find the link to TANGS.com store.
Step 2
: Check the terms and conditions and other important information such as 'Cashback Details and 'Tips to ensure Cashback .
Step 3
: Proceed to avail the cashback by clicking on 'Activate Cashback button that is located on the top left corner of the page.
Step 4
: You can find some interesting deals and coupons in the 'Tangs Promotion & Voucher August 2018 . TANG offers are listed here.
Step 5
: You will be redirected to TANGS.com website, where you can browse and select the products you wish to buy.
Step 6
: You can earn cashback from ShopBack on placing your order. The cashback offer is not applicable on purchases made on TANGS.com app.
TANGS.com's Shipping and Return Policy
TANGS.com platform enables customers to make purchases in two ways, i.e.,
Click and Collect and Delivery
.
Click and Collect
: In this method customers can select the product and choose a centre near their place or of their choice from options on the website. These centres are listed on TANGS.com and will be displayed when you enter your delivery and shipping information. The selected products will be delivered to the centre and customers can collect it from there. The payment can be made as per the below-mentioned methods when the product is chosen.
TANGS provide free local delivery with a minimum $100 purchase. Delivery is made within 24 hours and orders received after 6 pm is processed on the following day. A maximum of 10 local delivery locations per order are available while Click & Collect service is available at TANGS at Tang Plaza, Customer Service Counter L1 and Click & Collect Counter L4 or TANGS VivoCity with the Order Confirmation Receipt to collect products.
Return & Exchange
: Returns or refunds are accepted within 30 days of purchase except on Food (seasonal), Hamper, Pre-order, TANGS Gift Card, Workshop and Services. All the items must be in original condition with the Order Confirmation Receipt. Local purchases can only be returned at TANGS at Tang Plaza, Click & Collect Counter L4 or TANGS VivoCity, Customer Service Counter L1. No returns are available via mail. Credit is refunded in the form of TANGS Credit Vouchers and customers are required to return any samples and free gift(s) received from the purchase.
Items presented on the website are subject to availability.

The weight and serving portion details are based on estimations.

Rights to replace unavailable items with items of equal or lower value is with the management.

Props and decorations not listed as hamper contents are for display purposes alone.
TANGS.com Customer Service
n contact the TANGS.com customer service for any queries by filling their contact form on the website.
You can also connect with TANGS.com through its social media pages: