Stamford Catering: One of Singapore s leading caterers!
Stamford Catering is a Singapore-based catering company established in the year 2011, that serves a wide group of clients with its inventive concepts. Extensive menus, new concepts and competitive pricing make it one of the leading catering companies in Singapore. People rely on Stamford Catering for major events and buffets. The company ensures high quality food and services at all times and continues to grow its business at all levels. Stamford Catering has offered catering services to events like the StanChart Marathon, 28th Southeast Asian (SEA) Games, OCBC Cycle and the inaugural Youth Olympic Games, to name a few.
Visit ShopBack to find the latest Stamford Catering promo codes and other great deals!
Services Offered by Stamford Catering
Stamford Catering offers a variety of menu options for you to choose from. Book your service online and enjoy stamford catering deals during stamford catering sales. Listed below are the menu categories available on Stamford Catering.
Menus
– A wide array of menus awaits you at Stamford Catering. From High tea, mini party sets, packed meals and regular buffet to cocktail, banquet, wedding catering and BBQ catering, their menus are designed to suit all your requirements.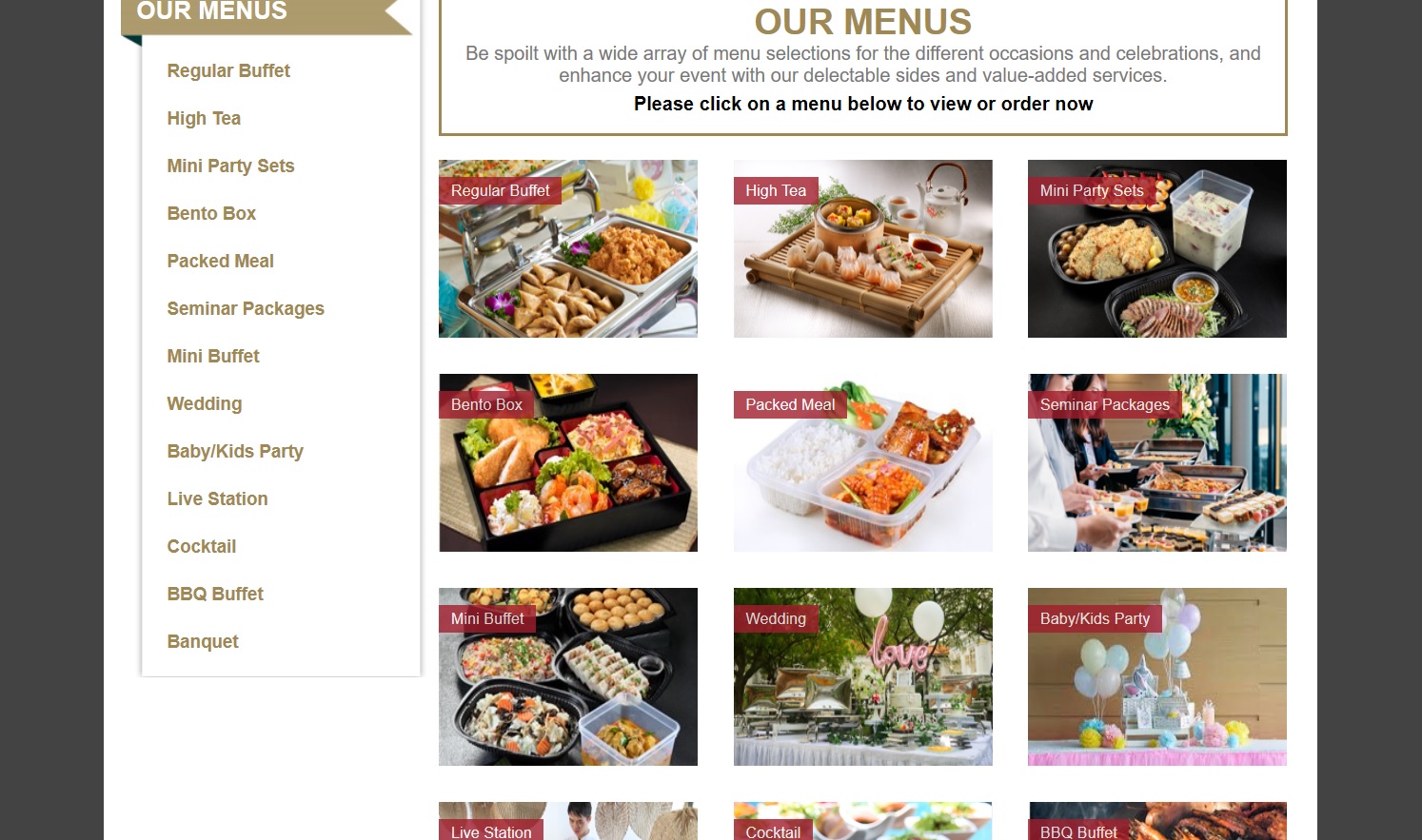 Services
– At Stamford Catering, you can book catering services for all your important celebrations. Their services include home party, corporate functions, baby shower, kids parties, wedding banquet and cocktail catering.

Make sure to check for the stamford catering coupons and stamford catering vouchers before you proceed with shopping.
| Stamford Catering Categories | Stamford Catering Menus |
| --- | --- |
| Regular Buffet | Asian Buffet, International Buffet, Healthier Buffet |
| High Tea | Classic High Tea, Deluxe High Tea, Mini High Tea |
| Mini Party Sets | Mini Party Sets, Mini DIY Sets |
| Bento Box | Bento Sets |
| Packed Meal | Packed Meal Catering |
| Seminar Packages | Full Day Seminar package, Half Day Seminar Package, Breakfast Buffet, Breakfast Side Order, Breakfast Mini Spread |
| Mini Buffet | Mini Buffet Spread |
| Wedding | Wedding Buffet Catering, Wedding High Tea, Wedding Cocktail Reception |
| Baby/Kids Party | Baby Shower, 100 Days Baby Celebration |
| Live Station | Asian Live Station, International Live Station, Local Live Stations, Ala Carte Live Station |
| Cocktail | Cocktail Reception |
| BBQ Buffet | Ala Carte BBQ Catering |
| Banquet | Chinese Banquet Catering, Western Banquet Catering, Muslim Banquet Catering |
| | |
How to Book Your Service at Stamford Catering?
You can book your preferred services on Stamford Catering by following a few simple steps. All the service categories and other details are displayed at the top of the homepage. The homepage also displays stamford catering promo codes and other discounts.
1. Select your preferred service category and sub-category from the list. Then click on your preferred service from the displayed list. Select your option and click 'Order Now .
2. On the next page, enter details like the number of guests, time and date in order to check availability. Then click 'Next . The next page displays a set of menu items and side orders for you to choose. Once you have made your selections, click 'Next . The ordering process will also include a field to enter the stamford catering code.
3. On the next page, your order details will be displayed. Review your order and then go 'Back or click 'Next . Log in (if you are already a member) or create a new account on the next page. Enter your payment details, after the application of stamford catering promo code. Then confirm your payment in order to complete your transaction.
4. It will then display your purchase details, along with the expected delivery date of your product. An e-mail will be sent to you to confirm your order details.
5. Customers can find great deals on products during special offers. You can avail discounts by using the stamford catering discount codes/stamford catering promo codes on checkout. Make sure to check for special deals before placing an order.
Payment Options on Stamford Catering
Stamford Catering accepts cards for online orders. It accepts VISA, Master Card and cheque payments.
Different Coupon Codes and Discounts on Stamford Catering
The website brings to you a number of stamford catering offers from time to time. Some deals are offered for a long time while others are available for a limited period only. Customers can save a lot of money by applying the stamford catering promo codes.
Currently, customers can earn 5% cashback if they shop with the merchant via a registered account at ShopBack.
How to enjoy Cashback from ShopBack when ordering from Stamford Catering
Step 1: Select Stamford Catering from the list of brands on the ShopBack homepage, or use the search box to find a link to the Stamford Catering website.
Step 2: Read the terms and conditions and other relevant information such as cashback details and tips to ensure cashback.
Step 3: Click Activate Cashback on the left.
Step 4: You can find more attractive deals by checking out the 'Discounts + Cashback section.
Step 5: On placing the order, you will be eligible to earn stamford catering cashback from ShopBack. There may be a variation in cashback rates based on your history with ShopBack. Cashback offer is not applicable on purchases made via the Stamford Catering app.
Stamford Catering: Terms and Conditions
The terms and conditions for Stamford Catering are listed below:
Stamford Catering offers free delivery for orders above 800 dollars, more than 80 people and for High-Tea packages. There will be a transportation fee of 50 dollars outside the CBD area and 60 dollars for orders within CBD area. A waiver of transportation fee will be applicable for a normal buffet of more than 80 guests.

Prices are subject to changes and GST charges.

Reservations must be done before 3 PM at least one day (working day) in advance prior to the event date.

Order confirmation will be intimated to you within 48 hours of successful placement of order. You must contact the company if there is no confirmation from the company within 48 hours.

For any changes made in the headcount or menu just one day prior to the event, a change fee between 20 and 40 dollars will be charged.

For any cancellations made within 5 days from the event date, a cancellation fee of 50% will be charged on your total order amount.

Refer the Terms and Conditions for more information.
Stamford Catering Customer Service
For any inquiry or help, customers can visit their Contact Us page or the FAQs section or chat with them online. For general inquiry, you can connect with their customer care representatives. Customer care operating hours are: Monday to Friday from 8.30 AM to 6.30 PM), Saturday and Sunday from 9 AM to 3 PM and on Christmas Eve from 9 AM to 3 PM, excluding Chinese New Year Eve and public holidays.
Follow Stamford Catering on their social media channels here: