Shop the Biggest Brands in Sport at Sports Direct
Sports Direct is your one stop shop for quality sportswear and accessories. It specialises in selling sports goods, fitness products, fashion goods and lifestyle merchandise from diverse brands. At Sports Direct, customers can find everything that they are looking for to meet their sports/fitness needs, with a wide range of products to choose from.
Sports Direct believes in offering excellent quality products and aspires to be a leading lifestyle and sports retailer, globally. The team strives to offer unparalleled customer service and high-quality merchandise. The company follows a multi-channel strategy to elevate the business as well as customer experience. It values its customers, third-party brand partners and shareholders, and treats everyone with utmost dignity.
Visit Sports Direct store online to shop for superior quality, branded sports goods and enjoy amazing discounts during Sports Direct promos.
Sports Direct International PLC was founded by Mike Ashley in the year 1982 in Maidenhead and is one of the largest sports retailers in the UK today, in terms of revenue. In 1996, the company was renamed as 'Sports Soccer when it was acquired by Donnay, and in 2002, it took over the Lonsdale brand and 'Lillywhites stores. It acquired many other stores and expanded further in the following years.
Sports Direct boasts of operating over 700 stores in whole of UK, Europe, Malaysia and the rest of the world, comprising 26,500 people. The company sells products from 29 international brands, operates across 19 European countries and has as many as 50 ecommerce sites.
Products Sold by Sports Direct
At Sports Direct, you can find the best quality sports products to suit all your needs. They have sportswear and accessories for men, women and kids as well. Shop at Sports Direct online and enjoy exciting deals during Sports Direct offers. Listed below are some of the products and product categories available on Sports Direct.
Men –
From sports clothing and footwear to essentials and trainers, Sports Direct offers a wide range of products for men. All your fitness and sports needs are taken care of at Sports Direct.
Women –
Choose from a wide range of sportswear and accessories designed especially for women. You can find everything here right from running shoes, trainers and football boots to hoodies, joggers and swimwear.
Accessories –
Sports accessories are as important as your sportswear, and Sports Direct ensures that you find the right kind of accessories for your everyday use.
Make sure to check for the Sports Direct coupons and vouchers offered during the Sports Direct sale period before you proceed with shopping.
| Sports Direct Product Category | Products |
| --- | --- |
| Men | Basketball Shoes, Football Boots, Skate Shoes, Tennis Shoes, Running Shoes, Walking Boots & Shoes, Fitness Trainers, Canvas Shoes, Trainers, Sandals & Flip-Flops, Base Layer, Boxing, Cycling, Swimming, Hoodies, Sweatshirts, Zip Tops, Socks, Underwear |
| Women | Football Boots, Running Shoes, Tennis Shoes, Skate Shoes, Canvas Shoes, Trainers, Sandals & Flip-Flops, Base Layer, Sports Bras, Cycling, Swimming, Hoodies, Shorts, Joggers, Socks, Underwear |
| Kids | Basketball Shoes, Roller Skates, Running Shoes, Football Boots, Shoes, Trainers, Sandals & Flip-Flops, Water Shoes, Fitness, Rugby, Tennis, Swimming, Boys Clothing, Girls Clothing, Shorts, Joggers, Socks, Underwear |
| Outdoor | Camping, Equipment & Accessories |
| Accessories | Badminton, Cycling, Boxing, Gym & Fitness, Swimming, Yoga, Squash, Bags, Cases, Trolleys, Gloves, Body Protection, Balls, Shuttles, Hats, Weights & Resistance, Backpacks, Boot Bags, Ladies Bags, Gymbags & Gymsacks, Umbrellas, Caps & Hats, Hair accessories, Gloves, Hats & Scarves |
How to Shop on Sports Direct?
Sports Direct offers a quick and easy approach to shopping, with a number of offers at your disposal. The top of the homepage displays all the product categories and the search icon will help you search for a specific item. You can also find Sports Direct promo codes, Sports Direct voucher codes and other discounts on the homepage.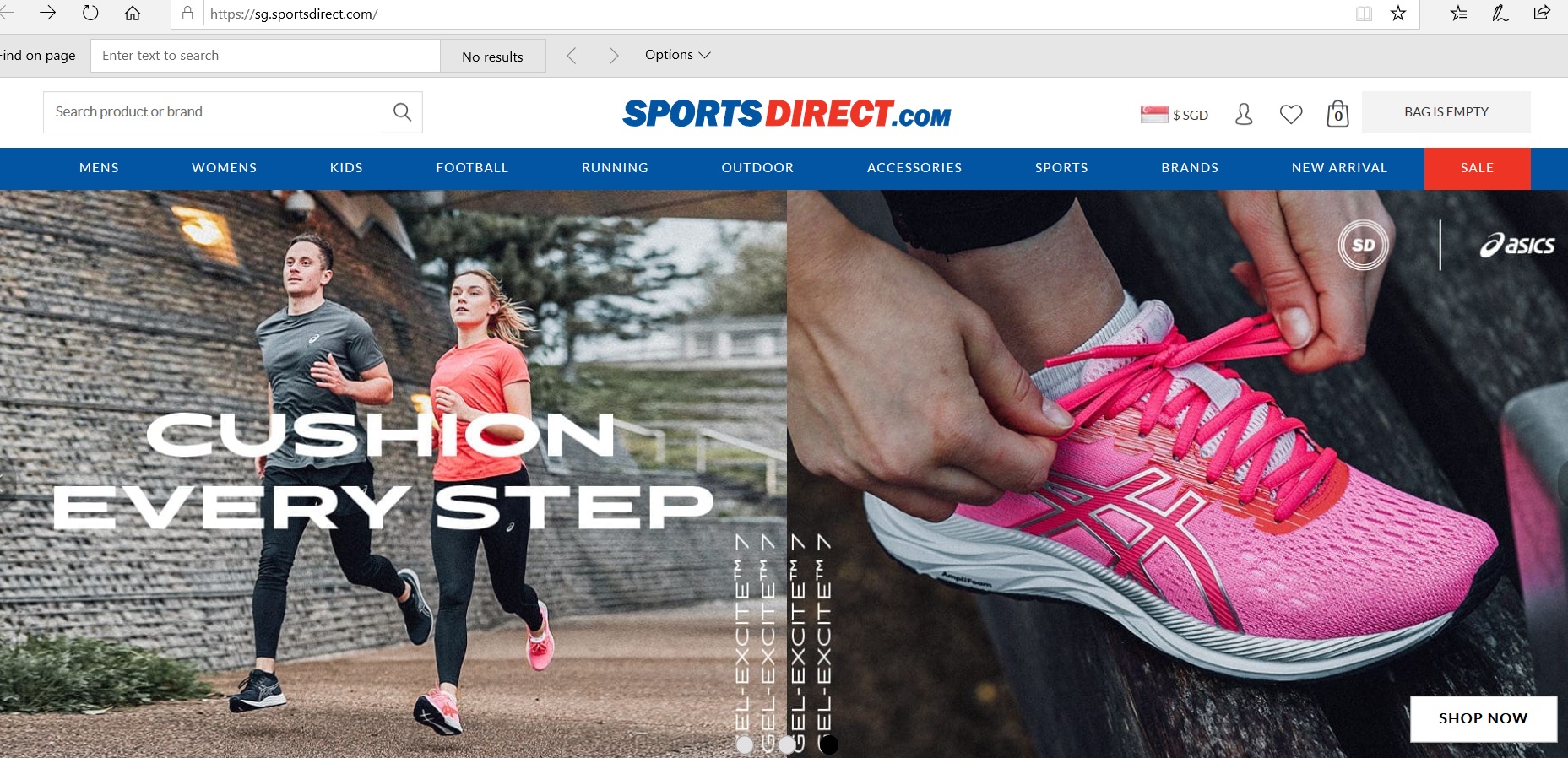 1. Select your preferred product category and sub-category. Then, select the item that you wish to buy from the available set of products.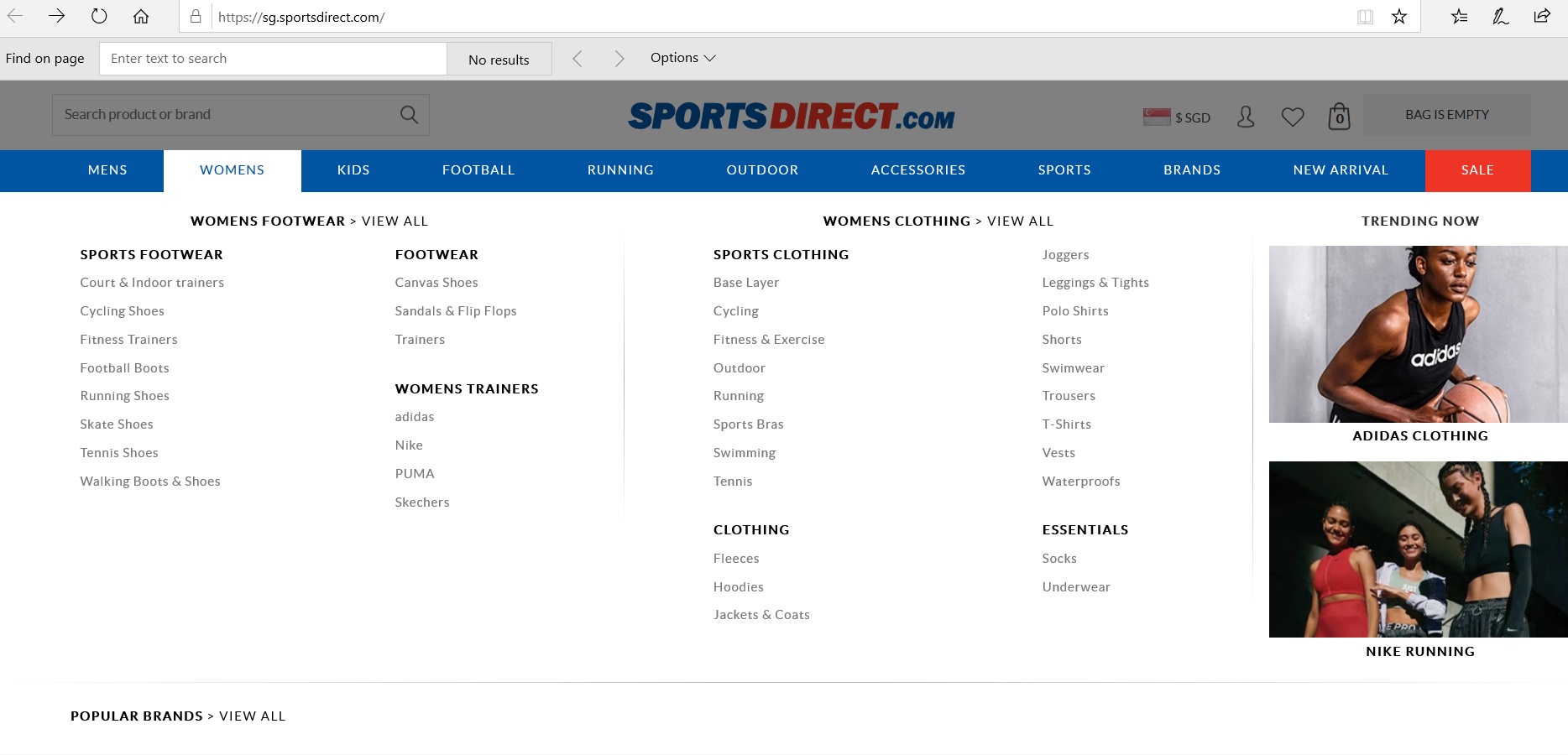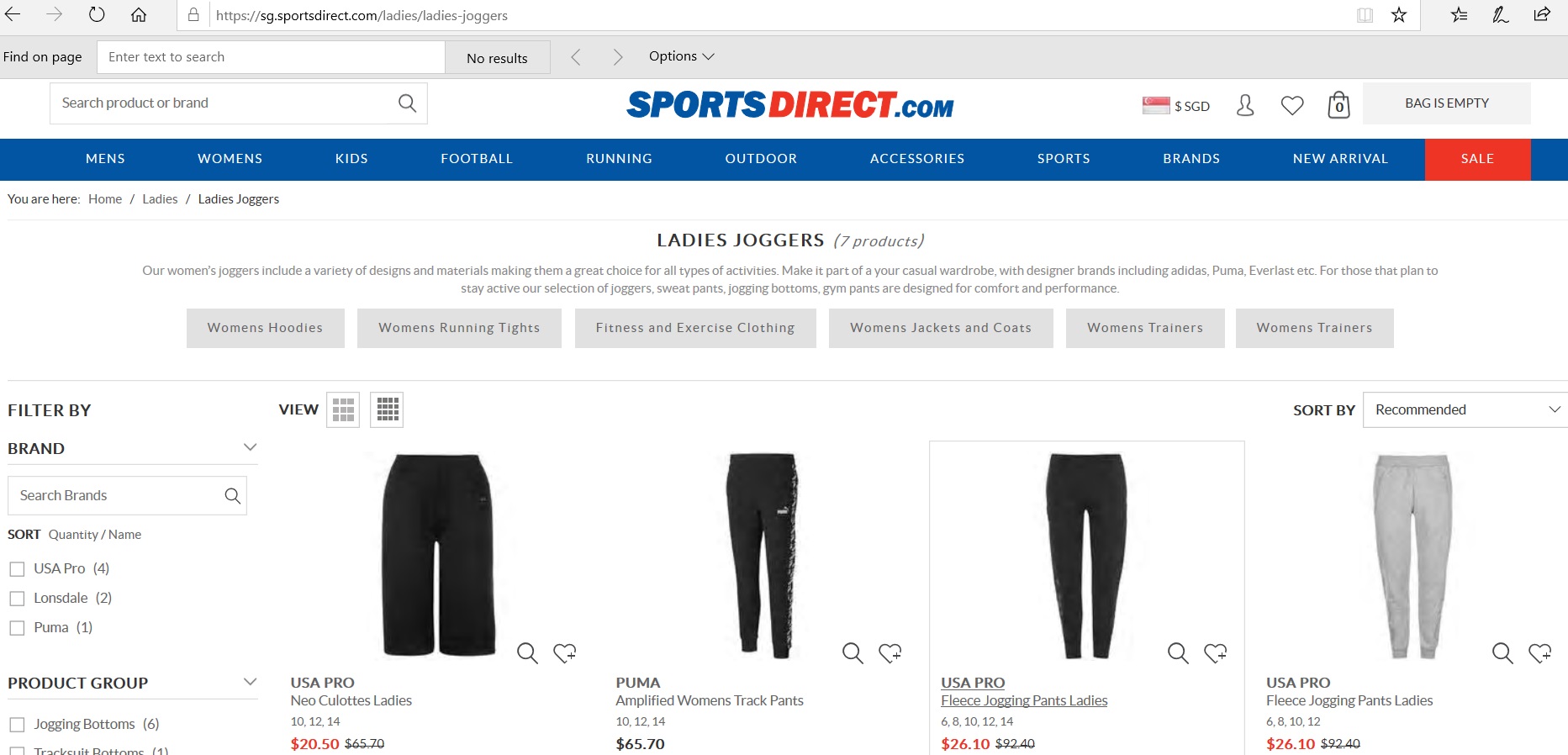 2. The product s general description, along with its price, an 'Add to Cart button and an 'Add to wishlist option will be displayed. You may go back to browse a different product or select the colour, size and quantity and click 'Add to Cart . The product will be added to your cart, after which you may continue shopping or proceed further by clicking 'View Cart .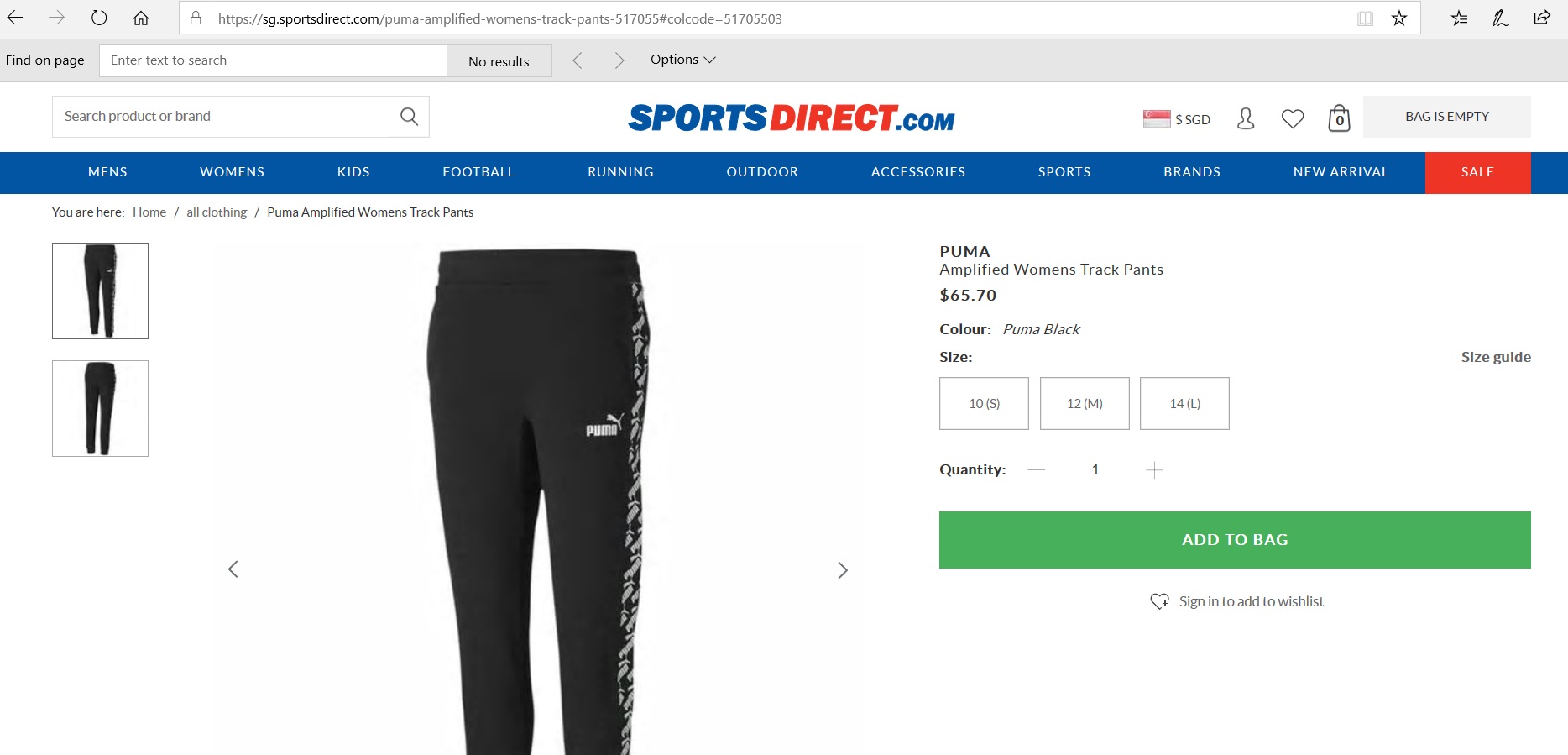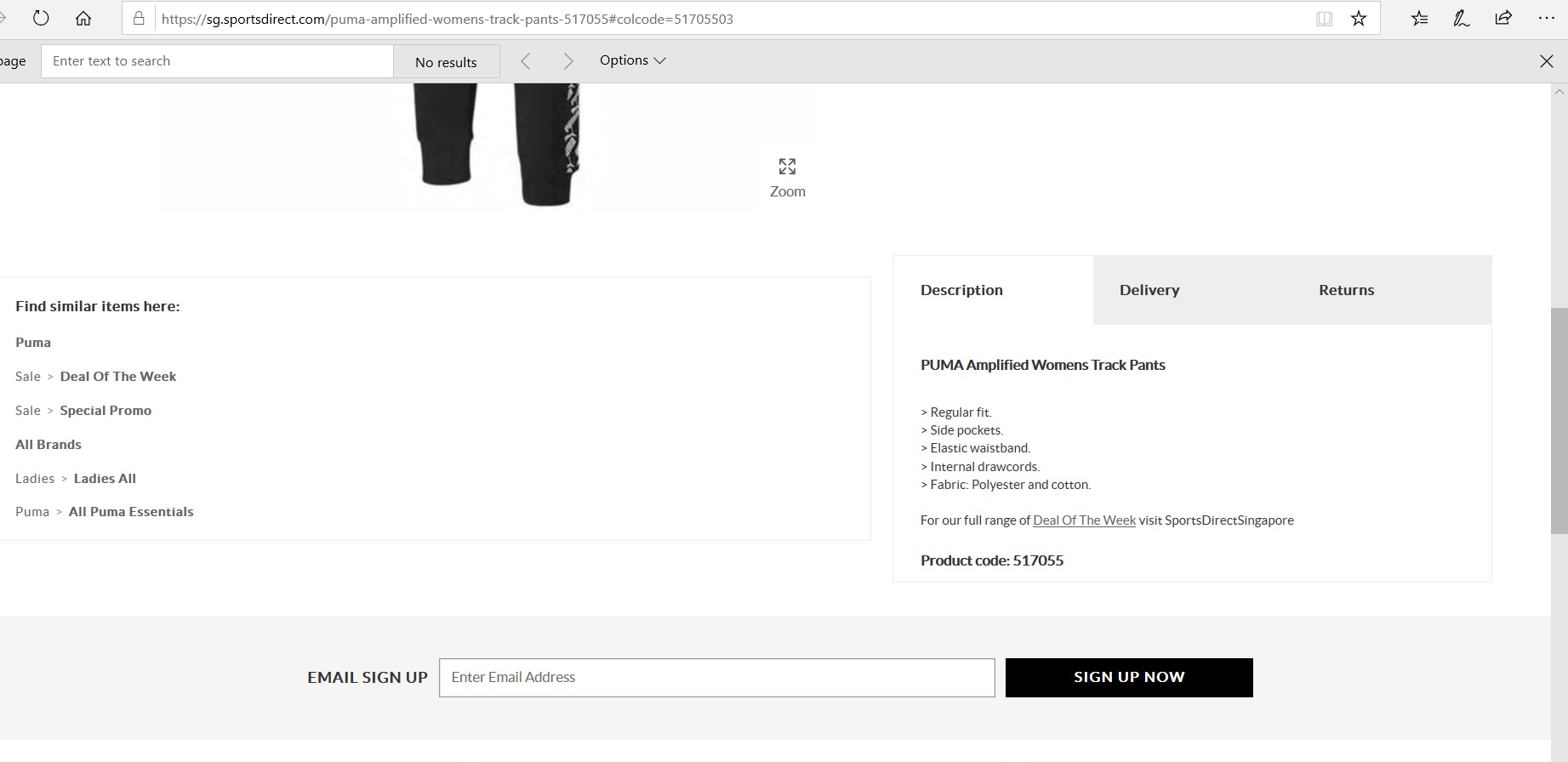 3. On the next page, you may update your cart if you wish and then enter the Sports Direct promo code in the field provided. You may then click 'Continue Shopping or select 'Continue Securely to proceed with your purchase. Sign in or register on the site.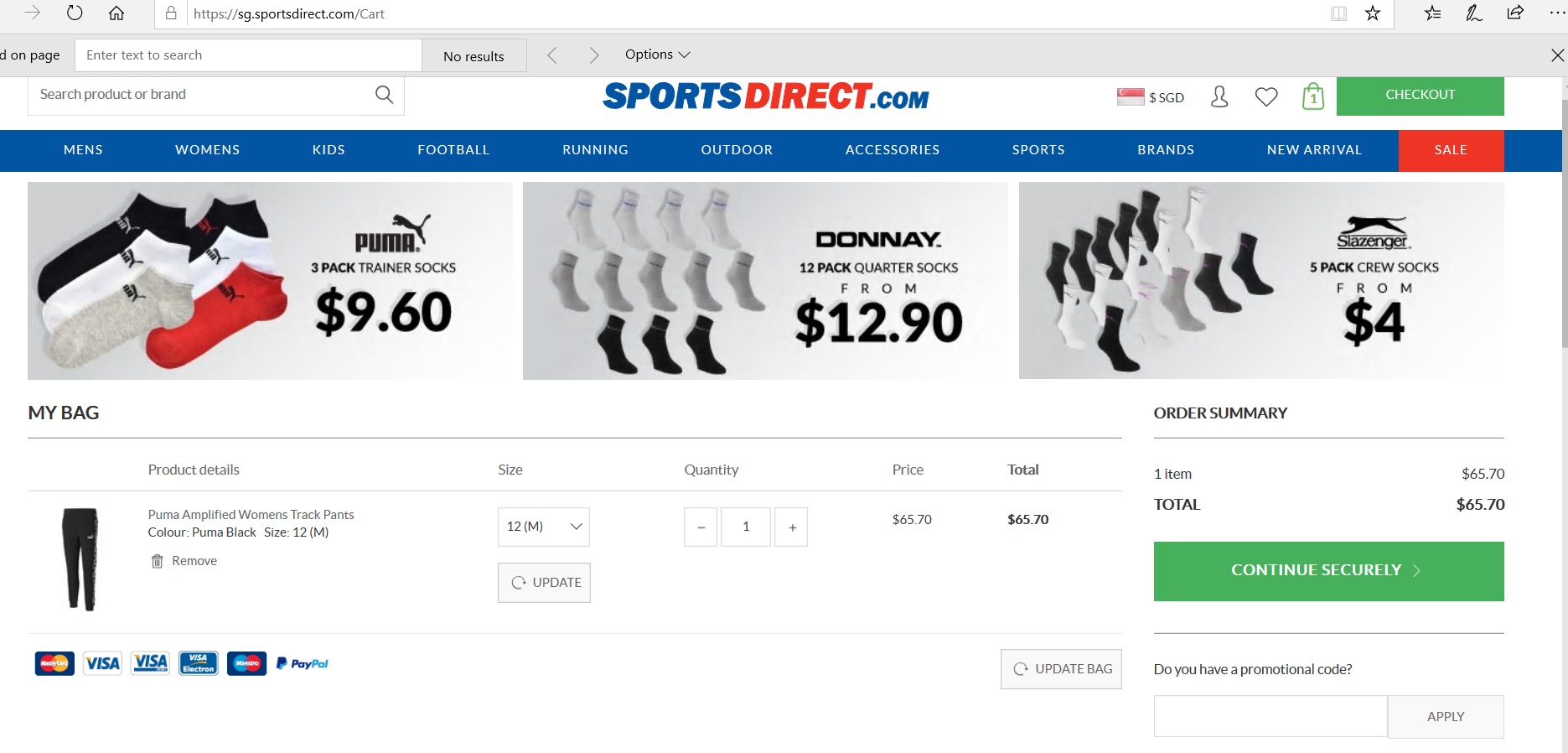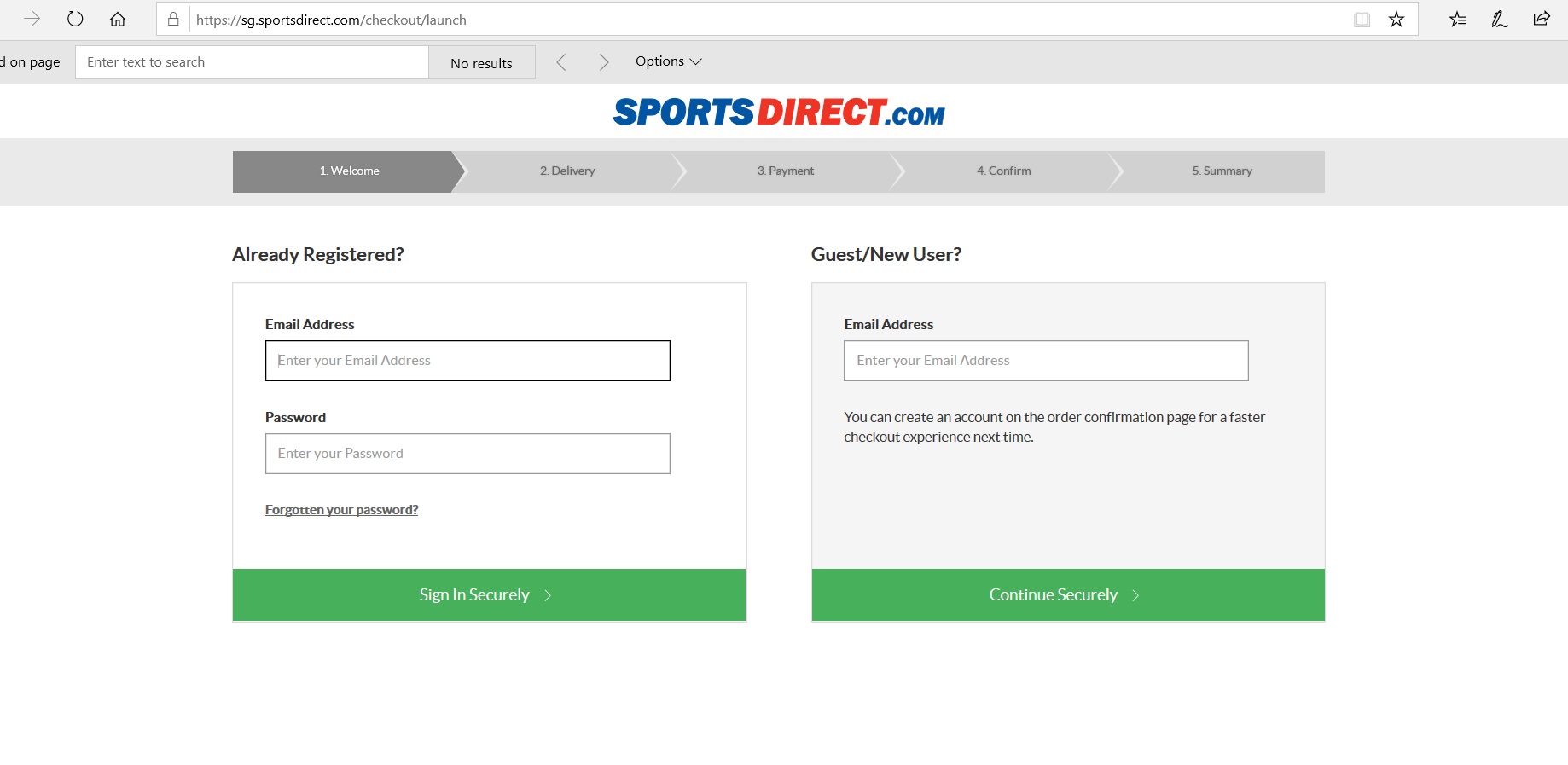 4. On the next page, fill in your delivery information and click 'Continue Securely . It will redirect you to the payment page, where you can opt to go back or choose your payment method. Enter your payment details on the resulting page and click 'Pay Now to complete your purchase.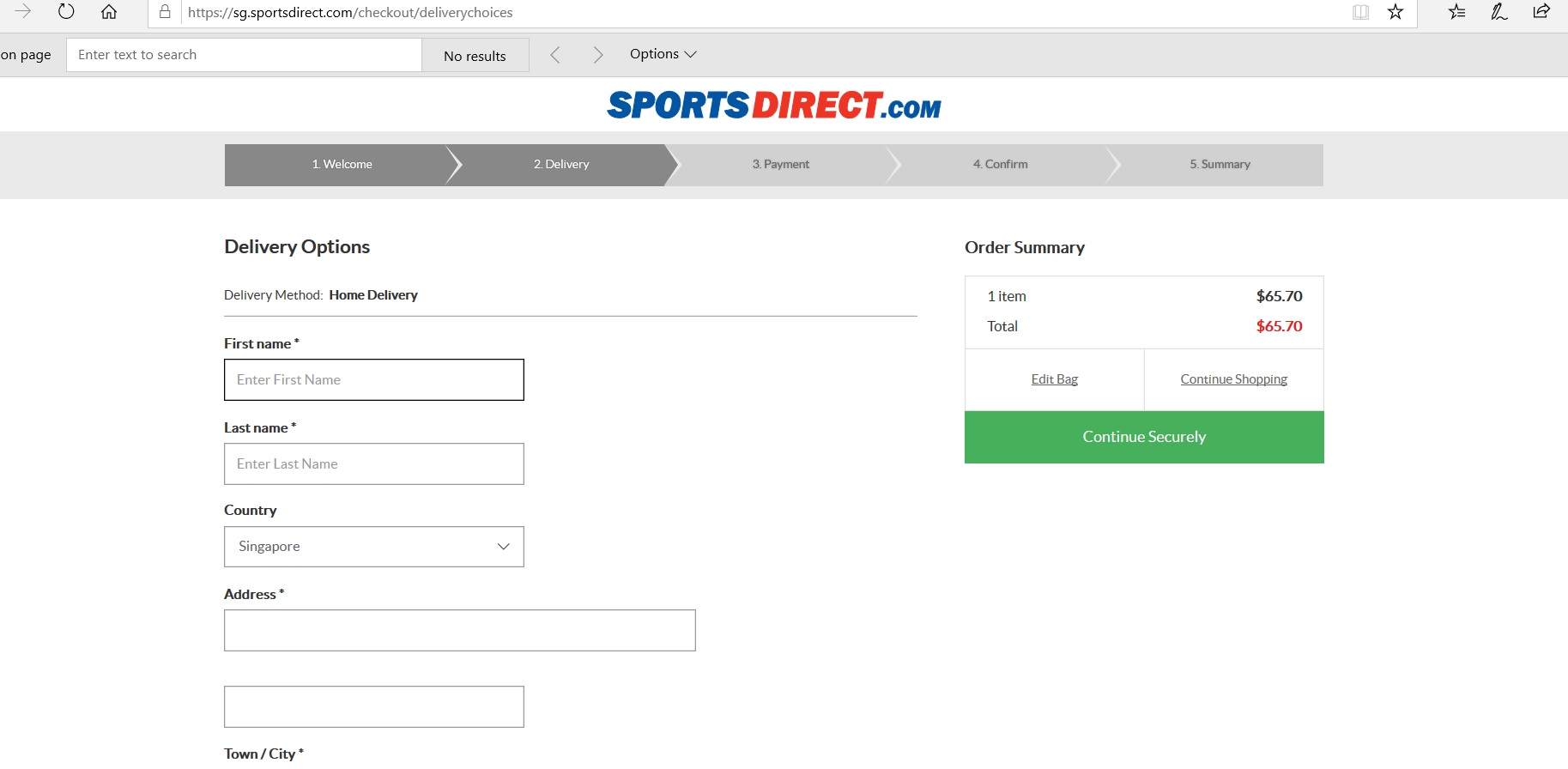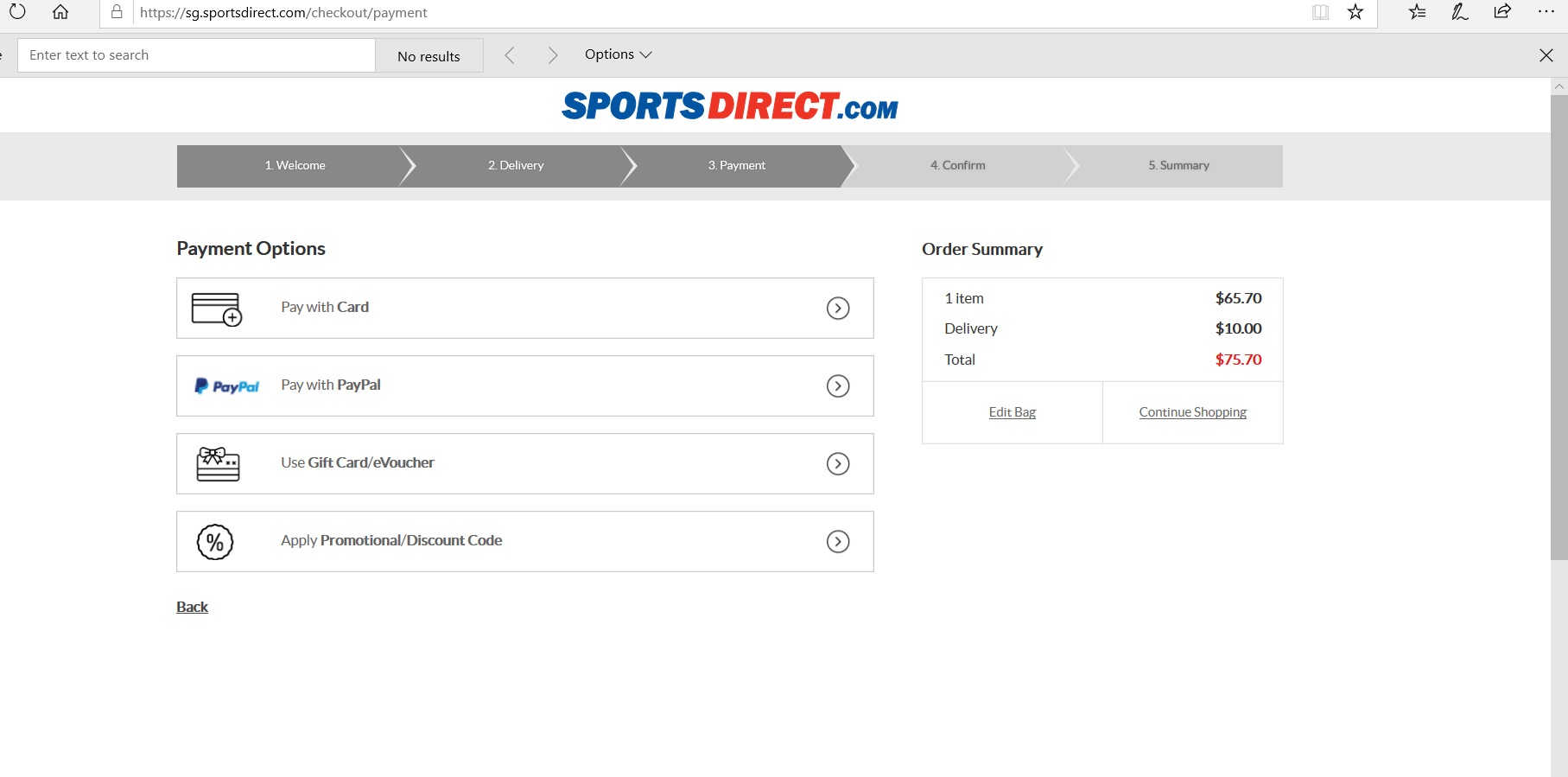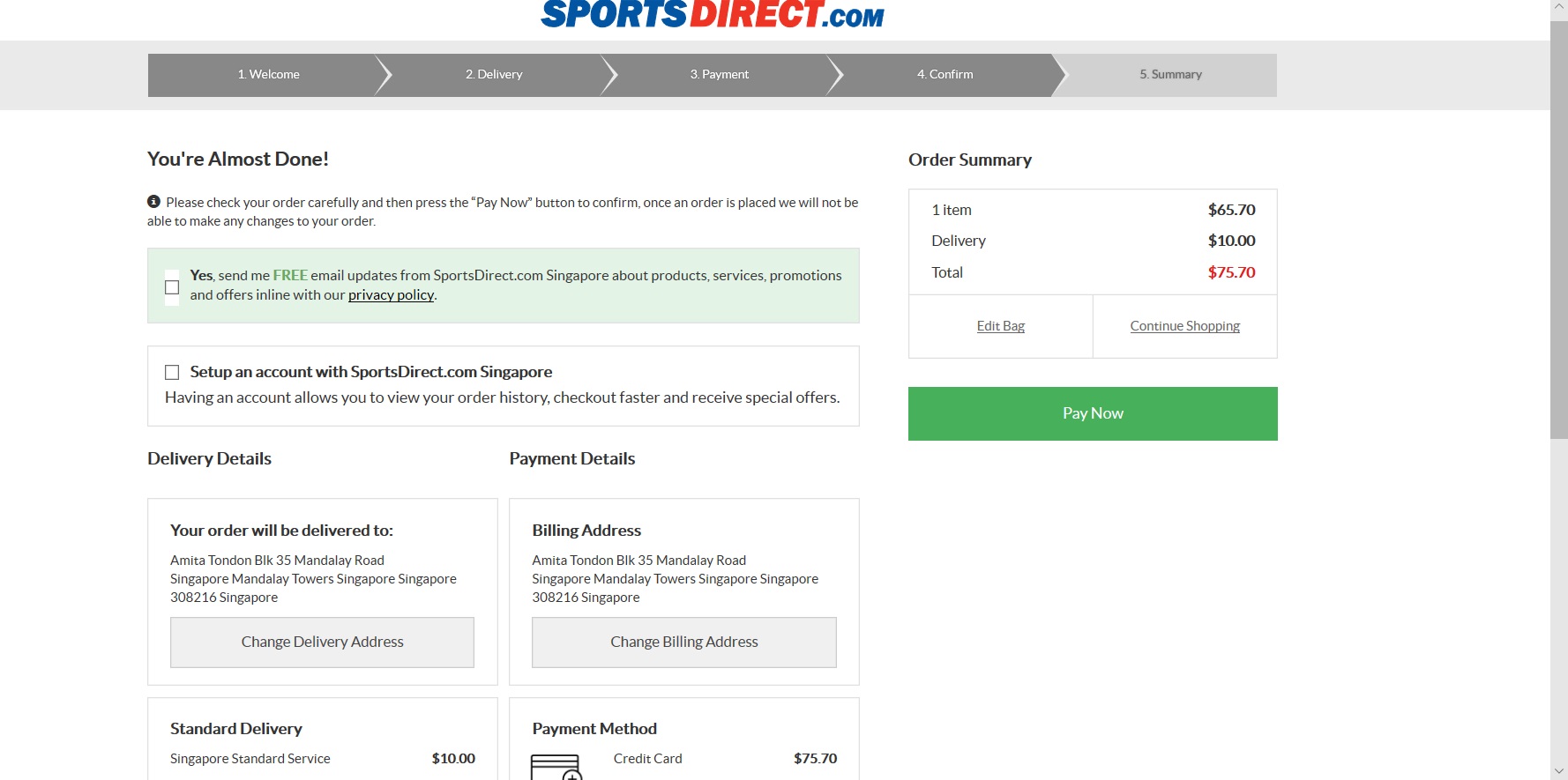 5. Once you have placed the order, all your order details will be displayed in the summary section. An e-mail will be sent to you to confirm your order details.
6. Save good money on your purchases during sale and special offers. You can avail discounts by using the Sports Direct discount codes on checkout. Ensure that you have checked for discounts and deals before placing an order.
Payment Options on Sports Direct
Sports Direct offers the following payment methods for your convenience.
Credit Card:
Sports Direct accepts credit and debit cards for online payments. It accepts VISA, MasterCard, Maestro, VISA Debit, VISA Electron and Gift Cards.
PayPal:
PayPal is a simple, quick online transfer payment method when compared to the traditional payment process. Sports Direct accepts PayPal method for all your orders, except for Pre-Order items.
Refer their Payments page for more information.
Different Coupon Codes and Discounts on Sports Direct
The website brings to you a number of Sports Direct discounts and special deals from time to time. The online deals are available up to a specific validity date. While some offers are available throughout the season, some are valid only for a limited period. Customers can save a lot of money by applying the Sports Direct codes.
If customers shop with the brand via a registered ShopBack account, cashback can be availed.
How to Redeem Coupons and Vouchers on Sports Direct?
Many customers prefer online shopping to buying from physical stores owing to the ample discounts and offers that are given online. Huge savings can be made by applying the coupons and vouchers during online shopping and that is why it is highly advantageous for shoppers.
Here is a step-by-step tutorial on how to redeem coupons and vouchers at Sports Direct:
Step 1:
Opt what you wish to buy from the displayed set of products and then click Add to Cart .
Step 2:
On the next page, enter the shipping information and other details before proceeding to checkout.
Step 3:
Proceed to the payment page. Here, you will find a box under the payment summary section to enter your Sports Direct promo code/Sports Direct coupon code or any other applicable discount codes for availing discounts.
Step 4:
Select the payment method and fill in your payment details to complete your transaction.
How to Shop on Sports Direct Using ShopBack
ShopBack offers cashback on products if you shop from Sports Direct. Follow the below mentioned steps to earn cashback from ShopBack:
Step 1:
Select Sports Direct from the list of brands on the ShopBack homepage, or use the search box to find a link to the Sports Direct website.
Step 2:
Read all the terms and conditions, the cashback details and various tips to ensure cashback.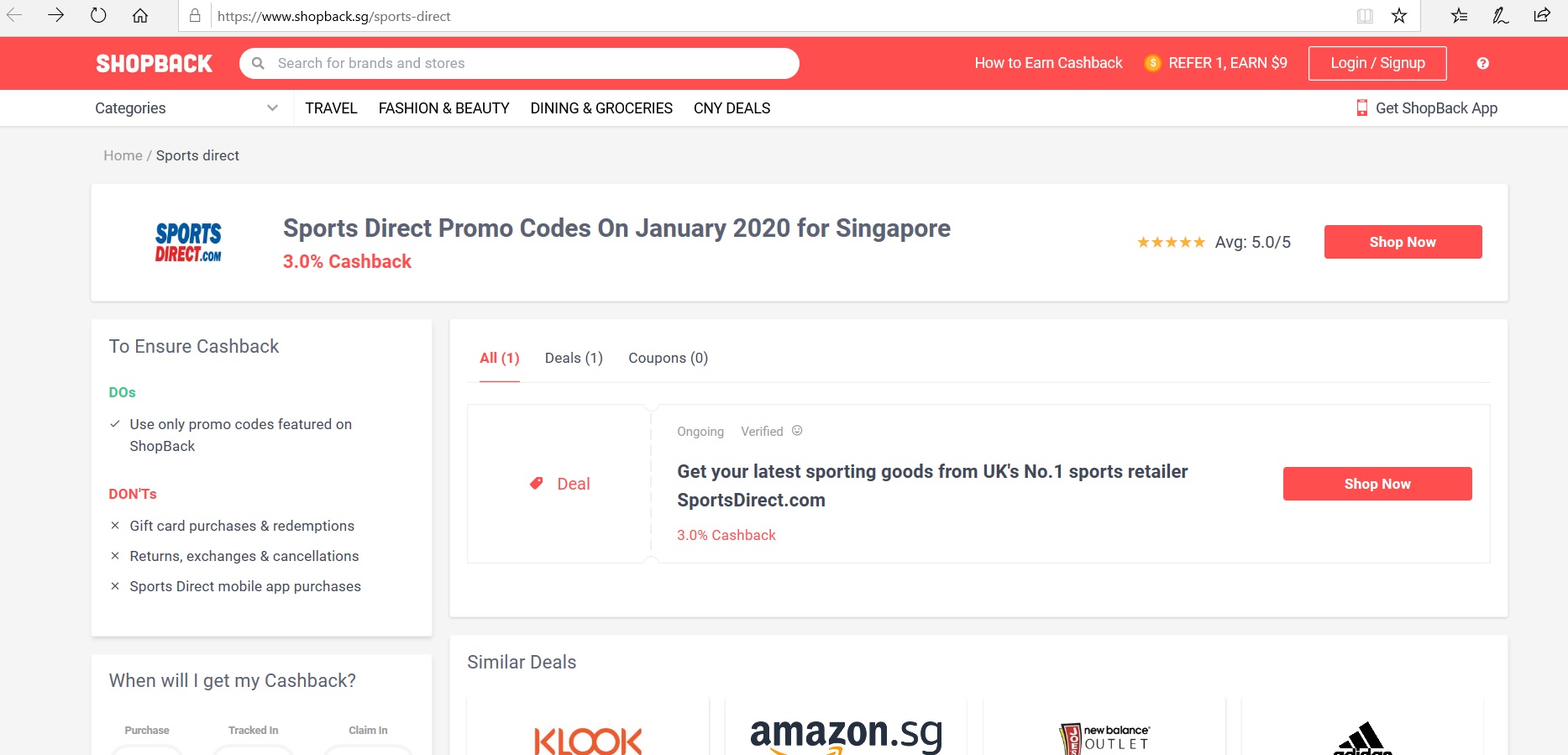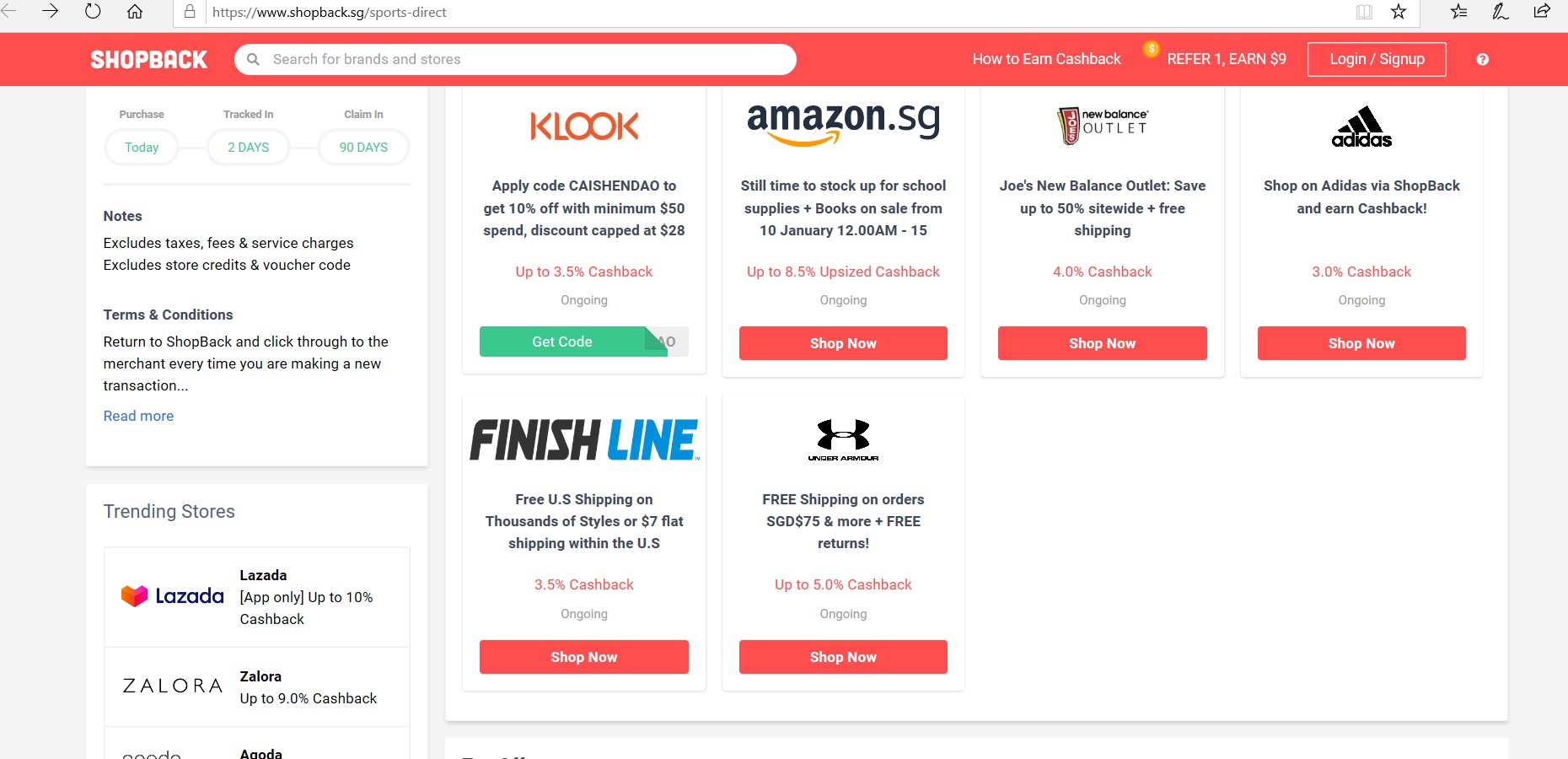 Step 3:
Click 'Shop Now on the right.
Step 4:
Customers can find more deals and offers by clicking the 'Discounts + Cashback section.
Step 5:
On placing the order, you will be eligible to earn Sports Direct cashback from ShopBack. Note that there may be variation in cashback rates depending on your history with ShopBack. Cashback offer is not applicable on purchases made via the Sports Direct app.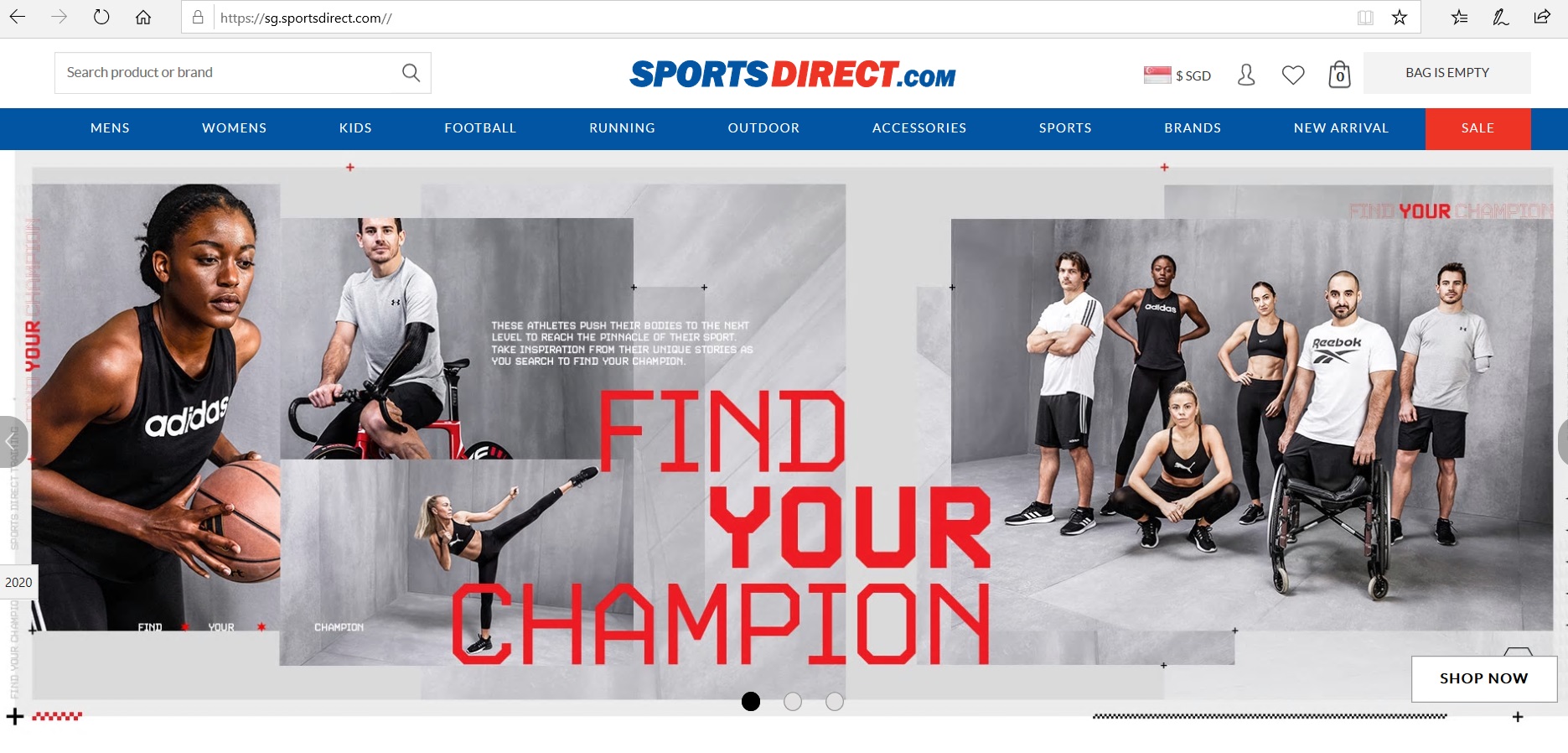 Sports Direct Shipping and Return Policy
The shipping and returns policy for Sports Direct is listed below:
Shipping:

For Standard Delivery orders, delivery will be done in 4 to 5 working days after you have placed the order (this excludes public holidays and weekends). In most areas, deliveries will take place until 9 PM. Their standard delivery charge starts from S$10. Customer charges will not be applied for an order total that falls below S$400 (including shipping fees).

Once the order is processed, an email will be sent to you regarding the same, along with your tracking number. For any pre-order items, your total order will be reserved till the launch date and it will be processed only a day before or on the day of the launch date. For pre-order items that are to be personalised, the total order will be kept reserved till the date of launch, with no 24-hour delivery guarantee on pre-order personalised items.

To ensure safe receipt of the order, you will be required to provide your signature at the time of delivery. If nobody is home, the package will be given to your neighbour or placed somewhere safe and a calling card will be left at your door to inform you about the delivery. In case of unsuccessful delivery re-delivery attempt will be made up to 3 times; and if it is still unsuccessful, the package will be returned to the warehouse, while a refund will be initiated to you. The company may also charge you for re-delivery.

Any changes to your order, including the delivery details and contact information, will not be possible once the order is placed. In case of items missing in your order, you can contact the customer care.

Cancellation and Returns:

If you wish to cancel your order, send an email to the customer care requesting for cancellation. If cancellation is not possible, it will be informed to you and you can proceed with returning the items instead. Visit their cancellations page for detailed information.

You can return or exchange any item within 14 days from order receipt, by filling the form on the Returns Form page, to the specified address, provided the items are in their original condition. Refund will be provided to your original payment method as soon as possible. Pre-ordered items that are personalised, and certain other goods (due to hygiene reasons) cannot be returned. Refer their Returns page for more information.
Sports Direct Customer Service
Customers can visit their contact us page/FAQs section for queries related to Sports Direct vouchers, Sports Direct promotions or anything in general. You can also send them an email at [email protected] or message them via Facebook messenger.