Fly like a VIP with Singapore Airlines
Singapore Airlines is one of the world s best carrier airlines in the world, offering services and hospitality par excellence. The company is known for providing world-class facilities to their passengers with their award-winning products and services. Consistently featuring among the world s best airlines and world s cleanest airlines, this Singaporean carrier makes sure that all their passengers have a memorable experience every time they travel with the Singapore Airlines. With its two subsidiaries: SilkAir, for regional flights to secondary cities, and Scoot, its low-cost carrier, the company owns a fleet of 138 aircrafts travelling to 62 destinations across the globe.
If you are planning a holiday or simply have a business to attend to in another city, choose Singapore Airlines to be your host and pamper you with their exceptional hospitality. Simply log in to www.singaporeair.com and book your tickets for your upcoming travel from the comfort of your homes!
History of Singapore Airlines
The Singapore Airlines was incorporated in 1947 with the incorporation of Malayan Airways Limited (MAL) by Liverpool, Imperial Airways and the Straits Steamship Company of Singapore. With its first chartered flight from the British Straits Settlement of Singapore to Kuala Lumpur, the company began its operations in April 1947. From May 1947 onwards, Singapore Airlines started operating regular weekly scheduled flights from Singapore to various locations in Malaysia such as Ipoh, Penang and Kuala Lumpur. In the 1950s, the company expanded its fleet as well as its travel destinations. This expansion continued throughout the 1900s and afterwards. As of today, Singapore Airlines is one of the most preferred airlines with routes to many important destinations across the globe such as Zurich, London, Frankfurt, Paris, Beijing, Mumbai, Sydney, Melbourne, New York and Los Angeles.
In-Flight Amenities on Singapore Airlines
Singapore Airlines offers various in-flight amenities for different prices. However, known for its exceptional hospitality and comfort, the Airlines every class has a lot to offer to its customers. Here is a brief summary of the in-flight amenities available.
Suites:
Offering supreme comfort and privacy, the individual cabins available on Airbus A380-800 aircrafts are the epitome of luxury. These Suites, designed by French luxury yacht designer Jean-Jacques Coste, have leather and wood interiors with sliding doors and window blinds for more privacy. The comfortable and spacious armchairs as well as a standalone bed (not one converted from your seat) ensure a relaxing and rejuvenating experience for you. Travellers are served with flavourful international cuisines on-board, prepared by acclaimed chefs. For entertainment, there are over 1,000 entertainment options such as movies, music, games, television series, etc. on a 23-inch personal LCD with Bose noise-cancellation headphones.
First Class:
Available on the Boeing 777-300ER aircrafts, the first class seats are spacious and comfortable with full-grain leather finish. These 35-inch wide seats can be transformed into fully-flat beds, complete with linen, pillows and duvet. You will also be provided with an amenity kit by Ferragamo. Similar to the Suites, first class passengers will also be served with fine dine meals prepared by notable chefs along with complete in-flight entertainment facilities including 23-inch personal LCD and Bose noise-cancellation headphones.
Business Class:
The business class is available in several aircrafts including Airbus A380, A350-900 and Boeing 777-300ER, 777-200ER. With comfortable seats and ample leg room, you will be provided with luxurious amenities such as a video touchscreen handset, an 18-inch HD enabled personal LCD with noise-cancelling headphones and superior dining experience with full table service and wines to match the food. The seats can be transformed into comfortable beds with linen, duvet and pillows. There is also a side console with eXport, HDMI and USB to allow you to charge your electronic devices.
Premium Economy Class:
These seats are 19.5 inches wide for enhanced comfort and can be reclined up to 8 inches. The seats have two built-in USB ports, dedicated stowage areas for your water bottle, headphones, laptop etc. and a fully adjustable personal reading lamp. Passengers are also offered three meal choices on board along with a selection of wine or champagne. For entertainment, the flights provide an impressive collection of 1,800 entertainment options with video touchscreen handset, 13.3-inch HD enabled touchscreen monitor and noise-cancelling headphones. You can avail great discounts on your premium economy class tickets by redeeming a Singapore Airlines promo or Singapore airlines voucher.
Economy:
With enough legroom and comfortable seats, embark on your journey on budget. The economy class, although cheaper, provides many amenities that will make your experience a memorable one. Passengers have the option of making special meal requests according to their medical or dietary requirements. The seats are equipped with a 10.6 inch LCD screen with over 1000 entertainment options. You can have a pleasant time on board watching movies, listening to music or playing games on the LCD. Some flights even allow you to stay in touch with your family and friends with internet connectivity.
How to Book a Flight with Singapore Airlines
Singapore Airlines has an intuitive website which is easy to use. Follow the steps below to book a flight with Singapore Airlines-
On the homepage of singaporeair.com, fill up the details of your itinerary. Enter your starting location and the destination, your preferred class, date of departure as well as return date, and number of passengers travelling. Click on 'Search button to find all the available flights. You can also enter a Singapore Airlines promo code in the 'Apply promo code section to earn discounts on your ticket.
You will land on the page listing all the available flights on your selected date. Go through the list and select a flight that suits you.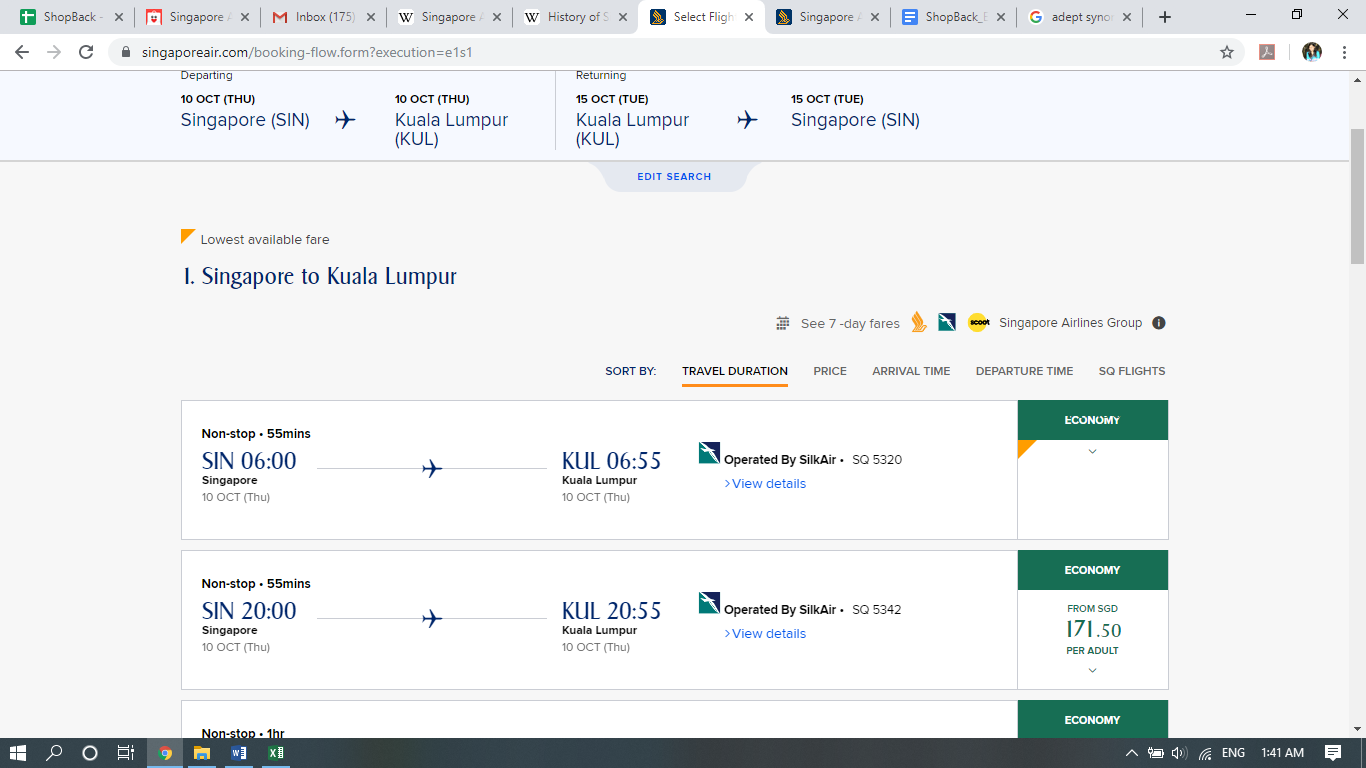 A drop down will appear displaying all the information about the flight and the seats available. Choose your preferred seat by clicking on 'Select . Once you have selected your flights and seats, a summary of fare will appear for you. Click on 'Proceed for next step.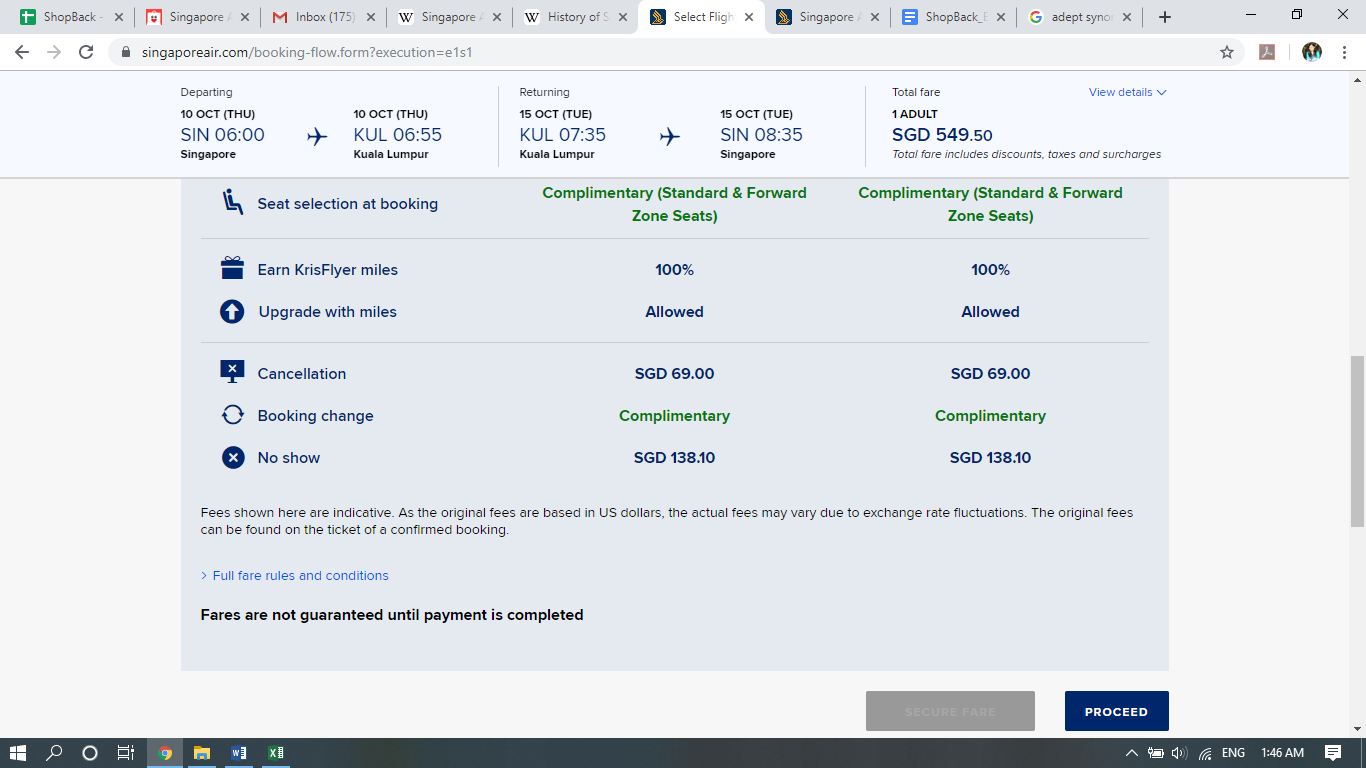 On the next page, enter the details of the passengers. Once you have provided all the information, you can continue to select your seating positions or you can skip that part and go straight to the payment section.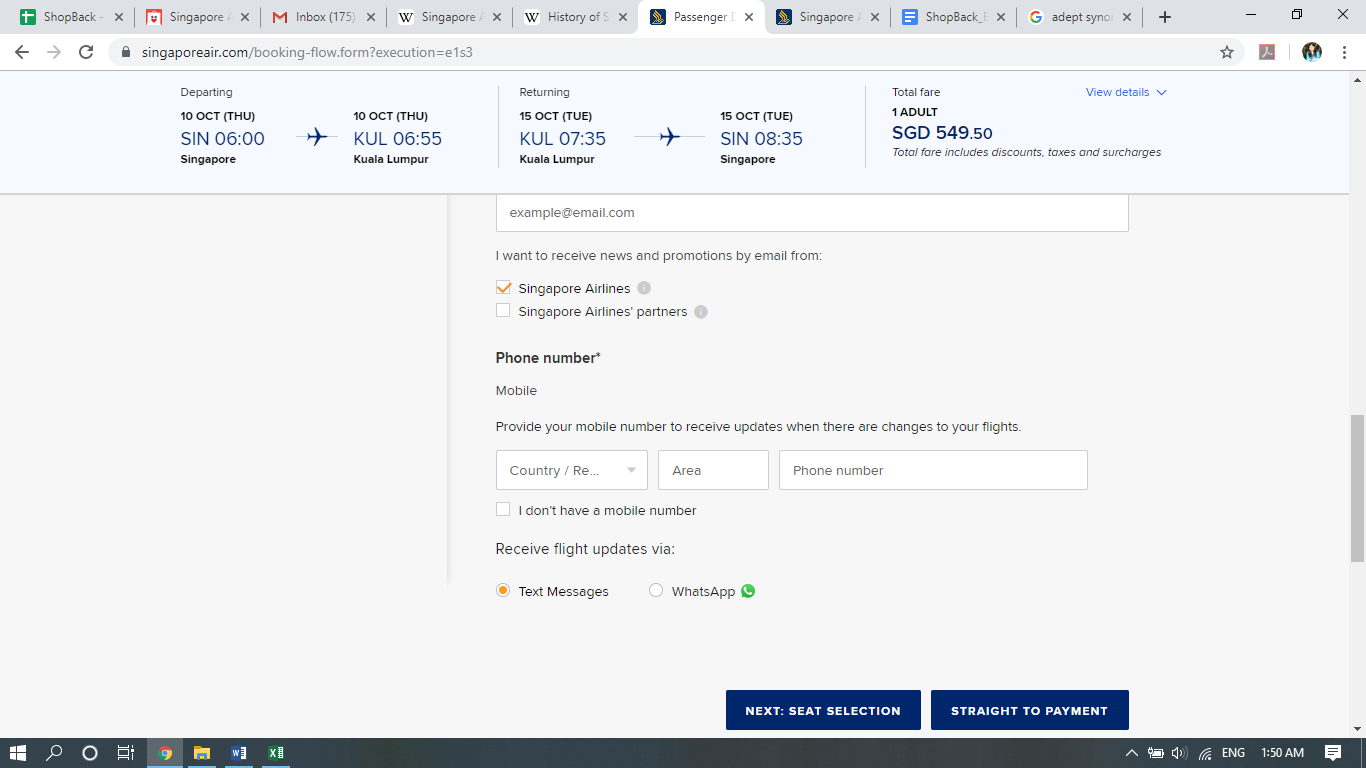 Continue to make the payment. Your flight ticket will be confirmed as soon as you complete the transaction. The confirmation of ticket will be communicated to you via text or an email.
Payment Options on Singapore Airlines
Singapore Airlines offers three payment options − debit/credit card, KrisFlyer miles and American Express cards. You can choose the payment method on the payments page and fill in the payment details to confirm the service.
Does Singapore Airlines Have Sales and Promotions?
Singapore Airlines deals and Singapore Airlines promo code 2019 are the current promotional events at Singapore Airlines. When the airline runs a promotional event, deal or sale, it issues Singapore Airlines codes that you can use when booking a flight. The Singapore Airlines promos allow you to get discounts on your bookings. To know everything about the current deals and Singapore Airlines discount, go to the homepage of www.singaporeair.com and click on the "Promotions" tab under the 'Plan Travel section. You can also check them out on ShopBack.
How Do I Use a Promo Code on Singapore Airlines?
To redeem your Singapore Airlines promo, follow the simple procedure given below.
Step 1:
On the homepage of Singapore Airlines website, under the "Book Trip" section, choose between one-way and return flights.
Step 2:
Enter the departure and arrival airport/city names, choose the date of departure/return, travel class and the number of passengers.
Step 3:
Enter the Singapore Airlines promo code in the 'Apply promo code section. Click "Search". Your voucher will be applied for discounts.
A list of all the available flights will be displayed. Select a flight and click "Proceed" to book seats.
How to Book a Flight with Singapore Airlines Using ShopBack
Singapore Airlines brings to you benefits besides discounts and offers during Singapore Airlines promotion 2019. You can book a Singapore Airlines flight through ShopBack and receive amazing cashback rewards. For this, you must first sign up with or log in to ShopBack. To do this, click on the "sign up" or "log in" link present on the top-right corner of the homepage of www.shopback.sg. By logging in, you can receive 0.5% cashback from ShopBack after you book flights. Follow the procedure given below to avail the cashback.
Step 1: Select Singapore Airlines from the list of merchants and brands under the travel section. You can also use the search box to find the link to Singapore Airlines.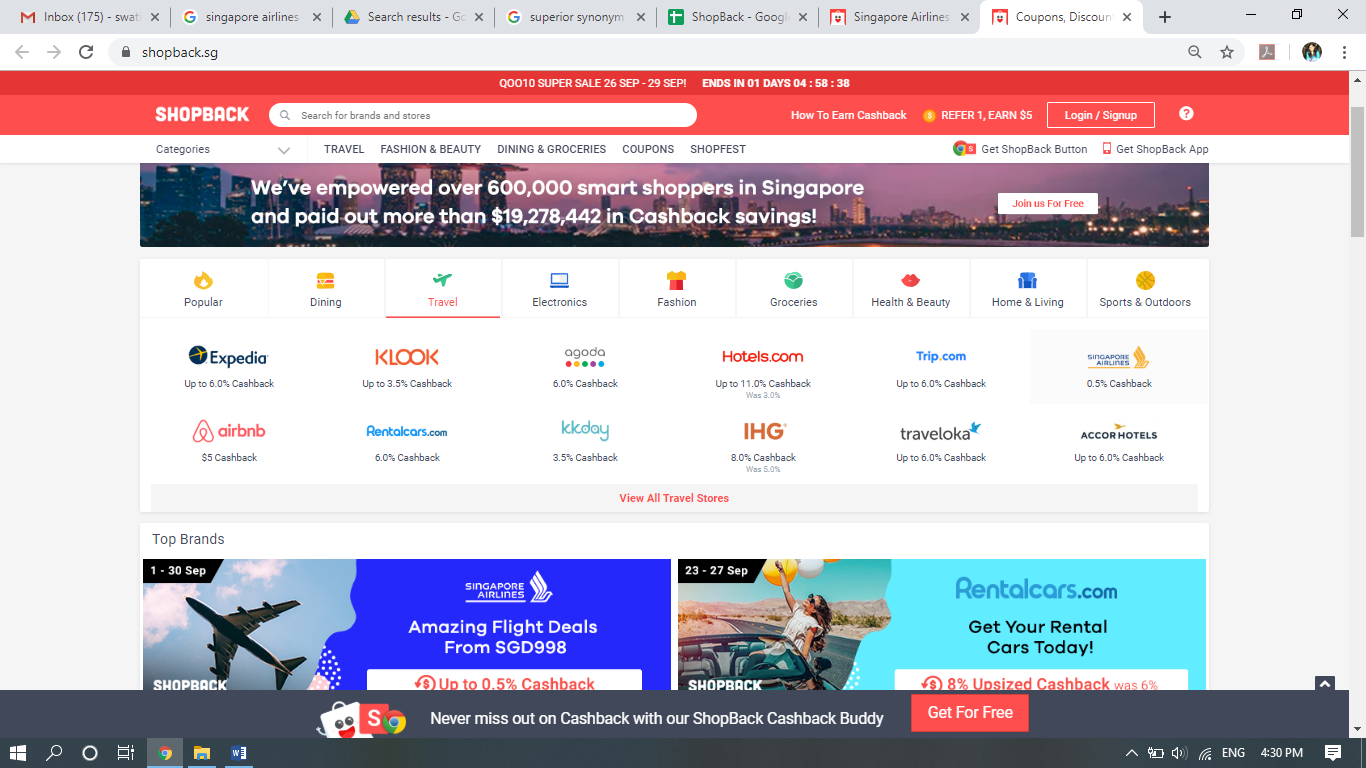 Step 2: Read the terms and conditions as well as any other relevant information provided such as the cashback details and tips to ensure cashback.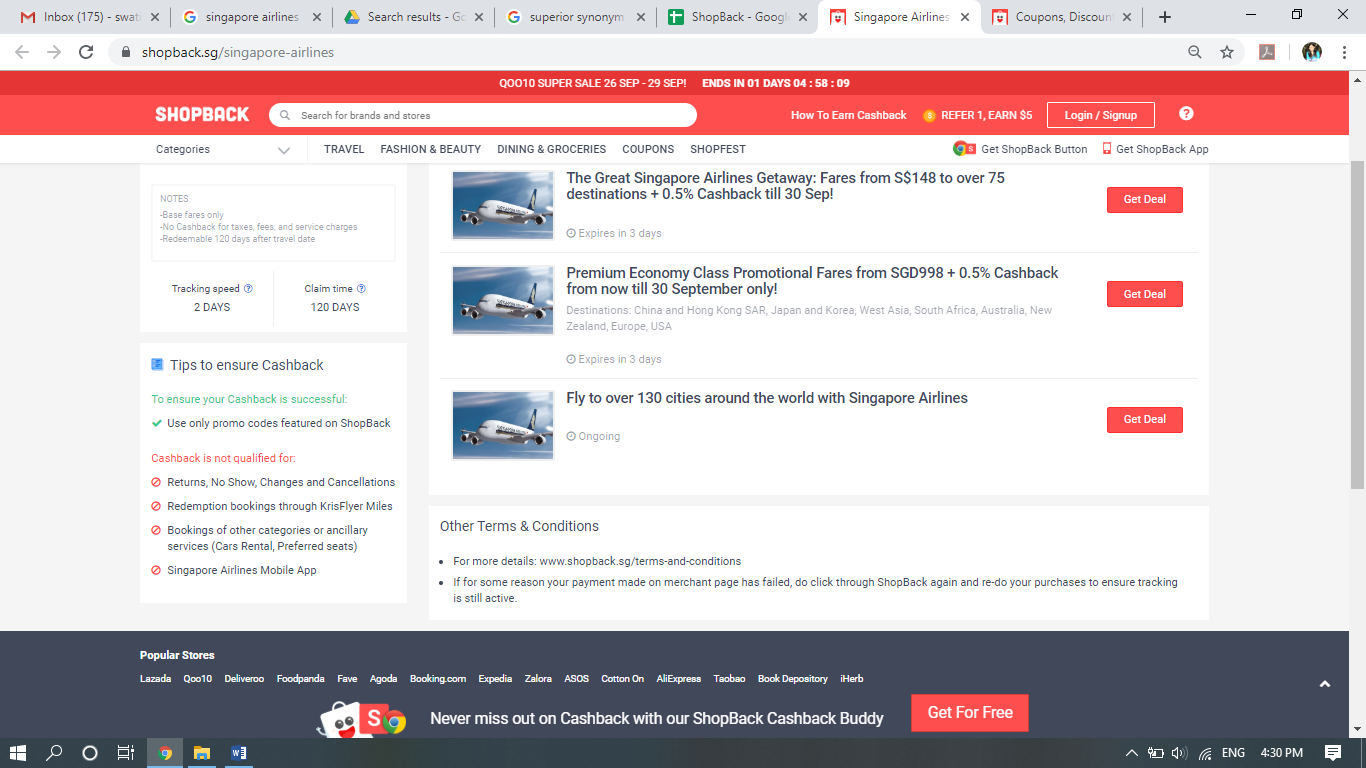 Step 3: Click on 'Activate Cashback button on the top left corner of the page.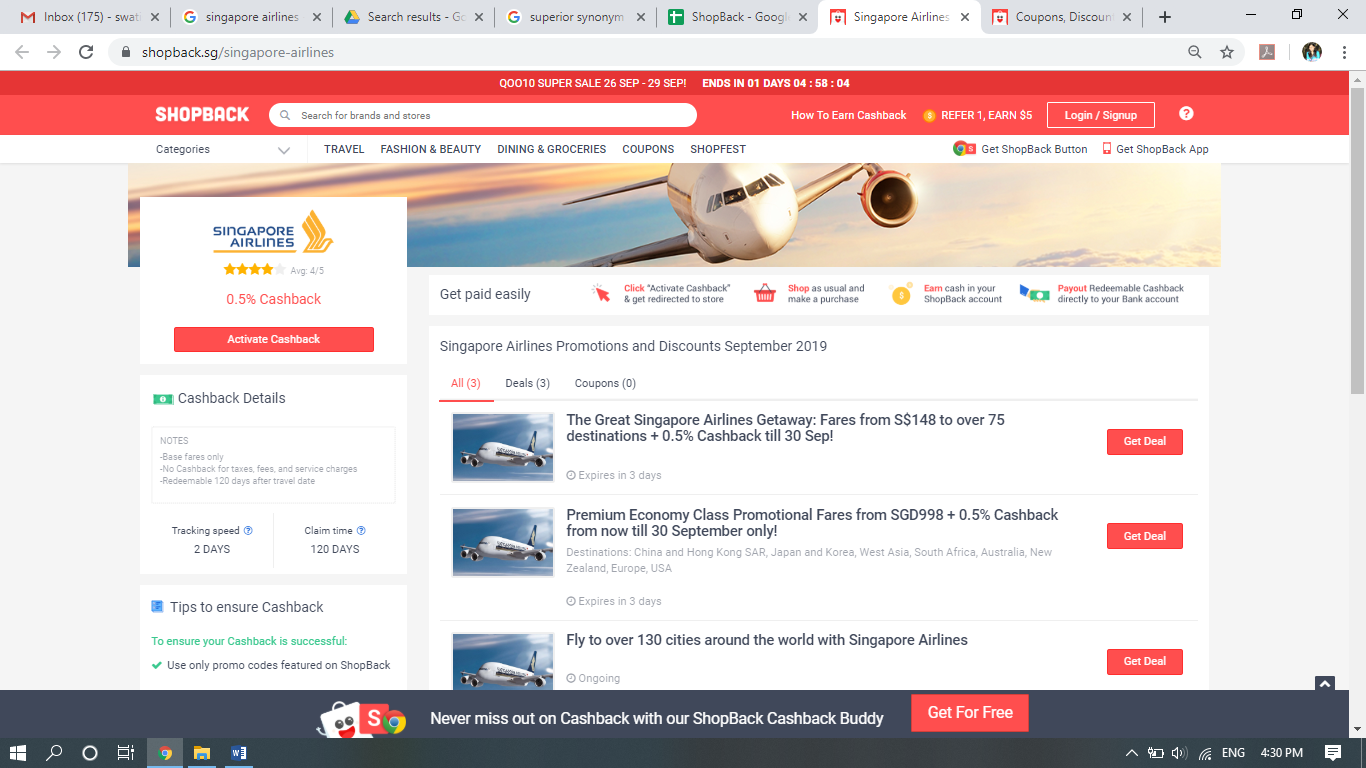 Step 4: If you are looking for more attractive deals and coupons, check out the 'Singapore Airlines Promotions and Discounts September 2019 section.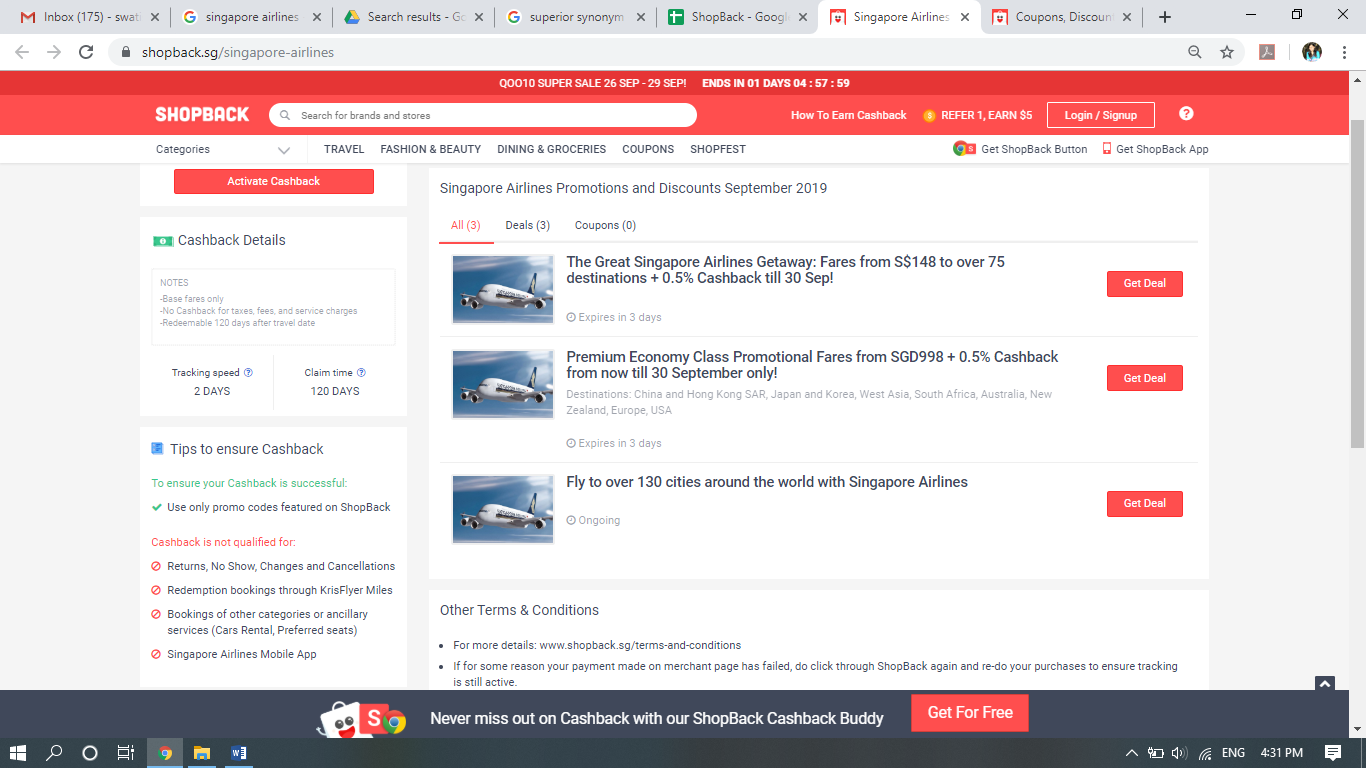 Step 5: You will be directed to the Singapore Airlines website to select the flights you intend to book.
Note:
You must not click any other link after going to the Singapore Airlines website through ShopBack. Otherwise, the cashback won t be tracked.
Singapore Airlines Cancellation & Refund Policy
If you cancel a ticket purchased on a refundable fare, you will be reimbursed upon cancellation. However, if your ticket is non-refundable, then only the taxes will be refunded. The refund amount will be credited to the debit/credit card used for purchasing the ticket. A cancellation/refund fee may be applicable in some cases. Make sure to cancel the ticket within the deadline mentioned on your booking to qualify for a refund.
Singapore Airlines Customer Service
For any assistance or query, you can reach out to Singapore Airlines by contacting their local Singapore Airlines office or by filling up their contact form on their official website. Go through their 'Support section at the bottom of the homepage. Here, you will find the feedback form as well as the closest local Singapore Airlines office details.
Connect with Singapore Airlines on: