Singapore Airlines Visa Discount Codes, Promo Codes & Coupons
Singapore Airlines Offers Tickets from $208 to Vietnam
Book a round ticket flight to Vietnam this October 2017 with Singapore Airlines deal from only $208. Price inclusive of taxes and surchages. Used by 61 users this week
Singapore Airlines Offers $258 for Round Trip Tickets to Hong Kong!
Pay only $258 if you book your ticket to Hong Kong 30 days before actual date of trip with this Singpaore Airlines offer. Valid from now till May 2018! Used by 47 users this week
46% Off Singapore Airlines Deals to Hong Kong
Save up to 46% off when you use this Singapore Airlines deal to get a return flight ticket to Hong Kong! Used by 67 users this week
Singapore Airlines deals:The comfort of Premium Economy from only $948!
Singapore Airlines Premium Economy lets you enjoy all the luxuries without having to pay a premium! With Singapore Airline deals meaning you only have to pay from $948! Used by 45 users this week
Singapore Airlines deals: Earn 1.5 Krisflyer miles per $1 for travel activities!
Enjoy 1.5 Krisflyer miles for every $1 spent on travel activities worldwide with this awesome Singapore Airlines deal! There are over 12,000 things for you to do from all over the world! Used by 70 users this week
Singapore Airlines voucher lets you earn 500 KrisFlyermiles free!
Earn 500 Krisflyer Miles when you use this Singapore Airlines voucher. Offer valid for a limited time!
Singapore Airline deals for 2 Krisflyer Miles for every SGD1 spent for AMEX Cardholders
Earn 2 Krisflyer Miles for every SGD1 spent online on air tickets booked directly from Singapore Airlines website or mobile app when you pay with your American Express card. Only valid for flights departing from Singapore. Used by 85 users this week
0.5% Cashback when you book Singapore Airlines flights via ShopBack today!
Please see Terms and Conditions below for full details.
Cashback is available on all cabin classes, including Suites/First Class, Business Class, Premium Economy Class and Economy Class

For more details: www.shopback.sg/terms-and-conditions

If for some reason your payment made on merchant page has failed, do click through ShopBack again and re-do your purchases to ensure tracking is still active.
Recent Articles
More about Singapore Airlines Visa
Find the best way to fly to your next destination on Singaporeair.com
Founded in 1972 as the flag carrier of Singapore, Singapore Airlines is recognised globally as one of the world's top international travel brands, and currently holds the second position in the Skytrax World Airline Awards rankings. Singapore Airlines was also, notably, the launch customer for the Airbus A380, the world's largest passenger aircraft.
Singapore Airlines offers up to five cabin classes: First Class, Business Class, Economy Class, as well as Singapore Airlines Suites and Singapore Airlines Premium Economy Class. These two signature classes are only available on certain flights and offer travellers a wider range of choices for their every need.
Finding the smoothest trips to destinations all over the world has never been more foolproof with singaporeair.com. Searching for flight fares, managing bookings, and even checking in online are conveniently fuss and hassle-free, and customers can quickly find flight promos and hotel offers on the website that are incredibly easy to apply.
In an increasingly digital world, Singapore Airlines understands how crucial it is that their website is constantly updated and upgraded for every customer's ease and convenience. Coupled with other praiseworthy service mindsets and practices, it is with a continual spirit of excellence that Singapore Airlines has managed to sustain its long-time world-class status.
It's no question- While traversing the world on one of the youngest fleets, and experiencing the graceful service of the authentic Singapore Girl, travellers from all walks of life can be assured of an unforgettably comfortable and smooth journey to their next great city, or country.
Singapore Airlines offers the best services, rewards, and promotions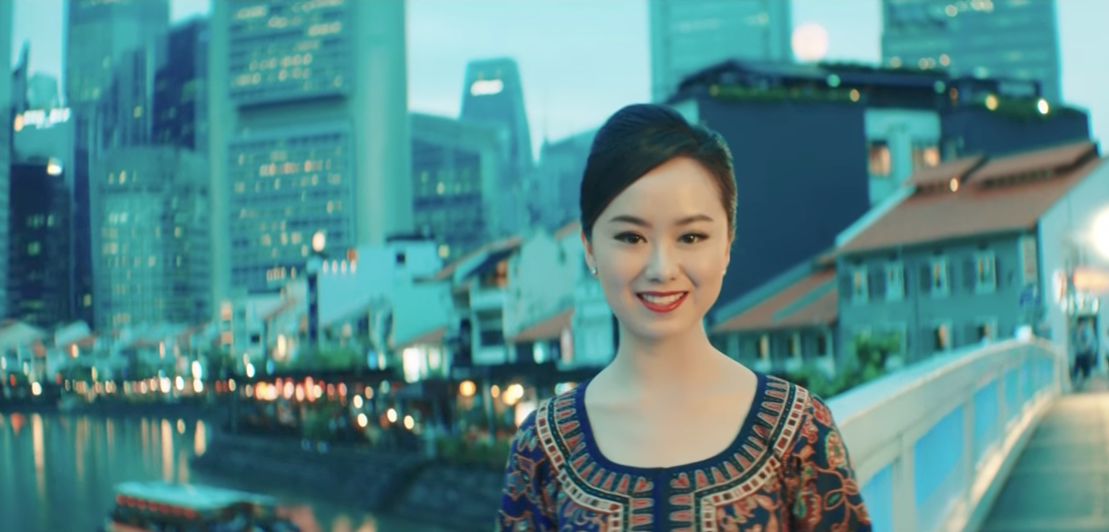 Singapore Airlines is dedicated to providing the best air-transportation services with flights across five continents and countless top destinations like Perth, Japan, and Hong Kong. With its well-maintained aircraft fleet and impeccable standards, SIA is the airline that other airlines talk about.
Atop of an unparalleled service crew and perfectly manned fleet, Singapore Airlines also offers an extensive menu onboard each flight that is further complemented by their "Book the Cook" service; which is specially available to passengers travelling on Suites, First Class, Business Class and Premium Economy Class.
With "Book the Cook", passengers get to choose from a wide selection of meals, including creations inspired by Singapore Airlines' International Culinary Panel, up to 24 hours before your flight. Each passenger's 'Book the Cook' choice will then be served as the main course of their inflight menu.With KrisWorld, Singapore Airlines' inflight entertainment system, travellers can also spend their commute watching the latest blockbusters and films, playing games, or even learning a new language.
When you fly with Singapore Airlines, you can also enjoy unlimited access to international magazines and newspapers on the SingaporeAir app. Simply Download the magazines on your mobile device 48 hours before and 24 hours after your flight and start reading anytime you want.
Singapore Airlines also offers the KrisFlyer loyalty program that is sure to give back with each flight you take. Earning KrisFlyer miles is easy, and so is redeeming them for award tickets and flight upgrades. Customers can choose flights to over 1,000 destinations in more than 170 countries.
Plus, you can also mix miles and cash to pay for all or a part of your airfare when you book your next Singapore Airlines or SilkAir flight on singaporeair.com.
You can sign up today and start earning miles straight away with Singapore Airlines, SilkAir and more than 200 partners in the air and on the ground.
Ready to book your SIA flight? It's a total breeze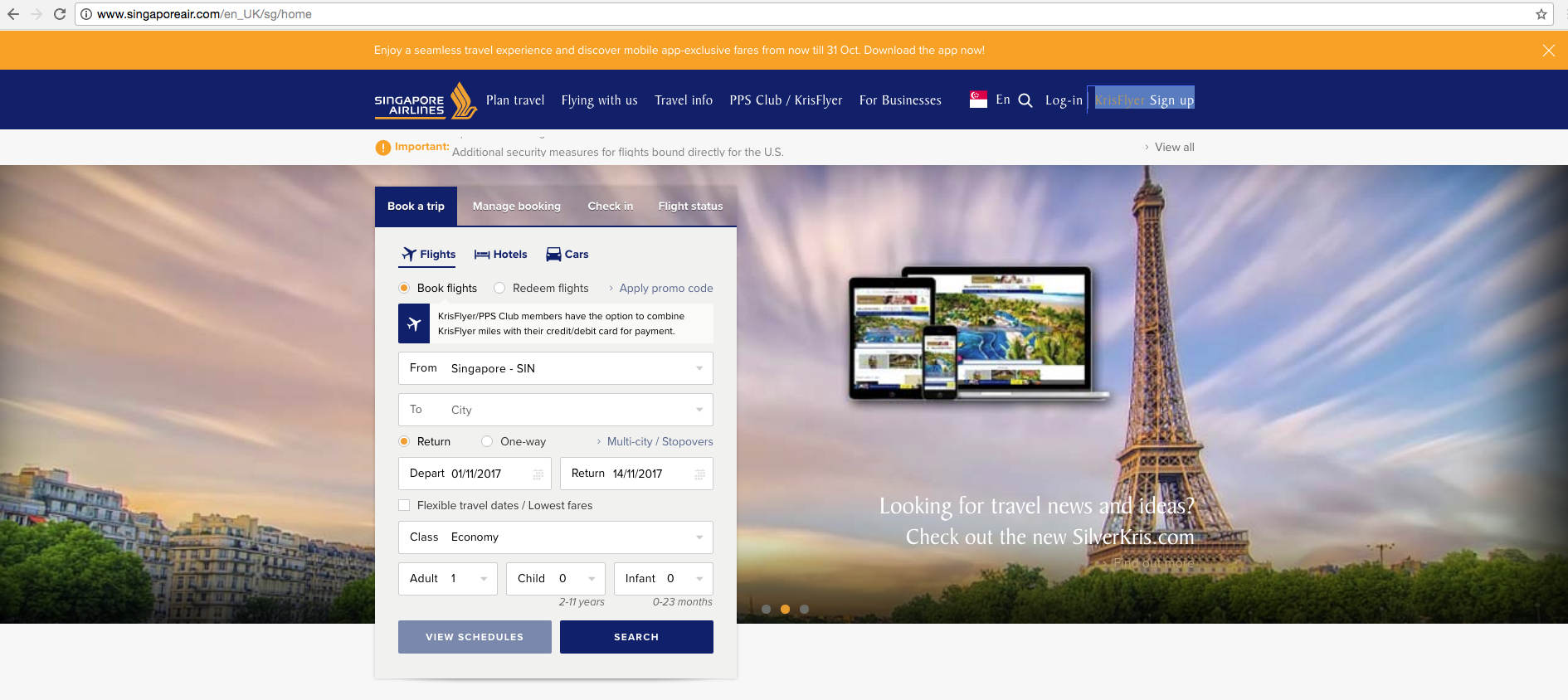 With Singaporeair.com you can easily book your next flight. It's almost too easy with SIA's user-friendly website! Simply choose your city of departure, and your dream destination, and pick your date and number of passengers.
Singapore Airlines offers year-round discounts and sales that are sure to get you all fired up for your next trip. Be sure to check out the latest deals before you fly. Whether your holiday is happening early in the year in February, or during the holiday season from October to January, Singapore Airlines is sure to have a great deal in store for you.
When you fly with Singapore Airlines, you are entitled to a generous baggage allowance across all classes of travel. If your baggage exceeds this free allowance, additional baggage charges will apply. So be sure to purchase the extra baggage allowance that you need before your flight!
The same weight and baggage size limitations apply to additional baggage as they do to free checked baggage. For customers who have exceeded their weight limit, they can pre-purchase additional baggage allowance online at up to 20% discounted rates, which will definitely help save precious money and time for a faster and smoother check-in at the airport.
If you are a frequent flyer, you will definitely want to download the Singapore Airlines app. Travellers can receive personalised updates on upcoming flights via the app's home screen, manage bookings, check-in, and even view boarding passes with a simple click of a button.
For families travelling with infants, you'll be pleased to know that meals suitable for infants are available on all Singapore Airlines flights, except those to and from Singapore and Kuala Lumpur. Simply request the meal when you make your booking, and the same type of infant meal will be provided for all the flights in your itinerary.
General baby amenities such as diapers, disposable bibs, feeding bottles, and baby wipes are also available, so you and your child will be comfortable all the way till you reach your destination. You may also change your assigned seat to a bassinet or a non-bassinet seat for your convenience. Singapore Airlines has got every type of traveller covered.
Pay easily on Singaporeair.com with a multitude of options
Among a multitude of internationally recognised credit and debit cards, Singapore Airlines also accepts Paypal payments. Customers can also use Apple Pay and Android Pay for fast, simple and secure payment on the SingaporeAir mobile app.
Please note that passengers are not able to change your itinerary, cancel your flight and/or request for a refund on singaporeair.com if you've paid using PayPal. Please get in touch with your local Singapore Airlines office instead. Additional charges, if any, are payable with your credit/debit card.
Wherever your travels take you, you can also make your trip even easier with the Singapore Airlines app, which you can use on your iPhone, iPad, Apple Watch and Android phones.
With such easy payment options, it's entirely up to you where you'd like to go next. With Singaporeair.com your trip to Hong Kong, France, Sweden, and more, is simply at the tip of your fingers.
Singapore Airlines: Regulations and rules that promote your well-being
Singapore Airlines is dedicated to every passenger's welfare and safety, and therefore adheres to the highest security measures that ensure a peaceful flight for every customer.
Do note that Singapore Airlines is unable to accept any item above 32kg as checked baggage, and these items may have to be re-packed or sent as cargo. Get in touch with your local SIA Cargo office prior to your travel if you wish to transport any item above 32kg as cargo.
For passengers who have flown part of their itinerary and wish to cancel their remaining flight, they can easily do so by entering their Booking Reference number in the Manage Booking section of the Singaporeair.com website.
If you have purchased a ticket on a refundable fare, you can request for a full refund on the Singapore Airlines website. However, cancellation/refund fees may apply. If you cancel a non-refundable ticket, only the taxes will be refunded.
To do so, you can simply:
Enter your Booking Reference in the 'Manage Booking' section;
Click on the 'Cancel booking' link; and
Be guided through a few easy steps.
If you have purchased a ticket in the USA and travelling to or from the USA, you may cancel your ticket without penalty within 24 hours of your booking – as long as it is more than a week before your flight departs. To ensure that you get a full refund, your cancellation must be made with your local Singapore Airlines office. Singapore Airlines is dedicated to ensuring your last-minute changes and plans are made hassle-free.
Shop Singaporeair.com with Shopback for the best promo codes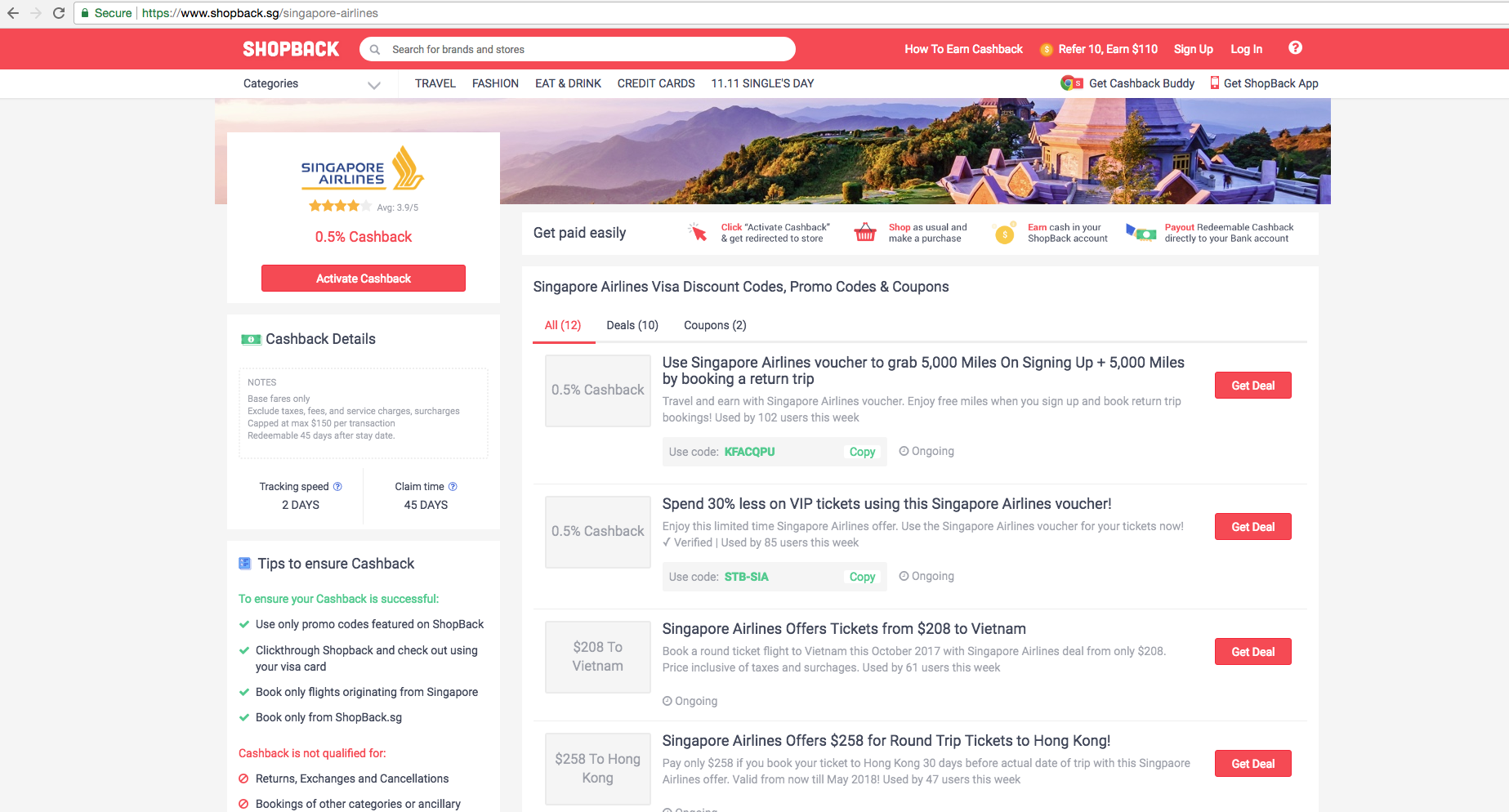 We understand that flights are not the cheapest things- Which is why getting your next ticket out of Singapore is always better with Shopback. Are you going to Hong Kong, Malaysia, New Zealand, or even Egypt? Make things even better for yourself. Simply log on to Shopback and get your ticket on SIA here to get 0.5% cashback, and more.