Scoot Promo Codes, Vouchers & Coupons August 2018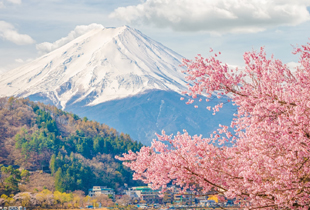 0.8% Cashback via ShopBack App
[App Only] Please note that Scoot Cashback is only available via ShopBack App only. Click here to download ShopBack App!
Only valid via the ShopBack mobile app, not valid for orders made on ShopBack Desktop/Mobile Site

Cashback will be redeemable 60 days after the transaction has been completed

Check our more details at www.shopback.sg/terms-and-conditions
Recent Articles
More about Scoot via ShopBack App
Scoot Airlines give you a fresh experience of spontaneous discovery of travelling to your destination. Scoot not only gives you a contemporary and modern feeling of comfortable journeying, also it focuses on providing you with a wallet-friendly travel experience. It gives you access to pay for only what you want and not packages where many of the options you have to pay for but don't want. For these exclusive offers and benefits, Scoot has grown tremendously and flies to over 20 different destinations till now. With the Scoot promotions, travel deals, and vouchers it has become the first choice of airlines for many people around the world.
Scoot was founded on 1st November 2011 and in June 2012, Scoot launched its flight to the medium and long-haul routes from Singapore. Scoot's fleet includes Boeing 777 obtained from Singapore Airlines. On Jun 2015, it made a transition to its fleet to Boeing 787 Dreamliner aircraft. Tiger Air officially merged into Scoot on 25 July 2017 and its head office is at Singapore Changi Airport. Currently, Scoot operates 24 Airbus 320s and 14 Boeing 787 Dreamliners. It's Asia-Pacific's best cheap flight service in 2015.
The Aircraft Boeing – Special features
The Boeing B787 aircrafts are operated in a two-class configuration, which is ScootBiz and Economy. The facilities you get from Scoot airways are:
Wide body aircraft
Adjustable headrests
Large overhead bins
In-seat power
Boajrd Me First: This is an offer by Scoot, for priority check-in and boarding privilege to skip the queue.
Noiseless engine
Low fare
4x cabin moisture
Fresher bacteria-free air
Cabin light changes its color depending on time of the day
Airport check-in system – Head to your destination effortlessly
While flying, we always think of the long queue and how to avoid it. With the various offers by Scoot, you can skip the queues easily.
Airport check-in facility: Scoot's check-in counter opens 3 hours before the scheduled departure and thus, you get a lot of time and less queue for your check-in. It closes 60 minutes before the departure and there is no exception. Thus, early arrival is always a good option.
Use Kiosks: If you are tired of standing in the line for checking in, just use the advance kiosks facility to get rid of the queuing. The time it's available is 18hrs to 70 minutes before the flight.
Kiosks check-in availability: For the Scoot flights departing from Singapore, individual or group travelers, guests with only carry-on baggage, booking made through scoot website, scoot call center, or Expedia etc.
Web check-in: This is available from 72 hours to 1 hour before the departure of the flight.
Web check-in availability: The flights departing only from Singapore are currently eligible for this check-in system.
Scoot-to-Gate: The special service that allows the passengers to skip the check-in procedure and go for straight departure immigration. Passengers who have checked online, have no checked baggage and no document check required are eligible for this service
Baggage drop and document verification: Guest must proceed to the documentation checked counter at Singapore Changi Airport at least 120 minutes before the departure to verify travel documents and drop off checked baggage.
The onboard facility that you get while traveling through scoot
Economy class: Scoot says, enjoy an economy class with a difference. Even the flight is for a longer period of time, you can have roomy space for yourself. You can also enjoy the tailored 'bundle me up' packages according to your need.
ScootBiz: This plan offers the relaxing complementary perks to enjoy your travel. You get your favorite seat selection in the upfront cabin and many more facilities
Max your space: You can purchase a number of extra seats you need to purchase to stretch out during your travel and enjoy the comfort and privacy
Meals: Enjoy the premium selection of hot/light meals and long- haul meal bundles from the scoot café with advance order.
Shopping: Browse the online shopping magazine 'Scootalogue' and buy your favorite item, comfortably from your seat
Wi-Fi: Enjoy 5 data session plans with no excess charges and use the data in transition flights too, until your Wi-Fi session has data left. In-seat power outlet helps you to be worry-free about running out of batteries. Enjoy up to 20% savings if you purchase before boarding into aircraft.
Entertainment: By the All-in-One purchase of USD11 (SGD15 approx.) you can enjoy more than 100 movies, TV shows, Scoot TV on board. One of the great offers is, it is compatible with all devices.
Fare and Booking through Scoot are easy and affordable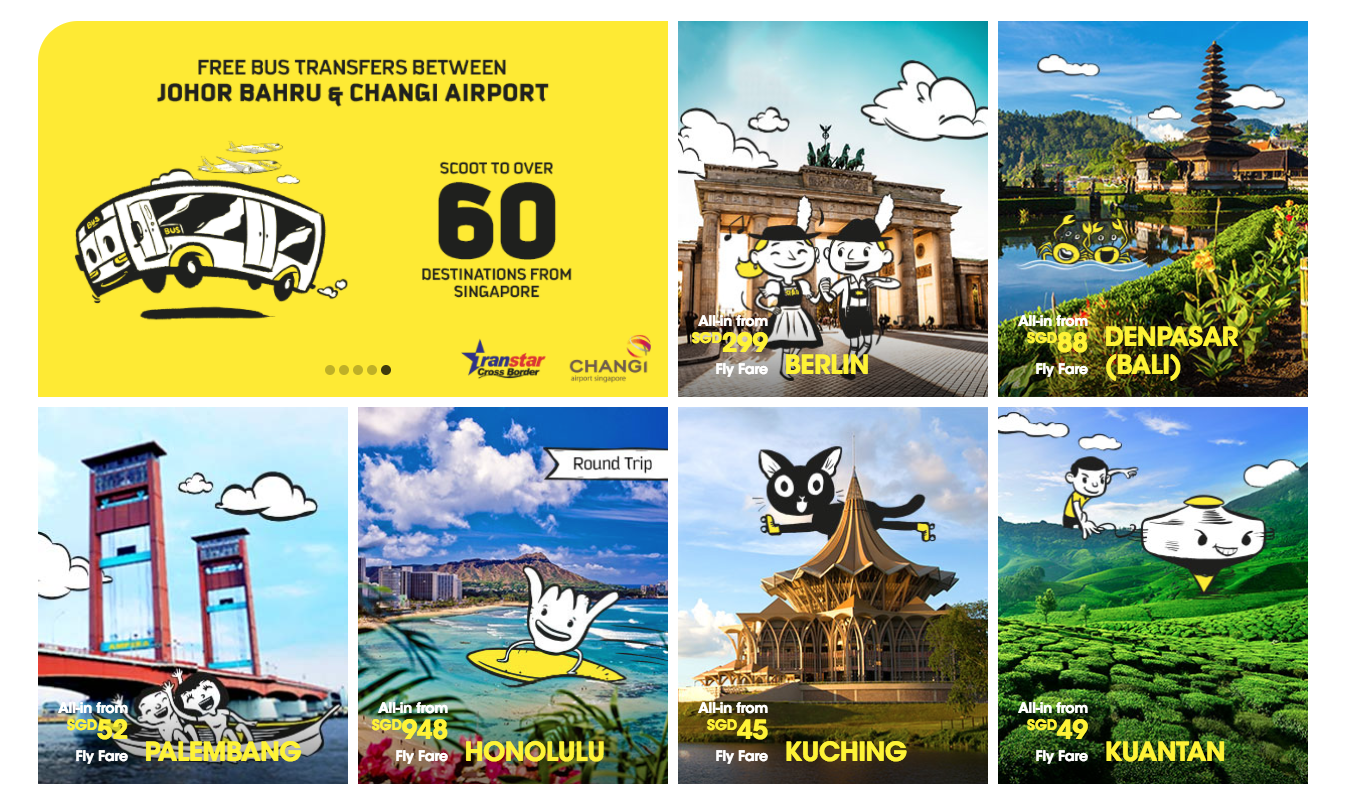 Scoot maintains a transparent business with its customers because flying can be sometimes difficult when the passengers only know about the hidden charges at the last minute. They offer clear fare bundles and all the charges that one can experience beyond the basic charges.
The offers of fare bundles:
Fare bundle is an all-in-one offer which gives a hassle-free option to book your tickets, flights, bags, meals and other common necessities with just a single click. The offer has – Fly, FlyBag, FlyBagEat, ScootBiz. You can also get, additional features, such as extra legroom, recliner seats, in-seat power, seat selection, in-flight entertainment, meals, cabin-baggage allowance, checked baggage allowance, purchase of additional baggage allowance, priority check-in, and boarding, passenger name change, flight date/time change, KrisFlyer mileage accrual. Everything is accessible with the charge according to the selected options.
KrisFlyer discounts and additional perks
KrisFlyer is a renowned frequent flyer program with an exclusive discount. A KrisFlyer member can earn miles while using Singapore Airlines and other 30 partner airlines, SilkAir, and over 170 world class partners – hotels, credit cards, retails and travel services. Scoot is the latest partner airline of this group and offers more rewarding and exciting offers.
PlusPerk
While booking online through flyscoot.com, the add-on bundle can be purchased called PlusPerk. An all-in price, the passenger can enjoy some exclusive offers in the price of SGD/AUD39 (for short haul flights) and SGD/AUD99 (for long-haul flights):
KrisFlyer miles earning: Using every PlusPerk purchase you can earn Krisflyer miles. Though it does not include the economic sale fares, KrisFyer vouchers or free vouchers and KrisFlyer Elite miles.
Preferred seat booking: Select your favored seat with no additional seat selection fees.
Flexible booking offer: One flight date/time/ passenger name change per booking is allowed at no additional charge if booked online up to 4 hours before departure. Connecting journeys with partner airlines are not included in the offer.
BoardmeFirst: This offer provides priority check-in and boarding privileges at most of the airports.
Using KrisFlyer points and redeem them to get rewarding experience
Scoot vouchers can be used if you want to pay fares, add-ons, booking change fees etc. You can also use this voucher for new booking as well as add-on purchase to the existing booking. The mileage levels for redemption are as follows:
SDG 30 voucher for 3200 KrisFlyer miles
SDG 50 voucher for 5300 KrisFlyer miles
SGD 100 voucher for 10500 KrisFlyer miles
How to redeem the travel voucher
To redeem, just log in to krisflyer.com and submit the voucher with a redemption request. Get an email from Krisflyer with the voucher code. Enter your voucher code while booking a trip or purchasing an add-on via flyscoot.com.
Offers for Krysflyer Debit card holder:
Enjoy the following benefits as a Krysflyer debit card holder:
Priority check-in
BoardMeFirst facility
A complimentary 5 kg baggage upgrade
For the principal card holders, facility include as a fee waiver at the point of purchase
Offers and Soot promotions for economical deal to save even more with these discounts
The deal gives an extra perk to your stress-free flight journey. These are few examples of the kind of offers you can get, which are subject to change from time to time:
Scoot promo code for Singapore – January 2018Take a trip at $38 from scoot discount code
Fly from Singapore to Taipei with an offer from $108 before March 2018
Scoot promo code: 10% discount on flights to Berlin
With the benefits of passion card, enjoy the 'BoardMeFirst' (worth$6) and a 5 kg upgrade to FLYBAG or FLYBAGEAT bundle with the purchase of 20kg/25kg baggage (worth$14).
$50 voucher for UOB cardholders
10% discount airfare (FlyBag, FlyBagEat, ScootBiz). Use promo code FLYBAG10
ShopBack promo codes to save your wallet a little more
Save with the deals featured on ShopBack and always check for any ongoing special offers. Check the FlyScoot deal, FlyScoot sales, Scoot promo, before you make your purchase. If you are flying on Scoot Airlines for the first time visit ShopBack for the greatest savings of money!
ShopBack Singapore is giving you cashback for booking, thus be sure to use ShopBack Singapore when you are purchasing flights at Scoot. ShopBack gives rebates in almost everything you purchase.
How to use ShopBack Singapore for Scoot deals, promotional codes and vouchers
You can get Scoot discounts, Scoot promo codes when you log in to your ShopBack Singapore account. Create one right now if you don't have the account till now. Use your account to find Scoot deals on ShopBack Singapore website. You will get a button to click which will redirect you to link where you can purchase as you generally do. For earning the highest savings on your purchase be sure to enter the right code, deals and voucher codes. After the payment is done, ShopBack will give the cashback to you by tracking your expenditure. You can spend this money on ShopBack Singapore. The cash may take to show 2 days appx in your account.
Stay connected to the 'Travel Section' of Shopback Singapore to check out great deals on hotels from merchants like Hotels.com and Agoda. If you like to shop online with Shopback Singapore, there are many stores to shop from the 'General section' which is an all-in-store from where you can buy almost anything you want.
Plan your trip through Scoot

Before you travel make sure to have this checklist for an easy journey
Book a flight: Book your flight to your to your choice of destination. You can also input your promo code and tick available the hotel option while booking
Travel deals and Scoot promotions: Search for to your favorite destination
Flight schedule: You can get the details of the flight schedule in local time
Fees and fares: Choose from the detail offer of the fare bundle
Booking 101: You will get all the tips and tricks for booking here
Airline partner: You can have wider choice of destination
Group booking: Get all the group user guide, policy and FAQS here
Happy helping team of Scoot – Always available to help you out
The customer service is available in Singapore, China, Australia, Greece, Hong Kong SAR, India, Malaysia, Philippines, Indonesia, Japan, Saudi Arabia, South Korea, Taiwan, Thailand, United States and Vietnam.
The Singapore contact information is:
Telephone Number: +65 3157 6434. Please do not dial '6' in front of the number above - it does indeed start with a '3'. English and Mandarin support opens 24 hours, Monday to Sunday.
Address: Scoot Guest Relations
Scoot Tigerair Pte Ltd
PO Box 89
Changi Airport Post Office
Singapore 918146
Follow social media to get the latest deals, savings, codes, promos, and vouchers on 'Flysccoot'
Remember to follow Scoot Airlines in social media for more discounts, coupon codes, vouchers and promotional codes. Always stay connected with the Scoot for the latest news and offers which will make your travel not only secure and safe but also interesting and exciting!