Affordable, Healthy Gourmet Meals with Nomnomby
Nomnomby is a Singapore-based company that focuses on providing healthy gourmet meals to people at an affordable price. It has a tie up with some of the best restaurants and promises to deliver delicious food during the week. Customers can choose from the available meal plans and order lunch and dinner free of hassles.
It serves as a time-saving and pocket-friendly option for people on the go. Perfect for today s busy schedule, Nomnomby is the best alternative to other meal options. All you have to do is subscribe to a suitable meal plan, reserve your meal, pick up your order from the outlet without standing in any queue and enjoy delectable food in no time.
Visit Nomnomby store online to reserve a suitable meal plan for you and enjoy amazing discounts during Nomnomby promos.
The company was founded by Randy Chai, Matas Linauskas and Daniel in the year 2017, in Singapore. Randy and Matas already had an experience of working on a startup. While Randy was the head of GuavaPass company, Matas used to be the managing director of Lamudi, an online marketplace for real estate. They started off this venture after understanding the daily frustration of paying delivery fees and waiting in long queues during lunch hours at the workplace. Their mission was to free people from such daily meal issues.
Nomnomby is your one-stop-shop for ordering healthy gourmet meals on the go. It aims at connecting people to sumptuous and previously pricey meals for a much cheaper rate. This pickup-only service works with the idea of 'one plan and one price, for both lunch and dinner ; wherein subscribers can make use of up to 4 of their meal credits per day. It helps you save a lot of time and your monthly expenditure, and savour delicious food every day without any guilt. So overall, Nomnomby focuses on providing healthy and tasty dishes to people who have no time to waste, yet want to eat well, while not having to spend much on every meal.
The entire team at Nomnomby takes teamwork very seriously and works together as a team in whatever they do. They also follow the values of honesty, communication, leadership by example and transparency. From the time of its launch till date, the company has been seeing revenue growth of 50% every month! It receives around 170 orders per day, making a total of 800 orders per week. It is growing continuously and plans to partner with more than 350 restaurants, as well as launch in other Asian cities.
Products Sold by Nomnomby
At Nomnomby, you can find the perfect meal plan to suit your daily schedule and enjoy delicious meals at pocket friendly prices. Buy a meal plan at Nomnomby online and enjoy exciting deals during Nomnomby offers. Listed below are the different meal plans available on Nomnomby.
6 Meals Per Month –
In this plan, you are eligible to order a total of 6 meals (lunch and dinner) during your 30-day subscription. You will be charged $8.99 per meal and a total of $53.94 for that month.
12 Meals Per Month –
This plan is designed for those who wish to order more than 6 meals per month. So you can enjoy 12 sumptuous meals per month at $8.49 per meal.
20 Meals Per Month –
Enjoy 20 meals per month at $7.99 per meal with this amazing meal plan. Now you don t have to worry about your lunch and dinner for the whole month. Simply place your order at Nomnomby, pick up your meal and savour good food with your friends, colleagues or family.
Make sure to check for the Nomnomby coupons and vouchers offered during the Nomnomby sale period before you proceed with shopping.
Nomnomby offers a simple reservation process with well-designed meal plans and subscriptions. The meal plans and information on 'how Nomnomby works appear on the homepage. You can click 'View Plans or 'How Nomnomby Works or 'Get Started for information on their meal plans and how they work, and to choose a plan. You can also find Nomnomby promo codes, Nomnomby voucher codes and other discounts on the homepage.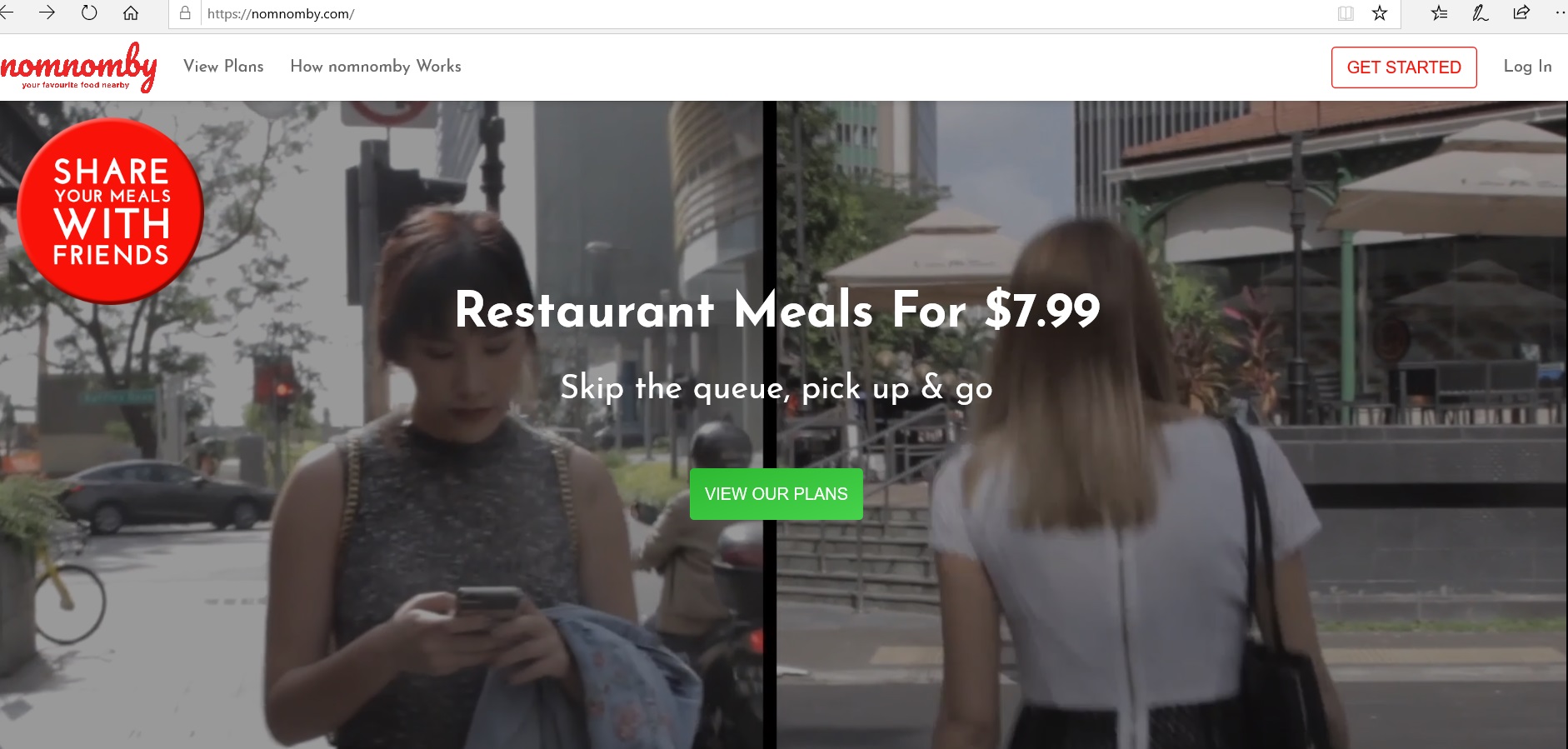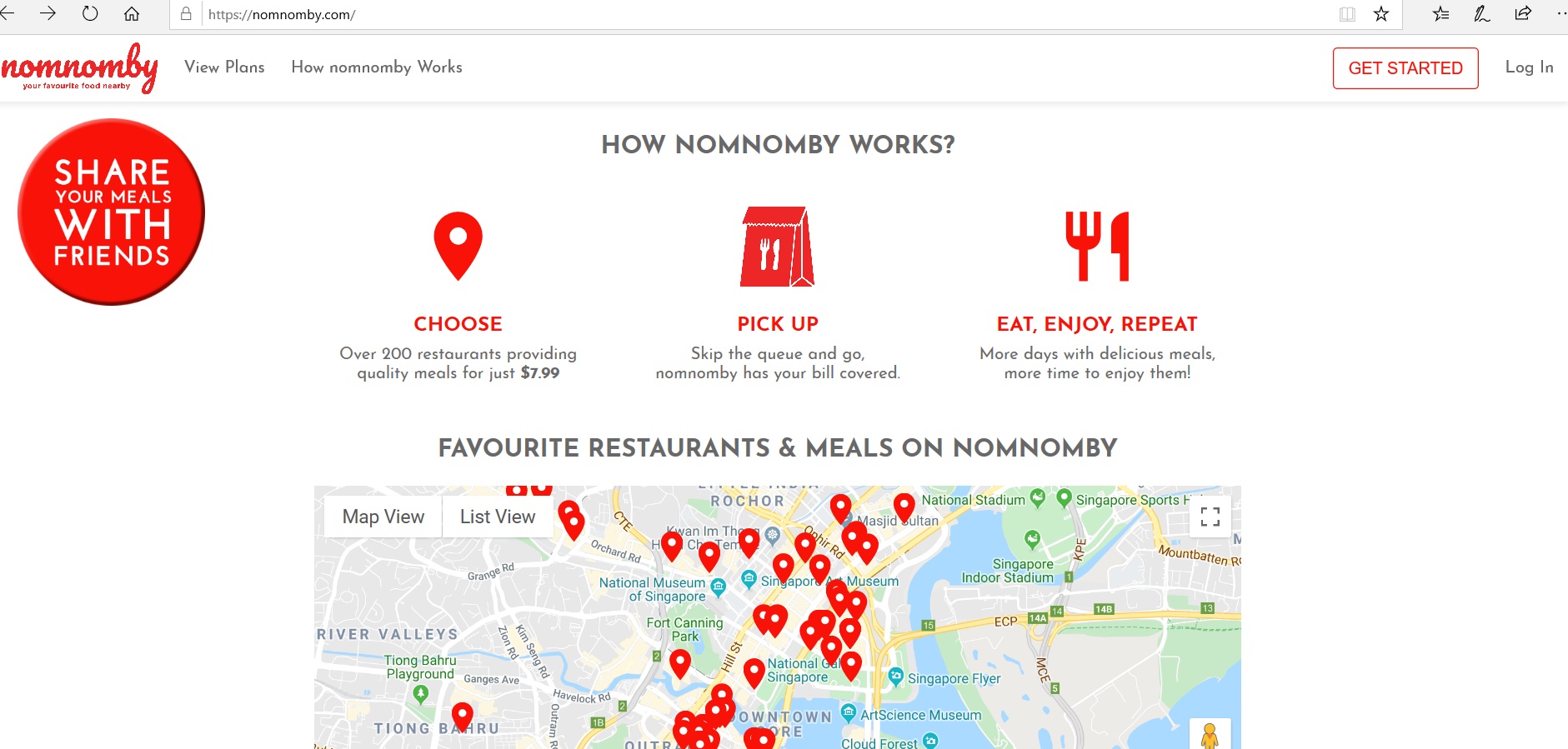 1. If you register on the site, you can see a list of restaurants from where you can choose the dishes and order. Click 'Get Started or 'View Plans to see the plans available on the site. Then choose your preferred plan from the options.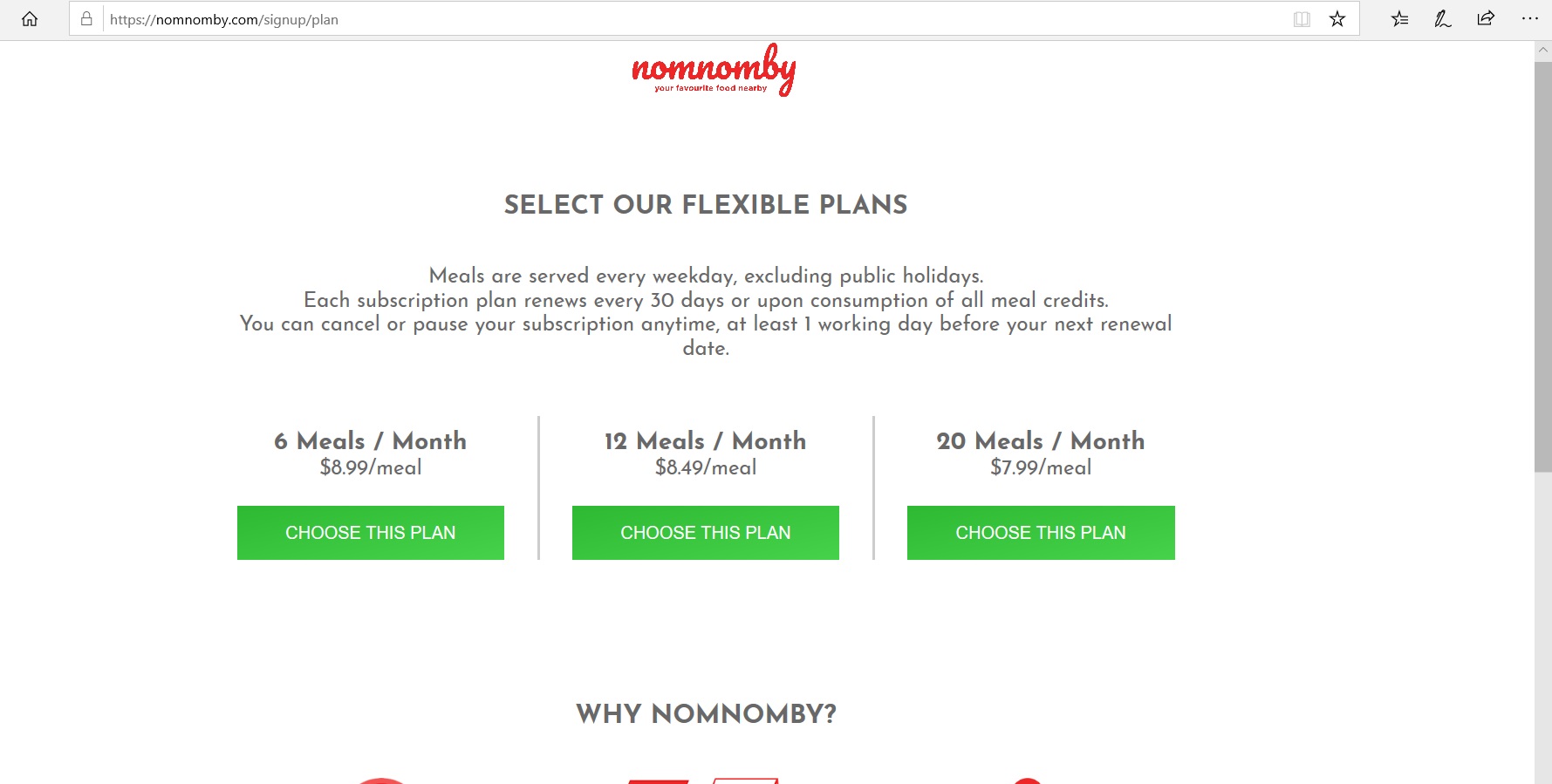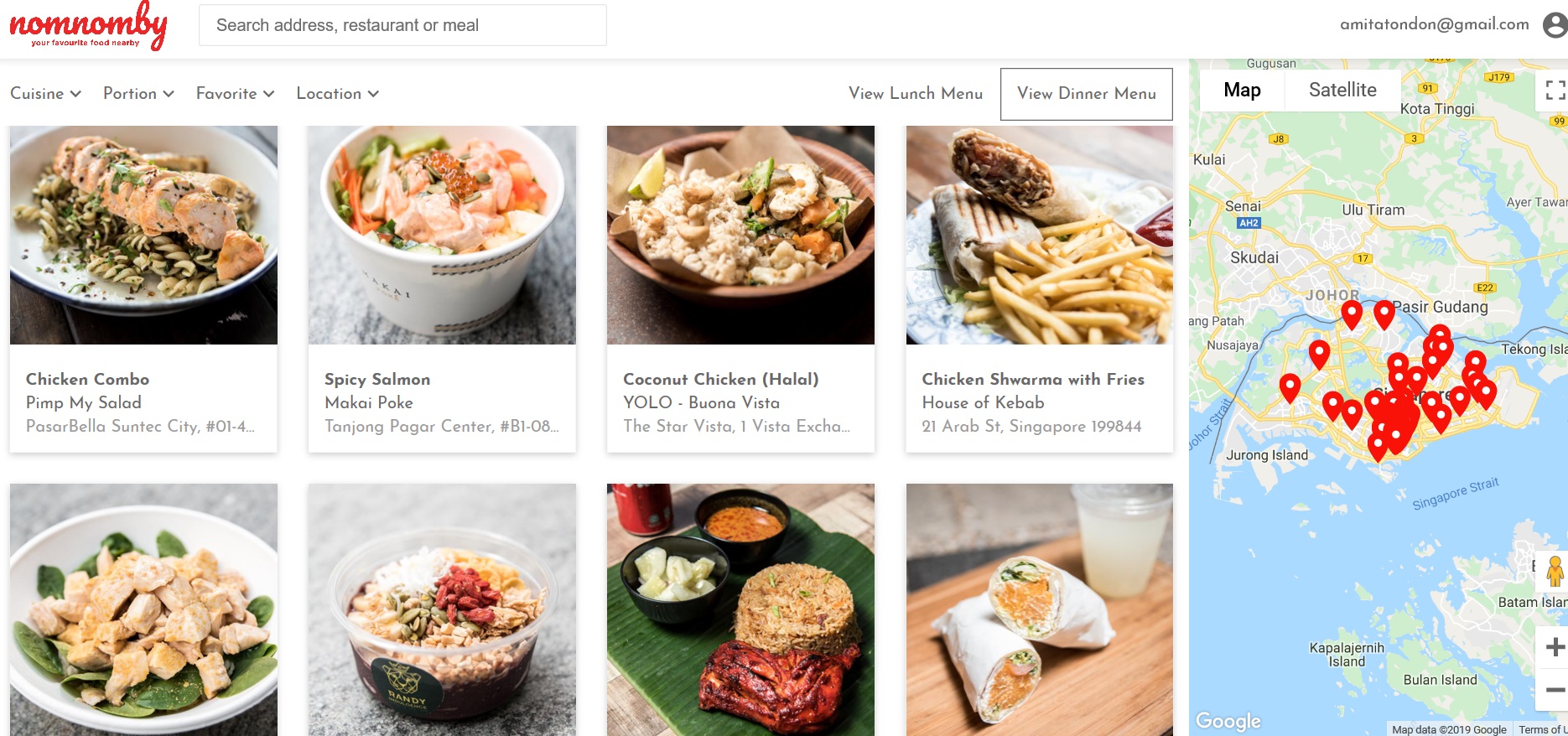 2. On the resulting page, enter your billing information. You may go back to browse a different plan or click 'Confirm Purchase . On confirming your purchase, your plan will be activated.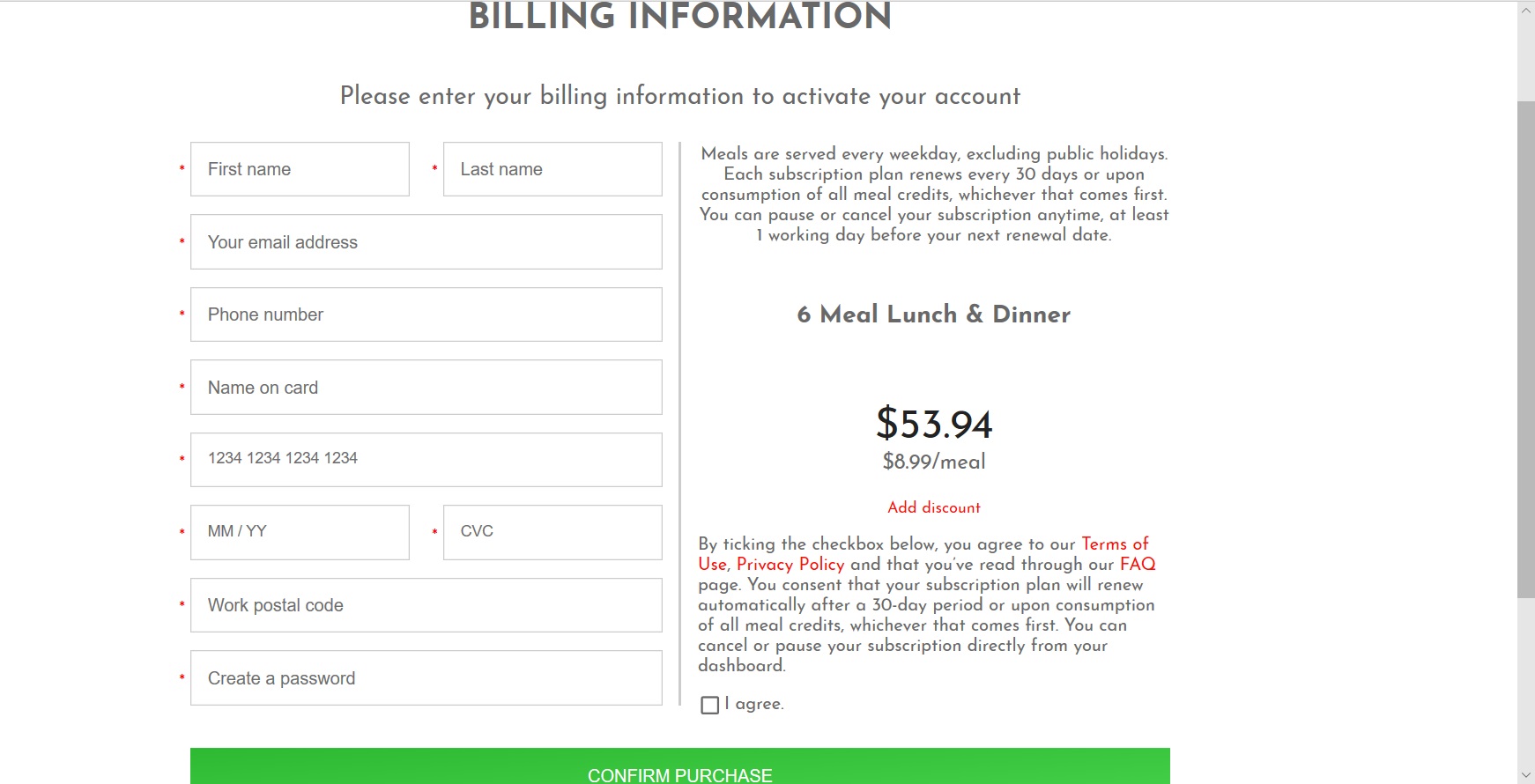 3. Your purchase details and other information will be visible once you have completed your payment transaction. An e-mail will be sent to you to confirm your purchase details.
4. Save a lot of money on your purchases during sale and special offers. You can avail discounts by using the Nomnomby discount codes on checkout. Ensure that you have checked for discounts and deals before reserving a meal plan.
Payment Options on Nomnomby
Nomnomby offers the following payment methods for your convenience.
Credit Card:
Nomnomby accepts credit/debit cards for online payments. If you wish to edit your payment method, you can do so by sending an email to [email protected] by including 'Payment Method in the subject line.
Different Coupon Codes and Discounts on Nomnomby
The website brings to you a number of Nomnomby discounts and special deals from time to time. While some of them last throughout the season, some other offers are valid only for a limited period. Customers can save a lot of money by applying the Nomnomby codes.
On shopping with the merchant using a registered account on ShopBack, customers are eligible to earn up to $15 cashback.
How to Redeem Coupons and Vouchers on Nomnomby?
Online shopping sites bring a number of advantages by offering coupon codes to earn discounts and cashbacks when shopping online. With such advantages at your disposal, you can enjoy online shopping much more than what you experience when shopping at the stores.
Here is a step-by-step tutorial on how to redeem coupons and vouchers at Nomnomby:
Step 1:
Choose your preferred product from the list of displayed items and click Add to Cart .
Step 2:
Next, fill in your shipping information and email address and then head to checkout.
Step 3:
Proceed to the payment page. Here, you will find a box under the payment summary section to enter your Nomnomby promo code/Nomnomby coupon code or any other applicable discount codes for availing discounts.
Step 4:
Select the payment method and fill in your payment details to complete your transaction.
How to Shop on Nomnomby Using ShopBack
ShopBack offers up to $15 cashback on products if you shop from Nomnomby. Follow the below mentioned steps to earn cashback from ShopBack:
Step 1:
Select Nomnomby from the list of brands on the ShopBack homepage, or use the search box to find a link to the Nomnomby website.
Step 2:
Go through the terms and conditions, cashback details and tips to ensure cashback.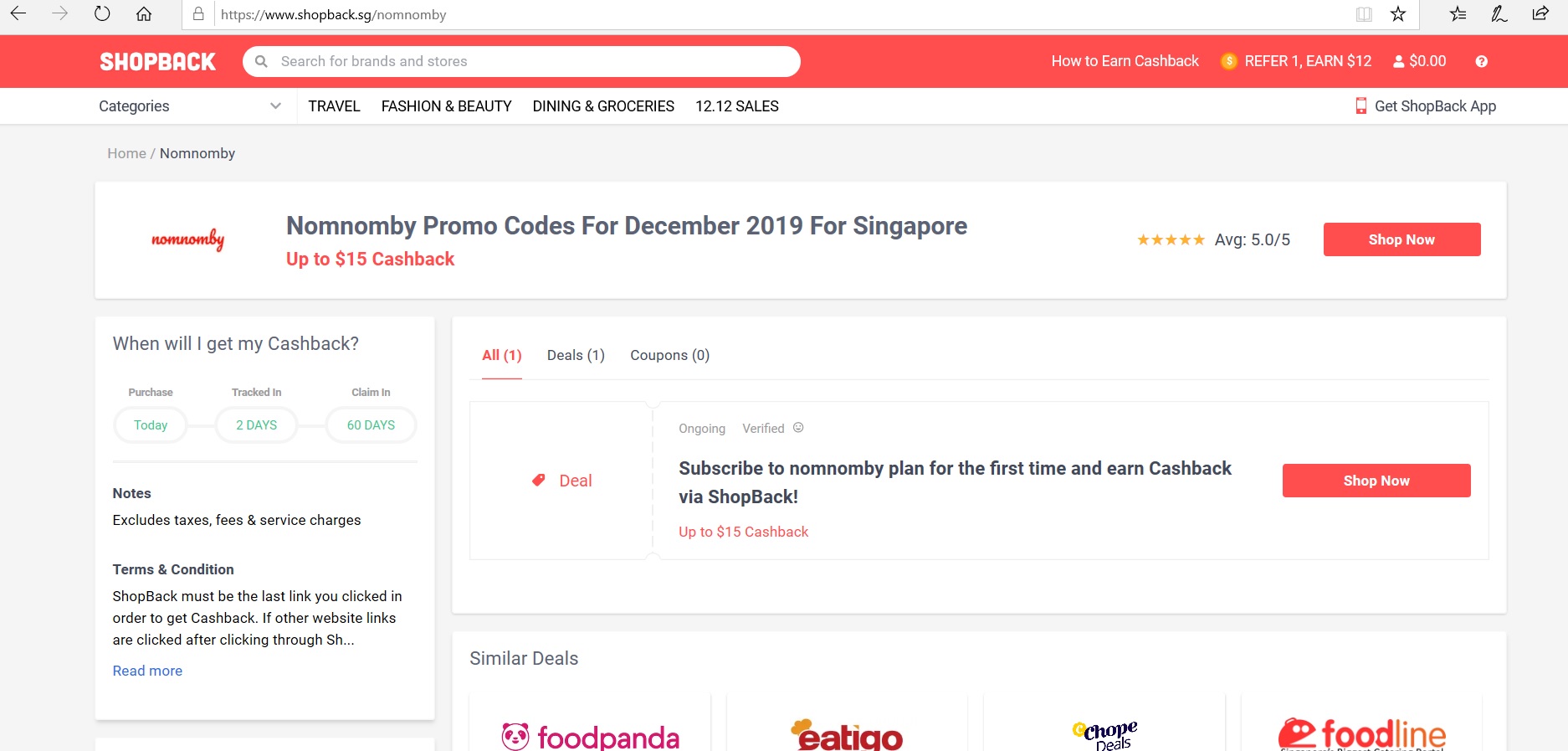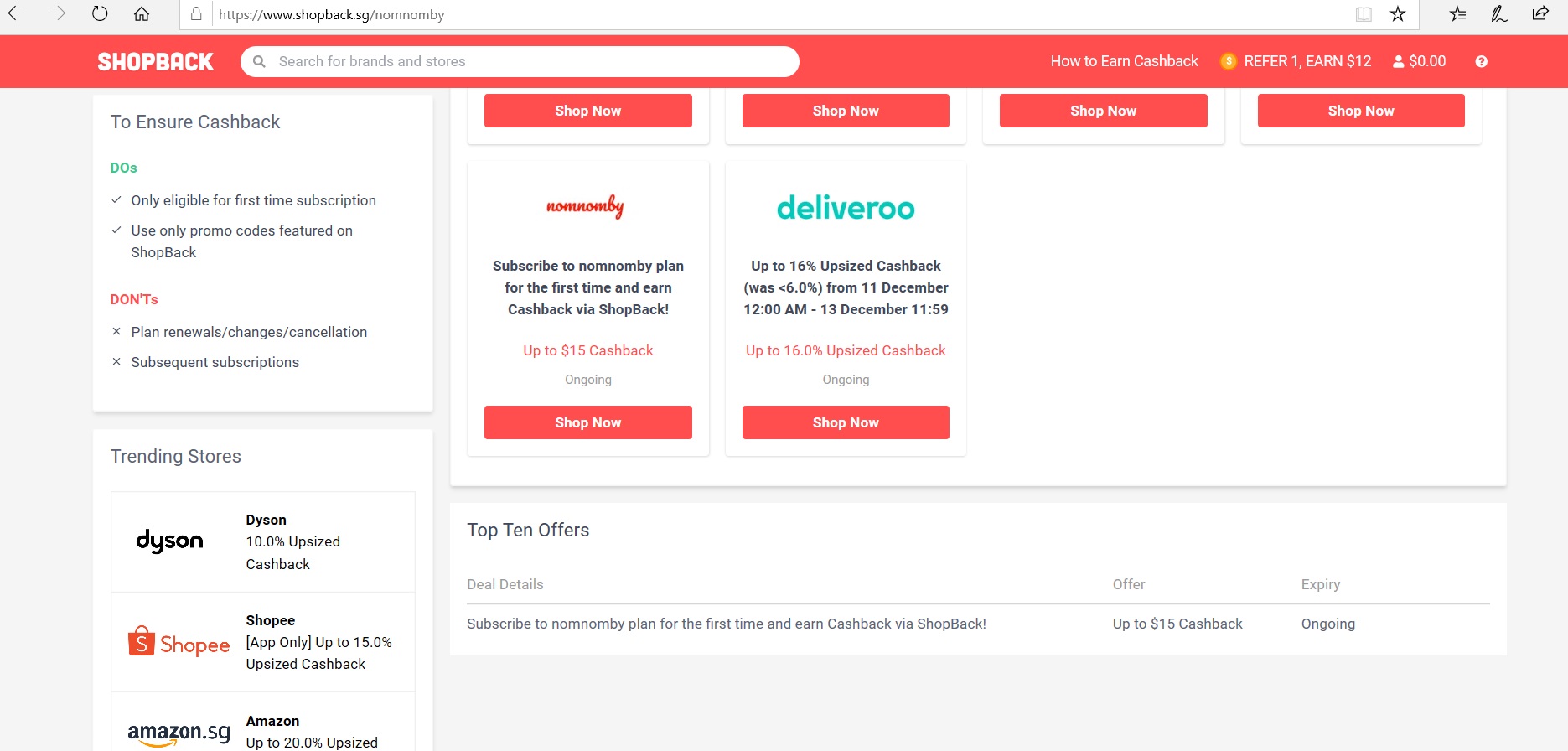 Step 3:
Click 'Shop Now on the right.
Step 4:
Additional attractive deals can be found by clicking the 'Discounts + Cashback section.
Step 5:
On placing the order, you will be eligible to earn Nomnomby cashback from ShopBack. Cashback rates may vary based on your history with ShopBack. Cashback offer is not applicable on purchases made via the Nomnomby app.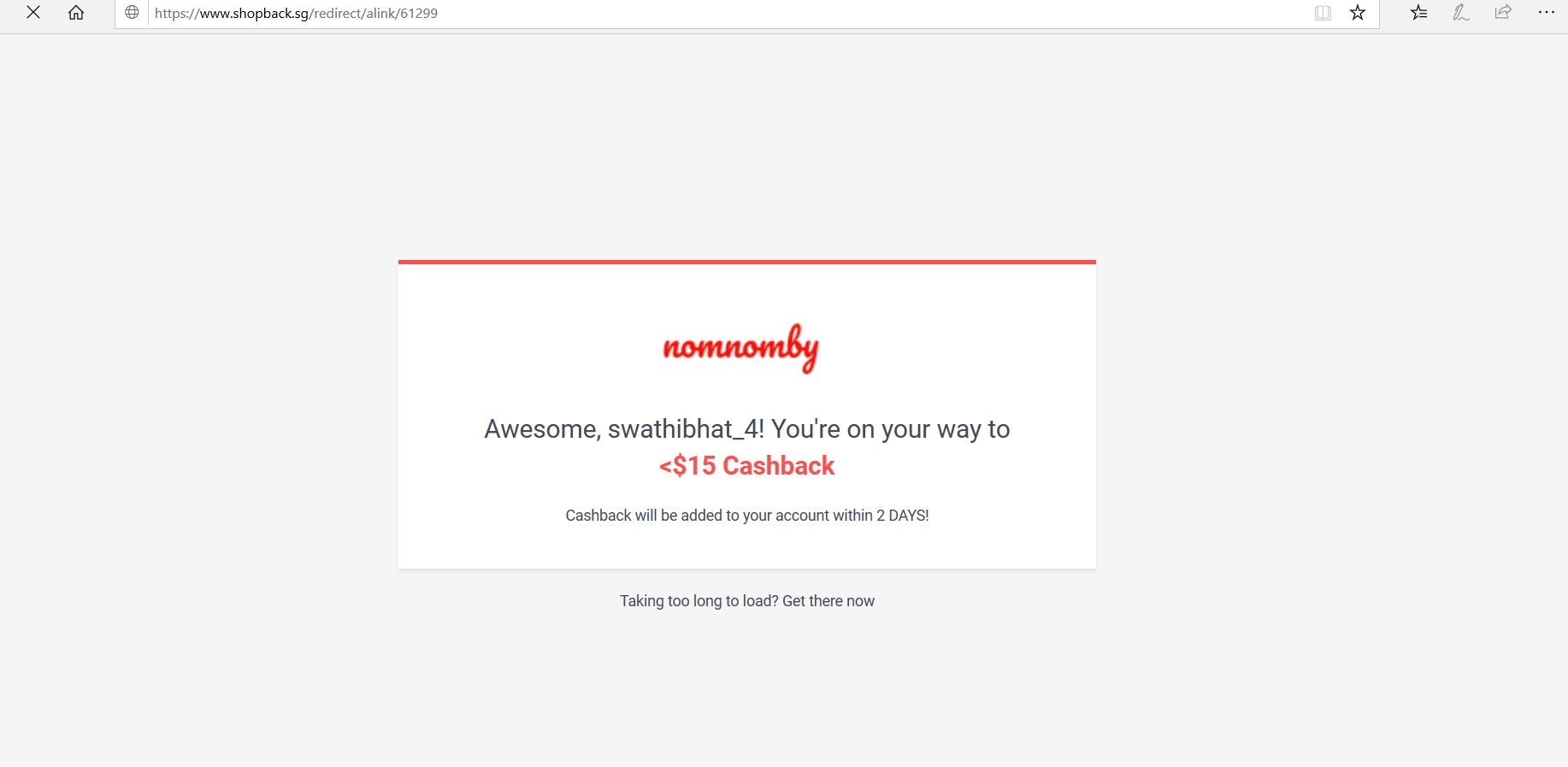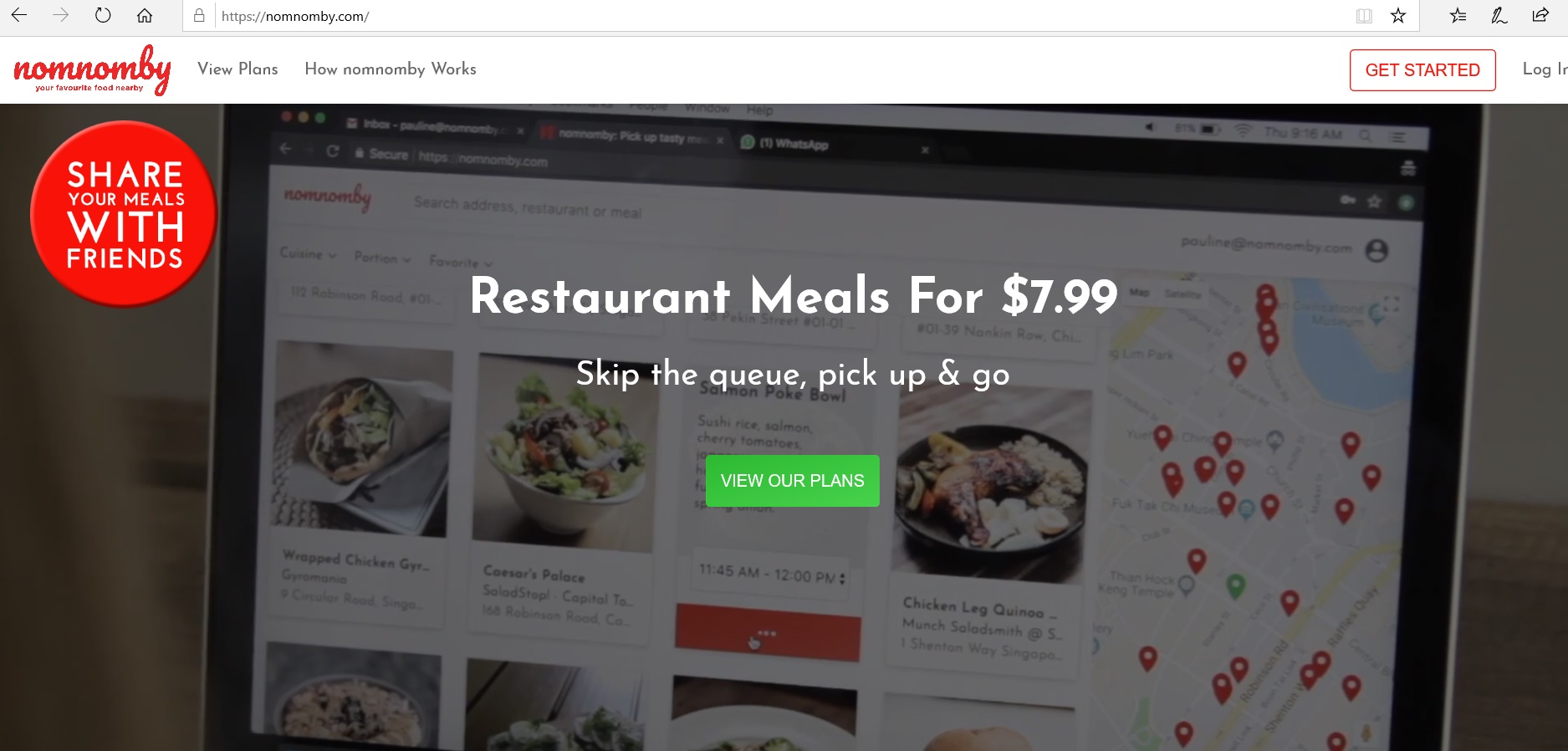 Nomnomby Ordering and Cancellation Policy
Reserve your meals during Nomnomby promotions and save money on your orders. The ordering and cancellation policy for Nomnomby is listed below:
Ordering:

On subscribing to Nomnomby s meal plan(s), you can start booking your lunch and dinner on the site. For lunch the kitchen operating hours are 5 PM local time to 10 AM local time the next morning, from Sunday to Thursday (except on public holidays). For dinner the kitchen operating hours are 10 AM to 3.30 PM local time, from Monday to Friday (except on public holidays).

30-day lunch and dinner subscription: $7.99 per meal – for up to 20 meals per 30-day cycle / $8.49 per meal – for up to 12 meals per 30-day cycle / $8.99 per meal – for up to 6 meals per 30-day cycle

If you login during the kitchen s lunch opening hours, you can start reserving your meals. Up to two lunch or/and dinner orders can be reserved per day. Once reserved, your meal will be ready at the pickup time chosen by you. So you can simply show your Nomnomby reservation at the restaurant, avoid long queues and collect your order instantly.

Cancellation:

If you wish to change the pickup time or dish, or cancel your order altogether, you can do so by visiting the 'History section before 10 AM (if it s for lunch) or before 3.30 PM (if it s for dinner). Once you have updated the changes, an updated order confirmation email will be sent to you.

If you wish to make changes to your subscribed plan, go to 'My Account on the website and opt to cancel/pause the selected subscription by clicking the 'Manage my plan and subscription section. For any other queries, you may contact the team by sending an email to [email protected] Note that any such changes must be updated before all your meal credits are spent or minimum one business day prior to the start of your next 1 month cycle. No refunds will be provided if you forget to cancel the membership just a day before your subscription ends.

In case you are unable to use all your meal credits within the 1 month (30 days) cycle, the credits will be rolled over to the next cycle, as long as you re subscribed with Nomnomby. Refer their FAQs section for more information on reservation and cancellation.
Nomnomby Customer Service
Customers can click on their 'Contact option or visit their FAQs section for queries related to Nomnomby vouchers, Nomnomby deals or anything in general. You can also send them an email at [email protected] or message them via Facebook messenger. Nomnomby is open on all days except on public holidays.