Sip on the Finest, Freshest Coffee from Nespresso
Nestlé Nespresso S.A. or Nespresso is part of the Nestle Group, headquartered in Lausanne, Switzerland. It brings to you the finest, freshest coffee, which are first roasted, then ground and later encapsulated in one of Switzerland s three state-of-the-art factories. It is a one-stop-shop for all coffee lovers, with a wide range of coffees to choose from.
The company focuses on producing and delivering exceptional quality coffees, and offering one-of-a-kind coffee experience to customers. Having redefined the way people use and enjoy their coffee, Nespresso has played a major role in shaping the coffee culture globally. The entire team at Nespresso ensures that the choices they make don t compromise the quality of coffee that they deliver. The company also believes in creating sustainable quality in order to offer greater value to the environment and society with its smart recycling initiatives.
Visit Nespresso store online to shop for superior quality coffee and coffee accessories, and enjoy amazing discounts during Nespresso promotions.
In the year 1976, Eric Favre (Nestle s employee) invented the system of Nespresso in Switzerland and introduced it to the business market. It did not gain much success during its early years. Then in 1986, a new concept of Nespresso was tested in Japan, with the aim to help people create their own cup of espresso just like a professional. It was then sold to consumers in Switzerland, Italy, Japan and France, after which it gained more recognition. In 1990, on signing a contract with Turmix, Nestle started selling coffee machines in Switzerland and further signed contracts with other major firms. Nespresso filed its first ever patent for the process of espresso brewing from ground coffee-containing capsules in the year 1996.
In 2014, Nespresso came up with the Vertuoline system of capsules and machines in Canada in order to appeal to the demand of the North Americans, who wanted bigger servings of coffee than what the basic Nespresso machines produced. The company gained immense success in the coming years owing to its unparalleled services. It had an employee strength of 13,500 as of 2017 and continued to provide services to around 70 countries. Nespresso made vast developments in the coffee industry and in 2019, it launched the Nespresso Momento, a coffee system designed carefully to suit the current working trends.
Products Sold by Nespresso
Shop for some amazing coffee products, machines and accessories at Nespresso and buy interesting gift items for your loved ones. Shop at Nespresso online and enjoy exciting deals during Nespresso offers. Listed below are some of the products and product categories available on Nespresso.
Coffee Capsules –
Nespresso offers a wide range of coffee capsules for every coffee lover. From intense power coffee, espresso and coffee from different origins to decaffeinated coffee, fruity flavor and aromatic coffee blends, indulge in the best coffee delight with Nespresso s coffee capsules.
Coffee Machines –
Buy the best quality coffee machines at Nespresso and make your coffee in style. They have a vast collection of machines designed perfectly to suit your office, home and other needs.
Accessories –
You are in for a surprise if you re on the lookout for some beautiful coffee accessories. Shop for excellent quality accessories like coffee capsule dispensers, travel mugs, espresso cups, Lungo cups, spoons, cappuccino cups, chocolates, sugar, recycling bag and much more only on Nespresso.
Make sure to check for the Nespresso coupons and vouchers offered during the Nespresso sale period before you proceed with shopping.
| Nespresso Product Category | Products |
| --- | --- |
| Coffee Capsules | Welcome Offers, Limited Edition Nordic Indulgence, Assortment, Intenso, Espresso, Master Origin, Lungo, Decaffeinato, Barista Creations |
| Coffee Machines | Essenza Mini, Inissia, Pixie, Essenza Plus, Citiz, Lattissima One, Lattissima Touch, Lattissima Pro, Creatista Plus, Barista |
| Accessories | Gift Ideas - $30 and Below, Gift Ideas - $50 and Below, Reveal Collection, VIEW Collection, Pixie Collection, Pure Collection, Origin Collection, Sugar and Chocolate, Aeroccino Milk Frother, Other Accessories, Recycling, Machine Spare Parts |
How to Shop on Nespresso?
At Nespresso, enjoy an easy shopping experience and make use of the offers brought to you from time to time. All the product categories appear on top of the homepage, along with a button to login or register, and a chat option at the bottom right hand side. You can also find Nespresso promo codes, Nespresso voucher codes and other discounts on the homepage.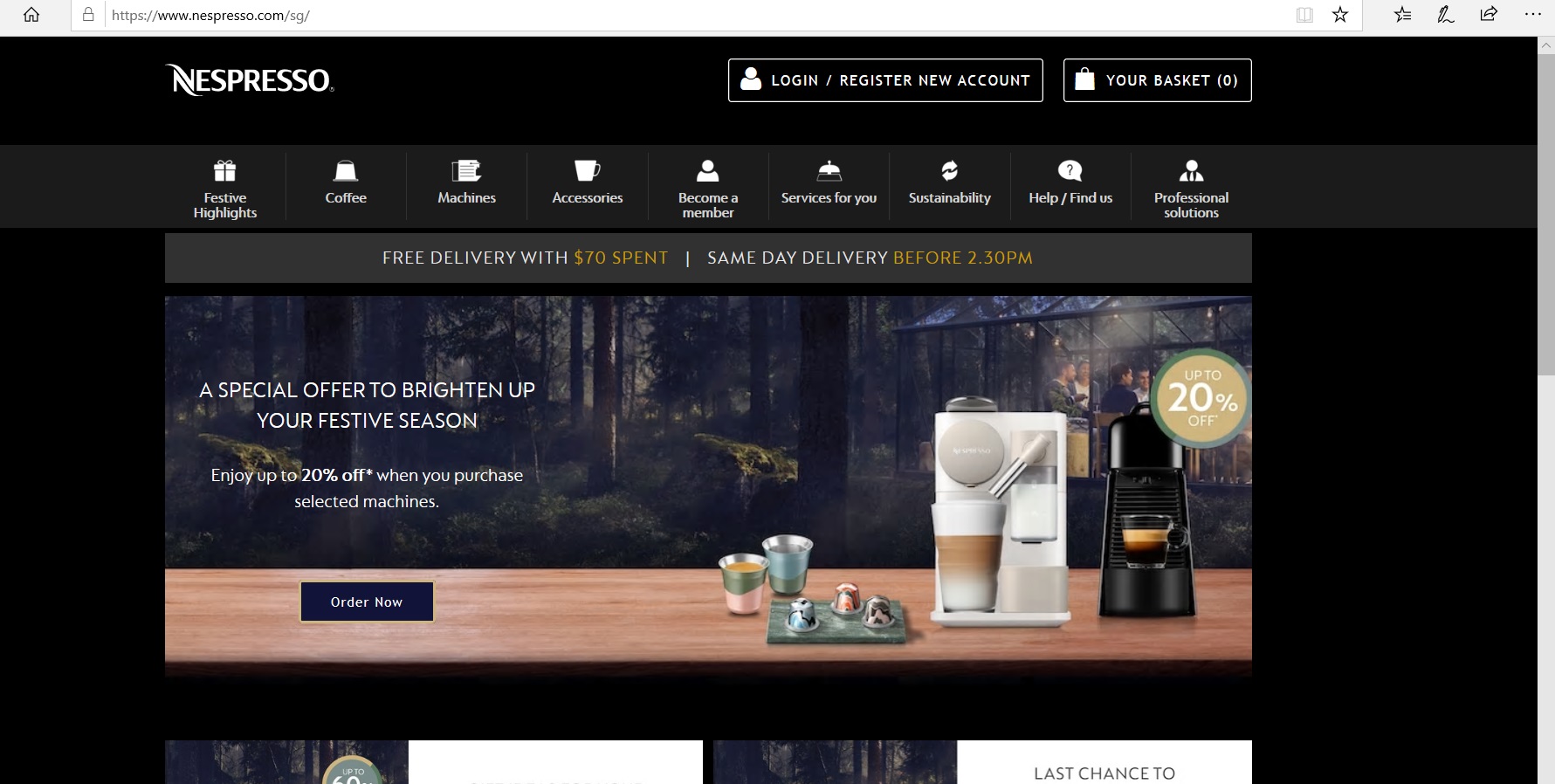 1. Select your preferred product category and sub-category. Then choose what you wish to buy from the list of products displayed by clicking 'Add to Basket .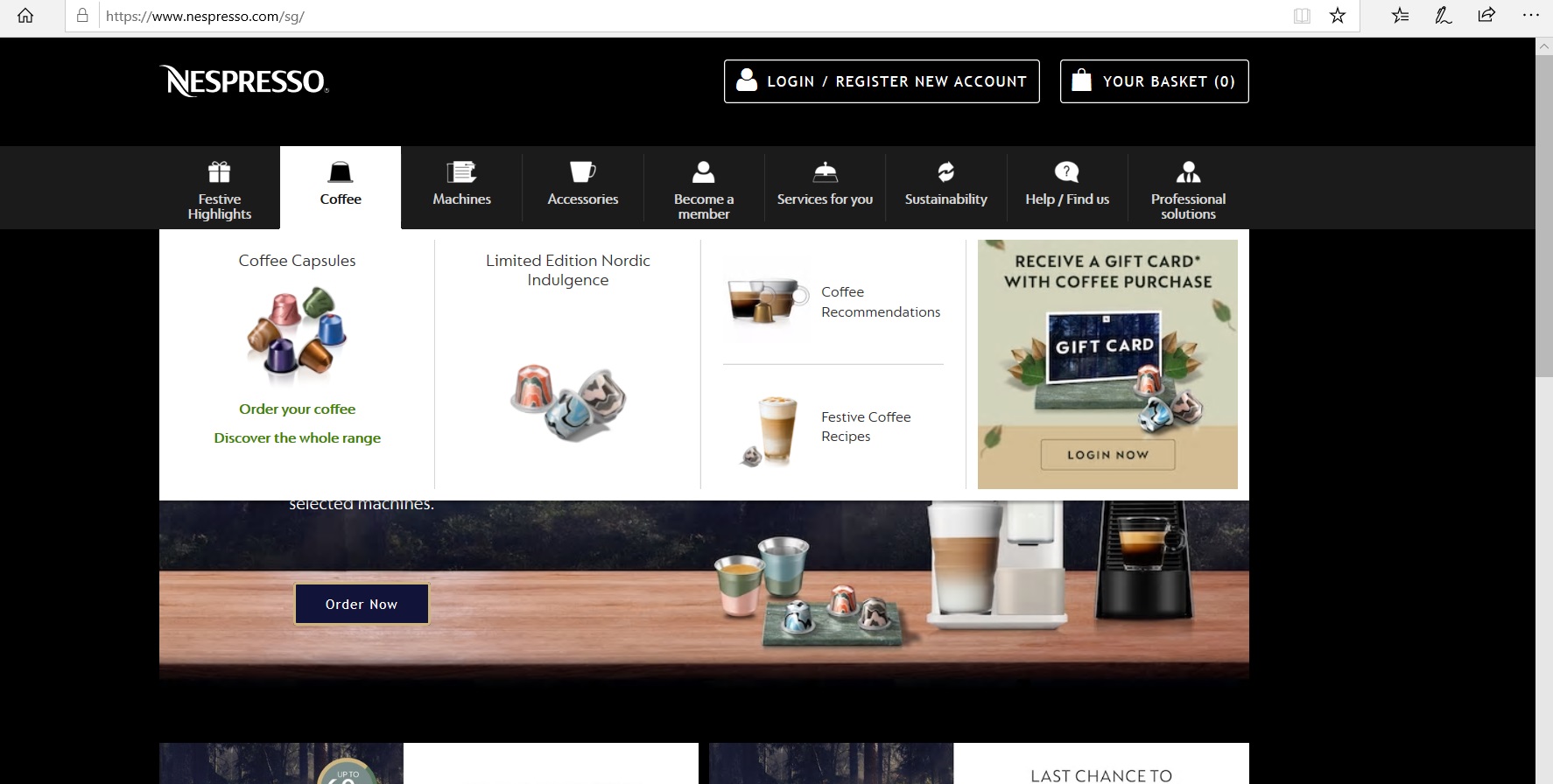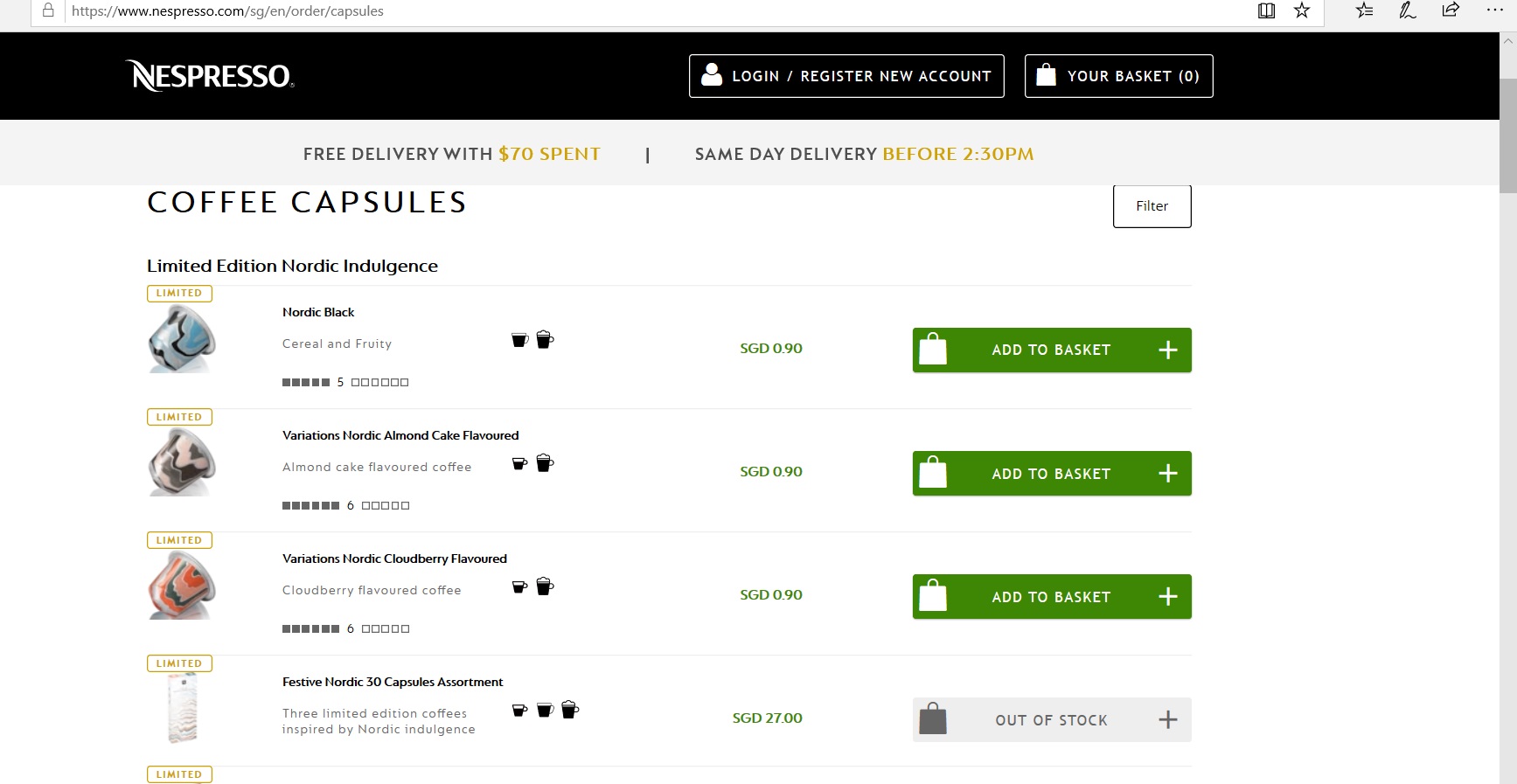 2. The product will be added to your basket after which you can go back to add more items or click 'Checkout .
3. On the next page, sign in if you are already a registered customer or click 'Continue if you are a new customer. Enter your email address and password on the resulting page and click 'Continue . You will be now registered on the site. Include a gift item if you wish to or else select the option 'I am not interested for now .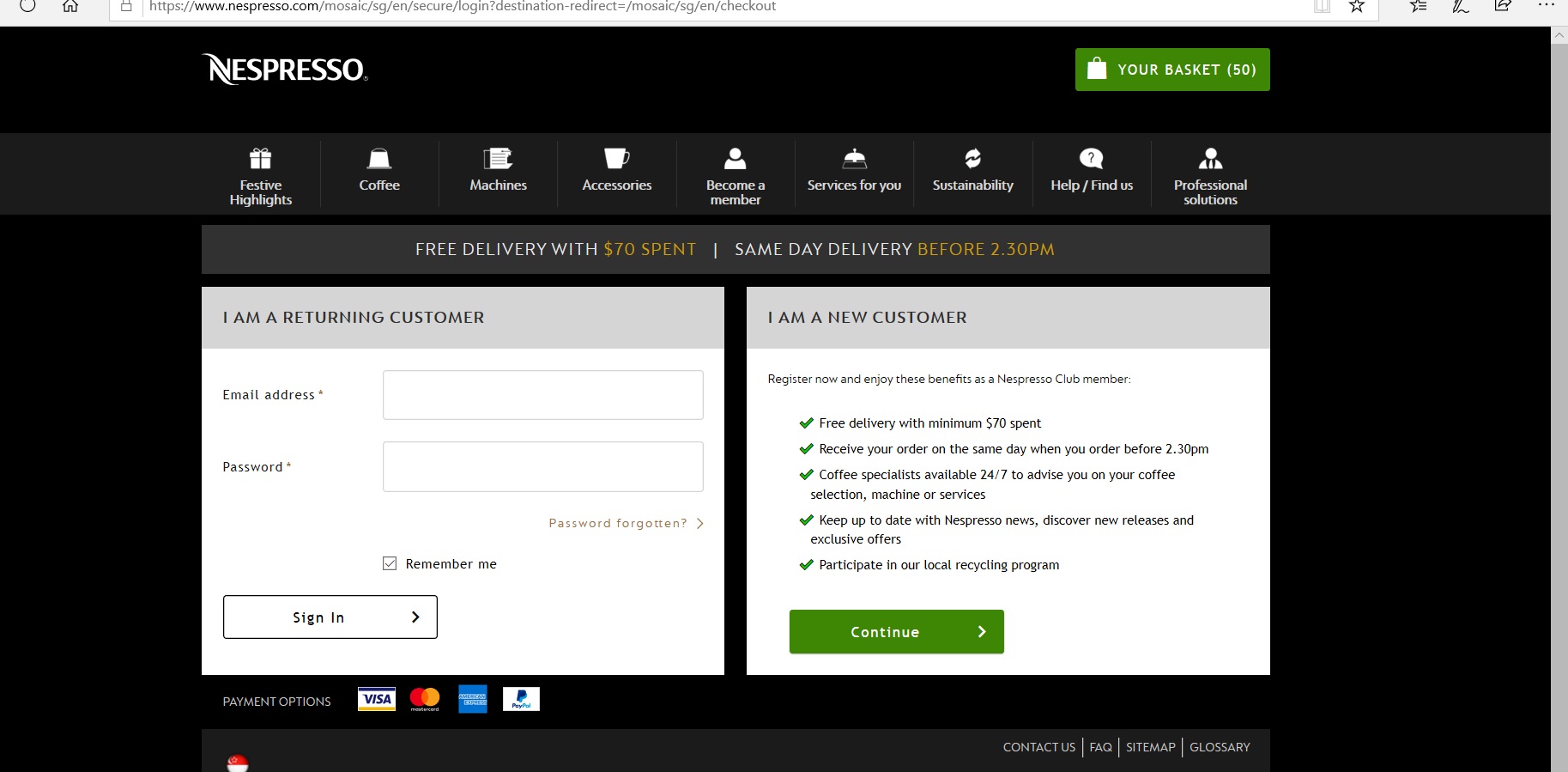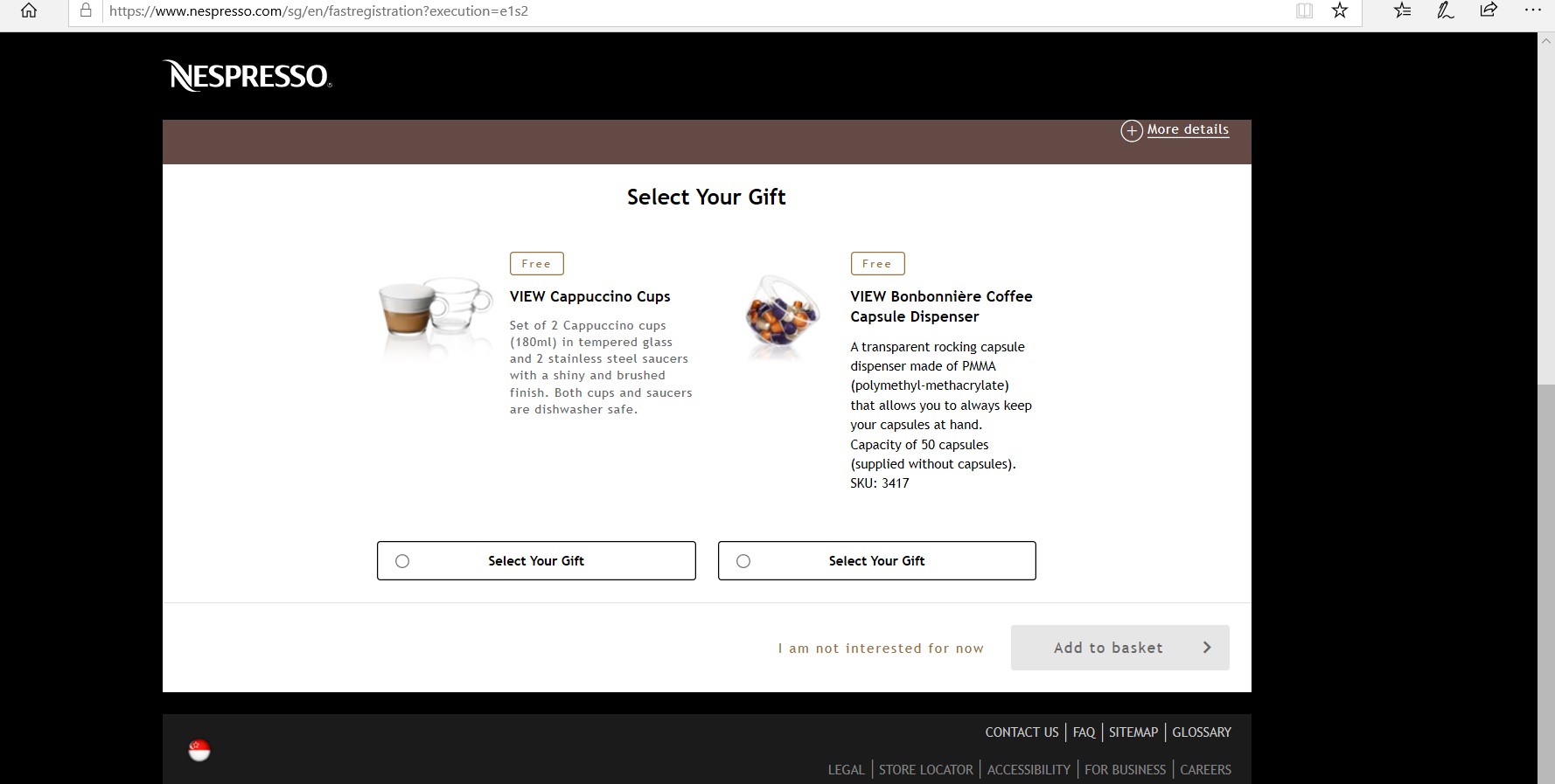 4. On the next page, you can make changes to your order by clicking 'Modify or simply enter the address details and contact information and click 'Save my address . On the resulting page, review your order and address details, enter the Nespresso promo code in the field provided. Select your delivery date and time slot and click 'Proceed to Payment . It will redirect you to the payment page, where you can opt to go 'Back to shipping or choose your payment method, fill in your payment details and click 'Review your Order to proceed with your purchase.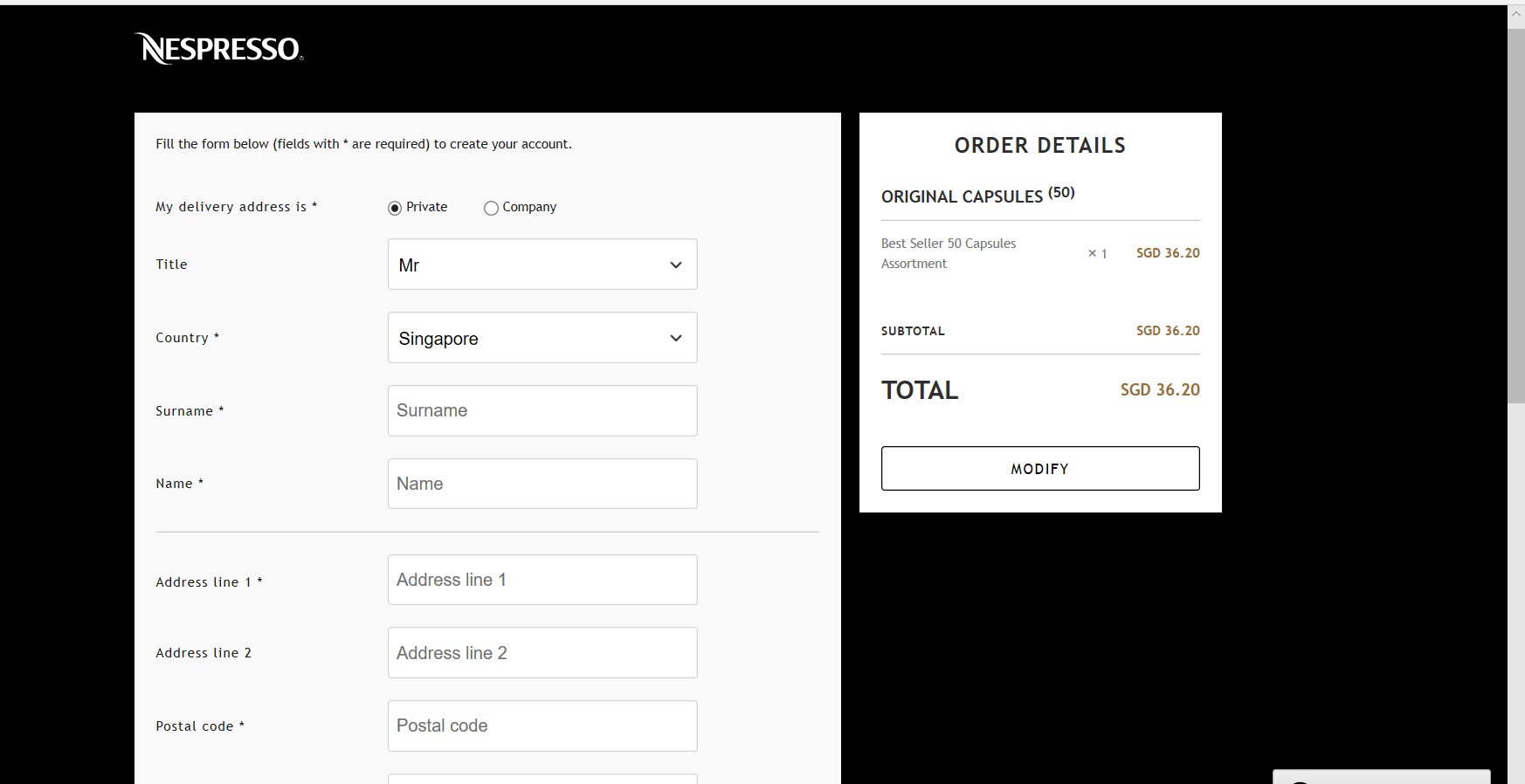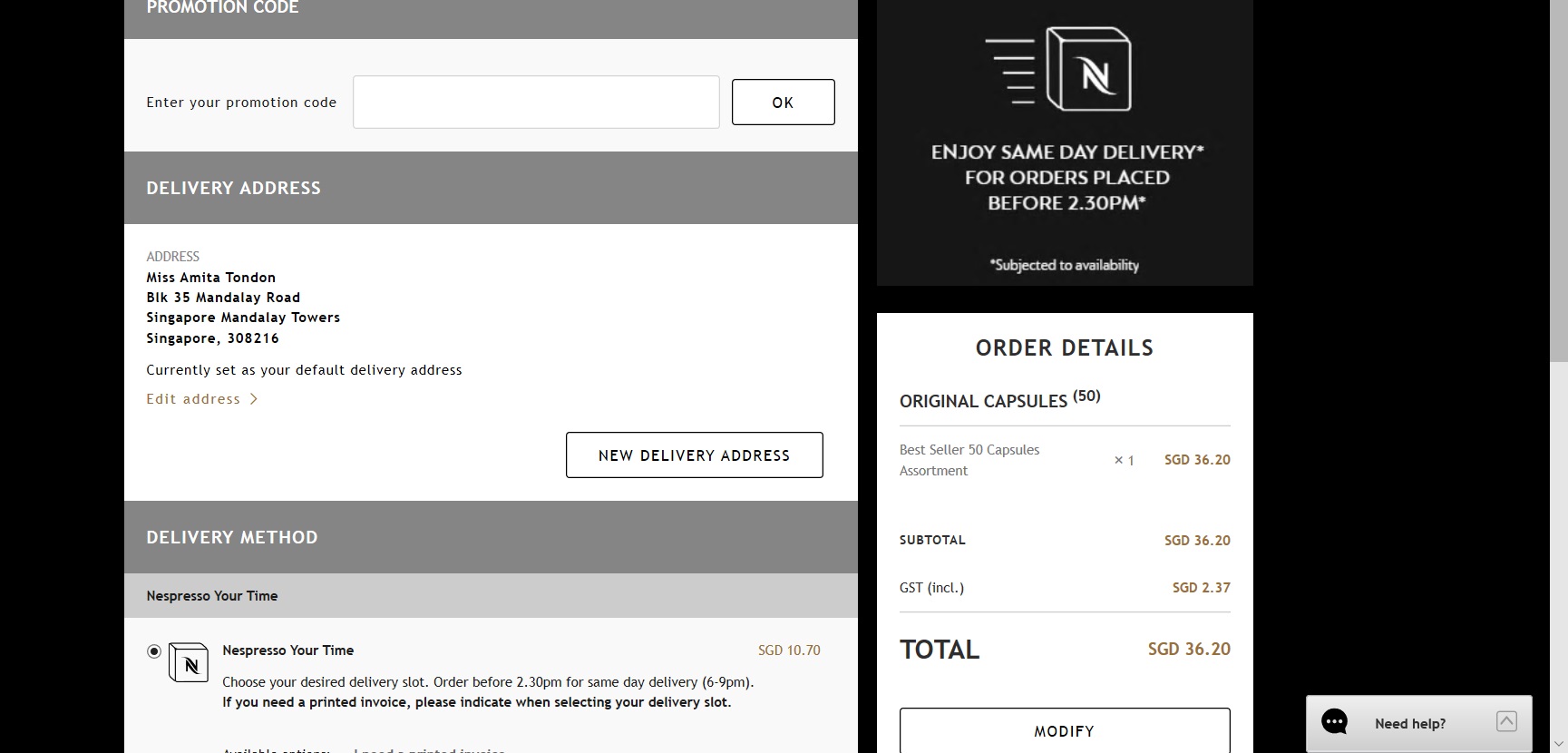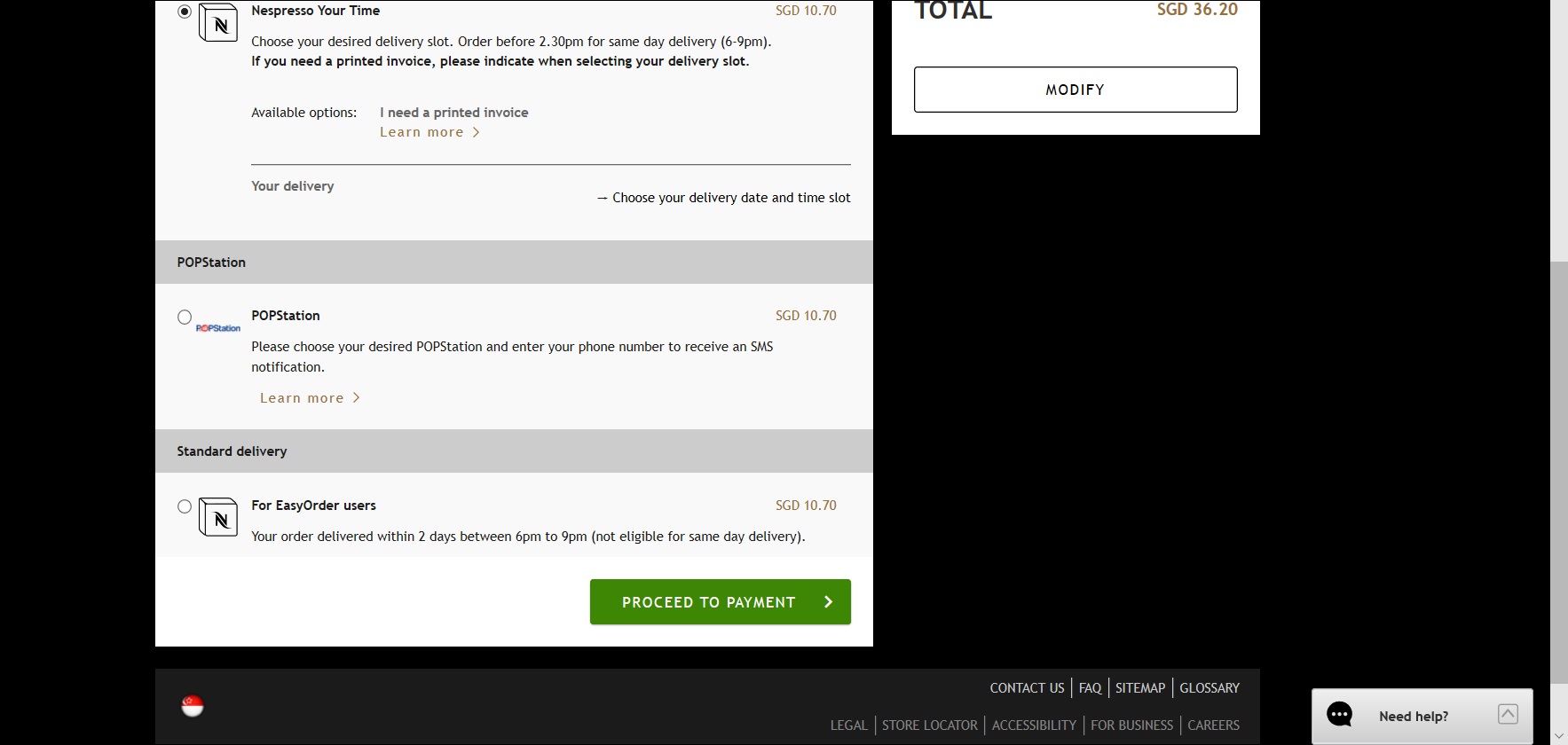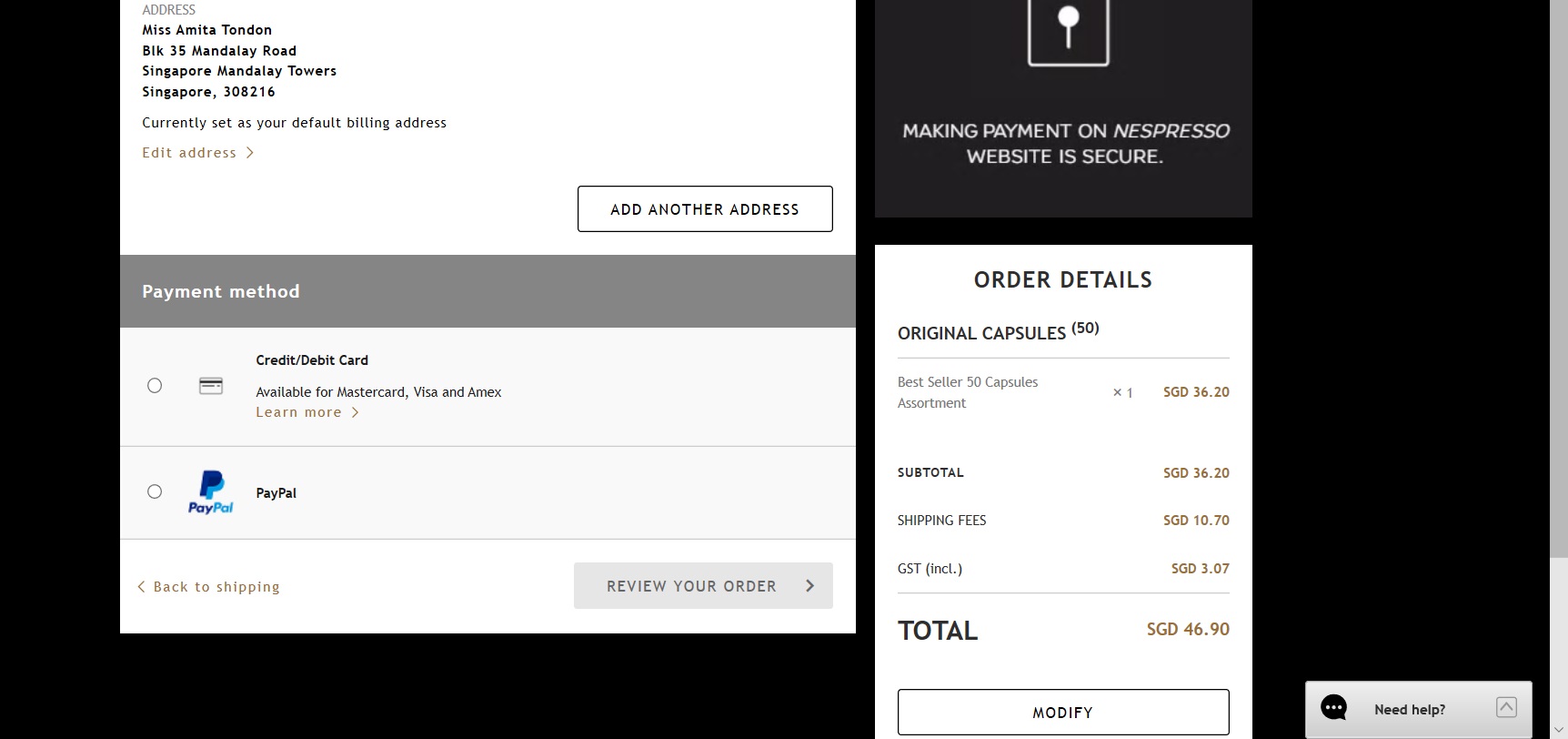 5. Your purchase details and the expected delivery date will be visible once you have placed the order. An e-mail will be sent to you to confirm your order details.
6. Save a lot of money on your purchases during sale and special offers. You can avail discounts by using the Nespresso discount codes on checkout. Ensure that you have checked for discounts and deals before placing an order.
Payment Options on Nespresso
Nespresso offers the following payment methods for your convenience.
Credit Card:
Nespresso accepts credit/debit cards for online payments. It accepts VISA, American Express and MasterCard.
PayPal:
PayPal serves as a simple online transfer alternative to the traditional payment process. Nespresso accepts PayPal method for all your payments.
Different Coupon Codes and Discounts on Nespresso
The website brings to you a number of Nespresso discounts and special deals from time to time. While some of them last throughout the season, some other offers are valid only for a limited period. Customers can save a lot of money by applying the Nespresso codes.
On shopping with the merchant using a registered account on ShopBack, customers are eligible to earn 5% cashback.
How to Redeem Coupons and Vouchers on Nespresso?
Online shopping sites bring a number of advantages by offering vouchers and coupon codes to earn discounts and cashbacks when shopping online. With such advantages at your disposal, you can enjoy online shopping much more than what you experience when shopping at the stores.
Here is a step-by-step tutorial on how to redeem coupons and vouchers at Nespresso:
Step 1:
Choose your preferred product from the list of displayed items and click Add to Cart .
Step 2:
Next, fill in your shipping information and email address and then head to checkout.
Step 3:
Proceed to the payment page. Here, you will find a box under the payment summary section to enter your Nespresso promo code/Nespresso coupon code or any other applicable discount codes for availing discounts.
Step 4:
Select the payment method and fill in your payment details to complete your transaction.
How to Shop on Nespresso Using ShopBack
ShopBack offers 5% cashback on products if you shop from Nespresso. Follow the below mentioned steps to earn cashback from ShopBack:
Step 1:
Select Nespresso from the list of brands on the ShopBack homepage, or use the search box to find a link to the Nespresso website.
Step 2:
Go through the terms and conditions, cashback details and tips to ensure cashback.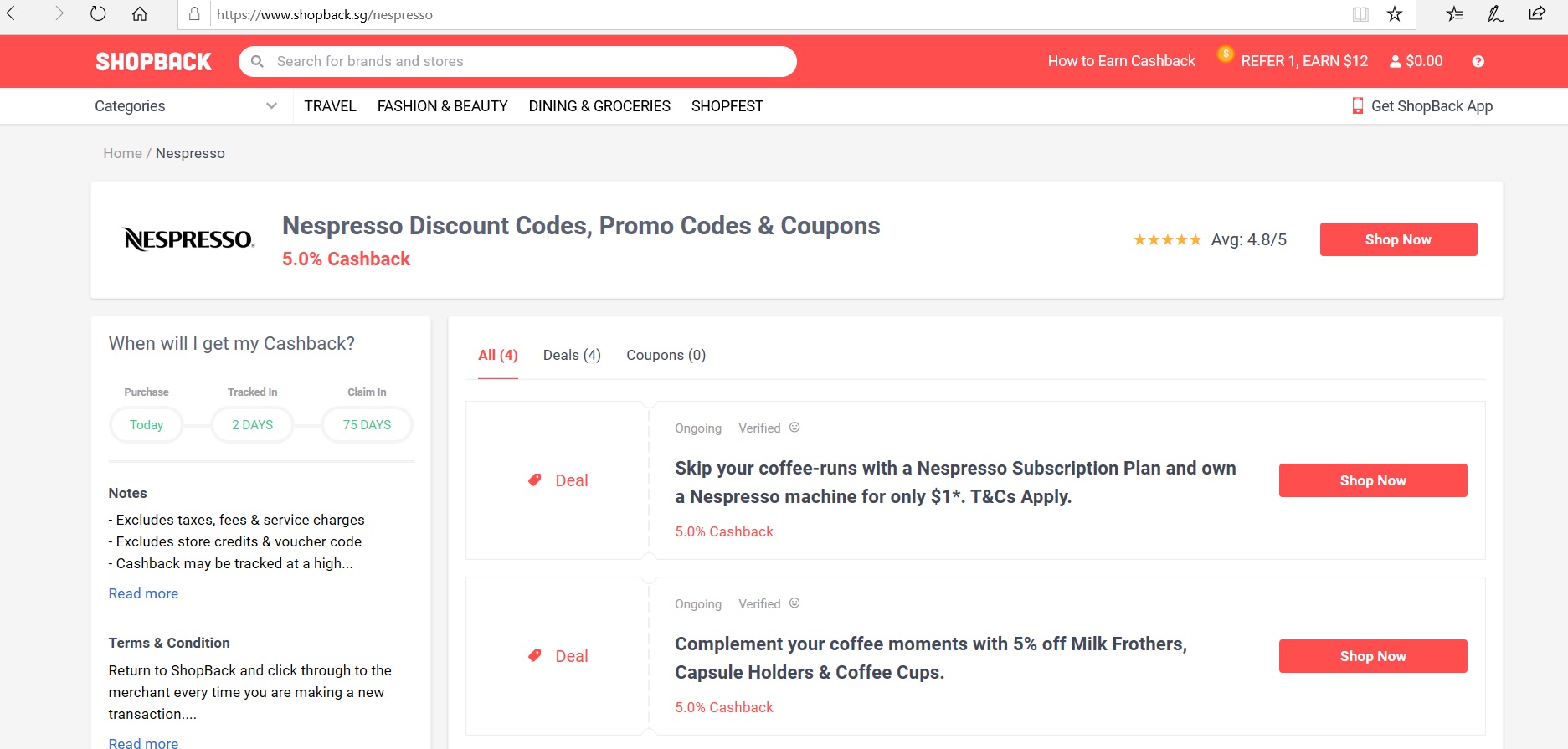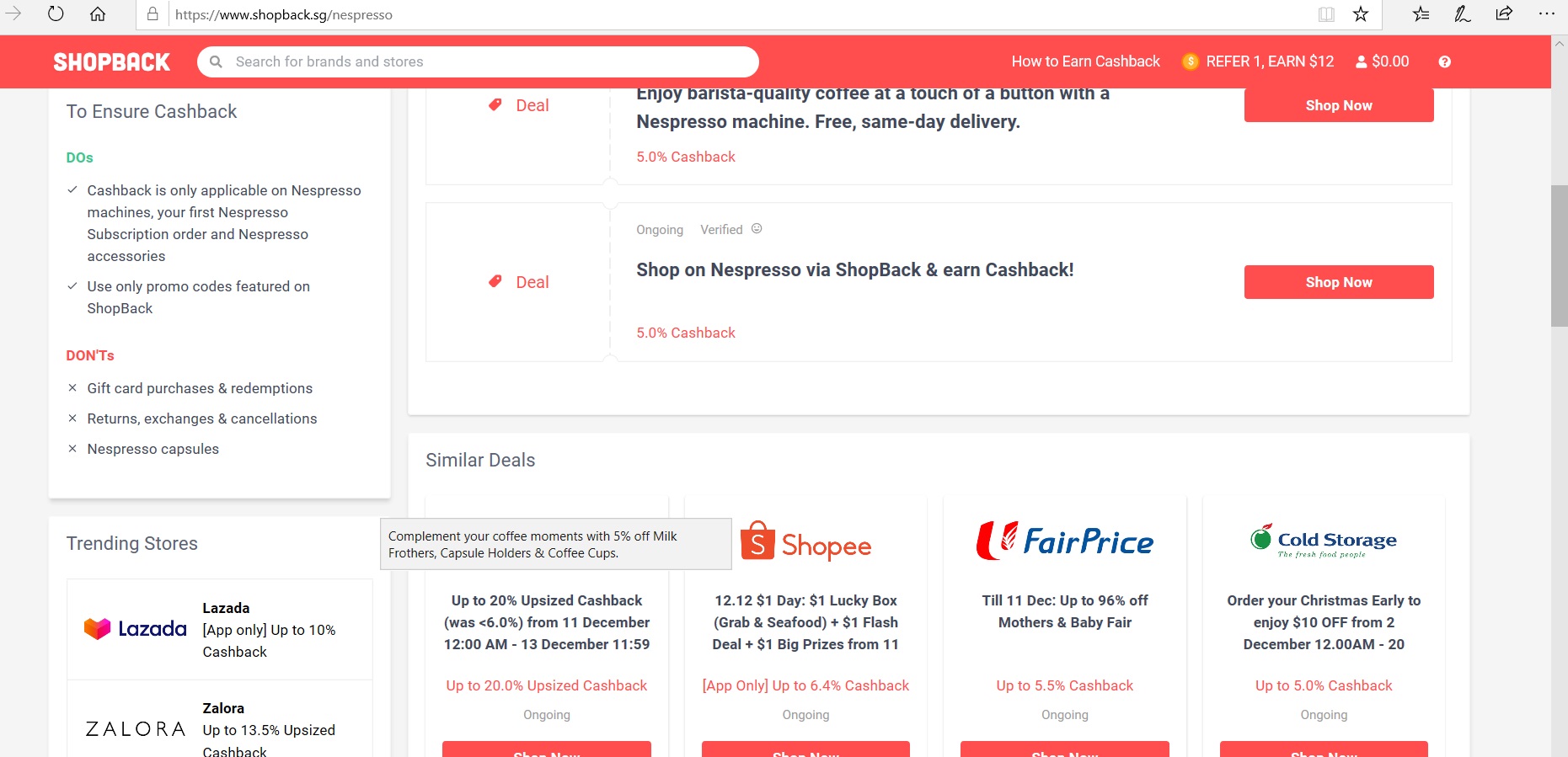 Step 3:
Click 'Shop Now on the right.
Step 4:
Additional attractive deals can be found by clicking the 'Discounts + Cashback section.
Step 5:
On placing the order, you will be eligible to earn Nespresso cashback from ShopBack. Cashback rates may vary based on your history with ShopBack. Cashback offer is not applicable on purchases made via the Nespresso app.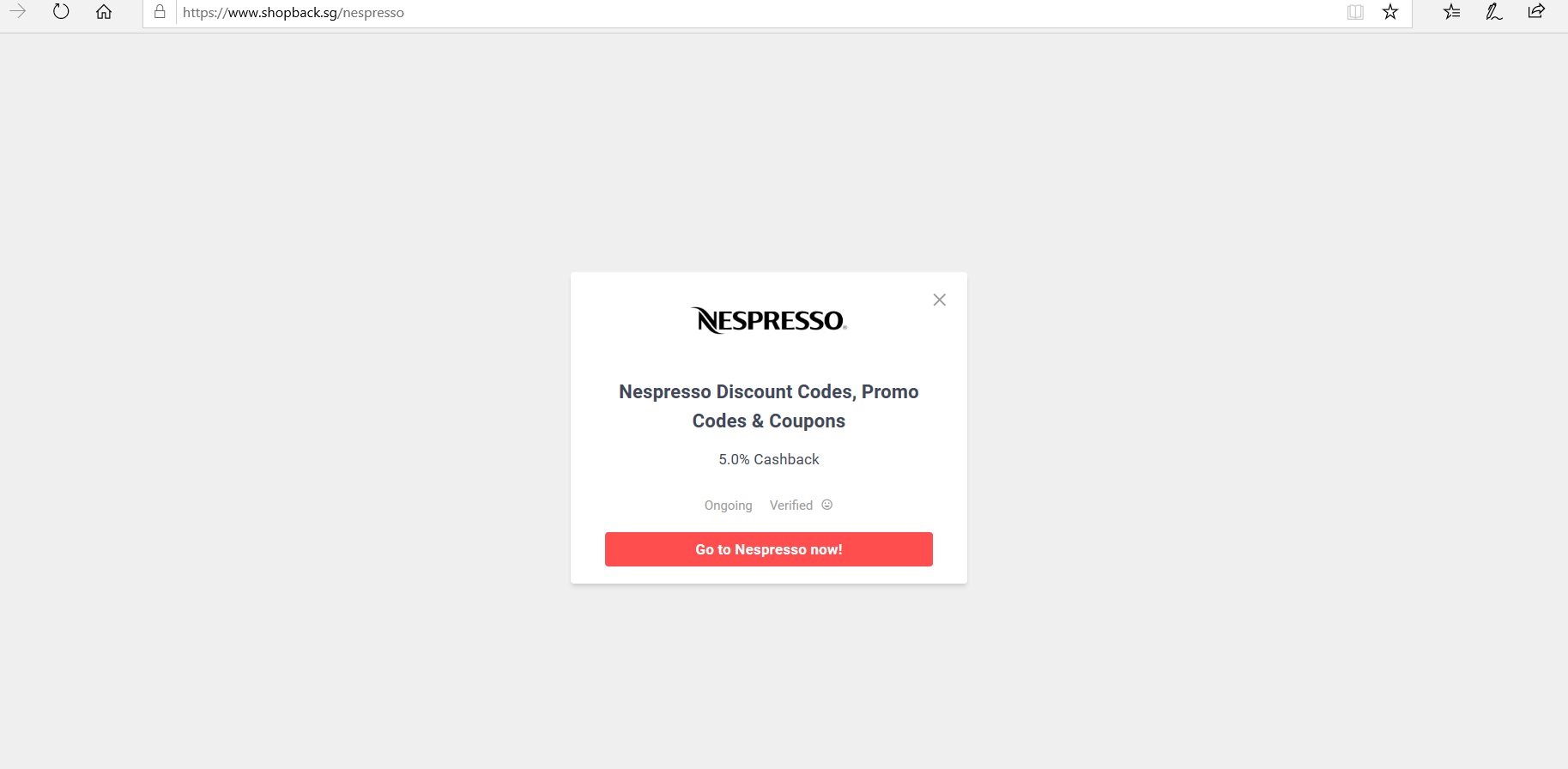 Nespresso Shipping and Return Policy
The shipping and returns policy for Nespresso is listed below:
Shipping:

Nespresso offers same day delivery if the order is placed before 2.30 PM (6 PM to 9 PM delivery time slot is preferable) and delivers for free if the order cost is $70 or more. For all other orders, the delivery fee charged is $10.70.

Their delivery option 'Nespresso YourTime is available on all days from 9 AM to 9 PM (including on public holidays). The delivery time slots can be chosen up to 7 days prior as per your convenience (the time slots are: 9 AM to 12 PM, 12 PM to 3 PM, 3 PM to 6 PM and 6 PM to 9 PM).

Returns and Cancellations:

Your products will be eligible for return or exchange within 7 days from the date of delivery, provided the items are in their original packaging, with the tags and original invoice intact. Returns will also be accepted if the items were damaged before reaching you or there has been a discrepancy between what was ordered and what was delivered. However, consumables like sugar, coffee, etc., cannot be returned or exchanged.

If you wish to alter or cancel your order, you will have to contact their customer service number ASAP. If the order was processed before you contacted them, you ll have to request for a return.

Refer the FAQs section for more information on shipping, returns and other Nespresso related queries.
Nespresso Customer Service
Customers can click on their 'Support option or visit their contact us page/FAQs section for queries related to Nespresso vouchers or anything in general. You may connect with their customer care representatives on their toll free number 800 852 3525 (24/7). You can also send them an email by visiting their contact us page. Click the 'Help/Find us tab on top of the page to get help or to access specific information.