Personalise Your Family and Home with Kohl s
Operated by Kohl s Corporation, Kohl s is an American department store retail chain. It is one of the largest department store chains in the United States with stores in around 1,158 locations. Maxwell Kohl, a Polish immigrant, founded Kohl s by opening a corner grocery store in Milwaukee, Wisconsin in 1927. The headquarters of the company is located in the Milwaukee suburb of Menomonee Falls, Wisconsin. It has stores in every U.S. state except Hawaii. Thanks to Kohl s shop online option, you don t have to step out of the house to purchase clothes, furniture, home décor items, sporting goods, clothes, etc. You can just log in to Kohl s department store online and shop according to your preferences.
Maxwell Kohl had established traditional grocery stores since 1927. He built his first supermarket in 1946 and it later grew into a south-eastern Wisconsin chain known as Kohl s Food Stores. In September 1962, Kohl opened his first department store in Brookfield, Wisconsin. In 1972, BATUS Inc. bought a controlling interest in Kohl s Corporation. The Kohl family continued to manage the company. However, the family left the management in 1979. Later, the firm extended Kohl s presence from 10 to 39 stores in Wisconsin, Illinois and Indiana. In 1983, the grocery stores were sold to A&P, operating under the name Kohl s Food Store, and later Kohl s Food Emporium. A&P put the Kohl s Food Stores up for sale in February 2003.
A group of investors bought the company in 1986. The company added 27 more stores to the existing 40 department stores over the next two years. In 1988, the chain acquired 26 locations from the Chicago-based retailer MainStreet, gaining several stores in Chicago s suburbs, the Twin Cities and Michigan. Kohl s finished its initial public offering on May 19, 1992 and began trading on the New York Stock Exchange under the symbol KSS.
Kohl s expanded its business to 49 states during 2000s. In 2006, Kohl s sold its credit card division to J.P. Morgan Chase. Kohl s replaced Chase with Capital One as their private credit card processing partner in 2011. In 2015, the company opened the first test store of OFF/AISLE, a chain built around selling like-new clothing, home goods, jewellery and accessories that were purchased and returned at Kohl s stores. The company earned revenues of $19.095 billion in 2017, and as a result, ranked 157th on the 2018 Fortune 500.
Plenty of different categories of products are available on Kohl s online platform. You can purchase sporting goods, self-care products, furniture, home décor products, clothes, beauty products, jewelleries, shoes and much more from Kohl s online platform. Let s look at the different Kohl s shopping categories:
Active & Wellness:
If you want to purchase workout clothes, athletic shoes, fitness trackers, exercise equipment, wellness and self-care products, air fryers, air purifiers, workout gears, sporting goods, camping equipment, etc., Kohl s can be your ideal destination. You can buy products at great rate from some of the most popular brands.
Home:
Kohl s has plenty of brands offering home décor products, curtains, rugs, cooking utensils, dinnerware, speakers, vacuum cleaners, massagers, heaters, backpacks, irons, chairs, storage furniture and many more.
Bed & Bath:
Check out some of the best bed and bath products on Kohl s. You can buy blankets, pillows, pillow covers, mattresses, bath accessories, bath rugs, towels, shower curtains and more from Kohl s. You can purchase bedding products based on various mattress sizes on the website.
Furniture:
Find some of the best accent chairs, accent tables and ottomans on the site. Check out some high-quality coffee tables, bar stools, counter stools, nightstands, futons, dining sets, fire pits and many more on Kohl s. You can avail these at a much cheaper rate by using Kohl s discount code.
Women:
Women can get everything they need delivered to their doorstep through Kohl s website. From tops, sweaters, pants, maternity clothes, swimsuits, dresses, jeans, skirts to shorts, they provide all kinds of cloth items for women.
Men:
Be it pants, joggers, shirts, jackets, belts, boots or pyjamas, Kohl s has all varieties of men s clothes. Shop with Kohl s to get some of the best branded clothes in town.
Juniors:
You can buy some of the best teenager products at the click of a button on Kohl s website. Check out bras, panties, boots, handbags, graphic tees, leggings, capris and more.
Shoes:
You can find all kinds of footwear on Kohl s. Choose your preferred footwear from the list of boots, pastels, sneakers, athletic shoes, flats, flip flops, heels, wedges, sandals, etc.
Kids:
You can have a hassle-free children s cloth shopping by using Kohl s website. Be it a girl or boy, all kinds of kids wears are available on Kohl s.
Baby:
You can find some of the best baby clothes, accessories, feeding and nursing tools, etc. on Kohl s. While purchasing, search by the age of your baby, so that you can find the best-suited clothes for your baby.
Toys:
If you are searching for different kinds of toys, Kohl s is there to help you. You can search by age of the kid or by types of toys. The different types of toys include action figures, art & crafts, dolls, dollhouses, games, puzzles and many more.
Swim:
You can shop women s swim tops, girls swimsuits, boys swimsuits, etc. on Kohl s.
Sports Fan:
If you are a sports fan, Kohl s is there to help you. From NFL, NBA, NCAA, NHL to MLB, you can purchase merchandise of all kinds of sport clubs.
Jewellery & Accessories:
Purchase jewelleries and accessories of your choice without any hassle now.
Beauty:
From makeup, fragrance, nail polish, skincare products to haircare products, plenty of high-quality beauty products are available on Kohl s. Use Kohl s discount to purchase these in less money.
Character Shop:
You can purchase merchandise from Disney, marvel, DC Comics, etc. through Kohl s.
Clearance:
Find some amazing products from the list of clearance sale and purchase your favourite ones at a much cheaper rate.
Special Occasions:
Kohl s provide specific products for specific occasions. Be it Mother s Day, Father s Day, Easter, Christmas, New Year, Halloween or Wedding, you can shop your favourite products for each special occasion. Many Kohl s promotions can be availed during these festive times.
The Kohl s website offers a hassle-free shopping experience for everyone. You can find specific products by searching through the search box at the top of the website. The different categories of products are displayed under "Shop by Department" section. By clicking on this section, you can go to specific subcategories to find the products you wish to buy.
The homepage displays bestselling products, top trending items, customer favourites, Kohl s promo, etc.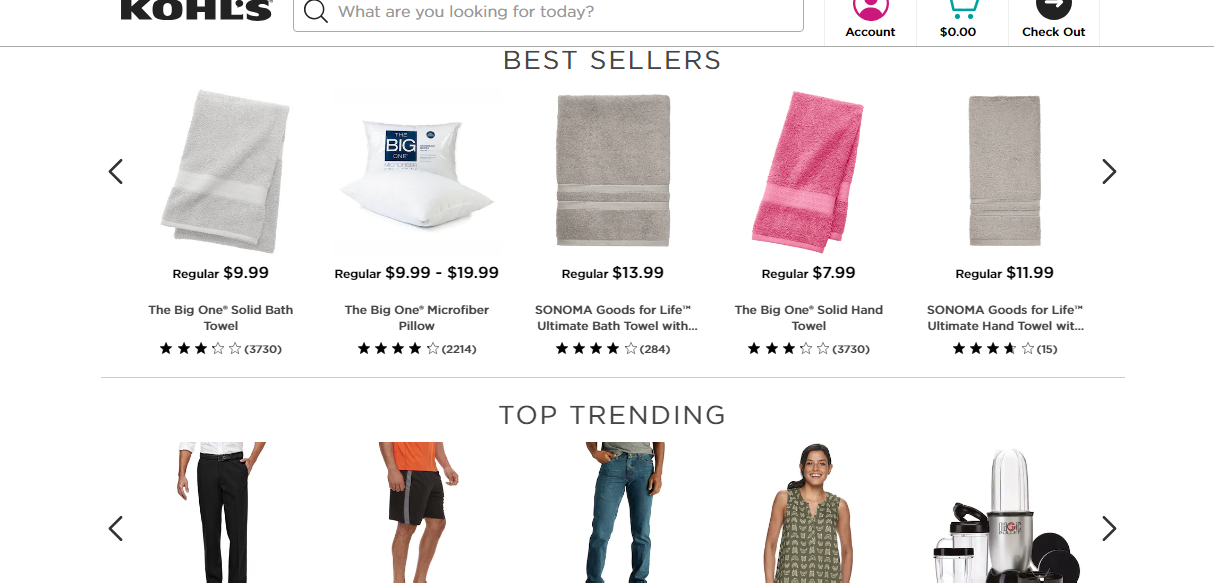 Browse "Shop by Department" and then select the subcategory based on your preferences. The website will display subcategories on the top as well as the sidebar and the products will be listed in the main display area.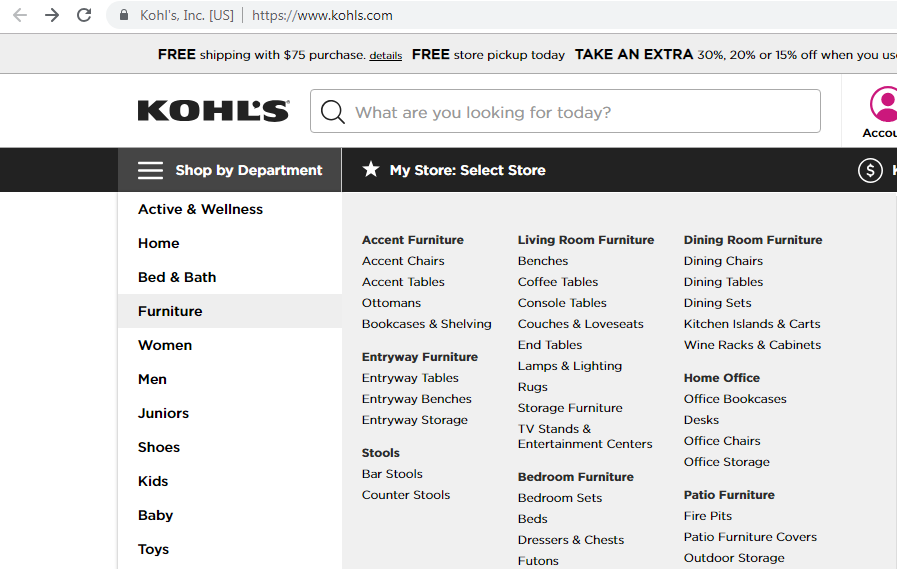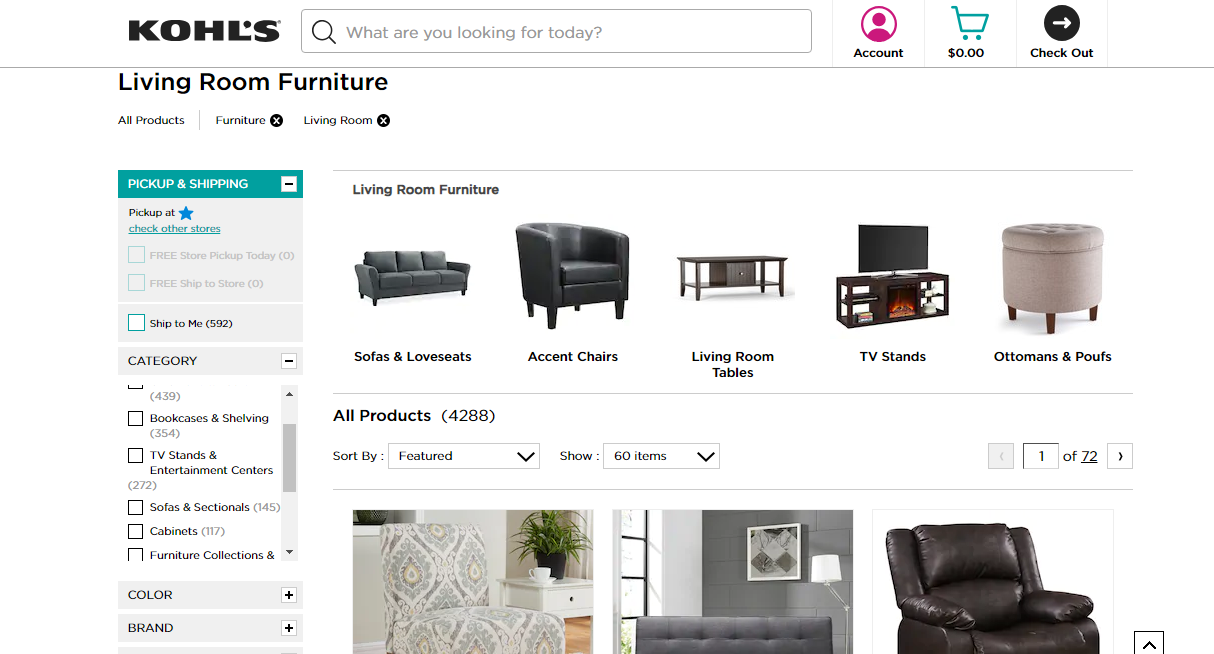 Click on the product that you want to buy, and you will be directed to the product listing page. Check the details of the product and add the item to the cart if you are satisfied.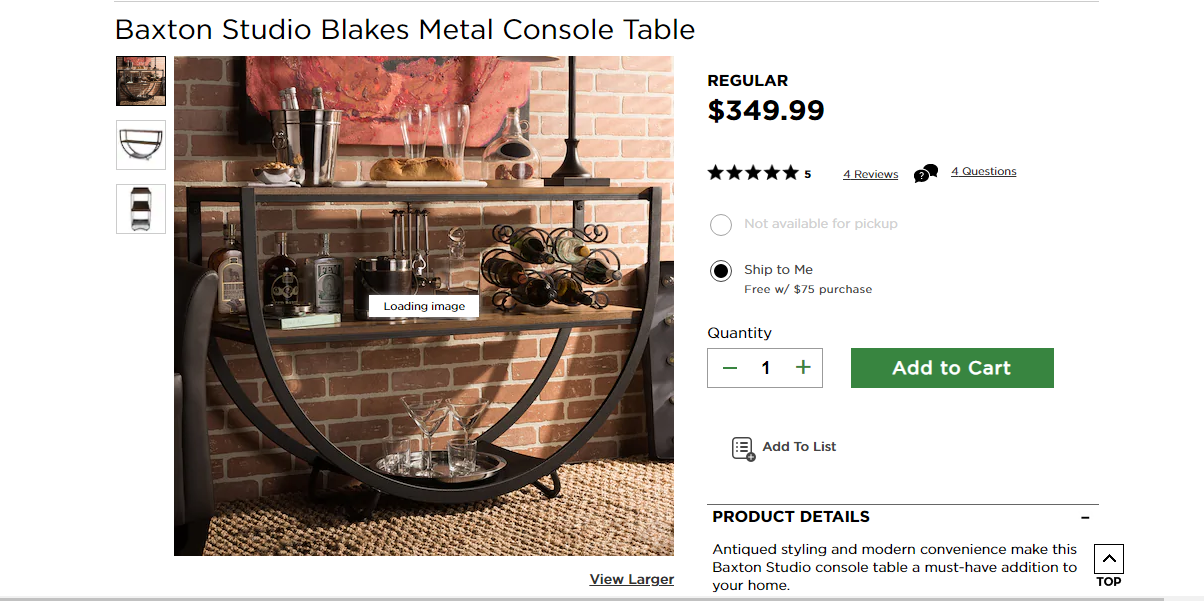 If you want to add more products to your cart, go ahead. Once you have added everything you want to purchase, go to your shopping cart displayed on the top of the website. Click on "View Cart" and then proceed to check out.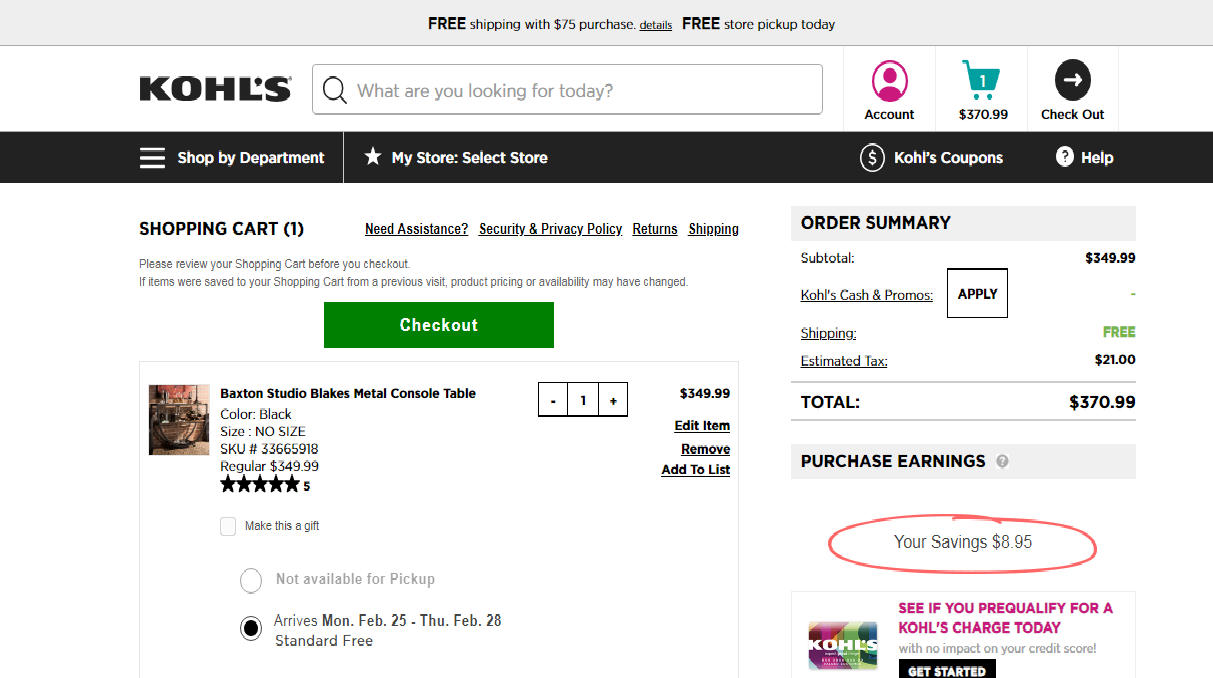 Enter your email and password on this screen. If you don t have an account, you can do the guest check out also. Once you click on guest check out, you need to enter the delivery address details in the next page. The delivery charges and tax will also be displayed on this screen. Once you are done with entering information, click on "Continue to Payment", which is displayed at the bottom of the screen. Choose a payment option on the next screen and complete the transaction. Then, review and place the order.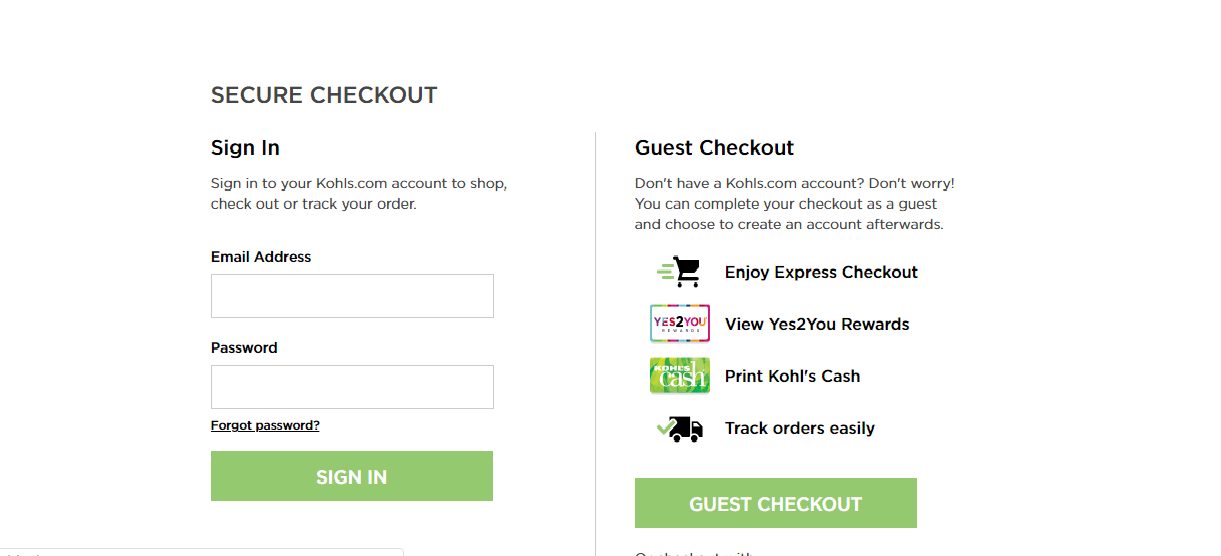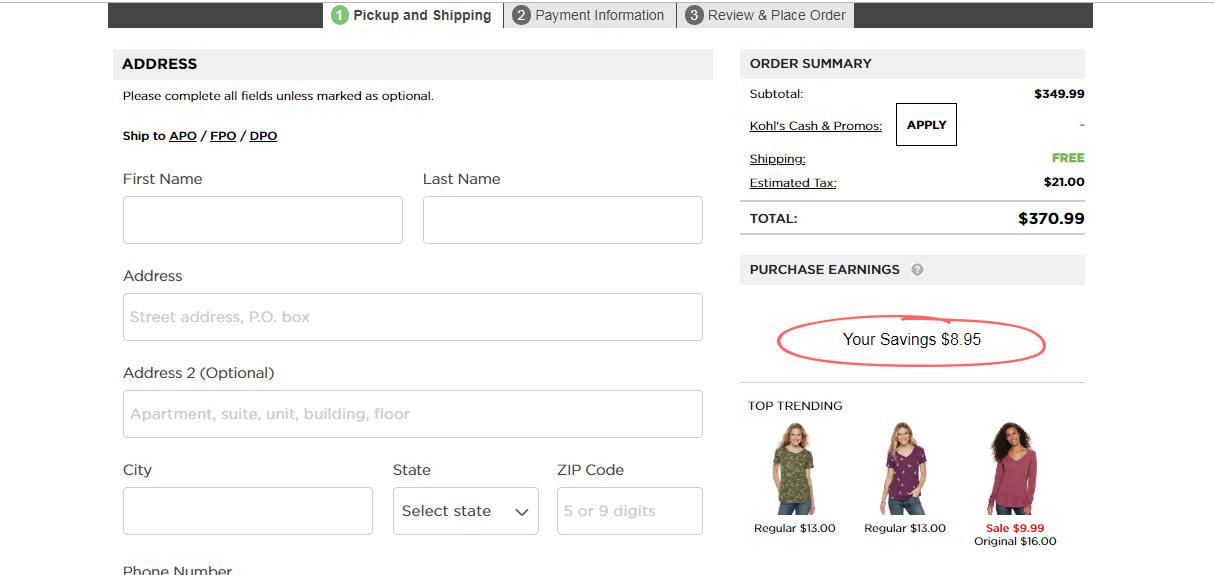 Payment Options on Kohl s
You can pay for your order with a valid Kohl s charge card or another major credit card. They accept Discover, MasterCard, Visa, American Express, Diners Club and JCB. You can use only one credit card per order.
How to Redeem Coupons and Vouchers at Kohl s?
Online shopping provides plenty of offers and deals for the customers. Many websites offer cashbacks when you shop using their links. Plenty of Kohl s promo codes are available that help you save a lot of money.
Let s look at step-by-step process of redeeming Kohl s promo codes and Kohl s discount coupons:
Step 1:
Choose the item you want to buy and add it to the cart.
Step 2:
Go to the cart and click on "Kohl s cash & promos".
Step 3:
Enter the promo code and click on "Apply Code".
Step 4:
Select your payment method and enter the payment details to complete the transaction.
How to Shop on Kohl s using ShopBack
ShopBack offers up to 1.5% cashback for Kohl s purchase. Let s look at the steps you need to follow to earn cashback from ShopBack:
Step 1: Visit the ShopBack website and click on the Kohl s store at the bottom of the homepage. You can also use the search box to find the link to the Kohl s store.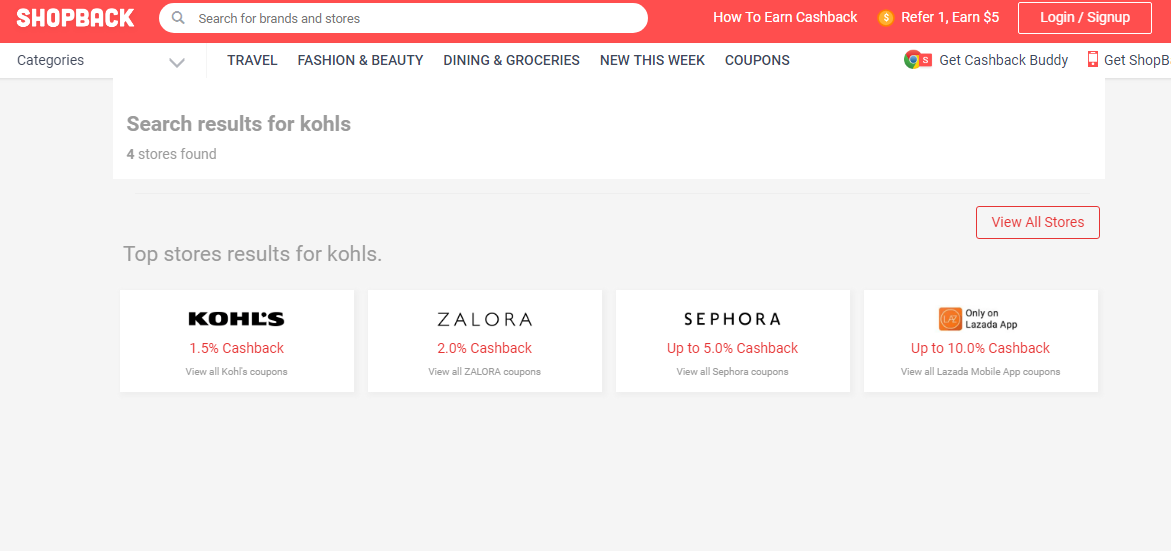 Step 2: Click on "Activate Cashback" button, which is placed on the top left corner of the page.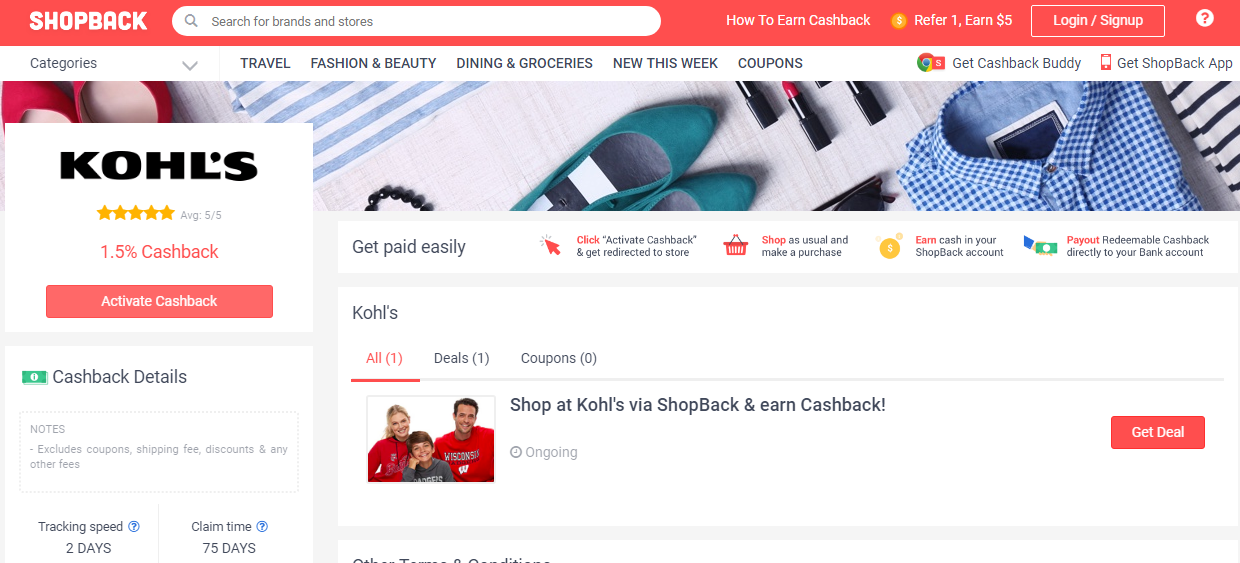 Step 3: If you are interested in coupons, check out the Coupons section.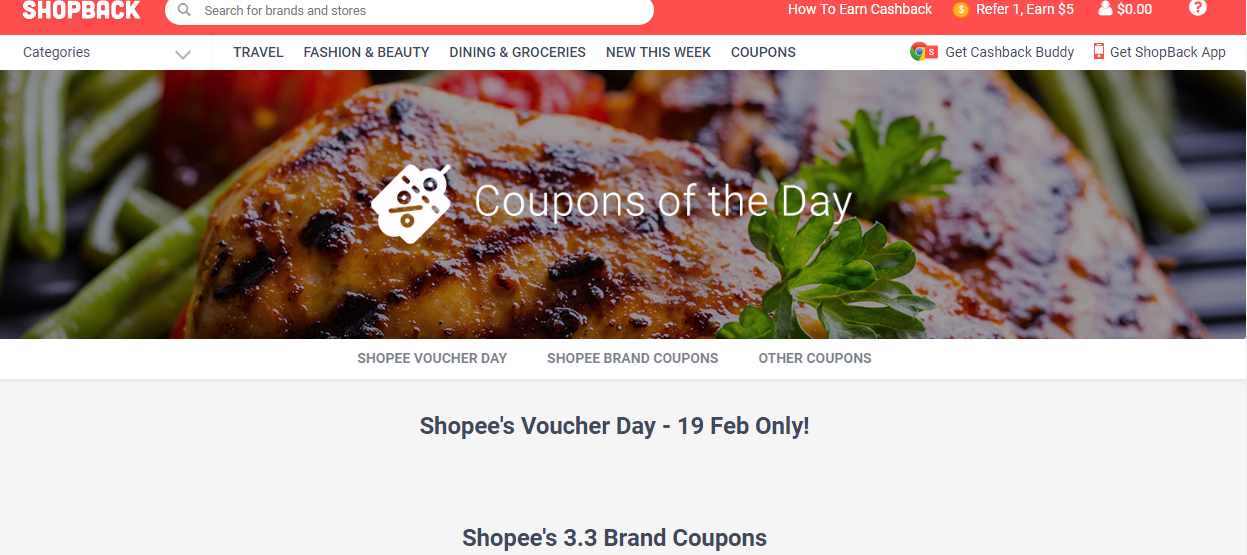 Step 4: You will be redirected to the Kohl s website.
Step 5: Once you place an order, you will be eligible to earn cashback from ShopBack.
Kohl s Shipping & Return Policy
Once shipping of your order is done, you will receive an email with a link to track your order. Also, customers can sign up for text alerts about their package. Kohl s offers free standard shipping with a purchase of $75 and above. Check the shipping fee in your order summary before you make the payment.
If you want to return an item that you purchased, you need to know about their return policy.
If you have an original receipt, you ll get a refund or even exchange. In case you have paid with a check, you may get a Merchandise Credit, cash or a Corporate Refund. If you have used a gift receipt to purchase the product, you ll get an even exchange of a Merchandise Credit. Without a receipt, Kohl s stores offer great prior purchase look-up options. If they cannot locate your original purchase and/or for non-receipted returns, information from your valid ID will be stored to monitor your return activity. They will provide you a Kohl s Merchandise Credit based on a discounted lowest 13-week sale price of the item(s).
Returning online purchases in-store is the easiest way to get a refund. You just need to bring the item and your order invoice to the Customer Service Desk of any Kohl s store. You can just log into your Kohls.com shopping account to reprint a copy of your purchase invoice. If you want to return the item by mail, follow these 3 steps:
For any query, you can type in your question on the "Help" section on the Kohl s website. You can see "Contact Us" options on all frequently asked questions.