Jetstar Promos & Sales May 2018
Enjoy Cashback when you book Jetstar flights through Expedia today!
Refer to website for full terms and conditions.
ShopBack must be the last link you clicked in order to get Cashback. If other website links are clicked after clicking through ShopBack, Cashback will not be tracked (E.g. coupon and deal websites)

If for some reason your payment made on merchant page has failed, do click through ShopBack again and re-do your purchases to ensure tracking is still active

Return to ShopBack and click through to the merchant every time you are making a new transaction.

If you are making 3 separate transactions on the merchant, you should click through ShopBack 3 times, each time before making a new purchase.

For more details: www.shopback.sg/terms-and-conditions
Recent Articles
More about Jetstar
Jetstar – A brief introduction
Ticket booking is always a tough part in any journey if you do not have an easy to use one-stop solution. It is true for air-ticket booking too. We want simple, smooth and secure travel for both us and our family.
Jetstar Airline is a value-based airline company based in Melbourne, Australia. The Jetstar group administers domestic, regional and international services and supports Jestar Asia Airways, Jetstar Pacific Airlines, and Jetstar Japan.
Jetstar was established in 2003 as a low-cost domestic subordinate by Qantas. In spite of the low-cost spirit, they are currently offering a restricted number of connecting offers. From October 2006, the facility to access reserved seat is provided for all Jetstar Airlines. On December 13, 2004, the first flight of the sister airlines of Jetstar Asia Airways, took off from Singapore hub. This helped Qantas to make an entry in the low-cost market and it has a stake of 42.5% in Jetstar Asia's ownership. In July 2006, Jetstar and Jetstar Asia were aligned and online booking for both started from the website of Jetstar.com.
The chief executive officer of Jetstar Asia is Barathan Pashupathi, who was announced as the CEO in July 2012. He has over 23 years of experience in the aviation industry and he served as the Founding Executive Officer (CFO) of Jetstar Asia from 2004 to 2007.
Jetstar Asia, which is based in Singapore took off for its first flight ever to Hong Kong on 13 December 2004. Now it runs 18 A320 aircrafts in many popular destinations across North and South East Asia. Jetstar Asia is managed by Newstar Holdings Pty Ltd. Westbrook Investment Pte Ltd owns the majority of 51% whereas Qantas Group holds 49%.
Some of the best features of the Jetstar Asia Flights:
Popular low price
Flexibility in fare
Special sales and offers
Price beat offers
Worry-free travel
Option to add travel insurance
Fridays are usually low fare – on sale
Attractions while traveling in Jetstar
Seats: Get preferred seats with little extra expense
Bundles: Get Starter Plus bundle, Starter Max bundle, and Flexi-bundle offer
Baggage: Add excess baggage allowances with extra charges
Entertainment: Enjoy movies, TV or games. In economy class, the in-flight entertainment can be pre-purchased through 'Manage Booking"
Foods and drink: You can pre-purchase food on some flights from the menu; kids snack and activity pack and business class dining are available.
Comfort packs: It includes neck support pillow, toothbrush and toothpaste, earplugs, socks, eye-mask and eco-thread blanket for you to use and keep.
Lounges: Lounges are accessible for Economy Starter Max and Business Max passengers, Qantas Club members.
Duty-free item: Enjoy the luxury of great items all duty-free
Frequent flyer travel partners: Airline loyalties are available from the list of airline partners of Jetstar.
Check-in facility: Whether traveling domestic or international, get facilities to check-in through online check-in, Kiosk check-in, Airport check-in counter and early airport check-in.
The different facilities when you book through Jetstar:
Promotions: Sign up with Jetstar to know to know the price drop in the flight booking and all the deals and offers
Flights: With the famous low fare and flexibility, the Jetstar team and the crew provides warm service during your travel.
Hotels: There are promotions in hotel booking deal
Cars: You get great and different deals on car rentals according to different countries. You can also compare prices from the top car companies.
Club Jetstar: Enjoy the premium facilities at less expense through Club Jetstar.
Insurance: Jetstar and AIG gives insurance coverage according to your need
Business: Create a free business account to get more facility during flying
Flight Fare: Flight fares are cheaper and they give a price beat guarantee which saves money and proves to be pocket-friendly. If you find any Jetstar flight at a cheaper rate from other online flight booking platform, then the company can give 10% less from the price you got. The terms and condition are applicable while claiming and receiving the discount offer. For example, the payment starts from as low as $46 if you are traveling from Singapore to Hat Yai currently.
Seat preference: If you have your choice of seat, Jetstar Asia gives you the seat preference where you can book a seat with more leg room, which is quite spacious. You can also book the upfront seat if you are in a rush. You can grab the special preferred spot by booking ahead of time so that you don't need to get stuck in the middle seat while traveling with just some extra cost.
Deals available through Shopback for extra perk during your travel
The top cashback site Shopback from Singapore, Malaysia and Philippines allows anyone to get paid while using their promo offers from Jetstar and many other online travel merchants such as Agoda. To enjoy the successful cashback offer, make sure you have used the featured codes from Shopback.
Deals and Promotions to enjoy during travel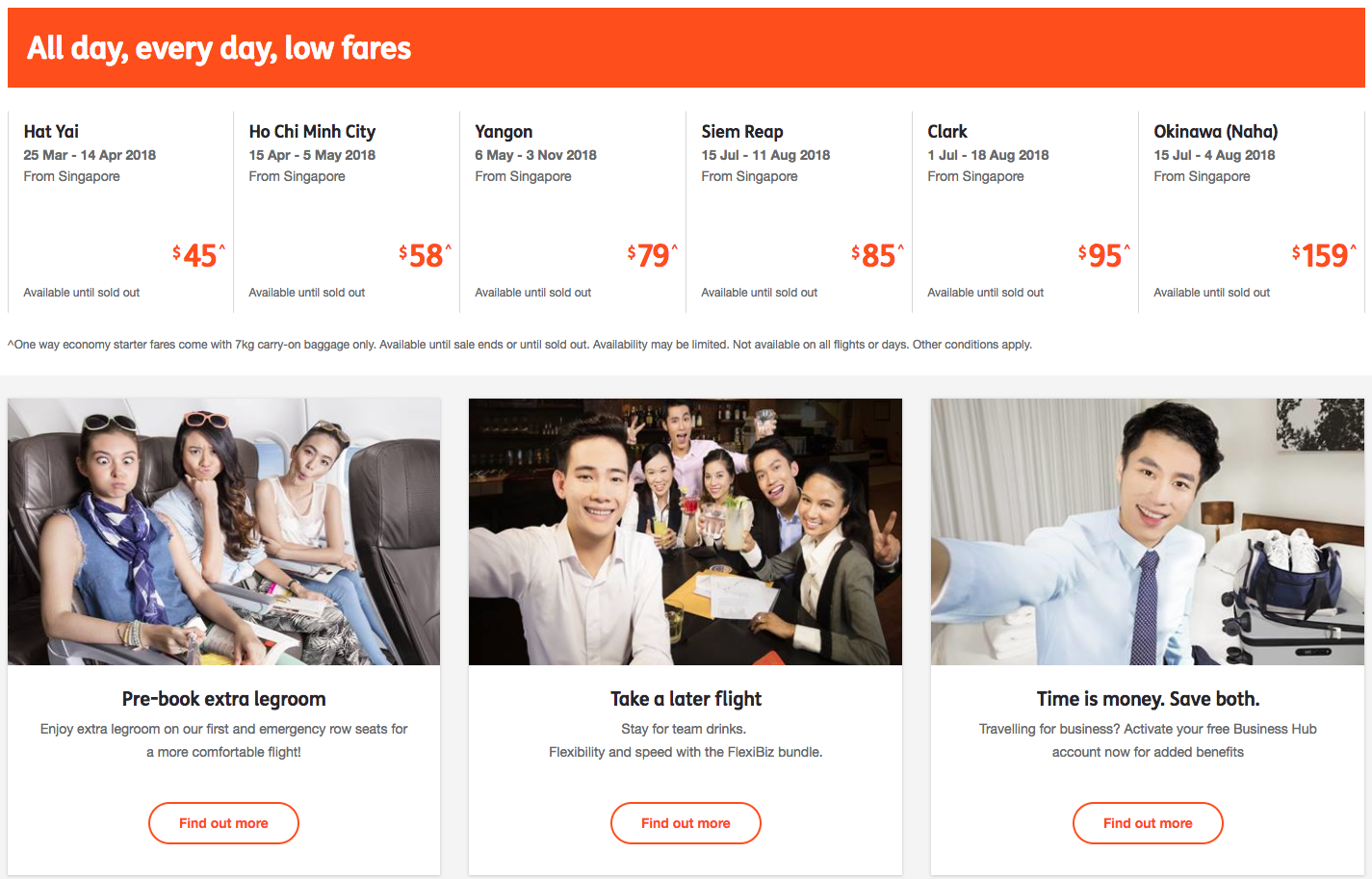 Discounts and promotions are the extra perks by Jetstar Asia and it is subject to change time to time. Here are few examples of the kind of promo offers you can get:
Latest deal from January 2018 get the Singapore to Kuala Lumpur ticket from $39
Jetstar promotional fare starts from $42
20% discount on seat selection with your Jetstar membership
Join Jetstar Club and get 20% discount on baggage and seat selection
25% discount on selected Jetstar car hire
Free bus transfer promo from Singapore Changi Bus Stop.
Friday Deals from Jetstar Website:
The end of the week is absolutely attractive with the deals you get from the Jetstar. Sign up with 'Jet Mail and know about most Friday Fare Frenzy deals that come with low price and sale. While searching for great deals, the website provides a limited number of discounted fare rates from 8 am to 11 pm, until all are sold out early.
Flight Vouchers: Each time the passenger renews the membership they receive a Jetstar flight voucher which is emailed in 14 days. Though one is not eligible for a voucher if rejoined after the expired membership. This voucher is instantly accessible and one can redeem it to book any available Jetstar flights in Jetstar.com. Book in a hassle-free manner with the available voucher number on the website or over the phone.
The Conditions regarding the voucher:
This will be in the Club Jetstar's member's name only
Valid for six months (183 days) from the date when issued
Non-transferable – the person whose name is stated on the voucher can only redeem
The member must book or change the flight in between six months of the issue of the voucher
Must be redeemed in one booking, otherwise, it can be lost
All travel depends on availability and fare rule quoted at the time of booking
Jetstar terms and conditions and conditions of carriage are applicable
Club Jetstar:
Deals and Promo: Travel deals on exclusive membership program where one can early access the biggest sales, get almost 20% discount on baggage and seat selection, add up to four family members and friends while booking and get exclusive fares for 'member-only' on limited days.
Low fare: Start from as low as $48 and also $49 annual membership fee is waived for the first year of joining. Receive great partner offers and discounts on hotels and insurance etc.
Card security: Card security is safe and not visible to anyone and encrypted for the passenger's own account too. It will be automatically renewed after 12 months by charging on the credit card. Passengers need to log in to view the date of renewal of membership from 'manage your club Jetstar' option and will be notified 4 weeks prior to the date approximately.
Booking and fares: On the Club Jetstar sales page the Club Jetstar fare is published. Click on the link in the notification email or log in to your account to access this specific page. The Passenger can do as many bookings as they want, but for each booking, the passenger must be a traveling party member. Club Jetstar members can purchase fares for a maximum of 8 members on a single booking.
Special offer from the third party: Selected partner's offers and discounts are available through Club Jetstar, which can vary according to time. To view the offers and go for the interesting one, you need to visit the Club Jetstar page.
Redeem the discounts:
• Log in to your Club Jetstar account
• View the offers and choose from them
• Offers from the partner vary in respect of the offer and provider
• Follow the instruction to redeem
• Click on the link to the partner's site and complete the purchase
Available Insurance facility:Jetstar Travel Insurance is an affordable and convenient option for the passengers. It is a Singapore originated flight and tailored according to the specific need of the passenger and is only available at Jetstar.com. It assures the benefit when something unexpected happens like – accident, lost suitcase, lost travel documents or flight delay which can ruin your journey.
Important features of Jetstar Insurance:
• Cost- effective rate
• Reliable coverage
• Approved by one of the world's largest travel insurance provider
• Easy and fast online booking from Jetstar.com
• One-way trip coverage from Singapore
• Flight delay advantage
• Trip cancellation and interruption advantage
• Medical support for accident and sickness
• Emergency medical support for 24 hours
• Baggage loss or loss of document benefit.
How to apply:Jetstar: Applying Jetstar travel insurance is effortless – you need to add the insurance to your itinerary and it will be confirmed while you are done with your purchase through Jetstar.com. It can be found in all AXS kiosks in Singapore.
American International Group (AIG): This gives more flexibility in your travel insurance. Through its wide range of the benefit services, it makes the travel easy and stress-free and provides 24 hours worldwide protection. It has personal, business and agency insurance services. AIG is designed to help you to stay secure while you travel.
Plan your visit with Jetstar
Destination: Choose from various countries and regions and get deals to a popular destination for international flights.
No need to do price watch: Sign up for Jetstar and receive the lowest fare information
Easy check-in system: In Singapore and Hong Kong, Jetstar gives an option of getting in – straight to the gate, self-service kiosks and in-town check-in.
Become a travel agent: As a registered agent create a perfect low-cost itinerary for your customer with some extra flexibility to personalize the trip.
Group booking: If you are planning a bigger trip with more than 10 passengers, with any school group, sports group, conference or wedding party, you will get special group discount fare facility.
When you activate the business plan and log in, you are able to find the exclusive 'Flexiplan' offer by Jetstar. Flexiplan comes like a breeze in the business world, when time, plan or schedule of the meeting changes. Time and money are equally saved when you get this offer. Some key features of the plan are
Free rescheduling of flight on the same day
No change fees for name, date or time changes
Flight can be canceled for free in exchange for Jetstar Credit Voucher
Two pieces of carry-on baggage not exceeding 10kgs are allowed
Option to select an up-front or standard seat for free
Important Awards for Jetstar Asia
Changi Airline Awards 2007-2015 – Top 10 Airlines by Passenger Carriage
Asia One people Choice Awards 2013-2015 – Best Budget Airline
Kuala Lumpur Mayor Tourism Awards 2014 – Platinum Award for Foreign Airline
KLIA Awards 2013 – Southeast Asia Foreign Airline of the Year
Changi Airline Awards 2012 – Partner of the Year
Changi Airline Awards 2011 – Largest growth in Passenger Traffic from Singapore
Stay connected with Jetstar Asia
Jetstar Asia has created a customer guarantee to ensure the high-level customer satisfaction. Social media is a highly effective way to be connected and get the information regarding all the promotions, offers, deals and discounts. Just log in and use the facility for worry-free travel –