Find the Perfect Outfit for Every Occasion at H&M
H&M is a Swedish clothing retail chain that is renowned for its fast-fashion clothing for women, men and kids. Operating in 62 countries, this global clothing retailer has captured the attention of millions of teenagers and adults with its trendy and comfortable clothes, shoes and accessories. With its charming designs and affordability, H&M is one of the most popular brands among the youngsters in the world. Be it casualwear, formalwear, sportswear, nightwear or intimates, H&M has a vast collection for you to choose from.
Find the perfect outfit for every occasion on the official website of H&M i.e. hm.com. You can also download the H&M app on your android or iOS device and shop from the comfort of your home!
H&M was founded by Erling Persson in 1947. The company started as a small shop called Hennes (Swedish for 'Hers ) that exclusively sold women clothing. As the business grew, Persson opened another store in Norway in 1964. He expanded further by acquiring the hunting apparel retailer Mauritz Widforss in 1968, which introduced a menswear collection in the product range of the company. After this acquisition, Persson changed the name of his company to Hennes & Mauritz (H&M) which has continued from then on.
H&M listed itself on the Stockholm Stock Exchange in 1974. In 1976, the company decided to expand overseas by establishing its first store outside Scandinavia in London. The brand continued to increase its presence in Europe and ventured into the online domain in 1998 by launching the hm.com website. After Europe, H&M further expanded its global footprint by opening its stores in the U.S.A, Asia and Middle East. As of now, H&M and its associated companies are operating in 62 countries with more than 4,500 stores that sell a huge range of products for women, men and children. The company has emerged as the second-largest global clothing retailer in the world and is extremely popular due to its universal appeal.
H&M offers a huge collection of stylish apparels, shoes and accessories for men, women and kids. The brand is renowned for their trendy and comfortable products that are true value for money. Here is a short preview of the product categories available on the H&M Singapore website.
Women:
As the name suggests, this category is exclusively for women where they will find a wide array of products such as tops, shirts & blouses, cardigans & jumpers, knitwear, jackets & coats, trousers, jeans, shorts, skirts, dresses, swimwear, sportswear, nightwear, maternity wear and much more. Shop for these high-quality products available in latest designs and become a head-turner everywhere you go!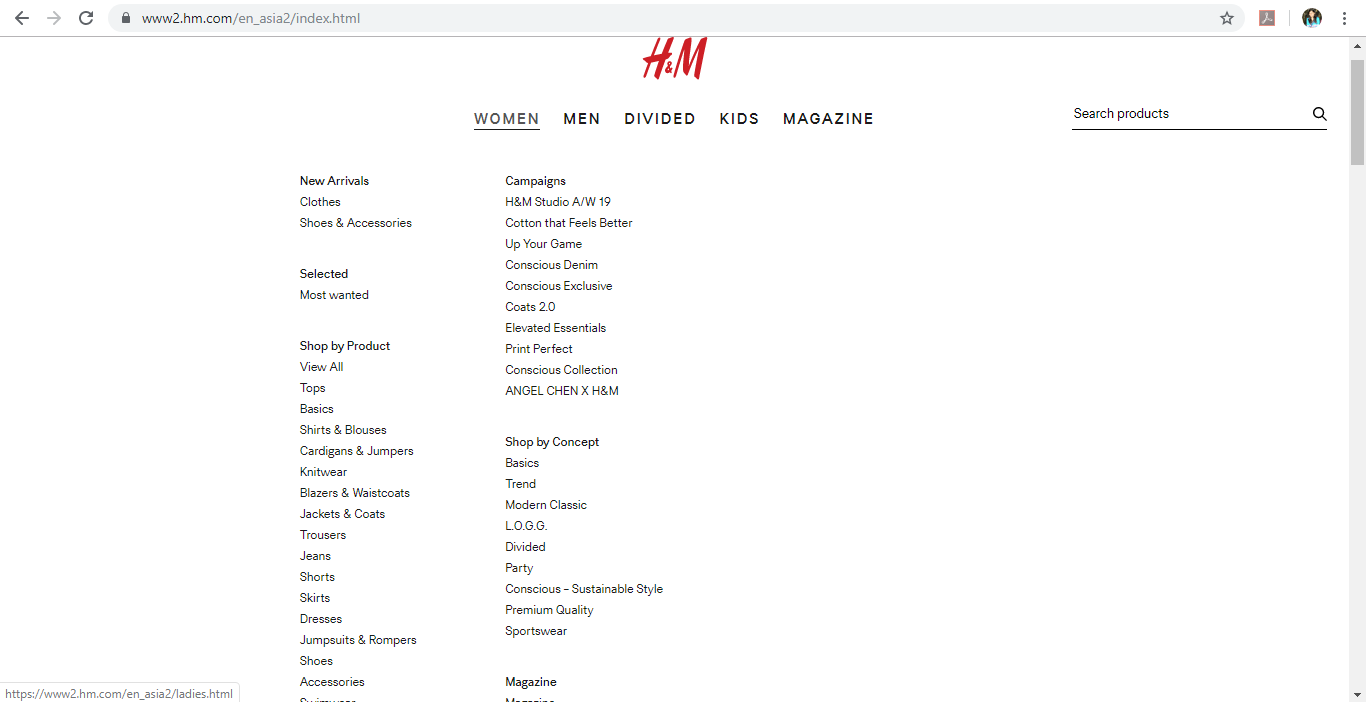 Men:
Under this category, men will find an amazing collection of clothes, shoes and accessories that are not only fashionable, but also highly functional. The category lists jackets & coats, hoodies & sweatshirts, shoes, shirts, blazers & suits, trousers, jeans, swimwear, socks, and a lot more that will instantly raise your glam quotient.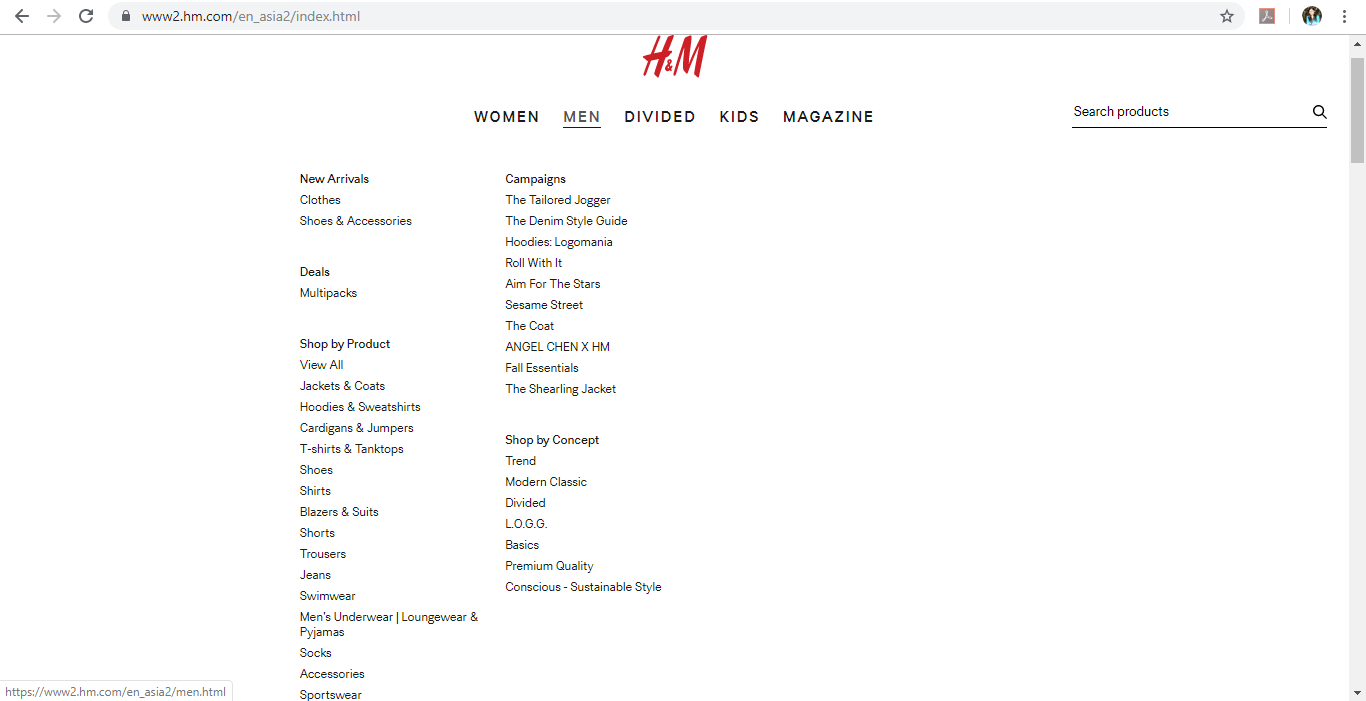 Kids:
This category has been carefully curated for kids of various age groups. Depending on the age and height of children, H&M has catalogued a variety of products for boys and girls. These products have been designed while keeping in mind the comfort and style preferences of kids of different age groups.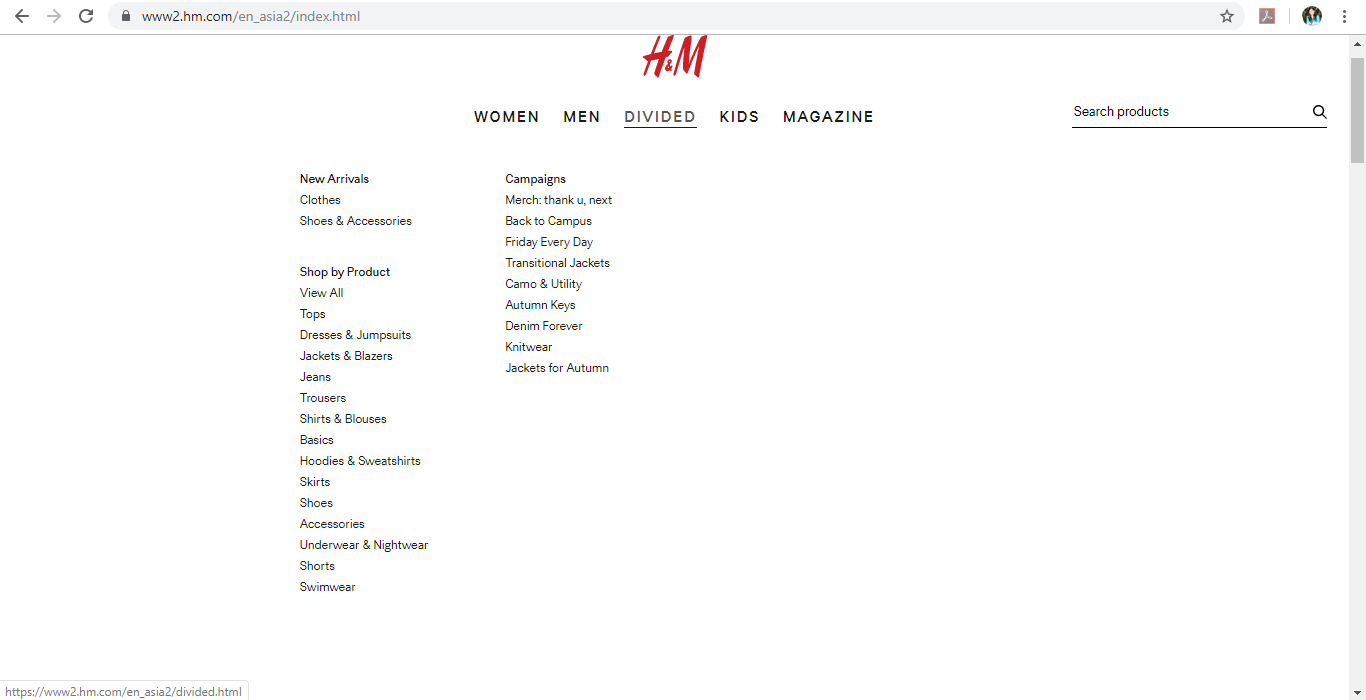 | H&M Product Category | Products |
| --- | --- |
| Women | Clothes, Shoes & Accessories, Most Wanted, Basics, Shirts & Blouses, Blazers & Waistcoats, Jeans, Skirts, Dresses, Jumpsuits & Rompers, Shoes, Accessories, Lingerie, H&M Studio A/W 19, Cotton that Feels Better, Up Your Game, Conscious Denim, Conscious Exclusive, Coats 2.0, Elevated Essentials, Conscious Collection, ANGEL CHEN X H&M, Basics, Trend, Modern Classic, L.O.G.G., Divided, Party, Conscious – Sustainable Style, Premium Quality, Sportswear |
| Men | Clothes, Shoes & Accessories, Multipacks, Jackets & Coats, Hoodies & Sweatshirts, Shoes, Blazers & Suits, Shirts, Trousers, Men s Underwear | Loungewear & Pyjamas, Accessories, Extended Sizes, Care Products, The Tailored Jogger, The Denim Style Guide, Hoodies: Logomania, Roll With It, Aim For The Stars, Sesame Street, The Coat, ANGEL CHEN X H&M, Fall Essentials, Trend, Modern Classic, Divided, L.O.G.G., Basics, Premium Quality, Conscious – Sustainable Style |
| Divided | Clothes, Shoes & Accessories, Tops, Dresses & Jumpsuits, Jackets & Blazers, Shirts & Blouses, Jeans, Hoodies & Sweatshirts, Shoes, Underwear & Nightwear, Shorts, Swimwear, Merch: thank u, next, Back to Campus, Friday Every Day, Transitional Jackets, Camo & Utility, Autumn Keys, Denim Forever, Knitwear, Jackets for Autumn |
| Kids | Newborn 0 – 9 months (50-74), Baby Girls 4m-4Y (68-104), Baby Boys 4m-4Y (68-104), Baby Exclusive 0-4Y (50-104), Girls 18 months – 10 years (92-140), Boys 18 months – 10 years (92-140), Girls 8 – 14+ years (134-170), Boys 8 – 14+ years (134-170), Jackets, Season Shake-Up!, Party Hearts, My First Halloween, No Tricks, Just Treats!, &Denims, Conscious – Sustainable Style, Kids Room, Baby Exclusive, Cartoons & Comics |
The H&M website has a simple and intuitive interface that is easy to use. The homepage of the H&M site features the available product categories and the different ongoing campaigns of H&M. To shop from the website, select one of the product categories and subcategories from the drop down menu on top of the homepage. You may also click on a campaign if you want to explore it.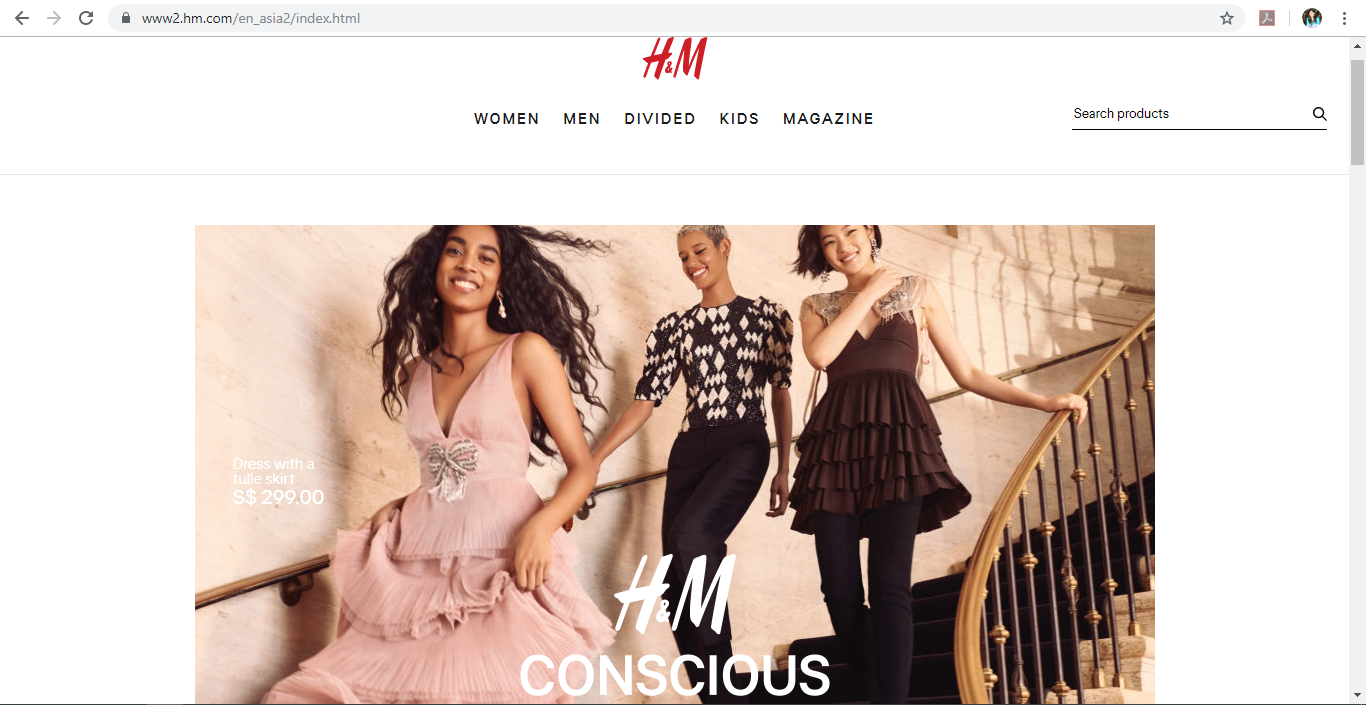 You will land on the page where all the products under your chosen sub-category are listed. Browse through the list and select a product you want to purchase by clicking on it.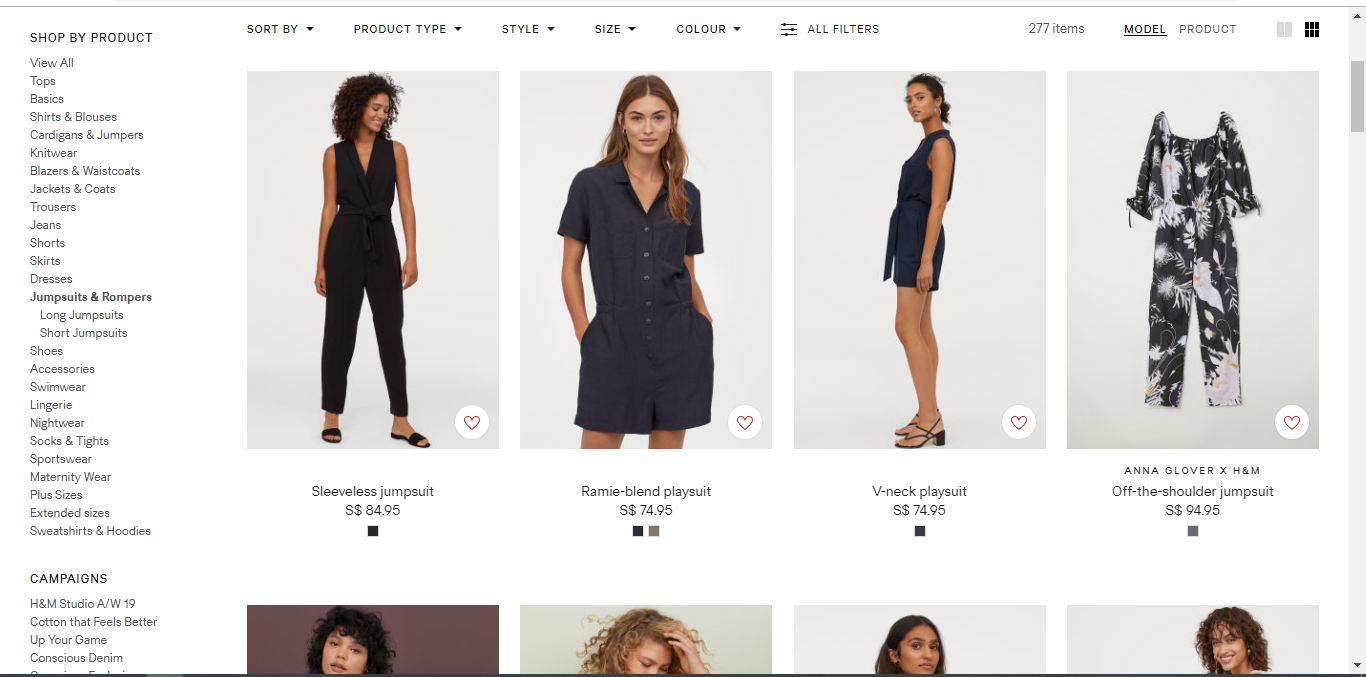 You will be directed to the product listing page where all the details regarding your chosen product are mentioned. Go through the information and once you are satisfied with your choice, select your size and click on 'Add button to proceed further.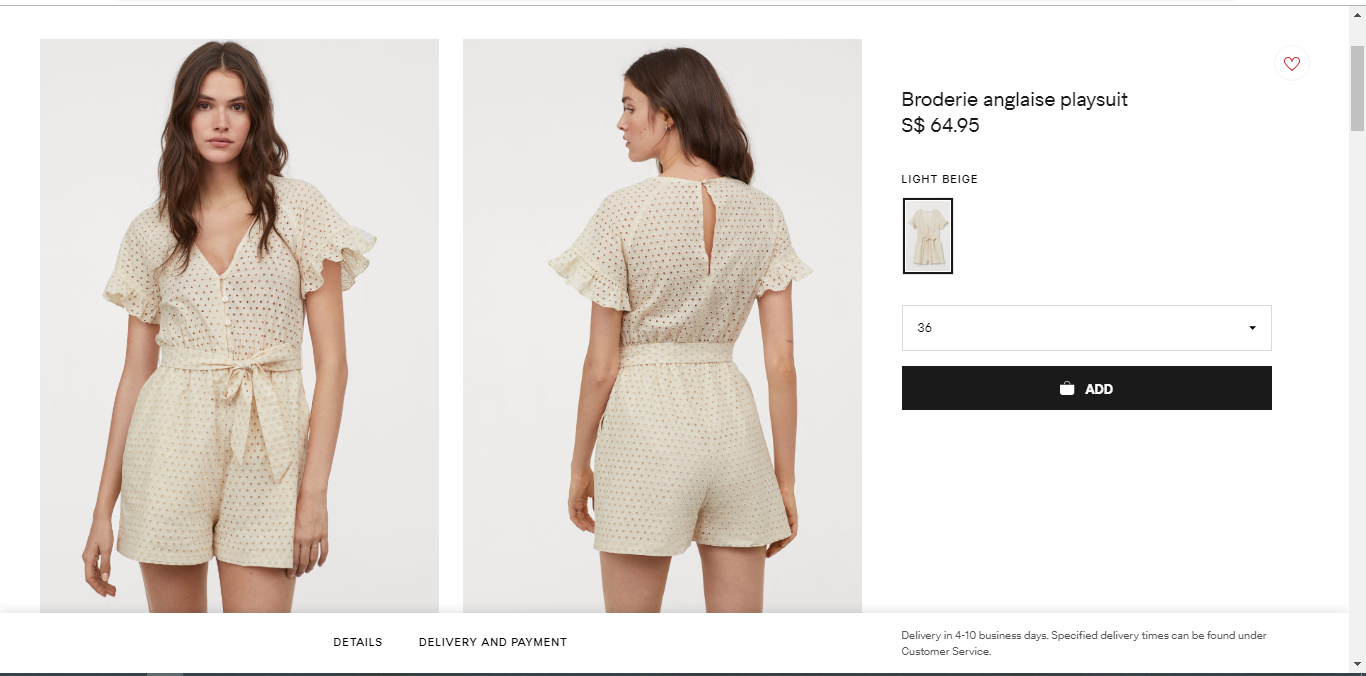 On the top right corner of the page you will find a shopping bag icon. Click on this icon to move to the shopping summary page. On this page, you can also enter any H&M discount code or H&M promotion in the 'Add a Discount Code box. After redeeming your coupon, click on 'Continue to Checkout button.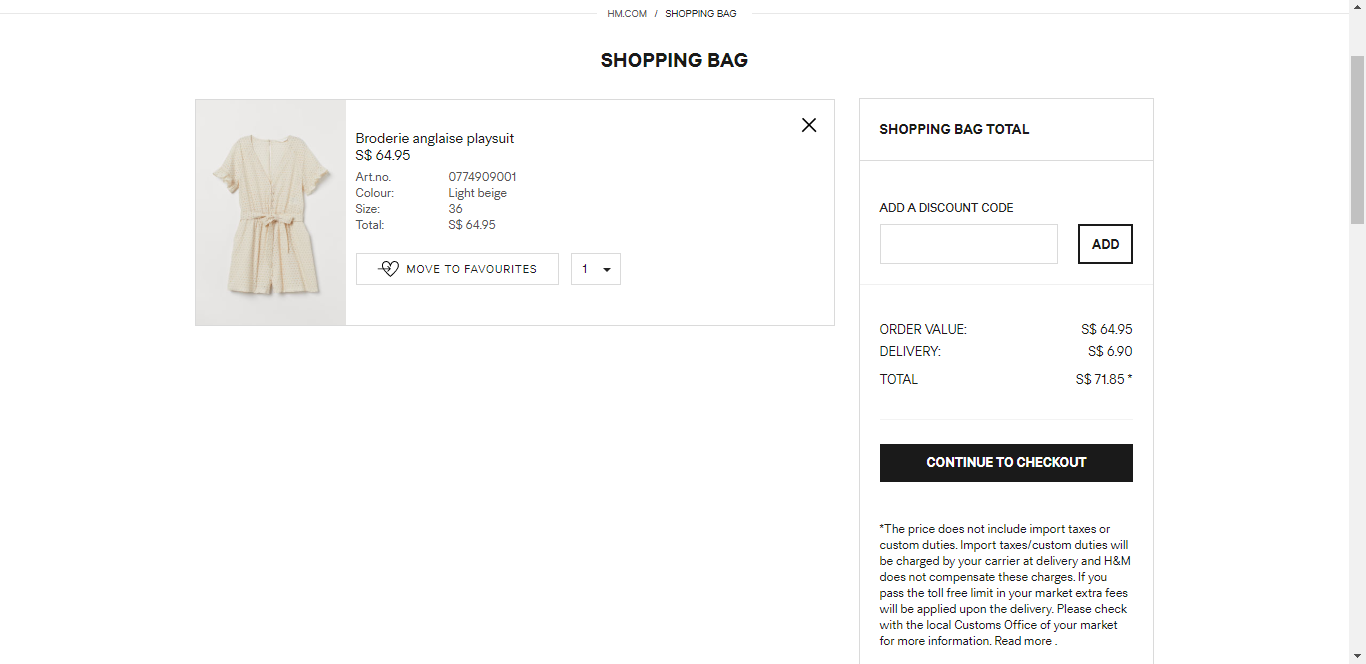 In the next section, you need to provide your personal information as well as your shipping details. Select a delivery method and your preferred payment method and complete the transaction to confirm your order. H&M regularly offers many H&M vouchers under H&M sale which can be redeemed here before completing the purchase.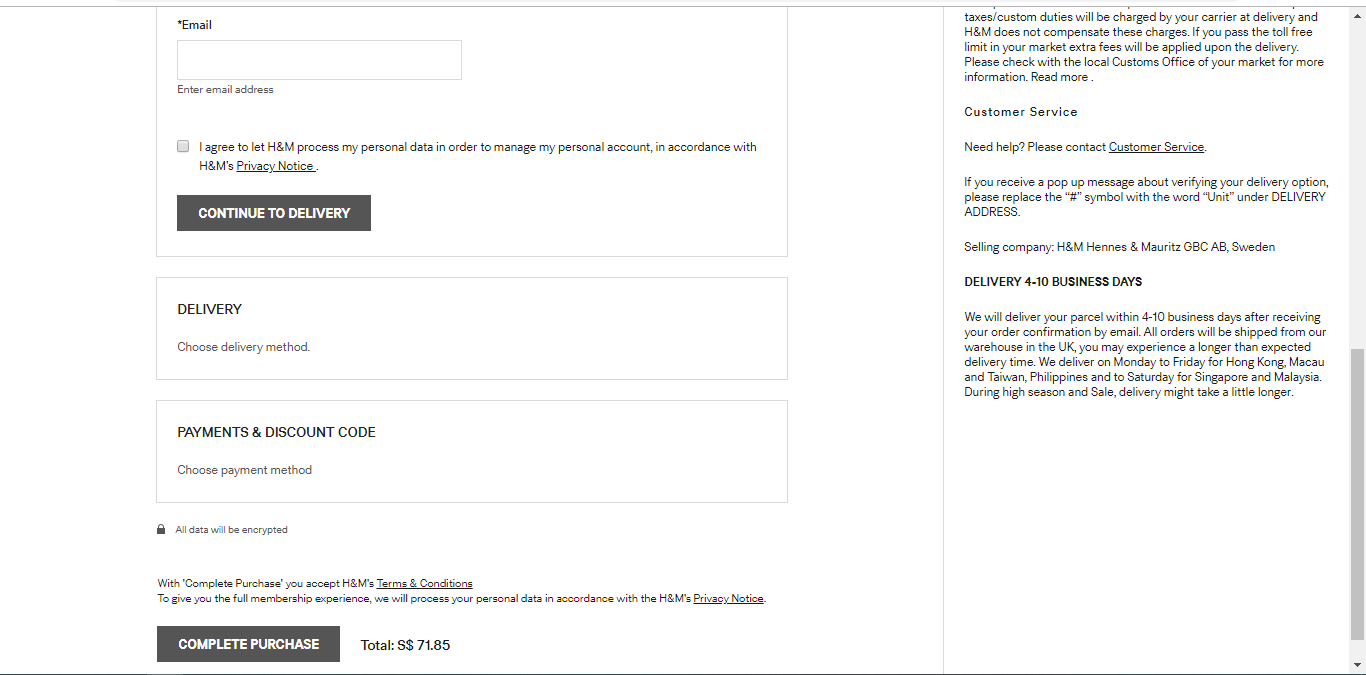 Payment Options on H&M
H&M accepts VISA or MasterCard credit or debit cards for online transactions. This payment method is not only easy and quick, but also very secure and trustworthy.
Different Coupon Codes and Discounts on H&M
H&M offers many coupons and vouchers from time to time during the H&M sale. These H&M promo codes can be utilised by the customers to earn great discounts on their purchase. Make sure to check their newsletter before embarking on your shopping spree. H&M updates the details of their exclusive offers under this section.
Customers can also earn 3.5% cashback on their purchase if they shop via ShopBack.
How to Redeem Coupons and Vouchers at H&M
Online shopping is not only convenient but also extremely rewarding and fun. Consumers get plenty of opportunities to save a lot of money by availing several offers and deals, given away during H&M sale. Here is a step-by-step process to redeem coupons and vouchers at H&M:
Step 1:
Select the items from the catalogue of products and click on "Add" to add them to your shopping bag.
Step 2:
Proceed to the checkout page and enter your H&M promo code in the "Add a Discount Code" box. Click on 'Add to redeem the promo code.
Step 3:
Once your code is applied to your sub-total, click on 'Continue to Checkout to proceed further.
Step 4:
Provide your shipping information and select your preferred delivery method and payment option. Complete your transaction for order confirmation.
How to Shop on H&M Using Shopback
ShopBack offers 3.5% cashback on various products if you shop from H&M. Here are the steps to be followed to earn cashback from ShopBack:
Step 1: Visit the ShopBack website and select H&M store from the list of merchants and brands. You can also use the search box to find the link to H&M store.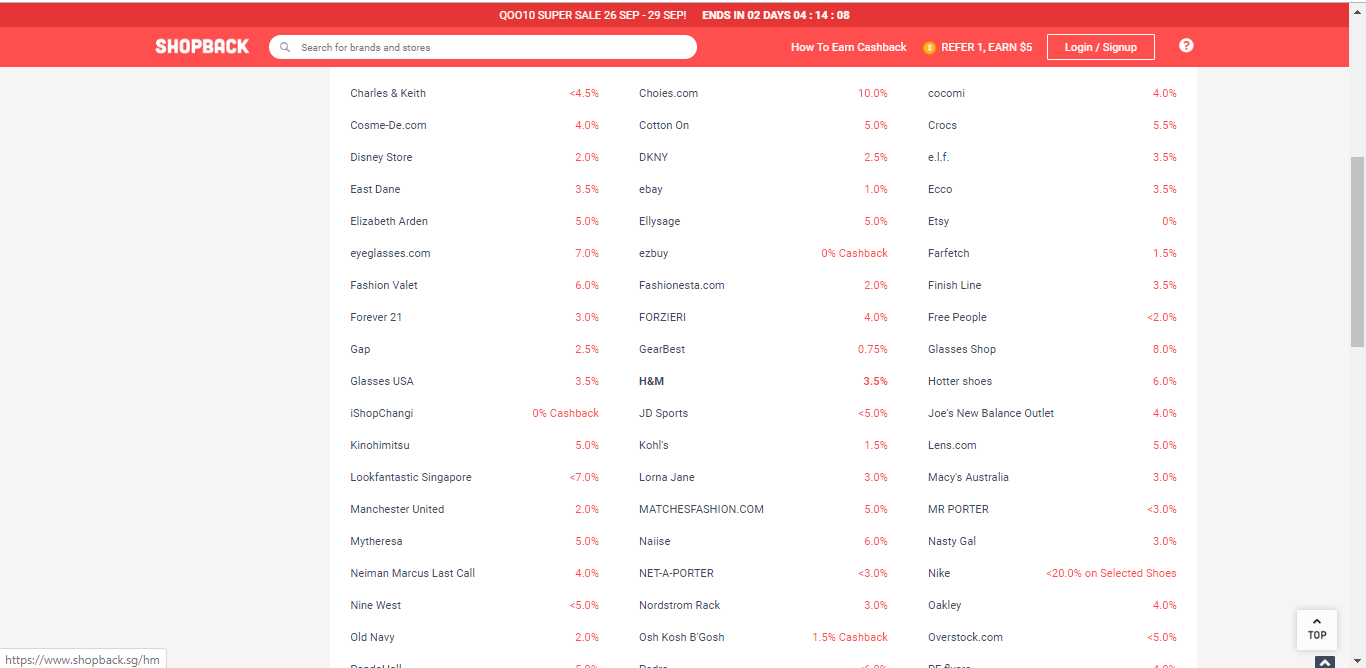 Step 2: Read the terms and conditions as well as any other relevant information provided such as the cashback details and tips to ensure cashback.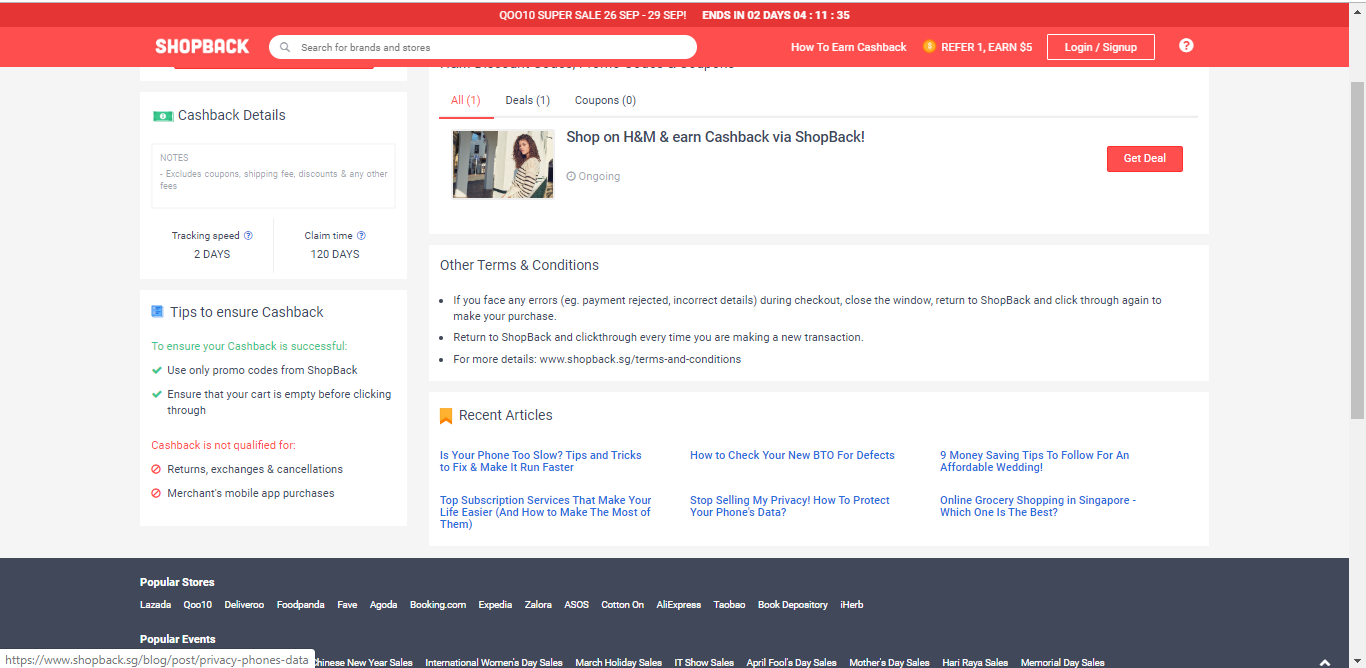 Step 3: Click on 'Activate Cashback button on the top left corner of the page.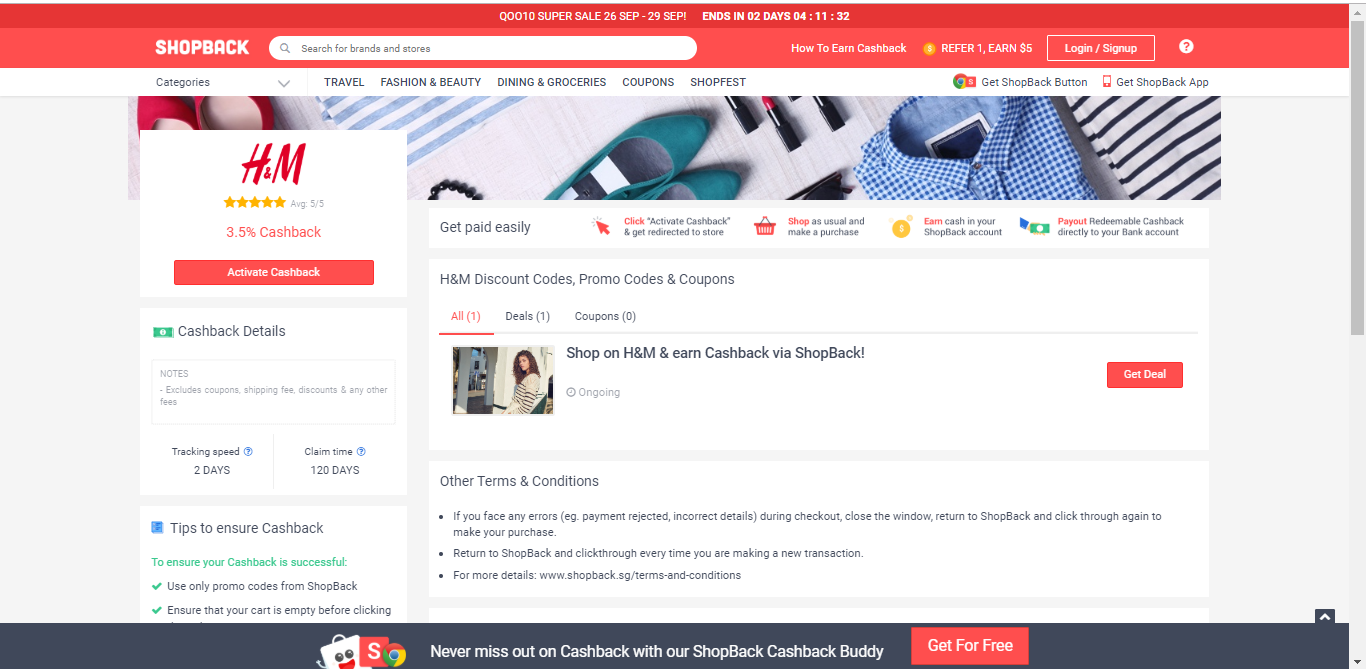 Step 4: If you are looking for more attractive deals and coupons, check out the 'H&M Discount Codes, Promo Codes & Coupons section.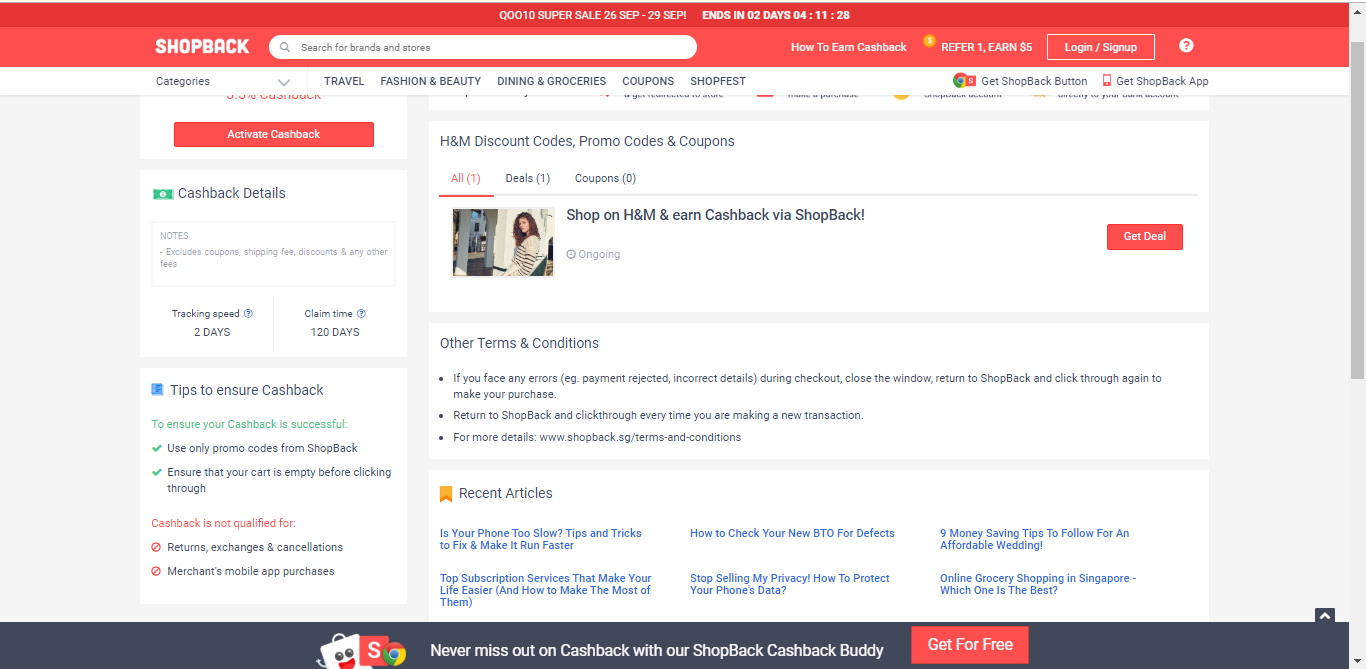 Step 5: You will be directed to the H&M website to browse and select the products you intend to buy.
Step 6: You will be eligible to earn cashback from ShopBack on placing your order. The cashback rates might differ based on your history with ShopBack, i.e. whether you are a new or an existing customer.
The cashback offer is not applicable on purchases made on H&M app or Returns/ Exchanges/ Cancellations.
H&M s Shipping and Return Policy
H&M aims to deliver your orders as early as possible. The orders are dispatched in the fastest possible time and are aimed to be delivered within 4-10 business days following confirmation of the order. The shipping charges and estimated time of delivery are communicated during your checkout process. The total time taken and the charges incurred will be calculated according to your chosen delivery method.
Returns:
In Singapore, you can return your items by following these simple steps:
Tear off the Return Form and fill in the option that explains the reason for your return request.

Pack the item(s) you wish to return in a suitable bag/box along with the Return Form.

Click here to access the return portal where you will find all the required information regarding your return. Provide the information asked and follow the instructions to print out the return sticker. Attach this return sticker to your parcel and leave that package at your selected drop-off point.
For any inquiry or assistance, customers can reach out to H&M at [email protected] or on their customer service number – 8008526099 – open from Monday to Sunday, 9am-8pm.