Shop All Things Luxury at Harrods
Harrods is a renowned department store located in London, offering a wide range of designer wear and accessories for men and women. The company also sells beauty products, footwear, kids wear, souvenirs, home wares, food and wine, gift items and Christmas goodies. It is well-known for its major departments - the food halls and Christmas department. Customers can lay hands on their favourite items either by visiting the Harrods department store or by shopping via the Harrods online website.
The enterprises undertaken by the Harrods Group of companies include Harrods Aviation, Air Harrods and Harrods Estates, as well as Harrods Buenos Aires, which was sold by the company in 1922 and closed later in 2011. They aim at offering excellent products for everyone from across the globe.
Visit Harrods store online to shop for top quality products and enjoy amazing discounts during Harrods promotions.
At 25 years of age, in the year 1824, Charles Henry Harrod launched a business in Southwark and ran it as a haberdasher, draper and mercer until 1831. His first grocery business idea Harrod & Co. Grocers came up in 1832, which he established later (in 1834) as a wholesale grocery store. The grocery started in a one-room space, with one messenger boy and two assistants. Charles Digby Harrod (Harrod s son) built a booming retail operation out of it by selling vegetables, fruits, stationery, medicines and perfumes, after which the business expanded and employed 100 people by the year 1881.
The company faced its ups and downs in the coming years, and was sold to Edgar Cohen in 1889, after which it was named as 'Harrod s Stores Limited . Harrods opened Buenos Aires, Argentina in 1914, which was its only foreign branch. The Fayed brothers further purchased Harrods in 1985 and sold it to the Qatar Investment Authority in 2010.
Over 5,000 employees from more than 50 countries work at Harrods and at least 300,000 customers are seen visiting the shop during peak days, with maximum people from the non-English speaking countries. The store spreads across 5 acres and owns 330 departments occupying a total retail space of 1.1 million square feet.
At Harrods, you can find an amazing collection of clothing, accessories, footwear, home ware, gifts, souvenirs and almost everything that you re looking for. Shop at Harrods online, while enjoying exciting deals during Harrods offers. Listed below are some of the products and product categories available on Harrods.
Make sure to check for the Harrods coupons and vouchers offered during the Harrods sale period before you proceed with shopping.
| Harrods Product Category | Products |
| --- | --- |
| Women | Coats, Gowns, Jeans, Knitwear, Nightwear, Ski Wear, Sportswear, Swimwear, Trousers, Dresses, Jackets, Jumpsuits, Lingerie, Shorts, Skirts, Sweatshirts, Tops |
| Men | Coats, T-Shirts, Suits, Casual Shirts, Sweatshirts, Trousers, Swimwear, Loungewear, Ski Wear, Jackets, Polo Shirts, Knitwear, Formal Shirts, Jeans, Shorts, Nightwear & Underwear, Sportswear |
| Accessories | Handbags, Wallets & Purses, Jewellery, Fine Jewellery, Fine Watches, Hats, Scarves & Gloves, Sunglasses, Technology Accessories, Luggage, Belts, Bags & Wallets, Belts, Hats, Scarves & Gloves, Cufflinks, Ties & Bowties, Jewellery, Technology Accessories, Luggage, Fine Watches, Umbrellas, Sunglasses |
| Shoes | Boots, Driving Shoes, Flats, Formal Shoes, Heels, Loafers, Mules, Sandals, Slippers, Sneakers |
| Children | Baby Travel, Baby Essentials, Baby Girl (0 – 3 years), Baby Boy (0 – 3 years), Girl (3- 16 years), Boy (3 – 16 years), Toys |
| Beauty | Skincare, Perfume, Make-Up, Hair, Bath & Body |
| Food & Wine | Food Hall Classics, Gourmet Grocery, Wine & Spirits, Hampers |
| Homewares | Bed & Bath, Kitchenware, Dining, Home Accessories |
| Souvenirs | Harrods Souvenirs, Harrods Accessories, Harrods Home |
| Gifts | Gifts By Recipient, Gifts By Occasion, Gift Inspiration, Gift Services |
| Christmas | Christmas Decorations, Christmas Food, Christmas Partywear |
Harrods offers an easy approach to shopping and brings to you a number of offers from time to time. The homepage displays all the product categories and includes a search icon to search for a specific product. You can also find Harrods promo codes, Harrods voucher codes and other discounts on the homepage.
1. Select your preferred product category and sub-category. Then choose what you wish to buy from the list of products.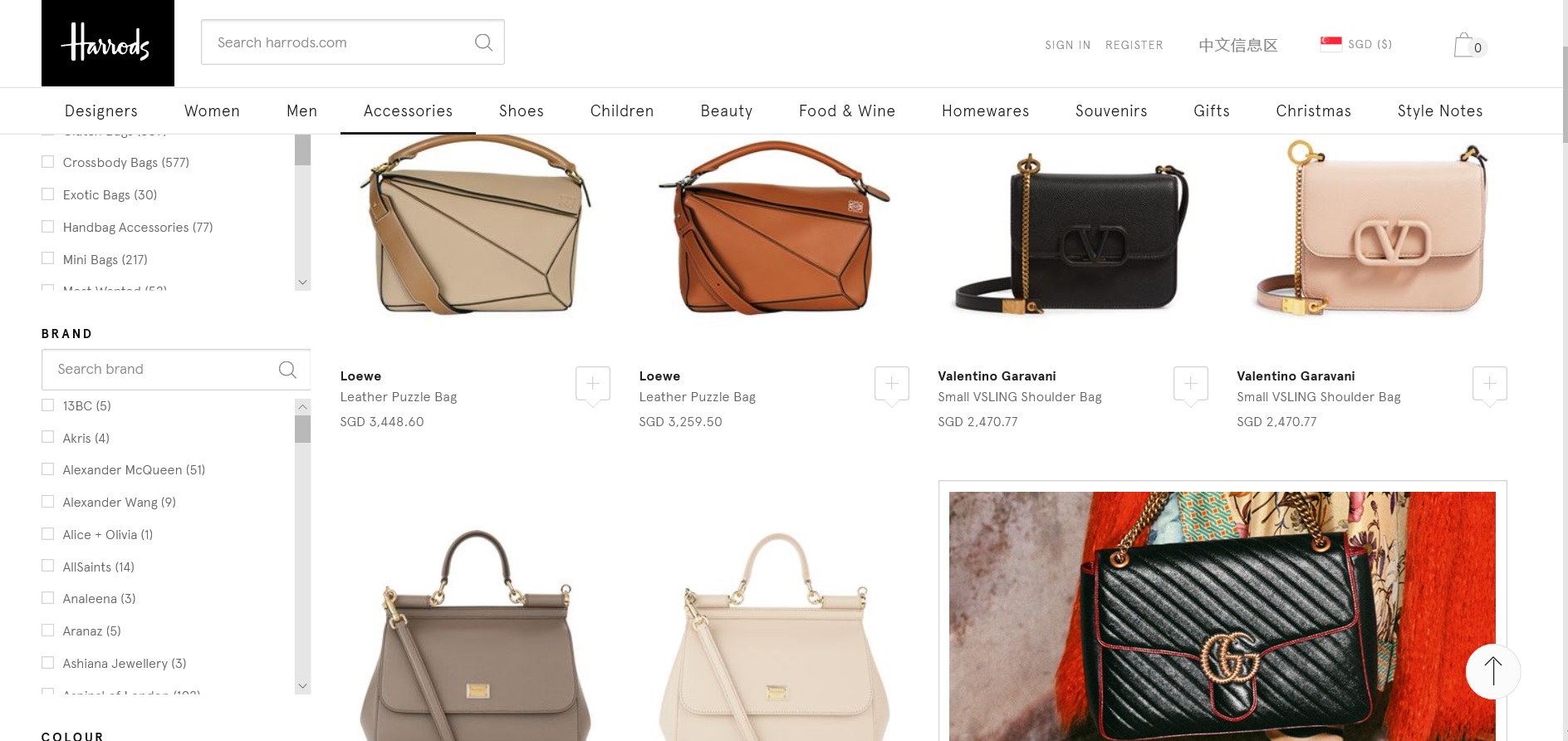 2. The product description, along with its price, an 'Add to Bag button and other product details will be displayed. You may go back to browse a different product or select the quantity and click 'Add to Bag . The product will be added to your bag, after which you may continue shopping or proceed further by clicking 'Checkout .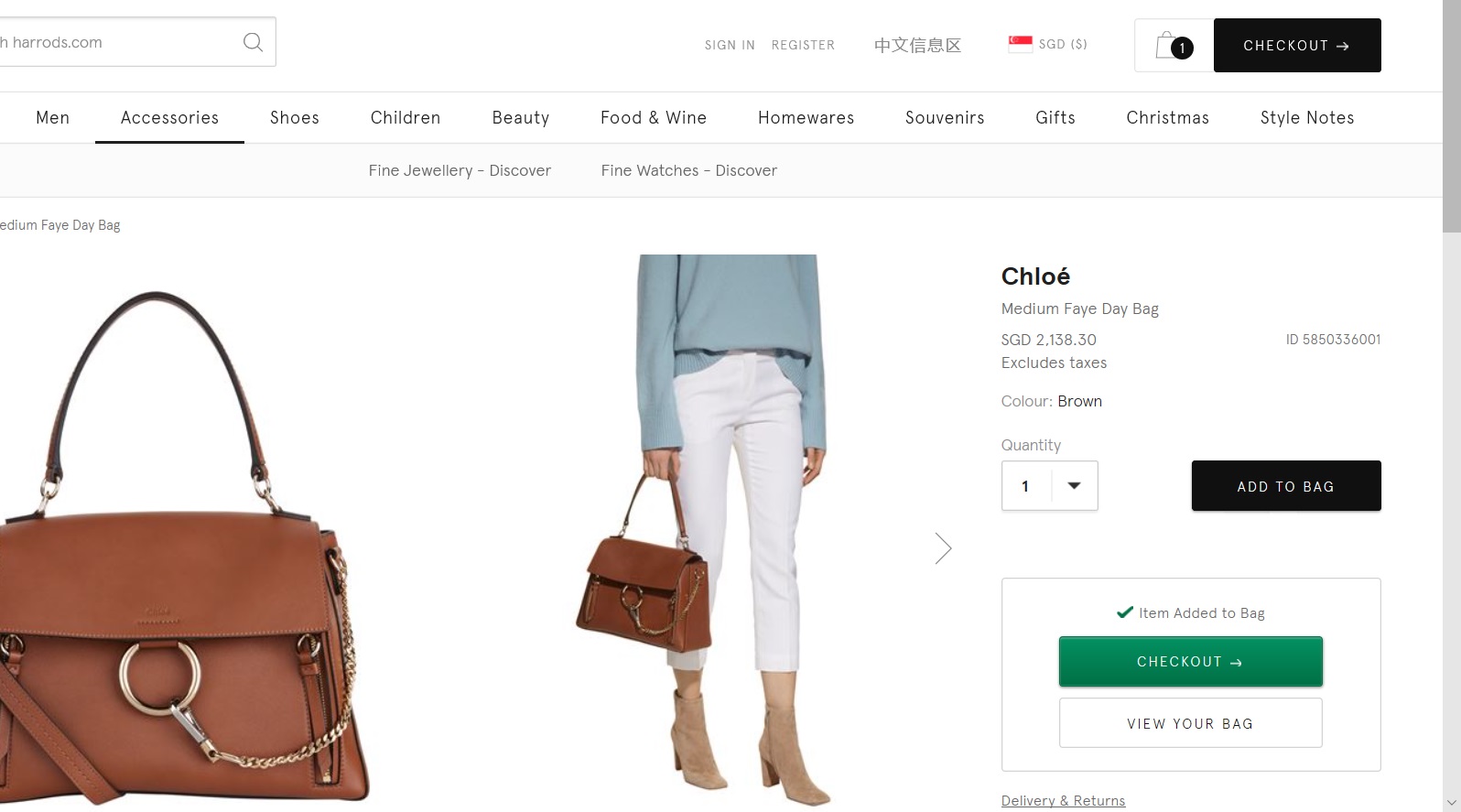 3. On the next page, either register on to the site or select guest checkout by clicking 'New Customer . Enter your shipping and delivery information on the next page and click 'Continue to Payment . Enter your payment details on the next page and click 'Pay Securely Now to complete your online purchase. The site will also provide a field to enter the Harrods promo code during the shopping process.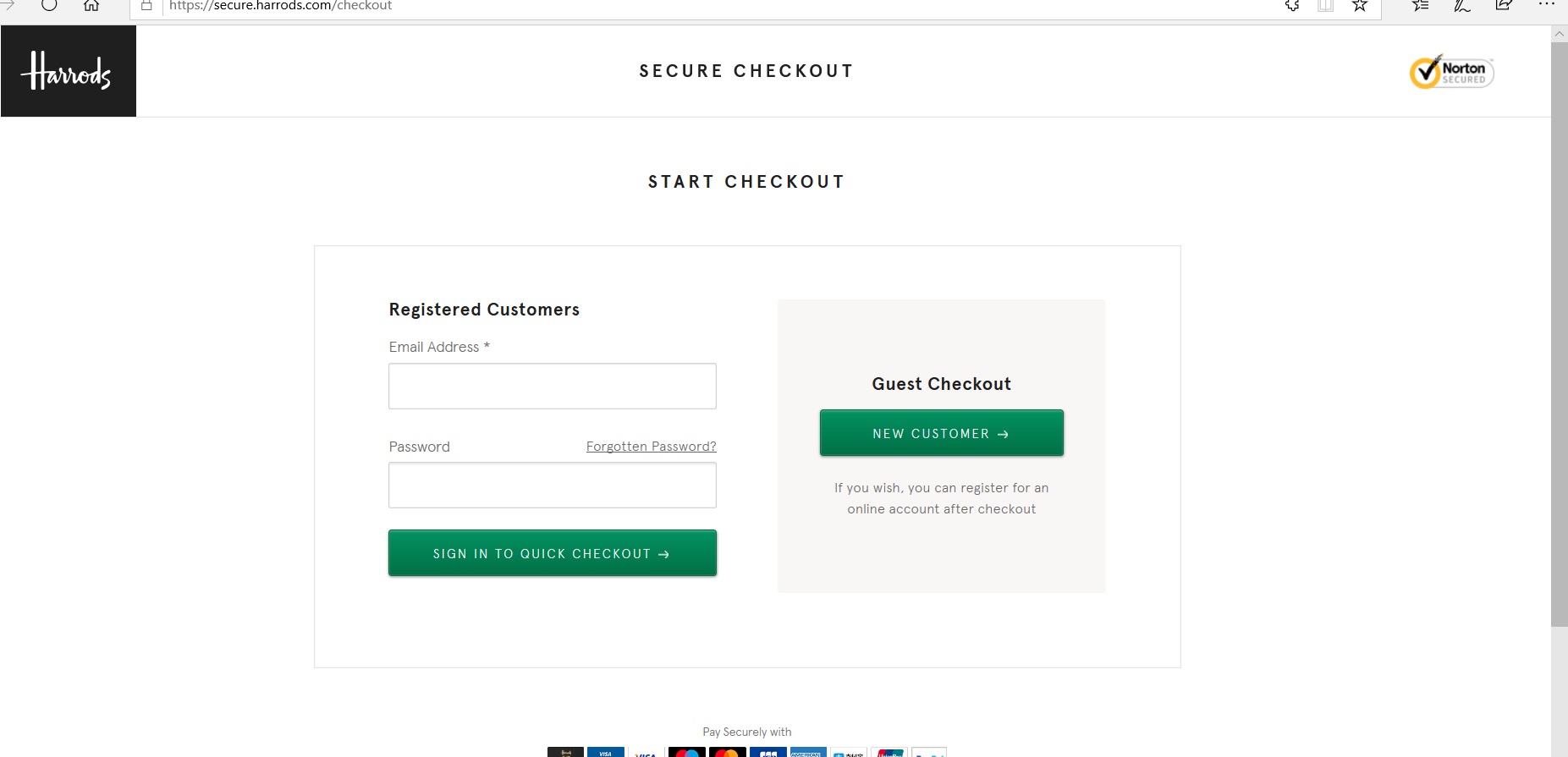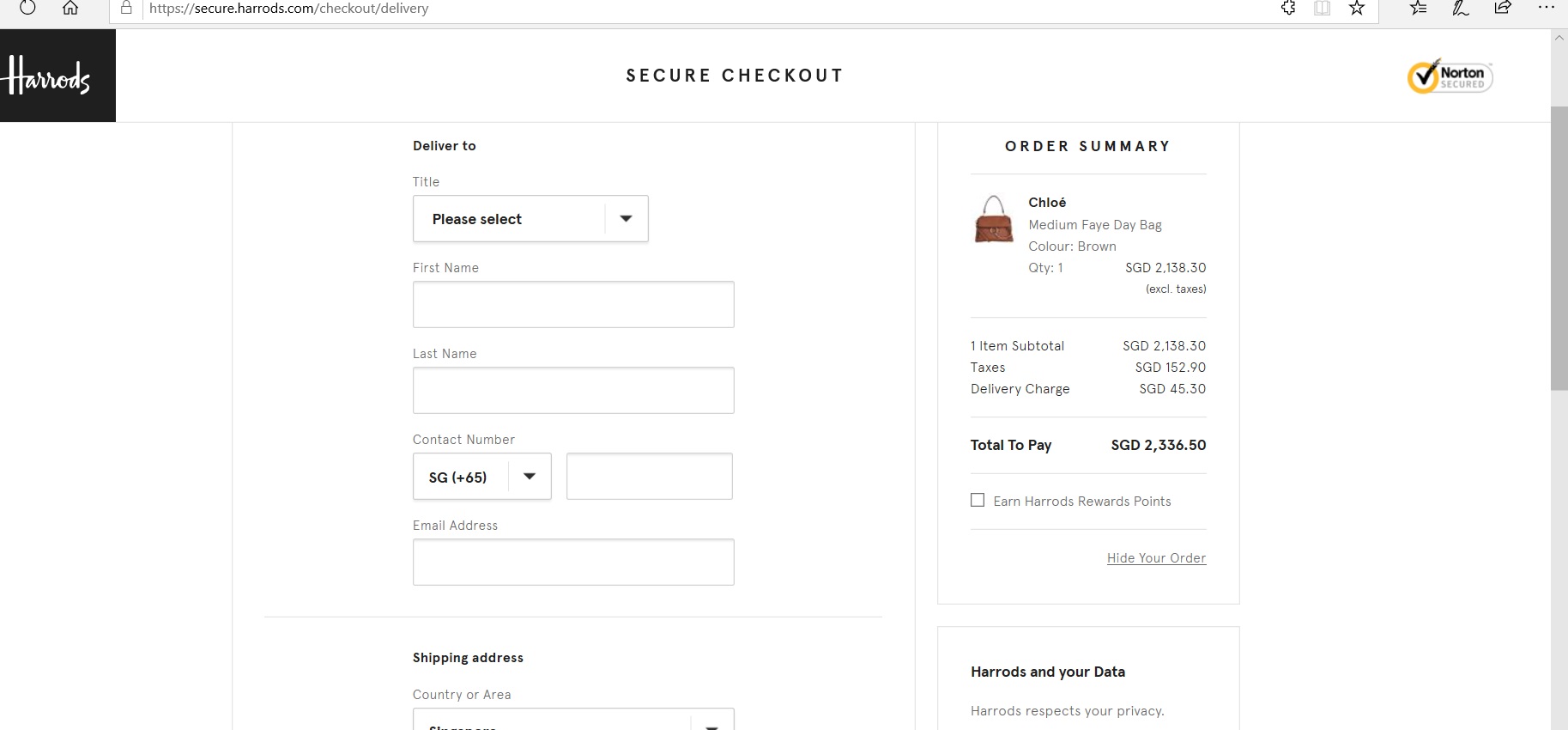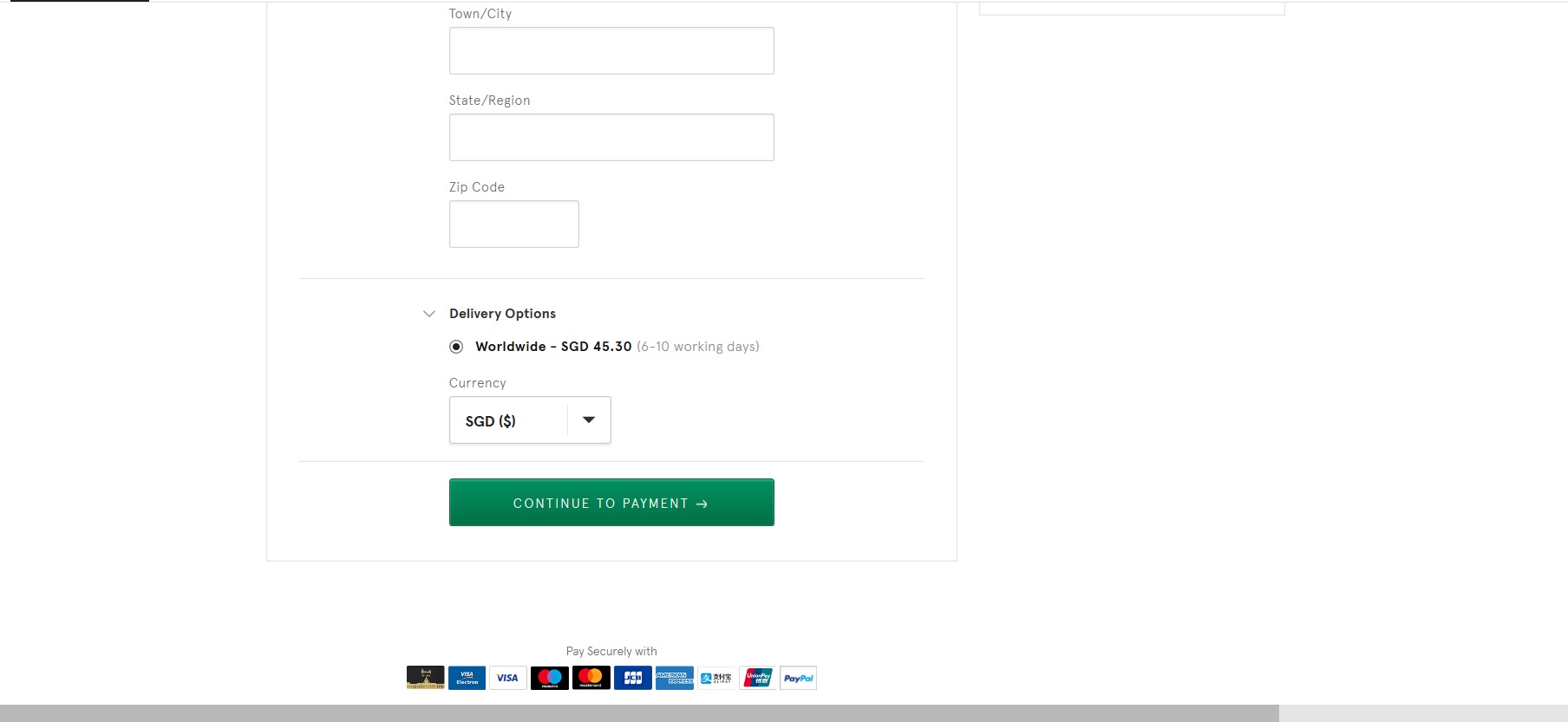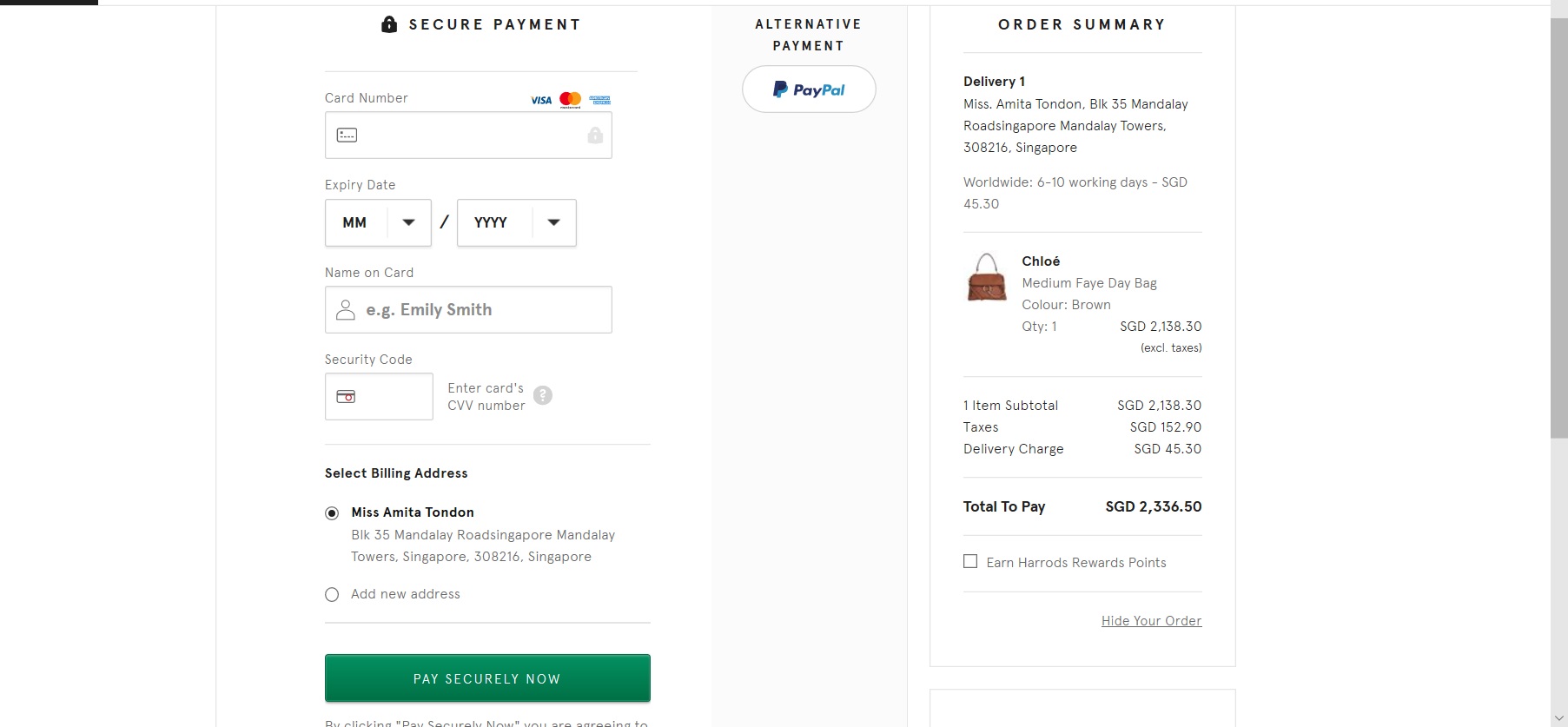 4. You will see your purchase details after placing the order, along with the expected delivery date of your product. An e-mail will be sent to you to confirm your order details.
5. Customers can find great deals on products during Harrods promos and sales. You can avail discounts by using the Harrods discount codes/Harrods coupon codes on checkout. Make sure to check for special deals before placing an order.
Payment Options on Harrods
Harrods offers the following payment methods for your convenience.
Credit Card:
Harrods accepts VISA, MasterCard, VISA Debit/Delta, American Express, JCB, China UnionPay, Maestro UK and International and AliPay.
PayPal:
PayPal is a popular online payment method that serves as a simple e-transfer alternative to the traditional payment process. Harrods accepts PayPal method for all your payments.
Harrods Gift Card can also be used for payments. Visit their payment FAQs page for more information regarding payments.
Different Coupon Codes and Discounts on Harrods
The website brings to you a number of Harrods discounts and special deals from time to time. Some deals are offered for a long time while others are available for a limited period only. Customers can save a lot of money by applying the Harrods codes.
Currently, customers can earn cashback if they shop with the merchant via a registered account at ShopBack.
How to Redeem Coupons and Vouchers on Harrods?
Online shopping can be a wonderful, convenient experience, with a vast collection to choose from and ample opportunities to save money on every purchase. Most online shopping websites offer coupon codes and vouchers that can be redeemed to earn cashbacks and discounts on products.
Here is a step-by-step tutorial on how to redeem coupons and vouchers at Harrods:
Step 1:
Choose from the list of displayed products, select your preferred item and click Add to Cart .
Step 2:
Enter your email and shipping address and proceed to checkout.
Step 3:
Proceed to the payment page. Here, you will find a box under the payment summary section to enter your Harrods promo code or any other applicable discount codes for availing discounts.
Step 4:
Choose your payment method and fill in the payment details to complete your purchase.
How to Shop on Harrods Using ShopBack
ShopBack offers cashback on products if you shop from Harrods. These steps will help you earn cashback from ShopBack:
Step 1: Select Harrods from the list of brands on the ShopBack homepage, or use the search box to find a link to the Harrods website.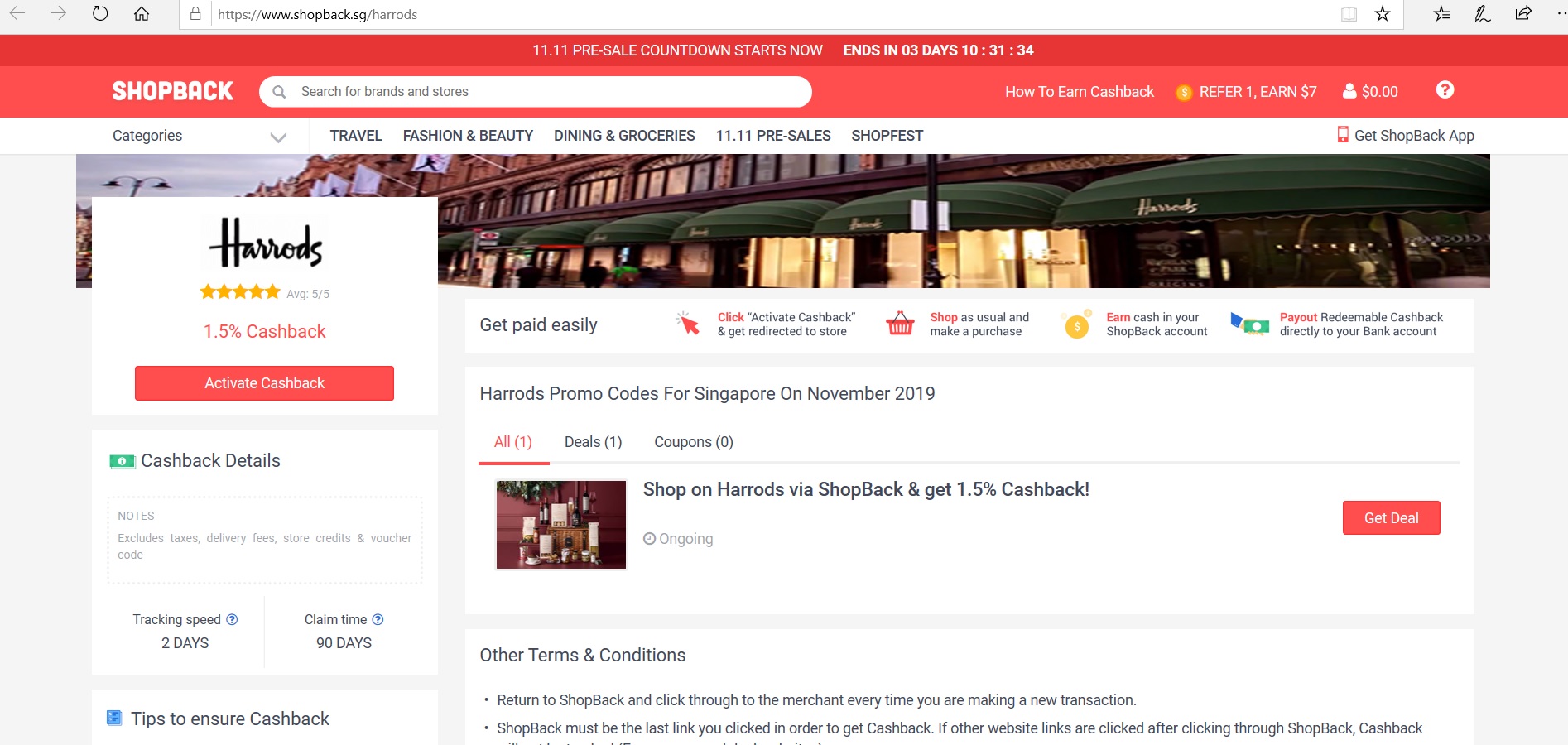 Step 2: Read the terms and conditions and other relevant information such as cashback details and tips to ensure cashback.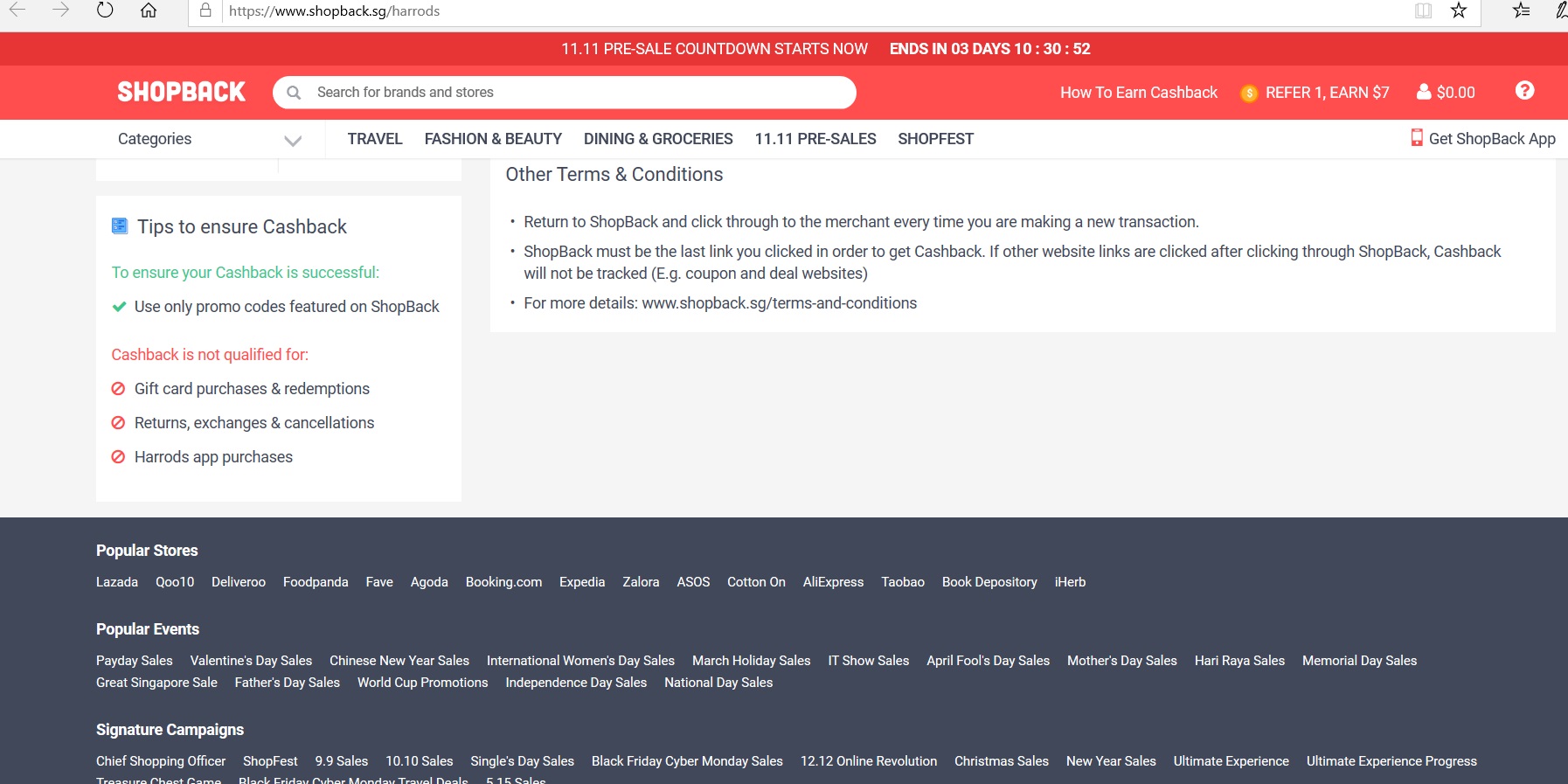 Step 3: Click Activate Cashback on the left.
Step 4: You can find more attractive deals by checking out the 'Discounts + Cashback section.
Step 5: On placing the order, you will be eligible to earn Harrods cashback from ShopBack. There may be a variation in cashback rates based on your history with ShopBack. Cashback offer is not applicable on purchases made via the Harrods app.
Harrods Shipping and Return Policy
The shipping and returns policy for Harrods is listed below:
Shipping:

International orders will be delivered any time between Monday and Friday, and it will take 6 to 10 days for order delivery. It will cost 43.68 SGD per order. However, products like knives, wood products, alcohol, perishable goods and specific beauty products cannot be shipped outside of the UK due to safety issues.

Orders once placed can be altered or cancelled by contacting the company s customer care team. You can further refer to their terms and conditions to know more about your cancellation rights.

Returns:

You may return or exchange your order items within 14 days of order receipt, provided they are in their original condition. Refer their online returns policy and international returns page for detailed information. Get in touch with the customer service team to initiate your return process. Full refund amount will be provided and the refund process may take around 14 days after the return is processed.
Customers can visit their contact us page or the FAQs section for queries related to Harrods vouchers or anything in general. You may also connect with their customer care representatives on +44 (0)20 7730 1234 (for store enquiries) or 0333 300 1234 (for online enquiries in the UK) and +44 (0)20 3626 7911 (for international online enquiries). You can also send them an email at [email protected]