Best quality and value electronics at Hachi.Tech!
Challenger Hachi.Tech is a one-stop online shopping destination for technology and lifestyle products. It was started by Challenger, a Singapore-based tech retailer. Hachi.Tech s interesting range of IT and lifestyle products are offered to their ValueClub members only. Hachi.Tech boasts of offering more than 50,000products from over 400 tech brands that include data storage devices, notebooks, laptops, software, printers, networking devices, cameras, health and fitness devices, gaming consoles and accessories, home and kitchen appliances, electronic toys, drones, and many more. All these products are 100% authentic and sourced from authorised manufacturers, brands and distributors. Hachi.Tech s list of prestigious brands include Apple, Microsoft, Samsung,Bose, Canon, Logitech, Samsung and the like.
The website offers a rebate of up to 30% everyday. After purchasing online, customers can collect the goods from selected Challenger stores that are located all over Singapore or get it delivered by spending $88. Hachi.Tech provides warranty for all their products and a straightforward return policy. With the simple and hassle-free interface, Hachi.Tech Singapore ensures that all their patrons enjoy a delightful shopping time. Members can also download the Hachi.Tech s ValueClub app.
With a vision to grow beyond its brick-and-mortar retail shops, Hachi.Tech was launched by Singapore-based tech retailer Challenger for its members. Established in 1982 by Mr Loo Leong Thye, Challenger was initially a petite computer accessories and software store that has now developed into the largest tech retailer in Singapore. It has about 38 shops all over the island and serves more than half a million members. The company envisioned great success in selling tech products through an e-commerce website, and this led to the inception of Hachi.Tech.
HardwareZone Tech Awards voters awarded Challenger "Best Consumer Electronic Chain Store" for 6 consecutive years since 2013.
Products sold by Hachi.Tech
The products offered on Hachi.Tech are a treat to the eyes of techies. They offer the latest gadgets by world s best brands at affordable prices. As you browse through the website, you will notice that the online store categorises all products based on type of electronic goods and brands. The categories of goods available are cameras, health-related gadgets, softwares, home and kitchen appliances, and so on. Some of the brands available are Apple, Bose, Canon, HP, Lenovo, Microsoft, Nokia, Samsung, Valore, WD and Xiaomi
Given below is a short description of some products available on Hachi.Tech.
Accessories Showroom
– Hachi.Tech is an ultimate destination to meet your demands for electronic accessories. You can purchase accessories for the following: camera, car, computer, lights, mobile phones, tablets etc.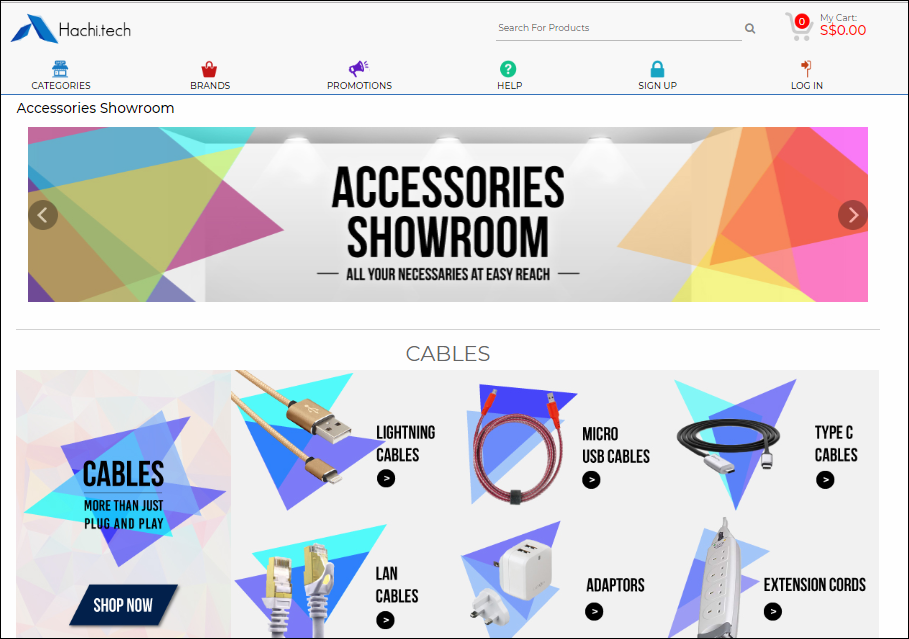 Cameras
– This online platform offers a wide range of cameras and related accessories. The different types of cameras available are action cameras, car cameras, compact cameras, DSLR cameras, instant cameras, IP cameras and web cameras. These cameras are available in many brands such as Nikon, Canon, Logitech, Casio, Ricoh, Samsung etc.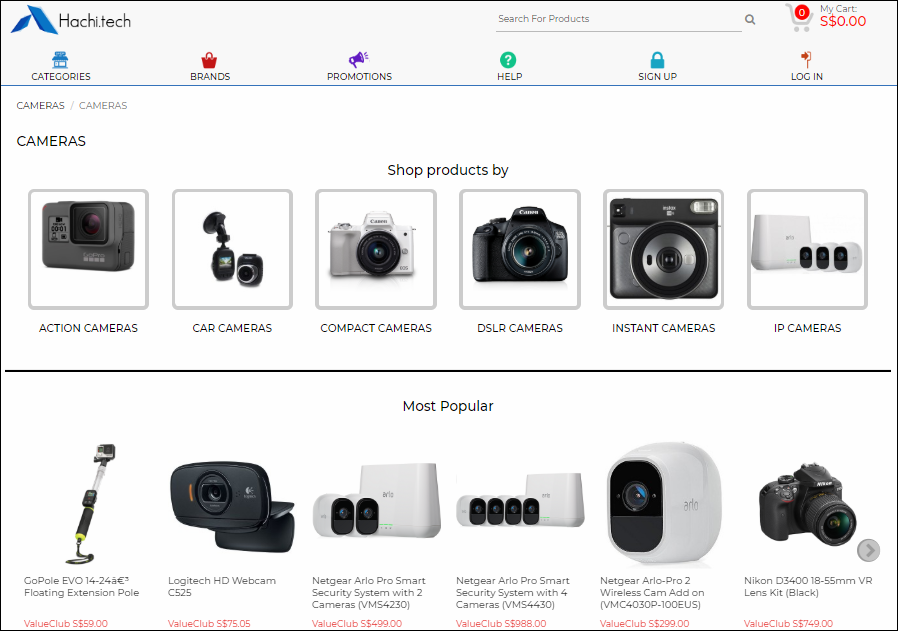 Apple
– Hatchi.Tech has a category for all Apple products. These include iPhone, MacBook, iPad, Apple TV, Apple Watch, Apple accessories, earphones, headphones and headsets.
Home and Kitchen
– You can purchase all essentials for your home and kitchen from Hachi.Tech. From fans to cords and adaptors, power and hand tools to sewing machines, smart lighting to batteries and cleaning supplies, you can buy them all here, at affordable rates and from multiple brands. Hachi.Tech s range of kitchen appliances include steamers, kettle jugs, blenders, juicers, mixers, coffee makers, iron, toasters, ovens and a lot more!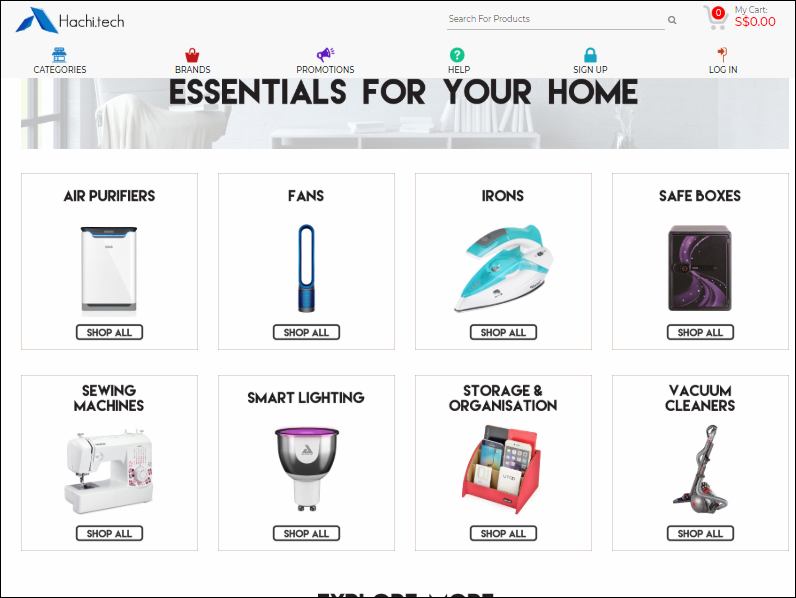 | Hachi.Tech Product Categories | Hachi.Tech Product Sub-categories |
| --- | --- |
| Accessories Showroom | Camera Accessories, Car Accessories, Computer Accessories, Lighting & Lighting Accessories, Mobile Accessories, Tablet Accessories, Travel Accessories, Others |
| Android Zone | Phone Accessories, Phones, Tablet Accessories, Tablets |
| BIZ Solutions | Data Storage, Networking & Wireless, Notebooks & Desktops, Office Furniture, Printers & Supplies, Software |
| Cameras | Cameras, Camera Accessories |
| Fitness Station | Cameras, Audio, Health & Fitness, Wearable Technology |
| Game On | Gaming Accessories & Peripherals, Gaming Consoles & Accessories, Gaming Furniture, PC Gaming |
| Home & Kitchen | Home Appliances, Kitchen Appliances |
| Music | Beats, Home Audio, Portable Audio, Wireless Audio |
| PC Go | Computer Accessories and Peripherals, Gaming, Notebooks & Desktops, Notebooks & Desktops - For Business, Printers, Printing Supplies |
| | |
How to Shop at Hachi.Tech?
The Hachi.Tech website is simple and easy to use. Customers can browse through and purchase the required products without difficulty. The search box at the top of the webpage helps customers to carry out a product-specific search. The header of the page contains the following options – Categories, Brands, Promotions, Help, Sign up and Log in. Customers can click on Categories or Brands to search for products of their choice. Given below is the procedure to shop at Hachi.Tech.
In the homepage, click on the "Categories" option to view the categories and sub-categories.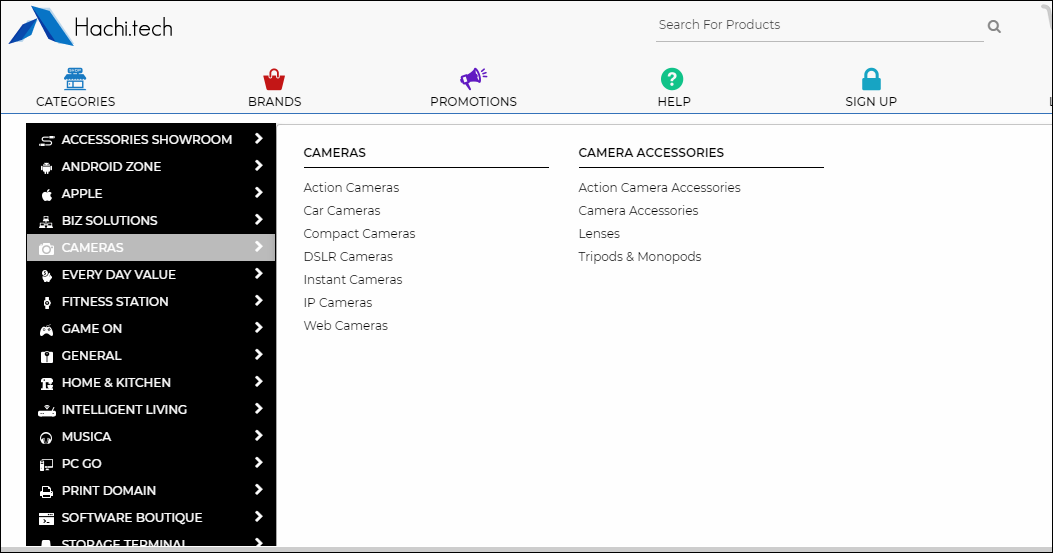 You can view the different products available on the website for the selected sub-category. You can filter the products based on brands and pricing.
In the product listing page, you can sort products based on latest arrival, low to high price, high to low price, highest discount and highest rebate.
Click on the product you wish to purchase. Here, you can view the rate of the product, choose the delivery mode and quantity. You can also add some good deals to your cart by clicking on the "Add Good Deals" box.
Click the "Add To Cart" button to add the product to your cart.
NOTE: To make the purchases, you must login with your membership details or sign up in case you are not already a ValueClub member. New members must pay a certain amount to avail the membership.
Click on the "View My Cart" option or the cart icon located on the top corner of the page. Enter Hachi.Tech coupon code or Hachi.Tech promo code in the "Hachi Coupon Code" box. You can get recent coupons and promotions by clicking the "Find Coupons" button.
Click the "Checkout" button and enter your billing and shipping address in the provided fields. You can view the order summary in this page.
Click the "Payment" button. Here, verify the purchase information displayed on the screen and select your mode of payment. Click the "Secure Pay" button to make the payment. An email containing the shipping details will be sent to you.
Payment Options on Hachi.Tech
Hachi.Tech accepts payments in multiple ways. These are as follows:
Payment via cards
– Customers can pay for the purchased products via VISA, Mastercard and American Express.
Instalment via DBS/POSB
– Customers can pay in instalments via DBS/POSB within a period of 6 or 12 months, with 0% interest-free. This mode of payment is acceptable for purchases above $500. Headquartered in Singapore, DBS is a popular financial service group in Asia. POSB is a part of DBS.
Different Coupon Codes and Discounts of Hachi.Tech Sg
Check out the "Promotions" section of the Hachi website for interesting deals and promotions. Members can save a lot of money while purchasing latest tech gadgets such as smartphones, notebooks, home appliances and data storage devices. These deals are available on top brands like Apple, Lenovo, Samsung, ASUS etc.
ValueClub members are regularly updated about the latest promotions and deals. They can avail of Hachi.Tech coupons offered through the website s coupon campaigns and flash deals. Customers can apply their Hachi.Tech coupon code or Hachi.Tech discount code during the checkout process and earn discounts along with the 30% rebate.
How to Redeem Coupons and Vouchers at Hachi.Tech?
Redeeming coupons and vouchers at Hachi.Tech is a simple process. Check out the vouchers/coupons section in your account for latest vouchers and coupons available for redemption. The step-by-step process to redeem coupons and vouchers at Hachi.Tech is given below:
Step 1:
Select the item that you wish to buy and click on Add to Cart .
Step 2:
Proceed to the Checkout page and enter Hachi.Tech coupon code or Hachi.Tech discount code in the "Coupon Redemption" box to avail the Hachi.Tech discount.
Step 3:
In the next page, enter your billing and shipping address.
Step 4:
Select the payment method and enter the payment details to complete the transaction.
How to Shop on Hachi.Tech using ShopBack
ShopBack offers 3% cashback on various tech gadgets if you shop from Hachi.Tech, via Shopback s registered account. The steps to earn cashback from ShopBack are given below:
Step 1:
Visit the ShopBack website and click on the Hachi.Tech store on the homepage. You can also use the search box to find the link to Hachi.Tech Challenger store.
Step 2:
Go through the important information given in the Cashback Details, Tips to ensure Cashback and Other Terms & Conditions sections.
Step 3:
Click on the Activate Cashback button on the top left corner of the page.
Step 4:
For additional deals and Hachi.Tech promo codes and coupons, check out the Hachi Tech Coupons and Promo Codes 2018 section.
Step 5:
You will be directed to the Hachi.Tech website to browse and select the products you intend to buy.
Step 6:
You will earn the cashback from ShopBack after placing your order. The cashback offer is not applicable on purchases made Hachi membership purchase and store app purchases.
Hachi.Tech s Delivery and Return Policy
Here are the delivery details of Hachi.Tech.
There is no delivery fee for customers who wish to collect the purchased goods from any Challenger stores. The delivery time of the goods to the store is 2 working days and self collection is available and processed from Monday to Friday.

In case of standard shipping, you will have to pay an amount of $8 for orders less than $88. For orders above $88, there are no delivery charges. Time taken for delivery is 5 working days and delivery period is from Monday to Saturday. Please note that delivery time does not include public holidays.

Duration for self-collection of the goods might increase during festive seasons and promotional periods.

Hachi.Tech delivery service is available only within Singapore Main Island and not in Army Camps, Tuas, Jurong Island, Changi Airport, Fishery Ports etc. Hachi.Tech does not deliver outside Singapore or to post office boxes.
Here is the return policy of Hachi.Tech.
For a refund or exchange, customers must submit an online returns form within 7 days from the date of self collection or delivery. After this, Hatchi.Tech s customer service representative will get in touch with you.

Customers can return the goods to the following Challenger stores: NEX, JEM, Jurong Point, Vivocity, Bugis Junction (Flagship Store) and Tampines 1.
Hachi.Tech Customer Service
Customers can contact Hachi.Tech via live chats. You have to click on the Chat button available at the bottom left of the Hachi.Tech website. You can chat with their live chat agents who are available from 10 AM to 6 PM, everyday. In case you wish to contact the customer service after this time, you will have to leave a message and they will get in touch with you as soon as possible.
You might find answers to your queries at Hachi.Tech s help centre. Another way of contacting Hachi.Tech s customer service is by submitting a request. Their customer service will get in touch with you as soon as possible.