Be Ahead With Trendy Footwear with Finish Line!
Finish Line is an American retail store selling top-trending athletic footwear including shoes, runners, sneakers, trainers and kicks. Customers can find all kinds of stylish footwear from premium brands such as adidas, Puma, Champion, Timberland, Nike, Under Armour and many more.
Apart from the most desirable footwear, Finish Line sports store also hosts related apparel and accessories that athletes need. Some products under this category include on-trend hoodies, backpacks, joggers, shoe care, and dad hats. While you purchase, do not forget to look for the finish line online coupons and finish line codes for free shipping discounts, on the website.
Finish Line was founded by Alan Cohen and David Clapper in 1976. This company is headquartered in Indianapolis, Indiana, United States. It operates at 900+ retail locations. These stores are mostly available in shopping malls and more than 450 Macy s stores host Finish Line branded athletic shoe departments. In 2013, the company s revenue was $1.44 billion. In 2018, Finish Line became a subsidiary of JD Sports.
Product Categories Available on Finish Line Singapore
For a hassle-free shopping, the Finish Line hoards a variety of shoes, apparels and accessories of various brands for men and women on their website. You can browse through the product categories on their homepage and pick a product of your choice. Also, customers can avail finish line free shipping coupon on their orders.
Here is a short preview of the product categories on Finish Line:
New Arrivals
: If you are looking for new arrivals in athletic footwear and fashion accessories, Finish Line gives you a wide range of choices.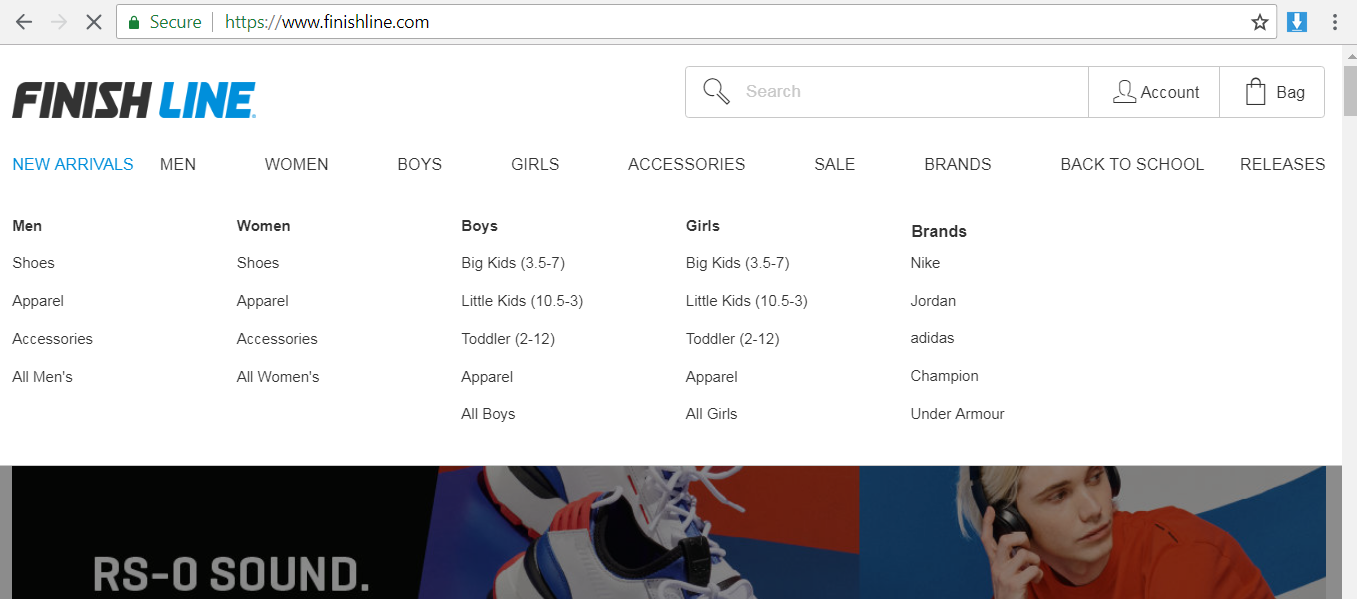 Men s Fashion
: This tab displays a list of exclusive collection of footwear including basketball shoes and running shoes, accessories and apparel for men.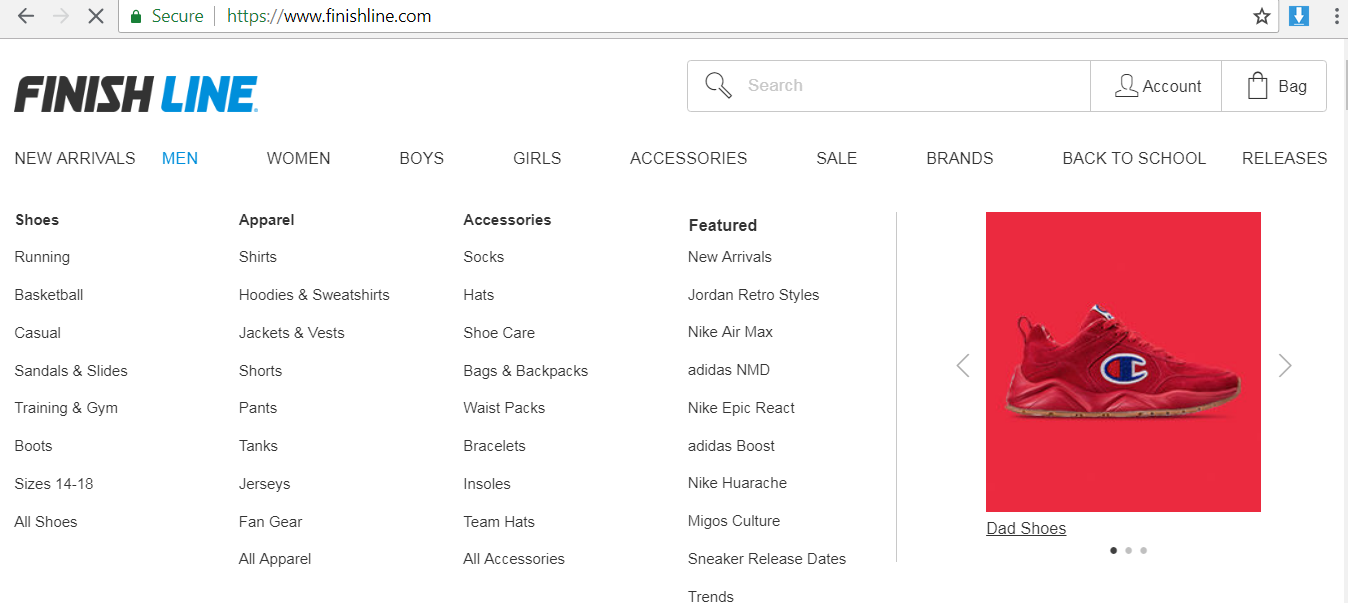 Women s Fashion
: This category provides a beautiful collection of stylish apparel, footwear and accessories of several brands.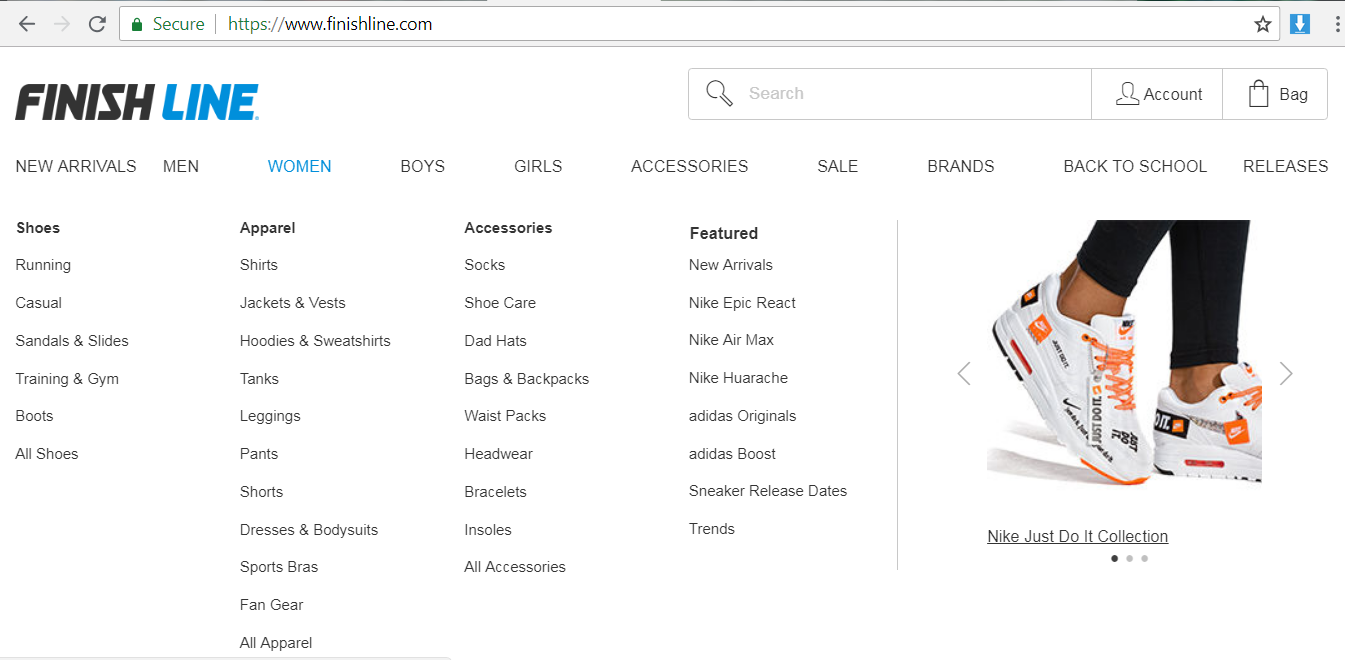 Boys Fashion
: Here, you can find a variety of shoes, apparel and accessories for boys of all ages. You can sort the products using the 'age filter and shop them.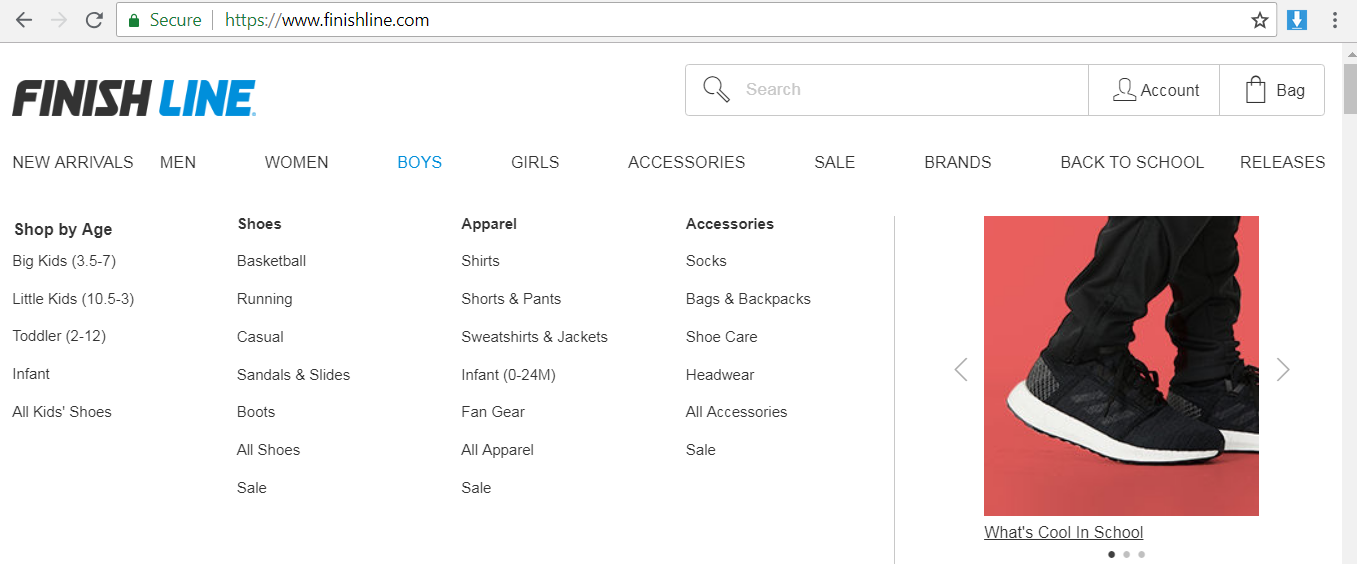 Girls Fashion
: This section is exclusively for girls. Browse through this category and find various fashionable products for girls of all age groups.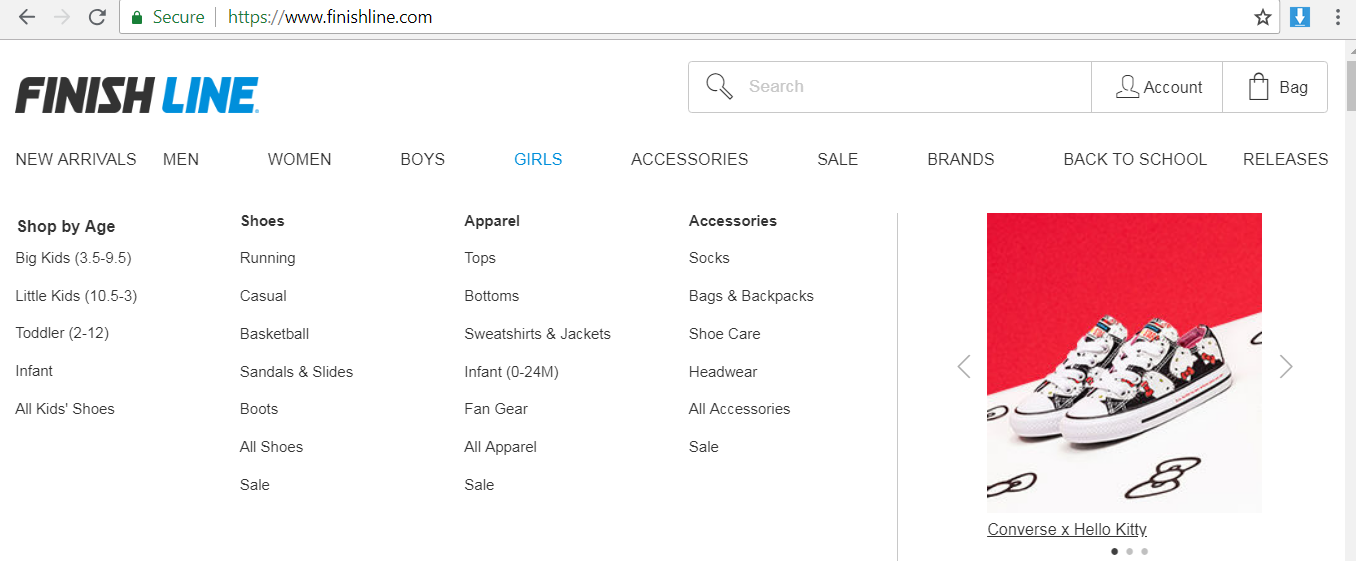 Back to School
: This category lists a set of bestsellers, kid s shoes and various deals. Also, you can find different items of several brands here.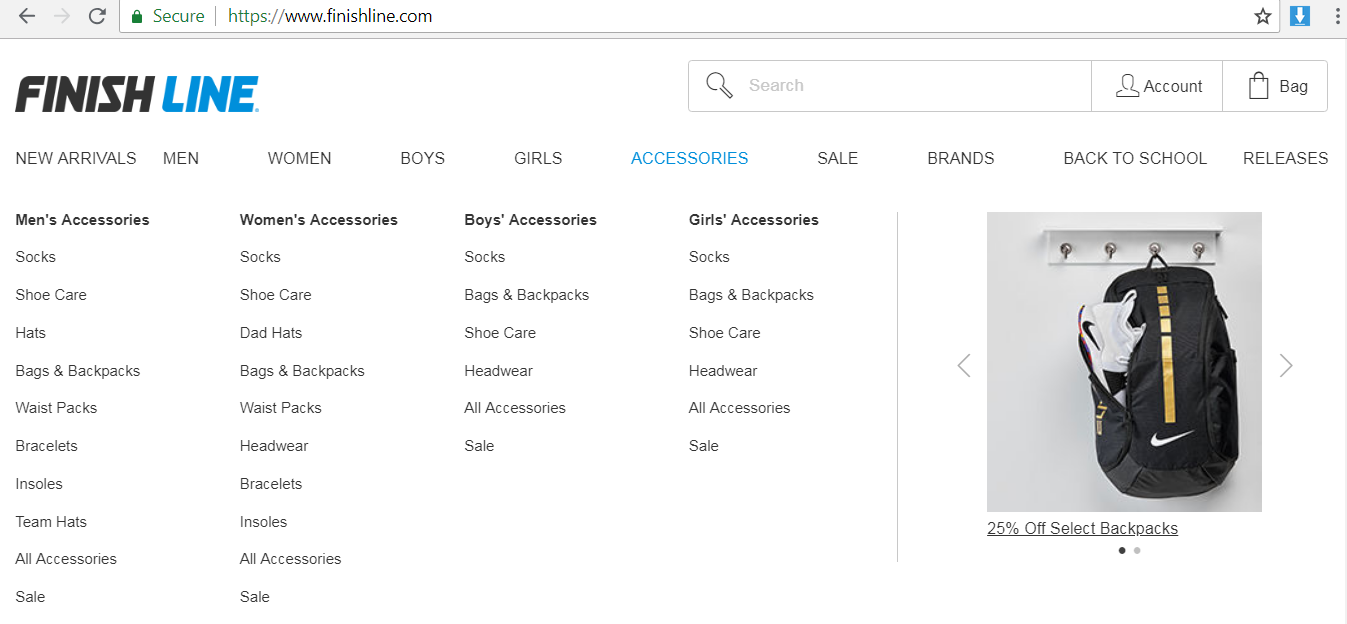 Brands
: If you are looking for products of a specific brand, then this is your go-to category. You can find numerous premium brands here.
Releases
: Clicking on this tab directs you to the page where you can find a number of products listed with their releasing dates.
Customers can look for Finish Line coupons for better discounts.
| Product Categories | Sub-categories |
| --- | --- |
| New Arrivals | Men, Women, Boys, Girls, Brands |
| Men s Fashion | Shoes, Apparel, Accessories, Featured |
| Women s Fashion | Shoes, Apparel, Accessories, Featured |
| Boys Fashion | Shop by Age, Shoes, Apparel, Accessories |
| Girls Fashion | Shop by Age, Shoes, Apparel, Accessories |
| Accessories | Men s Accessories, Women s Accessories, Boys Accessories, Girls Accessories |
| Back to School | Best Sellers, Kids Shoes, Brands, Deals |
| | |
How to Shop at Finish Line
Finish Line features a user-friendly interface for a convenient shopping experience. You can use finish line promotions, finish line promo or any of the finish line codes for availing discounts on your orders.
Customers can navigate through a particular tab and the corresponding page displays an array of categories along with the sub-categories and a list of item sections under each sub-category.
When you choose a specific item section, you will be directed to the page where you can find a number of items based on your selection.
You can sort your search using several filters available on the left side of the page that include product type, brand, colour, size and price. You can also find items that qualify for free shipping by clicking on the 'Free Shipping checkbox.
Browse through a wide range of items on the page and pick one of your choice. You can just place the mouse pointer over the product and get to see the available colours for that product. Clicking on the 'Quick View option allows you to choose the colour and size of the product and add it to the bag.
Click on a product and you will be directed to the product listing page. If you are satisfied with the product, then you can choose size, colour and select 'Add to Bag option to add your product to the shopping bag. It has 2 options for the product delivery such as 'Ship to Home and 'Store Pickup . Choose your location and proceed for store pickup option.
Clicking on 'Add to Bag option redirects you to the shopping cart page where you can view the order summary of your product. If you want to purchase more items, click on 'Continue Shopping and continue browsing, else you can click on 'Proceed to Checkout option.
Also, if you navigate through the homepage, you will get to see some specific product categories on sale mentioned with the taglines such as finish line 20 percent off, 25% off on shoes and so on.
Once you add the items to the shopping bag and proceed to check out, you will be redirected to the secure checkout page. Enter all the essential details, choose a delivery method and click on 'Continue to Payment & Billing button to make your payment. You can use your finish line coupon here (if you have any).
Payment Options on Finish Line
On the Payment & Billing page, you will find 3 different payment options through which you can make your payment. You can also sign in to your existing Finish Line account or create a new account for express checkout.
Credit Card: You can use your credit card and make payment on Finish Line. Payment with Visa, Master Card, Discover and American Express credit cards can be done for your shopping through this website.
PayPal: If you have a PayPal account, then you can make payment through it on Finish Line, without revealing your financial details. It is one of the fastest and safest ways for online money transfers.
PayPal Credit: This is one of the easiest methods for making your payment online. You can use the credentials of your PayPal account and login or create a new PayPal account to make payment through this option.
Different Coupon Codes and Discounts of Finish Line
At Finish Line, customers can avail great deals and discounts on their orders using the Finish Line coupon code and Finish Line promo code. Finish Line is one of the exclusive online sports stores offering items of premium brands with discounts. While placing your order, enter the Finish Line discount coupon or Finish Line discount code and proceed with checkout.
Once you apply the finish line coupon code, free shipping will be offered only if your order meets the minimum order value.
How to Redeem Coupons and Vouchers at Finish Line
On your billing & payments page, there are options to use the Finish Line promotion code using your gift card or the credits that you have earned through the winner s circle.
is one of the Finish Line coupons. You will get back $20, every time you reach $200 on your purchase. Make sure you have an account on Finish Line to avail this offer.
can buy gift cards for getting offers and discounts on your purchase.
How to Shop on Finish Line using ShopBack
ShopBack provides 3.5% cashback on your every purchase at Finish Line. Here is the step-by-step procedure to avail this cashback offer at ShopBack.
Visit the Shopback website and enter Finish Line in the search bar. You will be directed to ShopBack s Finish Line cashback page.
You will find the available cashback offer option at the left side of the page.
Click on the 'Activate Cashback button to initiate your cashback offer. If you already have an account on Shopback, you can sign in either with your e-mail or Facebook credentials. Else, get in to 'Sign up option to create a new account.
Once you enter your login details, click on 'Continue to Finish Line option to activate your cashback offer.
Also, you can find a few other Finish Line discounts under Deals and Coupons section.
Finishline cashback offer on ShopBack is not qualified for a few brands that include Men s Jordan Retro range, Men s Adidas Pure Boost Range and Women s Puma Fenty range. And, this offer is not valid when you purchase products through Finish Line app.
Finish Line s Shipping & Return Policy
Finish Line free shipping code is offering on any order containing full-priced items over $30.00 and this offer is not eligible for the orders containing products that are sold under Finish Line sale. So, when you purchase using finish line free shipping code, no minimum order value will be considered.
The company offers $7 flat rate shipping for orders containing items marked on sale.
Currently, Finish Line does not ship internationally. Orders will only be delivered to US residential addresses. But, customers from other countries can shop at U.S. online stores and get the orders shipped via ComGateway.com. Avail this option for an easier and cheaper shopping experience from U.S. online stores.
Look for Finish Line shipping code, while purchasing and shipping certain items.
If you want to return your item, Finish Line offers you two options for it. Either you can return in store or you can return by mail.
When you return your product in store, make sure you have your original packing slip, original form of payment and original tags on the apparel items.
For returning your product by mail, click on 'Return by mail button from the Returning a purchase option on Finish Line. Enter your order number and billing zip code, select the items you wish to return, print the return shipping label and ship the product with the return label. Once your mail is sent, you will be receiving a 'return confirmation mail from their team. This option can only be used for refund purposes. For exchanges or mis-shipments, contact their customer care team.
Finish Line Customer Service
Customer care service at Finish Line is available between 8 AM and Midnight ET from Sunday to Friday and between 8 AM and 10 PM ET on Saturdays.
ither contact the team on 1-888-777-3949, chat with them on live chat or can tweet the query at @FinishLineHelp.